asap deluxe facial cloth 1 cloth
Skin Type:
Dry
Normal to dry
Normal to oily
Oily
Questions & Answers
(2 Questions)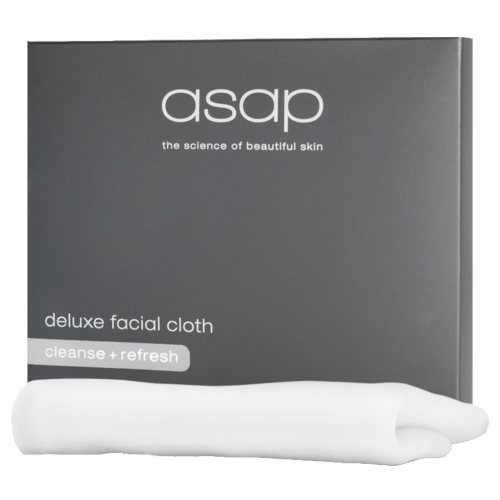 asap deluxe facial cloth
Get an expert to answer your question about this product!
Ask a Question
93% recommend this product
Most Helpful Positive
Amazing
Don't know how I washed my face without having this before! My skin has never felt better!
Most Helpful Criticism
Nothing amazing
This cloth wasn't what I was expecting. It was ok but not amazing. I have to be careful not to press too hard otherwise it irritates my sensitive skin
Amazing

Don't know how I washed my face without having this before! My skin has never felt better!

Great

Such a great cleansing cloth!! My skin feels super clean every time I use it. It always gets off the makeup I can't see, so I never miss a spot!

effective makeup removal

This facial cloth glides on the skin is a great alternative to one use makeup wipes. It removes the makeup so efficiently and works wonders

Great cloth!

I've really liked this face cloth. I've been using it to remove face masks (which i find difficult). It's really nice soft somewhat squishy material.
When it dries, it dries hard! It's odd but good. The back side of it has small circles which is referred to as the exfoliant side.
I'm not sure exactly how exfoliating the back is as it still has a soft texture but I have found the cloth to be very useful!

Beautiful and soft

Beautiful soft cloth that really helps remove make up and cleanse my skin. Very gentle and feels nice on the ski

Love it

This cloth is lovely & soft - it glides over my skin. Together with my cleanser it leaves my skin clean & fresh.

star

It's star piece of my morning and night skincare.
It's so soft and very friendly with skin.
You can use it for makeup remover or you can use it as towel, like me.

good makeup remover

i pair this with my asap face wash and it makes taking off my makeup a breeze, i did like this a lot, just chuck it in the wash when it gets dirty and its good as new.

Great

These cloths are amazing! I love that they effectively remove cleanser, makeup etc and dry quickly. Easy to wash.

Awesome

It's bit fragile but easy to clean. It's not harsh on your skin.

great but soft

when i purchased this cloth i did think it was going to be more of an exfoliant. it does say one side is for exfoliating and the other is for cleansing. so one side has little circles and the other side is smooth. i purchased this as my beautician said i should be using a face cloth every time i wash my face instead of my hands. The material almost reminds me of a yoga mat. I will say i've been using this for about 3 weeks now and probably am grateful it isn't rough and that the texture is smooth. I absolutely don't know what i would do without it! best purchase for only $10!

Love it

Makes taking your make up off a breeze

A must have!

So smooth & soft, no need to splash your face as the cloth does all the work. Love it

Fabulous

Smooth texture and does a great deep clean after removing my makeup.

Pleasantly surprised

I didn't know what to expect from this cloth but I have been pleasantly surprised. I have very sensitive breakout prone skin and have found that this really helps to get the dried skin or leftover makeup off at the end of the day. I was surprised by what wiped off after I had cleansed by face as I usually do. The texture is a bit strange - a bit like foam when wet and very hard when it dries. Great addition to a cleansing routine.

Great for travel, super smooth alternative to muslin

I do like this cloth as a smooth alternative to muslin when I don't want a rough texture alongside exfoliating. It's quick drying so it's perfect for travelling however I wouldn't use it as my only cloth as I do prefer the muslin for end-of-day use. Depending on what I'm washing off this one sometimes doesn't feel like 'enough' so end up double cleansing on these occasions.

Deep clean

Essential for a deep clean after removing heavy makeup

Great price, but not the best facial cloth I have used

This cloth is well priced, and does work fairly well. It has a strange texture, almost like chamois and I actually found I preferred the muslin cloths over this as they feel like they are doing a better job of cleaning thoroughly.

Smooth on skin

Smooth texture and perfect for my sensitive skin, picks up all my make up and great for panda eyes.

Best facial cloth I have used

Feels soft, washes up perfectly, holds its shape & performs as it should. Highly recommend

A vital part of my daily routine

I use the asap deluxe facial cloth to remove my makeup at the end of each day. I rub my Dermalogica precleanse over my face, then wet the cloth to soften it, then wipe away the day's makeup with it. I have sensitive skin and find makeup remover wipes quite harsh. This cloth is so soft and smooth, and wipes my makeup off without any hard rubbing.

A must-have

I use this every night when washing off my day... I only wear mineral powder foundation, and take off the bulk of it with micellar water, then wash with my Medik8 cleanser and gently wipe off with this cloth... it's amazing, even if you think you've got all your make-up off, this clever cloth still finds more! I love it and can't live without one, have now purchased this many times. I thoroughly rinse each night in warm water and machine wash it weekly. Simply a must-have!

Deluxe!

Soft enough for any skin type, this cloth loosens dead skin cells, toxins, makeup, and anything you want to get rid of. I use one daily so I'd recommend investing in a week's worth.

Great for travelling

This is my go to cloth for travelling. Its quick dry nature means you can pack it back into your toiletries bag in no time! It's also silky smooth and delightful for washing your face with.

The softest way to clean your face

I have been using this cloth for over a year now and love it. It is so soft on your face and doesn't irritate. I replace about every three months

Game changer

I believe this cloth has improved my skin appearance along with the other products in the ASAP range. It is gentle and dries like a chamois cloth for a car. It is not abrasive and is super effective in getting rid of the gritty stuff after cleansing and removing make up. A total game changer in the normal routine - would definitely recommend!

Nice

It's a face cloth and it works just like one. I really like how soft it is on my face and it works well with wiping away most cleansers if you're like me and like as little water on your face as possible.

Love this cloth

Love this cloth! Highly recommended

So Good

i bought this out of curiosity and i'm glad i did. so soft on your skin, and dries so quick

Nice gentle facecloth

This cloth is very gentle on my skin. I do not put cleanser on it to cleanse my face. Instead, I use it to wipe off cleanser/ mask. I think it works very well that way. The material is not very fancy and it feels very similar to that cloth that I use to wipe my car window. However, I'm still very surprised that it actually feels very good on my skin. I don't have sensitive skin and it does not cause any irritation to my skin.

Okay

I had been using the dermalogica sponge cloth for years and loved it but it became hard to find stockists and adore beauty stopped stocking it so I tried out the asap deluxe facial cloth which is almost identical except it's a bit thicker. I would always squeeze out any excess water and drape it over the top of the shower screen to dry but It didn't take long before it started to smell a bit mouldy and the colour started to get greyish aswell.. I have since started using the black chicken muslin face cloths and much prefer them!!! They're also made from organic cotton which I love.





Soft and gentle

This cloth gets rid of all the dirt on your face and gives it a complete clean. It feels nice and the skin. Super soft and gentle. Would recommend for the perfect clean.

Nothing amazing

This cloth wasn't what I was expecting. It was ok but not amazing. I have to be careful not to press too hard otherwise it irritates my sensitive skin

It's ok. Nothing to hype about.

As far as face cloths go, it's ok. I don't feel like it's anything that special. It's a weird rubbery feeling like a car shamois haha. It's great for removing eye makeup BUT it is white & is stained very easily from makeup...which is a turn off. Mine is now a grey colour. Still effective but not pretty.

Great for panda eyes

This cloth is very soft. It's quite a weird rubbery texture, however it does glide over the face nicely as long as the pressure is kept light. It perfectly gets rid of all traces of eyeliner and mascara, even waterproof mascara. It's fantastic for removing all traces of face masks and zinc based sunscreen.

Unfortunately, I find it soaks up far too much of my cleanser for me to use all over my face every day. I use the ASAP Gentle Cleanser and I only need such a tiny amount when using my hands, I need almost triple when using the cloth. And as a couple of other people have mentioned, it stains very easily and requires quite thorough washing to remove all stains, so I do tend to save it for cleansing off heavy makeup, treatment masks etc.

Ok cloth, nothing too special

This cloth was ok but wasn't anything too special. I was expecting something a bit more luxurious that would be smoother on my skin.

Overall does an okay job.

Really interesting texture! I was expecting something like a muslin cloth so it was really peculiar at first. It definitely gets make up and dirt off. Just don't press too hard! The first time I used it I did and it irritated my skin.

Does the job - but didn't love it!

Soft silky cloth when wet that dries hard. Does take off makeup in conjunction with face wash, but found that it gets very dirty and really needs to be washed after every use. You really need to buy a few of these so you have one when the others are in the wash.

The best!

Like a small chamois for your face! Beautiful and soft - much better than a face washer. Dries really fast so won't go mouldy. Dries hard and then goes soft again once water added.

Great for removing makeup

This is an amazing cloth for taking off makeup, even my heavy duty Double Wear foundation. It leave my face clean and feeling soft and gently exfoliated. Highly recommend!

It works!!

So beautiful and soft. I couldn't believe the dirt I could see coming off my skin with this. Gentle but it really does help.

Lovely face cloth

A lovely, soft face cloth for removing makeup, washing your face, or even applying toner. It dries quickly and hardens, which is fantastic as it gets rid of any left over moisture and stops it from potentially going mouldy.

Great product

This is a great product! Removes my makeup and leaves my skin smooth and clean. Really love it !!

I love it

I read the reviews before I purchased this fabulous facial cloth, and it has lived up to its reputation! It removes make up like a dream, is super easy to wash out, dries hard but softens once wet. Highly recommend this product!

Nicked my mum's one...

My mum has this cloth and I've found it perfect for removing masks or stubborn makeup. Weird texture, but I dig it! Would repurchase as I've discolored mum's one a bit - think I owe her a new one!

Its good but not great

This cloth is good for helping remove make up residue however it stains easily and rinsing it out after each use will not be enough, it requires full washing every time in my experience which is a bit of a pain. Also tip be careful not to press too hard as it drags on the skin otherwise - ouch! But good to see all those traces of make up removed and for removing face masks its great!

Excellent!

Very good at getting rid of those little bumps on the backs of your arms or legs that exfoliating just doesn't seem to fix. I will definitely repurchase.

LOVE

This is the weirdest texture ever. It's almost like a really thin, smooth neoprene. It's hard when it's dry and then softens to this beautifully soft and smooth cloth when wet. Really good at removing makeup -- particularly stubborn smudges that mascara leaves behind after you have already washed your face. And you don't really have to rub your face much with it at all!

SOFT cloth ever

This is definately the most soft cloth i have ever had. i just wish a little it wasnt to rubbery but it definately has this incredible soft texture

Super soft!

Love this face cloth! I was after something really gentle but effective in taking off my makeup and this is it. It has a rubbery consistency which was a bit surprising but it feels amazing on your face. The zip lock bag it comes in is also super handy. Would definitely recommend!

wow

never thought I'd have such a high opinion on a face cloth but here we are! I love how silky it feels, was so unexpected when I first touched it - and I love how it dries hard! It makes taking off clay face masks so easy!

Amazing

This cloth is SO SOFT!!!! It literally feels like your wiping your face with a piece of heaven. But it's also super effective as well! I'm not even joking, it removes all my makeup and dirt without even rubbing hard. And then you just rinse it under water and it is clean straight away! My make up doesn't even stain it! Super cool.

So soft & durable

This product is super soft on the skin but also super strong. Does a great job of removing cleansers and face masks. Thinking about buying a second!!

Not what I was expecting

I was expecting more of a fabric cloth but this is like a rubber feel I can't explain it. But it cleans my face feel and is great for travel becuase it dries really fast

Amazing face cloth

I love this face cloth. It's actually so cool.
The cloth holds the water so you can use it to wash off cleansers and mask. It also drys hard so that the cloth doesn't allow bacteria.
I'd recommend this to everyone that needs a great face cloth.

So soft yet so effective!

I purchased this on a whim one day as it was on sale and already at a great price when full priced.
I'm quite a fan of the ASAP line and this cloth was no exception.
It is so unique. Most cloths I've used have been very muslin like.
This was a white,smooth and silky texture
When used however,you can definitely feel it gripping at the skin and removing build up and makeup but it does it so gently!
This is a perfect wash cloth for those with sensitive skin.


Very soft on skin

Amazing texture on your face. The facial cloth retains the temperature well. The product is a lot more sturdy than what it felt like. The only downside is that it doesn't go back to the original colour after a few uses.

Awesome

Even though I'm not a huge user of asap products, I bought this cloth to add to my endless collection of face washers, flannels and muslin cloths. This is a really great cloth which is soft and gentle on the skin - and is not at all scratchy or abrasive. It's a lot softer than an old-school cotton face washer and is brilliant at removing oil, balm and foaming cleansers and getting rid of every last scrap of makeup and sunscreen.

So soft!

This is a lovely face cloth if washing with a cloth is your bag! I normally just use my hands but I bought this to accompany my asap exfoliant as a little luxury. It's so incredibly soft it's like magic.

No other cloth will do!

I love this facial cloth, it's so soft and durable and works wonders at removing make up and even face masks. Would definitely recommend to friends and family - I'd even buy it to add into a gift for my girlfriends.

Excellent

Wow How fabulous is this! The most effective cleaning tool I've ever bought. It feels like velvet on your face and sticks like a vacuum to remove your makeup. I cleanse my face first, rinse it off and then run this facial cloth under warm water and finish
your cleansing with this cloth - it removes any last remaining bits of makeup and your face feels so wonderful afterwards!! Woohoo

Soft & luxurious

The feel of the ASAP deluxe facial cloth is soft & luxurious. It turns hard when it's dry but add some water and cleanser and presto!

It's effective for makeup removal and is durable.

Not what I was expecting but It Really like it

This is a really unique cloth but I really like it. I feel like it removes all the residue of my face washes. It dries really fast which I like so it's convenient for travel. I want to buy one for my mum!

Feels amazing!

The feel of this cloth is so amazingly soft and makes taking off makeup so easy and relaxing unlike using a billion makeup wipes. Dries hard which I think is really interesting and I just overall love how it works!

It's the bomb

This cloth is amazing!!! I've always been hopeless at remembering to take my makeup off at night, however this cloth feels so amazing on my skin that I never forgot to take my makeup off! I've been so pleased by this cloth that I have purchased some extras for my close friends and they love it too!

So convenient and quick!

I was initially after a Muslin cloth but came across this instead so I got it. Its so bizarre but so awesome! I usually use so nant cotton cleaning pads to remove makeup so this is perfect- and it works much better. Only drawback is I definitely feel the need to wash after every use...guess I'll just need to get another!

Sooo soft!

This cloth is such a strange texture, but works so well at removing make up. I've always struggled at being able to remove my mascara properly, but this cloth literally just wipes it all off. It feels like rubber, but it's not and it dries hard which is so strange, but it works so much better than a flannel cloth. Definitely recommend!

Feels great!

I really like this cloth. Very soft and feels great on the skin. It dries relatively quickly and super affordable!

Excellent for travel

This cloth is great. After use you can simply wash under a tap with warm running soapy water and let it dry naturally. Within a couple hours it's useable again. I also love the little case it comes in, makes it so easy to pack for travel purposes.

One for each day!

I'm in love! Tried this last night and immediately got online and ordered more. The softness is to die for! It felt like I was taking makeup off with marshmallows - it is THAT soft and luxurious. It is a generous size, so you can easily use it for a multitude of things. Cleansing, makeup removal, mask removal, warm cloth to the face: the possibilities are endless. Such a bargain price too.

Would recommend

I found it to be quite useful in removing my makeup . Isn't harsh on the skin . Easy to clean as well.

Not really what I expected.

This cloth does an ok job but I don't like the way it feels on my face using the smooth side and I don't want to always be using the textured side. I used it only twice or thrice as I was not that comfortable with that. Probably, I have never used such kind of product before so it will take a while for me to get used to it. I reckon it would help females to take off their makeup or masks with the cleansers. Its colour is also white so you may have be careful because it may get stained while removing your makeup or mask. I enjoyed the asap cleansing gel all by itself, massaging with my fingertips.

Can't live without it!

Super soft, take it anywhere (i.e. on holidays), gentle on the skin... there's a lot to love about this cleansing cloth! Just when you think your cleanser has taken care of all your daily grime you use this cloth and it always finds more. I always have a spare one in the cupboard, it's a staple for me.

Fantastic!

I've been using this in conjunction with my asap cleanser, which leaves my skin feeling extremely clean. I've been applying my cleanser first, then soak the cloth with warm water, give a quick rinse and then apply the cloth all over. The fibres are really soft and won't feel harsh on the skin - would be suitable for sensitive skin types. After use, I give it a quick rinse under warm water, then leave it to dry on my towel rack. They are so easy to throw into the washing machine and takes no time to dry. It really helps to remove any excess dirt missed by your cleanser.

Great - when clean shaven

This cloth when combined with the asap cleanser is absolutely amazing at making a small amount of product go a long way. I also feel it helps me to ensure I get an even cleanse over my entire face.

For guys like me, after 3 days of facial hair growth however, it really doesn't work nicely. It gets caught up and does not feel nice at all.

Even with this in mind, its always great to have around for days when i am clean shaven as it works really well then!

Feels lovely

So nice and soft and does help to remove any leftover make up etc on the face. Though I found my make up would stain the cloth and I can't remove it, and fluff and stuff seems to have stuck to the cloth and I cannot remove it even after washing it.

Excellent final step in face cleanse

Great texture, size, quality at great price

Perfect ASAP pal

I used one of these years ago with the exfoliating cleanser but lost it in a house move... Having just recently rediscovered ASAP products, I figured I'd grab one of these on my last purchase... Am so glad! Makes my face feel extra-clean after cleansing. After using this I do a quick splash of warm water and I'm done :-)