Alpha-H Liquid Gold is designed for all skin types as a skin resurfacer and exfoliating serum.
Alpha-H Liquid Gold is designed for all skin types as a skin resurfacer and exfoliating serum. It aims to give the skin a smoother texture and a more radiant appearance.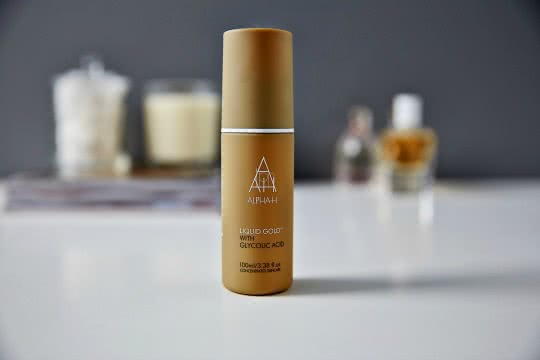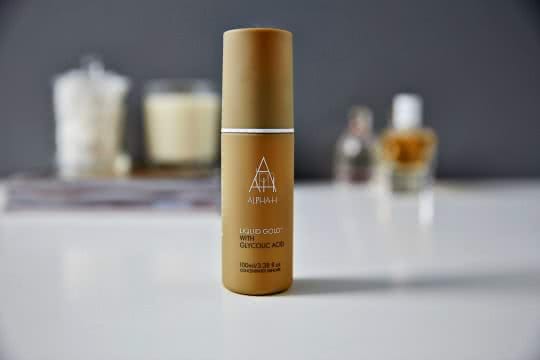 Alpha-H Liquid Gold for Smoother Skin
Active ingredients in the Alpha-H Liquid Gold are naturally-derived glycolic acid (5%) and licorice extract. Combined with a pH of 2.5, these two ingredients stimulate and energise the complexion. Silk proteins in the serum bind moisture in the skin, leaving the skin suppler.
A skin treatment like Alpha-H Liquid Gold can be extremely beneficial for your skin, as advanced treatments tend to have better skin-boosting capabilities than a normal two- or three-step skincare routine. Alpha-H Liquid Gold is a liquid treatment that's used after cleansing. To apply, simply add a small amount to a cotton pad and swipe it all over the face and neck. If you wish, follow up with a moisturiser or serum.
ALPHA-H LIQUID GOLD INGREDIENTS
Alpha-H's Liquid Gold contains 5% glycolic acid, which is an alpha-hydroxy acid (AHA) that exfoliates by removing dead skin cells and bringing newer skin to the surface. Glycolic acid can help blemished and acne-prone skin, too. Liquid Gold also contains liquorice extract to soothe and brighten.
EFFECTS OF USING ALPHA-H LIQUID GOLD
Alpha-H Liquid Gold is essentially a night-time firming treatment that instantly boosts the skin's natural radiance, evens out skin tone, and improves texture. As this is a chemical exfoliator, continued use leaves the skin feeling firmer, more toned, and better balanced. Though it does leave a tingly feeling after use, it's perfectly fine to use Liquid Gold on oily, blemished, scarred, or acne-prone skin. This treatment is ideal for helping to clear up breakouts, as it helps to unblock pores, clear congested skin, and calm spots. These results will not appear overnight, but with continued use, the skin will begin to look healthier.
ALPHA-H LIQUID GOLD: A HOLY GRAIL PRODUCT?
Liquid Gold has become somewhat of a cult product in the beauty world, and it'€™s easy to see why. Whilst ageing, oily, and blemish-prone skin will benefit from its use, users of all skin types should see a marked, positive difference in radiance and texture.
HOW TO USE ALPHA-H LIQUID GOLD
Liquid Gold can be used every other night, but should your skin be more sensitive, twice-weekly use is perfect. You can even sweep the treatment over the top of the chest if this is an acne-prone area.
If you have sensitive skin, you€'ll want to do a patch test before applying Liquid Gold to your face. You can perform such a test by applying a small amount of the product to the delicate skin behind your ear or on the inside of your wrist. If this test is negative for irritation, you should still follow the treatment with a moisturiser or serum to keep skin hydrated. It'€™s also highly important for all users to apply an SPF the day after use, as glycolic acid can cause sensitivity to the sun.
HOW LONG BEFORE I SEE THE EFFECTS OF ALPHA-H LIQUID GOLD?
Whilst this resurfacing treatment has several benefits, it's important to give it time to work before you assess the results. Any skincare product can take up to four weeks to make a noticeable difference in your complexion, so be patient, as Alpha-H Liquid Gold is an amazing treatment for anyone with fine lines, large pores, blemishes, or dull skin.
HOW WOULD YOU USE ALPHA-H LIQUID GOLD IN CONJUNCTION WITH ALPHA-H INSTANT FACIAL?
You can use the Alpha-H Instant Facial on alternate evenings to the Alpha-H Liquid Gold. If you use the Alpha-H Instant Facial in the mornings, you can continue to do so, ensuring you're wearing adequate SPF protection.
WHAT ALPHA-H MOISTURISER GOES BEST WITH ALPHA-H LIQUID GOLD?
If you're using active ingredients, it's best to use a day cream that contains SPF. A favourite is the Alpha-H Daily Essential Moisturiser SPF30+

It's a lightweight, but effective, moisturiser and will give you that all important SPF protection without clogging your skin or leaving a white cast.
Invest in your skin – Shop Alpha-H Liquid Gold Range now!