Yves Saint Laurent All Hours Foundation 25ml
Official Stockist
FLAMMABLE

This item is flammable therefore postage is restricted to Standard Post within Australia
Is this for you?
No compromises at any hour of the day. Working hard around the clock, Yves Saint Laurent All Hours Foundation doesn't let you down. Weightless, waterproof and transfer-resistant, this innovative foundation prepares you for endless nights with up to 24 hours of wear. No need to touch up, no matter what you have planned.
Frequently bought with
Please wait while we find a match
Questions & Answers
(1 Question)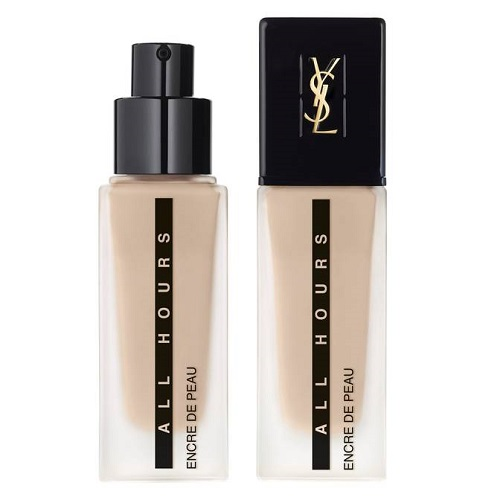 Yves Saint Laurent All Hours Foundation
Get an expert to answer your question about this product!
84% recommend this product
Most Helpful Positive
Amazing
Amazing foundation for oily skin, full coverage and long lasting
Most Helpful Criticism
Don't have a good coverage
I have some spot on face but not obvious, this foundation cannot cover it at all, even a little bit. But it is not oily after a whole day. I still won't recommend this to others.
Amazing

Amazing foundation for oily skin, full coverage and long lasting

Excellent coverage

I tested this out at the store & left it on for a whole day. It worked wonders on my sensitive skin! I did not feel greasy at all or get any side effects. It is indeed worth the whole payment, and only a little amount is needed for coverage.

i like

overall enjoy this foundation however it is slightly drying for my skin. I usually add a couple drops of oil for hydration and it does the trick

Great coverage, long lasting

I wear this when i need a little more coverage or for events. It is fragranced which i usually don't like but this one is actually pleasant and makes me enjoy using it. I have oily skin and it has great staying powder and does cover the odd blemish. Only negative is that it has a tendency to sometimes settle in my pores but i've started mixing it in with my Nars Sheer Glow and it seems to have sto...

Read More

so good

While I don't normally wear foundation on a day-to-day basis, this one is perfect for special occasions, nights out and for those days that you need a little extra coverage but want your skin to still look like skin. I find the coverage is great and it lasts forever without breaking up. I will note that there is alcohol in the ingredients, however, I haven't noticed my skin having any adverse reac...

Read More

amazing for sensitive skin

This foundation works really well with sensitive skin and lasts all day and all night without needing to touch up.

Lasts for hours!

Lasts for hours without looking bad. Stays looking fresh until the end of the day!

Lasts for

Works well with oily or combo skin

Works well with my oily/combo skin. Also lasts all day too

Don't have a good coverage

I have some spot on face but not obvious, this foundation cannot cover it at all, even a little bit. But it is not oily after a whole day. I still won't recommend this to others.

Pricey but worth it

This product is a little pricey but I found I would definitely purchase again as it gave my complexion a flawless finish that lasted all day. Very similar to Estée Lauders double wear. Overall was very happy with this foundation

Seriously long lasting

One of the best long wear foundations i've Used- seriously lasts from 6am to 8pm. Only drawback is that skin needs to be in good condition before applying, otherwise it clings/highlights dry patches.

Fab foundation

This foundation gives a beautiful sheer coverage, but can easily be built up if needed. Feels light on sensitive skin, but lasted perfectly all day. Love the subtle scent.

love it

I have worn this makeup accidentally to bed and woke up looking amazing, great product and really does stay on for 24 hours

Amazing

This product is great I use it with my sister and we both have very different skin types and works wonders.

Love it!

Lovely foundation, makes my skin look flawless! Good array of colours especially for those with light-medium skin tones. I have oily skin and this is great for me1

Good foundation

Good coverage. Feels good on the skin, however, after a few hours it feels dry on my combination skin. Maybe I don't need to set it with powder as it already powder like once it sets. It cover scars and blemishes pretty well.

LOVE!

I LOVE this foundation. I have normal to dry skin and while this is a matte foundation, it does not overly dry my skin. I find that a drop or two of beauty oil usually helps. Flawless skin afterwards that lasts all day. Have recommended this to many friends.

Great coverage

This is up there with double wear by Estée lauder. Is slightly expensive but worth every penny! Covers well and doesn't sink into fine lines/around the nose area, I love it!

great!

I like how it's waterproof and transfer resistant. I tested it out and it really is! Great long lasting foundation which gives even coverage

Great

I was having a hard time to find the foundations that match my skin tone! This product is amazing and perfect for my tan skin. Highly recommand

Okay

This foundation wasnt for me, I have normal skin and was looking for a full coverage foundation so thought id give it a go. I love the packaging but the product is thick and looks cakey on my skin after blending out. I wore it for the day and it didnt move aorund but seemed to settle into lines around my nose/eyes.

Great

I had this foundation used on me when I had my make up done a few months ago, and picked up a little sample to take home. So happy I ended up buying the full bottle! Super long lasting with a flawless finish and build able (I wear it to work). Highly recommend!

Disappointing

I have heard rave reviews from friends and online but sadly this foundation is not for me. I have been on a mission to find a foundation that lasts on my nose and sadly the Rimmel foundation I bought from the chemist lasted longer. Very expensive but for some people it seems to work so I guess it's up to the individual as to whether it will work for you.

one of the foundations worth investing

This foundation is so perfect as it lasts so long and gives you the most beautiful finish on the skin. It is talked about by so many influencers and I understand the hype. I highly recommend giving it ago.

Love!

I love that it's waterproof and it really doesn't transfer much if not at all. Mine lasts all day and I haven't had any issues with smudging or anything

Great

Love it! Gives a beautiful dewy yet full coverage without being heavy. I apply with a brush for natural looking cover and lasts all day without having to touch up. Wish I had discovered this years ago!

AMAZING for oily skin

Best foundation I have ever used.
For oily skin, this is a dream foundation as it settles well on the skin, does not come off at all or crease AND it doesn't even need a primer or base underneath (not for me anyway).
I found that this foundation blends better with fingers than a beauty blender but that could just be me/my skin.
This is honestly worth every cent, I will never u...

Read More

YVES SAINT LAURENT ALL HOURS FOUNDATION

Love it! Gives a beautiful dewy yet full coverage without being heavy. I apply with a brush for natural looking cover and lasts all day without having to touch up. Wish I had discovered this years ago!

Amazing product

They say you get what you pay for & I totally agree with this product! Worth every cent. I applied it in the morning, had a 3-4 hour drive to Sydney, went to the opera house for a show that had me dancing all night & by the time I got home it still looked great! I didn't need touch ups either. It looks amazing on the skin & didn't crease. Would definitely recommend this foundation.

It's very suitable for my skin, good online shopping experience

It's very suitable for my skin, good online shopping experience

not a fan

I wasn't a fan of this foundation. It has good coverage but thats about the only positive. I found it drying on my skin and really sunk in to the pores and made me look cakey. I normally do not necessarily have dry skin. I also found it oxidised and my skin had a greyish tinge to it.
I won't be repurchasing.

Love it!!

I love this foundation!! It looks so good on the skin, it isn't cakey, and my dryness does not show at all.

Good, not great...

I love this foundation's beautiful packaging, scent (soft cucumber), and longevity, however, it did break me out a bit. I think it was due to denatured alcohol being a key ingredient in the foundation. Jeffree Star convinced me to try this, and I really wanted it to work, but unfortunately it did not. While it does feel luxurious, it also felt like I was slapping paint on my face. It was thicker t...

Read More

Not good for dry older skin

I was so looking forward to using this after loving the reformulated Touche Eclat foundation. After reading and watching many reviews I knew I needed a lot of skin prep - exfoliation, hydration and dewy primer - but it still went on dry and thick even with a damp sponge. It cakes in my pores and doesn't soften any lines, and appears to sit on top of my skin. I've tried various heavy duty moisturis...

Read More

All time favourite!!!

Wow. For my normal to combo skin the all hours foundation is a dream to apply and ends up being perfectly flawless on the skin I pair it with my ordinary silicone primer and it lasts all day! In love.

Beautiful finish!

This is my go to foundation and all time favorite for just beautiful skin and a perfect makeup day. Definitely full coverage without that FULL COVERAGE look you know what i mean? like it doesn't look thick and heavy at all, it looks like your skin but better. its very light and comfortable, I wouldn't say super matte, more like a natural matte finish.

Disappointing

The coverage was good but I found it oxidized a little on my skin and it made small lines on my face more obvious. I also broke out after using it which was a huge disappointment. I won't be repurchasing this product.

Ok

This one wasn't for me, was pretty drying and tight on the skin compared to other YSL foundations.

Great coverage and comfortable formula

This is an incredible foundation for when you want a high coverage, full glam look. It's matte and full coverage without being cakey and uncomfortable to wear and it's definitely a very long wearing product. I love this for events and photos as I know it will stay on and keep my skin looking perfect.

A Beautiful Foundation

This foundation would have to be one of my favorite foundations in the colder months. Not so much in the summer, it tends to sweat off a little even with a primer, powder and setting spray. I live in Brisbane so it's very humid. It has amazing coverage, it feels lovely on the skin and it doesn't crease. It does have a perfume fragrance to it but it does go away and it isn't super strong. I am pale...

Read More

Matte yet luminous

This foundation is matte but not drying - it didn't highlight any dry or uneven areas of my skin like some matte foundations do. I got the best results when I applied it with my fingers - it has a light, slightly gel-like texture that makes it feel a bit bouncy as you apply.

Coverage is great but not overpowering or mask-y, and while I didn't leave it on for 24 hours it held up super ...

Read More

Amazzzzing!

Absolutely loved this product, and paired with the YSL primer my face looked like porcelain.
My skin is generally oily- with enlarged pores.
The foundation is a thick coverage, with a smooth finish.
It covers all blemishes, and dose a great job at smoothing my pores!