The Ordinary High-Adherence Silicone Primer 30ml
Is this for you?
Ideal to use alone for a naturally perfected finish, or under makeup to improve longevity, The Ordinary High-Adherence Silicone Primer uses advanced adaptive silicones to act as a matte, hydrating, blurring primer for makeup that looks higher in definition and adheres for longer.
Cruelty Free
Vegan
Artificial Fragrance Free
Sulphate Free
Skin Type:
Dry

Normal to dry

Normal to oily

Oily
Frequently bought with
Please wait while we find a match
Questions & Answers
(1 Question)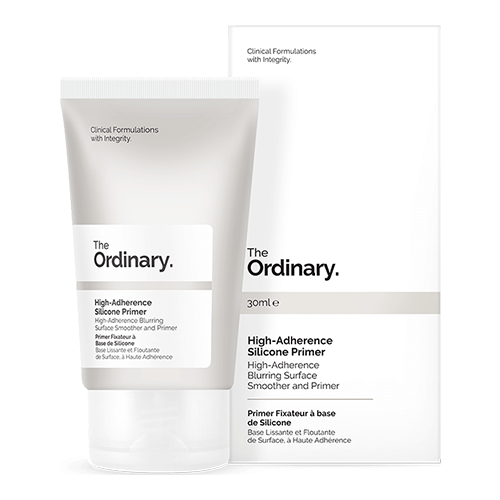 The Ordinary High-Adherence Silicone Primer
Get an expert to answer your question about this product!
80% recommend this product
Most Helpful Positive
good
best primer, love this brand
Most Helpful Criticism
Not the best but suits price
I purchased this primer purely because of the price. It did an okay job of keeping my makeup in place, however I did not like the texture as I applied it. It felt almost grainy and was not a nice feeling. I have since bought the High Spreadability Fluid Primer from The Ordinary range and MUCH prefer it over this one.
it was okay

I just bought the second one and I think it does a pretty good job as a primer despite of its cheap price.

Is okay...

While I love the brand, this primer doesn't feel as nice as their high spreadable primer which I adore!

good

best primer, love this brand

Excellent primer

This primer is amazing for the price. It leaves skin super duper smooth and makeup sits so well ontop on it

Okay

Pretty good product, but made my make-up go blotchy after a few hours. Works better without using a moisturiser on the skin first.

good, affordable primer for everyday use

I'm glad I decided to try this primer. It is more liquid than other silicone primers, so it's easy to apply. I don't think it's as good as the Benefit porefessional, or the Hourglass veil primer, but it is much, much cheaper, so better for everyday use.

Excellent Primer!!

Doesn't clog my skin and keeps hold of differ t makeups very well with light and heavy coverage.

Good adherence

I like that this primer seems to seal in all the acid, serum and moisturiser I put on under it so that it gives a natural, flawless finish.

Great product and value

Wow. Love this. Definitely works well with liquid foundation and the price is so affordable. One to keep in the makeup kit

Very affordable Primer!!

Very affordable Primer!! This is my first product from the ordinary and it is a good product.

Not the best but suits price

I purchased this primer purely because of the price. It did an okay job of keeping my makeup in place, however I did not like the texture as I applied it. It felt almost grainy and was not a nice feeling. I have since bought the High Spreadability Fluid Primer from The Ordinary range and MUCH prefer it over this one.

The best feeling on the skin

I'm always skeptical about silicone primers especially considering how affordable this one is, but it's gone above my expectations. It feels so nice on the skin whilst making the skin look wonderful as well, it goes very well with my foundations and doesn't cause any sort of separation or discolouring.

Caused breakouts

I wouldn't recommend this product if you are prone to breakouts. My skin was terrible every time I tried it.

Perfect for Day to Day

I tried this Ordinary Primer after I tried their other one first. The texture is amazing, it feels so light and smooth going onto your skin. I find it holds my make up well on most parts of my face (besides areas I am more oily), perfect for your everyday face.

WOW

I can't believe this is so affordable! It really works to fill my pores in and give a smooth, almost slippery surface for foundation.

LOVE

Applying the primer is my favorite part of my skin regime as it makes my skin so god damn soft. I am in love.

Best Primer

Works like a dream, glides on and helps pores basically vanish, and for its price - you cannot go wrong!

wonderful primer!!

I've got combination skin and get VERY sweaty. I found that my makeup was just melting off with my sweat but this primer has definitely helped with keeping my makeup on my face!! It also definitely blurs the appearance of my large pores. Love it and will definitely be buying this again!!!

Loving it!

I think this is a great primer and you cannot beat the price! It is a bit thicker than some primers, but it does an amazing job at blurring lines and makes pores look smaller. My make up seems to last a lot longer through out the day now where as some other primers I have used my make up looked cakey by the end of the day. This is my go to primer now :)

Better than veil

I have really oily skin and tried cheap and expensive primers - including the fabled Hourglass Veil which did NOTHING for me. This primer does a really good job, especially considering the price. Fills my pores, dampens the shine and feels nice to apply. Will definitely buy again.

It's ok

I found this primer to be very thick, as in it felt like it was clogging my pores. It does the job of decreasing pore size and sitting well under your make up but I don't think I'll re purchase.

AMAZING value

No need to buy expensive smoothing (silicone-based) primers anymore! This has replaced anything pore-filling in my makeup bag, it is such good value and for under $10 I'm not sure why you would still be buying other pore-filling primers! This does exactly what it claims to do. If you can get past it not being scented/fragranced you'll be sure to love it

As Stated.

This primer does exactly what it states.
I personally have never noticed the smell.
Works well over full coverage makeup and prevents the afternoon T-zone oil on my face.
Overall, would recommend.

Great for Price

It's a nice base, leaves your skin feeling very smooth and soft.
Really does have a blurring effect.
I like to use this on days where I don't wear makeup to soften the texture of my skin.
It's not my favourite primer or my favourite product from the Ordinary but it does work well.
I find that while it is super cheap the container also doesn't last very long.

Great Product

This product did exactly what it was meant to! It feels so soft and smooth once applied.
It smells like a brand new doll, but I don't mind the smell.

Best primer I have ever used

I have tried a few primers previously but have not found anything that I think work. I get an oily tzone by the middle of the day. I have used this product now for a few weeks and I have not had the problem with my Tzone since then. I love it and have bought more of them. The price is another winner!

Great primer!

This primer feels silky and light and doesn't have that strange silicone feel like many other cheaper primers. Smoothed out my skin and felt moisturizing. People commented on my skin, and this was the only new addition in my makeup routine. Makeup lasted throughout the day with no touch ups. So affordable too!

So so

Very affordable like the rest of the range, I have purchased quite a few of their products and this is the least favourite. Sits nicely on face however reacts with my Ella badge eye cream to create a new substance I have to wipe off my face. I've tried it a few times but I really can't tell the difference when I wear it and when I don't. I have combination skin with an oily t-zone, mildly sensitive and prone to redness and breakouts. Might be great for other, at this price it's always worth a try, however I won't be repurchasing.

Great!

Can't beat this for the price.
I'm so in love with the ordinary and highly recommend most of their products.
including this..
Best silicone primer for the lowest price i've ever seen.

Great primer!

Love how smoothly this primer glides on and that's it's super affordable. Perfect for someone that is new to the primer world!

Smoothing

So smoothing and makes my skin look blurred. However, I think the silicone makes it pill - so use a bit less, or wait a while to apply foundation after

what sensational value!

I love The Ordinary's products and price point - honestly - it doesn't get better!

The prime is great - smooth on application, gives your skin that nice, soft, velvety feel. Makeup glides on and stays on.

This product over-delivers in my view for the negligible price tag in the world of skincare :)

Good

This product does the job and the price is great!

Amazing price

This primer is great for under make up and is an amazing price. Definitely worth giving it a go.

pretty smooth

im not really one for heavy makeup so i dont really need a primer, but i really like the look of matte skin so i decided to try this out since my sister is a big fan of it! it's actually pretty good, but it does feel a bit sticky and does not feel light on the skin. to describe it best, it feels like wearing lipbalm on your skin. overall, it does its job!

I'm impressed

I love this primer. I have mature skin and it really does diminish fine lines and helps my foundation glide on smoothly, making my skin look and feel softer.

Wow

Makes all the difference for a smoother look. Cannot believe the affordable price for such a great product! Only used once so far and I'm in love already.

Amazing.

Amazing. I've never found a primer that works so well with my skin, and for the price, how could you go wrong? Once I found this primer, I haven't even bothered trying any other, I'm sold.

Love this

This primer evens out my skin making a smooth base to apply makeup. A little goes a long way.

Great introductory product

First time primer user here and I'm really happy with the price point and the feel of this product. My makeup glides on after use and no skin irritation, so a massive plus!

Best primer for oily skin

This primer is the best for oily skin, as it can stay long.

Good price but not right for me

When I tested the product on the back of my hand it feels and look so smooth. Once put on the face as the last step before make up I find my foundation does not blend well. Will give it another try but for now I'm not quite sure.

Wow wow WOW

Wow this primer works wonders. I only bought it yesterday but wow I am impressed. And for such a cheap price too!! You can't beat this!!

Average

I found this does not give the velvety base that most silicon primers do. However, if you're after a more natural look it may work well for you.

Close dupe for Hourglass Primer

I use this during the daytime as a substitute for my beloved Hourglass Primer as they are both very similar in terms of function (matte, oil control, silky). I have to pat rather than swipe otherwise little balls of silicone show up depending on what moisturiser I have on underneath. Will repurchase once it runs out

great value

this really helped with my foundation application and such great value

good

This is a really good primer. makes my face feel really smooth. Makes my foundation sit well

Not my thing

I haven't found that this primer positively affects the wear of my make up, I find that it feels like my make up is sitting above a layer rather than adhering to my skin. Not sure if it's because of the particular foundation I use, my skin type or the primer. Much prefer to use 'the ordinary' moisturiser under my make up instead.

Effective and affordable

It goes on well and makes my makeup last better and look better. Is also great value!

Good value primer

Primer does the job and is great value for money

Amazing for the price!

Who would have thought such an affordable primer would be so amazing?!
I was a bit worried about it making my skin oily, but it definitely didn't. Made my skin look smooth and helped The Ordinary foundation stay on really well - such a great combo.

Love it

Love this primer, makes my skin feel hydrated and it helps the foundation to go on super smoothly

Makeup does not budge

I used this primer today and my makeup was the same at 8pm as it was at 6am! It worked so well and is so cheap!

Great base

Makes my skin feel so so soft and a great base for foundation. Can tend to break me out if I don't wash it out well

Amazing primer at such a cheap price point!

I love this primer and think it's comparable to Hourglass' Veil Mineral Primer and it's only a fraction of the price. Helps smooth my skin (fine lines and uneven texture) and my makeup stays put all day!

Excellent value

Feels silky smooth on my dry skin. Great value primer. Would definitely recommend.

Great as moisturiser - but not sure as a Primer

Only need a tiny pea size drop for entire face.
The first time I put it on, I loved it. It provided a matt finish to cover off all the serums and squalane I use from the Ordinary range.
However, as a primer, I do not like it. I feel like it stops the makeup absorbing effectively into my skin, which given my face a powdery and plasticy makeup look.
So I am not using it as a primer anymore, simply using it as a final step to cover the other serums on my face.

Smooth

This primer is lovely. Makes a smooth vase to apply makeup, but is also great on its own. Wish it was a bigger tube. Excellent value for money.

Not for me

I personally didn't like this primer as it balled up instantly when applying my foundation. I could apply my foundation with my fingers, a brush, beauty blender and it would steel pile. I even tried changing up foundations to a non-silicone base but that also didn't work for me. Really wanted to love it but didn't. I have quite oily skin so that may have affected the outcome also.

An Ordinary product where you can't go wrong

Blurs my pores and is the perfect base for foundation! Skin feels so smooth and makeup lasts noticeably longer.

Lovely

Such a lovely primer that leaves my slim super soft and ready for foundation. Makes my foundation look heaps nicer too. Unfortunately it went off in about 6months though and then it started balling up every time I used it

Beautiful primer

Really nice primer, goes on smoothly and makes your foundation glide on easily and last longer. Doesn't feel too thick or gluggy like some others do

Fab

Love this product so much! It's a really good price and it makes my makeup go on top of it so smoothly! It minimises my pores and makes my makeup look flawless

Awesome

i wanted this because i have large pores on my nose and cheek and it fills them up nicely so foundation doesn't crease in them

Base primer

I applied it on before my make up and it created and silky smooth texture.

Can not believe the price point!

This primer is amazing & for the price you cannot go wrong. Skin glows & I use less foundation. Perfect base!

Good

This is a great primer for my oily skin and my foundation stays in place all day without my skin getting greasy. Recommend it

Smooth as silk!

Creates such a smooth base for makeup. I've stuck by my Napoleon primer for years but decided to give this a go. My skin is definitely more "glowing" with this, and not using as much foundation either..

excellent

This primer is so good! makes my foundation and all my makeup go on so smoothly and smells so nice LOVE IT!

favourite

I love this, for some reason this one plays nicer with my skin and the products I use. if you have combination skin, use lots of oils and wear very minimal base makeup / cream products like I do then I'd absolutely recommend this over the spreadability one.

Does not play nice over my skincare

This primer literally slide right off my face on contact with my skincare. It turned into a water like substance and I had to re-wash my face and start all over again. I bought this based on reviews and for concealing pores as I do not have oil skin so do not need it to mattify. I am combo/dry with extra dry flaky patches at the moment due to my nightly tretinoin cream.It does not play nice over an intensely moisturising skincare routine like mine. Sent it back for a refund.

Excellent primer

This is the third time I've bought this, very silky and effective primer. Highly recommended

For what its worth, this does wonders.

I have the oilest of oilest skin known to man. I have had friends tell me that I could fuel their cars that's how oily my face is. This primer does wonders in keeping my oils to a minimum considering the price. Prior to this primer I was spending $50+ for primers that achieved a minimal matte finish on my face. This $8.80 does the job that more expensive primers claim to do. I can also use any cheap foundation over this and it still helps to keep the oils down. Would recommend.

Not for me.

Unfortunately the only one of these products that doesn't work for me, caused breakouts.

love it

blurs my skin, smoothing it before applying makeup! Increases the longevity of my makeup, lasting all day

Can't go wrong!

Best primer I've ever purchased and by far the cheapest too! Goes on so easily and my foundation looks so good over the top. You only need a little bit and it lasts all day!

okay

I love the ordinary. This makes my skin more even, smooth, toned, and soft! An amazing product for the price and lasted a fair while considering the size of the bottle!

Love love love

I love this primer! Feels so great on my skins before makeup.

Great affordable primer, pay attention to the use by

This is a great, pore filling primer that helps your makeup adhere and prevents oxidation. If you haven't used a silicon primer before you may not like the texture, but personally I find this primer very effective, especially at this price point.
The only negative experience I've ever had with this product was my fault, but I'll include for the sake of honesty: I wear makeup pretty infrequently, so about one third of the product went off-the formulation got thicker, my concealer began to ball up and my foundation would split. That's totally on me though, I should've paid more attention to when I had bought and first used this product.

Perfect primer

I have oily skin with patches of dryness around my nose and chin, this primer goes on perfectly after my skin routine before make up. The primer is velvety and even though I only wear powdered foundation my skin still looks smooth with no dryness around my problem areas. Thumbs up!

Great

I love this primer. Has easy spreadability and my skin feels so velvety soft. Make up is definitely breeze to apply after using this product.

A must for oily and combination skin

I found out about this product through the Wayne Goss Utube channel and its amazing. Love it. I have oily skin and it does not make it worse. Perfect base for longer wear and works really well with powders. Love!

Primes and controls oil

Good primer for the price. Comparable to Hylamide matte primer. It definitely controls oils for a good portion of the day. It doesn't pill my foundation up either.

Good for the price

I don't reach for this everyday but I think it's great for under $10. It may be the foundation I use that doesn't work well so I would definitely recommend giving it a go.

Yes

For the price you cannot go wrong with this for everyday wear, my makeup went on smoothly so im happy!

Smooth and silky

Really nice on the skin after moisturizer. Sits well under makeup I've found. Skin isn't getting oily throughout the day either and makeup stays a bit better. Plus, the cost compared to most of a similar product is great, and it's natural.

Great primer

For the price this primer is really good. It leaves the skin feeling so smooth and perfect for foundation application. It definitely makes my makeup stay on longer and overal look better

The Ordinary High-Adherence Silicone Primer

I find Primers really make a difference when applying foundation. This one glides on, and my foundation glides on top of it. It is soft and silky to use, and you don't use much at all. I found it had no smell also which is good. I will keep using it, as it seems as good as any of the expensive ones I have tried over the years and the price point unbeatable for the quality.

Great primer! Makes application of foundation so much easier. One of my favourite products from Adore!

Great primer! Makes application of foundation so much easier. One of my favourite products!I find the primer assists with hydration and prevents foundation from drying out. It's the primer I turn to before applying make up. It also be used on its own for a make up free matte finish.

Quite nice

This works amazing with silicon based foundations. My makeup always applies sooo smoothly and flawless when I use this. I highly recommend.

VERY NICE

This is the first time i have used a primer and im quite impressed, it just glides on and feels great.

Works well

For the price it works very well for day wear. I will continue to buy.

Glides On & So Cheap

I bought this primer because I'm switching to cruelty free beauty products. I love the no fuss, simple packaging and the price is great! It glides on and provides a nice base for my foundation. I will buy again!

Good buy

I have normal skin but a fair amount of texture, so this primer is a great purchase and you can't beat that price. The only negative is that if this primer gets too old, it makes products build up and doesn't work anymore. But that's probably on me for not paying closer attention to expiration dates on my products. Regardlwss-this is a solid everyday primer that works well with most makeup

Works amazingly, great price!

This is my go to broke primer.
I love how cheap it is and it glides on!
Covers up all my pores!
Yes it's silicone but it works a treat. My make up goes on like a dream after using it! Yes it is my I'm to broke to buy my usual but as a back up it's pretty close to being on par with it!
All in all I love it!

Very oily and patchy

I did not like this primer! It may be the combo w my other makeup not being compatible but I found it to be very oily and make my foundation apply patchy. The primer balled up and wouldn't spread after I *tried* to apply foundation

Pretty good

You cant expect too much from a primer of this price - its not one I would use for an event or night time going out makeup but its great for day to day wear. I cant say I love the scent its not that great. Has a strong silicone scent as expected in the name. But as for value its as good as it gets. Its applies easily to the skin and keeps my makeup on which is what its meant for. Its definitely worth a try at this price.

Great primer

I have had nothing but success using the ordinary products my skin looks and feels great for the first time in years. I had been using nude by nature primer but when it was time to buy a new one I had to try this. It's just as good if not better. I can use it without make up to give my skin a more even texture. When I use foundation over it, it spreads well and stays on. The price is so good. Another winner from the ordinary.

Like but only works with a base

I find this makes my makeup stick really well but I find I can't wear just the primer otherwise it slips, with moisturiser underneath its great!

Pretty amazing

I was really happy with this! My makeup stayed on all day and looked super natural. I have tried many primers and find that I reach for this quite often! Worth a shot!