The Ordinary 100% Plant-Derived Squalane 30ml
4 instalments of $3.48
Or 4 instalments of $3.48 with
LEARN MORE
4 instalments of $3.48
Or 4 instalments of $3.48 with
LEARN MORE
Official Stockist
Is this for you?
The Ordinary 100% Plant-Derived Squalane is a lightweight plant-derived solution to support healthy hydration.
Frequently bought with
Please wait while we find a match
Questions & Answers
(3 Questions)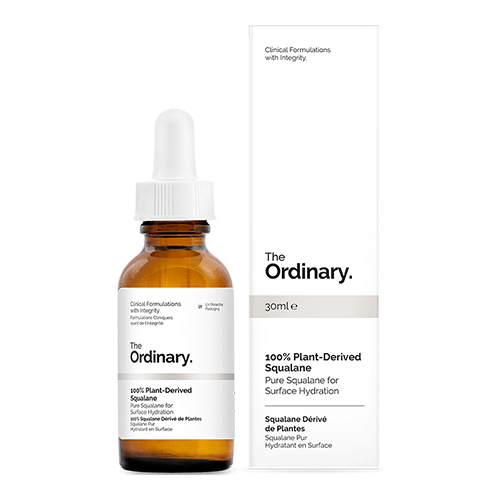 The Ordinary 100% Plant-Derived Squalane
Get an expert to answer your question about this product!
The Ordinary 100% Plant-Derived Squalane Reviews
92% recommend this product
Most Helpful Positive
Love it
This is so lightweight and sinks right into my skin. Love it!
Most Helpful Criticism
Just okay
This is probably the best product from this brand that I've tried so far. It has a nice consistency and isn't sticky on the face like others. I just don't feel like it's doing anything but I still add a few drops to my moisturiser to use it up
Love it

This is so lightweight and sinks right into my skin. Love it!

It's fine but don't see the point

This is in a lot of moisturisers already so it's sort of an unnecessary extra step

Good but not great

This serum is good to use in summer when it is not as dry however, I believe that ordinary does have better serums and oils out there that are able to be used year round.

Great serum!

Great, lightweight serum that is hydrating and absorbs into skin nicely.

i dont use this on my face but

i use this on my hair and hands. my skin is veryyy reactive and i havent tried this on my face yet (will probably try forehead first just incase) but i use this on my hair when its dry. smoothed out my dry frizzy hair. i dont use on my roots just the dry ends and i also rub this into my hands for my cuticles since i get pits. it dries down nicely.

Amazing face oil!

This is such a beautiful face oil. I'd been using the Ordinary's rose hip oil for a year but decided to try this instead and it's SO much better! It's also cheaper. It really softens the skin, rather than just sitting there. I pat 2-4 drops into my skin after my moisturiser morning and night and it's a beautiful finish to my skincare routine. We love protecting our moisture barrier!

Great

This is a lightweight oil and it hydrates my skin. Great to use over a moisturiser or under foundation

Great for body

I tried this product on my face but didn't quite work out for me- my skin is combination with dry spots + eczema on the cheeks. The product was too greasy for my T-zone and broke me out on the cheeks. However, it works great as a body moisturiser when I use it with a body lotion + niacinamide powder. It's very hydrating, isn't greasy and doesn't cause red patches. I've repurchased this product mul...

Read More

Budget friendly and effective

I love an oil based product to pop on over my lighter serums, and this one is lovely. I use a couple of times per week and have purchased several times, and will continue to. Such great value!

love it

its kind of similar to rose hip oil which I love - but this leaves my face very moisturised

Moisturizing

I was hopingvto like this more than the HA but found it had similar results. Just ok, not sure if i would purchase again.

Just perfect

This is a great product, it's like hydrolytic acid and a skin oil in one

Love!

Great lightweight oil that super hydrating on the skin! Great for my eczema as it caused no irritation. Definitely recommend if you love an oil as it is a great affordable option.

very good product

for sensitive skin, use it before other serums, buy it several times, love it!

soft skin

This is perfect for acne prone, sensitive skin

For sensitive skin

I came across this serum when I was looking up perioral dermatitis friendly products. I have developed ultra sensitive skin after years of products with active ingredients. Most oils inflame my dermatitis instantly, but I've found I'm tolerating the squalane really well a few times a week. It's helped overall hydration and leaves my skin feeling super plump.

Preferred it as a hair oil

Didn't notice a difference in my skin. I ended up using it up as a hair oil which I much preferred and I might in fact repurchase it to use it as a hair oil.

Love this for dehydrated skin!

I have been using this squalane for a few years and it has really helped add moisture to my oily, dehydrated skin. It has a thin, oil like texture and no distinct scent. I apply it after cleaning and toning and it absorbs well, without making my face too shiny.

A nice serum, not for me though

I really enjoy this serum, it's certainly moisturising and a little goes a long way. I don't think it quite works with my skin, however I think I lean just a little too oily to be able to use this product regularly. It works nicely as a hair oil too!

so hydrating

This oil is fantastic and one of my favourites out of all The Ordinary oils I have tried. I use it every night and find it so hydrating on the skin. This oil seems to be one of the most hydrating out of all their range so if you do have dry skin I highly recommend trying this one out

Most hydrating oil in their range

I love this oil I use it every night!! Ive tried a few different oils from their collection and this is by far the most hydrating. I highly recommend it you have dry skin and needing hydration

Lightweight oil

This is the 3rd time I've repurchased it. It's a must have for winter. I have very dry skin and I use it straight after my moisturiser. It is clear with no fragrance. I recommend patch testing before using.

My dry/sensitive skin SOAKS IT UP!!

Love TOs 100% Plant-Derived Squalane! One of the first products I came across when I discovered and delved into TO in early 2020 and I keep coming back for more.

Scent: Nil
Texture: Runny/not 'oily' - very thin

I use this morning and night at the beginning of my AM and PM skincare routines. My dry and sensitive skin is definitely more balanced because of this produ...

Read More

Part of my night time routine

I sue this with Sukin night cream. I like that it has no fragrance and the dropper makes it easy to use.

I use it everyday

Perfect serum for my dry skin. I use it nearly everyday for hydration, the product spreads very far.

great product

I really like this product, it helps hydrate any dry spots that I have. It does make my skin a bit oily so I apply it at night instead, therefore I don't really mind. Personally, I'm not a huge fan of oil serums but I mix this in with my moisturiser before applying and it goes on so much better! I would definitely buy this again

Very moisturising

I really like this in my night time routine! It's super moisturising and feels good on my skin. Definitely recommend.

Soothed my irritated skin

For the last few weeks I have been trying different skincare products trying to find a routine that works for me. I use the Ordinarys "Niacinamide' and 'Buffet' Serum every morning (it has worked wonders for me). However I was trying differnt retinol products for my face at night time routine and they were causing me irritation. This product soothed my skin. I have oily/combination skin and ha...

Read More

Love!

On to my second bottle now, I love this so much. I use it every night with The Ordinary moisturiser and now all my dry patches are gone!

Perfect mixed in with the Natural Moisturising Factors moisturiser

When I first bought this product I used it by itself, and didn't enjoy the oil slick look, since it took 30mins-hour to sink in to my skin. I now mix two drops in with my moisturiser, and LOVE it, as it hydrates my skin, while not leaving me super oily.

Does its job

I have not used this product for very long yet, but it defiantly has hydrated my skin!

LOVE!

Loving this product! Leaves skin nourished and hydrated. I have been battling with dry skin (usually a combo skin type) all winter and this has helped my dry patches clear up and feel hydrated. I use this during my night time skincare routine, it is layered with other facial oils (argan oil) and works perfectly together without breaking me out. Would recommend!

Moisturising and light

Mix this was my moisturiser and it helps give an extra bit of hydration

Moisture boost

I mix this with my moisturiser for extra hydration

best of alm the face oils!

my skin is still getting used to this one but it is the best face oil I've tried. It's light and you only need a few drops. I pair this with a few serums and the squalane cleanser and I love it. Takes awhile to soak into skin but I'm able to use it during the day and at night.

Great for an extra boost or amazing as a body moisturiser

I used this product on my face and wasn't very impressed but not disappointed either - seemed like an okay moisturiser, reasonable for the price but nothing "wow". The Ordinary has other moisturisers which I prefer more.

However, I tried using this on my body and has very different results. It helped keep my skin soft for a lot longer than your average body moisturiser. I can use it a...

Read More

Repeat purchase

A staple in my skincare routine when I need extra hydration for my dry, sensitive skin - really helps calm my eczema flare ups as well. I use it on my face and body as well. I switch between this and the B oil depending on how I feel but this is good because there is no colour or smell whatsoever.

Not sure

This product feels nice as it's going on and it seems to do nice things to my skin but for some reason it has a wierd peeling effect whereby if I run my hands over my face after I've applied it, i end up with little bits on my fingers like when you use an eraser. Not sure if it is just how this product reacts with my moisturiser (Drunk Elephant Lala whipped cream) or if it is how it is in general ...

Read More

Hydrating

This was perfect for the days I felt like I needed more hydration. It left my skin plump and I used it at night so when I woke up my skin was well hydrated. The only negative I would have is it takes a long time to soak into skin.

Love it

I layer this over hyaluronic acid and my skin is so smooth and hydrated

Miraculous!

I have dry skin with dry flaky patches on my forehead and around my mouth, and ever since I started using this along with TO Hyaluronic Acid in my night routine, the dry patches have disappeared! Haven't had them since! It has an oily feel but very hydrating, highly recommend for dry skin types.

Highly recommend

I had dry areas of my skin and everything would make them flare up and burn, but this product helped hydrate my sensitive skin so well without causing breakouts. Also a big thumbs up for being plant based.

Skin Saver!

I am obbsessed with this product! I put it on after a water based gel and it really helps to plump my skin. I've had huge issues with red marks left from acne and I have found this has helped calm that down a lot. Also try mixing a drop into your foundation if you want a lighter/dewy finish!

Versatile oil

I use this in my hair and under my moisturiser and they've never felt so healthy

Loving this!!

So good for my skin! I've been using it for around 12 months and within a few weeks, I noticed such a change in my skin. I feel like it's helped give me a nice glow and the confidence to wear less make up.

This brand and their prices are amazing. Please try it!

If you are looking for glass skin, you found it!

I love this. My skin feels and looks so good. I can add a drop to my foundation for an extra glow. I will repurchase a million times

Amazing benefits overall for next to nothing

I had never heard of squalane until I came across it here. After researching the benefits of the plant derived product I ordered immediately, and I am honestly AMAZED! Especially considering the price of this product. A little bit goes a long way and I use morning and night just before I finish off with moisturiser. I have combination skin but after the last few months I have been super dry! I ha...

Read More

Healthy hair

I had this product for a while before realising what I love it for. In my opinion, it's just okay for skincare - my skin is super dry and using it on my face made me feel greasy and still not hydrated. What I love this for is my hair. I bleached my hair when I was younger and it never recovered, it felt dry and damaged for years and was constantly frizzy and unmanageable. I now only wash my hair o...

Read More

Amazing Product

The best product! I highly recommend the ordinary range. I mix a couple of drops of this with my moisturiser.

Great barrier defence

Good for acne prone skin. It's sort of like an oil but not- hard to explain, but its sort of like a watery wax- without being oily (??). It's not absorbed quickly, but acts more as a barrier layer, so locks in serums underneath, or useful to apply before walking in the cold wind. Feels luxurious against skin. No scent, clear texture.

The best!

It makes my skin silky smooth. Use only once a day. More than once may cause a reaction. Usually in the morning I use it, makes my skin feel so soft and makes my makeup look flawless

Glow up!

I love adding a few drops in with my moisturizer every morning for that extra hydration & GLOW! It's a staple products in my house.

Excellent for Acne Sufferers with Dry Skin

This is one of the only oils with a comedogenic rating of 0 - meaning it will not clog your pores at all. It is also fungal-acne safe. It is so hard to get moisture into dry skin when you are trying to use acne safe products so this product was such a relief to find - I would use it in winter on top of my moisturiser at night and it was wonderful. For the first time I would wake up in the morning ...

Read More

Winter lifesaver

I live in a cold climate and this has been a lifesaver this winter. Super hydrating and so light and easy to apply. My skin looks and feels amazing.

A great facial oil for oily skin

Although I have oily skin, it is a bit dehydrated in some areas. I purchased a bottle of The Ordinary's squalane oil this year to try out facial oils for the first time and was so impressed with the way it absorbed and smoothed out my skin during winter. I use a few drops morning and night after my moisturiser and before applying my sunscreen. I even wear a few drops under foundation to help it ap...

Read More

Best day time moisturiser

Looks amazing under makeup and doesn't make me break out. My skin looks dewy and feels so much better! This works so much better than anything I've used before

Love this stuff

I have oily combo skin but get lots of dry patches. I mix this in with my moisturiser and it is amazing. Gives me lots of hydration and makes my skin feel great without clogging it.

Love this product

Absolutely recommend this product to add to your skin care routine!!

Your skin's new bestfriend

This product is a lifesaver.
Not only does it hydrate it, but it helps sooth any redness and eczema.
The only downfall of this product is that it makes your skin look very greasy when you first put it on. However, if you use it overnight, the greasiness is gone by the morning and you're left with super soft skin

Oily Texture

This product wasn't for me. I do have dry skin but I felt this was too heavy feeling for me and using only a couple drops would be enough. I have dry acne Prone skin and i dont recommend this. product for someone with the same skin type.

feels amazing

I love how hydrated my skin is after using it and whats better is that its good for acne prone skin! My skin has been through the ringer with all the drying blemish fighting ingredients I use, this oil is just what my skin needed. LOVE it

Healthy glow

love this item!! I only recently discovered this product a few months ago after a life time of having a love hate relationship with moisturiser... I literally will not stop using this now. I was worried it would be heavy on my medium to sometimes oily skin but damn I was wrong. It's such a beautiful feeling on my face and glides on nicely without taking ages to dry or feeling like the product is n...

Read More

So hydrating!

This has been a saviour during winter. Whilst in isolation I've been doing an at home facial once a week and I've been using this as the serum. My skin has never looked better!

My skin is not dry anymore

I love love love this product! Using my second bottle and will purchase my third, forth as the product moistures my skin during winter and seasons change

Lovely face oil

One of my go to face oils (as well as rosehip oil). Love it at the end of my routine, before moisturiser, even mixed in with foundation for a lighter and glowy coverage. So hydrating. Really gets rids of those dry flakey areas especially during the colder weather.

No from me but YES from him

Unfortunately I had a bad reaction to this so it was a no from me but my cousin who hates all skincare and is picky about textures really loves this product and praises the way it feels on application. He also has less hyperpigmentation after using 1 bottle of this.

Great facial oil

I bought this looking for an oil to help with hydration (I have quite dry skin). I have been using this for a few months and love it. I have been through 2 bottles. I think the amount that comes out of the dropper can be too much, a little goes a long way. I have quite sensitive skin and this has not irritated it and it didn't cause any breakouts.

A great hydrating oil!

Holy Grail for Hair

I bought this for my face. Was much too greasy and unpleasant for me, but it did not cause any breakouts. So its definitely safe for anyone to try. I started using it in my super dry course long curly hair when I get out of the shower and its still damp. ITS JUST BEAUTIFUL. IT makes my hair so soft and the curly hold and its just more manageable. I bought the kerestase hair elixir recently because...

Read More

Seals in moisture!

I love this product. I heard so many good things from Youtubers I needed to give it a go. I use it LAST even after a repair balm or thick moisturiser and it feels like it locks in the hydration on your skin. It also doesn't feed malassezia like other products so if you struggle with bumpy texture/fungal acne this is an amazing product for hydration. It's not sticky and a little goes a long way. I'...

Read More

Amazing!!!

I have fairly oily skin with a few dry patches, and could never find a way to get rid of them until I used this! I have been only using this for a week but my skin feels super soft and smooth.
I apply it at night where it does look a little oily but it is all good the next morning!
Love this and would definitely repurchase - a little goes a long way

Lovely and nourishing

I really like the consistency of this product, it's like a light oil that absorbs quickly. There is no sticky consistency and it spreads well. I use it at night and my skin feels really soft and nourished in the morning and never greasy.

Worth the money

I mix it with my night cream. Can be a bit oily if use in the morning (personal feeling). Overall a good experience!

Hydrating!

A really great hydrating product if you have dry skin. I use this on my chin area only which gets really dry and it feels instantly much better.

Super Hydrating

Super hydrating, I use it at night time and always wake up with really nice soft skin. Highly recommend for the price, I was going to get Salt by Hendrix's Babetown but this is the exact same thing for a quarter of the price.

Soft and versatile

I can't love this more! After about a month use my skin is smoother and soft. I'm using it with a generic moisturizer as well if I've had a long day outside, otherwise it's great on just its own. It's even great in hair, has smoothed all the damage from over bleaching.

Worth the money

I mix it with my night cream. Can be a bit oily if use in the morning (personal feeling). Overall a good experience!



Very hydrating

I have loved incorporating this into my routine, especially when my skin is feeling dry. It also gives a beautiful glow.

Don't see much difference

This is my first squalane containing product from the ordinary so I didn't realise it was in oil form. This product feels like a dry oil which doesn't give the skin that greasy feeling afterwards but absorbs quite quickly. But since I have super dry skin this product almost doesn't make a difference on my skin during the full month I've been using it for.

Seriously skin saver

Great for moisturising and soothing irritated skin

Sensitive Skin - Rosacea

I have a full face routine but I use this product when my face gets seriously dry or I have dry skin spots. It is super hydrating and not at all oily!

Great value!!

It applies like a light oil and you only need a couple of drops. It does take a while to sink in, but it's very hydrating and causes no problems with my sensitive skin

Didn't get on with it

I'm in the minority that didn't get on with this product. I had been using The Ordinary's rose hip oil and decided to try this instead. It feels so thin in comparison and has done nothing for my eyelashes, unlike the rose hip oil which made them grow thick and long. Don't get me wrong, it's not bad, I just don't love it. Perhaps I need to experiment with a different way of using it, such as mixing...

Read More

Love this stuff

I use a few drops of the squalane before using the Ordinary mosturiser and my skin feels nice all day. I used to get dry patches during winter but this has cleared up with the Ordinary which has been really great. Would definitely recommend and will be repurchasing!

Great value!!

I was considering incorporating a facial oil into my routine, such as rose hip oil or argan oil. But then I started reading about how these oils can oxidise whilst on your face and actually cause more damage than good. They recommended oils that are already saturated and therefore wouldn't oxidise - such as squalane. Having already used The Ordinary products before with great results, and consider...

Read More

I love it, but...

I honestly love using this product. It makes you look so glowy and radiant after application & the texture is amazing. However whenever I use it, after a couple of days I break out really bad. I'm now using it on my body & hands because I really do love the consistency.

Feels lovely

I purchased quite a few The Ordinary products and love most of them. I am 42 with semi dry skin. I have been using the Squalane in conjunction with Hyaluronic Acid and my skin is more hydrated. I do slightly prefer the rosehip oil for hydration but it is a little heavier on the face so I usually choose the Squalane and alternate with the rosehip when I need extra.

Just okay

This is probably the best product from this brand that I've tried so far. It has a nice consistency and isn't sticky on the face like others. I just don't feel like it's doing anything but I still add a few drops to my moisturiser to use it up

Great value

I use this on its own at night without a moisturiser and it works ok on my combination skin. Might need a slightly thicker layer in winter. No frills and cruelty free product at great price but not amazing.

Soft, glowy, mosturized skin

Absolutely love this stuff, I was looking for something to bring some moisture into my skincare routine and this was perfect. It's super lightweight, non greasy and leaves my skin super glowy and radiant. I tried using it a couple of different ways and found that mixing a couple of drops in with my moisturiser works the best.

Such a nice, lightweight oil!

This squalane oil is the perfect weight on my skin during lockdown. It feels rich and nourishing, and I've yet to suffer from any of the typical winter dryness I experience in Melbourne normally. It does feel a bit oily on my forehead (probably the oiliest part of my face), so I prefer a cream moisturizer there. But I adore the shine this gives my cheekbones.

Nice and dewy

I bought this as a recommendation and really like it. I have dry sensitive skin and this is a great barrier product. I use it after the 7% toning solution at night and after cleansing/before my moisturiser in the morning. You only need a couple of drops so it's easy to over do it. It can take a while to sink in which is no good if you're in a hurry. It's great for dry skin, keeps my face soft all ...

Read More

I like it

This is the first time I use this product but I read very good reviewed and decided to give it a try, I am just using it at night and I like as it leaves my skin looking great in the morning, perfect for winter as it helps hydrating as I have dry skin.

Better than anything

I have always been an advocate for rosehip oil, but wanted to try something differen lately as my skin has been a bit itchy.
Recently I purchased the squalane, I am so in love!!!
It's just so silky smooth and my skin is just sooo happy now!
5/5

YES

Where has this been all my life? As someone with drier skin and who likes an active, I'm always on the hunt for something soothing and calming to use alongside the harsher products. This felt nourishing and smooth on my skin - definitely will become a staple!

Better than anything

I have always been an advocate for rosehip oil, but wanted to try something differen lately as my skin has been a bit itchy.
Recently I purchased the squalane, I am so in love!!!
It's just so silky smooth and my skin is just sooo happy now!
5/5

Lightweight and lovely

1-2 Drops into my face cream makes such a difference. It's so lightweight, almost undetectable once it's absorbed. I wear this during the day under my makeup with no problems. I have found if it's layered with too many products it can ball. Other than that this a such a lovely oil.

Amazing

Perfect serum to leave your skin feeling super hydrated and looking glowy, love it! I've had heaps of compliments about my skin since wearing this

Clogs my skin

This goes on well, but every time I use it I notice my (dry) skin becomes really clogged. Not a huge fan, if I'm honest.

Good to have

I'm glad I have this product in my repertoire! A perfect finisher a few times a week after my nightly routine. You wont need moisturizer using this bad boy, good consistency, I cant feel it unless I touch my skin, I love it!

Pretty good!

I've been using this product a couple of times a week, after I've applied other serums and moisturiser. A couple of times I've mixed it in with my night moisturiser. Nice consistency and doesn't feel too oily on the skin. Very easy to add into your routine!