The Ordinary 100% Plant-Derived Squalane 30ml
Questions & Answers
(3 Questions)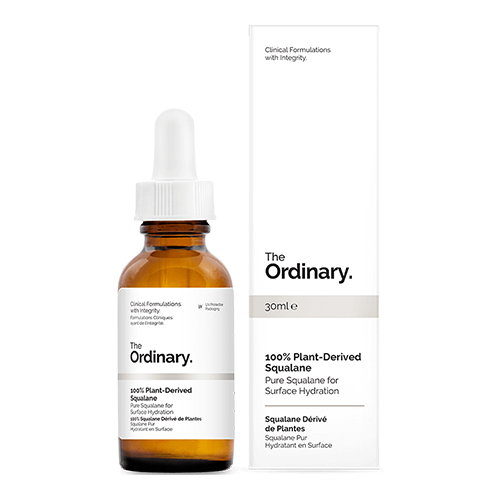 The Ordinary 100% Plant-Derived Squalane
Get an expert to answer your question about this product!
Ask a Question
92% recommend this product
Most Helpful Positive
Love
This is super hydrating I love it. It's great for older dry skin, my mum loves it
Most Helpful Criticism
Highly moisturising for face and hair
I used this product on my face overnight and found it very moisturising, however it doesn't soak in so could bother people who tend towards oily skin or don't like the sensation of something sitting on their face.

I actually enjoyed this product most on my hair. I applied it to the mid-lengths and ends the night before washing my hair and let it sit on overnight. I found that it made my dry hair feel much softer, more so than any of my ciurrent hair treatment products.

Love

This is super hydrating I love it. It's great for older dry skin, my mum loves it

Amazing product I'd recommend to anyone

This is my holy grail product for sensitive skin. I'm loving this for winter. I use it by mixing it in with a moisturiser for extra hydration and then just slather the combination on my face. It absorbs fairly quickly and was my go to when I had agitated my skin with a Retinol cream. Healed the minor burn on face and I honestly don't know what I would've done without it.

Good hydrator

A good hydrator that goes well under moisturiser or without. Another lovely product from the Ordinary.

So smooth!

This product glides on so nicely and leaves my skin feeling and looking lovely. Goes on well underneath makeup for a smooth and well hydrated look.

The oil that isn't an oil

This glides on and hydrates everywhere it touches. It goes easily over other serums and perfectly under the natural Moisturizing factors + ha. My oily skin has never felt so lush

One of my Favourites

This was the last product that I tried from the Ordinary as I was so impressed with the products I was using already, but after reading a review I thought I would give it a try and wasn't disappointed. It gives my forty year old skin an extra hydration boost and leaves it looking refreshed. I sometimes use it at the end of the day if I'm going out straight from work and pop it on over my makeup and it just freshens up my look with a youthful glow that gives me confidence enough to not have to put on more makeup. I love it and will continue to keep it as part of my regime. One of my absolute favourites from the Ordinary.

Really intrigued by squalane

It seems to work really well at hydrating my skin.

Lovely

Really liking this oil at the moment, it's really gentle on the skin so i like to put it around the eye area too sometimes if my eyes are feeling a bit sensitive. Not seeing any other benefits for my skin other than hydration so I would probably use this along side another serum.


Great hydrating night oil

Great night oil for hydrating. Especially good over the winter months. 5 stars

Hydrating

I like this product, I use it after Vitamin C mixed with granactive retinol. Gives the skin a nice juicy feeling. Have been using these products for a little over 2 weeks and quite impressed

Lovely under moisturiser

This is a lovely light oil. I use it before my moisturiser (The Ordinary Natural Moisturising Factors) as I'm very dry and the moisturiser alone doesn't quite cut it. For other skin types it could be used alone, in place of a moisturiser. It goes on nicely and improves hydration without feeling oily or greasy.

Although it's non-comedogenic, I do find that it makes my skin a teeny bit more congested, so I prefer to use the Hyaluronic Acid instead (quite a different product, but they both achieve the same result of making my skin less dry). However I still like this product and recommend it to people often; I just make sure to only use it sporadically, not every day.

Lovely nourishing face oil

I have been using this product for years and it's my go to face product that I find gives me consistently good results. I have sensitive skin that tends to be dry, and I need to mix up my product line otherwise I'll develop a sensitivity. I find it perfect as a night oil as it does tend to take a while to completely sink in, but mixing it with your day moisturiser works well and gives it a boost. Pairing it with a hyaluronic gives me wonderfully hydrated and nourished skin, with no irritation whatsoever. Definite recommend. Wish it came in a bigger size.

The best face oil

This is the best face oil! It works so well and is incredibly well priced. I recommend tying long hair up if putting it on your face before bed, as it leaves the hair around your face really oily.

Good final skincare step

This oil works well as the last step in my skincare routine, as it is heavier than many other facial oils and so sinks in slowly, but doesn't clog up my skin either. It's definitely more suited to drier skin types though, and/or for drier winter weather.

Soothing

This is the first oil I've incorporated into my skincare routine and I've found it very soothing & mildly hydrating. I still need to apply a night cream over the top of the oil, but I always wake with smooth, even skin and significantly less oily than before using the product. I'll probably try one of the other oils once this one runs out but will confidently return if the other doesn't perform any better

My skin has never felt so good

I have combo/oily skin, but my skin just soaks up this product and feels so dewy and plump. I mix 1-2 drops with hyaluronic acid and apply it first thing in the morning, about 15 minutes before I apply my makeup. My main skin concern is to combat initial signs of ageing.

Light, hydrating oil

I really like this ! I bought it when I was in the middle of Scottish winter for extra hydration and was not disappointed. Light and hydrating by itself or mixed into moisturizer.

Light moisturising oil

Wasn't sure what to expect with this, I've got 55yo combination skin and was looking for an additional emollient, this is exactly what I wanted. I'm completely in love with the TO line so this was an obvious choice, thought it would be heavier in consistency but it's much lighter than anticipated. I use it only on really dry prone areas after 23% Vitamin C HA and before my face oils. It gives just that extra boost I was looking for. The spreadability is good, a little goes a long way. Overall I'm happy albeit not completely wowed. This bottle will last quite a long time, I'm not currently positive I will repurchase, only time will tell, but for right now it's certainly doing what I wanted it to do.

Nice light oil

I like this oil. It is very light and you only need to use 1 or 2 drops,otherwise you look very oily and it doesn't sink in. It doesn't do much other than hydrate though. I have oily skin prone to breakouts. When used every night it was making me break out a little bit but now I just use every other night and it's fine.

Nice little hydrator

No fuss product, really hydrating but not heavy, a good alternative for adding an oil into your routine if you are a bit hesistant. I'll probably not repurchase this though and stick with the retinoid with squalane that the ordinary offers which delivers other benefits for my skin concerns as well as being hydrating.

Doesn't work on all skins.

I've had this for two months. I was a bit apprehensive about squalane reacting with my skin. I have combination skin and mild acne.
I use it mainly around my mouth which tends to dry up particularly after cleansing and toning and after a few days I noticed I started breaking out. Small bubbles which weren't very nice to have in that area.

I just use it on my hands and hair tips now cause I don't want to waste... I reverted back to my swisse argan face oil which works perfectly for my skin.

Lightly hydrating

I think this is a good product for people who don't like a heavy oil on their face. However as someone with very dry skin I found myself mixing this with some of my heavier oils to use it up. I do still think this is a good product, especially for people who don't have very dry skin. I felt like it did help a bit with dryness but not as much as some of my other products and I probably would not repurchase.

Great hydration

Really liking this oil at the moment, it's really gentle on the skin so i like to put it around the eye area too sometimes if my eyes are feeling a bit sensitive. Not seeing any other benefits for my skin other than hydration so I would probably use this along side another serum.

lovely hydrated skin

I like this product but don't find myself reaching for it all that often. It has an almost oily texture and gives a lot of hydration which is nice but if you use a lot of other hydrating products (such as oils/hyaluronic acid) then this is probably just an extra step that isn't all that necessary, however if you're like me and just like skincare it is nice to have and mix with other products

Light and hydrating

Lightweight serum - I don't feel like it contributes to breakouts. It still moisturises the skin really nicely and soothes dry flakey patches.

Highly moisturising for face and hair

I used this product on my face overnight and found it very moisturising, however it doesn't soak in so could bother people who tend towards oily skin or don't like the sensation of something sitting on their face.

I actually enjoyed this product most on my hair. I applied it to the mid-lengths and ends the night before washing my hair and let it sit on overnight. I found that it made my dry hair feel much softer, more so than any of my ciurrent hair treatment products.


its alright

Its alright, doesn't have much result other than moisturising

Worth a try

Honestly, I'm still not sure what this is meant to do but I use it at night because like others say, it is oily and leaves quite the shine. Even so, it makes my skin feel soft and I've liked it so far. Not so oily it causes any breakouts and it feels lightweight. Works as a good base for night products. Would recommend, particularly for the price.

Moisturising but too oily for my skin

I have used this for more than 4 months and it does a good job of moisturising my skin but I did not like the oily texture or the sheen it left on my skin after using.

Fantastic serum

I've been using this serum consistently for about 2 months now and have noticed a big difference in my skin. It makes my skin very soft and hydrated. I use this morning and night and it has become a HG product for me. Couldn't live without it!

Great for hydration

This product is by far my fav of all the Ordinary range. I use it in the evening before bed after applying the Niacinimide and my skin is so plump and soft in the morning and not at all greasy. It's the perfect consistency and I find it helps with dryness and combined with other Ordinary products really combats acne. Love it!

A bit oily?

I read somewhere that this was good for oily skin. I have been using it at night and it is a little too oily for my liking. Feels nice but I wake up oily - probably better for drier skin types.

Amazing!

I am 58 and I have dehydrated skin a lot of the time, I thought I would try this as I have heard good things about it. It is a light serum that soaks in really quickly and it makes my skin look flawless, it hydrates beautifully. I have had several comments about how my skin looks which is great at my age! I will definitely buy again!

Good product

Nice and moisturising. Can't distinguish between this and the rosehip oil to be honest.

I liked it, but prefer my face oil.

This is good for hydration and feels nice on the skin. Probably wouldn't purchase again though as I prefer to use my face oil over this one.

Great oil

I have sensitive and oily skin, which can be prone to dehydration. I've tried more expensive oils (for example the Drunk Elephant Marula oil) and didn't feel like it did anything or worse, felt heavy and made me feel greasy. I was pleasantly surprised by this oil - my foundation tends to get oily and separates after a few hours, but I tried mixing a tiny bit of this oil in my moisturiser and it made my foundation look nice and dewy (and not greasy and seperated)! It sinks into my skin well instead of just sitting there like a lot of oils. It also "locks in" the serums that I apply to my skin beforehand and I wake up with hydrated, plump skin. Highly recommended if you want to try a facial oil but found that others didn't work for you.

Stranded on an island? Hope you brought this...

I have quite dry skin and suffered from cystic acne. I use this product at night alongside a few other ordinary products include niacinamide and have had amazing results. Previously I used creme mosturisers however didn't see the results. Now I have no more cystic acne and my overall skin tone has improved. The texture can be quite oily so I use a few drops in my nighttime routine. Great natural and pure oil and couldn't imagine a day without it.

Pure squalane for a great price

I have combination skin with dry patches. I tried quite a few different oils before I found this one and fell in love. It's a great way to hydrate the skin without feeling too greasy - and it's actually balanced my skin out quite nicely. It's 100% squalane with nothing else so it's light, absorbs well and doesn't irritate the skin. You can use it straight or mix it in with other products. Can even use it as a nice, natural highlighter! Definitely recommend this for those looking for a light, hydrating oil.


Fabulous product!

This is a wonderful, penetrating oil. Free of fragrance and nasties, light and protective. I have mature combination skin (oily nose, dry/normal everywhere else and yes, wrinkles!) and TO's Squalane totally eliminates that dry, tight feeling from other treatments.
It doesn't absorb immediately. I mix 2 drops with my night moisturiser (Cerve, bought online) and it really seals in products like retinol and niacinamide without dryness. I probably wouldn't use it alone but as an adjunct to your routine, it's brilliant!

I'm glowing!

I have recently made the switch from using moisturising creams to using oils and I have not looked back. I have quite dry skin that used to flake in spots but this has evened my skin tone completely and keeps me completely hydrated. I even find that if I forget to use it some days my skin doesn't revert to being dry like it used to.

A keeper

This product does a great job for hydration. Leaves skin so soft. I use it in my night and morning skin care routine depending on what actives I use at the time. Does play nicely with other products no balling up of makeup or other skin care products.

Best value Squalen

I love this for dry skin at night. I mix it with other The Ordinary products. It's great value and keeps one barrier in good shape after using retinol products. I'll always have this in my stash.

OK moisturiser, oily texture

This is an effective moisturiser but I did not like the oily texture or feel on the skin.

Great lite oil for acne prone skin

I love this oil but use the retnoid with it already in it so I rarely use it on its own now. Great for calming the skin.

so good

i love love love this product, if you suffer from dry skin this is the one for you. i use the 100% Plant-Derived Squalane as soon as i get out of the shower/ before i go to bed and leaves my skin feeling so hydrated when i wake up. seriously a life saver

soft oil, great for mixing products

I really enjoy using this oil in conjunction with other oil based serums to "soften" the exfoliation/astringent properties of some other oil based serums (like AHA/BHA TO products). I don't generally find myself reaching for this product to use alone on the face as a hydrating oil as I tend to find more benefits from rosehip oil.

Beautiful oil

I have extremely dry and sensitive skin, and I LOVED this "oil". It is super hydrating but great at not irritating skin/clogging pores. I have recommended it to a friend who has bad acne and she also loves it! This has had a big impact on the hydration of my skin and does not clog my pores. I am trying some of their other oils at the moment but will come back to this! Beautiful formula.

Great for dry skin concerns

I was pleasantly surprised by this product. It works in compliment with niacinamide and moisturising factors products by The Ordinary. It provides a lot of needed moisture in the winter months and is a great product for keeping your skin supple and soft all year round. Highly recommended and great value.

Extremely Good for Dry Skin - nighttime regime

Highly recommend if you suffer from dry skin.

Every morning I woke up with dry flaky skin. Putting this product on at night time has helped my skin feel so much better in the morning.

This product also gets absorbed well by the skin and not like other products that just feel like they are just sitting on the top layers

Nice and no nonsense

This face oil is the bomb. Yes maybe it doesn't smell as great as some of the fancy pricey ones out there but it is lovely to put on and the skin just soaks it up. I have quite dry skin and I love it. In fact, I'm going to go put some on now.

Not for oily skin

I read the reviews regarding combo oily skin use....definitely didn't get soaked up by my skin. By skin is pretty oily and occasionally complicated. Not the product for me. Feel it would be better suited for someone with dry and dehydrated skin. Cool bottle though.

Helpful

This product, in conjuction with The Ordinary's salicylic acid and niacinamide, has been extremely effective in treating my cystic acne. I have had the cystic acne on my chin and neck for over twelve months, tried many products and saw no results. In just one month, almost all my cystic acne has healed.

Quickly absorbing oil

A very light oil that quickly absorbs but keeps skin hydrated all day. The pricepoint of The Ordinary's products means that it's afordable to use for the body, so glad to have found this range!

My skin has never been softer!

I have been looking tirelessly for a moisturizer that wouldn't break out my extremely sensitive skin. After this came highly recommended on skincare forum after skincare forum, I decided to give it a try. It's amazing and I'm so glad I did!! It's very moisturizing, but absorbs quickly and doesn't leave you greasy at all. I use it in the morning and the evening. It looks great under makeup. My skin is looking so healthy and soft for the first time in AGES. This stuff is fantastic. Definitely will be telling everyone I know about The Ordinaty! It was so affordable too, and it arrived in only 2 days! Wonderful!

So Hydrating

This product is beautiful on my skin. I have fairly dry skin and have struggled to find something that keeps my skin hydrated throughout the entire day. Great product at a very reasonable price.

So hydrating!

I have combination skin with some dry patches and was looking for a face oil as I didn't like the tacky residue left by my previous moisturiser. I absolutely love the product, it soaks quickly into the skin and leaves it looking fresh and hydrated. So cheap too - will definitely repurchase!

My Favourite oil!

My absolute favourite face oil. I have normal/dry skin... more on the dry side and suffer occasionally from red patches. This oil actually calms my skin which was a pleasant side-effect as I had originally just purchased it to address the dryness. It wears nicely under my makeup and sometimes I even add a couple drops to my foundation, especially in winter/dryer months. I like that it doesn't really have smell too!

Good moisturiser

I have been using this night and morning. It's feels quite oily when you first put it on but it absorbs very quickly. It makes my skin feel smooth and soft. I am 70 with slightly sun damaged skin but otherwise no problems.

Great value moisturiser

I've been using this night and morning for just over a week. I'm a 70 year old with dryish slightly sun damaged skin. I've found this slightly oily but quickly absorbed. It makes my skin soft and smooth and quite hydrated. Good value.

Nourishing

Good hydrator but get the 5% retinoid that is suspended in squalane if you really want to improve your skin!

So refreshing & makes my skin so smooth,

I love the feel of this product, I feel the dry skin coming off & am left with such a smooth fresh feeling. As it is a little oily I try put it on as early as possible in the mornings so by the time i need to go somewhere it's not super shiny anymore although it really isn't that bad to begin with. I'm looking forward to seeing what happens over the next month (am currently 1 week in) but overall there's nothing ordinary about this brand-it's amazing!

Plant-Derived Squalene for dry skin

I use this is conjunction with Hyaluronic Acid 2% and mosituiser daily. Any oil is going to leave a shine as this one does but not to the point of feeling like youve been dipped in grease. Literally 3 drops is more than enough for me to cover face and neck. It seems to absorb really well, good add on for after cleansing really cant fault it - especially for thw price point.

A lovely hydrating oil

I'm new to The Original products, but I'm highly impressed so far. I use this oil in the evenings after the Niacinamide 10% + Zinc 1%. I have combination skin and only a few drops are needed for each application. It leaves my skin feeling soft and not oily. My skin can be quite sensitive but this is a very subtle hydrating formula. Would definitely recommend to buyers. You can't beat the price tag of this product either.

my fave serum.

of all the The Ordinary serums, this one is by far my favourite.I don't find it hydrating enough for my face anymore (I have very sensitive skin/acne rosacea) BUT I lather it all over my neck & chest.If my skin wasn't as sensitive/dry as it is, i would highly recommend it for the face.It feels super lovely on the skin & soaks in well.Can't get enough of this serum!

Does the job

This is a nice oil, especially for quite sensitive, reactive skin like mine. Goes well under other skin care, and has no fragrance. It is moisturising and does well for the price point.

Really great serum

Very hydrating! Such low price! I have dry sensitive skin and this is a great serum and non-irritating.. Definitely give it a go

Fantastic product for dry, sensitive skin

I have atopic dermatitis and eczema and my skin at times can be combination. I was at my wits end as I had recently developed really dry patches of skin on my face. I went to several cosmetics counters and stores and received samples for products that would work - however none of them did.

I finally bit the bullet and ordered the Plant derived squalane which i hadnt tried before. I used it for the first time before bed, after using a cleanser and when I woke up I saw a noticeable difference between in my skin. It was a lot more hydrated and the dry skin had minimised.

I couldnt recommend this product enough!

Fantastic moisturiser

Use this on dry lips in winter!! Gives a dewy finish.

Magic serum!

This is magic stuff. A drop or two at night, every night has already reduced my frown lines and I look as happy as I feel now. My eyes are not as dark and sunken looking too - amazeballs. Am using this product in conjunction with the Buffet and Niacinamide & Zinc formulas & foundation.

Great oil

Absorbs beautifully, skin feel soft, doesn't cause breakouts

Amazing.

I usually do not like oils because of the heavy feeling they have on your skin. Also oils can sometimes cause sensitivity with me. Believe it or not I think I am slightly sensitive to coconut oil because there's always some slight burning when I put it on. But this combats all my woes with oils. It absorbs super quickly into the skin. It really hydrates and makes the skin brighter. I once pulled an all-nighter for an assignment and decided I didn't want to look too dead in the morning so I washed my face and put a few drops of this on. The next day my skin looked better than it ever had before. It was glowy, plump and smooth. People around me were so confused and thought I had 10 hours of sleep and was so put together while everyone else looked dead. (I don't wear makeup btw, so it was my bare skin)

Good

. It applies like a light oil and you only need a couple of drops. It does take a while to sink in, but it's very hydrating and causes no problems with my sensitive skin

My favourite oil

Has completely replaced any moisturiser (as I realised I always broke out from moisturisers due to all the fillers). Was recommended squalane mainly for make up prep but have come to love this as my everyday oil. Perfect for travel as it is my all in one: removes stubborn eye make up (if needed), can use on my eczema/damaged skin, as a nourishing lip treatment/prep, a few drops as a hair oil and as a day/night oil. I can imagine this working for every skin type due to its fuss-free, non-comedogenic and lightweight texture.

One of my staples

I've got sensitive/oily/combination skin and I use this product once each day in combination with other products from The Ordinary and my routine would suffer without this. I use a generous drop at night time and my skin is smooth and plump on waking.

It's lightweight and dries quite fast and doesn't leave a sticky residue on the skin and I would happily recommend this to anyone regardless of their skin type!

So nice!

I love this oil! A little goes a long way, one bottle lasted 3 months and that's using it every night! It's light and my skin looked amazing every morning.

Affordable and effective

On to my fourth bottle!! I've tried many of The Ordinary products, and this has become a staple. I have very dry skin. I mainly use it at night, and it has helped with restoring my barrier after too much retinol. During a.m I use it under eyes as I work long hours in a building that sucks the life out of my skin. Will always repurchase

A little goes a long way!

I have dry-combination skin and fine hair so it is a beautiful oil for both face and the ends of your hair, really sinks into your skin and seals all those other The Ordinary products! HOWEVER... do not use too much! Try use as little as possible and it'll still do the work for you. Like I mentioned, a little goes a long way!

Less is definitely more

You don't need to much of this product to hydrate your skin. I use it every night (definitely too heavy for daytime) after my retinol or acids serum to ensure my skin doesn't dry out overnight.

Good stable oil

This is lovely for extra moisturisation ( which I need in winter). Thin, odorless oil which doesn't go rancid in a hurry like some others can. Highly compatible with human skin, as it's identical to what sebum is made of. Great on face, hands and even hair. I'd recommend to try this first if you've been hesitant to use oils for fear of breaking out.

Great!

I love this product, its a bit oily however.
I apply this at night after using the Hyaluronic Acid 2% + B5.

Fantastic Product!

This product, was everything I was expecting, not too heavy in the sense you can use it in the morning before you apply make up, and then at night time, just add a another drop or so to hydrate over night. All in all, worth the hype. Also a great starter formula for someone who is unsure what to choose out of the many options of The Ordinary products

so hydrating!

this is a great hydrator - especially for the price! doesn't make me break out and evens out my combination skin!

Holy Grail Face Oil

This face oil is AMAZING! I have combination skin and this product ensures that my oily t zone is hydrated without creating an oil slick, while also deeply nourishing my dry cheeks and mouth. I will often add it to my moisturiser for an additional kick in winter (hello indoor heating) or after a night time facial/ micro needling to ensure that I wake up with soft skin.

My favourite face oil

This has been amazing for my super dry skin. If you're used to rosehip or heavier oils you have to get used to how light and almost watery it is. But it means it is perfect under sunscreen and make up and I sometimes will add more on top of make up for a dewy look.

I love this product

Hydrating serum at a great price point. I use in the morning before moisturizer and it does not affect my makeup application.

Hydrating and lighter than most oils

This product is very moisturising (I have dry, acne prone skin). I find it sinks into my skin a bit better than rosehip oil and other blended oils I have used in the past. That being said, it is still quite greasy - although I don't think it has broken me out.

I do still prefer rosehip oil over this due to rosehip's additional benefits, however I will use this if my skin is dry in the morning (when I wouldn't usually use an oil) as it doesn't look as oily.

I have also found this product is great for my lips (I use it under a balm overnight) and works nicely as a hair oil (use only a tiny amount!)

A face oil, that is not oily.

I LOVE LOVE LOVE this face oil.
I have been using it religiously for the past year, and I can't go back to standard moisturizers any more.
I have combo skin, and found this is the first face oil that doesn't make me feel like I am clogging my pores with oil, because it absorbs into my skin so quickly and nicely.
It also doesn't have any of the funky smells, like some other oils I have tried.
I also have used it as a hair oil, any found it to be quite hydrating without being greasy.

Makes my combo skin feel glorious.

I have combination skin and am prone to dry breakouts on my cheeks. This 100% plant based Squalane has had my skin feeling hydrated all winter long.
Soaks in super quickly too, no really greasy after slick.
I use it once a day, in the evening after the Niacinamide/zinc serum.

I LOVE THIS OIL

This is so good! I use two drops every day, morning and night and it keeps my face moisturised but not greasy. I have oily skin but doesn't make me oilier. I really really like it.

Great for winter

I like to mix a few drops of this with my moisturiser when the weather is particularly cold and dry. It really adds that extra hydration my skin is looking for and the bottle lasts forever when used like this.

Good for price

Very good oil for the price - it is very rich and has thick texture. Doesn't feel too 'oily', but it is also not easily absorbed. Great for dry or oily skins alike. Would recommend for use only in the evening as a night oil!

Inexpensive but quality

This retinol serum is amazing. I mean, never apply it during the day as retinol is phototoxic (and turns carcinogenic with UV rays!) and also takes a while to soak in, but it's the miracle everyone needs in their skincare routine. Aging, be gone!

The oil my winter skin loves...

I'm in love with this product. I use it every night to seal in my moisturiser and it just sinks in so quickly! It doesn't feel too oily on (though it doesn't, for me, play well with foundation over the top). I use Aryan or apricot oil on my neck for more intense conditioning, but can't use them on my face as I'm prone to breakouts. This helps out with my dry patches AND is non-comedogenic. I know, many oils say they don't cl9g pores, but more pores aren't as big as mine. No probs with squalane, though...

It's okay

I have really seen a difference in the hydration of my skin since I started using this oil. The only thing I have to say only use it at night when you are going to bed as it does take a long time to fully absorb into your skin,

a great surface hydrator

I dont use this product religiously but it gives a great boost to my skins hydration when I do. I have never been one to moisturise, but using this on alternate days to The Ordinary moisturiser has significantly decreased the dry flakiness and break outs that I once had. I use this at night before bed as I find it is quite oily and heavy, and only a couple of drops covers the whole face. It is a great surface hydrator.

Pretty good so far! Probably closer to a 3.5

I have combination skin with occasional breakouts along my jawline and chin. I brought this as an alternative to rosehip oil as some say it can cause aging. I've heard people rave about this product but maybe it's too soon to tell for me. I like the texture but it is quite oily and my problem areas did feel a little more congested after using. It does feel super lush and nourishing on the skin and cheeks though which is why I've given it a 4 star review. I also love it around the eyes and lips and in this dry winter weather it does make a lovely moisturiser. Maybe if I give my lil sensitive chin time to adjust to the new product I will love this product just as much as everyone else does? I would definitely recommend this as an alternative to eye cream but would caution people with oily skin about the adjustment period.

Loved it!

I've been using this for about a month now, and I have noticed such a difference in my skin! I have combo skin, and lately my cheeks have been HATING me. It was so dry and shrivelled my skin literally looked like an orange peel. Since using the plant squalane and NMF + HA every am and pm, my skin is looking so plump and hydrated! It feels so light on the skin, absorbs quickly (my skin drinks this up like crazy), and doesn't break me out like rose hip oil does! Highly recommend, I will definitely be repurchasing.

Helpful for psoriasis

I have some patches of psoriasis on my face - have been using this on those parts of my face only (for me, its too oily to put all over). It soaks in quickly and have had a noticeable improvement in appearance, keeps it moisturised all day and has helped reduce redness

too oily

I was recommended this as a moisturiser for acne skin but it is was too oily, even after a few hours of putting it on it still just sits on top of my skin and doesn't soak in.

Good facial oil

Good oil to use to really moisturise your skin. However you only need the tiniest amount or you'll feel oily, as it's very rich. I like patting about 2 drops around the face. Takes a while to sink in so use it at night, but you'll wake up with soft skin.