Skindinavia Bridal Makeup Finish 118ml 118ml
Is this for you?
A tear and moisture resistant photo-ready makeup setting spray. It extends makeup wear and controls excess shine for fewer touch-ups.
Skin Type:
Dry

Normal to dry

Normal to oily
Frequently bought with
Please wait while we find a match
Questions & Answers
(1 Question)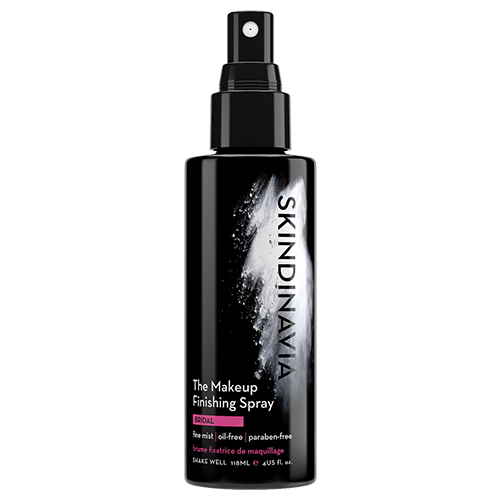 Skindinavia Bridal Makeup Finish 118ml
Get an expert to answer your question about this product!
97% recommend this product
Most Helpful Positive
makeup stays on
keeps my makeup looking great and stays on everyday
Most Helpful Criticism
Purchased because of YT recommendation
This was recommended by Wayne Goss on YT, he was raving about it so I thought I would give it a go. TBH I don't really know if it makes a difference to my make up. I don't like that when I spray it feels kind of chemically on my skin unlike the Mac Fix + which feels nice and hydrating.
makeup stays on

keeps my makeup looking great and stays on everyday

Perfect

Can't recommend enough. This spray ensures my makeup stays in place all day and has quickly become a staple in my beauty bag!


Cannot find a fault about it!

My makeup artists used this on me for a wedding I had. Lasted me all night with a lovely shine ! I would love to own one as well!

Really great

Keeps my makeup looking great. I absolutely love it

Essential for makeup kit

I use the Skindinavia products on all of my clients and they are so amazing. I have no idea how it works but I notice such a difference when I use on myself and get so many compliments for applying long lasting makeup with the help of these setting sprays!

Terrific stuff

I'm a sweaty person and also a nurse on a busy hospital ward. This spray exceeds expectations. I've survived busy hospital shifts and music concerts and my eye makeup just stays where it's meant to be! And no breakouts! I'll be buying this forever.

Longer lasting makeup

Longer lasting makeup, pretty much the same as the urban decay spray that i normally use.

Makeup lasts all day

I use this after setting my face with powder and find my makeup lasts all day. It doesn't separate or make me go super oily. Will continue repurchasing this!

Works like a dream

I use this as my final step every time I apply makeup and it really does help control the shine and keep the foundation from moving around as the day goes. Blends everything together and makes my skin look like skin. Will always repurchase - downside is that it isn't as chemical-free as I'd like, might stop using during pregnancy. The smell doesn't bother me like some other sprays.

Love it

Love this make up finish!

Good quality

Does what it says

This product delivers on its promise - I locks everything in. It doesn't feel natural or nice on the face though. Not for everyday use. This bottle will last me forever for special occasions.

Good

The only difference between this and the standard makeup finishing spray is that one of the ingredients is swapped around in the order. Still good

It really works!

This is the only setting spray that actually sets makeup for an entire day, I rarely have to do touch-ups. It is pricey but so worth it.

Perfect

I use this in my pro kit for clients. It literally sets the makeup perfectly and has amazing staying power. I will definitely buy this again.

Best Setting Speay

This setting spray is incredible. It keeps my makeup on all day and leaves a dewy finish over my makeup! I bought it as a one off instead of my usual Urban Decay All nighter and I will definitely be sticking with this product from now on! The price point is excellent for the quality and it really does give your makeup a flawless finish! I highly recommend this product!

Dewy Perfection

This spray ensures my makeup stays in place all day and has quickly become a staple in my beauty bag! Can't recommend enough

Does exactly what it says!

Love this for most of my clients and leaves such a pretty finish to the skin without drying/mattifying like most long-wearing setting sprays do. For personal use, having oily skin, it doesn't stop the oil coming through on the oiliest parts but definitely still makes my makeup last longer than without a spray

Great

This makes sure my makeup stays in place all day during summer and winter. I have oily skin type so I am very happy with this product

Purchased because of YT recommendation

This was recommended by Wayne Goss on YT, he was raving about it so I thought I would give it a go. TBH I don't really know if it makes a difference to my make up. I don't like that when I spray it feels kind of chemically on my skin unlike the Mac Fix + which feels nice and hydrating.

Fine mist

I like this, it feels nice when sprayed and comes out evenly. Helps keep makeup in place all day but doesnt stop oil on my nose.

Great dewy setting spray

This setting spray is a great way to melt makeup into your skin and reduce powderiness. If you have oilier skin it may be a little too dewy, but on my dry skin it's a godsend! This is my favourite setting spray of all that I've tried.

Makeup stays all day!

This helps my makeup last so much longer and gives a really nice finish!

Best setting spray out there!

I watched a Wayne Goss YouTube tutorial and he recommended this as the best setting spray - and he's right! My makeup stays put for longer. Holy grail setting spray.

Works well

My makeup stays in place when I use this. Adds some dewyness too. I like it a lot.

Game changer

Keeps everything looking really fresh and not a bad price

Lasting glow

Really enjoy this product, a fine mist that helps to melt my products together. Gets rid of that powdery look, which isn't flattering on my more mature skin. I have a slightly oily nose and it doesn't seem to stop the oils eventually coming through, but it does help the rest of my makeup last longer.

A holy grail product

I have been using this for years - I recommend it to all my friends. This is the holy grail of make-up setting sprays! It keeps make-up in place for weddings, events, special occasions and all weather (sweat and rain proof). I honestly can't live without it.

Quality and really works!

Expensive product but lasts ages. Really does work to keep my makeup in place and help with oil and rubbing off of foundation during the day. Find other chemist setting sprays dont work as well so worth the money.

Awesome

Amazing. Keep my makeup locked in place all day and even though my skins oily it still doesn't move. Recommend

Makeup does not budge

Amazing product! Makeup does not move even in the warm tropical climate I live in. Product feels light on the skin and leaves me with a healthy glow.

It's ok

I'm not sure if this actually makes a difference to the longevity of my makeup. I actually prefer how my makeup wears without it which is saying something. I also feel like it broke me out a couple of times. I think it's an overhyped product for me.

I'm not sure it does anything

I hear lots of good reviews about this setting spray but doesn't see any difference it does to my make up. Don't get me wrong, this's not a bad product but just not what I expected. It smells good, helps my foundation looks more like skin but does not help my make up stay any longer compare to other cheaper spray.

Amazing setting spray!

I am a very oily skin type, i have found the bridal setting spray to work amazing for my skin. Previously i used urban decay all nighter, i find the skindinavia bridal setting spray to work way better! It makes my makeup last all day and doesnt make my oils come through. My skin looks matte and not creased or melting off by the end of the day. I would highly reccommend this setting spray to anyone...

Read More

Great setting spray

This is a great product, I've repurchased it and also bought back ups.

Helps extend makeup wear, gets rid of any powdery finish, and makes foundation sweat resistant.

I also like to mix a few sprays with my foundations before i apply it as it then makes your foundation budge proof

Best Finishing Spray Hands Down

I bought this because of its amazing reviews. I've used Mac's Prep, Prime and Fix and also GC Mango Setting spray and whilst these are lovely products, they just were not performing well for me in the way of staying power. This spray is different! My makeup lasts longer with this spray and I honestly went twelve hours without needing a touch-up. It does feel like it takes longer to dry than the ot...

Read More

MAKE-UP DOES NOT BUDGE.

My make-up does not budge at all when I use this as a setting spray!
Works so well!!
Great for special occasions.

Love it!

This product is by far one of my favourites of all time. After spraying my skin looks healthy and glowing. It makes my makeup stay longer.

Best finishing spray!

This spray does what it claims to do! I have tried other sprays that claim to guarantee long wear of my makeup and they just didn't do as good a job as this one. It's worth the money!

Holy Grail of finishing spray!!

I love this bridal setting spray- it's my favourite go to for not only clients but myself. I've used Urban Decay All Nighter before and i feel theres are pretty similar if not better! Love.

Nice fine mist!

This is one of the few setting sprays I have invested in, and it does the job pretty well. The mist that comes out is very fine which I like, and once it dries down my face does feel set. However one star down because I wore glasses and there were lines on each side of my cheek, so it definitely didn't prevent my natural oils from seeping through.

Love this!

I have very very oily skin and I've found this setting spray works better than most I've tried before, it really helps my makeup to last almost all day (I usually have to touch up or reapply during the day). The spray is very fine too which I love and it dries pretty fast! It's a good price point too!

Amazing Setting Spray

I purchased this product after hearing great reviews, and it is 100% worth it, I only used about four sprays and it kept my makeup on all day through the rain and heat of living in the country

Love this!

I haven't tried a lot of finishing sprays but of the ones I've tried this is my fav! It's effective, doesn't feel sticky, doesn't smell - ticks all the boxes

Holds my makeup all day

I am obsessed with this setting spray. It makes my makeup last all day from working in crazy hot environments to long nights out. I did my friends birthday makeup and set it with spray and she slept with her makeup on and it didn't budge all night through a party, clubbing and sleeping! It works amazing on my dry/normal skin and is sweat resistant. 10/10 would reccomend

Amazing

I apply this after my makeup, and it holds all day long. I find that my makeup doesn't cake up when I sweat when using this too. Feels super fresh and has become a part of my routine

Keeps makeup in place for longer

A very good setting spray, it really does keep the makeup in place from day to night and control excess shine at the same time it leave a nice luminous finish. I really like it a lot. Highly recommend this product.

You need this in your life (and makeup bag!)

This is my Holy Grail setting spray for long lasting, fresh makeup! I'm currently 41 weeks pregnant and even in this super heat we are having, when I use this spray, my makeup stays flawless and I don't have to worry about my makeup sliding off and revealing my not so lovely pregnancy pigmentation. I also find that this spray prevents makeup transfer and it doesn't take away any of the lovely high...

Read More

Looking super fly super fresh all day long

This setting spray has been my saviour throughout the summer. I have combo/oily skin and I sweat like crazy around my T-zone (I got that upper lip sweat mustache happening all the time ugh) and this spray manages to keep my foundation on throughout the day. It blends my setting powder into my foundation seamlessly which gives me a soft, glowy and smooth finish every single time.

Great

I'm hooked. I confess I'm a face toucher & thought setting sprays were a waste of $ as they made very little difference to my plight. This setter is amazing. My make up looks the same all day & the finish is immaculate thank you Skindinavia.

Extra-long staying power

This spray ensures my makeup stays in place all day and has quickly become a staple in my beauty bag!

Amazing!

I have quite oily skin and sweat a lot, this kept my makeup on all day during summer! I didn't feel greasy at all!

AMAZING

Hands down best setting spray on the market for sure, make up still looks fresh at the day and the product gives you a sort of "filtered" look! I love it!

No More Slipage

This stuff is great!! My makeup stays put!!

HOLY WOW

I purchased this product because I'd been having difficulties with make-up melting off my face due to the severe humidity we were experiencing where i live and my other setting sprays simply not cutting it. Let me tell you, I SWEATED MY GUTS OUT the few times I've used this and my make-up DID NOT BUDGE!! Best setting spray I've used and I will continue to purchase it.

Kept my makeup flawless after excessive heat

I'm just adding to my review from the 9th Dec because I have to let you girls know it performed amazing the other day.
I cleaned someone's flat the other day to help them out as a favour. It was a vacate clean so really massive scrub was required. The air con wouldn't turn on so I was hot and.bothered and sweaty. Took me 4 and a half hours of mega effort and of course by the end I just wa...

Read More

LOVE

This setting spray is amazing, my make up lasts all day/night! After only using cheap setting sprays, this baby was a life changer!

Keeps makeup intact even when crying

I have never used a setting spray before in my life but Wayne Goss recommended this product and I bought it.

I learned the hard way to apply mascara AFTER spraying (or well before and being very cautious not to apply too much spray to the eye area)

I've Kim K ugly cried twice since buying this product while using it. The first time my mascara ran a tiny amount but was ver...

Read More

I Really Enjoy This Product

I have in the past only used a little cheapie finish spray and wasn't really sure it did anything. So I decided to try a highly praised one to compare. That's the reason I ordered Skindinavia Bridal Finishing Spray. I find its a good product. It feels quite refreshing when sprayed upon the face and its also light weight and sets quickly. I use powder over foundation and it definitely melds the...

Read More

Best setting spray ever!!!

I love this so much I would reccommend to everyone! This made my makeup last 27 hours - Makeup barely budged when I passed out drunk with this on

Go to make up setting spray

i use this most days. definitely helps to set / make make up stay and can give make you look less powdery if you have baked your concealer etc. i have really sensitive skin and this doesn't irritate me at all.

Best setting spray I've ever used

Holy cow this stuff is so good. I'm a nurse in a humid climate with oily-combination skin and I've tried a number of setting sprays. The best so far was the Urban Decay All Nighter but this outperforms that byfar. My foundation just looks like skin, no caking or settling into fine lines, and after 10 hours of work my makeup looks as fresh as it did when I applied it. 10/10, would recommend.

The best!

No other spray keeps my makeup smudge-free and fresh all day! This has quickly become a staple in my beauty bag

Good, but not great

I find this product ok, but for me, it doesn't live up to the hype. It definitely helps to extend the wear of my make up, but not dramatically - I still find myself getting oily and make up sliding around after 5-6 hours. However, I have oily skin, so maybe that's the best I can hope for. I do find it similar to Urbane Decay but at a lower price point.

Best on the market

I have dry sensitive Skin that sweats a lot during the day. I have tried nearly every finishing spray you can think off, from mac to basic chemist sprays. So far, this is the one for me. It hold my makeup, easy to use. Just remember to shake it before use. I use this everyday before work/gym/night out... everyday. LOVE LOVE

set and forget

I always forget to use setting spray for big events but i really notice how long my makeup lasts when I do use them. I am so glad adore recommended this product for me. I'd tried a few cheaper ones in the past and I either didn't like the product or I didn't notice a difference. This product works wonders for me. I don't use it every day but I do use it if I am going to be out for a long time or f...

Read More

Great setting spray

This took a few tries to apply right (I'm new to full face makeup application), but this does the job. It doesn't have an unpleasant smell like a lot of sprays, and the amount you get is definitely worth the cost.

Foundation stays on all day

Love this product! I have very dry skin so I mix my foundations with a drop of oil to get a really great base. However, since the oil breaks down the foundation quicker, my foundation doesn't last very long and starts to emphasise pores and lines in a couple of hours. I sprayed this on and my foundation lasted 8 hours and was just starting to look a little tired!

It works

This setting spray does work for my skin type, I have a combination skin and works well, it does have a fine mist which is always good. Definitely would recommend to others as it does make my make up last the whole day and night.

Absolute Favourite

This spray ensures my makeup stays in place all day and has quickly become a staple in my beauty bag!

It works!

I have combination type skin, use primer before my foundation and always use a setting spray but this is the first one I've used that actually set my makeup properly. After a night out I was shocked that my makeup looked the same as when I left.
It also doesn't feel like a layer on your face or change the way your makeup looks.

love it! something unexpected - leaves you with a glow

Great product (cheaper than urban decay and virtually the same) - helps makeup stay for a lot of the day, can be layered just to make sure.

Also leaves a dewy look which i've loved and did not expect from this product.

Does the job

The spray sets my makeup nicely, although I still notice a bit of oil coming through after 8+ hours. But definitely more bullet proof than other setting sprays I have used. The nozzle/spray itself could also be finer (like the Morphe or Urban Decay spray).

BEST SETTING SPRAY EVER!

This is my first setting spray that I've ever used. I have combination skin and more on dry side.

I would wear my day makeup to uni and stay in class from 9am to 5pm. My makeup would kind of disappear when I come home from uni, especially in the morning I filled my eyebrows darker but it would fade even my contour too also my foundation look very oily on T-zone. Until, when I used t...

Read More

Best setting spray!

I work doing very long hours. By the time I apply my makeup to when I get home it's usually 12-14 hours. This spray makes my makeup stay in place all day long. Only spray I use from now on!

The best!

This spray ensures my makeup stays in place all day and has quickly become a staple in my beauty bag! Can't recommend enough

the BEST of the best, MUSTHAVE

My ride or die, it is liquid gold i swear! I actually have the bridal spray, the finishing spray AND the finishing oil control spray and this is by FAR the best. It is a must have in your collection and actually does the job!

magical

i save this for special occasions when i really need to make my makeup last for a long time, because it's really pricey, but it really does do a fantastic job. it holds everything in place, without making your skin feel tight like you've just used hairspray to set your face. the mist is really fine, making it super easy to make sure you've trapped in every last speck of your beautiful work! the sm...

Read More

The Absolute Best Setting Spray

I have been using this product for almost a year and could not be happier. I first purchased it because Wayne Goss recommendation the Skindinavia Bridal Makeup Finish and have never looked back, it is by far the best setting spray. I was never really happy with other setting sprays, I have normal to dry skin and find this keeps my makeup in place all day, it is great if I have a late meeting as m...

Read More

Excellent

I have tried the normal version and this version and I'm not sure why but I like this one the best. I feel like it keeps my makeup in place but I have a more glowy look. As with the original version it has a nice even mist with no big droplets.

Love this product!

I ordered this product after it was recommended by a make up artist and I haven't looked back. It is the most amazing setting spray I have used. it does hold make up in place all day and I find it also helps with oil control. I am quite oily and have combination skin and so a lot of the time I found my make up to be patchy and coming off by the end of the day and I also notice I would have very ...

Read More

Essential

Good, but I can't tell the difference between this and the standard version.

My Fave

I love this finishing spray! I'm not a bride but I use this everyday and it helps my makeup to last through a 9+ work day and it still looks awesome when I go to take everything off before bed. Usually I get very oily through my T zone and my makeup will slide around, but since using the Skindinavia primer and finishing spray, I only get a slight sheen and everything is still in place. I've been ...

Read More

Holy Grail Setting Spray

I have an oily skin type that can get dehydrated quite easily depending on the time of year as well as what products go on my skin.

When I need to make sure that my makeup will last for as long possible (ideally until I am ready to take it off at my own will), I would not look past the Skindinavia Bridal Makeup Spray. I have been using this in my personal and professional makeup kit ...

Read More

Holy Grail

Love this product. It's really good for keeping my make-up in tact for the day and makes it last all day long. Much prefer this over my UD spray and it's cheaper too!!

HOLY GRAIL SETTING SPRAY!!!!

Hands down, best setting spray ever! The mist is so nice and fine and even, it melts my makeup together nicely but OMG the lasting power is actual magic, it locks in my make up all day and night! My makeup does not last the same without it.

The best setting spray on the market.

If you don't know about skindinavia setting sprays, you've been living under a rock. All of their setting sprays are insanely good, but the bridal one tops it for longwear. If you truly need your makeup to last all day, get your hands on this product. I'm pale, dry and get an oily tzone and this spray helps my makeup looking flawless all day long.

BEST SETTING SPRAY

I have combination skin so my forehead and nose get very oily and shiny. I've tried so many setting sprays and powders and nothing has ever worked for me like this spray. It is amazing! I usually apply this in the morning and by the evening my makeup looks as fresh as it does in the morning. It just does not budge, I don't even need to re powder or blot at all. No shiny forehead. LOVE it, have rec...

Read More

Budge-proof make up

I use this spray for big nights out when I know I'll be putting my make up through a lot. Two quick spritzes and my make up is set for the whole night, even sweat doesn't make it move! It can be a little bit expensive, but in my opinion it's definitely worth it knowing you're safe to take photos at the end of the night.

Looks pretty! Do a test

Amazing. Makes the highlight pop as well!
Do a test before a big event to make sure it doesn't make your foundation separate as i feel like different foundations react in different ways.

Makes my makeup last all day!

Highly recommend! I have combination skin, some days slightly oilier than others.

Even though I wasn't a big fan of the scent, it made my makeup look great throughout the day, not to oily or dry looking. The spray/most is quite nice as well, not too strong.

Fantastic!!

I have normal to dry skin and but sweat a lot during summer so i needed a really good setting spray that would make my makeup last through the heat and sweat without drying out my skin and this worked perfectly! My makeup lasts all day without drying even now in the colder months! Definitely recommend :)

Ride or die!!

I could live without this setting spray, but I'd be a pain the the ass if I had to. NOTHING compares to the hold factor of this spray and how beautifully it rejuvenated the skin. I have fair, super dry skin and need my makeup to last up to twelve hours a day. Skindinavia does not disappoint.

Holds my makeup well - mascara after spraying!

I have combination skin and do get quite oily depending on the humidity. I received a sample of this product and was quite pleased with it. I also discovered that the very popular UD All Nighter Setting Spray is by Skindinavia and is $10 cheaper! I read somewhere that it does make your waterproof mascara run which. I use a mascara similar to the Blinc mascara (easy wash off) and it did occur to me...

Read More

Absolute Favourite

I adore this setting spray, it is the best setting spray for makeup longevity that I have used. The mister on this product is very fine so it won't ruin your makeup by spraying too harshly, and makeup will last all night. I would definitely recommend this spray and have bought it multiple times- for myself and for friends.

Amazing if you want glowwy skin

I bought a bottle of this when I realized that my Urban Decay All Nighter Setting Spray was drying out my skin in the colder months. This worked beautifully for extending the longevity of my makeup and also gave my skin a wonderful glow! I love this and can't recommend it more.

Gives a dewy look

I haven't properly tested this product out yet, but so far it gives my skin a nice dewy look and makes my highlighter pop more.

Kept makeup on all day.

This is the first time I have used a spray on my face so I can't actually compare the product to any other. I thought it would make my makeup look nicer which it didn't but my understanding of what this product is supposed to do could be way off. Sprayed this on at 7.30am and makeup still looked good when I got home at 4.30pm so that was great. One thing I will say is that next time I use it I wil...

Read More

A must

Ordered this product off perhaps an Adore newsletter I was reading & then read the reviews - I had never used a setting spray, I was not looking to buy a setting spray & previously had thought my skin would never take a setting spray (oily skin) nek minute at the check out girlfriend. It was destiny. I LOVE this product. Since then many setting sprays have somehow manifested into my life via fr...

Read More

HG product!!

I couldn't go without this product! I've been using it for years, no other setting spray compares. A full face of makeup in a hot humid climate and this stuff keeps you looking fresh. Work/gym/shopping/airplane, i still sweat underneath, but with this and estee lauder double wear liquid and powder it doesn't split, i just get a lovely glow.