Say farewell to bad hair days for good with Silke London.
Created by London hairstylist Maria Sotiriou, Silke London is here to transform the health of your hair. Sick of waking up to broken, frizzy hair and split ends, founder Maria Sotiriou tried everything she could get her hands on to help her hair grow, hold its style and prevent breakage.
Finally, inspired by the hair-wrapping methods of her Caribbean heritage, founder Maria Sotiriou began wrapping her hair in pure mulberry silk and soon discovered its amazing results.
What difference will a Silke London Hair Wrap make to my hair?
Less frizz, breakage and split ends
With your hair encased in a Silke London Hair Wrap, strands are protected against damaging friction caused by contact with bed linens, meaning less breakage, split ends and frizz in the morning.


Promotes hair growth
New and existing hairs are protected against damage caused overnight, so your hair can grow to its full potential.


Preserves styles
Wrapping your hair overnight helps to maintain your style, whether you wear your hair curly, straight or anywhere in between. With less time needed in the mornings for restyling, you can afford to hit that snooze button one more time.


Longer-lasting extensions
Wearing a Silke London Hair Wrap helps alleviate the friction on hair that can tug and weaken hair roots and extension bonds, as well as preventing tangling and matting that can occur as you sleep.


Natural overnight conditioning
The Silke London Hair Wrap helps allow your hair's natural oils to be distributed along the entire length of your hair, nourishing, conditioning and protecting against dryness.
Created after over 2 years of development and 30 prototypes, this silk bonnet is ideal for curly hair, straight locks and everything in between. Carefully designed to ensure the perfect fit, weight, elasticity and style, this 100% pure silk hair wrap will restore your hair to its best condition.
Recent reviews on Silke London products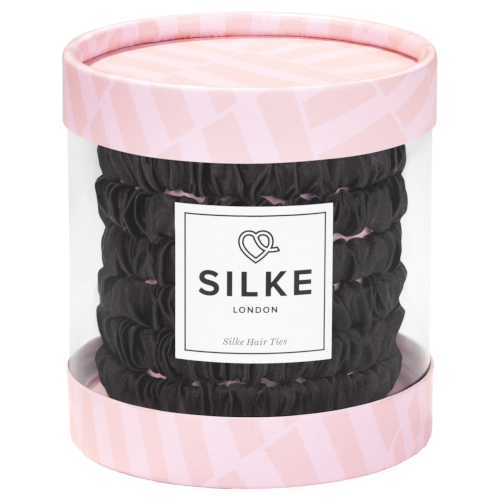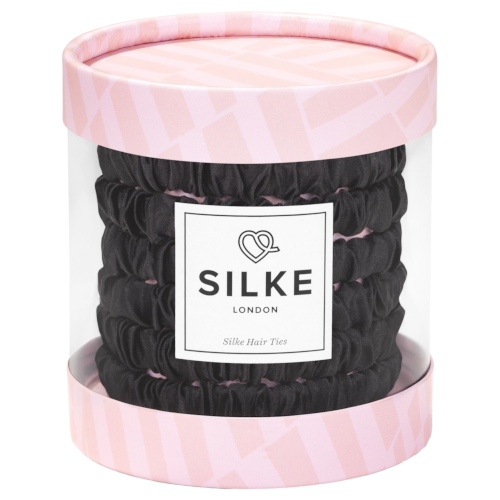 Silke London
Silke London Hair Ties - Cleopatra Black
$59.00
Obsessed!!
One of my best purchases ever! I use a larger silk scrunchie from a different brand at night but this size is perfect for day wear. My hair remains tangle free and there's no dents when I take the tie off so I can wear my hair up AND down during the day [which is something I do]. They also don't slip off and hold a ponytail or top knot perfectly.

For reference, I have fine, straight ...