Pixi Hydrating Milky Mist 80ml
4 instalments of $7.50
Or 4 instalments of $7.50 with
LEARN MORE
4 instalments of $7.50
Or 4 instalments of $7.50 with
LEARN MORE
Official Stockist
Is this for you?
A deeply hydrating mist that provides an invisible layer of skin-soothers, making it the ultimate remedy for dry skin.
Skin Concern:
Dull, dry or dehydrated skin
Frequently bought with
Please wait while we find a match
Questions & Answers
(1 Question)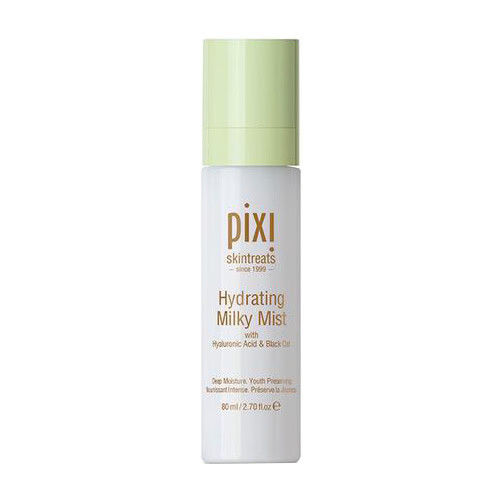 Pixi Hydrating Milky Mist
Get an expert to answer your question about this product!
Pixi Hydrating Milky Mist Reviews
98% recommend this product
Most Helpful Positive
amazing in the morning
so nice and refreshing first thing in the morning
Most Helpful Criticism
Unsure about this one
Smells lovely, feels nice, but not sure if it actually does anything. Might keep it in the fridge for a refresher during summer.
So good

Hydrates my skin, refreshes my makeup and smells lovely!

amazing in the morning

so nice and refreshing first thing in the morning

Good

It is hydrating and brightens the skin but I prefer the rose spray from this brand. This is also pretty good but I have oily skin and rose spray works better for me.

Refreshing & Hydrating

This hydrating face mist smells beautiful. I use this throughout the day to hydrate and freshen up my skin.

Very refreshing and hydrating

This is a very refreshing and hydrating mist. I enjoy it quite a lot!

Misty goodness

This hydrating mist does just that - hydrates! It not only smells delicious but it leaves my skin feeling hydrated & lightweight. Perfect for a busy hot day & wont melt off my face! Have been using for a year and will continue to use!

I loveeee this mist!

Really loving this mist! I started with the Pixi Glow mist and have now ventured on to the Rose version and now this one. It does feel a bit more hydrating and I enjoy the scent. Such a nice pick up during the day at work!

For reference my skincare is oily combination skin and I am 30 years old

Love

I love this product keeps my skin so hydrated

My Mum's fav

Honestly, I still haven't been able to use this product, every time I buy it my Mum asks, "do you have any of that mike mist with the green lid" and the dutiful daughter drives it around to her... My mum isn't great with her skincare but this is one of her holy grails, its an essential part of her routine for her sundamaged dry skin. The texture is lovely very fine mist and serums layer over it p...

Read More

Love this product!

I use my Pixi mist a few times a day, especially when I'm working inside near the heater as my skin gets dry. It's beautiful and light and it smells great. It keeps my skin soft and hydrated

Amazing!

My friend gave me a bottle of this as a gift 3 months ago and I am already almost out. I have quite a few face mists. Still, I find myself reaching for this literally daily. It keeps your skin so hydrated and subtle. The hyaluronic acid really sold me. Love it.

So refreshing!

Whenever my face is feeling hot, I like to use this mist to cool and calm my skin. It feels so hydrating and cooling. I would not recommend using this as a stand alone moisturiser as it is not hydrating enough, but it's probably not meant to be used for that.

Nice hydrating spray

This spray has a lovely mist, very soft and doesn't disturb your makeup. I used this on a recent trip and it did seem to really assist with dryness. it's winter so my skin is much dryer than usual but I do think this helps

Pretty good.

I feel like this left a weird film on my face but it's still really nice. Good product overall!

Great

This feels great and refreshing. Leaves my skin hydrated, fresh, soft and smooth. This is such a little luxury for me. I absolutely adore it. My only gripe is there needs to be a larger bottle of this.

Perfect for travel

Ugh I love this! The mist goes on so fine and misty, doesn't make my face wet like other products and leaves me super hydrated. I take this when I travel and truly enjoy using it.

Great

I love this product and as someone who flies quite a bit this is an absolute must have. Airplane air is so dry and my skin use to be an absolute wreck after a long haul fly until someone recommended this. Now I always keep it in my carry one and spritz it every hour or so and I land glowing and refreshed. It also smells amazing and the spray is such a fine mist and feels so good. 100% must have wh...

Read More

Mist

This is a good mist that offers good hydration

Good allrounder

I have purchased this one for my Mum and for myself, Mum has dry skin and I have combo sensitive skin. It works for both, its really refreshing, when you layer a serum over the top really helps with your hydration. Smells lovely and does well if you put in the fridge. Will repurchase this one again, the mist is lovely on this product

Great substitute for Tatcha Hydrating Mist

I have very dry skin and find my foundation/powder looks creasy and dry shortly after application.

I started using the Tatcha Hydrating Mist which is amazing, but SO expensive. I read online that the Pixi Hydrating Milky Mist is a good alternative and at a third of the price I gave it a go.

I was very impressed with the mist it works in the same way as the Tatcha, I app...

Read More

Hydrating Perfection

Three perfect face mist does exist! Hydrating and soothing on a skin, this product is a travel essential and all day pick up!

Beautiful product

I'm such a fan of this mist. I keep in the fridge during summer, perfect for after a workout or to calm the skin after an acid treatment. Onto my third bottle.

Great hydrating spray that sets makeup perfectly

I hadn't tried this product before, I wasnt sure what to expect but I absolutely love it. The mist is so fine that it doesn't leave wet spots. Definitely recommend

Definitely hydrating

This is a beautifully hydrating mist that works great as a moisture spritz/toner after acid toning, or even as a makeup setting spray (just make sure you spray it a good distance away from your makeup/face). This adds a dewy glow to skin and smells amazing. I have dry/sensitive skin and have experienced no issues with this mist!

Love

Love the smell of this product. Its really refreshing to use.

Quick boost

Gives a refreshing boost to skin

Lovely!

I love the smell of this very much, application is great and makes my face feel very refreshed. I can't say it has done a lot over time for hydration but it does give my skin a pick me up!

This mist is the best thing since sliced bread.

Honestly I am addicted to this spray. Great partnered with a HA serum and my acne prone skin never reacts badly to it.

Unsure about this one

Smells lovely, feels nice, but not sure if it actually does anything. Might keep it in the fridge for a refresher during summer.

Gentle

Has a lovely subtle scent and is lightweight and refreshing. Not overly hydrating, but gives my skin a quick moisture boost when needed.

great product!

rio love this mist. Give hydration. Will repurchase

Dry skin saviour

Loveeee this product. The spray is super fine and this makes my skin feel so refreshed and hydrated. Would recommend this for anyone with dry/dehydrated skin

I like it but its not essential

I have dry skin and I wanted a mist/spray that I could wear underneath makeup. I think it is pretty hyrdating, but a touch not moisturizing enough under concealer. I'll keep using it and I think it's worth trying if your skin isn't super dry.

Refreshing

This is a nice spray, does something to add moisture to my skin, which gets dried out throughout the day with mineral sunscreen. No nasties in here that my skin would react to, and overall quite refreshing and hydrating.

Refreshing

Such a great refreshing mist that I use underneath makeup!

Refreshing, clarifying must have for your moisturizer collection!

This pixie mist is my new must have addition to my daily skin care routine. it works so amazing after a shower post toning to refrain your skin from drying out, also great to use on the go for a refreshing pick me up, great to use prior primer, and i also use it as a hydrating glow after i finish my make up for a dewy look!
It smells great and really hydrates your skin. A little spray also g...

Read More

so good!

It smells so good! And it really hydrates my skin.

Great for dry skin

I am falling in love with Pixi products, love everything so far and this one being my favourite. Great smell and wakes up your skin. I use it before makeup and while I was hesitant to use it after makeup on because someone on Youtube mentioned that it is sticky, I can happily say that is not the case and you can use it before and after.

Great for dry skin in winter

I have really dry skin and this perfect to spray on quickly for a bit of hydration. You can use it in a rush or use it at the end of your skin care routine for that burst of freshness. Defiantly recommend

calms my eczema

i have really bad eczema and the current winter weather has made it worse, my skin is so red and flared so I bought this out of sheer desperation, as my daily facial cream didn't seem to be doing the job. I keep this in my purse and spritz my face as soon as my face starts feeling tight. It instantly calms irritations and reduces redness. it has not triggered my sensitive skin and makes it look gl...

Read More

Fantastic Product!

I have eczema and the current winter weather has exacerbated my skin's irritation. I bought this out of sheer desperation, as my daily facial cream didn't seem sufficient. I keep this on my desk and spritz my face as soon as my face starts feeling tight. It instantly calms irritations and reduces redness. This Pixi mist is also lightly scented; however, it has not triggered a reaction on my super ...

Read More

Love it

My skin is rather dry so I use it for extra hyrdration.

Nice

Try this your skin will thank you and the price is great for a product that's full of wonderful ingredients 

Lovely

OK, the name of the mist (and the Pixi "milky serum") sounds seriously revolting. Who wants to spray milky ANYTHING on their face? It certainly doesn't appeal to the senses in the same way as a "Glow Tonic" does, so I wouldn't be surprised if Pixi ends up changing the name of this product at some point. That said - it is actually a great mist: full of lovely, hydrating ingredients which thankfully...

Read More

Love it

I love this Milky Mist! it actually feels so refreshing and hydrating on your skin! Spray bottle is great also, sprays the perfect amount and not too harsh.

Amazing product

I love this mist so much. A must for dry skin!!

Lovely light mist

I love this face mist from Pixi it's very fine and doesn't deposit large water droplets onto your face. Which is a major plus after you have finished your makeup. It hydrates my skin beautifully and brings a fresh dewy finish. This comes in handy when you have applied a tad too much powder. My skin is rather dry so I've also used this prior to foundation for extra hyrdration.

Love it

This facial spray is a must have as part of your daily routine , it is full of great skin loving ingredients , it's lightly scented and smells fresh . It has a spray pump and delivers a super fine mist of hydration . Try this your skin will thank you and the price is great for a product that's full of wonderful ingredients .