Pixi Glow Peel Pads 60 pads
4 instalments of $11.00
Or 4 instalments of $11.00 with
LEARN MORE
4 instalments of $11.00
Or 4 instalments of $11.00 with
LEARN MORE
Official Stockist
Is this for you?
Pixi Glow Peel Pads are advanced exfoliating pads that make getting your glow on simpler than ever. Infused with 20% glycolic acid, these pads give effective exfoliation to reveal a bright, radiant and energized complexion.
Cruelty Free
Sulphate Free
Skin Concern:
Acne, breakouts and blackheads

Dull, dry or dehydrated skin

First signs of ageing

Pigmentation, uneven skin tone
Skin Type:
Dry

Normal to dry

Normal to oily

Oily
Frequently bought with
Please wait while we find a match
Questions & Answers
(1 Question)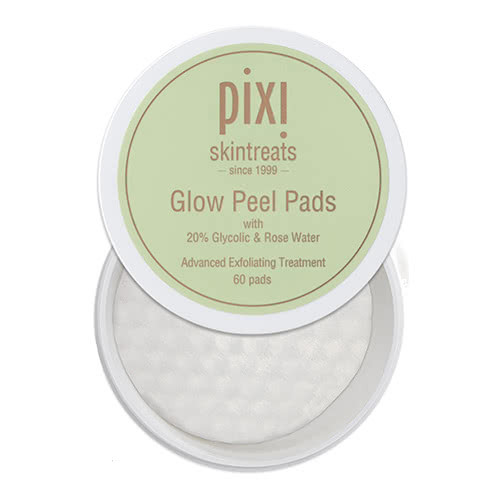 Pixi Glow Peel Pads
Get an expert to answer your question about this product!
Pixi Glow Peel Pads Reviews
95% recommend this product
Most Helpful Positive
Really nice
Really nice product, nice to use, exfoliating, no irritation, nice size pot. My skin appeared clearer.
Most Helpful Criticism
Not bad
Takes care of dead skin but these dried in the pot within few weeks after opening.
pixi peel pads

I love how these are really strong so give me a really nice glow. I like how it's pre-soaked as well. However, I will say that these do sting if you have sensitive skin.

Don't mind I do if I get some convenience

Don't mind I do if I get some convenience. I like this kind of pads so much! Alhouth it is not the best for the environment, I still can't say no to it. It just saves me time and trouble.

Pleasantly Surprised

Ok, What an emotional roller coaster - Day 1-2 no change, Day 3, multiple pimples, Day 4,,5,6 still pimples (Starts searching frantically if I should stop using.. or push through) Day 7, basically clear skin! Day 8, Miracle skin! These peel pads didn't make my skin raw or dried out (which a lot of others have) These are the only peel pads that I have actually been able to use nightly, normally I ...

Read More

Not bad

Takes care of dead skin but these dried in the pot within few weeks after opening.

Not bad

Whenever I use this, my skin feels smoother and it takes care of tiny bumps on my jaw.

Really nice

Really nice product, nice to use, exfoliating, no irritation, nice size pot. My skin appeared clearer.

Nice way to exfoliate

A less abrasive way to make the skins complexion more even. Lovely!

Good to keep skin clear

I like to use these when I need a little extra deep clean and also as a spot treatment. I don't use every night as it can dry out my skin.

Amazing

I love these little pads! They really helped with my acne. After using them for a little while I started leaving it on a bit longer maybe 15 minutes or so. Highly recommend

Great for pigmentation

After reading all the reviews for these pads I was a little skeptical, but they truly provide and amazing glow to my skin with daily use or just as a pick-me-up when my skin is looking a little flat and tired. Would definitely recommend!

Good

This helps with tiny bumps on my skin. Though I haven't seen any other results, I would recommend this for breakouts and bumps.

A little glycolic gem!

I love these little glycolic wipes from Pixi. They are great at giving a really thorough skin clean and removing excess oil, makeup and dead skin.
I love glycolic products and having these wipes which last and are very well moistened has helped my skin.

very nice pads!

These facial pads are so nice and make the skin feel amazing! They exfoliate the skin very nicely. Perfect for travel.

Very easy to use

These pads are great for quickly exfoliating skin. They make my face feel smooth and fresh. I use them on my chest and back too sometimes.

Good

I use these at night every now and then and my skin feels supple the next morning. Helps with breakout and bumps.

Convenient and effective

Bought these because the one-off use pads are easy to use while travelling. Also found it to be super effective for exfoliation of the outer layer of the skin! Not so good for deep acne clearing though

Really good to travel with

I like to have these with me while I travel. They are so easy to use and are easy to carry around.

Perfect for breakouts

I love using these on my forehead when I get the occasional string of pimples. It really does minimize them in no time but please do not use everyday. These are quite strong and feel rough on the skin sometimes. Other than that I highly recommend as they are at a great price too!

Super convenient

I love how convenient these peel pads are. Personally, the glow tonic isn't my all time favourite toner, however, if it is yours, these are perfect to bring with you if you are travelling or often on the go as the size of the container is super convenient.

Peel pads

these pads help minimize the look of pores whilst helping with dead skin cells!

Will always re-purchase

I have consistently repurchased and will continue to do so because I really love how clean but not stripped my skin feels. It is my best recommendation for a chemical exfoliation because there is a great combination of ingredients.

So good at clearing my skin!

I've had adult acne for the last few years and I find that these are really helpful towards the end of any major breakouts, particularly along the jaw. It helps smooth away any dead skin/clogged pores and also seems to reduce any major pimples that are on their way out. I have quite sensitive skin so was worried about using Glycolic Acid but I haven't had any problems; although I only use these ...

Read More

Lightens and brightens

My overall complexion has become brighter and my dark spots have become noticeably lighter.

great product

Probably my favourite product from the Pixi range. I find that it exfoliates without irritating, and does help with my hyper pigmentation (though to be fair I do use targeted serums as well).

Good

I love to keep these in the fridge. Feels very soothing applying a cold pad on irritated skin. I find it does slightly help to brighten my face

good product

I like to use this product in the morning after waking up and I keep it in the fridge, I use one side for my face, put it back in the tub and next day use other side of it, I feel it then lasts double and the only minus for this product is that there is not more of it for the price.

drying

Flattens developing acne bumps very quickly but can be drying on the skin. use sparingly

Love it

Great for lightening dark spots and acne scars! It's helped me a lot and they're not going to break the bank either.

Great

These pads have helped in clearing up a few scarring on my face. Definitely great product for mild hyperpigmentation

Smell funny and average results

I really don't like the smell of these pads. Additionally, I don't think they are that effective compare to other products (e.g. Alpha-H Liquid Gold).

Like all Pixi products, the packaging is super cute and feminine.

love this

Such a must have for those with problematic skin! I always take this with me when I'm travelling! Life changing

Better skin

I love the ingredients of this product and it has helped so much with my acne scarring and acne. Really recommend for oily and acne prone skin

A powerful wipe with salon results

Love the Glow Peel Pads. The only peel on the market at a reasonable price to contain the big three acids being glycolic, lactic and salicylic acids. I use these pads to help keep my skin clear, clean and soft. It's a treatment product and depending on your skin and if your currently doing glycolic acids can be used more or less frequently. If my skin starts purging I'll use less frequently. Love ...

Read More

Cleared my acne and makes skin smooth and glowy

I had a lot of acne on my cheeks and I believe this product has played the biggest role in completely clearing up my skin. When my skin was it's worst I used this almost every night to clear it up, I never had any issues with sensitivity. I still use it (less frequently) now that my skin is completely clear and straight afterwards I can notice a massive difference in how smooth it is and how much ...

Read More

Great

I received a sample of the glow tonic through my Ipsy subscription and loved the difference it made in my skin in such a short time that I went and bought more products when it ran out. I am had issues with acne after I turned 34. My skin has been more sensitive and due to the climate in my city, it worsens in winter weather. Anyhow, I have noticed a great deal of improvement and although it has n...

Read More

Pixi Glow Peel Pads

My skin was feeling particularly dull and lacking the brightness that it usually has and I have used glycolic acid products in the past (alpha-h) and remember being quite impressed. I liked that these pads were pre-soaked so they are quick and easy to use. They are quite concentrated on their own, and I definitely feel an uncomfortable stinging when applying it; bearable though! While the directio...

Read More

Good but be careful

This is very good but sensitive skin people need to be careful

Easy to use peel pads.

Agree with previous reviewers on the tingle factor. The high amount of glycolic really packs a punch. In a good way though. The tingling is present, but not overwhelming. The results are bright clear skin. I don't rinse, but layer a serum and moisturiser right on top prior to bed. So easy and great results. I use once a week on my dry and sensitive skin.

No difference in pigmentation

I use this as a spot treatment. I find the pads quite dry and not overly-soaked with products which may be either good or bad. I found there was no improvement of skin tone or any other quality,

Great product that is easy to use

Great product that is deceptively simple to use. Results can be seen the next day when skin is smoother. Do not leave longer than the recommended time or it stings a little. Still a great easy to use product. The only downside is the pads dry out a little as you get through it. Perhaps it was just me as I progressed through it slowly.

Brighter skin in the morning

I haven't gone through all the pads as this is a new purchase, however, my skin has never looked brighter and cleaner!! It tingles a little and although I personally dislike the fact that you have to wash it off afterwards, I leave it on for a few more minutes than instructed and find it works wonders this way! I wash it off completely, rather than 'neutralizing' with a spray. I use this whenever ...

Read More

Works well

Bought this product to to introduce myself to chemical peels / exfoliators, the first few times i used this i didn't notice the difference, then i left it on for 10 minutes and the next day my skin was so bright and clean! I really recommend this product for someone who wants introduce chemical peels into their skincare routine

Overall Good

I like these pads, but not the residue left. It seems to do its job but I wish it was a little stronger for me

Easy To Use & Friendly To Sensitive Skin

I apply after washing my face nightly and wake up with a whole new glow! I wouldn't say it banished my blemishes instantly but they defs grew smaller and less red.

Great

absolutely love this product. clears my skin and makes it look fresh

Holy Grail Product

One of the best acid toning pads on the market - high in glycolic but gentle on the skin. Perfect for travel with their compact packaging and easy use. I have dry/sensitive skin and have not had any issues with this - would recommend a moisture spritz afterwards before your serum and moisturiser.

Amazing -

I've never experienced the kind of difference in my skin from a single use of a single product before. My sister convinced me to try this before getting a professional chemical peel, and I actually noticed an immediate difference. I'm now using them twice a week and my skin is not perfect, but the texture, look and acne has improved so much. I don't think I'm going to even bother with a profession...

Read More

I'm Amazed

I have only been using this product for a week and I can already notice a huge difference. My red acne scars are fading and any active bumps and lumps have drastically reduced in size as has my pore size. I use one pad a night, sweep over my whole face, neck and chest. Wait a few minutes and then I spray with rose water to neutralize. It does itch a little after a few seconds but once I spray with...

Read More

Strong and Super Effective!

Initially purchased these as a 'travel' option for my usual chemical exfoliant. Although I came to discover that the packaging was quite cumbersome, so this did not turn out as desired. Aside from this, the product is seriously effective. The size of the pad is great, and is enough to ensure that the whole face and neck is treated. Although any open acne spots do sting when this is applied, it def...

Read More

Perfect product

These pads are amazing. When used as apart of your night time regime, you skin looks brighter and clearer.

good but I prefer the dr Dennis gross ones!

I do like these, I find that if I us them consistently enough I do see my skin become smoother and less blemished but I feel I have to be really diligent with them. I find the Dennis gross ones work faster.

Better & Cheaper than Dr Dennis Gross

I have had the unfortunate luck of being blessed with adult acne, ugh. And I have been trying EVERYTHING to make it go away. I was using the Dr Dennis Gross peel and after a while did see some improvement, but it was so friggen expensive I just couldn't financially keep on using it. I am a huge fan of Pixi products already, so decided to give these pads a go. I am not even exaggerating when I say ...

Read More

It is a nice product so far

I really wondered if this was going to work but after just one application my skin feels softer. I used 3 pads to do my face, hands, neck and chest area. Certainly felt tingling over the area treated. So I'll see how it improves over time I guess. Didn't feel that I had wasted my money.

Amazing

These pads are a miracle to those who want soft skin!

my skin feels so smooth

I really like how smooth this makes my skin feel

Amazing addition to the line!

I absolutely love the normal Pixi toner and bought these thinking they were just a pre-soaked version - they're not! These have a heavier acid level than the normal Glow Tonic, so I only use them every third or fourth night (and usually with a heavier oil/cream afterwards), but have ended up really loving it! Since adding this into my rotation, I really see a difference. My skin feels so much soft...

Read More

Goodbye texture!

Saved my life when I forgot to bring my Alpha H liquid gold with me. Very convenient to have this in wipe form and really helps with texture!

Amazing!

I purchased these after struggling to get rid of the remaining stubborn under the surface acne on my forehead and they are amazing! It left my skin so clear and truly radiant without drying out my skin. There's 60 pads in it so it lasts a really long time if you use them a couple times a week. They're well worth the price and are a no brainer compared to other more expensive brands. They also have...

Read More

Hard-core peeling!

Pixi's Glow Peel Pads (with 20% glycolic acid) shouldn't be confused with Pixi's glow-tonic-in-a-pad (which is basically their 5% toner formulation in a peel pad format). These are more like Peter Thomas Roth's "Unwrinkle Peel Pads" - you swipe them over the face, leave it as long as recommended (or as long as you can bear!) and then neutralise by either washing your face or using a hydrating mist...

Read More

Super Convenient!

I LOVE (underline) the convenience of this product. Say goodbye to messing around with pipettes and beauty pads. Just undo the lid and pull out a wipe. Easy! There are 60 wipes in a tub and all are perfectly moist (yes, I just used the word moist). I find this product value for money just because it makes my life easier. The instructions say to wash off after a few minutes but nobody has time ...

Read More

Okay but won't repurchase

I wanted to love these because I like that the toner is on the pads ready to use so great for travel. I do like that the pads have a exfoliating and smooth side which is nice. The toner its self is nice and I did notice my skin was more radiant in the morning but it just wasn't as noticeable as when I tried alpha h liquid gold.