NIOD Copper Amino Isolate Serum 2:1 15ml 15ml
4 instalments of $22.50
Or 4 instalments of $22.50 with
LEARN MORE
4 instalments of $22.50
Or 4 instalments of $22.50 with
LEARN MORE
Official Stockist
Is this for you?
Reduce visible signs of aging and maintain a healthy complexion with the new NIOD Copper Amino Isolate Serum 2.00%. This technologically advanced formula targets these concerns indirectly, meaning that instead of targeting specific concerns, this serum forms a foundation to respect and improve skin health overall.
Skin Concern:
First signs of ageing

Pigmentation, uneven skin tone
Skin Type:
Normal to dry

Normal to oily
Frequently bought with
Please wait while we find a match
Questions & Answers
(1 Question)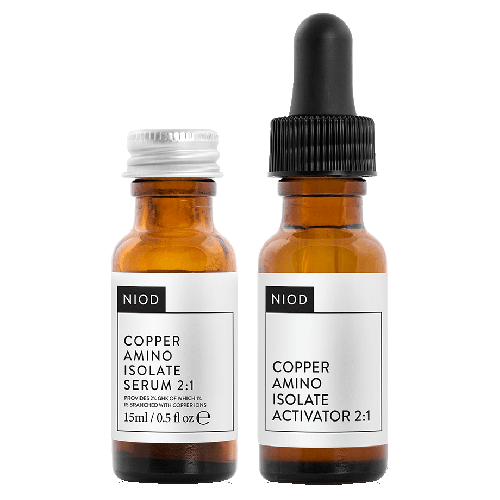 NIOD Copper Amino Isolate Serum 2:1 15ml
Get an expert to answer your question about this product!
NIOD Copper Amino Isolate Serum 2:1 15ml Reviews
79% recommend this product
Most Helpful Positive
Love
My skin is so much clearer, smoother and plumper. On my second bottle.
Most Helpful Criticism
Unsure
It's a nice, light serum, sinks into the skin well and easily slips into an existing routine but not sure that it's worth the price tag. Bought this and then the 30ml to give it a proper go but didn't notice much of a difference to not using at all.
Did not impress

Went through my first bottle and saw no change in my skin. Gave it an extra star to give it the benefit of the doubt as I know it's meant to work over time, but it didn't give me a reason to buy it again.

Love

My skin is so much clearer, smoother and plumper. On my second bottle.

My favourite product ever!

I first bought this because I ran out of my retinol products and I wanted to try something new. This little product works miracles on my face... cures my breakouts over night!!! I have been using it for 2 weeks, I noticed my skin texture has improved so much, and it also reduced the redness on my cheeks. I use it generally on my face, I don't think it will last long....hope there will be discount...

Read More

Unsure

It's a nice, light serum, sinks into the skin well and easily slips into an existing routine but not sure that it's worth the price tag. Bought this and then the 30ml to give it a proper go but didn't notice much of a difference to not using at all.

Love it - this one is a keeper

This is the first NIOD product that I've found which delivers what it promises. I have pigmentation on my skin which nothing has shifted but I'm slowly seeing a change after using this. I got this as part of a kit that Adore used to sell and wanted to wait a while before reviewing to see if it works.
I'll repurchase the bigger size next time.

No difference

Offered some hydration but for me was nothing special. Felt a little slimy on my skin. I have loved other products from niod though

Love the pretty blue colour

I'm not sold on the benefit of copper as a skincare ingredient, but I do enjoy using this serum. It fits in really well with my other skincare steps. Even though I'm not fully convinced, I will repurchase because it really is a nice serum to use and perhaps maybe a somewhere through the second bottle I'll have that "ah-ha" moment.

Great!

Have been using this serum for a couple of weeks. It layers well with my other serums and doesn't pill. Also sits well under make up which is really important for me for day serums as I wear makeup everyday. Not sure if it's made much of a difference as yet but I have noticed pimples seem to heal faster!

Should have got the bigger bottle!

This stuff is amazing. I have never seen my acne sores heal so quickly. I can only imagine what it is doing to my skin. I don't think this will leave my routine for a long while.

Great

This stuff works wonders & brings my skin up several notches. If I stop using it I get tired and dull looking skin. It makes my skin come alive and glowing. I use it with the MMHC before anything else in the am & pm on clean skin. Everything else seems to work better on top of these two.

Excellent anti ageing and strengthening product

My main skin concerns are sagging around the cheeks and eyes, wrinkles and thinning of the skin. After using this product every night for four weeks, I realised that my skin had changed. It seemed more 'bouncy', a bit thicker (in a good way) and more vibrant. Before the four weeks were up, the differences weren't obvious, but it was was worth sticking with it for longer. I've now re-ordered in the...

Read More

I want to use this forever

This beautiful, blue serum is wonderful - leaves my skin looking so healthy and glowing. I have dry/sensitive skin and I don't have a problem with this at all! I think I will use this forever - I've never come across anything quite like it!

Interesting Product

I have been using this Copper Amino Isolate for a few weeks now, not sure if i am noticing any differences in my skin but it is an interesting product. It is very watery so doesn't seem like it spreads very far, even if your skin is still a little wet and slippery.
I am honestly not sure if I would purchase this again, unless I notice some changes when I stop using it.

Another winner

This is the "second generation" of copper peptides from NIOD, replacing the 1% CAIS with a 2% serum. You simply put around five drops of the serum across one palm, place the other on top, and then pat both hands on the face (i.e. only a tiny amount is needed). I haven't been avoiding the eye area, but haven't experienced any problems with irritation etc.

The idea behind NIOD is that ...

Read More