KORA Organics Noni Glow Sleeping Mask 100ml
Questions & Answers
(No Questions Yet)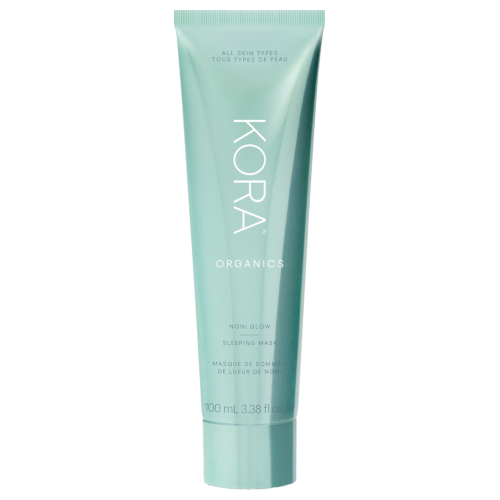 KORA Organics Noni Glow Sleeping Mask
Get an expert to answer your question about this product!
Ask a Question
83% recommend this product
Most Helpful Positive
Amazing
Amazing mask! You wake up with plump hydrated and glowing skin! Love it
Most Helpful Criticism
Was fine
Honestly, i didnt notice a diference but I loved it on. It didnt burn for me but I have pretty tough skin. Woke up and was still the same I think i need to use it for a longer period to actually see results. but love the texture and the smell so.. bonus
Amazing

Amazing mask! You wake up with plump hydrated and glowing skin! Love it

Amazing face mask

I love Kora organics and this mask didn't disappoint! I use the turmeric mask for brightening and exfoliating my skin but I needed something for hydrating. I have really dry skin and this is perfect for giving me the hydration boost I need. I use it once a week or sometimes more if I am feeling stressed and worn out. Would definitely recommend! Even though it is a bit pricey it is really big so I'm sure it will last for ages

Amazing

I received this as a sample and WOW. The small sample has lasted quite some time so although this is a little more expensive, it would last you a long time. I'd recommend putting it on before bed and then washing your face in the morning. Your face will glow and feel like a baby's bottom. Would definitely buy again

NICE AND LIGHT

Feels lovely on,nice and light, it stays on all night, my skin feels nice and soft in the morning. Using as a weekly treat, love the packaging too!

Extreme hydration

I use this product whenever I feel like my skin needs a little hydration boost. The mask is so lightweight and does not irritate my skin at all. For brighter glowing skin, I use it right after the Kora Tumeric Mask. This product is definitely worth the price and I am so relieved it works and I will be buying it again.

My skin must be sensitive

When I put this on I felt the burn a little of fruit acids?. As long as you wear sunscreen after applying this you will be fine. Noticed a reduction in fine lines

Highly recommend!

I received the Kora Organics Sleeping Mask as a sample and have loved using this product. I will definitely purchase the full size tube. I received compliments from only using it twice. I use it as an overnight mask and it feels good on my skin and smells great. I am usually very sensitive to products and this one does not react to my skin at all.

It works!

This mask really works. It helps reduce the redness and dry patches on my face. When I wake up, my face is literally glowing. This also hydrates my face while I sleep.

Amazing product

I love this sleeping mask, make my skin shine and glow!

Really good wash off mask, not a sleeping mask

My skin is considered combination, borderline oily in sections, otherwise quite dry. I tried usuing this mask as a sleeping mask but I get it liked it so much that without it my face felt extra dry (including during the day). I started using it prior to "days/night out" whereby before applying makeup I'd put on the mask for 15-20 mins before removing. I felt that helped prep my skin for make up.

Was fine

Honestly, i didnt notice a diference but I loved it on. It didnt burn for me but I have pretty tough skin. Woke up and was still the same I think i need to use it for a longer period to actually see results. but love the texture and the smell so.. bonus

Gorgeous, plump, hydrated skin!!

I received this as a sample and the 5ml packet lasted me three nights, so I can see that the full size product will give you lots of bang for your buck! After just one use I noticed a huge difference in my skin. I had a few days old baby at the time and love the convenience of popping a mask on before bed and not having to worry about rinsing it off until the best day. My skin was plump, glowing and my fine lines were less obvious from the first use. I will be buying the full size ASAP, very impressed!

Love love love

Got this product as a sample in one of my orders and have since purchased. My skin glows the next morning and is so hydrated and fresh! Safe to say this is a part of my daily skin care routine !

Love this!

Received this as a sample and I love it!!!! A little goes a long way and I find that it makes me wake up with plump and glowing skin. I apply it over my eco tan face tanning water, and it doesn't affect the tan in any way. I will be purchasing the full size product once the sample runs out.

Early days but pretty happy

I recently purchased this as I was reading such great reviews and was unable to get a previous mask that was insanely amazing. I have used it a few times and I don't use too thick a layer of it as I have really sensitive skin so testing the waters before I go all out. I'm pretty happy with the level of hydration it gives and am definitely nice and soft and smooth in the morning :)

Allergic reaction, Red face

I got this as a sample gift, thank God I didn't buy it. Within 2 minutes my face was burning and bright red! Washed it off straight away, face still burning and bright red 30mins later.
Would not recommend.

Bad reaction

I tried this after getting a sample with other items that I ordered, after about 2 minutes of the mask being applied to my face my skin went super red and blotchy so I had to wash off immediately. I have never had a reaction to any other skin care products and my skin is not sensitive at all.

Plump it

Looking for musicians to create a Black Eyed Peas parody called "Plump It" because this mask is just as F-R-E-S-H (fresh).

On a more serious note, I was excited to use this, particularly on my acne prone skin, and was happy to find my skin feeling plumper and more nourished in the morning.

If you're a goof like me, make sure you let it dry a bit before you lay your head down to sleep!

Lots of compliments after 1 day

feels light and easy to apply. People at work saying I look like Im glowing like I have been on a holiday.

I tried the sample pack i received from another order.



Red rash!!

I was excited to try this product, but when I put it on it started to burn so I instantly took it off now I have a red rash all over my face...I've rinsed my face numerous times and it still feels like it's burning, I'm starting to get worried!!
Definitely wouldn't recommend!

Beautiful and softening

My skin is so soft in the morning. It's a bit expensive but I use it nearly every night. I'm outside every day and although I use sunscreen, it's still drying etc so this is lovely in conjunction with another serum
Like retinol or vitamin c.

great for dry skin

My skin feels super hydrated & nourished after using this mask

Allergic reaction

I tried the turmeric mask as well and it caused my skin to burn and get irritated. I thought this mask would be different- WRONG! Same reaction. I hate to review this mask negatively because it looked so promising, but I think it's the salicylic acid in this mask that burns when I apply it. Don't buy it if you have very sensitive skin!

Glowing like a God

I'm feeling glowy, I'm feeling hydrated & nourished. This is a lightweight gel mask that has a very soft citrus smell. My dehydrated skin felt hydrated and plump after using this mask. Excited to keep on using this mask to see more visible results!

Love my skin after using this

I love this product. As soon as I wake up I feel instantly hydrated and I glow. My skin is left so smooth, soft and supple and I will definitely be buying again.

Great for dry skin

I have been using this for just over a week now and it's really nice. You only need a small amount to put all over face, neck and declotage and the skin is refreshed, glowing and plumped upon waking up!

Great for dry skin

I brought this product few months ago and it's a game changer for my skin! Overnight I noticed a difference, and within a few days not only were the dry spots disappearing but the overall texture of my skin was completely smooth. Great product and a little goes a long way.

A Very Hydrating Treat!

I absolutely love this Sleeping Mask! It really does feel like a spa treatment in my own home! I have used this product a few times now and haven't looked back! After applying it at night, I wake to find my face looks and feels very hydrated and glowing! My face is now ultra dewy...which I love!

Such a nice Skin Treat!

If your looking for mask that is calming, soothing and nourishing- This is the one for you. I have oily skin but with it being summer here in Aus, it was feeling really dehydrated and need a little pick up.
I used this as an overnight mask and woke with hydrated, restored skin.
A little goes a long way and it smells spa worthy!