Koh Gen Do Moisture Foundation 20g
Is this for you?
A cult classic and makeup artist favourite. Enhance your own natural skin tone with Koh Gen Do Moisture Foundation. This rich mineral foundation gives high definition, medium to full coverage and is best suited to normal to dry skin.
Frequently bought with
Please wait while we find a match
Questions & Answers
(1 Question)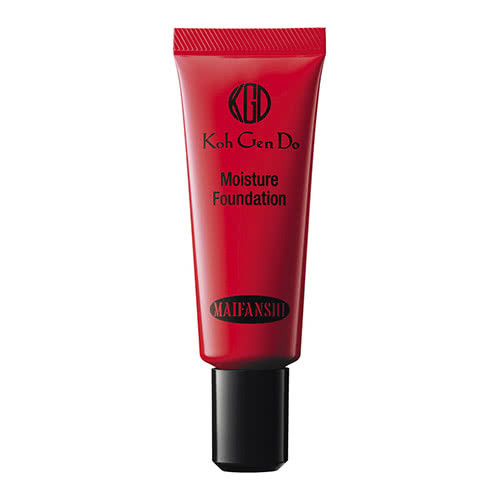 Koh Gen Do Moisture Foundation
Get an expert to answer your question about this product!
67% recommend this product
Most Helpful Positive
Great
Love this! Light weight and so hydrating
Most Helpful Criticism
Not sure
I definitely prefer this over the aqua foundation. I have really dry skin and I love how this looks on my skin. It also felt like a treatment as when I washed it off my skin felt so soft and hydrated. However, you don't get a lot of foundation and the coverage is too light for me, even on a good skin day. It works best with fingers or a brush. It also has no spf which i don't like. There are too many cons for me to repurchase.
Great

Love this! Light weight and so hydrating

Great colour range, light weight, expensive though

Great colour range, lightweight, expensive though. While I really like this foundation I just feel that there are better foundations in this price range. I probably won't purchase it again.

My best friend !

Super concentrated foundation that is so powerful, it literally ELIMINATES all blemishes with a dab !! Even dark under eyes are instantly disguised. Only requires simple finger tap application that instantly gives you an all day facial blended master piece.
The best news is, NOBODY knows you are wearing it !!!



Not sure

I definitely prefer this over the aqua foundation. I have really dry skin and I love how this looks on my skin. It also felt like a treatment as when I washed it off my skin felt so soft and hydrated. However, you don't get a lot of foundation and the coverage is too light for me, even on a good skin day. It works best with fingers or a brush. It also has no spf which i don't like. There are too m...

Read More

I like it a lot!

Really makes the skin look super pretty! Very plump and natural. Definitely a must have!

Cakey - go with the Aqua Foundation instead

After finishing a bottle of the amazing Koh Gen Do Maifanshi Aqua Foundation, I decided to give this a try to compare the two.

The only positive about this foundation is that it's a perfect match for my super pale skin. Apart from that, this didn't work for my skin at all.

After immediate application the foundation looked smooth and glowy... but within an hour it was a pa...

Read More

Dry skin

Love how much moisture this foundation brings back to the skin, highly recommend this to those who are suffering dry skin.

Only negative is the price

This foundation feels like a mineral foundation, it is so light to wear, covers and leaves my skin glowing however the price is what will stop me buying it again. I'm happy to pay more for foundation however this one is just too much.
Great product though!

Dry skin HG

For context: I have really dry skin that is recently experiencing a bit of sensitivity.

This foundation gives amazing HD finish, ideal for close ups photos. More importantly, it doesn't dry my skin out! I've been using it for approximately a year now and every time I want to try a new foundation, I always end up coming back to this. You don't that awful dried-up feeling that you can g...

Read More

Skin-like coverage with impressive skin treatment benefits

This review is specifically for my skin type which is lipid dry and does not produce visible surface oil, is blemish free, has very fine pores, some fine lines, some freckles and no dry patches. My skin care routine consists of oil, oil and more oil.

On my skin, this foundation was lovely. It gives a sheen for about 10 minutes (very rare) and then dries matte. People have described t...

Read More

Great brand for plae skin

After purchasing the Aqua Foundation in this brand, I jumped online in excitement to try more of their products. I wanted something with a little more coverage, so I opted for this one in the same colour. Yes it was thicker, but you don't get as much product for your money. I also found if I smoothed it on in a thin layer, it really wasn't too much different in coverage to the Aqua Foundation! But...

Read More

KimK's favourite = My favourite

When I saw that KimK's Makeup Artist uses this foundation for her, I knew I had to have it! And after using it a couple of times, you'd want it too! If you've got dry skin, this product goes on like a dream, providing just the right amount of coverage and hydration. Its medium to full coverage and a little goes a long way. The only thing is they don't have a wide shade range which is a bummer!

Dreamy full coverage for dry skin

If you want HD full coverage but hate fiddling around with professional foundation formulas or find that they're too heavy for your skin, you're going to be delighted by this one. Best for normal to dry, and very dry skin types, Moisture Foundation gives medium to full coverage without irritating the skin.

While it's not the best foundation for me, as I prefer lighter coverage and I c...

Read More