Kérastase Résistance Extentioniste Bain Shampoo 250ml 250mll
Hair Concern:
Breakage and split ends
Fine or limp hair
Hair Curl Type:
Curly
Straight
Very curly/African/Caribbean
Wavy
Frequently bought with
Please wait while we find a match
Questions & Answers
(3 Questions)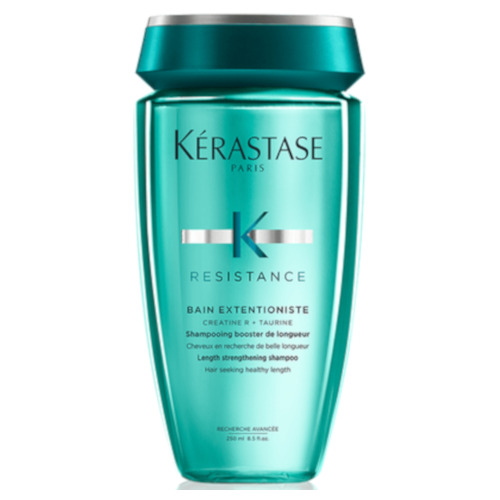 Kérastase Résistance Extentioniste Bain Shampoo 250ml
Get an expert to answer your question about this product!
Ask a Product Question
94% recommend this product
Most Helpful Positive
Loving it
My hair looks so gorgeous. Super shiny and feels so incredibly soft. I love this!
Most Helpful Criticism
It was okay..?
Totally bought this shampoo based on the reviews and to be honest, I just didn't feel the hype! It definitely did smell beautiful but for a shampoo that claims to be 'length strengthening' I didn't notice a great change in the growth or the overall condition of my hair. As a reference, I have blonde hair about collar bone length, it tends to be quite dry but when using the correct products it remains in healthy condition. It was a nice shampoo, but I definitely think that there are better out there.
Loving it

My hair looks so gorgeous. Super shiny and feels so incredibly soft. I love this!

This works

I have begun through 2 bottles of this now, used in conjunction with the mask (used as a conditioner) & serum. Definitely works. It's helping to grow my hair and all the new hair growth i have had post partum.

Feels luxurious

Highly reccomend, smells nice and made my hair shiny and silky, havent used it long enough to notice and growth but i will definitely repurchase as my hair is looking super healthy

Kérastase Résistance Extentioniste Bain Shampoo 250ml

only been using a week and already see difference...just healthier looking...wish bottle was bigger though...I have highlighted coloured hair and would buy again...

Healthy hair

I've been using this shampoo for about 6 months along with the conditioning mask. The aim was to grow my hair and make it stronger from years of hair dying. It has lengthened and strengthened my hair leaving it looking smooth and well kept. M recieving lots of compliments on how lovely my hair is! Worth the buy

My hair is getting stronger !

I have used many references from this brand and all of them are amazing. I just stared 2 weeks ago to use this shampoo and the results were immediately.

Hello softness!!

I have bleached balayage straight hair and it's been dry and limp ever since I started colouring. I always use this when blow drying and straightening and it is a hair saver (especially when paired with the heat protectant). My hair feels so soft and not at all brittle like it was before I started using this.

HOLY GRAIL

I am in love with this shampoo. I was furst recommended this by my hair dresser, and cringed at the price, but brought it anyway as I have tried so many other products to no avail. This was worth every cent. My hair is limp and lifeless, and this added some body! I would recommend, and although it breaks the bank, can say its definitely worth it.

LOVE LOVE LOVE

I have balayage blonde hair that it not overly damaged but needed strength and moisture. I have noticed a dramatic difference in the feel of my hair, it is so soft and not knotty. Instead of needing a haircut every 12weeks I can push it out to 16 weeks. Highly recommend to pair with the conditioner too for the best results.
For anyone that used the now discontinued 'Age Recharge' product, this is a great and very close alternative.

Really works!

After having my extensions taken out i was left with very little hair & what i had left was thin & damaged. I have been using the kerastase extenionist bain shampoo & conditioner for about 8 weeks now and have noticed my hair does not fall out in chunks anymore. I have way less hair loss & the growth has been noticeable. My hair is left feeling very healthy & with continuous use i am finding the condition of my hair is so much better. I do use alot of heat tools on my hair & despite this i still have found my hair is silky smooth and growing back. Would highly recommend & would definately suggest using the whole range incuding the mask. Ive done all 3 products and have been very happy with the results.

Great product!

I used this product (along with the masque in the same line) and found that after the first wash my hair felt and looked healthier. It was after about a month of using that I noticed great differences in the overall condition of my hair, even my hairdresser commented on how healthy it was. Unfortunately, I am unable to comment on if my hair grew (more than usual) as I didn't measure it.

Helped my hair

I've been using this shampoo for about a month now after using the bottle of kerastase anti dandruff shampoo. I'm in love with this shampoo. A little goes a long way so the bottle lasts, Ive still got about another weeks worth of wash left in my bottle. I use this on my daughters hair too. I have dark hair and extremely oily hair but find I can get away with every second or third day now. This shampoo leaves my hair clean without stripping my scalp to the point that it irritates me. My hair is soft and light and feels so much healthier. I've noticed that it's growing a lot faster since I've been using this product also. Def recommend, worth every cent.

Helped my hair so much!

Life saver!! Great product. Highly recommend!

Saved my hair!

I have very damaged hair thanks to years of bleaching and honestly I bought this product and upon first use it removed all of the nasties and oil build up and I am extremely impressed

Awesome Product

Great shampoo - I have short thin hair and it makes my hair feel so soft after using it. Do not need to use conditioner every night after use and my hair is still soft the following day. Smells really good too :)

Definitely worth the price tag $$

Love this shampoo! Can feel a difference with my hair in only a short period of time using this range. Fuller, smoother and a healthy shine. Great if wanting to speed up regrowth growing out.

It was okay..?

Totally bought this shampoo based on the reviews and to be honest, I just didn't feel the hype! It definitely did smell beautiful but for a shampoo that claims to be 'length strengthening' I didn't notice a great change in the growth or the overall condition of my hair. As a reference, I have blonde hair about collar bone length, it tends to be quite dry but when using the correct products it remains in healthy condition. It was a nice shampoo, but I definitely think that there are better out there.

A little goes a long way

This shampoo last as a little goes a long way. Haven't seen my hair improve in terms of strength yet, I also wouldn't recommend for oily roots. Its long lasting though so worth the spend just for that.

Good shampoo

It's an overall good shampoo but a bit pricey for what is does. Cleans well without stripping hair of moisture.

Great shampoo

This is a great shampoo. Instantly left my hair feeling so clean, but not a dry/straw like clean. The only flaw about this product is the price.

Great shampoo

So far i have no complaints about this shampoo. It does not foam a lot, but most good quality ones don't. Hair feels clean and silky after using this and stays clean for quite a long time. The price tag is a little hefty, but i'm hoping to improve my scalp and hair health, so hopefully worth it.

Amazing!

Reapairs damaged hair, makes my hair less frizzy! Beautiful hair product! Love Kerastase!

Amazing shampoo

I'll definitely buy this again, smells wonderful and leaves my hair shiny

Holy Grail!!!

My poor abused bleached hair is LOVING this shampoo (and the matching conditioner). I have used this brand for years but this range is a game changer for me. I must admit I thought it was a gimic and did heaps of research before buying but after only a week I am now losing way less hair when I brush where as before SO much was snapping off. It smells beautiful too even my partner comments on the smell. My hair feels soft and is getting stronger. I've definately found my holy grail shampoo and conditioner. Also side note I've found I need to use a toning shampoo less as this seems to clean out the blonde pretty well. Bonus points for that

Smell is devine, price is not.

Wow, this smells so so good, I only wash every two to three days and my hair still smells great when it is time to rewash. My hair feels nice, but properly no better than if I was washing it with shampoo/ conditioner that was at a $10 less price point. As for less breakage/ growing longer, i would recommend having trim before you started to see if it really worked for you.

Never go past kerastase

I have been using kerastase for years even after having my hair chemically burnt off in a salon, kerastase has always restored my hair back to good health when it's been most in need I am usually a massive advocate for densifique but have been also really happy with the results I've gotten from extenioniste and had to try it out for a change.

Feels great a little goes a long way.

Great investment. My hair easily gets damaged and this shampoo thoroughly cleanses my scalp. I have noticed that it doesn't dry out like normal shampoos.

Very moisturising

I have long hair that can be really dry. This product is really beneficial and keeps my hair shiny and healthy.

Not worth the hype.

While it does help hair feel smoother, it failed to help promote fast hair growth like the other claims. I found that this product removed my hair colour also...

Average Shampoo

This is an average shampoo, and I probably won't be repurchasing.
I have the conditioner and masque also, and find that the ends of my hair are really well hydrated and it probably is helping me grow it out.
My main issue with this one is that it leaves my hair very flat at the roots, and also is pretty oily the day after washing.
I'd be more inclined to use a different Kerastase shampoo with the other products, and would recommend the same if your hair is prone to oily roots, lack of volume or fine in general.
It does smell nice, but also doesn't lather as much as other formulas.

Best Shampoo ever!!!

I actually didnt believe in this product but after trying it out and seeing the results i'm amazed.

Favourite Shampoo that I have ever used

I have tried many different Kerastase ranges. I have enjoyed many of them, however the extentioneste range is by far my favourite. I have highlighted, quite dry hair and this has completely transformed the look and feel of my hair. I did use this in conjunction with the conditioner and extentioneste serum and will continue to do so for a very long time.

Amazing Product!!

My hair was highly damaged after going completely blonde last year due to over lapped colour which caused my hair to snap!!
I have been using the Kérastase Résistance Range since November and have noticed a rapid growth in my hair and the conditions has definitely improved!!

Good Product with results

I would recommend this product to people trying to grow their hair, I noticed a big difference ! Takes maybe 8 weeks to notice then oneway you just go wow my hair has grown! Worth the investment !

Will buy again.

I am on my first bottle of this shampoo & so far I am loving how it makes my hair feel. My hair has been very damaged from colouring & this is helping to restore it back to good health. I love how it feels like it gives a good clean. It is light & doesn't leave my hair feeling heavy. Will be purchasing again.

Visible results

I have thick, wavy, virgin European hair that I slaughtered with heating products my entire life leaving it coarse, brittle and split.
I've been using the extensionist range for 3 months with 2 trims in between and my hair has never looks healthier or grown faster.
Everyone has been complimenting my length while I'm enjoying how much healthier it looks and softer it feels.
The beautiful 'fresh out of the salon' scent is just a bonus!

great shampoo

this is worth your money i have used it maybe 5 times and it looks like ive hardly used anything from the bottle so im sure it will last quite a long time! lathers very nicely not too much but just enough, scent is great and clean. fresh after use and am happy with using it in conjuction with the mask at the moment hoping to get all 4 in the set. and see some growth

It actually lengthens your hair!

I have dry thin hair that has been coloured a lot. I tried this product based on reviews in order to grow my hair for my wedding. I have to say that I love this product! My hair feels so clean after using it and after consistent use id have to say that I have seen a difference in the length of my hair. My hair has not only grown longer but it looks healthier and feels stronger and thicker. I don't think I can ever go back to my old shampoo and conditioner.

Good shampoo but not great

This shampoo has a nice lather cleans well and does not dry hair out. My hair is chemically lightened and requires more hydration than this range provides.

Would recommend

I have been struggling to grow my hair and have heard good things about this product, it smells great and feels amazing once your hair is washed. Would recommend

Good for lengths but not moisturizing enough

This shampoo is good if you want your hair to grow a bit faster than normal. I could really see a difference in my hair growth however, I wanted it to be a nourishing and moisturizing shampoo too but sadly, its not moisturizing enough. Smell isn't overpowering.

Works!

Great, smells good, hair feels like light, clean and in great condition after! Doesn't make my roots greasy and not too heavy.

Love, love, love it!

I love that I can get that just-washed salon feeling hair at home!
Really enjoy that my hair is breaking less after only three washes and smells amazing all day long

Good Product

I like this product, my hair felt really healthy with the conditioner without being dried out although it is a bit pricey. I would probably mix it up with a cheaper product and use this 1-2 times weekly.

Reverse damage

Would recommend if you are trying to reverse extreme heat damage or colour and are trying to start over. I used this religiously for a year or so when my hair was at its worst and it helped with growth

Amazing!

i use this followed up with the conditioner. It really cleanses my hair without drying it out and has helped my hair grow!

Actually amazing!!

I love this Shampoo! I have very fine and damaged hair in which I am trying to grow out a short cut, and the entire Extensioniste range has actually been working. In 2 months my hair has grown at least 4cm, and with healthy ends! Would definitely recommend to anyone attempting to grow out their hair.

Does work ...

I have baby fine and very thin hair. After bad hair loss due to illness, I wore my hair extremely short for a long time. I tried to grow it a bit longer again, but after a couple of months I always cut it again, because it looked flimsy and I wasn't able to have any sort of style. Then I started to use Resistance Extentioniste Shampoo and Conditioner. What a difference. My hair doesn't grow faster, but it looks so much better. I might now be able to grow it into the bob I want. I have to alternate this shampoo with a more cleansing one, otherwise my hair looks too slick, which is not good for such fine hair.

amazing for blondes

amazing! honestly so good for blondes, restores life to your hair and helps it grow. worth the money!

Amazing

This is so amazing my hair feels so incredible my hairs grown I can actually see a difference for once I'm happy with this product

Excellent

Absolutely love this, leaves my hair looking healthy and shiny

IT ACTUALLY WORKS

Seriously guys this stuff is amazing I use the whole range along with getting the monthly treatment at the hairdressers my hair has grown so much I wish I could show before and after pictures I have tried so many products that claim to grow your hair but this is the only thing that actually works I highly recommended this to anyone trying to grow their hair