ICONIC London Prep-Set-Glow 120ml
Skin Type:
Dry
Normal to dry
Normal to oily
Frequently bought with
Please wait while we find a match
Questions & Answers
(No Questions Yet)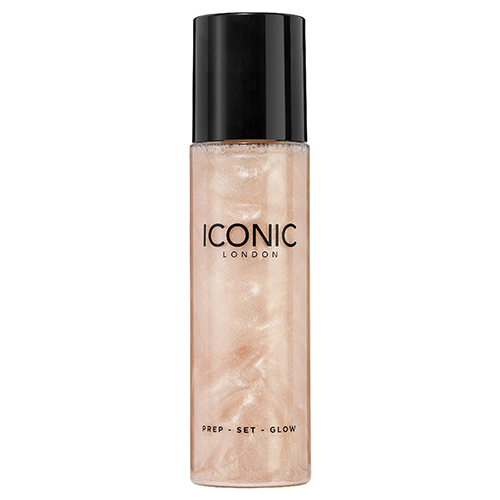 ICONIC London Prep-Set-Glow
Get an expert to answer your question about this product!
Ask a Question
76% recommend this product
Most Helpful Positive
Amazing Glow!
This gives the prettiest, healthiest looking glow ever, without looks greasy or oily!
Most Helpful Criticism
Its alright
I mean its good but for the price I don't think it compares to my mac fix plus. Probably wont purchase it again.
Amazing Glow!

This gives the prettiest, healthiest looking glow ever, without looks greasy or oily!

Awesome

adds a nice glow to a matte face without making it glittery, beautiful colour

Very glowy and pretty

If you want a subtle glow and shine I found this product was really nice and did not make me oily. Love that it is also cruelty free

Gives a nice glow

I tried this in store and it gave me a really subtle and flawless glow! It is quite shimmery though so I would say it's more for special occasions rather than daily use. And I would definitely purchase with a voucher or on sale instead of paying full price

good for dry skin

Product adds a natural shimmer all over face after makeup. I apply over my makeup and it keeps my face looking fresh all day. Without it my skin tends to look dry, especially in winter. This is a perfect solution!

Love this

Got this beauty as a gift however I would buy this regardless.

Not what I thought it was, oops

When I got this, I thought it was skincare. It's definitely for makeup. Not for me unfortunately

Its alright

I mean its good but for the price I don't think it compares to my mac fix plus. Probably wont purchase it again.

Amazing for dry skin

Love this product. I apply over my makeup and it keeps my face looking fresh all day. Without it my skin tends to look dry, especially in winter. This is a perfect solution!

Smells Great

Lovely shimmer on your skin. Smells great too. Definitely buy again.

Glow heaven

You need to be aware that this is probably only going to ever be used as a night time/event spray because it's far too glowy for most people to use everyday. The bottle is huge and will likely last years. WARNING: Make sure you're not wearing any clothing (especially dark clothing) when you go to spray because the glitter shows up on your outfit and looks a bit stupid

Good! (But not for oily skin)

I gave this product a 5 star because it's BEAUTIFUL on the skin when first applied. Being an oilier skin type I can't get away with using this on myself but used it on some clients I've done makeup on with a dryer skin type and it gives so much life! Not mega glitter but a super fine shimmer. Looks amazing in sunlight! Little pricey but I think it's worth it. Note: only downside is when you're nearing the bottom of the bottle the nozzle on the spray will spurt out large dots of concentrated shimmer!

Nice

Smells nice and leaves a nice glow to the skin and décolletage !

Cruelty free alternative to Mac Fix+

I love the Mac Fix+ product, however I am making a conscious effort to no longer support brands that are not cruelty free. This is a beautiful alternative. The shimmer is subtle and looks beautiful on its own, or on top of makeup. I also really like the scent.

So glad I found this!

Not really worth it.

I've always been an avid urban decay all nighter setting spray user and I decided to try this for something different. I kind of wish I hadn't. While the shimmer leaves a nice highlight on your skin, the product itself leaves your skin feeling tacky and oily and I'm pretty sure my makeup comes off easier now than if I weren't using a setting spray at all. All in all, a disappointment as I love the iconic illuminating drops.

Expensive but worth it!

Amazing natural glow on the skin and hydrating. I use this daily!

Ok but too pricey

Doesn't compete with the MAC spray. Don't love the scent and the shimmer is nice but I only use it on my décolletage. Glad I got a free travel size.

Nice and dewy

I like this for a dewy finish. It has nice shine to it without being oily. Makes makeup last longer and look less cakey/matte