ICONIC London Illuminator 13.5ml
Skin Type:
Dry
Normal to dry
Normal to oily
Oily
Questions & Answers
(No Questions Yet)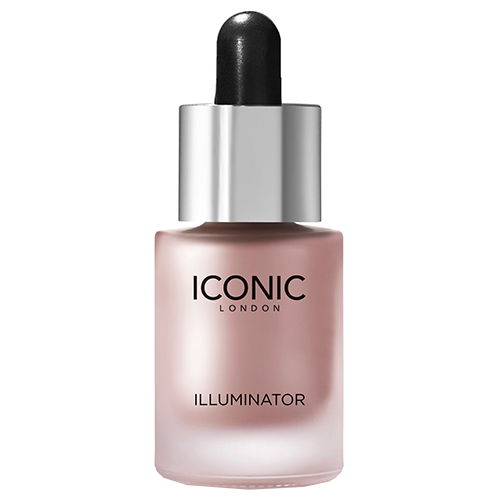 ICONIC London Illuminator
Get an expert to answer your question about this product!
Ask a Question
99% recommend this product
Most Helpful Positive
so blinding
absolutely blinding, definitely recommend setting it with a powder highlight if you have oily skin.
Most Helpful Criticism
not bad
does the job and is really nice but could get cheaper one from drugstore or another brand in general.
so blinding

absolutely blinding, definitely recommend setting it with a powder highlight if you have oily skin.

BLENDABLE!!

I love this! I use it as a highlighter after application of foundation or BB cream. You only need the tiniest amount and I blend with my fingers. Because it's a liquid I find it easier to apply than a lot of powder highlighters (which aren't great for dry skin).

Glow baby glow

I was hesitant with purchasing with the price tag - but it has such good reviews I wanted to know what I was missing. The glow is great - natural but can be intensified i needed. And it will last for such a long time.. a drop goes very far!

One of my best ever purchases!

This is BY FAR the best highlighter I have used and 100% worth every cent! the bottle lasts forever as you only need the smallest amount for an unbelievable glowy finish!!! The pigment is insane, lasts all day and it gives the most natural glow! Have had so many compliments since using this! I purchased the original and I have naturals light skin but use it when I have fake tanned also and it blends and matches perfectly either way!! You won't regret buying it!!!

Gorgeous glow

Definitely expensive but I love the glow it gives! I use it alone as a highlight or mixed into my foundation for a glowy base.

AMAZING

When applied to the face it looks like you are a glowing angel. Best applied with a damp sponge so it melts better into the skin.
Also applied it to my body, arms, legs, collarbone area and it brings a beautiful glow and shine to the skin without looking unnatural.
Price is slightly high but you get much usage from one bottle.

Glow is on point!

The glow is just amazing! Amazing product.

Absolutely love this product!

Very pigmented, a small amount goes a long way. mix it with moisturiser or a foundation for a dewy look, Love this highlighter!

Amazing product

My skin glows and same time it is not sticky. Mixing with foundation makes it no need of another highlighter. I am loving this product. It's worthy.

Cult Favourite!

Gives a beautiful glow and radiance to the skin. I love to use this on the shoulders and collar bones for more of glam glowing look for events

Glow to the Gods

This is definitely illuminating liquid highlighter! It gives off the most beautiful gold/ bronzed goddess vibe.
The product last for a long time on the skin, so easy to apply and blinds people won't the glow.

I just mix this in my with foundation or on top and it gives you a beautiful bronzed glow.

Highly recommend!

Adore!

It's the only highlighter I use and will always repurchase. I use it mixed in with a tinted CC cream for a more natural look as I'm not into heavy makeup. It's gorgeous!

Breathtaking glow

I adore this liquid illuminator - I know there is a lot on the market that are quite similar to it but I don't think they compare to the Iconic drops! I have oily skin and these give me such a beautiful 'inner' looking glow. I haven't had any issues on my oily skin either!

Wow

After hearing so many people rave about this product I decided to give it a go and I am so glad that I did.. WOW!
It is blinding!! It is hands down the most incredible highlighter I have ever used and I cannot imagine using anything else.

WOW!

The highlighter range from the ICONIC are amazing however they are a bit pricey! I would still definitely recommend however as i feel they are long lasting and oh so worth it

Gorgeous highlighter!

Love this highlighter - definitely lives up to the hype!

I can't believe it took me so long to try this!

Just, wow. Wow! I LOVE my powder highlighters and use them every day. I can't believe it took me so long to dip my toe (or my makeup brush!) into liquid highlighters! This Iconic London one is AMAZING! I purchased the Original shade for my fair to medium skin and the glow it produces is blinding in the best way. It also is incredible under makeup or mixed with my foundation and it photographs so well! No wonder so many people have been raving about it. The highlight payoff is so much greater than that of a powder and I find that the it detracts from my cheek crinkles rather than making them more obvious. You also only need the tiniest amount for a radiant glow so the value for money is spot on. But can you really put a price on just feeling radiant and happy anyway though? A must have!

Amazing

Amazing highlighter!! Mix with my foundation and face is dewy and fresh looking.. absolutely love it and can't live without it.. worth every cent

not bad

does the job and is really nice but could get cheaper one from drugstore or another brand in general.

Amazing

I have read loads of reviews on this and finally gave in and ordered it. I have olive skin and I got the original colour. It definitely lives up to the hype and gives a beautiful dewy glow. A little bit goes s long way so although a little bit expensive it's going to last a very long time. I love it

Love

Definitely lived up to its hype!!! Blends super well on the skin and leaves my face looking fresh

Heavenly

I love this product. I don't wear a huge amount of makeup during the week and absolutely love this just on its own or mixed in with a touch of tinted moisturizer - gives the skin a gorgeous glow. Also great just on the apples of the cheeks

Amazing

Amazing illuminating bottle of goodness!! Face looks dewy and glowing!! Love it

Shiney awesomeness

I finally bought myself a bottle of the pearl shine. I love it and it's an amazing highlighter. I use a bit mixed into my foundation and it gives a beautiful soft glow to my skin. Then add a few drops to my cheekbones and the shimmer is just divine.

The only reasons I gave it 4 and not 5 is that the pearl shine is a little lighter on my skin then I thought it would be. I should have bought the original (I have tan/olive skin)
The other reason is it is just quite expensive. I know a little goes a long way but still I would think $50 is a more appropriate price.

Don't know how I used highlighter without these!

These are so insanely pigmented! My glow when I put these on makes me feel like a million bucks! I honestly have no idea how I was using powder highlight without these for so long!! Highly highlyyyy recommend giving them a go if you already haven't! Definitely worth every dollar and have lasted me for ages.

Love!!

Love to use mixed in moisturiser or foundation and added on top for extra shimmer! Great texture and blends really well — very happy with the original colour!

Amazing

Everyday go to!!! Amazing and pretty colour

Highly recommended

Absolutely gorgeous.

nice highlighter

I've never really been into liquid highlighter but this one flipped my opinion as it was so blendable and glowed so nicely

Pretty

Definitely gives a very pretty glow!

The most beautiful glow!

As a makeup artist I am always looking for new makeup to try, but mainly highlighters! And this one is just soooo beautiful! I saw all the hype all over the internet for this and I thought it couldn't be as good as people say, but it really is! I went and purchased both of the colours as I couldn't choose between them! So good under makeup for an all over glow, or just on the high points of the face for that dewy beautiful glow.You can also put this on your collar bone to make it pop! Highly recommend!

Love This!

blends so nicely and WOW the glow

Great product

great highlighter, love all the shades and blends really well into the skin

Gorgoeus

Beautifully shimmery and is very strong

AMAZING

These drops make the most blinding and pigmented highlight ive ever tried!! I've told many of my friends about these because they are amazing!

Beaming

I initially purchased this because of all the hype about it. It's absolutely blinding as everyone says it is, but I personally find that I have a bit of a hard time blending it if you've already powdered your face.

That's not to say it's impossible, just that you'll need to tap quite a bit of it around the back of your hand first before pouncing it on your face with a sponge, or your finger if that's what you prefer. A brush would probably be okay too.

I find that it definitely stays a long time on my oily skin. I've got the original one, and I have an nc42 skin in mac and cashew in eldw for reference.

Beyond pretty

This is so beautiful I dont know if I can even explain it. Amazing illuminator that gives me a perfect look.

INCREDIBLE

I use this product everyday along with powder highlighter on top. It is simple beautiful. It is not cheap but it lasts SO LONG and is worth the money. Be careful to use the tiniest bit or it will not look as good as it can

Beautiful shimmer

A little goes a long way and you can build a stunning glow!

Holy highlight Batman!!

Ok this is the most beautiful and luxurious makeup item I've ever owned.. and I love it! I had my eye on this for a little while not sure whether it would be worth the price or not but now that I have it I'm IN LOVE.
I was really torn between getting the original shade or the lightest shade because I have fair skin, but given that I fake tan a lot and we're heading into summer I decided to purchase the original and I'm so glad I did!
It's a beautiful Champagne colour that blends beautifully with warm fingertips. I have to stop myself from going too crazy with this because it is just so addictive seeing it transform my skin from lacklustre to glowing. Worth every cent in my opinion, would definitely recommend!

The hype is real!

I have to say, I didn't realise the bottle was so small but after purchasing it as a birthday present to myself and putting it on for my event, i can confirm that it is well worth the hype! I purchased the original - tan gold and oh my god, it is all true, a little bit goes a long way! It would be nice if the price was less however i know that I will be enjoying this product for a long time! tip: do not apply with a brush, definitely use your fingers!

Go ahead and TREAT YO SELF - Get it!

This highlighter. THIS. HIGHLIGHTER. Oh my laaaawwd, where to start?! Honestly this stuff is the bomb.com and imo totally worth it! Yes its pricey but given the fact that a tiny bit goes a loooong way, it's definitely value for money. Not to mention that the actual product is gorgeous. I love that it's buildable so you can achieve the perfect amount of highlight for any look or occasion. Plus its more of a glow on my skin than a glitter which I adore since I'm not personally a fan of really glittery highlighters (I'm more of a wet look sheen type of gal). This is multipurpose too - it can be put on under foundation or mixed in with it to create an overall glowy base or packed on afterwards for a more obvious highlight, plus it can be used on both the face and body (you can mix it in with body moisturiser if you want it to look more subtle on the body). I have both the Original and Glow version - Original can sometimes be a little light on my brown skin tone when I'm darker but when I mix it together with Glow it's stunning! Glow is perfect for a warm bronzed highlight look by itself on my skin tone. Enough with my rambling. Just go ahead and treat yo self to it hun

Pink Pearl = HIGHLIGHTER GOALS

My skin is naturally pretty pale but I love to fake tan on the weekends, so usually I have to buy 2 different highlighter shades. Soooo happy and surprised that Pink Pearl always looks amazing no matter how tanned I am!! This highlighter is my go-to when I wear full-glam makeup. I use it as an eyeshadow too and it lasts all night. 10000% recommend to everyone who loves a blinding highlight and has pale-medium skin tones.

Best highlighter

These have become really popular for good reason, you get an amazing glow and it photographs beautifully too. Can be used subtly or built up for dramatic glow.

Love it

this is so stunning, I have the original colour and quite light skin and it looks great!! i even like using it on my body as a nice body oil/shimmer. the only bad thing is it is very oily and can be hard to remove, but is so beautiful that it's worth it!

Blends very easily

Such a beautiful product, nice colour (original) and blends like a dream. 100% recommend

Beautiful product

Amazing product that I use underneath and top of my foundation. Blends in really easily and I have the colour original and it works when I am tanned and when I'm not. I naturally have fair/light skin. Love this!

You glow girl

this product is so flipping amazing what else can i say, it gives a strong shimmer that doesnt set sticky, you can mix it with foundation for that extra glow or just put on your high points to add some simmer, so amazing and versatile

Beautiful

This illuminator is beautiful, just everything about it. The packaging is simple but so nice. I am so in love with the amazing shimmer it gives you. It's just perfect for what I needed!

YAAAAS

Don't hesitate, just get it! So versatile and shiny! One of the only liquid highlighters I have that sets itself and is pigmented enough that it doesn't need a powder highlighter on top!

Amazing glow!

Finally, my foundation can look glowy without looking oily or overly glittery. In the past I'd typically wear a mattifying full coverage foundation and use powder highlighter to give myself a glow as I thought I couldn't wear liquid highlighter because of my oily skin. Was I wrong! This stuff is so amazing. You can use the smallest amount to give your skin a radiant healthy looking glow. Or you can go the whole hog and layer it on for a dramatic glow at night. I've tried the shade Shine which works beautifully on my fair complexion. I think I'll be giving the Original shade a go in the near future.

Amazing

Pink pearl is so popping that people can spot me from a mile away, I highly recommend!

Lovely glow!

This product is great for a definite shimmery look. It's super easy to apply and has a lovely sheen. Great for those nights out under the lights!

BLINDING

I was a bit hesitant to buy this product because of the price but let me tell you....omg.
a tiny bit goes a long way and the glow just stays with you forever. Alright, maybe not forever but it definitely has some awesome lasting power in there. The color is just beautiful and it does not sit on the skin or reveal skin texture like other liquid highlighters do, it just blends like a wonder.
I did find that you have to apply very little at a time because of the liquid-y consistence (otherwise can break the foundation a little bit), so have some patience, it does build up if you need a blinding, over the top glow, but truly, you can use two tiny drops and you're set.
Absolutely love it, would definitely recommend.

Shiiiny!

I'm not a huge fan of the 'dewy' makeup look so I was a little concerned about using a liquid highlighter, HOWEVER it looks great and isn't too 'sticky' feeling. It is easily blendable and a little goes a very long way.

Also looks great in photos ;)

AMAZING

I am a glowing goddess right now thanks to this bad boy right here. I want to bathe in this stuff it's not even funny. Buy it and you will see what I mean!

Blinding highlight

The most amazing liquid highlight!!! I love this but can be a bit metallic and unnatural. The texture is good but a little bit definitely goes a long way, so the product lasts a long time which makes it worth it for the high price in my opinion.

It's A Disco Ball In A Bottle

It's pure liquid shine. I bought the pink shade for a dewy look and plan to purchase the Golden colour for a more holiday tan vibe. Price is expensive, but little goes a long way and I would continue to purchase!

bright

I'm highly impressed, I've never found a highlighter until now thats blinding and bright.

sooo blinding

such an amazing highlighter - easy to use with a beauty blender, and the most blinding thing ever. sits much better on my skin than a powder highligter - my fav

A luminosity amplifier

Wow, I'm rarely this impressed. This product feels like nothing on your skin but looks amazing. Great for day (healthy glow) or night make-up if you use a bit more.

Shine...bright like a diamond

I bought this in the shade 'shine' and OMG does it make me shine. Use with my primer, mix a few drops in my foundation or use it on its own on days I just want some 'natural' highlight on my cheekbones. This product is amazing and it's no wonder it's become a must have. As someone with a light neutral skin tone pink undertone highlights can wash me out but this really does compliment my skin.

Great

I absolutely love this highlighter. Its so pigmented. I love how you can also use this on ur body for a nice glow. The illuminating drops are good for any skin tone and type. I would definitely recommend this product for a nice healthy glow. I wear it with or without foundation.

A little goes a long way!

So intense, you only need a tiny drop! i mix this into my foundation when i want to look extra glowy or ill use it over the top as a highlighter

Gorgeous Highlighter!

this is an amazing highlighter! It's worth the hype and looks stunning. Would definitely recommend

YES!!

So good!! This is very pricey but it's honestly worth it - such a stunning highlight. It blends so well and isn't chunky or glittery

Glowing

So many ways to use this product, so. shiny and easy to blend on top of makeup, I tend to use mixed in my foundation for that warm glow. so in love with it, well worth the $$

SO GLOWY

the shine is so bright you could see it in the dark

Amazing

I loveee liquid highlighter and this one doesn't disappoint!! So easy to apply and has such a pigmented colour and shine. Easy to blend out so it's more subtle as well!

blinding and glowy

super pretty and blinding on top of makeup or mix in with foundation for that glowy healthy glow from within, also mix with my moisturiser and apply to my chest and shoulders for that perfect summer glow!

So glamorous

Has such a gorgeous finish that can't compete with any of the powder highlighters i've tried! It leaves such a dewy, glowy finish and is so highly pigmented, you'll shine from a mile away!

Purty

I am the furthest thing imaginable from a Instagram-loving millennial, but I still love this highlighter. I use the tiniest bit on the top of my cheekbones and it imparts a lovely glow without looking tragic or too "glittery". Really nice.

Perfect sheen!

Ooh shiny!

I'm a sucker for a pretty highlight and although I'm not necessarily a fan of pink, the Translucent Pink shade in this range is really versatile - and it's not too pink on the skin, either. I'm very fair so normally when there's a tint it looks obvious, but iconic london mean it when it says translucent - it has a clear base, so it's more like ultra-fine light reflecting particles than a cream that just happens to shimmer, if that makes sense? So it seems to be a really concentrated, translucent highlighter with a bit of a metallic finish when it's built up.

Easy to blend, easy to work with, easy to mix into your moisturiser, primer or foundation, all round I have nothing bad to say. Great little niche product!

WOW! You could see this glow from space!

Want that Insta-worthy glow? Look no further! I love how versatile this product is. Wear over your foundation for a blinding highlight, or if you're after something more subtle, mix a few drops into your foundation or moisturiser for a radiant, all-over glow.