Treating your friends and family to must-haves from your favourite skincare brands is a great way to spoil them this Christmas. Providing the ultimate pampering experience, our skincare gift packs and beauty treats are perfect for all ages, budgets, and tastes. So no matter your loved ones' skin type or routine, you can add something a little special to their skincare collection.
Because you can choose from a generous selection of gorgeous skincare gift sets and products from bestselling beauty brands, you won't be stuck when it comes to your Christmas shopping this year. From hydration-boosting gift sets and nourishing hand creams to aromatic body lotions and skincare starter kits, we have all the best skincare gift packs for your friends, family, and colleagues.
Christmas skincare gift sets are a great way to try new brands. These sets often contain travel-sized bestsellers that take you through each step of your skincare routine, from cleansing to moisturising. They perfectly pair complimentary skincare products, so you can sample the best of the brand while ensuring you're using the right products for your skin type. Regardless of whether your giftee is a beauty fanatic or not, everyone loves a little pampering in their life. You really can't go wrong with a luxurious skincare gift.
Our most popular gift sets include the Coco & Eve and Sand & Sky collaboration, A Match Made in Heaven. This set brings together two cult beauty products, a gorgeous face mask and hair mask, for supreme indulgence. Another favourite is The Ordinary No-Brainer Set. This one is ideal for trying the brand, as their extensive product range can be a little overwhelming! Other favourites include gift sets from Lancome, Thalgo, and Dermalogica.
Showing 20 products of 38.
---
Recent reviews on Skincare Gifts products


The Ordinary
The Ordinary The No-Brainer Set
$49.00
Great first starter!
This pack was my first introduction to The ordinary. I didn't know where to start and I went with this pack. It has everything and Love how The ordinary makes my skin feel so soft and helps with my acne. Love it!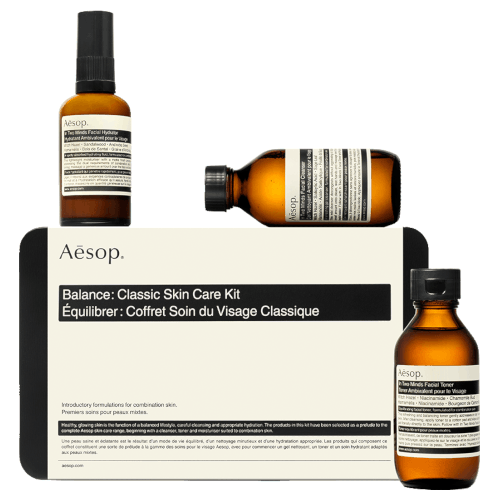 Aesop
Aesop Balance Classic Skin Care Kit
$125.00
Fantastic!
Pricey, but they are so worth it.I'd highly recommend giving the brand a go if you're looking for fantastic natural smelling and amazing skincare. This kit gives a bit more value too. I absolutely love the Aesop Skincare range.