Face Halo Original - 3 Pack 3 pack
Skin Type:
Dry
Normal to dry
Normal to oily
Oily
Questions & Answers
(1 Question)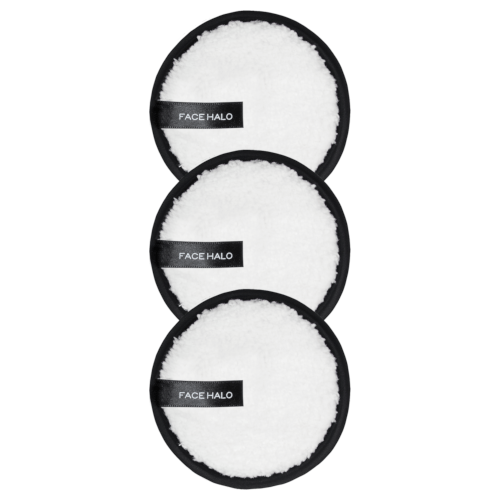 Face Halo Original - 3 Pack
Get an expert to answer your question about this product!
Ask a Question
89% recommend this product
Most Helpful Positive
10/10
Easily takes my makeup off at the end of the day.
Most Helpful Criticism
Not a winner for me
Despite the hype, I didn't love the face halo. I found the fibres became quite stiff after a couple of washes, despite washing them correctly. Wasn't a winner for me but clearly a lot of people love them.
10/10

Easily takes my makeup off at the end of the day.

Easy to use and clean

I cant get enough of these. I work until late at night and I can just put this under some water and take all my makeup off in seconds. Its so soft and easy to clean with some soap or makeup brush cleaner and water. Ive had this for about 5-6 months now and still going strong.

Easy and cheaper!

I found this to be much more effective and quicker than any face wipe or cleansing water. If you hand wash and soak it then you can take care of it more because sometimes washing machines make them a little rough. Like with towels

Love!

These are such a great idea, I love mine. So good as you can actually see what comes off your skin plus they are SO easy to clean. I still cleanse afterwards. Love them.

OBSESSED

The best on the market! I love how easily these remove makeup and how easy they are to wash and clean! Wish I bought the new black ones though as the white ones do look a bit gross when they get makeup stains on them. Regardless I found it really does remove makeup well with only just water!

SO GLAD I GOT THESE

One of my favourite products in my skincare routine now. I purchased these about 6 months ago and its changed my whole routine. Makes it so easy and mess free to take makeup off at the end of the day.

Awesome!

These are so fabulous! I like to use these after I've already washed my face and they pick up hidden makeup that has been left behind. Easy to use and clean as well. Love!

Cleanse. Rinse. Dry. Repeat.

I only wear light makeup, but the Face Halo does an awesome job of removing it! In fact, I'm removing my mascara more thoroughly because I'm not worried about getting product in my eyes.

I'm super impressed at how easily the Halo returns to white with a bit of hand soap and warm water, and completely air-dries by the next day.

But that's not even the best part! With the Halo, single-use cotton pads are out of my life — and it feels great!

Sceptical at first

Bought on a whim after reading lots of feedback. Honestly was expecting to open packet, try it once with the product confirming my scepticism.
Well I was wrong. It works, really does, everything fine, eye makeup the lot. I used a toner afterwards to check what if anything was left over - nothing there. Do yourself a favour and get onboard with these!

Not a winner for me

Despite the hype, I didn't love the face halo. I found the fibres became quite stiff after a couple of washes, despite washing them correctly. Wasn't a winner for me but clearly a lot of people love them.

Has halved my skincare cleansing time

I was in love with this the minute I got it in the mail. It has halved my face cleansing time. I come home add some water to this and it easily gets all makeup off my face and its so soft and gets into around the eyes. I could use this alone but I then go over the top with a face mask afterwards as usual. Its also great for a mess free removal of mud masks!

Love face halo - my face has never felt cleaner!

I have been using these for about a month now and they clean like nothing else! They get all the makeup and daily grime off, and then I use my cleanser, which now actually feels like it's cleaning my face rather than also having to get all the makeup and grime off! My skin is so much clearer and a better texture, and face halo is the only thing I've changed - well worth the investment plus I like that they're reusable rather than going through a tonne of cotton pads. Highly recommend them!

Great Eco Product

So far, so good, a little water and circular motion and your makeup is gone.
May have to use eye make-up remover for eyes as I don't like to rub to vigorously.

not impressed

i thought to get this because of the hype about this product. but i am not impressed. it is not thin enough to get into delicate areas across the eyes and did not even clean the concealer under the eyes properly. it does not even clean well even after used once and washed in the washing machine (as directed). i would suggest buying a makeup remover or wipes instead of this product. truly disappointed.

Good for the environment

I think it's a bit of a gimmick, but I still like it. If you think about it, water and fabric could remove any makeup if you worked hard enough. But I wear heavy makeup, so someone who wears less might find it easier. The reason I like this so much is it's good quality, gentle and reusable. I use it to apply toners and exfoliants to my face without feeling bad about throwing out so many cotton pads. I use it with micellar water for makeup removal. Stains will happen, so if that bothers you buy the PRO version.

Incredible multi-use product!

When I initally ordered my Face Halo I was intrigued to see if it truly worked or was just a gimmick as I had seen it advertised by various influencers and gurus for such a long time. What drew me towards this product though was that it seemed to be a great alternative to cotton pads as the Face Halo is reusable - therefore making the Face Halo a more eco-friendly option.

I can say that after trying the Face Halo thoroughly, it is definitely a must have! Yes, its make-up removing qualities are great, but I actually prefer it as a cleanser remover. I always hated removing cleanser in the sink as the water splashes everywhere - but with the Face Halo you just wet it and remove, easy as that (and no mess around the bathroom!) It's easy to get multiple uses out of the Face Halo before washing as it's very easily cleaned with some soap in the sink. I also love that the Face Halo is very much a multi-use product, you can use it for: make-up removal, cleanser remover, granular exfoliant removal, mask removal and probably more. If the Face Halo sounds like something you would be interested in, I would say to definitely give it a shot as it's well worth the hype!

Definitely a game changer

This face halo does work - removed all make-up, squeaky clean, no cleanser require.

Average

I was intrigued about a bit of fabric could remove my makeup just with water and this halo, it removes most makeup off your face. But you still will have to go with a second cleanse afterwards. But the lasting out of them, they are impossible to get clean, and even when I didn't clean it good I still felt like they were dirty and didn't want it back on my face. So they were great for the first 2/3 uses but after that I wanted to bin them. So not cost effective

Pretty good

I like the pro better as it doesn't stain as easy but this is also very good

Great reusable face cleaners

Really handy face cleaners. They're great for travel and I love that they're reusable. Work really well fro taking my makeup off and they're easy to clean in the wash. Would definitely recommend

Helps remove makeup

I use this to take the majority of my makeup off before washing my face as most face wipes break me out.
It doesn't remove every single trace of makeup but definitely helps compared to just straight face washing.

Surprised with how much it works!

I love this heaps. It has let me save a whole bunch of money on makeup wipes and actually takes all makeup off! Even mascara.
It is so easy to clean as well!

eco friendly

I find these work really well when taking of face masks but they don't quite get all my makeup off especially eye makeup

Convenient

I not only have saved money on buying makeup wipes all the time but its so convenient being able to just grab this and wipe all my makeup off with only water.

Best thing ever

HOLY GRAIL makeup remover. I use this every single day I wear makeup. I always have one in the shower ready to get all my makeup off before I cleanse. It seriously gets it all! I used to use wipes or micellar water but they don't compare to this now.

Amazing product!

I love the Face Halo. It is so easy to remove my makeup and I'm not wasting money on makeup wipes. I just use a bit of cleanser and it takes it all off, including waterproof eyeliner! Highly recommend this product.

I love these just not the price.

I think these are a wonderful addition to the makeup remover world. I usually use makeup wipes which are not good for the environment so this was a great change for me. I just wish the price was a little more affordable! And I wish they were a little easier to clean as the makeup sticks to them.

Love

Such a versatile product, I use this pad to mostly wipe away any excess makeup and help to rub off my clay mask and it works wonders. Has assisted so much in making sure I have no nasties left on my face of a night time

Love this product

The halo was recommended to me by a Pharmacy cosmetician & I haven't been disappointed. It makes my skin feel super clean without using anything on my skin that's going to cause irritation. I highly recommend this product

Not bad

I still use a pre make up remover & use these pads to take it off. I have quite sensitive skin o like to make sure all my makeup has been removed

efficient but expensive

it removes makeup so effectively and without irritating the skin. a little bit overpriced but you save massively on the makeup remover gels or liquids. i just wet my face halo cleanser with warm water and remove my makeup with it and it comes off so easily.

Love it but annoying to clean

Love this. I use an oil makeup cleanser first and then finish with the face halo to make sure all the makeup is removed. Only annoying thing is cleaning it. It says to pop it in the machine once a week but somehow leaving a damp cloth-like item that goes on my face in the bathroom seems a little unsanitary. Otherwise, it is truly a great product and will probably purchase the black on next time.

Soft

I have these in the black and the white and I have to say I like the white a little better because I can see all the makeup coming off. Its so soft and easy to use. Amazing product.

The best!

I love this product. I removes all my makeup easily. I don't use any other skin cleaning/cleansing product now and I never have any problems with my skin.
I wouldn't recommend it for delicate or sensitive skin.

Could not recommend these more

I no longer need micellar water. I prefer the white original to the pro!

Best Skin Product

Face Halo is the only product I use to cleanse my skin and my skin has been clear ever since I started using it. It removes all my makeup and leaves my skin feeling balanced. I recommend it to everyone I know

Cant fault

Such an innovative product to replace a tone of wipes. Its extremely soft. All my makeup came off so easily with only water. I did go over with my cleanser afterwards just as a personal preference. Its nice to have a three pack too so while im using one I will have the others in the wash or drying. I put mine in the washing machine but I also sometimes just hand wash and its just as good. They do get makeup stains on them if you dont give them a little hand wash or rinse with soap after each use but this comes off in the washing machine anyway.

Revolutionary

I can't recommend this product enough as someone who wears makeup every single day. I tested it against my usual face wipe and was instantly converted. Even after wiping my skin to an inch of its life with a wipe to the point where no more makeup was coming up at all, I used the face halo after this - and it was COVERED in makeup. It really does get so much deeper than a regular cotton round or wipe - and its super travel friendly and good for the environment

A magical unicorn of a product!

If you don't have a Face Halo, you should! It should be a staple in any skincare routine.

A beautifully gentle cleansing product that removes makeup with only water.

I find that I prefer to use it with a gentle cleanser, for a smoother, even gentler makeup removal. It is gentle on eyes, and is exactly as the advertisements say - just hold the face halo against your eye and give it a wiggle.. It is truly a magical product.

Great!

A friend gave me one from her pack and I really love it. I would definitely purchase these for myself after having tried it. It really works, and minimises waste from things like cotton pads when removing your makeup. I like how it is more environmentally friendly, and makes you feel like your face is very clean.
I do use a little eye makeup remover for my waterproof eyeliner, but only a tiny amount just to help the Face Halo do it's job. But this would be fantastic for travelling so that you would not need to bring anything else to remove your makeup!

Wonderful!

I love the 2 packs that i have bought. I use the double cleanse method, but the Halo pads take cleansing to a whole new level. I am really impressed with them so far. They wash and dry so well.


Better options on the market

I found the material like a rough facewasher, too small for my face as the binding got in the way.
I felt like they tugged at my skin which I'm not a fan of.

I don't feel like it got my face very clean, it didn't remove mascara or liquid lipstick.

I really dislike that they are white, as soon as you use them they are stained and look dirty every when they come out of the washing machine.

I found the shape annoying as I couldn't hang them to dry.

I have gone back to the make up eraser as it's much softer and gets mascara and liquid lipstick off without tugging at my skin which causes wrinkles


LOVE

Such an amazing product! I love that I don't have to use chemicals to remove my makeup anymore! I was so skeptical. But it really works. Even on my black liquid eyeliner and thick black mascara.

Great but not necessary

I don't think you need these but they are nice to have and feel like they scrub your face (in a nice way). Although a nice soft facewasher would also do the trick.

Amazing product!

Amazing product! Gently removes all my face makeup with just water and can be easily cleaned with soap. I absolutely love that this a reusable and eco-friendly alternative to makeup wipes! Definitely recommend!

Really like this product

I do really like this product. I find it works really well at removing long-wear makeup and also it's good at removing stubborn face masks. I do still like to run a bit of micellar water over my face on a cotton pad afterwards before cleansing just to make sure I have no traces of makeup left. Overall, a really innovative product.

Stains

This is good but this stains very well

This is much nicer than makeup wipes

I like the fact that I don't have to use makeup remover with the face halo. It also means I'm not using throw away makeup wipes and cotton buds!

Pretty good, I'm still a bit undecided

I want to love to love these but I'm not sure. I'm using them as part of a double cleanse routine at night. My skin definitely feels clean but I do worry about bacteria forming in them. They are fiddly to clean every night and take ages to completely dry. Having said that I do feel happier using them as opposed to cotton squares which aren't environmentally friendly.

Handy

Im so glad I ended up trying this product. Its so handy to take in my makeup bag or when travelling to take off my makeup. Always feels soft and makeup comes off easy. I alternate the 3 of them so that while im using one the others are in the wash and drying.

AMAZING!!!!!

This product is my Holy Grail!
I live for these, the take of every inch of my makeup. I've had issues with my skin, and ever since I started using these my skin has cleared up so much. They are soft and gentle to the skin, so no harshness and redness after use at all. Love them. Highly recommend.

Okay

I received these a couple of weeks ago - i'm not blown away and find that i'm not using them much because they kind of 'pull' against my skin. I think I prefer a good old fashioned muslin cloth.

Great on the go

I didn't think this product would work but honestly it's a really great alternative to regular makeup removers. Really good to take on holidays, much lighter and less messy than regular makeup remover.
It doesn't take off every little bit of makeup, I find I usually have a bit of mascara and eyeliner left on but it's certainly good with light makeup and good if you're a bit lazy with removing makeup at the end of the day!

gentle on the eyes

I like the texture of these - very soft and cushiony. White might not be the best colour to get these in, because it looks really dirty after use. However, it's easy to clean by throwing it in the washing machine. These are very gentle on the eyes, but I find that I still need to use micellar water to get off stubborn eyeliner and mascara.

Convenient

I will never buy makeup wipes again this is the perfect replacement product. Its soft and easy to get all the makeup off even mascara (I haven't tried it on waterproof). I work until late and its so nice to come home and add some water to this halo and quickly get my makeup off. Doesn't irritate the skin either.

Doesn't remove eye makeup

This is useful if you want something with texture to wash your face with, but ultimately on its own won't work - you need eye make up remover for sure.

Great!

When I first used this I thought to myself 'White was a bad choice' because of course all the makeup stains the white and shows a lot. Soon realized it comes off so easy with a little soap or when put in the washer - comes up like new again -doesn't permanently stain. Such a soft product on the skin and really gets all makeup off easily. By FAR my favourite new product!

Good product

Removes the majority of my makeup with little effort then I go in with my trusty coconut oil and remove leftover eye makeup and rinse my face then on to cleansing. I don't think these remove entire eye makeup alone but most products don't unless oil based. It did remove all my face makeup with ease and was pretty gentle I believe

SIMPLE

Gentle, and beyond effective makeup remover. No longer having to scrub my eyes.
Also great for removing eye makeup from brushes.

Has simplified those naughty nights when you come home worse for wear in the wee hours of the morning. Now its far easier to remove my makeup.

Got all my friends onto these little cushiony gods.

Doesn't live up to the hype

A friend of mine gave me one of these because she bought the 3 pack and wasn't impressed. I'm not really convinced either.
On the one hand, I see the appeal for when you're travelling - if you get back to your hotel room late and just want to swipe the makeup off your face, sure, this will do. It is gentler than a makeup wipe so it will feel better than using one of those...but it's not going to get those lashings of waterproof mascara off too easily. Also, it stains and you'll spend lots of time the next morning trying to get it clean again (the black ones are probably better in terms of staining).
This definitely is not how I would clean my face every day... At best it would only be something I used if it were *that* point in the night... You know, when you've got home really late, have a souvlaki in one hand and figure you don't want red lipstick all over your pillow... Maybe then it would come in handy...
I actually compared it to just using a soft microfibre cloth and, really, that was only marginally less effective... If you don't want to spend the money on this product but want something similar, that's a totally acceptable and far cheaper option!
This is a novelty at best. I don't think it's something that's worth spending the money on.

Goodbye makeup wipes

Im so happy I decided to try this. Its replaced so many items in my bathroom (Makeup wipes, face washer and muslin cloth). Its really soft and easily gets all makeup off with just water. I thought it was also really calming and non-Irritating to the skin - unlike makeup wipes and face washers. I use it to take off my makeup daily but also use it to take off my mud facials. So convenient. Also its great having a three pack so I can have one at all times while the others are being washed!

Cleans really well

I bought these after researching about using wipes/a face cloth to get rid of all of your makeup.
These pads are amazing. They're super soft on your skin and you can instantly see the makeup that comes off on them so you know they are working. They work with just water so it's nice to know you're not stripping your skin with any harsh soaps. They're easy to clean with just a bit of soap and a hand wash, and I've thrown them in the washing machine as instructed once a week and they come up nice and clean and stay soft.
Highly recommended and great value for a 3 pack that will last ages!


Love These

I think these things are GREAT.
They work well to remove most types of make-up I wear, they are easy to clean, and I feel so much better about not constantly wasting make-up pads/wipes/etc.
I use a tubing mascara which I noticed gets stuck in the fibres of the FaceHalo, so I rinse that off with water first just to keep them a little cleaner. Same goes for a particular red lipstick I wear every now and then which requires copious amounts of micellar water to get off.
Overall though I'm most excited about the fact they are more environmentally friendly, and I understand that if you send them back to the company when they're finally worn out then they get recycled into other products.

Soft

Only realised how harsh makeup wipes were when I used this for the first time. This is so soft on the face and really gets every bit of makeup (Even eye makeup). Will be saving lots on makeup wipes thats for sure. Really convenient.

Never using face wipes again!

I was a little skeptical of this product at first but seen heaps of people using it on Instagram and decided to give it a go - so happy I did. Its super soft and calming on the face and you literally ONLY need water and this product to get off all makeup. I go over at the end with my daily cleanser anyway but its not necessary. So easy to clean with water and soap and once a week I put in the washing machine. I actually prefer this white colour over the black because you can see when all the makeup is off.

Impractical

I really dislike this product and find it impractical, because of the shape there is no where to hang it to hygenically dry out so you'd need to use a new one every day and buy heaps... I also don't think it removes eye make up well without eye make up remover.

Like but don't Love

These are great for on the go makeup removal but they have a hard time getting waterproof mascara off. Small and handy but probably only as effective as a soft cloth with cleansing oil. Wouldn't go out of my way to buy again but I do like the size and convenience.


Great Value!

Although using facial wipes may be convienent and cheap, the switch to a more environmentally friendly option is always encouraged. Usually this switch means paying a much higher difference in price. However 30$ will get u 3 halo wipes that will last u many months so that both you face as well as your mind are at ease knowing that you have done good for the environment

Never have to buy make up removing wipes again

These have changed my life! I haven't purchased a pack of make up removers for over a whole year and i probably will never buy them again. The face halo is so reliable, gentle and enviromentally friendly i can't see why anyone wouldn't want to use these! I use these to take off make up, face masks, old fake tan and i even use old ones for cleaning make up brushes.

Great product

I love the eco-friendly nature of this product. It's very good at getting face make up off but I find I still need a cleanser as well as an eye makeup remover for mascara.

Now part of my nightly ritual

I love the Face Halo! I am fanatical about cleansing every morning and night, and the Face Halo is now part of my nightly ritual, and cleanses my face of all makeup including eye makeup better than a cleanser - and it is just using water. I have my 3 pack on rotation, and use each side once, so get two days out of one Halo. They also wash really well! I would definitely recommend these to anyone, and the cleanse you feel in your skin is like nothing else!

one of my fave products ever

I will never stop using and restocking my face halos. they get off all makeup including mascara quickly and gently and are so environmentally friendly. apparently standard makeup wipes take 100+ years to degrade and I think that's disgusting. you can use should degrade within 6 months. after I use mine I wash it with dettol soap and its back to white without any leftover foundation. I've gifted a face halo to so many friends.

Gorgeous!

Great, they really work!

Gorgeous!

Great, they really work!

Perfect

This is great. The size and shape is so easy to use. Just apply your cleanser on the halo damp it and wipe. Size great to hold in your hand. Has two sides. Great quality cloth on both sides. Easy to wash. Better than a wash cloth as it's much sturdier and easier to use as water doesn't drip everywhere. Excellent for travelling.

Does the job

They're not perfect and you do need makeup remover. But they are soft, remove most of my makeup (I find I use it twice then cleanse) and I love that it promotes using less disposable products.

Lifesaver Product

It makes the task of removing makeup at night so much easier and i never wake up feeling guilty for sleeping in any makeup at all!

Great product

Works so well and removes all my makeup. So good to have a makeup removing product that actually works.

Holy Grail

I honestly wasn't sure about this because I saw it all over the internet and was sure it was one of those products that was overhyped but it really surprised me. It's quick, easy and environmentally friendly.

Game changer!

I was skeptical when I first bought these but they are amazing! No more makeup remover wipes or micellar water, just dampen and wipe. I love them!

Not the best

These are basically just a soft face washer in the shape of a circle. You still need make up remover to get any eye make up off completely. They are a good alternative to make up wipes and good for the environment but then again so is just using a standard face washer

Efficient and reusable

I find it easy to remove most make up with just the Face Halo and some water. I do use a bit of cleanser to remove mascara (I wear Tarte Lights, Camera, Lashes) because I don't want to scrub too hard around the delicate eye area. The best thing about this product is that it is reusable, reducing waste put into landfill. It's easy to throw it in the washing machine after use or hand wash it.

Never looking back!

I've been using the Face Halo product for nearly a year and they're the best item in my bathroom. I use it in the morning to remove moisturiser residue and at night to remove makeup. I follow with a gentle cleanser, which I feel works better when combined with the Face Halo.
Highly recommend and can't imagine being without it.

Pretty good alternative

These are really good cost effective alternatives to make up wipes. I find them really hard to clean though.

Love these

I absolutely love these. So amazed at how easy it is for me to wipe my makeup off. So much easier then makeup wipes.

So good for your skin and the environment!

Honestly am obsessed I got these as a gift and it's so easy to remove makeup in one swipe and it's guilt free because you can re use over and over and don't have to dispose those gross wipes every time. I love!

I Love It!

I bought these a few months ago and it's been amazing! I haven't even chucked them in the wash yet (because we always use softener and I don't want to ruin it, so I've just been washing with soap straight afterwards and it still works fine!) It really does remove a lot of the makeup. I try to wipe off everything with one side and then the remnants with the other side. I'll even rinse it and use it again to make sure. My skin feels so clean afterwards and when I'm super lazy it'll be all I use to cleanse. It gets everything off so well too! Some crazy colours might stain the white but it washes out fine, plus I like seeing what comes off on the pad so I can see how clean my face is. Would totally recommend, and you're helping the environment too by lessening waste!

Really good

This is actually a really good make up remover. I do find it hard to clean off the makeup at times but giving it a wash in the machine fixes that.

The best!!!!

I'm so glad that we're stocking Face Halo now as I've been using these for a while now and am obsessed. I wear pretty heavy makeup when I'm going out which requires multiple makeup wipes or cotton rounds soaked in remover to remove all my makeup before I go in and cleanse (so much waste!!). I use my face halo to remove my makeup now instead and I find it works sooo well, even on my heaviest makeup days!
I have the white original ones and find they wash well between uses with my dr. bronners soap (which I use to clean my makeup brushes and sponges) and I pop them in the washing machine about once a week for a good clean. I think I'll try the black ones next so any pesky little stains don't annoy me as much.

Absolute game changer!

This is the lazy girl's dream! It's not often I find a new product that completely blows me away. These cleansing pads really do remove all of your makeup, and the whole process takes 20 seconds. I follow with my usual gel cleanser which is like the second step in my 'double cleansing' routine, then use a tiny amount of hand soap to wash the Face Halo after every use. That way, I only need to wash it once per week in the washing machine with my other laundry. With proper cleaning, each Face Halo lasts me about 1 month, which is great for the environment too!

Magic Pad!

I am absolutely in love with these "magic pads" from Face Halo!

I have a really good skincare routine i follow everyday without fail (however i am a bit embarrassed to say i would always steal the kids baby wipes to take my make-up off!), which obviously isn't great for my face.

So when i had the opportunity to try Face Halo i jumped at the chance.....and i was not disappointed!

It takes off all my make-up in a few seconds and lets me start my skincare routine without that slight sting my eyes would get from the baby wipes.

I have also noticed my skin has become softer over the past few weeks that i have been using it, which i put down to not having to use a face wipe to remove make up with anymore.

So if you currently use a face or baby wipe to remove your make-up i highly recommend giving this product a go and see the results for yourself!

Fast, effective and easy

I was pretty sceptical before trying this but I'll admit it - I'm a convert!

This was really fast and easy to use, and took off 99% of my makeup all on its own.

This will even remove Benefit mascaras like They're Real - if you've ever tried it you'll know that's no mean feat.

I did find my face felt a little dry after using just the Face Halo, but I always follow it with my usual cream or gel cleanser.

I use this pretty much every time I wear makeup now - it's easier than fussing around with wipes or micellar water and a cotton pad, plus I love that it's reusable.