Estée Lauder Double Wear Light Soft Matte Hydra Makeup SPF10
4 instalments of $14.75
Or 4 instalments of $14.75 with
LEARN MORE
4 instalments of $14.75
Or 4 instalments of $14.75 with
LEARN MORE
Official Stockist
Is this for you?
Matte has a fresh new attitude. Double Wear Light is matte reimagined. Softly diffused, always selfie ready. 24-hour, non-stop wear.
Skin Type:
Dry

Normal to dry

Normal to oily

Oily
Frequently bought with
Please wait while we find a match
Questions & Answers
(2 Questions)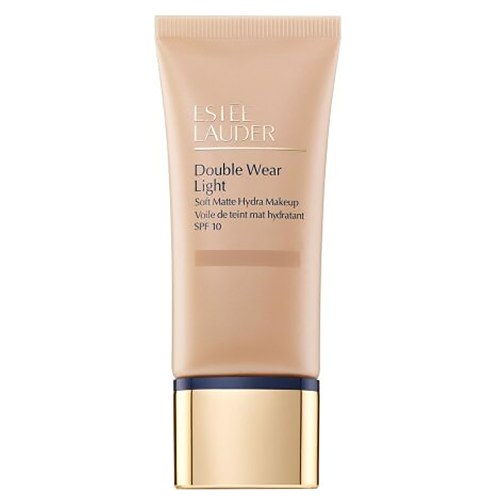 Estée Lauder Double Wear Light Soft Matte Hydra Makeup SPF10
Get an expert to answer your question about this product!
Estée Lauder Double Wear Light Soft Matte Hydra Makeup SPF10 Reviews
93% recommend this product
Most Helpful Positive
perfect
This blurs my skin and gives it a beautiful finish
Most Helpful Criticism
Too dark
Wanted to love this but the lightest shade is still way too dark for my pale skin!
perfect

This blurs my skin and gives it a beautiful finish

Amazing

I have finally found a foundation that lasts through the day and is natural enough for work. This has great coverage and a beautiful finish, not much else required. Although a bit pricey, it is worth every cent. Holy grail.

My favourite foundation

Full coverage without looking cakey, matte without being too dry, I love this foundation.

Perfect for a natural look and lasts all day

I absolutely love this foundation. I use the Estée Lauder illuminating primer and Skindinavia make up stay with it and this combination allows it to stay put from 6am to 6-7pm without me touching it up.
It gives a natural and not heavy look, but can be "built up" a bit for particularly uneven spots. Love it and it's reasonably priced.

light

This is very lightweight and I wear this on a few areas of my skin to even out my skin tone. It lasts all day and stays looking the same

A fab alternative to the original double wear

I love the original double wear foundation but unfortunately it doesn't love me – and daily use causes my skin to break out. Double wear light provides the perfect solution, with terrific coverage but light enough for everyday use without clogging my pores. Very happy, will definitely repurchase!

New Holy Grail

Im 34 with bad frown and smile lines, I also have a textured forehead.
Being oily skin I was hesitant in trying this but when I managed to get it on sale I thought meh why not.
First time I wore it I had it on for 16hrs. GIRLS this wears better the longer you have it on. It didn't sink into any lines cake break up or wear off it just got better working with my oils. I also find you can...

Read More

Lightweight with good coverage

Very comfortable on the skin, lightweight and enough coverage to just freshen up my complexion

Too dark

Wanted to love this but the lightest shade is still way too dark for my pale skin!

Perfect shade, finish and long lasting!

This product was great. ! held up all day through sweat and oils , the coverage is light to medium buildable, that is not cakey. Seriously love the versatility of this foundation. I have light to medium skin with neutral to yellow undertones. Definitely worth a try if you have oily and sweat prone skin but don't like flat matte, cakey makeup.

Amazing

I have combination skin and this gives a light coverage and looks great during the day

Good

This is one of my go to products. I apply a very thin layer on my face and set with powder and i look great all day

Not bad

For the days I don't want a high coverage foundation, this works well but the shade range is a little disappointing. I end up mixing couple of shades to match my skin.

Great

I always prefer low coverage since I like the natural look and this looks great on my skin

Great

I love the estee lauder double wear but feel that it makes me look like i am wearing a lot of makeup if i use too much. This one therefore is the alternative and it gives me almost the same results as the el double wear without being heavy. I do have to use a primer with this though

Natural

I use this when I want a little coverage when going to the shops or the gym. Works well with oily skin

My everyday

I was a huge fan of Estee's original double wear foundation but sometimes found it too heavy especially in summer. This is the perfect combination of full coverage without being too thick and heavy. I have extremely oily skin and this is the only foundation (as with the full double wear) that doesn't have me dabbing at my t zone by lunch time. The only draw back is sometimes its hard to apply even...

Read More

good coverage

I have been usi g this product for years, they have changed the colours but I have found the right one for me again. I find this foundation gives great coverage and goes on really nicely. I dont use it everyday but when I do I et complimented on my makeup (maybe I should wear it more haha)

Good

This makes my skin look silky smooth and is not heavy. I use very little and it is great for everyday wear

Perfect for that natural look

Gives a natural coverage, feels super soft and always looks stunning

For natural looking skin

I'm a huge fan of the whole EL double-wear range and this foundation is no exception. A lighter option to full coverage and very buildable formula. Skin feels and looks very natural, but wasn't the best or worst at keeping oiliness at bay. I did find it dries very quickly (I apply with a brush) so you have to be pretty quick with application. Otherwise, I still love the formula and will continue t...

Read More

Nice lightweight foundation

I use this when I want a lighter makeup look, it gives a nice dewy look to my skin which can be a little bit oily. It does need a makeup primer or setting spray if you want it to go the distance of a full day though.

Very versatile foundation

This is the new version of the double wear light and it really gives the PHOTO finish that models have. It looks so silky and smooth on my skin and it's not heavy at all. What I love most is that the coverage is buildable I can wear it super light one day then a medium coverage the next!

Awesome

loving this foundation, perfect level of coverage without being too cakey, it lasts well if primed and set properly.

Light weight easy foundation to wear

This foundation is quite lightweight, light coverage, easy to apply- no fancy tools needed and it blends in nicely. Unfortunately I think it is dehydrating my skin though so I can't wear this every day. I also wish that the SPF was a bit higher.

love this new formula

I really like this foundation now they have changed the formula and expanded the colour range (there was only maybe 5 or 6 before).
This is really hydrating on the skin unlike the old version, and it has a nicer finish its like in-between a matte and a satin. It has a velvety feel to it when applying it too so its nice for people who don't like the feeling of foundation.
I would say ...

Read More

Not as good as the old one

I don't like this as much as the old version, feels a bit heavier, not as smooth on. I have normal skin (not usually dry) and I find it sometimes settles in areas creating lines. I now prefer the double wear cushion stick for everyday wear as I prefer the light/smooth feel. This still works for me for medium cover / short wear going out to dinner etc

Beautiful Foundation

This foundation has a wonderful smooth texture while going on to give a flawless finish and blends really well. I have dry skin and it didn't feel heavy on my skin even after wearing it all day my skin didn't dry out.