Estée Lauder Advanced Night Repair Synchronized Recovery Complex II 30ml 30ml
Skin Concern:
First signs of ageing
Pigmentation, uneven skin tone
Wrinkles and loss of firmness
Skin Type:
Dry
Normal to dry
Normal to oily
Oily
Questions & Answers
(1 Question)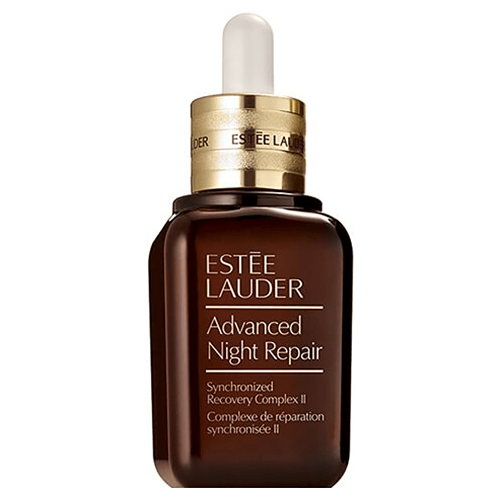 Estée Lauder Advanced Night Repair Synchronized Recovery Complex II 30ml
Get an expert to answer your question about this product!
Ask a Question
86% recommend this product
Most Helpful Positive
Awesome
Just started using and my skin is the best it has ever been! Expensive but worth every cent.
Most Helpful Criticism
Good but not great...
The product delivers but the results are not 'outstanding'. For the price I personally expected something with a bit more 'kick' but with that said the Recovery Complex II is by no means a bad product just not an outstanding product considering the price point.
Pretty good results

Nice serum but hard to spread across your face so I end up using a lot each time. I was previously using Clarins double serum which was amazing so in comparison I am unsure if I would use this one again. Will see how I go. It is still a nice quality serum to include in your nighttime routine though!

Awesome

Just started using and my skin is the best it has ever been! Expensive but worth every cent.

All night, I been drinking all night

Chance the Rapper may borderline alcoholism, but the sentiment stands true for my skin, because oh boy, is my skin drinking this up all night.

Works fine with my oily/combination skin, and gives that glorious feeling of moisture and glow.

great for oily acne prone skin

great for oily acne prone skin. the serum is lightweight and helps with acne inflammation and helps to reduce redness. suitable for all skin types and ages

high expectations

I have wanted to purchase this product for such a long time, but often felt like I couldn't justify the price tag, so I was stoked when I received it as a sample in an adorebeauty order. It is a light serum that goes on beautifully and can be stretched quite thin, so a little goes a long way. There is no oily residue and you feel like you could layer on a moisturiser afterwards. I felt over using this for 2 weeks that my skin was softer, refined and felt like I woke up with a 'blurred lines' filter on. It was an easy product to work into my routine and I would definitely be up for purchasing it!

Not a fan of expensive beauty products but this is an exception

High end beauty products tend to scare me away because the prices just make me cringe but this has to be an exception. I've never experienced anything like it, don't know how it does it but it just fixes everything about your skin! A few drops of this stuff every night and it'll fix your fine lines, pimples, dryness, uneven skin tones, oiliness everything! Though pricey a little bottle will go a long way, my friend also told me that you can ask for a sample of the stuff at your local David Jones and Myer should you wish to try it before buying it.

Nice

I have been through many bottles of this. Works well and makes my skin look great the next day. I find it quite expensive so I use it on and off though.

Love

I drench my whole face in this, it smells amazing, I think I have genuine feelings for this serum

instant results

This product is amazing, legit!! Very pricey but 100% worth the money you fork out.
Love this night repair serum so much leave the skin feeling so fresh and soft and you can genuinely see the results of this!. It really does work and the packaging is so luxurious and well made the dropper is amazing to use for serums.

Great add on product to nightly skin routine

I found this product very lovely, the smell and feel of it is very luxe (hence the high price tag) and the feel of my skin afterwards is amazing. I would definitely recommend

Good but not great...

The product delivers but the results are not 'outstanding'. For the price I personally expected something with a bit more 'kick' but with that said the Recovery Complex II is by no means a bad product just not an outstanding product considering the price point.

Holy grail

I use this serum morning and night! I received it as a sample
And have been addicted since. It leaves your skin feeling smooth, soft and "bouncy". Don't know what I'd do without it

forever in my dresser

always glow my skin.

Very Promising Results!

I was very fortunate to receive a free sample with my last order and I have really enjoyed testing this out, the sachet lasted 3 nights and I am definitely impressed with the lovely smooth and hydrated feeling my skin has in the morning, not the usual tight and dry areas for my mid-40s skin. I am definitely going to invest in a full size bottle to gain the benefits of prolonged usage!

Game-changer!

This prod is worth the price tag. So lovely to apply and i wake up with the most amazing skin. My search for the perfect night serum is over!

lovely

Its works for me only on my first few application then it stop . its a lovely night cream . Gentle on the skin u can feel it makes the face feel tighter . The liquid feels a bit sticky when apply on the face because of this you really need to let the liquid sink in to the skin and go straight to bed. If not the whole face feel sticky and it does not feel good at all.

My HG night time serum

Wow! I received a couple of 7ml samples and was overwhelmed with how beautiful this serum is. It sinks in completely and since using it at night time, my skin is clearer, firmer and more hydrated. I am 32. My mum, in her 50s, swears by this too. I have since purchased the 30ml bottle in the tidy pack which is great value for money. No wonder this serum is so popular. Worth the expense - it's now a staple for me!

Firming & Smoothing

I received with my order as a gift but I LOVE it! It smooths my skin but doesn't dry it. It feels amazing in the morning and I'm converted to using this with my moisturizer and lactic acid before bed. Highly recommended even for my combo skin.

Great anti- aging benefits

I was given this as a gift about 12 months ago, at first it seemed a little sticky on my skin, but after using it regularly I definitely noticed a big improvement in my fine lines and people always comment that I don't look my age. Its an expensive product but a few drops do go along way so its worth it.



Love Love Love!

I love this product, I received a free sample of it.

It's hydrating and smoothing and I love the fact that it has caffeine in it!

Does not ball up like other serums with HA in them.

Definitely recommend

This is my go-to anti-aging nighttime serum. Yes it's expensive for the size but it's worth it and it works. I have sensitive pimple prone skin and this doesn't upset my skin at all.

OMG

I received this as a gift sample, have been using it nightly and the
complements are amazing. It feels wonderfully firming and my skin looks more radiant and I,m 68. Have tried many many products
I love this

Love this serum!

I received a 7mL sample of this serum and have been using it every other night for the past few weeks. A little goes a long way and I still have over half of the sample left. I have combination skin that's oily in some spots and tight and dry in others, and I find this serum goes on super smoothly everywhere and leaves my skin feeling even and fresh. The scent is a bit strong, kind of like patchouli or similar, but goes away quickly. My skin feels lovely the morning after using.

Didn't feel as 'hydrating' as I had hoped for the price

I tried this product as a sample and honestly, didn't understand the hype. I felt like it tightened my skin (I do have dry sensitive skin), and didn't make it feel any softer or more supple. I'm early 30's so maybe I'm not the right demographic for this product, or may just be my skin.

Super hydrating

I received the mini sample of this alongside one of my orders, and tested it out till I had used up the bottle. I found it to be super hydrating, and it left my skin feeling so fresh and soft when I woke up each morning. Unfortunately, I just find the price far too expensive to purchase the full size.

Best serum I've ever used

I have sensitive skin so I am fussy and cautious with skin care products. This serum is a delight! It feels amazing, is light and has not irritated my skin at all. Within a few days I felt like my skin looked brighter and more even toned. I'm unsure if it's done anything to help my "wrinkles" but I'm still really happy with the positive changes I've seen.

great for everyone

This is the number one selling serum in Australia for a reason!!! I love this because it addresses so many skin concerns and any age group. I am 22 years old and Im not concerned with anti ageing yet but this serum helps with my skin hydration, texture and tone.
A little bit goes a long way too I only buy this about 3 times a year and its worth every penny. it dries really quickly in the skin too, its not oily feeling like some serums can be.

Great product, awaiting amazing results

I have heard great things about this product so I was very excited when it came as a gift with purchase. I find it easy to apply and it feels nice on the skin. I have noticed wrinkles around my eyes are not as prominent the day after using this however I have not used it long enough for amazing results like others. Hoping for the best.

good for sensitive skin

used for a couple of nights and seeing a difference already. skin definitely feels smoother. it did not irritate my sensitive skin and did not dry my skin out. very light formula.

WOW

I've received this product a couple times as a sample and I cannot believe how much it has helped my skin. It has evened out my complexion so well and my skin feels so hydrated. I will be purchasing this in a full size in my next purchase

Don't sleep on this!

Don't sleep on this! It's so luxe! I've been using this for about two years now and I love it. My skin is already soft but it's very sensitive, meaning I keep my skincare routine to a bare minimum of essentials. This is a must have for me. Firstly, it feels so luscious to put on, but secondly it really softens and brightens the skin. You don't need to use much so it is worth the price tag. Highly recommend!

Estée Lauder Advanced Night Repair Synchronized Recovery Complex II 30ml

Would definitely recommend this product to a friend as it has done wonders for me. My fine lines, which became more prominent have decreased in visibility and I am constantly asked what skin routine I am using. Great product, would definitely buy again!

Good product

My skin is better and more nourished. Just need small amount so a little goes a long way.

My sworn by routine

My skin is a combo with oily T zone and chin. This serum works like it means to: Control my sebum, absorp quickly, reduce my enlarging pores. My skin turnover has not reduced as compared to other products that I had used over a cycle of 3 months. I have sworn by this serum for 2 years.Also, love how Adore Beauty has so much GWP from Estee and other brands + fast free postage service.

You can't go wrong with this

I have been using this for about 10 years. Now I'm at my early 30s and my skin has turned from combination to dry, this serum still suits my skin very well during summer time.(I use clarins double serum for winter).
It won't change your skin dramatically over night but if you keeping using it, you will notice the difference. And the smell is a big plus for me. I would recommend it to anyone who's 25+ and has oily to combination skin. You can't go wrong with this.

Reduced redness

I received a sample of this with my last order. I used it for three nights, and on each morning I woke up with reduced redness. However I still need an extra layer of hydration when using this.

Great Serum

This product does all the things a great quality serum does: it brighten your skin, minimise lines and wrinkles, even out skin tones. However I found that price point is just a major set back. Although you don't need to use lots of it, still there are other products from different brand that does the same thing without the price tag.

Best product

This has to be my most favourite product to use on my face! I have seen such a difference with my overall complexion of redness and my pores have decreased as well, although it is pricey, it is so worth it.

my all time favourite product!

Can not live without this product! I see such a big difference when I stop using this product, this product keeps my skin so hydrated and soft. LOVE!

Luxurious

A very luxurious serum that's a nice step to add to the skincare routine. I wake up with soft skin after using this.

Perfect night serum

I owned this product a few years ago and loved it, I received a sample packet of it recently and reminded me how good this product is. Applies very cleanly and doesn't leave any residue doesn't make my skin feel dry or oily.

!

Recieved this as a sample, and after a few uses I feel like I can see a difference. My skin has more of a glow and skin looks much more toned. The serum feels light weight, and does not feel sticky. I love it.

great for acne prone skin

helped to reduce redness and size of acne, suitable for all skin types too!

Didn't really do wonders for me

I used this religiously for a few years. I went to a new facialist, who advised me to stop using it (as she didn't think I needed it). Did I notice a single difference once I stopped using it? No. But my skin is really fine, no majors issues to fix. Maybe it's worth getting this if you are trying to address or fix a skin problem. But otherwise - it might be a bit - meh.

Great for EVERYONE

The best part about this serum is the flexibility of it.
I have oily skin but sometimes i get extremely dehydrated skin and it goes flaky. I can use ANR serum all year round and it adjusts to my skin!
It dries quickly on the skin so your not left with an oily after feeling like some serums. And it can be used under make up!
The hyaulronic acid in it is great for plumping fine lines too over time.
Great for anti ageing too.

Good serum

Good serum. Good texture, feel and effect. But cannot see any visible reduction in wrinkles.

Amazing Product

Have been using this serum for the past 2 months. Absorbs easily into the skin. No greasy feeling.
Skin feels super soft and plump. Helps in improving the texture and clearing up fine lines and acne scars. Can be also used as a spot treatment 2 to 3 times a day to clear pimples. Pricey, but worth it.

Love this serum added to my foundation

There are countless reviews on how great this serum is for night time use and I fully agree. I've been using for about 2 weeks now at night and it always makes my skin feel good to sleep in and glowing when i wake up. However, where this serum comes into its own is when a few drops are included with my foundation - it really makes the foundation dewy and ensures it doesn't dry out during my long work day in air con. 4 stars rather than 5 only because of the high cost.

Worth it!

Little few drops of life.
If you have not tried this complex your missing out, it's life changing! My skin hasn't looked this good in a long time!

Happy Morning Skin :)

My dry sensitive skin and I adore this serum. Received a sample about 6 weeks ago and purchased full size shortly afterwards as I couldn't bear to part ways when it ran out. Use it almost every night under a night cream and 6 weeks later my morning skin looks and feels fresher and younger than ever before.

YES!

OK, I LOVE THIS! love it! great serum, calmed my skin but my mum used her free sample with skinstitut retinol A and her face was burning! so be careful and read the instructions

Not sure if it's worth it for the price point yet...

I bought this after reading the positive reviews. It's a nice lightweight serum that absorbs easily and doesn't leave any stickiness. Still too soon to tell what the results will be but so far I wake up with soft plump skin and hopefully my fine lines will be diminished. Not sure if it's worth it for the price point yet...

I really enjoyed this

I recieved a sample of this with my perfeconist foundation. It was only a 7ml bottle sample but it's lasted me quite a while! So a lot goes a long way. I love the feeling of putting this on my skin, it really feels like it's penentrating deep into my face. It does stay a little sticky for a while but nothing too bad. I find when I wake up in the morning after using this my skin looks fresh and glowy. One day I'll purchase the big bottle!!

Soft skin

Pricey but feels very nice to put on before bed

Luxury serum

Lovely luxurious serum that keeps skin soft but too expensive

Nice product

I received this as a free sample and use it quite frequently. It goes on easily and soaks into the skin nicely. Not sure if I've seen any improvements but my skin feels soft after application. A little bit goes a long way for sure.

Saw results very quickly!

I tried this product as a deluxe sample, and saw results within 3 or 4 days! My skin felt a lot smoother and I believe the appearance of my uneven skintone was reduced.

MAGIC IN A BOTTLE!

This product is honestly AMAZING! Whilst it is on the more expensive side, it is definitely worth it. Whenever I am having a bad skin day I will put this serum on my face at night and will wake up the next morning with glowing skin. When I purchased this product I received a sample of the Estée Lauder Revitalizing Supreme + Cell Power Creme and found that this moisturiser with the serum was the perfect duo!

Amazing

This is great before bed and I also use it in the morning, hydrates my skin and makes me look so healthy.

Amazing!

I received this as a sample and usually I don't get much results from samples but I could see a noticeable difference in my skin after using this for just 3 days. I was so excited about the results that I had to buy a full bottle. I can't wait to see how my skin will look and feel after using it for longer!

Ok

I'm the odd person out that doesn't understand all the hype around this product. It's feels beautiful and glides on nicley. A little does go a long way. However I've been using this for a couple of months and can't actually it's doing anything besides a little hydration which can also be given by other serums that are better priced than this product

Amazing! Loved the formula

The product is great in reducing the appearance of fine lines and my skin looks supple, youthful and amazing. The consistency of the product is also great. The only downside of this product is the price point. I totally recommend it but I would be buying more often if the product was about $10 less. Still use and recommend it though in moderation.

Great Serum

I love this Serum!

Aside from using it before bed, I mix it with my full coverage foundations to make them more dewy.

Would definitely recommend, a small amount goes a long way!

Amazing!

Like some other reviewers, I tried this serum as a sample and thought it was absolutely amazing. It felt beyond beautiful on my skin overnight and I felt like I could really tell the difference in my skin the following day. The price point is a huge deterrent though.

Great serum, but probably wouldn't purchase

It received this as a sample in my last purchase and used it for a couple of weeks. It was pleasant and has a nice smell. My skin looked glowing in the morning and I did enjoy using it. However, at the price point I don't think I would purchase it myself because it didn't really do anything to drastically change my skin.

Lovely serum

I got this as a deluxe sample with an estee lauder purchase, i have loved using it and definitely noticed a difference in my skin in the morning. I am trying to use only every couple of days to make it go further and it is so expensive so I can't be sure I am getting the full benefits however I feel like my complexion is more even and surface texture is also smoother. When I can afford a full price in my routine I hope to purchase the full size.

Eleanor Pendleton got me onto this - Yes I feel for it!

Well this little beauty instantly became my secret weapon and my goddam serum- gurrl! Want to know why? Well it is sooo lightweight and full of hyaluronic acid which is super hydrating my skin has thanked me from the heavens above by making it glow! It locks in moisture. Magic tip: apply excess serum onto nails & cuticles to moisturise them.

LOVE

I had previously used up my bottle of this but just recieved a sample from Adore and remembered how much I loved it. I have oily skin and this isn't greasy at all. It sinks straight in and doesn't leave any residue....I just wish my bills weren't so extreme at the moment so I could repurchase :-)

Good but too Expensive

I have used this years ago and I recently received the sample in two of my orders. Feels amazing and luxurious. I am ingredient conscious so while it felt amazing on application I think there may be better serums worth your money. As a student I cannot include this in my regular routine but if you can afford it why not! :))

Lovely

I received this as a sample. I used to buy this years ago before I had children and when I didn't have so many financial commitments ha. It feels lovely on the skin and continues to leave the skin feeling good until the following application. I can't comment on whether is assists with lines and wrinkles, I hope to get another sample with my next purchase, as its a tad exy to be a regular part of my routine

Lovely

I received this as a sample. I used to buy this years ago before I had children and when I didn't have so many financial commitments ha. It feels lovely on the skin and continues to leave the skin feeling good until the following application. I can't comment on whether is assists with lines and wrinkles, I hope to get another sample with my next purchase, as its a tad exy to be a regular part of my routine

A nice serum

I received this as a sample and was excited to try it as I am unable to afford Estee Lauder products. It was easy to apply and soaked straight into my skin. My skin felt lovely after application. As it's only a sample I can't say how it affects fine lines and wrinkles. Whist it's nice I won't be purchasing it and will use my usual serum.

Good for fine lines and hydration

A lovely serum to use before bed, but for the price I wouldn't say it's an absolute necessity

Good for Aussie weather

I used this every day in Australia however after moving to London recently it definitely doesn't have the same effect on my skin. Given the weather conditions in London and the polluted weather it just doesn't work. In Australia though I feel so hydrated and glowy almost!

Good For s

I originally got this as a gift with purchase from Estée Lauder. I have normal skin type (not oily or dry) but am now in my 30s and starting to notice fine lines. I use this every couple of night, especially on my forehead and around my mouth. It doesn't feel greasy when you first put it on but my skin does feel soft after using and smoother.

Wonderful

I originally got this as a sample, and immediately realised why it had such a cult following. It leaves your skin feeling super smooth and hydrothermal next morning. It's become a skincare staple for me.

Just ok

I have used this product on and off over the years and haven't really noticed anything too different with my skin other than good hydration.
For the price, I would definitely prefer other serums, such as The Ordinary, which is alot more affordable.

Amazing Serum

This little beauty is your best friend. The serum that knocks all other serums out of the park. It's amazingly hydrating, sinks into skin straight away and keeps away any dry flaky bits (which I am prone to with combination skin) it can be used in the morning under makeup before your normal moisturizer without making you oily like some other serums. It might seam pricey but you only need the smallest pump. It lasts months but it gives years to your skin. I love it!!!

A great all round serum

This is a great little serum that does what it says. It's smoothing, hydrating, fast absorbing, and lightweight. It's great on my combination skin. It is a good all rounder that can be layered with other serums and moisturiser that are more targeted. I use it both morning and night under moisturiser. I reach for it when my skin needs extra support but I'm not sure what. I often try different serums but always come back to this. It is a good staple to have in your skincare collection.

noticeable difference

I got this product as a travel sized sample with my estee lauder purchase. The sample size lasted a very long time so I can only assume the full sized will also last very long. I don't use this product nightly but whenever I feel my skin is getting dull and looks abit damaged. I always notice a difference after I used it, I also find I get the best results when I pair it with other estee lauder products, like the eye night serum and moisturizer. I am young and have very few wrinkles however I feel it is so gentle it still works well on young skin. I think is a great product, a little pricey but a little goes a long way.

My Little Miracle

Quite simply this is one of the best skin care products I've ever used, my skin looks amazing the next morning after application the night before. Fine lines are softened, my skin tone appears more even, my skin feels smooth to the touch and actually feels more plump too. I love the droplet applicator which stops you from wasting too much as it is quite an expensive product hence why it took me so long to purchase but WOW am I glad I did. I use it every night before bed on my face and neck then put any residue onto the backs of my hands. Someone recently commented that I look years younger than I actually am, and considering I am already quite young.. this was quite a compliment!!' I love this product and it really is one of the 'Top 5' I can't live without, highly recommended.

I want to bathe in This!

I went through this so quickly because I drenched myself in it!

My face would feel amazing and my complexion wad brighter when I would use this at night, I would also use it in the morning and under makeup because I loved it so much

Good staple for your skincare wardrobe

This is a real staple in my nighttime skin are arsenal. I find that if I don't know what my skin 'needs', or if it is feeling fragile, a generous layer of Advanced Night Repair will ensure it looks juicy, refreshed and healthy the next morning. Also a good addition for those wanting to build a routine, but either unsure where to start or wanting only a small selection of products to get the job done. There's a reason this is such a standby for so many beauty editors!

LOVE LOVE LOVE

I have just started using this product again after stopping for a year or so. Something I wont do again! After only a couple of nights I had people tell me how good my skin was looking. I had botox a few times in the last couple of year but I dont even think I need to bother with it anymore. My fine lines around my eyes have reduced and my skins is much firmer.A little pricey but definitely worth it.

Favourite skincare product ever.

I'm a huge fan of this serum. I have sensitive skin that is neither dry nor oily. It hydrates my face without being oily and soaks straight in so I don't go to bed all sticky. I came in wanting a serum for my daily routine that wouldn't give me any kind of reaction and would leave my face looking plump and glowy. It definitely does what it says. If I had to pick on one thing, it would 100% be the price. It's very hard for me to justify spending $150 on a bottle of serum, even if I absolutely adore it.

Immediate improvement the first application

When I got a sample of this product with my order, I was pleasantly surprised by how smooth my face was the day after using it. When I finished the bottle, I immediately purchased a full size bottle. This serum hydrates, brightens and firms the skin overnight. It really does deliver what it promises.

Lovely stuff

I would give this five stars except for the price, and the fact that I'm not sure it actually does all that much beyond hydrate and feel nice. That said, I find myself returning to Advanced Night Repair again and again.

It's not a super "active" or transformative serum full of AHAs/BHAs or other dramatic ingredients. But when your skin is feeling a bit dry and blah, it is incredibly comforting and nourishing and can be safely used on combination and oily skins without fear of break outs.

Best of all, it doesn't contain any aggressive scents - 'natural' or otherwise. I've really developed an aversion to the current craze for having orange and lemon peel oil, lavender oil and any other strong-smelling ingredients in skin care. And they seem to be popping up everywhere!! I don't find these scents relaxing or soothing in the slightest - but that might just be me.

Advanced Night Repair has only the faintest (if any) scent, which I love. It is also incredibly calming on the skin without any greasiness. So, let's call it 4 1/2 stars...

A lovely serum

I use this every night on cleansed skin under my moisturiser and have done for years. Every time I stop using it (for some reason or another) I always notice that my skin is not quite as fresh-looking.

I doesn't have any noticeable effects like helping fine lines or pigment etc but I always notice how much better/calm my skin looks in the morning. I have sensitive skin prone to rosacea and dry patches and this doesn't cause any irritation or breakouts.

I have even used this mixed in with the Estee Lauder Double Wear foundation with great results.

It is expensive but I would certainly recommend purchasing. It is one of the only products that I continue to repurchase

Amazing on your skin

This is amazing as part of my night time ritual. Absorbs into my skin quickly, leaving it feel silky soft the next day. Non-greasy formula means it's not leaving marks on my pillow cases like other brands. My skin is a mix, very dry sections and then some oily sections, works well for all areas. Highly recommend!

amazing serum

This feels so lovely on the skin, hydrating, non-oily, skins in so well. My complexion is bright, soft and plump the next day. Definitely worth trying!

Great for everyone!

I have tried heaps of serums but this one is definitely the best value for money!! It is great because it treats sooo many skin concerns literally anyone can use it.
For my skin it has dramatically helped my scaring and redness, as well as the elasticity in my skin and its texture! It looks much smoother and brighter and it doesn't irritate my breakouts either :)
It doesnt feel oily on the skin either, it seeps into the skin quite quickly and i love to put it on at night and in the morning underneath my make up, it honestly makes my make up go on so flawlessly! Acts like a primer in my opinion.

magic in a bottle

I can not recommend this enough for ANYONE with skin issues such as fine lines, dryness, dark spots, texture etc It is literally such a unique serum i have repurchased this despite the crazy price because it is so worth it. I used it for less than a week before noticing results, my skin appeared more supple and soft, dark spots were slowly but surely going away and my skin just looked so youthful and radiant. I even got my mum hooked on this and she is obsessed aswell. Can not recommend it enough

Estée Lauder Advanced night repair

This products give me supple,soft, glowing skin in the morning when I applied it to sleep.It hydrates and help to lessen or heals any minor scars, redness,dry patches ,sun burn and any sensitive parts on the face.Definitely worth the money

Nice serum

I have combination oily skin and have been using this serum for a couple of months. It has a pleasant scent and is easy to apply. It doesn't irritate my skin. I don't know if it is having a huge impact on my skin but I enjoy using it and would consider repurchasing.

Best all rounder

This is an amazing serum for an all round overnight treatment. It is definately goodness in a bottle!
The texture is beautifullly light, with a light scent, which is really quite calming.
After applying, skin instantly feels refreshed and nourished. Waking up in the morning, skin looks glowing, and feels nourished, and ready to go for the day :-). I look forward to what the results are over the years!
It's expensive, yes, but if there is one thing you invest in, I would say this. People say this has been their holy grail for years - I can understand why as I don't see myself stopping using this any time soon!
4 stars only due to price point.

Game changer

I love this oil - it's super quick absorbing and goes under your night moisturizer. Do not fear as this has a zero chance of leaving you oily and is even recommended to be used UNDER a moisturizer.
I've been using it for 2 months and wake up to glowing and youthful skin. I was always apprehensive about wearing things on my face through the night as I believe the skin should be allowed to breathe after an entire day of makeup/sweat/work/life however my face is LOVING it and it shows.

Amazing

I bought this as I had started to notice some wrinkles and it's made such a huge difference within just a month!

Excellent

I love this product, it's one of my favourites by Estée Lauder. Absorbed so well into my skin, and leaves it looking refreshed the next morning, I can definitely see an improvement.

Amazing

I don't think I will ever go without this product. I use it morning and night and it is part of my routine all year round. I am a beauty therapist by trade and even though I shy away from beauty brands as opposed to cosmeceuticals, this is a staple in my routine. I also add vitamin c ascorbic acid to it in the AM and I love that it absorbs right in! Try it! You won't regret it!

Best Serum!

Love this serum! It is so hydrating from my skin and he is worth every cent!