Eco Tan Organic Face Tan Water 100ml
Is this for you?
Eco Tan Organic Face Tan Water is a non-comedogenic, vegan gradual self tan with no nasties. Suitable even for oily and blemish-prone skin types, this is a hard-working formula that prevents ageing, and evens the skin tone. Vitamin C works to prevent the visible signs of ageing, and helps protect your skin from environmental aggressors.
Frequently bought with
Please wait while we find a match
Questions & Answers
(4 Questions)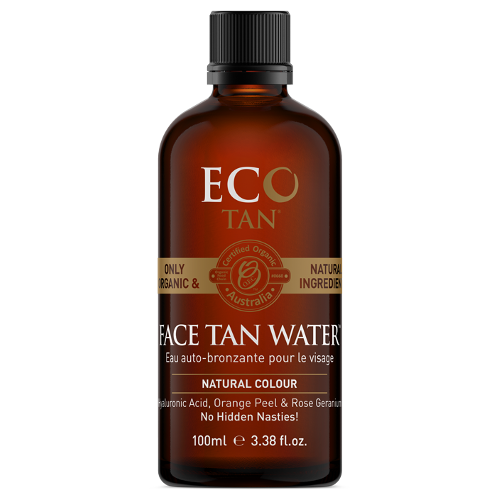 Eco Tan Organic Face Tan Water
Get an expert to answer your question about this product!
88% recommend this product
Most Helpful Positive
Nice and natural
Love this - subtle results that can be built on and easy to use.
Most Helpful Criticism
Meh...
Firstly for the results I don't feel this is worth it. I was suckered into buying this from the ads on Facebook that said this was an alternative to foundation. It said this would give you a lovely healthy glow without using makeup so I was sold. It takes several days of applying this to really notice any difference and the results are very subtle. My main issue with it is that it made me breakout around my jawline and chin and my skin really didn't like it at all. I had high hopes for it but unfortunately it's just not for me.
Great cause you can control level of tan

I was quite sceptical because I am reluctant to use tanning oil/products lest I end up looking silly, but this came highly recommended by a friend. I did my research and saw all the before and afters and decided to give it a try. After just one application I could see a slight glow, and it only got better! There are some weeks that i go without it and let my skin go back to its normal tones, but i...

Read More

Nice and natural

Love this - subtle results that can be built on and easy to use.

Loving the glow from this

This provides such a pretty and natural glow over the skin. I'm really loving how gorgeous and pretty I look when I'm using this. Yay!

Best face tanner

I was skeptical when using this product because I thought it would come out patchy like most other face tans but this was so even and it gave me a beautiful glow! It was quite natural and hides imperfections too.

No-makeup foundation

Tell us your skin or hair type: fair, dry skin; hormonal cystic acne. 29 years old.

Tell us about your concerns/
why you bought the product: I purchased so that my face would match my aggressively fake tanned body :)

Does the product do what it says? YES! When used over the course of several days, this product provides an even neutral-toned glow. It evens out skin t...

Read More

A nice product

I firstly have to say I haven't noticed a dramatic difference in colour of my face, but my skin definitely looks a fresher the following morning. However, I still love how smooth this product makes my skin and am
Overall happy with it.

Easy to use

This product has been great for covering red marks and pigmentation on my face. It smells nice too. As only a few drops are used at a time, the product lasts a long time.

Converted

I'm one of the pale people where my options are pale or sunburned red, obviously the 2nd option is not appealing at all - but a tan always looks so healthy. I thought I'd give this a whirl & honestly what a pleasant surprise. Easy to use, no ghastly smell, and a small change initially so I could build to where I wanted it. Yup, loved this & not seeing a down side.

Old fave

Have been using this for years. Provides a lovely light tan on my face, evens out my complexion and it means I can wear less makeup on a daily basis. Love it and will keep repurchasing.

My bff

This is a must have product that I can't live without! I just ran out and I'm about to order my second bottle! My first bottle lasted me 1.5 years! So worth it! I was never confident to leave the house without make up but since discovering this I'm more then confident

Best face taner

Not being great with makeup I have never mastered bronzer so I find this a great alternative when I do put fake tan on. I do have some redness on my face and I don't feel like I don't need makeup anymore but I do feel a little more confident when I have this on at the beach without makeup. I love the smell and texture. It is really easy to use, it is not orange. I wish I could use it more but I u...

Read More

Nice product

Makes my face look beautiful and brown, can breakout from it sometimes and a little bit drying, but overall nice product

Beautiful

My face breaks out to nearly every fake tan but not this! It's a beautiful natural colour and doesn't feel gross on the skin

Meh...

Firstly for the results I don't feel this is worth it. I was suckered into buying this from the ads on Facebook that said this was an alternative to foundation. It said this would give you a lovely healthy glow without using makeup so I was sold. It takes several days of applying this to really notice any difference and the results are very subtle. My main issue with it is that it made me breakout...

Read More

Effective and easy to use

I was a little nervous about trying this product, especially once I saw the colour of the product, but it's really effective and easy to use. It's given me a nice glow and I'll wearing no make up more often since I began using it.

Staple product

I apply this before bed and wake up with a really nice tan glow on my face. It is super natural and you can layer it to make it darker. It also feels really nice and isn't sticky at all. It makes my skin feel softer and doesn't cause any breakouts which is great!

Best all over tan

Best face and body tan. Looks natural. I purchase this on the eco tan site now because they have a travel bottle which is easier to use this one it's hard to get the product out of!

Will be buying again

This product has been a god send for someone who has pale skin and red hair. It gives me the perfect 'tan' on my face after a few applications. It does wear off quickly with skin care routine however the results make it worth continuing.

Nice natural tan, not drying!

This is probably the best face tan i've used! My skin is sensitive and dry and this doesn't irritate me or dry me out at all, nor does it stick to any dry areas around the face or get patchy for me. It probably takes about two or three applications (with a cotton pad) for my face to match the spray tan on my body, however its definitely worth it because it looks so natural and even!! Something to ...

Read More

Nice & natural

I am on my second bottle, and I do enjoy the natural colour this tan gives. I have very sensitive skin and often get dryness and this does not cause issues like other tans in the past. I do think it works best used on off days without much other product layered up. My only negative is the bottle, as my lid broke very easily and made it unsealable.

Really nice

It made my skin feel super nice and hydrated with a nice glow, only down fall is it doesn't last long, after cleansing it pretty much all comes off on my skin

Love!

I bought this because normal fake tan dries my face out so much that it literally flakes off. Not this stuff!! I wash my face and moisturise, then use a cotton pad to swipe this everywhere. After an hour, I swipe some more on and then go to bed. In the morning, my skin tone looks more even, eyes are brighter and teeth are whiter. I don't wear foundation when I have this on, I find this is all I ne...

Read More

wearing less make up!

I bought this to reduce my make up worn and it works. Love it so much so handy and not getting any sun damage on my skin.

Awesome product

Noticeable results even after 1 or 2 usages. Looks really natural even though I have very pale skin. You need to use more than you'd expect but it's easy to rub in (I use my hands). Make sure you wash your wrists after You apply it so you don't get stained.

LOVE IT

Love love love this! Seriously so good, I hardly wear foundation anymore because this leaves me skin looking even toned and gives a nice glow. Into my second bottle now!

Natural Face Tan

I love this product, it gives me a nice glowing tan and it doesn't clog my pores. I love having this in and then I don't feel like I have to wear makeup. The only minor issue is I feel like it's harder to build the tan because of the face products I use, to counter this I sometimes apply morning and night

Nice natural colour

As someone who is fake tan obsessed i was interested in trying a natural alternative. I am prone to break outs on my chin area and I found when using this product it helps keeps the breakouts at bay compared to other tans. Only negative is that if you are using other skin products (retiniods, deep cleansers) it seems to make the colour fade quite quickly

Very gradual tan

This is a nice product but it takes a very long time for the colour to show up on your face. Good if you are really pale or want a very gradual tan. Feels nice and light on the skin.

Red head's tanning savior

As a red head with pale skin and freckles, I've always desperately wanted to tan but have never found a product that looked natural enough for me. A friend recommended I try this and let me borrow hers to see if I liked it.
I LOVED it!!
It didn't make me orange like other products and it actually helped with evening out my skin and reducing the size of my pores. After 2 applications I...

Read More

No breakouts

The positive things of this tanner is that i dont break out at all while using it, its easy to apply and literally feels like water so no oily leftovers. The only negative thing i can think of is that it takes a while to actually work as its a buildable tanner, so have to use it consistently for a week or so to get results, and if using it with any chemical exfoliant on your face basically reverse...

Read More

Fan of the eco tan

When I first started using it couldn't see much of a difference but it was the way I was applying. I found it amazing if applying after moisturiser at night with cotton pad. Applied again one hour later and in the morning woke up with an amazing tan! Love!!!! And my skin is super sensitive and it hasn't affected it at all, just a gorgeous glow. Yay!

AMAZING

this is incredible, for a tan addict like me my skin absolutely love it havent had one breakout either!! soooo good

Long lasting and natural looking

This face tan water lasts a long time and looks very natural. Doesn't clog my pores either!

Good, but not great

The colour of this is really lovely, I just struggled to get an even application, maybe as it is very watery. Didn't clog my pores though and doesn't have that awful fake tan smell.

Great Golden Colour

As someone who does fake tan my face this product gives your skin a nice golden glow without that harsh tan line along the jaw line from the body tan. Doesn't feel heavy on the skin nor does it clog the pores.Extremely easy to use without a harsh smell. beautiful product

A M A Z I N G

love love love this product, can't live without it. makes me feel so alive, it is the perfect colour, develops overnight after only one application and lasts days. doesn't go patchy just fades naturally. doesn't clog pores or cause breakouts (even on my acne prone skin!) however make sure you wash your hands after applying or you'll also have very tanned hands! can't recommend this enough

amazing

It is different from other tanning products. It tans the skin gradually without yellowish and fake color. My skin looks very naturally dark.

not great for pale skin

I have very pale skin. I found that this product just turned my face orange. It was hard to apply (it comes out like water) and I got orange patches on my hands and wrists where it had run while trying to apply. My family commented that my skin was a strange colour while wearing. The smell is also not great, smelling just like regular fake tan with perhaps some more fragrance over the top.

LOVELOVELOVE

Is there anyone that doesn't love this?
All natural, easy to apply, lasts FOREVER.
Buildable, and a great colour. My only negative is that I like to clean my face properly every night and use active ingredients, so it doesn't stay as long as i'd like. Although this shows that it's not blocking my pores! That's fine though, I just splash it on every 1-2 days.

Must Have

Love this product! Easy to apply..no smell! My skin loves it..leaves it feeling so soft and I wake up with a beautiful glow! Very subtle and natural, I don't wear much make up if this has been applied.

Perfect!

I am always funny about fake tan, and especially fake tan on my face! But this product is so subtle and gentle you can build up as much as you like slowly!

The best!

I have tried several face tan waters and I was skeptical to try the Eco Tan brand. So glad I did. The glow is next level and the colour is perfect. Will definitely be repurchasing.

On the Fence

I am on the fence about this one. It takes a few days to get any kind of colour on my skin, however, any little freckle or spot on my face is darkened dramatically. My favourite cleanser also has microbeads in it so whenever I use this I have to switch cleansers.

Hope to give it another shot this summer and see whether I can bring myself to love it any more. It's a great concept but ...

Read More

love this

Very surprised at how soft my skin felt after! It is very hydrating as it penetrates deeply into the skin and leaves a lovely scent afterwards

Natural glow

This tanning water is great especially during winter. It gives your skin a nice glow without it being too dark, it looks super natural but gives my face a nice subtle wash of colour.

Lovely product!

Amazing face tan water ever! Absolutely love this as it's easy to apply and doesn't wipe off. This leaves you with a natural looking glow evenly on your face. Highly recommend this product.

Sun without the damage

If you know about skin care you know how damaging the sun is to your skin. This is the perfect way to have that sun kissed glow without the damage.


Very subtle natural glow

Very subtle natural glow, this is great to use in conjunction with fake tan on the body, perfect for coming into summer.

Great product but doesn't last well on my skin

It applies well and gives my skin a nice tint however it comes off when I next cleanse my face, I don't really mind this but it would be frustrating if you only wanted to use this product a few times a week, I use loving tan face tan now and just use the face tan water as a top up colour

Adore beauty service is amaze

The first bottle I received was broken and no product would come out. Adore beauty sent me out a new one so quickly - such amazing service! As for the product itself... it doesn't give you a very dark tan and I find if you try and layer it then turns a bit orange. One layer gives a nice natural look though and allows me to wear less makeup.

Natural glow

This is very nice and gives a lovely glow to your skin

Really like it!

I really like this product! It gives you a gradual tan and beautiful color, really natural. It has a scent that it's a little strong and you feel a little tingle when you apply in your face..
I wish if they have a more powerful color as my skin is not pale

great product!

Adds a really pretty natural glow! I was quite surprised by how nicely this looked as I normally avoid fake tan products. Looks great and is easy to use.

I'm quite pale and I like the natural glow this gives.

I'm quite pale and I like the natural glow this gives. I love this product, it goes on nicely and does not cause my skin to feel dirty or clogged like many other self tanners. I find this product to be very subtle with the colour/tan.

Staple

If you know about skin care you know how damaging the sun is to your skin. This is the perfect way to have that sun kissed glow without the damage.

Ok but not amazing results

I find this product to be very subtle with the colour/tan. Even after 3-4 applications I don't notice much of a difference in the colour on my face. It's definitely a bit disappointing and not worth the hype

Summer glow in a bottle

I love this product, it goes on nicely and does not cause my skin to feel dirty or clogged like many other self tanners. The colour develops beautifully!

Nice colour

I use this 2 times per week. I'm quite pale and I like the natural glow this gives. Doesn't smell or clog my pores. I look sunkissed and healthy.

Perfect for a natural beauty look

I found this face tan water was essential to cultivating a simple, natural beauty look that enhanced my skin.

A must have

This is one of my favourite products. I am very pale and can look sickly but this face tan changes that. I use this all the time and it leaves me with a very natural colour.

Game-changer!

I have very fair skin and this product has now become an essential in my tanning routine. I apply it with a cotton round on cleansed skin before bed and wake up with glowing skin. I recommend blending the tan up and into your hair line and down your neck for a seamless application. It is also great for topping up fake tan when it fades off your hands. I absolutely love the scent and it doesn't tra...

Read More

My must have

I love the Eco Tan Face Water Product. So easy to use, gives me a glow and even's out my skin tone. It's always a repurchase for me!

Nice

I really love this face tan water and use it on most of my body as a tanner also. Really don't like the bottle it comes in though its really hard to get product out of so I have since started purchasing the TRAVEL one on the EcoTan site and its so much easier to use!

Be prepared to buy this forever!

I bought this on a whim and I'm so glad I did, probably my fave beauty purchase this year! I have a fair neutral complexion and was worried I would end up to yellow or need a different shade foundation, thankfully not! I apply this every two days with my hands and it just gives me a gorgeous healthy glow, so much so that I barely use any foundation at all anymore! Been using for a month and I'd sa...

Read More

Excellent!!

This tan water is fab for making me look less pale in these winter months! And feels so nice on my skin!!

Use less makeup when I have this on

I first read some reviews about people not wearing makeup when using this and it definitely felt that way when I tried it! I still put a thin layer of BB cream or light foundation on and spot concealer on breakouts but it has reduced the amount of foundation I use thats for sure!

So easy to apply!!

I'm not a fake tanner by any means and I am usually hopeless at trying to apply them. But this product makes it sooo easy to get a gorgeous, subtle bronzed colour for my face it blends in nicely so there's no 'tan mask' and dries quickly. I apply a few times a week to keep the colour and it really cuts down the need for makeup! Love love love

Beautiful glow

Being a retinol and liquid gold fan my tan on my face disappears pretty quick, but this face tan has always got my back! I find that eco tan products also help clear my acne? Not sure if I'm the only one, but I notice my blemishes in the morning aren't as bad after applying too.

Even, beautiful glow

Bought this after a girl at work came in with no makeup on and her skin looked amazing and this is what she used. It gives me an even sunkissed glow, the colour is perfect and it genuinely makes me feel confident to wear less makeup. Best face tan I've used.

Sunkissed glow

This is a really nice product and gives you a beautiful sunkissed glow and skin looks amazing when paired withe Ecotans Glory Oil. The bottle however, could be more user friendly and is really hard to get it out, you kind of have to shake it.

Amazing product!!

I've never been a big fan of fake tan, I've always found it impossible to apply without it being streaky & hates having to wear it off!! This product is an absolute game changer, the water consistency makes applying it so easy & I've honestly never had a mishap. I love using it to give my skin a sun kissed look without the sun, a little goes a long way too & a bottle will last ages. So glad I boug...

Read More

light

This gives a light tan which looks natural - kind of like a sunkissed complexion

Love this tanning product

Really love this tan water on my skin but really wish it came in a better/easier bottle. Its so hard to get product droplets out of this and takes forever.

Not good for sensitive skin!

This broke my skin out and found it was too strong for my sensitive skin. Woke up to pimples and orange tone face!!

Perfection

Love this product! Easy to apply..no smell! My skin loves it..leaves it feeling so soft and I wake up with a beautiful glow! I find if I apply with cotton wool like suggested I don't get enough product on my skin so I just pour it over my face and rub it in. Definitely wash hands well after. I have a light tan naturally so I use this every second night to keep a darker tan constantly. Very subtle....

Read More

Doesnt have that toxic smell

Tans skin nicely and evenly and doesnt have that nasty, toxic smell

AMAZING PRODUCT!!

I am so glad I took a chance on this product. My skin tends to be dry and I was worried that the tan would come out patchy but it didn't. Eco Tan gives me such a lovely natural glow, I can't stop using it. The solution is really light, like a toner, and there is little to no scent to it. I have had so many compliments in the office and feel more confident to go foundation free!

Light weight smells nice

The rosewater scent is really nice at masking the fake tan smell. I apply with a mini tan mit. I usually exfoliate and don't moisturize before using face tan but it came out too patchy I actually found applying a light moisturizer first gave it a move even cover. The best face tan I've used so far.

Good

I have never used a face tan before so I was a bit worried to see my face becoming orange or too much tanned. But not at all I just get a gradual natural tan visible after only 4 daily applications

Very good

Ohhh my god this gives the most gorgeous, even toned skin ever! Very impressed and looks awesome on the skin!

tans face so nice!

This tan water is the most perfect product ever! i can now tan my face without getting burnt, clogging my pores with fake tan and breaking out! It gradually makes my face so brown without clogging my pores so my face doesn't break out at all. 100% recommend!!!!!

Amazing

As someone with quite fair skin that is sensitive. This is amazing! It matches perfectly to Bondi Sands tans and manages to always apply evenly to the skin although occasionally if i have a breakout it will cling

amazing serum

I apply at night, have oily skin and doesn't bark me out I didn't notice much difference initially, But after a few days give my pale skin a healthy glow.

Amazing

love this - the results aren't extreme but it gives a glowy natural tan and evens out skin tone SO well. it makes your skin look healthy and plump and even and you won't need to wear foundation which is amazing. Apply it consecutive nights to get a lasting result! It can fade quickly

So great!

Love the colour it makes my skin. I look so good with this tan on and just a little bit of mascara, I don't even use foundation! Love it!

gives a light tan

I apply with cotton pad at night, I didn't notice much difference initially. But after a few days give my pale skin a healthy glow. Unsure if I would purchase again due to price but liked okay.

Ok

I wanted to live this, it's natural, its a water and it tans! I just don't seem to get amazing results. I still use it but I need to apply several nights in a row.
I love the smell, reminds me if summer.

Evens skin tone

Love love love this face tan water. Not only does it even out my skin tone its also great to have a nice natural glow/tan through the week.

Glowing

This subtle face tan gives you a natural looking glow without the streaks or orange look!

Natural glow

I never wear fake tan, but this product just gives a little bit of color and evens out skin tone beautifully. Makes me feel less like I need to wear make up. And no smell! Love this product.

Best face tan yet

I was a bit worried I would wake up orange as it's a tanning water but I woke up with the most natural tan and I really did feel confident enough to ditch my foundation.
It fades really evenly and lasts a few days.
I also swear it's helped clear my skin!

Love it

Easy to use and evens out skin tone making me confident enough to go without makeup. I find it really moisturizing too.

so expensive for what is is!

my friend gave me this as a gift! although it has helped add a bit of a tan to my face! i would not spend money on this! its just like water!!!!

Love it

Super easy to apply and gives me confidence to not wear any foundation ! Just make sure to wash your hands thoroughly after applying :)

I recommend this product

due to wearing foundation every day my face is a lot lighter than the rest of my body. I was going on holiday and didn't want to have to deal with foundation every day so wanted to even out the colouring. This product did exactly what I wanted. Gave me a really nice subtle golden tan. Husband said my skin looked healthy.i used it like a toner and used a cotton pad to apply. I was worried about br...

Read More

Subtle natural looking face tan

I bought this to tan my face without the breakouts and so far so good. It is a very subtle colour with one application but two days in a row gives a nice natural colour without looking like you have fake tan on your face. I would buy again.

Didn't suit my skin tone

This product didn't suit my skin tone at all and came out really yellowy.

I love the idea so I'll wait for them to hopefully come out with a wider range of tones!



Overall good product

I purchased this after reading so many positive reviews and after seeing a girlfriend who looked amazing and she told me she had been using this!
I do quite like the actual product itself. I put it on for two days in a row and didn't notice much difference, but the third day I noticed I looked a bit tanned on my face. I did find it difficult to get the product out and takes a bit of time ...

Read More

Just okay, for me

I love the idea, and how natural it is, but it's just a bit too orange for me. I have to use a LOT to see any effect, and then it's quite an orangey tone on me. I'm naturally very fair with freckles and auburn hair.

So easy!

Wow! This is so easy to apply. The colour isn't too intense, so even with my pale skin I found I needed to apply it over a number of nights. I have very sensitive acne prone skin and this didn't break me out at all! Love it!!!