Dermalogica Total Eye Care SPF15 15
Is this for you?
Dermalogica Total Eye Care SPF15 is an advanced alpha hydroxy eye treatment cream to help protect and repair the delicate eye area while reducing the appearance of dark circles and lines.
Cosmeceuticals
Cruelty Free
Frequently bought with
Please wait while we find a match
Questions & Answers
(1 Question)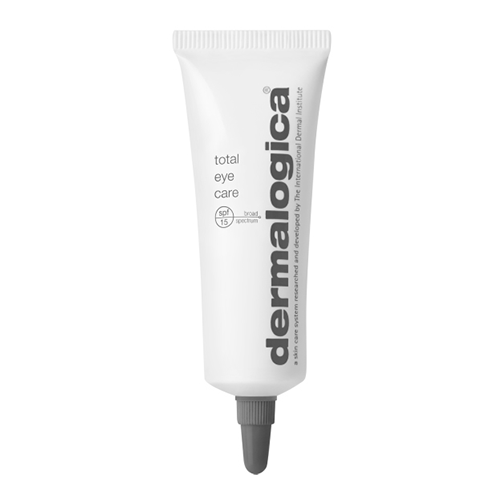 Dermalogica Total Eye Care SPF15
Get an expert to answer your question about this product!
90% recommend this product
Most Helpful Positive
Best and only
Only eye cream that does not make my eyes irritated.
Most Helpful Criticism
Average
Average eye cream for the price, I didn't notice any results, but it contains and SPF which is good. Feels nice on the skin and absorbs quickly.
Best and only

Only eye cream that does not make my eyes irritated.

Very hydrating

A really great, hydrating eye cream. I will only use this in the AM because of the SPF, and I find it even seems to lighten my under eye area. The price is a bit steep for such a small tube.

Yay an eye cream with SPF!

This is a very nice eyecream, not too heavy and love that it has spf in it. Makes it great to use in the morning whether you're wearing makeup or not

I like it

Very good, see a lovely difference! I like it!

Best daily eye cream!

Obsessed with this eye cream! It has the perfect tint to it to reflect from darkness under your eyes, almost as good as a concealer. I love it! Definitely need a different eye cream for night time though as I think it's a waste to use the SPF at night time. Regardless I love this eye cream, great investment

Great Texture

I have been using this eye cream every morning for several months... it noticeably brightens my tired new-mum under eyes, even when i have had the worst sleep. Also a necessity as i live in a fiercly hot and sunny climate. Wont leave home without it.


Nice texture

This eye cream feels rich and has a slight tint which helps to hide dark circles. It feels nice on application.

Great

I love that SPF15 is included in this eyecream making it great for daytime use as I know my eyes don't miss out on SPF protection and because it's a lightly-textured cream I can also put my eye make-up on after this without it sliding around.

Noticed a Difference

I suffer from dark circles under my eyes from sun damage. I have noticed a difference since using this product that the circles have lightened. Love that this product is tinted as well as I don't like wearing any makeup.

Perfect day time eye cream

I absolutely love that this eye cream is tinted! I put it under my eyes in the morning and it makes me look so fresh! I don't wear any makeup with it, as I feel this product alone brightens my eye area which makes me look bright and refreshed. It blends so well and smooths the under eye area really well. I don't need to use much so this product will last me for a long time.

Average

Average eye cream for the price, I didn't notice any results, but it contains and SPF which is good. Feels nice on the skin and absorbs quickly.

Would not purchase

I have used a few sample sizes of this product as I was seaching for a good eye cream for during the day. I like that it is slightly tinted but this really doesnt work for the night time use. After a few uses some small white little pimples appeared under my eyes so I stopped using this product and they went away fairly quickly. I would not purchase a full size but im glad I tried the samples for an extended period of time.

Amazing product!

This product is very small for its price but if you suffer from tight, dark undereyes it might be worth it! It is hydrating, lightweight and smoothing, and its almost tinted appearance provides an amazing brightening quality to add to your skincare routine!


Amazing for dark circles

This is heaven! Dermalogica's products are so good and this one is probably a top fave. It has a brightening effect to the skin so it helps to hide darkness, perfect under makeup but even better when I want to go barefaced. It also exfoliates away any milia under the eyes and protects with SPF, what more could you want?

Love it!!

I have sensitive skin and i am on a mission to delay the aging of my skin for as long as possible, and this eye cream makes it so much easier! It hydrates under my eyes whilst simultaneously providing SPF coverage, something that many day eye creams lack. I would really suggest giving this eye cream a try.

Be careful with sensitive skin

I received this as a sample. I can't comment on its effectiveness but I had a bad reaction overnight after using it. I have super sensitive skin, so just a warning for those in the same boat.

genius!

This is a brilliant product. A nice eye cream, with the added advantages of brighteners AND spf. I use it in the morning, and occasionally during the day to refresh the look of my eyes. At night I use Dermalogica Ultra Calming Ultra Smoothing Serum, and between the two products my eye issues are solved. Yay!

Wont leave house without

I have been using this eye cream every morning for several months... it noticeably brightens my tired new-mum under eyes, even when i have had the worst sleep. Also a necessity as i live in a fiercly hot and sunny climate. Wont leave home without it.

Never using anything else

I've been using Total Eye Care for more years than I can remember - definitely more than 15 years. I've tried other eye products along the way and always come back to this! A little goes a long way, it has sun protection, absorbs easily into the skin. Other products have irritated my skin and eyes, but Total Eye Care has never given me any issues at all in that regards. I'm a few years older than 40, and people are always shocked that I'm not still in my 30s. I attribute this to Total Eye Care in the morning, and Multivitamin Power Firm in the evenings.

Worth the price

This eye cream is a lovely texture, it's light and a small amount goes a long way. I don't think I'll finish this tube any time soon! This doesn't leave anything on top of your skin, unlike Clinique's Pep Start eye cream which leaves an oily sheen.

I can't say I've noticed a lot of change, I've been using this every morning for the past 2 weeks but I honestly don't really have issues - other than mildly dark under eyes I don't have bags or wrinkles at the moment.

I was looking for an eye cream with sunscreen and I found a really nice one that goes under makeup well.

Don't give up on this product

In the first month or so of using Total Eye Care (received as part of a Christmas present), I thought it was a relatively expensive waste of time & that I wouldn't order it myself. Fast forward daily use for almost six months & it's still going strong thanks to the great packaging (NEVER BUY EYE CREAM IN A JAR!), and it really does have a multi-purpose thing going on. I underestimated the benefit of having SPF in a daytime eye care product. All in all, I realise I made a quick judgement without the benefit of long-term use. I'm 44, have some fine lines but am pretty lucky otherwise. Recommend it for sensitive eyes/contact wearers - no irritation at all

I have waited 14 years to write this review

I've been using Total Eye Care daily since I was 26 years old, and now that I'm 40 I can truly thank this eye cream for keeping away any fine lines and wrinkles around my eyes. Whilst I've started to notice the signs of aging in my neck, hands and well everywhere really, my eyes still show no signs of my real age.

Great eye cream

I've used lots of eye products over the years and Dermalogica Total Eye Care is the best by far --you only need a tiny amount so it's good value. It absorbs quickly and doesn't settle in little lines. A great product, and I especially love the sunscreen element.

I have used two sample sachets of this product, and I am really enjoying it - the texture is great; hydrating but still creamy. It sinks in quickly but the area still feels comfortable and mositurised, not to mention smooth. The pink tone in it really gives my eye area a boost, too so it's a great all-rounder. I have noticed a smoother and dare I say tighter appearance around my eyes even though I didn't think I needed it, I look better! I do have oily skin but find myself dehydrated quite often around my eyes so I need something that goes the distance; though I wouldn't have bought it myself or even thought to try it as I am trying to steer away from AHAs this one, for someone looking into actives that needs more than the basic hydration, is fab.

This is multi-tasking at its best and has been a staple in my beauty kit for years. Exfoliant, moisturiser, sunblock and eye brightener in one. It's expensive, but goes a long way and is well worth the money. I also use it on my lips for a subtle nude effect. Highly recommended!

This is my second review I gave this product 5 stars before but this is a warning that if you apply too much and on the whole undereye area it can look greasy which makes your dark circles stand out but under foundation you won't have that problem.

This is a must have 4 in 1 product. It works as a hydrator, spf, retexturizer (light exfoliants) and illuminator! It doesnt hide dark circles just brightens/highlights the eye area and makes it glow.

I noticed a definite eye brightening effect after applying this peach hued cream.The area felt hydrated and looked firmer and smoother too,the wrinkles were definately not as obvious.Just a bit exxy for the amount you get.