Dermalogica Clear Start Breakout Clearing Foaming Wash 177ml
Looking to clear your skin, remove build-ups and a deep cleanse? Then get yourself the new Dermalogica clear start Breakout Clearing Foaming Wash!
The Dermalogica clear start Breakout Clearing Foaming Wash contains the following goodies so you can feel confident with your skin.


Key ingredients include:
Salicylic Acid to decongest pores and to help eliminate breakouts.
Lavender, Tea Tree Oil and Camellia Sinesis to help soothe irritated skin.
Orange Peel Extract to stimulate your skin.
Eight different botanicals to help clear your skin.
Use the Dermalogica clear start Breakout Clearing Foaming Wash on your face and body for optimal results!
Looking to clear your skin, remove build-ups and a deep cleanse? Then get yourself the new Dermalogica clear start Breakout Clearing Foaming Wash!
The Dermalogica clear start Breakout Clearing Foaming Wash contains the following goodies so you can feel confident with your skin.


Key ingredients include:
Salicylic Acid to decongest pores and to help eliminate breakouts.
Lavender, Tea Tree Oil and Camellia Sinesis to help soothe irritated skin.
Orange Peel Extract to stimulate your skin.
Eight different botanicals to help clear your skin.
Use the Dermalogica clear start Breakout Clearing Foaming Wash on your face and body for optimal results!
Use a.m. and p.m. Lather a small amount in damp hands, rubbing over face, neck, chest and wherever you want to clear skin of dirt and breakouts. Keep out of your eyes. Rinse completely with warm water.
Active Ingredients: Salicylic Acid .50% Other Ingredients: Water/Aqua/Eau, Cocamidopropyl Betaine, Sodium Lauroyl Methyl Isethionate, Acrylates/Beheneth-25 Methacrylate Copolymer, Polysorbate-20, Melaleuca Alternifolia (Tea Tree) Leaf Oil, Citrus Aurantium Dulcis (Orange) Peel Oil, Lavandula Angustifolia (Lavender) Oil, Oleanolic Acid, Butylene Glycol, Enantia Chlorantha Bark Extract, Disodium Cocoamphodiacetate, Spiraea Ulmaria Extract, Camellia Sinensis Leaf Extract, Porpyra Umbilicalis Extract, Glycyrrhiza Glabra (Licorice) Rhizome/Root Extract, Sodium Hydroxide, Ethylhexylglycerin, Phenoxyethanol.
Postage & Delivery Estimates
Standard Australia Post : FREE

Express post : $6.95 or FREE orders $50+
Returns
Easy 90 day returns
Questions & Answers
(No Questions Yet)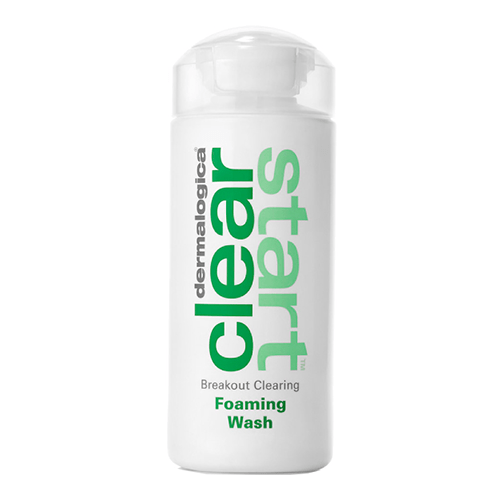 Dermalogica Clear Start Breakout Clearing Foaming Wash
Get expert an expert to answer your question about this product!
Ask a Question
93% recommend this product
Most Helpful Positive
Breakout be gone
This stuff works amazing for my breakouts
Most Helpful Criticism
Nice gentle face wash
It's nice to use, very gentle. Personally I prefer a cleanser than a foaming wash but I did use this for a few weeks to give it time. I liked it but I think the Clear Start breakout booster gel did more for my pimples than this wash did.
Great

Never thought I would love a cleanser as much or more than the Dermal clay cleanser from Dermalogica, but honestly I have been loving this cleanser! The cool packaging is just a bonus.

Breakout be gone

This stuff works amazing for my breakouts

good

bought this for my partner, and he loves it. leaves his face moisturised and smooth, unlike other face wash that dries it out

Have not broken out since purchasing

Straight away this product got to work in preventing any pesky pimples I may have had brewing! I have not had to wear any makeup since purchasing. It does make my skin slightly dry in the morning but nothing moisturiser cannot fox afterwards. Have already purchased a bottle of this again

Great product

I have used this product before when holidaying with a friend and I HAD to have my own. It is brilliant at clearing the skin from problem breakouts and I'm so glad to have found it.

Gentle acne wash

Gentle foaming cleanser with salicylic acid. I really love that this wash doesn't strip my natural oils but still helps with clearing blemishes.

Great product for a great price!

If you suffer from breakouts like I do this product is for you! It's a bit more on the cheaper side compared to other Dermalogica products but works just as well! I've only been using it for 3 days and have noticed a visible difference! My skin feels smooth, fresh and super clean after each use PLUS I can use it morning and night without it over drying my skin :)

amazing

started using this a few months ago and i can't imagine using anything else. effectively clears skin in a matter of days without drying it out.

Best cleanser I've tried!!!

I have tried quite a few different cleansers, but this one is by far the best! I have normal to oily skin and have found that this cleanser cleared up any breakouts I had and continues to keep my skin clear! I am so glad I found this stuff and will continue to repurchase again and again.

Nice gentle face wash

It's nice to use, very gentle. Personally I prefer a cleanser than a foaming wash but I did use this for a few weeks to give it time. I liked it but I think the Clear Start breakout booster gel did more for my pimples than this wash did.

Pretty Good

i think this is a great product for teens who are just starting out there skin care routines. it does a great job at cleansing the skin. i do find that this product leaves my face feeling quite dry so make sure your moisturizing.

Price point is great

I and my teenage son have been using this product for almost a year this face was is gentle and yet gives the skin a good clean and leave you feeling fresh and soft

Great

If you're having problems with your skin then definitely give this a go! it clears up skin, and doesn't leave it dry, red or flakey!

AMAZING

I have been using this product for about 6 months and I absolutely love it my skin has never been so clear before . In the first weeks I noticed my acne had started to disappear now nothing. I LOVE this product so good !!!!!!

it works.

This cleanser helped clear up my skin and helps clear quickly when I do get a breakout come through. It smells nice and doesn't feel too harsh or drying on my skin.
Would repurchase.

Godsend!

I was dealing with cystic acne one the left side of my jaw for about a year and tried almost everything! I read the reviews of this on here and gave it a go and had such amazing results!

Made me break out

I have quite sensitive skin that breaks out all the time from food, face products etc. I bought this product hoping it would help clear my acne however upon trying for roughly a month, my skin broke out worse than it was before I tried this product and made my skin even more sensitive. Unfortunately I had to throw the product away :/ If you have sensitive skin I definitely would not recommend.

Excellent Product

I purchased this for my teenage daughter who plays lots of sports so sweats a bit which causes lots of breakouts across her forehead. She was using a similar Dermalogica Clear Start product but this product has cleared her skin up within a week.Highly recommend this for the teens with mid skin problems. It also smells beautiful.

Great cleanser

This is a really great affordable cleanser, I have gone through about 3 bottles of this so far and found it really helps keep breakouts at bay. I struggle with bad congestion, it's helped improve this a bit but I think my skin as gotten used to it. It's been fantastic at keeping hormonal breakouts away and have not suffered from any bad breakouts since using it! It is gentle on the skin but still deep cleansing, also gentle enough to use over the eyes.

good product but haven't noticed a noticable difference in my skin

I like this face wash, it was gentle and didn't dry out my skin. However, I didn't notice any improvement in my skin while using it.

Noticeable Difference

I use this in the morning and night and my breakouts have noticeably cooled off, I also use this to help control acne on my chest and back and it has really helped :)

So good!

This cleanser is perfect. Makes my skin so soft and smooth. It's good to help remove any makeup leftover.

Nice and Gentle

I have been using this product for a few months now and it is gentle on the skin but still leaves in nice and clean, I haven't noticed a difference in my acne getting better but it hasn't made it worse. I would definitely recommend for teenage skin but not so much for an adult if you wish to see a difference.

Great skin cleanser!

I bought this for my 2 teenagers however, find myself using it too. Leaves skin feeling soft and clean yet gentle enough for 'young' skin. Definitely helps with breakouts when used on a daily basis. I have bought numerous times now and am super happy with the product - not a bad price point too.

Great for breakout prone skin

This is the best cleanser I have found for my oily, breakout prone skin. I was initially hesitant to try it, as it's designed for teenage skin, and I am not even close in age to a teenager. But I've now been using it for around a year with great results.

Before switching to this cleanser, I had regular breakouts of painful cystic pimples. Since switching to it, most months I have no spots at all, or on the rare occasions I do have a breakout, it is minimal, not painful, and quickly disappears. This cleanser also does not overly dry or irritate my skin.

I apply with the Dermalogica face cleansing brush, as I've found this give the best results.

Great cleanser

I've been using this for 3 months now and my skin has never looked better. I've always had acne, and this combined with a few serums has managed it very well. Not drying, smells lovely

Great clearing wash

I bought this cleanser to try and clear up and prevent future pimples. So far it seems to be working well.

Love it

Skin type: Dry/combination

I really like this for makeup removal its really gentle and leaves me feeling really clean, and its super affordable compared to other Dermalogica products.

not bad

not a great fan of foam washes like gel more but still worked alright didn't clear my skin but cleaned it

Great

Clearing my skin!
I started using this product about a week ago now and have noticed a huge difference in my skin! Existing pimples are smaller and drying out and hardly any new breakouts have formed. The most change I have seen is on my shoulders/chest where I often have breakouts, they have cleared up! I have tried so many products to help this and I feel I always come back to Dermalogica products, they are great for my sensitive skin.

Not for my face

So I have combination skin, breakouts monthly. I was recommended this product by my local dermatologist and thought I'd give it a try.
Worked great at getting rid of my pimples, but found I soon after was getting patches of dry skin on my cheeks as this product was quite drying.

So yes, does get rid of breakouts, but I would only recommend this product if your face is oily all over.

Great Gift

As a skincare afficionado I am usually ranting at my family about "how important a proper skincare routine is and please please actually use a cleanser to remove your makeup at least!!"

As such I have made it my duty to gift the wonders of easy skincare to all who surround me (based on skin type of course) and this product is seriously wonderful for easy cleansing in the shower, has clear skin benefits and does not have an overall strong scent.

Packaging is sturdy for the more clumsy and has a great dispersion system to keep product where you want it!

LOVE

I've been having troubles with my skin and hormonal acne. I've been doing a few different things but incorporating dermalogica and this cleanser into my routine has been amazing. Gets all make up off and lets you feel super clean without drying. Love it!

MUST HAVE

I've tried so many cleansers and I always come back to this one. The scent is light and fresh, the consistency is a liquid gel that foams nicely and applies to the skin gently, while leaving it feeling clean and refreshed. Definitely works to clear problematic without drying it out. Will continue to re purchase.

great for young teens

I bought this for my 12 year old daughter as she was experiencing breakouts and it has made a huge difference. It doesn't sting and she really notices a difference if she misses a day. Definately recomend

Great gentle face wash that is suitable for sensitive skin

I have sensitive combination skin and as a result, I have to be careful of what I put on my skin. I found this to be very gentle and suitable for my skin type. This cleanser smells of tea tree and feels lovely on the skin. I was a bit worried about the tea tree possible drying my skin out but my skin feels clean and hydrated once I have washed my face with it. I bought this cleanser to help with hormonal acne and I think it has been very helpful in dealing with the acne I get on the lower part of my face. I recommend to people who have sensitive acne prone skin and would like to try something that does what it claims plus the bonus is that this product is very affordable! I'll be repurchasing.

Great product

I've only recently started using this product and so far I love it! Helps get rid of any excess makeup left of my skin after I take my makeup off... Smells incredible too and not harsh on your skin at all

really helps with breakouts

I have seen an improvement in my skin

Great Cleanser!

I started getting quite bad hormonal acne around the sides of my face and along my chin. I wanted a cleanser that would be strong enough to tackle these breakouts but not dry out the rest of my skin and this cleanser was perfect that! It is now a continuous product in my skincare regime!!

Lovely breakout cleanser

I've been using the product for 3 days and I'm finding it a very gentle cleanser. It cleans all my makeup off beautifully, is very gentle even though it has BHA's in it, has calmed down my skin's intense redness and breakouts (due to a bad reaction to a chemical peel). It's surprisingly hydrating! I'm very happy with it!

Effective and not drying.

I have Combo/oily skin, and am prone to breakouts. This face wash is great for the times my skin is a hot mess, it's gentle and effective, and doesn't dry my skin out.

Great product for young, breakout prone young skin!!!

I always had super clear, beautiful skin until about a year ago and I had tried everything, my mother who is a trained esthetican, had always recommended me dermalogica and I used a lot of their products including the dermal clay cleanser which is also grand and the daily microfoliants but they didn't seem to show dramatic change. Finally, I tried this and it works wonders on my skin, yes it does slightly dry out skin but anyone who has a knowledge of pimples knows that the really stubborn ones need to be dried out in order to go away!!! Overall, amazing product. All I use is this and that breakout clearing booster and it is heaven!

My new go to facewash!

The only face wash that's reduced my breakouts and doesn't leave my skin feeling so dry after! Its defiantly replaced my other face wash's and will defiantly repurchase when i run out!

Saves my face!

This is the best! I found adult acne really hard to deal with after having flawless skin my whole life. I tried so many products and every hair brained home remedy, with my skin left looking worse, my face hurt, or my skin was left peeling from medicated creams. This actually works, it calms my face and regullar use takes away my acne or any breakouts. I don't bother using anything else now

Perfect product!

This product is great for my sensitive skin and really leaves me feeling hydrated and moisturised. It's so smooth when cleansing and definitely a new favourite.

Amazing

Have seen amazing results with using this not only for me but my daughter won't use anything else now.

Really great to clear up acne

I have never been acne prone but for some reason my face had a huge breakout that lasted for weeks. I tried every acne clearing cleanser I could think of. This is the only one that worked! I could truly tell a difference in my skin two day after I started using this! I paired this with the toning spray and my skin has never looked better! Definitely going to keep purchasing this!

Great product!

I cannot say enough good things about dermalogica. This wash is amazing and works so well. No over drying and feels amazing after I wash my skin. I have horrible cystic acne and with this wash and the medibac overnight skin clearing gel I never break out. This stuff changed my skin and I am no longer embarrassed about my skin.

For once a product that actually works.

To say I love this wash is an understatement. The amazing formula aids in the clearance of acne, visibly reducing redness in the skin and controlling oil without drying out the skin. Defiantly a product that I will continue to repurchase.

Great face wash

I keep this in the shower to give my face a thorough wash every morning. It leaves my skin squeaky clean without feeling dried out. I feel this helps to control my oily skin. Even though this is marketed toward teens, I find this to be a great face wash for any age skin.

I'm 43 with oily to combination skin.

Great for teen skin

I have always been a dermalogica fan- my salon has stocked it for years. The Clear Start range is specifically designed for younger teen skin - it's gentle, yet still effective without being drying on the skin. My step son was getting pretty bad breakouts and has been using this for only a week, and we can see a vast improvement. Getting teenage boys to stick to a skincare routine can be hard, but this one you can just pop in the shower due to the great packaging so it's easy to use. Highly recommend for teens!

great for acne prone skin!

I have always had very bad skin, since i was about 9. I am now in my early 20's and i believe I have tried almost everything! I decided to try this product. What did i have to lose? I have tried just about everything.
All i can say is WOW! I LOVE THIS. This cleanser has cleared up my face in less than 2 weeks and has given me my confidence back.

Good Product

At 24 years of age, ive generally had pretty nice skin my whole life. In the last 6 months I had started getting more hormonal break-out and tried everything to try and keep them at bay/heal them and nothing was really working. I had also started getting smaller clearish bumps across my forehead, and nothing was making them go away. Within a week of using this cleanser (and other clear start products) my hormonal breakouts had definitely become smaller, and all my forehead bumps had completely disappeared. Will definitely be repurchasing!

Exactly what I wanted

I get hormonal breakouts on my chin/jaw, and wanted a cleanser that would tackle them without feeling Drying or too intense. I've been using this the past few days and it is perfect! I only use it on my chin, nose and forehead, as these are the areas I'm tackling.

This product helped me so much!!!

I tend to get breakouts around my forehead and cheek area and this product has helped me so much. For the price I paid, the bottle is really large and has lasted me a while.

takes a couple of weeks

this product you have to keep using twice daily for a couple of weeks to see the results and at first my skin purged and broke out but it was just clearing it dont stress if this happens, my skin now is clear and i have never been happier with it! my problem areas were my tzone and forehead and they are clear now

Great for tweens

I bought this for my daughter who has a problem with black heads on her chin. It does take a couple of weeks to notice an improvement but after that it just kept getting better.

Perfect for clear skin

This Dermalogica Clear start face was is perfect for clearing up my unruly skin. I couldn't recommend this range enough for helping out with blemishes on the face. It lathered up nicely on my skin and made it feel and look great after using. This product works super fast and will have you feeling your best as soon as possible. I would recommend using this face wash with other products in the clear range for optimum results.

Love it!

I'm onto my third bottle of this. I use it morning and
night.
I am 28 and have combination/oily skin.
I can get super dry but super oily in my T-Zone and jaw line.
This helps clear up zits and keep the pesty future zits at bay.
It's a great price and works, I love it.

Amazing cleanser

I purchased this item a couple months back and I had a face full of pimples. I followed the directions as written on the product and applied twice daily, covering neck and face. The trick is to lather it on well and leave it for a minute and then wash it off with a towel you use just for your face. I've had less pimples since and my skin feels And looks just as great.
Also, unlike most cleansers I've gone through. This actually smells amazing and doesn't have that medical smell.
You don't need to think twice about this purchase. Just add it to cart! Definitely won't be disappointed.

Great for young skin

I bought this for my 11 year old daughter. She has oily, pimple prone skin, but found the medibac too harsh. This is a perfect alternative, and her skin is looking lovely. It doesn't dry her out, just clears her breakouts, and has greatly reduce the number of pimples she gets.

Decent

I enjoy using this foaming cleanser with my Clarisonic and find this formula effective against my mild acne. Towards the end of the bottle however I felt my skin was becoming accustom to this product so I changed over to a different cleanser After a few weeks resumed using this Breakout Clearing Foaming Wash and rediscovered my preference for this cleanser.

another great Clear Start product

I purchased this after seeing the improvement the Clear Start overnight treatment made to my skin in a matter of days. The product hasn't made such a dramatic change to my skin as the overnight treatment but is certainly helping to clear and heal my blemish-prone skin.

The packaging is nice and simple, with a button which pops open the lid. The product is a thick gel which foams easily, and a little goes a long way. The smell of the product is quite fresh, and not overly fruity or medicinal.

Used day and night, it hasn't dried out my skin, helps minimise and heal existing blemishes and next to no new blemishes.

I'll definitely repurchase.. Along with the rest of the Clear Start range.


One of the best cleansers for acne!

For years I've had mild acne but used the pill to combat it. After coming off it I almost immediately started getting probably the worst breakouts of my life! I tried a lot of cleansers including Cetaphil and other well known acne wash brands and none seemed to make huge difference. I bought Dermalogica Clear Start Breakout Clearing Foaming Wash on a whim because I was already buying another product on Adore Beauty ..and I'm so glad I bought this!


Dermalogica Breakout Clearing Wash is fantastic! I've been using it day and night for a few weeks and my skin feels and looks a lot cleaner and a little bit clearer! I definitely think it's working and just needs a bit more time to clear everything.

Main things I liked about this cleanser:
- The packaging was great, you just press a button and it flicks open.
- The smells is fresh and not chemically.
- It foams up great! And stays foamy the whole time when cleansing.

It does dry out my face though so I suggest pairing it with a good moisturiser! All in all, I honestly think I've finally found a great cleanser for my skin. If you have combination skin like me (really oily T-Zone/normal everywhere else) then Dermalogica Breakout Clearing Wash is for you!!!