Cosmedix Pure C Mixing Crystals 8g
Skin Concern:
First signs of ageing
Pigmentation, uneven skin tone
Skin Type:
Oily
Normal to oily
Normal to dry
Dry
Questions & Answers
(No Questions Yet)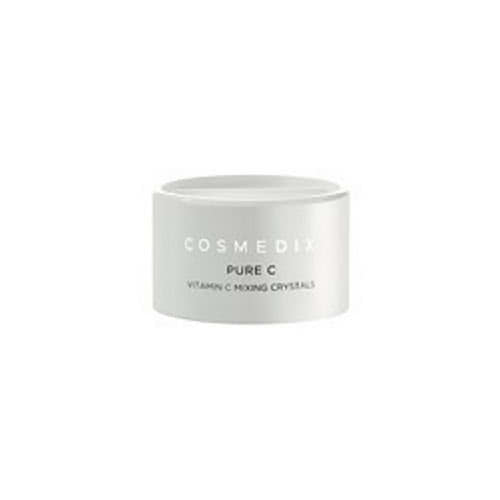 Cosmedix Pure C Mixing Crystals
Get an expert to answer your question about this product!
Ask a Question
100% recommend this product
Most Helpful Positive
Unique
Such a unique product that I'm enjoying using
Unique

Such a unique product that I'm enjoying using

Pretty cool

I bought this to use in conjunction with the brightening serum from cosmedix and they work so well together. I recently started using a new serum that doesn't brighten my face as well as my old one, so I add these crystals and it works a treat! Very good for those like myself who want to clear up extreme pigmentation and acne scars

Perfect top up to care routine

I was feeling my usual skin care routine was a bit stagnant after a few years of consistent use. I have found this Vit C powder has just given my skin the lift I was needing. Especially between facials when you're just about due and you're holding on a week longer! Have noticed refined pores, better skin tone and improved t-zone during the day. I use with my Vit b serum and it soaks in beautifully.

best vitamin c product

Rather then your typical vit c products, this won't go bad since it is just the pure ingredient. No mixture or base for it to sit it and be exposed to elements. Two shakes mixed in with anything from a serum, to a moisturizer, to a mask and your skin is glowing to the gods.

Love it!

I have a lot of pigmentation from sun damage to my décolletage, neck and temples. I love that I can mix this in to my other pigmentation correcting serums for an extra boost. Since adding this to my daily Dr Aspect Complete Pigmentation Serum or Cosmedix Simply Brilliant 24/7 Brightening Serum, I've noticed faster results. Mixes quickly and easily.

Nice product

I have been using this product for a few weeks now, mixing it with Cosmedix serums as per instructions. It's nice and mixes in well, I can see a very small improvement in the brightness of my skin since using it. I will continue to use it for now

Vitamin c

This is one of the first vitamin c products I've used and I really have enjoyed it so far!

Love it

Skin type: Oily/combination

I really love these crystals as they are so much easier to use than powder, it mixes in well and leaves me looking bright.

A product that allows you to know what's in your skincare.

This product allows you to customised base creams and skincare by adding pure vitamin c. There's many products on the market that contain varying amounts but you never really know what you getting and with this you do because you add it yourself. Does all the things that vitamin c skincare promises. A must in your routine.