Clarins Gentle Care Roll-On Deodorant 50ml
Frequently bought with
Please wait while we find a match
Questions & Answers
(No Questions Yet)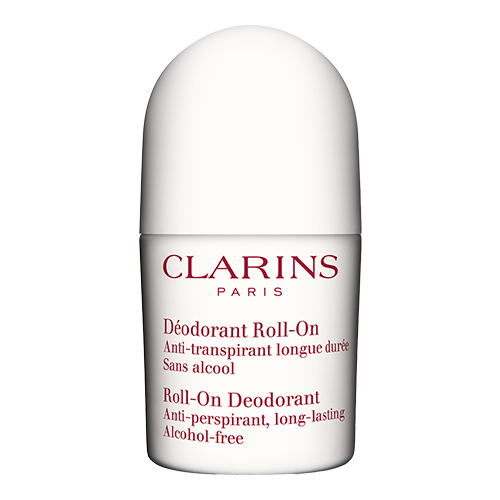 Clarins Gentle Care Roll-On Deodorant
Get an expert to answer your question about this product!
Ask a Question
85% recommend this product
Most Helpful Positive
lovely
has a very pretty, clean scent
lovely

has a very pretty, clean scent

My go to

Works amazing with my sensitive skin and has such a lovely, subtle scent. Really can't go past this for a perfect, natural, no fuss deodorant

Sensitive skin

Really gentle on sensitive skin - doesn't irritate the skin. The roll on is super convenient too.

excellent product

the only deodorant i will use, have used for over twenty years

the best!

I love the subtle fragrance, it works well, worth every cent!

Good

Good if you don't sweat very much. I find that I'm quite a sweaty person and need something abit more heavy duty. Smells good though!

Love it!

Might be pricier than normal deodorant, I am never a deodorant fan and always a perfume person, due to my sensitive skin that reacts ti certain harsh ingredients out there. This producf however, changed my mind, the fragrance is amazing, soft and pure, doesnt irritates ny skin and it fact makes it better. Totally recommend.

Summer

definitely kept me smelling fresh, except perhaps on the hottest days/after heavy exercise

Works Really well, smells great

Works Really well and smells great. It has a lightweight texture and doesn't leave marks under my arms. It's a little overpriced, but it is a high-quality product. Will buy again.

Not a fan of the scent

It's a personal thing, but I find the scent on this overpowering, when I wear it it's all i can smell, so it sits unused in my drawer.

Gentle

First thing the scent is absolute heaven. It's very gentle and non sticky

Wrong product, impersonal customer service

Despite advertised at not having a perfume I found it had & quite unpleasant, attempted to obtain a refund and change to Eau Dynamisante, was told Clarins does not do a deodorant in that fragrance - well what is the product doing on line and my on line chat was never completed. In all rather disappointing.

works well; smells great

I have had a recent allergic reaction to my current deodorant and being a lover of Clarins products, I decided to gave this one a go. LOVE. It smells amazing and works really well. my underarms have not been this good for a ages!

Beautiful scent...just stepped out of the shower

Purchased this post partum as my usual deodorant was not holding up in the midst of summer. Smells lovely, that powdery soapy shower smell. Gentle on skin and kept body odour at bay. Did require re application on some occasions. I would recommend as a gift for new mums, as this is a high end deodorant and not something everyone would purchase for themselves.

Great deodorant

I have very sensitive skin and bought this to get rid of body odour. This deodorant gets rid of BO smell like no other deodorant. This does exactly what it says and I would definitely recommend trying it.

nice

really liked this deodorant, I don't need a heavy deodorant because I don't sweat that much so for me this works fine! It keeps me fresh all day long and I like the scent that's like a soft floral. This deodorant has a big rollerball wich makes it easy to apply and it does not leave white marks on my clothes wich is also a big plus! I have eczema sensitive skin and this did not irritate my skin at all. I would buy this again, maybe on sale because I do find it a little expensive for a deodorant but other than that it's a great one!

Pretty good

Doesnt feel sticky and lasts all day. Also is really gentle which is good, as some deodorants sting my underarms!

Good

This is a very good deo. Feels light and fresh when I use it and lasts all day long.

Its alright

The product dries quickly and doesn't feel sticky
But, The smell is so nice and unless you use it before gym I find it works quite well in keeping your smell pleasant

Wonderful product

I buy this repeatedly, it's the best there is, works unbelievably, no irritation, great smell. Highly recommend.

excellent

wonderful deodorant, smells fresh and lasts all day!

This works very well

Great deodorant, it goes on really fresh and keeps its scent all day. You don't need to re-apply and the scent doesn't change throughout the course of the day like some other deodorants I've used. Even though it's a bit expensive it's worth the cost.