Spurred forward by the high spirits of the Industrial Revolution, the Carrière brothers put together two lifetime's worth of wax craftsmanship and decided to make something truly brilliant. In 1884, sharing a passion for candle craft and a talent for invention, the two brothers were inspired to create scented candles that captured the simple essence of beautiful botanical plants.
Following from the same lineage of candle-making excellence as Cire Trudon, Carrière Frères modernised the candle as we now know it today. Not just a simple source of light in the evenings, Carrière Frères reimagined the candle as a source of warm light and fragrant contentment. Designed to use in the evening to bring the comfort of fresh spring and summertime botanicals.
Awarded a gold medal at the 1889 Universal Exposition in Paris, a world's fair. This special event was the hundredth anniversary of the storming of Bastille, and boasted over six million visitors. From there, Carrière Frères was inspired to further explore the world of fine scents, creating a unique wax formula that elevates their chosen fragrances, inspired by the botanical exploration of the 18th and 19th centuries. With scents that are as true to freshly picked as is possible, Carrière Frères are still made in the world's capital of perfumery, Grasse.
What are the best-selling candles from Carrière Frères?
I'm looking for something floral and light.
For a room that smells just like a fresh rose, Carrière Frères Damask Rose Candle is the perfect accompaniment to a cozy evening in.


I'm looking for something woody and comforting.
A nostalgic smell associated with carpentry, Carrière Frères Cedar Candle is a calming scent. This crisp, fresh cedarwood smell is delightfully inviting, and well suited to add a sense of refinement to studies and living rooms.


I'm looking for something vibrant and fruity.
For something a little bit different, try the best-selling Carrière Frères Tomato Candle. This candle smells exactly like freshly picked tomato, warm from the sun. With an unmistakably fresh greenness, this candle is well at home in a kitchen or living room.


I'm looking for something herbal and soothing.
With a mind-clearing effect, Carrière Frères Spearmint Candle is refreshing and reminiscent of tea.
Showing 13 products of 13.
---
Recent reviews on Carrière Frères products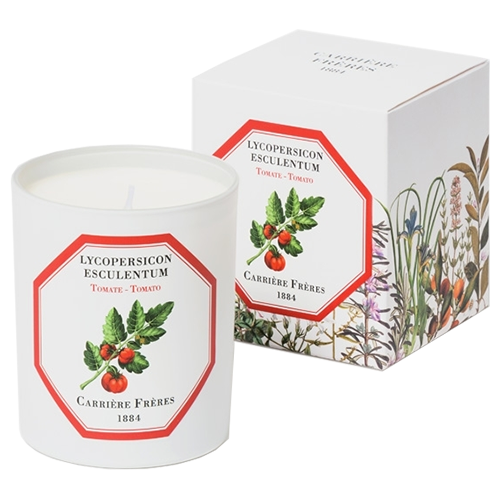 Carrière Frères
Carrière Frères Tomato Candle 185g
$65.00
Smells amazing!
The first impression of this candle was very interesting, it's a smell that's super unique just like its name being tomato, but the smell is very strong!! You can smell it in your room without even lighting it. But I do recommend this as it's so well packaged and smells very interesting!