Burt's Bees Lemon Butter Cuticle Creme 17g
Questions & Answers
(No Questions Yet)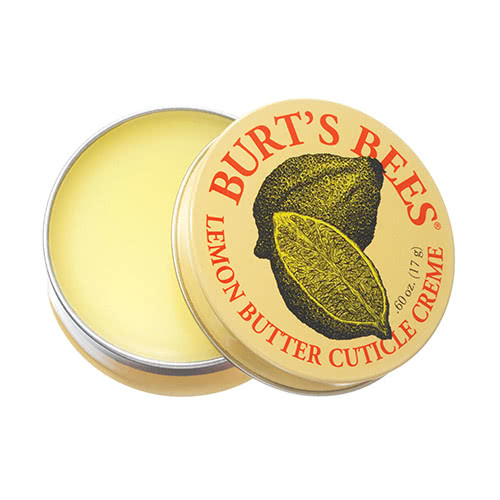 Burt's Bees Lemon Butter Cuticle Creme
Get an expert to answer your question about this product!
Ask a Question
91% recommend this product
Most Helpful Positive
Very moisturising
great for dry cracked fingers! i keep it with me everywhere i go!
Most Helpful Criticism
Oily balm
This is a really oily balm which gets on everything! It is so very nourishing and moisturising but I cannot use this during the day or whilst writing or typing.
healed my cuticles

I use this every night before bed and it's a life saver!! I suffer from very dry hands and i find this product helps keep my hands and cuticles both nourished and hydrated! Would recommend to anyone!


Very moisturising

great for dry cracked fingers! i keep it with me everywhere i go!

Use in the PM every night

I like to apply Lemon Butter Cuticle Creme from Burt's Bees after hand cream, before going to be bed every night. It sinks in pretty quickly and I love the scent. Honestly, if you are a little lazy and have a habit of applying lip balm or hand cream before going to bed, adding this to your PM habit is quite easy. So even when you leave your nails bare, they look very presentable. The fact that this Cuticle Creme is inexpensive and comes in a tin, is why I keep coming back to this product.

Oily balm

This is a really oily balm which gets on everything! It is so very nourishing and moisturising but I cannot use this during the day or whilst writing or typing.

My fav cuticle cream

Does what it's meant to do! Give it a try.

Winner

The tin for this is adorable and the lemon scent is so refreshing. The cream is rich but absorbs quickly, i can see how it would have great results with consistent use

Nourishing

The smell of this sells me alone! It smells like lemon curd, and doesn't have a fake smell to it at all. I get horrible dry, flakey and peeling cuticles, and this is really nourishing and prevents all the horrible things that hate I about my cuticles from happening! My only con would be, that I wish it was in a better, more convenient container

New favourite!

I absolutely love this cuticle cream. The lemon scent is perfect, not too overpowering & it soaks right away into my nail bed without leaving any oily residue on my fingers for ages. The price point is great too in comparison to similar products and the size you get in comparison. Love the tin!

Love the smell!

Love the texture of this cuticle cream. Love using this on my cuticles regularly. I usually put them on before bed to hydrate my cuticles for the next day. The smell is amazing. Could be a bit overpowering for some people, but I find it quite soothing.

BURT'S BEES LEMON BUTTER CUTICLE CREME

My cuticle skin looks very healthy and it gets all healed.

Citrus bliss

This product is so lovely, it does what it says and keeps your nails/fingers feeling hydrated. The smell is soooo nice as well.

Love and hate

I'm in doubt about this product. I love the smell and is really practical to carry around but I didn't feel much effect as expected. I love this brand but this product in particular not so much

I Like It

It's a good cuticle cream and does what it says. It has a beautiful and fresh fruity citrus smell and sometimes I just sit and sniff it. It nourishes the cuticles and is really nice but makes my fingers slippery, which makes the tin hard to open up again if I want to apply more. I think if it had a twist cap instead of a push/pull metal cap I would appreciate it a lot more!

Great results!

This cuticle creme is actually very effective. I had dry hands and very neglected nails. This product transforms your hands - leaving nail beds nourished and able to be pushed back with ease. Recommended highly!!

Beautiful smelling nice and natural product

I love the smell of lemon and this product is a nicely packaged treat that does what it's meant to. It's a nice one to have on your desk at work as cuticles are often neglected and this packaging is nice and portable. Lasts for ages!

LOVE!

A super nice cream that keeps my nails healthy and shiny! Nice smell too

Lovely cuticle balm

I really love this cuticle balm. It has a lovely lemon scent and it really does help to nourish my cuticles and help to repair them. Would definitely recommend

Best

I love this product, can see an instant difference to nails, they look instantly shiny and healthy and continuous use leaves your nails looking so hydrated and healthy. I'd definitely recommend. Has a great lemon smell as well.

Incredible and actually helps!

Pros: (basically everything)
- THE SMELL IS DIVINE (I even tried licking it once out of curiosity but spoiler alert it doesn't taste how it smells :'( )
- This stuff moisturises your cuticles so well and I even kept track of my nail growth/health for a few months and using it every 1-2 days really strengthened my nails and my cuticles peeled a lot less
- It absorbs quite quickly and is not overly sticky which is really helpful

Cons:
- The one thing I criticise is the packaging. It's veryyy difficult to open especially with long nails (quite ironic if you're using this to try to grow your nails out). I often have to resort to using my teeth however I don't think its big enough of a con to deduct a star so imagine my rating to actually be like 4.75/5.

Cures dryness

Hydrating balm that smells good but leaves greasy residue

A little tin of luxe

I am constantly washing my hands (#mumlife) so my skin is rough and dry, and my nails are becoming fragile. This cream has a lovely fresh scent and feels luxurious to apply. It left my cuticles and nails feeling nourished and hyrdated and looking shiny and healthy. Packaging is cute and very portable. I would definitely repurchase!

smells beautiful!

as much as I love organic, natural, yummy smelling creams, I cannot use this one, as you are unable to you your hands for a looonnnggg time afterwards as they are was too greasy to be of any use. maybe only before bed?

Effective cuticle treatment

I have very dry skin and a wide nail bed that causes dry and flaky cuticles. If i remember to use this product regular then i find a big improvement on the look of my cuticles. A pretty little tin and a sweet smelling product.

smells so nice

I love anything lemon and this smells so good, applies so easily and is calming to apply on the cuticles.

Really helps

I take this everywhere with me, it has fixed mu cuticles which used to be so dry and cracked. It also smells amazing and the product lasts a very long time!

Holy grail cuticle cream

The Burt's Bees Lemon Butter Cuticle Creme is my holy grail cuticle product! Haven't found anything that has impressed me more than this product. The cuticle "creme" is more like a balm with a refreshing lemon scent. The product is housed in an easy to use tub which can easily be taken with you in your handbag. The cuticle creme left my cuticles instantly soft and moisturised- and the effects were surprisingly long lasting too. In addition, it also helped strengthen my nails. Great for preventing those dreaded hangnails!

Melts like Butter

This product is one of the best in the market. I've tried similar product from Lush and this one definitely worth the money. It melts away into your cuticles quickly and smells wonderful.

Holy grail cuticle balm

Best cuticle balm ever! It smells like lemon pie and works wonders for my dry and cracked cuticles. I have been using this since I was a kid and I still love it. Can also use it on your lips if you don't have any lip balm handy.

Lovely product.

Got this today and immediately rubbed it into my nails. Such a gorgeous consistency, colour, scent. It looks like you can eat it, and it has softened my skin already. Only notes (not really cons) are that it's probably best to use it at night because it takes a little while to sink in, and the tin may be hard to open for older/less dexterous hands.

Great product!

This product helps keep my cuticles soft and supple and has such a nice fresh scent! I am constantly washing my hands at work and this product helps to protect and repair from this damage. The packaging is the perfect size for your purse too!

Love the lemon scent

Super buttery and nourishing cuticle cream. You only need a tiny amount each time. I love the lemon scent

Lovely scent

I paint my nails a lot and my cuticles tend to be dry. This product has a lovely scent and is lightly moisturizing

Overwhelming scent

This product definitely softens your cuticles and is great for doing at home manicures however the scent is very overpowering and lingers, not the most pleasant!

Moisturising and smells good!

Feels really smooth on the cuticles, smells goods and keeps it from peeling!

nice!

Such a lovely cream that keeps cuticles nice and healthy

Good

I bought this for my partner because it doesn't look girly and he'd have a soak if it looked like a woman's product, it does the job and he isn't biting at hangnails anymore yuck

Great for dry hands

I have dry cuticles and was excited to try this as nothing else has helped. I love applying this and massaging it into each cuticle. You don't need a lot of product and I've definitely noticed an improvement in my cuticles!

Moisturising

Tricky tin but worth it . Smells amazing and really sorts out your dry cuticles . Great size to keep on you and lasts forever

Cult product

Sooo moisturising and lasts ages! Love this product, I'd recommend to anyone who needs a quick fix

Great product for dry skin!

I purchased this product as my cuticles were getting drier over this winter. I would massage the product into each nail and cuticle each day and I noticed a difference in my skin within a day or two. You also don't need much so the tub lasts a long time. Will re-purchase!

Impressed

Great product, it can be a bit tricky to spread in big areas but great for moisturising cracked skin.

So soft

My hands are always dry and the cuticles often start to crack and become sore. This stuff is a lifesaver - hydrates, moisturizes and repairs the cuticles. I usually put it on overnight and my skin is noticeably smoother in the morning.

its works and smells great

l really love anything that smells of lemon so this is really lovely. it's kinda gritty, which threw me off. it does work really well. I prefer to use it a night time but I don't know of any cuticle creams or balms that are really suitable for when you need to use your hands.

Winter hands

I have to use this during winter. It helps my dry skin snd cuticles get some life back.

Nice Cuticle Cream

I don't often bother to put cuticle cream on, but man when my hands get dry this stuff is a life saver! It just adds all the moisture back in that was missing. Love it.

Cult product for a reason!

Love love love this! Repairs, heals and softens cuticles super fast. The scent is subtle and pleasant, like lemon candy. I use it on my heels and feet too they're dry and it does wonders. Highly recommend it. You won't regret it. I carry is everywhere and its a saviour in winter.

Beautiful scent!

I love this cream! At first, the texture was unusual, but then again I have never used a cuticle cream before. The scent is absolutely beautiful, and it does a great job of smoothing my cuticles and strengthening my nails and the surrounding skin.

A simple effective solution, solid ingredients and affordable price

Burt's Bees when it comes to products reliant on the Beeswax of their namesake are superb.

My nails are quite decent considering I am a habitual chewer, unfortunately the cuticles are shocking because I am often picking at them, pulling them and in fits of intense anxiety biting them roughly with my incisors.

So this treatment was effective for me because a) it helped my cuticles and b) deterred me from biting my nails. My cuticles were left stronger, softer and smoother. Easier to look after and not as damaged as they were beforehand.

Formula wise, what sets Burt's Bees apart from other brands who market their 'natural origin' is the fact that they focus too much with negative marketing of ingredients not present and solely on the benefits of their staples. Its a refreshing tactic and says a lot about their longevity as a brand. Most of the ingredients here are emollients, the tocopherol its nourishing antioxidant benefit is delightful. The only ingredient that is purely aesthetic is the lemon peel oil, however the scent of the peel oil is so pure and obviously for aesthetic benefit, I am not going to hold it against the product. It does smell divine.

The vegetable oil is a loaded term and could include palm oil, while not damaging to humans there is ethical concerns for those wishing to avoid palm oil. HOWEVER most 'natural' cosmetics producers are aware of the consumer demand for no palm oil and I cannot find any information regarding Burt's Bees vegetable oil supplier (best contact the brand first if you wish to confirm this).

Effective, easy on the wallet and delightful for cuticle strength. Exemplary product.

Smells AMAZING

I love hand and cuticle products, and this is one of the better ones. Product works and smells so good. Highly recommend

Best Cuticle cream

I've tried a few different cuticle oils and creams, but this is by far the best. It's obvious it contains good quality ingredients that are actually doing something. It takes a little bit of work to massage it in but that doesn't bother me because I know it's working. I will reorder when this tin runs out.

Lovely balm, a real treat for my hands!

I adore this balm! The lemon smell is not too strong at all and disappears once dry. The balm is quickly absorbed and leaves my cuticles soft and rehydrated. Its become one of my must have items, it works so well.

My fingers are happy

I love this product. I have dry hands, and noticed a huge difference after using this only once. The fragrance is lovely - it's very calming to slowly rub the creme in at the end of a long day.

Blank

As a nurse, I have to wash my hands countless times throughout the day, leaving my hands dry. This cuticle cream has been a little wonder for my cuticles. Best cream I have used for my cuticles.

If you get your nails done regularly at a salon this clever balm is heaven for dried out, damaged cuticles. It feels like a soothing cuticle oil but soon dries leaving soft and nurtured skin. I trialled the product in the Burt's Bees essential body kit, but I'd buy this again.

Love the cute tin and the product smells delicious. A thick, non-oily paste or balm. It works really nicely but cannot vouch improvements over the long term as I have not used mine for long enough. Does soften the cuticles though.

LOVE THIS!!!! Smells delightful! And really moisturising for nails! Big Fan! (the packaging is really cute too!)

A very nice product in a very cute little tin! This is really moisturizing and my cuticles feel softer then ever with regular use.

Lovely fresh lemon smell. My cuticles are in heaven.

Very gentle, effective and beautiful smelling cuticle creme - softens and protects the cuticle and nails and conditions the skin on your fingers. A worthy purchase!