Benefit GoGo Tint Cheek and Lip Stain 10ml
Frequently bought with
Please wait while we find a match
Questions & Answers
(No Questions Yet)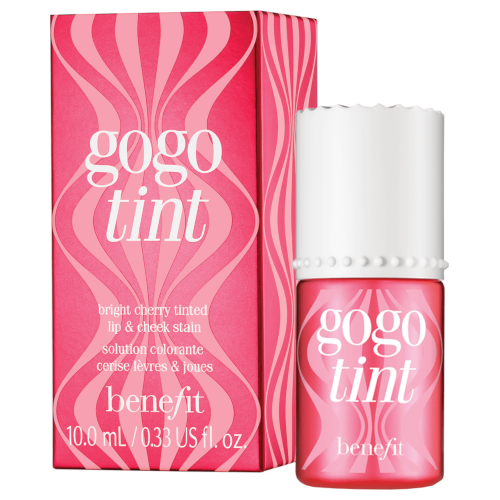 Benefit GoGo Tint Cheek and Lip Stain
Get an expert to answer your question about this product!
Ask a Question
92% recommend this product
Most Helpful Positive
Great
Much more pigmented than posietint. Lasts ages.
Most Helpful Criticism
Lovely tint colour but packaging leaks and can get quite messy.
This is honestly one of the nicest lip tints to this date, such a nice coral red pop. Really makes your eyes stand out. It. An expensive price point, so if your a big fan of lip tints then you'll love this shade. On the downside, in regards to the packaging : I have found even though it's tightly closed, it still has a tendency to leak, and it does get quite messy. It's shame as this tint is amazing.
Great

Much more pigmented than posietint. Lasts ages.

Nice On

Such a gorgeous tint, great for travel for lips and cheeks - gives a gorgeous flush glow.

Great tint

Lovely colour payoff, long wearing tint, consistency is better than the original benetint (which is too watery). The packaging is cute but not functional, it is quite large and contains lots of product but hard to carry around. The applicator could be improved. Adds a nice flush to my lips and cheeks!

Staple!

This is such a great staple to have in your makeup kit, especially if you like a natural look. It's also buildable so you can achieve a stronger tint if you need.

Better for Lips than Cheeks

I love the result of this on my lips for a more subtle look than lipstick, however I did not get a very good result on my cheeks. May have been my application technique? But I couldn't achieve the desired look.

Little goes a long way

This is highly pigmented and you only need a tiny bit for a cheek flush as opposed to posie tiny where you need lots and lots. When used on the lips it's a bit of a candy, child like colour so maybe benetint is better for something more sophisticated

Really works!

I love this! It leaves a subtle cherry tine that I find to be quite buildable if you want it. It also works great as a blush but can find it does sometime seperate my foundation, so generally need a good power in place.

Another gorgeous lip tint from Benefit

I tried the Benetint, then the Posietint so naturally I went for this one. It's very very pigmented. I adore it but I think it's probably a bit too dramatic for my pale skin - unless I'm wearing it out with my beau!

It's a lovely colour and I love how small the little bottles are so they can fit in my bag for touch ups- yes, I'm a serial face toucher. I know this is bad! This won't disappoint!

Lip tint really does work

Really tints your lips and doesn't come off throughout the day!

Just right

Perfect, great colour that.looks just right on

Lip Tint

This really does work, leaves your lips with a bright cherry stain tint! stays on all day!

nice color but messy

the color is nice and would be great for both light and dark skin color types. however, i found it to be messy. it has a bottle of a nail polish and is very flowy. also one has to be very careful not to apply too much which is very difficult to avoid due to the bottle it comes in.

Lovely tint colour but packaging leaks and can get quite messy.

This is honestly one of the nicest lip tints to this date, such a nice coral red pop. Really makes your eyes stand out. It. An expensive price point, so if your a big fan of lip tints then you'll love this shade. On the downside, in regards to the packaging : I have found even though it's tightly closed, it still has a tendency to leak, and it does get quite messy. It's shame as this tint is amazing.

Pretty but runny

You have to blend it really fast with your fingers or it can make your foundation go patchy, works better with light coverage

Work with it quickly and you'll get the best results!

I have medium/olive skin tone and use this colour and it looks gorgeous. I like the look of 'sun-kissed' skin, so that's why I use this product.

Work with a little dab of product between your middle fingers, dabbing quickly on the buds of cheeks and bringing up to the cheek bone. I love the 'drunk blush' look, so I also use the excess on part of my nose and also on the brow bone, for an overall feminine look.

So much better than powder blush, just don't spill it!

Cute for lips not for cheeks

This is super pretty as a stain for lips especially if you like a less in tense look or are younger but its impossibly hard to blend out on cheeks over dryer foundations.

Most pigmented of Benefits Stains

I love this cherry watermelon colour. It is the most pigmented of all Benefits stains that it looks like a liquid lipstick almost. Its long wearing formula is perfect for long days working when you know you wont have time to touch up. When its coming off it just fades evenly. Really low maintenance.

Touch of colour

This is a great touch of colour for my lips. Looks sheer and is very light. Perfect for warmer days.

Sunkissed

Beautiful sheer colour, i use this also for a light lip stain in the summer time, provides a needed splash of colour making me look perfectly sun kissed

Nice

Highly pigmented, blends and applies easily, creamy beutiful colour. Gives a bright natural flush. Only a small amount needed for fair skin like mine. Goes well with cherry punchpop.

Love the colour

I've been a long time fan of the original Benetint and was super excited to try this colour in a sample size tube. The first thing I noticed was that the texture of this tint is thicker than Benetint - which means a little goes a long way. I have super fair skin and find that I literally need one drop to get a good colour. I love that it blends into my make-up nicely and looks good with a dewy look. The colour lasts well throughout the day. I like to use this on my cheeks and my lips.

Love it!!

I have combination skin and love this tint along with all the tints in the benefits range. I find they work so well with my skin and give me a healthy, radiant and buildable flush to my cheeks. Like the other products, this is so versatile and simply stunning. This product does exactly what it says and more, couldn't recommend enough!

Great, versatile property

This is a great stain. I use it sparingly on my lips, but love it for my cheeks. You can get the perfect hue and stays on a lot longer then a powder blush, so great for all day wear at work. Would highly recommend it, and it lasts for ages and ages.

Nice colour

I've tried all of the other Benefit tints and liked them all, only bought this one as I was hoping for a brighter pigment. Goes on really well, you definitely don't need to use much! Really nice on lips too. Needs a touch up during the day, but that's fine

Great colour and on the go tint

Love the colour against my Asian skin and best go to for travel that I now rely on this daily as the colour is Just great for glow , translucency and portability

Beautiful

I've been using this on my cheeks, don't need much at all and find I do not have to use anywhere near as much as what the instructions say. I find it gives a really subtle beautiful glow to my cheeks. It can also be as subtle or bright as you want as it is builable, it lasts all day because it is a tint. I haven't used it on my lips because I got the benefit benetint for a more red bright colour on my lips, but I will try it. So glad I got this.
The jar will last a long time too, because you don't need to use much, so the price may seem like a lot but if it's lasts it's actually good value.

a POP of colour!

I love stains and Benefit's new cheek and lip stain does not disappoint :) It's not too runny (not as runny or watery like the original Benetint) but a little goes a long way. It lasts allll day on the cheeks and lips. To me the colour is a rosy fluorescent pink - the colour you naturally get when you've been running. You can also build the colour up if needed, so it would look beautiful on darker skin tones also. I find the best way to apply it and blend it out is using my fingers (in a patting motion). Pop some product on the back of your hand and then use the tip of your finger to dab it onto the apples of your cheeks. It leaves a very 'youthful glow' and the pop of colour would suit both younger and more mature Beauties! I've never used up a whole Benefit cheek and lip tint before, the full size just lasts you forever and a day....

Bright & Bold

This tint is for those who like their lips bold & bright! I find it goes on evenly, even though the length of the bristles on the brush can make it a little hard to apply perfectly. The colour is perfect for those who like the original Benetint but want something more pigmented. It is long wearing (lasting through food and drink) and doesn't dry out my lips, although I have used a moisturising balm over it during the day