Frequently bought with
Please wait while we find a match
Questions & Answers
(No Questions Yet)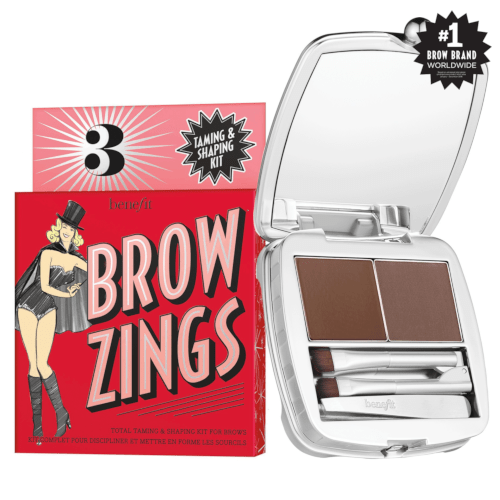 Benefit Brow Zings
Get an expert to answer your question about this product!
Ask a Question
91% recommend this product
Most Helpful Positive
brow zinging
good wax and powder convo, good for a fade out brow I feel
Most Helpful Criticism
Brow zings!!!
love this duo! if you want bold big brows benefit is the way to go!
brow zinging

good wax and powder convo, good for a fade out brow I feel

Benefit know Brows

amazing brow product for full glam use both sides but more of a natural look just use the powder. the gel side on some shades can go a little orange


Brow zings!!!

love this duo! if you want bold big brows benefit is the way to go!

Awesome

this is such a handy set, can do the brows on the go because of the mirror and for i natural look i tend to leave towards just using the powder but you can also do full glam by using both.the only thing id change is the brush, it isn't that great to use

Worth It

I usually use the benefit "precisely, my brow" eye brow pencil, I don't find this quite as easy to use but colour and coverage is great and the product is lasting me a lot longer ending up cheaper which is a bonus!

so far so good

love that it has a mirror inside which makes it easy to carry around or travel with. It's pigmented but not harsh, easy to use and blends nicely. It doesn't become patchy throughout the day. I normally use it by itself or would use it to set my brows and to add pigment. I do find the shape weird but unique at the same time. so far so good.

Simple & Easy.

Love the compact and easy to use kit. The brush it comes with is perfect size for precise application. Great compact for travelling and to throw in your handbag. Product stays on and is super easy to apply. Lasts forever too, i am no where near hitting the pan and I've had it for 6 months now!

My eyebrows have never looked better

My eyebrows have never looked better! This product fills the gaps in my brows so well and the brush that comes with the set is very good quality. The mirror in the packaging means you can get right up close too. Overall, I'm extremely happy with product and packaging.

Such a great concept

This is so easy to use & the colouring is just perfect for me. I love the fact that it comes with a little pair of tweezers. Your eyebrows stay exactly the same after 8 hours of wear even longer. Definitely worth the price

So handy

This is an amazing brow product. It's so good for on the go makeup. I really love how your getting two formulations. I love shaping my brows with the creme, then to set them with the powder. Perfect combination.

Natural finish

This product was a life changer for my brows. Give them a natural and clean look. The wax helps the powder set in place for many hours.

Love it

I have always been a powder person over pencil for my brows and this powder is the best one I have ever used! I got medium for my dark brows and couldn't be happier with my purchase. I also bought my sister one!

perfect brow

makes doing your brows easy and look amazing

Decent

Easy to use and nice results

Goodie

Ok, so I still occasionally hesitate when having to pay $50+ for an eye brow product. However, I heard great things about this and after months of thinking about it I decided to bite the bullet and purchase it. It's a a nice product and meets expectations however I think if I looked harder I can find something comparable for cheaper. I still would recommend this if you have the cash as it's not overly pigmented and lasts throughout the day.

not bad

amazing brow product for full glam use both sides but more of a natural look just use the powder. the gel side on some shades can go a little orange

Amazing Brow!

This product is a brow changer! The wax and powder work great together to leave a full and defined look.

Absolutely love

Absolutely love this product. Keeps brows in place, nice texture, natural looking, easy to work with.


Really great formula!

Love the Brow Zings. Really nice formula and very easy to work with.

good

This product helps me achieve my natural everyday brows easily which I really love! Its pricey yes, but its worth it!! You can use this product if you want to achieve a natural bushy brow

Not for me!

A great product for those starting out with brows but too pastey and powdery for any real brow definition.

So good

I love this. I love that it comes with the tweezers and a brush. My brows stay put all day long

Cant even tell

I cant even tell I have this on it's that natural. Love the look I can get with this and it's so easy!

Easy to use

Great product. Easy to use. Stays put all day/night. Compact for travel and comes with a good quality brush and tweezers. A PLUS!

My favorite eyebrow product!!

I love this product so much. it isn't even noticed as makeup it looks so natural

Not a convert

I'm a pencil or gel girl, but I wanted to try this. I'm not a full convert but it fills well and looks good when set with gel.

cant go without!

this is sooo easy to use and honestly just looks amazing! lasts for hours and makes my brows look amazing!

I'm converted!

I used to be a brow pencil kind of girl but ever since trying this I've been obsessed! I was hesitant because of the high price but it's definitely worth it. I bought the shade 03 Medium which is perfect for me right now as I'm a natural brunette with dyed blonde hair. On an every day basis I mix both the wax and powder together as it's quick and easy! Saves me so much time compared to filling my brows in with a pencil and it looks great. You also get a lot of product in here so I can see this lasting me a long time before having to repurchase.

My number 1 go to for brows

I don't leave the house without using this product anymore. It's great for a quick application to define the shape of my brows which are thin and fine

Love it

I love this brow kit, love the small tweezers that are included to tidy up on the run, and the foldable brush included is great. I've had a few brow kits in my life and this is definitely the best and so worth the little extra money.

Really easy to use brow kit

This brow kit is great for those of us who don't have the time to perfect the brows. Just a bit of the powder on each brow really makes them stand out. It is really easy to use and lasts for ages.

Great

I'm still a beginner when it comes to brows. This is so easy to use and fills my brows well.

Great to shape

This is the perfect eyebrow kit. I defiantly prefer the natural look and have associated groomed eyebrows with the very dark, over the top look these days, so was a bit skeptical buying this product but I'm glad it was recommended to me by a clerk.
Easy to use and great for days when I want to look put-together but am in a rush. I don't usually wear that much make-up during the day, but this is something that I use all the time, and also when I'm going out because you can easily build the colour up.
Pricey, but defiantly worth it. One of my favourite beauty splurges!

Best brow product!

I'm one of those people who is obsessed with their brows so I have tried everything. Nothing beats Benefit! This product helps you to get a nice defined brow that last for ages. I have light brown/blonde balayage hair with a fair to medium complexion and I use the light 02 colour. I wouldn't recommend going any darker for people with similar colouring.



Bold Brows!

I don't do my make-up every day but when I do this product is a must! The wax helps give fullness while keeping my hairs in place while the powder fills in any gaps. I sometimes use this in conjunction with a pencil as well but you really don't need to. It stays on all day and all night.... and even through to the next morning (please don't ask how I know that - not washing your make-up off at night is gross but I'm sure we've all been there)!

Best Brows

I have been using Brow Zings in Deep (6) daily for about 2 years and I love this product! The pomade has a really nice, smooth texture for easy application and the setting powder gives excellent depth. Highly recommend!

Recommended by Michael Finch

My friend Michael recommended this product to me as I was looking for a good brow product and none of the drugstore products was doing it for me. They were either too dark or no pigment at all (waste of money!). This product is worth every cent. It has lasted me just over 12 months and I still have enough left for another couple of months. I use it every day and highly recommend to anyone. Probably not if you have black hair though.