Art Meets Art Besame Mucho Eau De Parfum 50ml 50ml
Official Stockist
FLAMMABLE

This item is flammable therefore postage is restricted to Standard Post within Australia
Fragrance Notes:
Amber
Leather
Sandalwood
Smoke
Spice
Oriental
Frequently bought with
Please wait while we find a match
Questions & Answers
(No Questions Yet)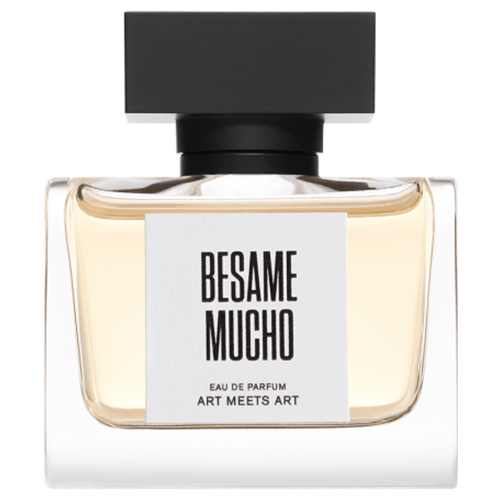 Art Meets Art Besame Mucho Eau De Parfum 50ml
Get an expert to answer your question about this product!
Ask a Question
100% recommend this product
Most Helpful Positive
Love it
Smells really beautiful and girly. Really like it and reach for it all of the time. Stunning!
Love it

Smells really beautiful and girly. Really like it and reach for it all of the time. Stunning!

favourite

this is my favourite from this range, smokey, leathery, clean aldehydes

My new love affair

Beautiful product. Sensual and feminine. Will definitely buy again, great price and beautiful scent.

Love it!

Love this perfume! The packaging is so cute and I love the combo of music and perfume. The scent is lovely - nice and spicy but fresh. It is a bit pricey but would make a nice special gift or treat for yourself.

Great

Nice scent, mix of leather, citrus and vetiver. Unique scent that lasts well on the skin

Favourite

It's my favourite and I always get comments when I'm wearing it. It lasts and you don't need to spray much. Highly recommended.

very interesting fragrance

I found this fragrance to be very interesting, a little spicy and a little warm. I'm still getting use to leather scents, it's a new concept for me and I'm not sure I love it.

Mucho mas!

I love the concept! Such a great idea to mix these two forms of art!... The hits chosen are iconic and speak to everybody. Definitely a gift that will make an impact and will bring lots of kisses!

My favorite

I can't rate this highly enough. This perfume was brought for me as a gift. I have been wearing and will continue to wear this for as long as they make it. It is very distinctive and extremely long lasting.

Will buy again!

Beautiful product. Sensual and feminine. Will definitely buy again!

Something different

I've been searching for a new signature scent for awhile and this brand sounded intriguing so I thought I'd give it a go. I really like the fact that they send a sample vial with the purchase so that you can test it before committing and getting stuck with a fragrance that you don't like. First sniff, not overly convinced that it was for me but decided to let it settle in for a bit. It's very different to what I would normally pick in a fragrance but it's definitely growing on me. I love that it does perceptibly move through the notes as the day progresses and that is very long lasting, unlike a lot of other fragrances that I've used during the years. It's quite an earthy, probably more masculine scent, but perfect if you're a bit over the mass produced floral type generic perfumes. Can't wait to try some of the other scents they have on offer to see how they compare.

My wife loved it!!!

The look, the smell, the luxury feel, the neat finish: she loved everything about it! Plus the name reminds her of one of the favorite song of her father - the perfect Jackpot gift! I highly recommend this new french perfume brand.



Happy to have this product in Australia

My wife loves this perfume and so do I. So happy to buy it directly in Australia. Thank you Adore-beauty for bringing this product down-under. Looks like i have a valentine gift now.

Love the timeless smell of this perfume

I usually put Chanel for winter but fell in love with besame mucho... looking forward to having it back in stock!

Masculine scent with notes of sandalwood and leather

A very rich spicy scent with notes of leather and sandalwood. This has a very strong scent so may be overpowering for some. I would definitely call this a masculine scent even though it is billed as a unisex fragrance. Not bad but not my favourite either.