Alpha-H Balancing Cleanser 185ml 185ml
4 instalments of $9.34
Or 4 instalments of $9.34 with
LEARN MORE
4 instalments of $9.34
Or 4 instalments of $9.34 with
LEARN MORE
Official Stockist
Is this for you?
A non-greasy, gently fragrant glossy lotion, Alpha-H Balancing Cleanser gently cleanses without drying or irritating the skin.
Frequently bought with
Please wait while we find a match
Questions & Answers
(2 Questions)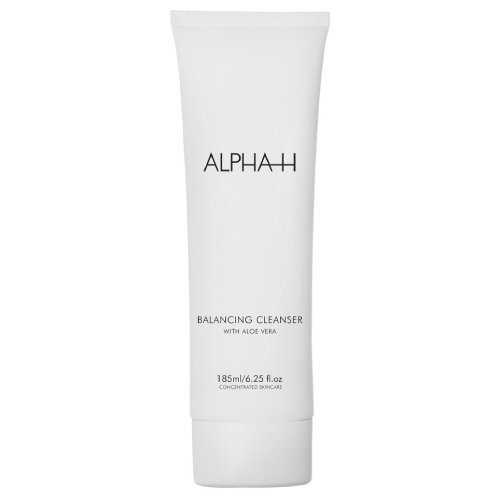 Alpha-H Balancing Cleanser 185ml
Get an expert to answer your question about this product!
Alpha-H Balancing Cleanser 185ml Reviews
87% recommend this product
Most Helpful Positive
Pretty good
Happy with how well this works. Cleans my skin without stripping it and helps with impurities. Love it!
Most Helpful Criticism
Chose triple Action over balancing
This cleanser is average. I have normal to dry skin and whilst this cleanser is not drying on the skin, it isn't the best at removing makeup and washing the day off with ease. Definitely prefer Alpha H triple Action cleanser over this one and will switch back to it!
Pretty good

Happy with how well this works. Cleans my skin without stripping it and helps with impurities. Love it!

just okay

i have dry sensitive skin and this cleanser didn't dehydrate or irritate my skin. But I think I can similar products at a lower price point.

Nice and gentle

Really nice and gentle cleanser. I have fairly sensitive skin and this didn't cause any irritation and was super balancing. Winner for me!

Lovely creamy cleanser

I have never used a creamy cleanser like this before having acne prone skin. I was suffering a lot of dryness and I found this cleanser was very hydrating, maybe cause it doesn't strip the skin. After a while my skin has gone back to being oily/acne so I feel for my skin this is best used at night in combo with a foam/gel cleanser in the morning.

My favourite cleanser hands down

I'm in my 40s with combo/oily skin (occasional hormonal acne) and have been using this cleanser for many years. Always a devout foaming cleanser user, I tried this and have never gone back! So light and creamy, does well cleansing in the AM and PM. I apply a 10c piece size amount to damp skin, massaging and leaving for a minute before rinsing. Leaves my skin feeling clean and comfortable, never dr...

Read More

Gentle cleanser - great for dry, sensitive skin.

Alpha H is the only skincare range I have been able to use without having a red allergic reaction. I have highly sensitive skin and am allergic to most make-up and skin products. I love the Balancing Cleanser because it is so gentle on my skin and leaves my skin smooth but not irritated. Great for sensitive, dry skin!

Decent

Decent cleanser, although I will always prefer the Skinstitut one. Also the packaging isnt my favourite, again I prefer the Skinstitut gentle cleanser

Gentle face cleanser

I used to buy foam face cleanser. When I first started using this, I found that it was not very well adapted to foam, but later it was found that this cleansing milk was gentle and could wash my face, and I love Alpha H very much.

Lovely and gentle

I had heard lots of good things from my local beauty & skin therapists about Alpha -H products and thought the best way to ease into the range was with this gentle cleanser. Not only does is do its job of cleansing, it leaves my skin feeling so soft. The fragrance is soothing also.

In love!

Absolutely love this cleanser. I have normal but sensitive skin and this cleanser has been so great. I bought a travel size first to try and bought a new one before the travel size was gone. Gentle, removes make up and dirt and leaves my skin feeling smooth and fresh ready for the rest of my routine.

Soothing cleanser

I was originally given a sample of this cleanser and I love it. I just wet my face and eye make-up, and then gently rub the cleanser over my face and neck. I then wet some cotton pads and remove my make-up easily with no stings or irritation.At night I do a double clean. I love how clean and soft my face feels and I recommend this for sensitive skins, and even mature skins like mine.

Best Cleanser Ever!

Love love love this cleanser I am on my 6th tub of it! Best value for money as well. I have PCOS and my skin is slightly temperamental but this literally soothes breakouts and makes my skin so smooth, double cleansing with it at night is a must. I highly recommend this cleanser to dry, normal and combination skin!

Light creamy texture

A lovely cleanser that I use on those days where I don't have to remove makeup or when my skin is irritated. A slight tingle on initial application, leaves my skin clean and fresh without being too striped as I have sensitive acne prone skin.

A little goes a long way

I received a sample free gift of this cleanser, and all I can say is wow. It worked wonders for my skin. It isn't too effective at taking off makeup but works really well if you double cleanse. It is well priced too. Can't wait to purchase.

Nothing special

It removes my light make up and is relatively hydrating, but it's expensive for what it is. I've bought more effective products for far less at the supermarket. I wanted to love it but it's just a very average cleanser.

Great cleanser, expensive

Alpha-H has amazing products. The cleanser is no different, but like all other Alpha-H products it's also quite pricey for what it is. Makes your skin feel great, but my skin isn't sensitive so it can handle anything and I'm sure I could find a cheaper alternative.

Amazing for dry skin

This product is so good for those that feel stripped after cleansing as it completely eliminates that feeling. Super creamy and hydrating whilst being gentle on your skin. Perfect on its own when you are wearing little to no makeup but I would recommend double cleansing if you are a heavy makeup wearer.

Chose triple Action over balancing

This cleanser is average. I have normal to dry skin and whilst this cleanser is not drying on the skin, it isn't the best at removing makeup and washing the day off with ease. Definitely prefer Alpha H triple Action cleanser over this one and will switch back to it!

My favourite cleanser

Love this hydrating, gentle cleanser. Great value for money, it seems to last forever. Great for rosacea.

feels so clean!

This cleanser is so gentle but also makes you feel so fresh and clean after cleansing. Not tight or dry feeling afterwards. Probably more suited to sensitive/not acne prone skin but also a great addition to any routine that needs a gentle cleanse every now and then.

Best bang for you buck

I was a bit shocked when I saw it, it is just big! The packaging looks absolutely good, but yeah I am a minimalist myself. I've used this one for a while and Iove it! It is a pleasant new find!

Moisturising

I have dry skin with a few fine lines popping up. This cleanser made my skin feel soft and refreshed, with no tightness afterward. I liked that it didn't leave a weird filmy feeling after washing off. No real scent and a little goes a long way.

An everyday essential!

I have bought this twice and absolutely love it! Cannot fault it all. I love the milky texture and the way that it cleans my face. It leaves my skin feeling clean and soft. I use this twice a day, morning and night. Highly recommend and will definitely repurchase.

Nothing Special

I did not mind this face wash, however for the price I would not repurchase. You can get nearly an identical wash at priceline for $15 for 250ml and it works exactly the same. I did find that it was gentle and non-drying and my skin did not have an adverse reactions to it.

Greatest cleanser for dry skin!!!

Okay, I cannot explain how amazing this cleanser is. After being on oratane for over 2 years, this is literally the only cleanser that works for my skin. It doesn't leave me feeling dry, but rather makes my skin feel so clean and hydrated; a combo which is really had to find in cleansers. Cannot recommend enough, the alpha h entire line is fantastic

Good but nothing amazing.

This is a nice basic cleanser, but it won't knock your socks off. Smells fine, doesn't leave your skin dry or oily and it's a decent size so it lasts a while. Probably won't repurchase for the price point.

Leaves your face so soft!

This product has no over powering fragrance, which is brilliant. A little also goes a long way and after use, your face feels super soft and not dried out like so many other cleansers - this is the only cleanser I buy now, I think I'm on my third or fourth!

Nice

Nice cleanser, doesn't sting my eyes, does a good job for combo skin

Skin is left feeling cleansed!

I use this as my every day cleanser a little goes a long way. Soaks into the skin well removing make up etc and leaves skin feeling tight, firm and 100% cleansed. Having sensitive skin I have not had any irritation, just nice smooth results.

Everyday cleaner

The perfect everyday cleanser to add into your routine! I use this morning and night.

The perfect winter cleanser

I know a lot of people say 'but I can't even feel this working' but that's not what cleansers are for! They are for balancing the skin, they shouldn't leave your skin feeling dry or be abrasive. This cleanser is exactly that. It cleans my skin in such a soft way, it's perfect for winter when you're dryer and more sensitive, or I use it in the morning after the gym just to wash off sweat cause I do...

Read More

Great gentle cleanser!

I'm on my second bottle of the 500ml version - it's a great cleanser for anyone with normal to dry skin. It is creamy and very moisturising! My face never feels tight or stripped of moisture after using it. It is pretty effective at removing makeup - but I would recommend a double cleanse if you wear heavy makeup/SPF. It's my second step in my night routine and I love it and will repurchase! Great...

Read More

Great for dry skin

This is the only and best cleanser for dry skin. It is great for removing makeup. BEST for dry skin like mine. I love it

Great morning / second cleanse

For ref: 47 y.o, dry skin. This is a brilliant morning cleanser or second cleanse. Gentle, nourishing, lovely. I don't think it would be much good at getting makeup off, but don't think it's designed for this. I've moved to a cheaper cleanser. However, I think I'll go back to this. It's actually pretty good value in the large size.

Gentle and effective

Purchased after reading a beauty review about the product. I suffer from moderate hormonal acne and I am working on re-building my damaged skin barrier. I was looking for a gentle cleanser that I am able to use daily and I came across this one! I've been using it for approx 2 weeks with my Foreo cleansing device to get a deep clean and have been happy with how my skin is feeling. Only negative for...

Read More

Lovely & Gentle

I've been using this cleanser for a week or so now, and It feels more like a moisturizer than something to clean the dirt off your face. Which is something I'm not used too. But I find all Alpha H products amazing at what they do, this product cleans and doesn't dehydrate. I am enjoying it so far.
I pair this with the super scrub every other day to keep my skin clear and glowy

Lovely basic cleanser

I have been using this cleanser on and off for a few years now, it's something I always come back to. It's very gentle and calming yet effective at removing makeup.

Lovely basic cleanser

I have used this cleanser on and off for a few years now. It's something I always come back to as it's calming and gentle yet effective at removing makeup.

Leaves my face feeling soft

This is a very smooth and soft cleanser. Make my skin feel nice but I haven't noticed any crazy changes from using it but definitely nice to use. Good price too, I would buy again.

average

this is okay, didn't do anything negative to my skin. It is pretty average and probably not worth the money for a basic cleanser.

Good cleanser!

I use this most nights and think it doesn't a good job at getting out dirt and old makeup residue!

Gentle cleanser

I've been using this cleanser for 3 weeks and I'm very happy with it. I have rosacea and sensitive skin and this did not aggravate my skin conditions.

I watched a youtube video that recommended washing your face for at least 1 minute to encourage blood flow etc and since I increased the time I wash my face with this cleanser, I have noticed that my skin is softer (could be coincidenc...

Read More

Perfect!

The best cleanser ive ever used (after trying almost hundreds!)
My skin is super sensitive & dry, with rosacea and this doesn't leave my skin feeling stripped. Best of all it doesn't contain any nasty ingredients so my face doesn't sting after cleansing anymore! It's super creamy, gentle enough that it doesn't burn or sting your eyes, and your skin feels clean but hydrated and smooth after...

Read More

Wonderful cleanser

This is a lovely, gentle cleanser that seriously does the job. Remove all oils and dirt from the face, but doesn't strip the skin of natural oils. I find foaming cleansers are too stripping so this milky cleanser is perfect. Leaves the skin super clean but supple and smooth. Has a lovely scent too.

Love this!

I loveeee this cleanser, I use it everyday, it makes my skin feel amazing and seems to keep it nice and clear, I will be ordering the same again just before it runs out. Highly recommend this one. Love alpha H products!

Lovely cleanser

I find this cleanser to be really lovely on the skin while doing a great job of cleansing the day away. I find it to be hydrating rather than drying and it doesn't irritate my sensitive skin.

Wonderful for my mature skin

The texture of this cleanser is beautiful on my mature skin. Gives my face a thorough clean.

My go to cleanser!

This cleanser is creamy and claming for my sensitive skin. I love the result it gives and is not harsh on my skin at all. My got to cleanser that wins everytime!

Dream cleanser

Honestly the best cleanser I've ever bought. It's super gentle on the skin, super hydrating and yet actually leaves the skin feeling soft and clean. Couldn't recommend more, definitely my new favourite!

Hydrating and gentle

I love Alpha-H products, and recently purchased this cleanser. I have sensitive skin and eyes and often find many cleansers irritate my eyes and leave them red and sore. This cleanser is super gentle and does not irritate my eyes or skin. My skin feels super hydrated after cleansing, not tight and parched like some do. I use this as the second step in my double cleanse (following an oil cleanser)....

Read More

Amazing Cream Cleanser

This is an AMAZING cleanser! It cleanses gently but very well when my skin is feeling oily and grimy. When it's sensitive and sore, it leaves my skin feeling soothed and comfortable. That's pretty bloody amazing in my books! It's a very light cream cleanser that doesn't leave a thick film on skin. It's simple yet does the work of 100 other cleansers just as well, if not better. Worth every penny.

Worst experience

I love Alpha H products and have never had an issue with them. I also have very durable skin that thrives on chemical exfoliants and is in no way sensitive. For the first time in my life, my skin has reacted negatively to a product. I used this at night before I went to bed to wash off the grime of the day. When I woke up the next day, my face was COVERED in red small pimples. There was not even a...

Read More

oily

this product made me breakout and was very oily

So gentle - sensitive skin start here

This product is a lifesaver and super calming on the skin. During seasonal changes I get dry patches around my chin & lips and the creamy texture of this cleanser + the aloe vera really help to combat this.


best in the biz

This cleanser was my first non-drug store facewash and it changed my life as a teenager with oily/acne prone skin. It's so gentle but so effective. Removes makeup really well, leaves my skin feeling so soft and fresh.

Super Gentle

I have really liked this cleanser. It is super gentle and doesnt leave any residue. The only downfall is it doesnt remove heavy eye make up.

Great everyday cleanser

So gentle on my acne prone skin leaves it smoothe and soft. Great for everyday use

Love this cleanser

I have combination skin and love this cleanser. I use it as a morning cleanser sometimes but most often as my second cleanse of an evening after a balm or oil to remove makeup. Leaves skin feeling fresh and soft without any residue or tightness. A little goes a long way and it goes on really lovely.

Gentlest Cleanser Ever

With combination skin that is very sensitive I have tried a lot of cleansers over the years. My skin is very dry but still prone to breakouts so I'm always on the search for a good cleanser. I have been using ASAP's Gentle Cleansing Gel which I love, but found the Alpha-H Balancing Cleanser almost like a lotion! It's creaming and smooth. And when I used it on my eyes to remove eye makeup it was ...

Read More

Gentle and hydrating

Perfect, no fuss cleanser that leaves skin feeling soft, clean and not stripped of moisture. A blank canvas ready for serums and creams. I have sensitive skin and eyes, and this doesn't irritate either. Will repurchase again.

Did nothing for me

Unfortunately, this did nothing for me. I have dry skin, in my mid 20s, which still gets the annoying pimple. This didn't work as well as other cleansers I have used.

Super Gentle

Love this cleanser and the amount of product you get! This will last me a while. Really gentle, doesn't leave my skin feeling too squeaky clean, removes makeup and works well in a double cleanse. Love it.

Light and gentle

Gorgeous cleanser that Is gentle enough to use to remove eye make up! Great for people who don't like that tightening feeling after cleansing. Leaves skin really soft!

My new fave cleanser

I love this cleanser so much. It is calming and soothing whilst delivering a really great clean. I have combination skin and rosacea, and this has helped so much

Lovely cream cleanser!

Great price for a lovely cream cleanser that works well as a second cleanser after makeup has been removed. Leaves skin soft and subtle and is not drying. I have had hardly any break outs since using this cleanser with Alpha H liquid gold and PCA ReBalance. Perfect trio for my acne prone, combination skin.

Loved it at first, but then...

When I first purchased this product I loved it. Nice and creamy and left my skin feeling what I thought was clean and smooth. Then I bought a toner to use afterwards and realised how much dirt was still on my face. If you are going to buy this product i would 100% recommend using a face washer or a something similar to remove to ensure your skin really IS clean!

Gentle on the skin!

During seasonal changes I get dry patches around my chin & lips and the creamy texture of this cleanser plus the aloevera really help to combat this. This product is amazing and super calming on the skin.

amazing

love this, doesn't strip your skin

Gentle

I recieved a sample in one of my orders and decided to use it when i ran out of my regular cleanser. Its is very gentle and cleansers well however i like something with a bit more power. Overall its a good cleanser for sensitive skin types and for someone who just wants to have a clean refreshed face .

Yep!!!

I bought the 500ml bottle of this and the triple action cleanser and love them.
I typically have dehydrated skin and love foaming cleansers so at first i was hesitant bcoz its not foaming.. but then maybe thats my problem foaming deyhdrates my skin.
I use 1 in the morning and 1 at night in the shower to cleanse makeup and love them!
If i have heavy eye makeup on i do an eye mak...

Read More

Fresh and clean

The cleanser makes my skin feel smooth and clean after use. You only need a little amount and it lasts a long time before you run out. Great product.

Not a fan

I brought this cleanser in the hope it would help to remove my makeup and be a great addition to my night time cleansing regime. Unfortunately it takes me 3 cleansers to remove my makeup and after using it my skin still does not feel clean. I definitely won't be buying again.

Nice gentle cleanser, probably best as a pre-cleanse.

I purchased this as more of a pre-cleanse or to use on days after I'd exfoliated. It's gentle, has a mild scent and you do get a decent tube of it. I'd say it's probably not the best as a general cleanser replacement UNLESS you have good skin already/quite sensitive.

Average cleanser

Average cleanser, not worth the price. Not as good as I'd expected from Alpha H

Love this cream cleanser

I had never used cream cleansers properly before this one. I really love using this as a double cleanser. This product is amazing for sensitive skin and is so hydrating and cleansing at the same time. I loved it so much that in anticipation for running out I bought the bigger size but somehow haven't run out yet

Not for me

I recieved a sample with my order so I tried it a few times.It's got a tiny tip so that you don't waste too much product unnecessarily.This is a gel cleanser so definitely not for me.I'm so used to foaming cleansers so when I use gel cleansers I don't feel that my face is cleansed enough.Also I don't want to bother using cotton pads to wipe it off at the shower.But I was advised that it is a very ...

Read More

Great cleanser

This is such a beautiful and gentle cleanser. It is very calming on my skin and it hasn't broke me out at all. I love the tube and it lasts forever

Neutral feeling

I'm not sure how I feel about this product.It doesn't foam or tingle when applied.So I don't feel that it's cleaning my face.It might be because it's very gentle.So I guess it's good for those with very sensitive skin.But in my case I think it's too neutral for me.

Amazing & Gentle

This product is a lifesaver and super calming on the skin. During seasonal changes I get dry patches around my chin & lips and the creamy texture of this cleanser + the aloe vera really help to combat this.

Great

Great as a non harsh cleanser in the morning. Leaves my skin feeling amazing and looking less dull

Great gentle cleanser

This is super calming, and the most gentle cleanser ever, I would highly recommend using a make up remover or other foaming cleanser at night first and then use this as your double cleanser to really make the most of the product. It really smoothing and leaves your skin feeling hydrated. I do feel like I need to use a toner pretty much straight away to really get rid of impurities so if you need s...

Read More

Mind Blown

Imagine my surprise when I had a facial a few years ago and she told me that my gel, foaming cleansers were not doing my greasy, pore clogged skin any favours and I should try this creamy cleanser from Alpha H.

Now picture me falling over when I saw the price of all the products and closing my eyes as I handed over my credit card.

AND NOW picture me looking fabulous wi...

Read More

Awesome product

Great product. I have very sensitive skin and this cleanser cleans well while not causing any breakouts. Highly recommended!

Nice cleanser!

Removes makeup well, perfect that it can be used around the eyes too. Cleanses skin nicely, not too harsh - doesn't irritate my sensitive skin. Will definitely continue buying this once I run out!

Happy

Recieved this as a gift, I am totally in love with it. It does not dry out my skin like other cleansers, and I have combination skin. Looking forward to purchasing it.

Stoked with this prod!

Trialled this in the fan faves pack and then purchased the 500ml bottle before I even finished the 30ml trial because I loved it so much. It removes all my makeup and leaves my skin feeling clean and not stripped. You barely need to use anything so I dare say this new bottle will last me at least a year.

Great

I received a sample of this and was excited as i had just discovered alpha h and just started introducing their products. I love the fact that it balances the ph of your skin and bonus you can use it on your eyes as well as a total face cleanser plus it smells great too. So i have decided to purchase a big one amd use every night to remove makeup!

Gentle

I received this as a gift from adore. I like this cleanser but it is a little expensive for me. If I see great results I may purchase again.

Love!

This is my fav cleanser of all time! I have tried so many and they just dry my skin out! I have oily/combo skin and I use this every night to cleanse, I have noticed the difference in my skin since using. I'm on my third bottle and will not be changing! Love that it can be used on the eyes aswell.

Lovely

This is a nice, gentle, creamy cleanser. I have the triple action as well but I think the balancing removes makeup a bit better. I tend to use the triple action in the morning then the balancing at night. I love Alpha-H.

Great all round cleanser!

I love this cleanser as its both gentle and does a great job at removing oils, makeup and daily dirt from my skin. It is super refreshing and great to use in the morning to make your skin feel soft and refreshed. The cleanser has a really nice texture and I will continue to buy.

Light, gentle and creamy

Extremely light, gentle and creamy cleanser. Also great for removing make up. Has a very light gentle scent

Number 1 cleanser

No matter how many times I try out new products I always return to this cleanser. Removes all my makeup but still has that moisturised feeling afterwards. Love.

Would not recommend this cleanser.

I checked the ingredients of this cleanser before using it and there were none listed that I was sensitive to, however I broke out in a severe allergic reaction shortly after using this in conjunction with a moisturiser from this same brand. I looked like I had been stung by 10 bees, and once the swelling of my face subsided I had patches of what seemed to be chemical burn. I've never had a reacti...

Read More

Excellent make up remover

This product is amazing for removing all traces of make up and skin is left feeling very soft. I use liquid eyeliner and mascara everyday and I had a sample if this which I took with me while travelling. I was amazed at how quickly and gently this removed all make up. I will be purchasing this product.

Creamy and nourishing

I like this cleanser as a little goes a long way, and it's nice and moisturising for winter skin. It's a bit too creamy for summer use

Gentle yet effective

This cleanser is amazing for a gentle cleanse. I have dry skin and it's great at balancing the moisture in my skin.

So gentle!

Finally I have found a cleanser that effectively cleans my dry skin, leaving me feeling refreshed, without stripping my skin and giving me an awful itchy, dry tight feeling. The consistency is soft and creamy and after use my skin feels really clean with a pleasant firmness and no redness or irritation.

Ok product

Don't like it, don't hate it, just very normal, but I do hate the chemical smell, won't buy the full size, I recommend Murad cleanser if you have acne, combination skin

Nourishing and gentle cleanser

The title of this review really says it all! I actually didn't realise this was a cream cleanser when I ordered it and was expecting a gel. That said, it was lovely to use and I will definitely consider repurchasing in future. It felt really nourishing to my skin, but my face still felt clean and the majority of my makeup was removed on the first cleanser which is great as it rarely happens! The s...

Read More