Wella SP Clear Scalp Shampoo 250ml
Hair Concern:
Fine or limp hair
Flaky scalp
Oily hair
Oily roots, dry ends
Hair Curl Type:
Curly
Straight
Very curly/African/Caribbean
Wavy
Frequently bought with
Please wait while we find a match
Questions & Answers
(No Questions Yet)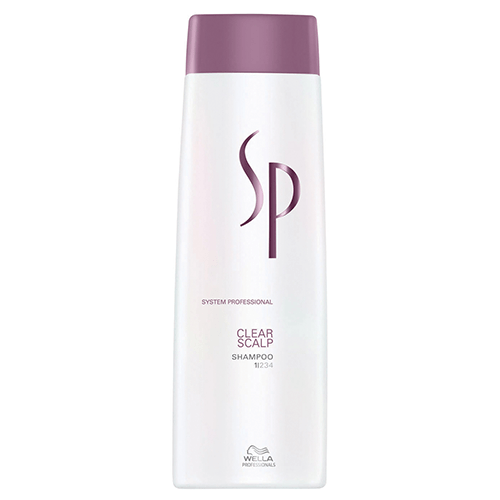 Wella SP Clear Scalp Shampoo
Get an expert to answer your question about this product!
Ask a Question
100% recommend this product
Most Helpful Positive
Great product
I would recommend this shampoo. My scalp was itchy and irritated and this really helped.
Great product

I would recommend this shampoo. My scalp was itchy and irritated and this really helped.

Best anti-dandruff shampoo

I've been using this for about 2 months and it is the only shampoo that completely eliminates dandruff/build up. I use a hydrating shampoo as well, as it can be a little drying sometimes. I'll be repurchasing once I run out - would recommend.

good

I have recently had issues with a dry scalp so i did some research and gave this product a go. It been 4 weeks since i started using it and i definitely think it has made a difference.

Lightweight and Lovely!

I stumbled across this shampoo in Malaysia 2 years ago in a salon. And since then, its been the shampoo that I use alternate to my balancing shampoo also from Wella. It keeps my scalp clean and free from flakiness. What's not to love?

fixed my irritated scalp

for over a year i tried so many different scalp shampoos and whilst they would work for a month, my scalp would get irritated again until i was recommended to try this shampoo, after 2 weeks my scalp was clear and i have now purchased 3 bottles as i used it as a clarifying shampoo once a fortnight and i have never had an irritated scalp since.

Good when scalp is irritated

I used this product as recommended by my hairdresser when my skin was sensitive and flaking. It worked well without drying out my hair.

Wella SP Clear Scalp Shampoo

Love how this product is completely clearing up my scalp after using shampoos that I found always left my hair feeling dirty and left my scalp feeling itchy

Helped where my scalp was flaking

This helped calm my sensitive flaming scalp, it generally calmed my scalp

Brilliant!

This is now my only shampoo. I was recommended this by my hairdresser when I started to have a scalp situation. It was gentle to my scalp whilst cleansing it completely. My hair was soft and smooth with no evidence of dryness. I also needed to wash my hair less often. After the situation resolved, I used a few other shampoos but nothing gave the same result. So now it's the only shampoo I use.

So good

I have quite a sensitive scalp that is prone to dandruff. I love this shampoo as it gets rids of any dirt and product build up on my scalp. It is also really nourishing, so it doesn't dry my scalp out at all. My hair looks so shiny and glossy after using this. I would definitely recommend it!

Amazing!

I've tried everything to clear up my dandruff but this is the product that works best for me. I no longer have dandruff and my hair is softer than ever!

great shampoo

Was introduced this by a girlfriend. Its expensive, but worth every penny. Cleans effectively without drying my scalp. I have pretty oily scalp and this shampoo really works great for me. Plus the scent is herby and great!

Favourite Shampoo

This shampoo works fantastically for ensuring that I have no dandruff or greasiness in my hair, without stripping my hair of oils entirely. It has a subtle but pleasant scent and is very nice to use. Hair feels nice and hydrated after using this product.