Whether you're a fan of glossy skin, suffer from winter dryness, or have a bout of sunburnt skin and chapped lips, Weleda Skin Food is the multi-tasking miracle you need.
Use it as an intense facial moisturiser on long-haul flights. Dab it on rough cuticles and chapped lips. Apply it on scaly elbows and cracked hands and feet. There's not much this amazing product can't do.
One of the most effective moisturisers around, Weleda Skin Food can serve as moisturiser, lip balm, hand and foot cream, nourishing face mask, or under-eye cream.
Suffer eczema or psoriasis? Scaly winter legs? Weleda Skin Food is a whole-body cream that will deeply moisturise and hydrate your skin.
Weleda uses an award-winning formula unchanged since 1926 to soothe and heal rough, dry skin damaged by natural elements.
Using 100% natural ingredients, including chamomile, rosemary, lanolin, and sweet almond oil, this magical cream instantly hydrates, relieves, and restores a soft, supple feel to your skin.
Treat yourself to the ultimate beauty luxury with the Weleda Beauty Essentials kit, combining Weleda Skin Food with the Everon Lip Balm. These products will leave your skin soft, nourished, and hydrated, making the kit a perfect present or self-care pack.
Buy some Weleda Skin Food and see the difference immediately. Shop the range online at Adore Beauty and enjoy fast and free delivery in Australia today.
Recent reviews on Skin Food products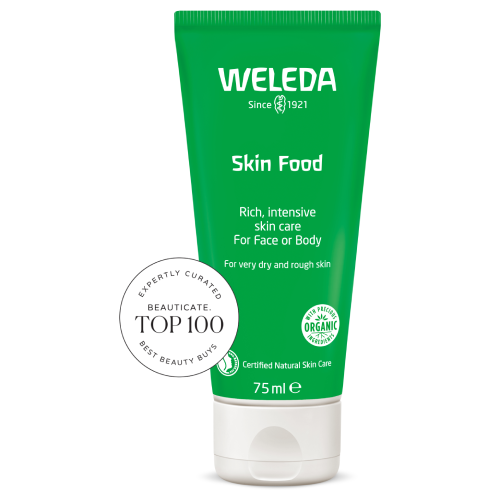 Weleda
Weleda Skin Food - 75ml
$25.95
A good night cream
I use this when my skin is extremely dry & needs that extra moisturising boost. The consistency of the cream is very thick & does take a bit to rub into the skin, which I find too much for daytime wear, but amazing by itself or over my serums at night. I also use this on dry patches of skin on my arms & legs, which adds hydration & soothes. I have repurchased a couple of times & will continue to u...
What people are looking for the most