Ultra Violette Queen Screen SPF 50+ Luminising Sun Serum 50ml
4 instalments of $11.75
Or 4 instalments of $11.75 with
LEARN MORE
4 instalments of $11.75
Or 4 instalments of $11.75 with
LEARN MORE
Official Stockist
Is this for you?
A sunscreen for everybody who loves a bit of glow, Ultra Violette Queen Screen SPF 50+ has a serum-like texture and feelings like nothing at all. Free from oils but full of skin-loving native Australian antioxidants so your skin is happy, and is protected from the sun and free radicals.
Frequently bought with
Please wait while we find a match
Questions & Answers
(5 Questions)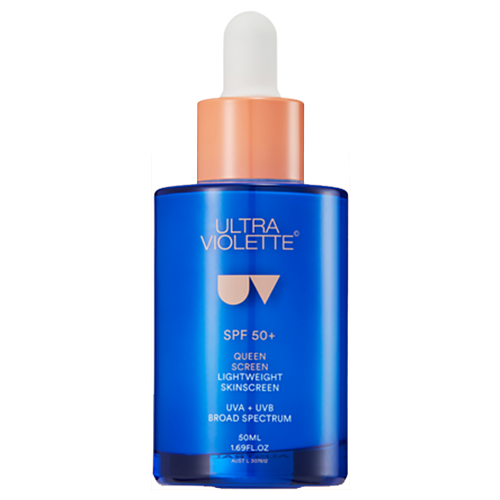 Ultra Violette Queen Screen SPF 50+ Luminising Sun Serum
Get an expert to answer your question about this product!
Ultra Violette Queen Screen SPF 50+ Luminising Sun Serum Reviews
88% recommend this product
Most Helpful Positive
Second favourite!
My second favorite sunscreen. Great as a primer and makes my skin look glowy.
Most Helpful Criticism
nice sunscreen
This sunscreen is nice, however i feel that with my normal to oily skin type i would have been better off with one of the other Ultra violette sunscreens.

If your skin is normal to dry, this would be for you, it does go on really nicely though and the SPF protection is great
Looks a bit too greasy

Unfortunately even with my normal/dry skin, this product makes me look greasy in the Brisbane weather. I know Ultra Violette promote a glow, but it's just too much. The texture also means your makeup doesn't last long at all when applied over the top. It's better than others I have tried recently - it doesn't sting eyes and has a nice light texture - but the quest continues for me I'm afraid.

Combo/Oily Skin Types - This may not be your friend.

I wanted to love this so much from all the 5 star reviews I had read, but as a Combination/Oily skin gal it did nothing but leave me looking sweaty and greasy. It emphasized every pore, fine line and imperfection on my face. It also did slightly break me out on the forehead. However, I did notice under a full coverage semi-matte foundation it looked beautiful with some of that 'greasiness' com...

Read More

Second favourite!

My second favorite sunscreen. Great as a primer and makes my skin look glowy.

nice product

this is a really good and new product, I really enjoy this sunscreen serum

Love love love, after I started using the dropper correctly 😅

My initial reaction was, oh my gosh this smells AMAZING! Having oily skin I was a bit wary of the luminous description but it makes my skin glow without looking greasy. It applies well, feels light on and my makeup sat perfectly on top of it. Just don't do the same mistake with the dropper I did for the few weeks by squeezing the top while it's in the product, because it won't pick up anything 😂

Loved

I really love this product! It's super thin, leaves me glowy & protected! My skin can be on the normal to dry/sensitive & I get no irritation from this. The only downside is you finish a bottle so quickly & it's quite expensive. Would be 5 stars if they made a bigger bottle 😊

Amazing scent

Not 100% on how much glow this really gives you but for a powerful SPF50 it glides on like a luxe serum and sinks in with no white residue. Gorgeous rose scent and divine to wear. Absolutely recommend if it's in your price bracket. Only downsize is seems to be quickly used up as the dropper mechanism is probably bit more "PR" than practical.

Lightweight and hydrating

After reading all the reviews I expected allot from this product and it certainly delivered. I love this sunscreen it's light adds a beautiful glow and feels hydrating.

Worst product

After the easing such good reviews on this product I decided to purchase it, I have tried it numerous times now and can say that I got badly sunburnt after wearing this product and applying it numerous times.

I don't recommend this product if you go out in the sun and expect protection for your face.

Really great, unique product

This sunscreen is unlike anything I've used before. It is super light and serum like but doesn't dry your skin out and isnt oily and smelly like normal sunscreen. I would recommend this if you add your own moisturer (or you have very oil skin), if you don't want to do that then go for Supreme Clean instead as that acts as a moisturiser.

Holy grail product

I bought this product due to Lily's video and reviews. Omg!!! Literally my favourite product such a game change. I use this everyday and it just sinks into my skin so beautifully giving me a lovely glow. When I look closely at the product you can see gold pigments init. I'm just super obsessed with it.

Disappointed

Supreme skin worked well for me and after listening to a podcast recommendation I purchased this but was disappointed from the start. I have combination skin and this product is too oily, heavily scented and the dropper applicator is annoying to use. It also breaks me out. Will not repurchase!

Doesnt feel like sunscreen!

I have normal to dry, and sometimes sensitive skin - this product delivers on its promises and the best part is it doesnt feel like im putting on sunscreen. Its lightweight, doesnt leave a gross feeling or white cast and melts in beautifully to the skin leaving me glowy and protected!

Best face sunscreen

This sunscreen is perfect, not to heavy and smells like roses. It also leaves a beautiful glow to the skin without being too much for my oily skin. Works perfectly well under my makeup and hasn't broken me out. Will repurchase for sure

Very hydrating

The serum type texture isn't my favourite as I find it time consuming to rub in a sufficient amount of product compared to the supreme screen. Not 100% keen on the scent and feel it needs to be dialled down a tiny bit more. Does leave a lovely dewy complexion which is more suited to winter conditions.

OMG!! My New BFF!!

My search for the perfect face SPF is finally over... thank goodness! The hell process of wasting time and money to find an SPF that protects without white casts or horrendous stinging is back there baby!
This is a beautiful product, it's light, moisturizing, doesn't pill or go bally over the top of other serums & moisturizers and smells lovely too. My biggest call out though, is that it's h...

Read More

Great

my skin looks dewy when i apply this rather than looking white

Everyday Sunscreen

I recently bought this to replace my La Roche Posay sunscreen I was previously using. I was looking for a sunscreen that wasn't leaving me feeling too greasy and it was perfect for me. I don't really wear makeup during the day and I find it leaves my skin looking nice and dewy. My skin did start to break out a bit when I first started using it but it has since calmed down. I love how it has a ligh...

Read More

Smells so yum!

I really love the smell of this sunscreen. I usually use it on my ears, shoulders, neck and chest. Even my boyfriend uses it on his face and neck!
The only negative is that it's quite hard to get out with the pipette, however, I'm not going to lose a star for the bottle.

Worth it + dark skin friendly

I will admit I have ultra sensitive skin and I was scared to try this. My best friend gave me a sample of it and it took me weeks/months to finally try it. And boy am I glad I did! Goes on so easily, and just as easy to reapply over make up. Even better, it doesn't let my skin feeling gross or leave a sheen on my dark skin. Well worth the price and the slight fear of the unknown using a serum suns...

Read More

No white cast whatsoever!

This sunscreen is what I've been looking for. The dropper and consistency of the product makes application easier and more precise. There is no white cast. It does leave a dewy finish which I like on my dry skin, but it does not sit sticky and tacky on the skin so that's great. Will be repurchasing!

Very Sparkly

I just read the overview (my bad) and wanted a sunscreen that didn't smell/feel/look so 'sunscreeny'. In that respect the product does deliver. However, it is very sparkly. Perhaps if I was early 20's with perfect skin that would be cute, but in my mid 30's with 2 small children - it looks more like I've been getting a bit too enthusiastic on the 'decorate your own Christmas bauble' front.

Super light but still hydrating!

I honestly was expecting it to be much more shimmery based on what I had seen from Instagram but it was a very pleasant glowy sheen. The texture is quite light but is still ultra-hydrating and I would absolutely recommend. I did find the fragrance to be a little annoying but I can deal with it as the texture is so lovely!

Supreme sunscreen

3 days in to this new Screen Queen Serum Sunscreen and I am IN LOVE.
Firstly the packaging is chic as and is taking pride of place on the top shelf of by bathroom caddy.
The dropper delivery ensures no sticky fingers getting in and spoiling the product.
The sunscreen itself has a beautiful light texture that goes on just like a silky serum, leaving a healthy glow and no white she...

Read More

Amazing Smell, but Oily

This has to be the best smelling sunscreen in the world. Hands down. It smells of roses, roses and more roses! Plus, the packaging is super fun! However, more oily than "luminising" on my skin. Definitely recommend for those with dry skin types, this just didn't sit right with my combo-oily skin, especially in the T-Zone.

Good but annoying

I have bought several bottles of this and as much as I love gliding it over my skin (most of the time) I have found that my last couple of bottles have hard 'bits' inside it that make rubbing it over my skin really irritating. I love the scent and love how my skin feels after using

sun screen

This wasn't for me. It looks a bit greasy on me but I can definitely see someone with dry skin enjoying this dewy glowy sunscreen. Great for body too. The dropper is an easy measurement of how much to use.

different

this is a serum sunscreen and is really good! It absorbs really well into my skin

Glow

I have really liked this formula. It sits well on my skin and makes my skin look good. Wanting to try lean screen soon too

Not for everybody

This sunscreen pills easily and leaves a tacky feeling on my skin all day. My skin feels itchy and sometimes small bumps appear whenever I use it.The sunscreen also smells and looks like PVA glue... Luckily I only received this as a sample.

The glow is real.... Perfection!

I have been using the UV supreme screen and never thought I'd find a better product. I'm 39 and saw the Adore Beauty makeup artist for older skin talk about UV Queen Screen as an essential for anyone with skin showing signs of ageing, so I decided to try it. I have been completely blown away. The glow is beautiful (doesn't look shiny at all - just a very natural glow). Also, my skin feels so much ...

Read More

New SPF Fave?

Uh oh, I think Ultra Violette Queen Screen has superseded my Mecca To Save Face as my new go-to face sunscreen! I just love the rose scent and I am super luminous after application. Foundation sits on top beautifully .

Good but not as great as I had hoped

Absolutely love this brand and usually use Clean Screen. Dropper didn't work so I have been pouring it out on to my hand - not ideal. The smell is absolutely divine. Does leave a much more dewy finish which is lovely although not sure it would suit all skin types.

Have been wanting to try for months - am not disappointed!

Was recommended by a friend to try this sun serum and I'm not disappointed. I use as the last product after my skincare each morning under my foundation. Have used daily for the last week and love the little extra glow under my makeup. I have quite dry skin so have found this extra glow a welcome addition to my skincare. Doesn't feel oily or gritty.

Glowing all day

I have purchased this product about 2 weeks ago and can't get enough of it.
My skin is soft and hydrated and glowing, doesn't smell like sunscreen. The glass bottle gives it nice luxurious feel.
Absolutely love it, some days when in rush, this is my only thing on my skin, definitely becoming my favorite and I will try other products from this range. Highly recommend.

Gentle Protection

Really gentle on my sensitive skin - didn't sting at all. Comes with convenient dropper so little product goes to waste. Only downside is price, but all in all is quite worth it, and will definitely be repurchasing.

Amazing!!

One of my favourite sunscreens ever! It's wonderful. I'm so happy with how my skin reacts to it. It keeps my skin super safe and I love it!

Amazing!!

One of my favourite sunscreens ever! It's wonderful. I'm so happy with how my skin reacts to it. It keeps my skin super safe and I love it!

Love Love Love

All Ultra Violette products are incredible and i recently purchased the queen and clean screen but this takes the cake. Does not feel like sunscreen and has a luxe silky finish on the skin, BUT not oily! The fact that this is SPF 50+ is insane! Defs a great product if you are beginning your sunscreen journey and not sure where to start!

Holy grail sunscreen for dry skin

I've been searching high and low for my holy grail sunscreen for the last five years. Initially I tried the Clean Screen formula, because that was back when I thought I had oily skin and destroyed my skin barrier with acids upon acids...

When I realised I actually had dry, sensitive skin, I switched over to Queen Screen and noticed an immediate difference. My skin appears hydrated, pl...

Read More

Not sure about the texture

Honestly, I don't really see what all the fuss is about with this product. I found the texture to be quite oily and a little grainy for me, but I guess for 50+SPF coverage it is okay. I think there are cheaper options that are equally as good.

Simple and effective

I have purchased a week ago and love it. It is very light, gives nice glowing effect .
I am quite simple and love easy use. You can use this as your moisturizer am routine, so only wash you face, put this one on and go. I will definitely come back for more.

Love the feel.

Nice scent of rose, only need a small amount, it applies easy and leaves a nice silky finish. I have skin that's abit dry so I like as it feels hydrating on the skin, I'm not sure if it's making me break out though.

Perfect sunscreen for mature sensitive skin

I have very mature and sensitive skin, most sunscreens irritate my skin, but this one doesn't! It makes my skin look and feel so dewy. In love with this.

Don't hold out!

I am absolutely kicking myself for not buying this sooner. I stared at this sunscreen serum on and off for nearly a year - don't make the same mistake I did. I am 33 and have dryer skin, not sensitive at all, my skin loves acids and things but I never found a sunscreen that felt right for daily use. The closest I came to one was LaRoche Posay and sometimes it gave me tiny breakouts but I would jus...

Read More

Great sunscreen

I really love this product! A little goes a long way and gives my skin a nice glow. The rose scent is also not too strong which I like. I would be cautious of wearing this if you have oily skin because it definitely gives a strong shine (particularly at the end of the day).

AMAZING

This spf is beautiful, the formulation is so unique. It feels great on my combo/normal skin, sits well under makeup, looks lovely and glowy on it's own, doesn't cause any stinging or irritation and the scent is quite pleasant. I feel it may make me a little oily in the warmer months but i've thoroughly enjoyed using it this winter.

nice sunscreen

This sunscreen is nice, however i feel that with my normal to oily skin type i would have been better off with one of the other Ultra violette sunscreens.

If your skin is normal to dry, this would be for you, it does go on really nicely though and the SPF protection is great

Love!!

I absolutely love this product! I'm not a huge fan of wearing sunscreen on my face because it always makes me breakout, but I thought I'd give this a go and I'm glad I did! It's a super thin texture that sits well on top of serums and hasn't caused any breakouts which is great. Definitely would recommend

Not 'light' as marketed

I originally bought the Supreme screen and loved it. So I decided to try this Queen screen as its a bigger bottle and supposed to be lighter. It's no good! It's oily and makes your face sticky. Just like any other sunscreen, nothing special. Stick with Supreme screen, it's the best!

Beautiful Glow

My mum bought me up to wear SPF everyday, and this has been the best SPF I have used in all that time. I have been using it for about a year now, have repurchased many times- I love that it applies like a serum and gives me a nice glow
Doesnt pill with makeup either!

Good

This gives my face a nice glow. Easy to wear every day.

LOVE

This is the perfect mix of spf and serum. It works well with other products and allows makeup to be applied over it without pilling. The smells is light but refreshing. I have darker skin and feel there is a slight white cast but after it sinks in it's not noticeable. Love love it $$ are worth the spf protection.

Not as light weight as I would like

It feels heavy and greasy on the skin. Also smells very strongly of roses.

Worth it

Worth the price! Glides on so beautifully, leaves your skin glowing! I always come back to this

I want to wear this every day!

I hesitated to buy this product due to the high price. Best money spent! The texture is creamy-silky, easy to apply and sinks in well. It gives my skin a glow but no glitter-effect (like other products...talking to you, Neutrogena Bright Boost!). Skin feels moisturised but not greasy. Also looks great under a light foundation. I want to wear this every day, may the sun shine or not.

Undecided

I am not sold on this I tend to reach for the supreme screen, when I do use this instead I am not wowed yet

Love it!

If you're looking for a lightweight non greasy sunscreen, then this is it!

Divine

This does not feel like sunscreen at all when I use it which I love! It feels like a regular serum and spreads easily. Can sometimes look shiny/oily if using too much but overall gives a nice dewy look

Do not buy this product

I rarely leave a review on something unless it is REALLY good or REALLY bad.
In this case I would say - BAD.
I read reviews prior which described this sunscreen as one of the best out there. It was a bit pricey but the fact that it says on the description it can be worn on top of a serum and moisturiser I thought great.
I have tried everything i.e. Under/ over/ skipping serums e...

Read More

(Possibly) The Best Sunscreen

I have used this for more than a month now and I absolutely love it! I was initially put off by the fragrance which is a heavy rose scent. I have been using a lot of fragrance free products so the smell was strong for me at the start. It has since grown on me. I did not like the dropper at first but after using it a few times, I think it was not using it properly. If you are familiar with TO's dr...

Read More

Great product

Great product. Really easy to apply and gives great coverage. Great for skin on the dryer side. Still getting used to the 'glowy' finish. Dropper delivery is a game changer as you get the required amount (three full pipettes) every time.

Like it but don't love it

I was really excited to try this product after hearing about it on the Beauty IQ podcast. I have sensitive skin so went for this one. I like it and have been using it daily, but don't love it & will probably try a different SPF from Ultra Violet next order. The dropper is great, as it makes it easy to get the right amount. It doesn't feel too heavy on my skin which I like.

Everyones Must HAVE!!!

Smells like roses, feels amazing and the glow it gives you !!!! Everyone needs this product!!

Lightweight, yet hydrating- Perfect under makeup :)

For context I have combination skin that is oily in the T-Zone and normal to dry on the cheeks and I am also prone to breakouts. I really enjoyed this sunscreen! It is super lightweight yet hydrating without feeling sticky or greasy. It goes so nicely under makeup and I don't feel like it disturbs my foundation or causes it to break apart. This definitely gives you a healthy glow, it has very smal...

Read More

A bad product

I so badly wanted to love this and after nearly 4 months of having it, I have used it a handful of times as it's such a horrible product. It feels super greasy and makes my dry skin feel like I am rubbing grease into my face which makes it really uncomfortable. It also doesn't leave a nice finish and does not work well on top of makeup as it takes a lot to rub in. It doesn't leave a thick white ma...

Read More

Soft protector

New favourite! I absolutely love this sunscreen. So lightweight and doesn't even feel like sunscreen on your skin. It is also super moisturising. My skin feels super soft and delicate after use. Doesn't affect make up on top. And doesn't clog pores. Highly recommend!

Great Texture

I loved the texture of this sunscreen, really lightweight and didn't feel sticky on the skin. The bottle is, in my opinion not very user friendly. Its so heavy I rarely packed it on the go to reapply.
The perfume was quite strong, it smelt okay but would prefer no perfume. Particularly because this product slightly irritated my skin which is quite sensitive, I think mostly likely from the p...

Read More

Great light sunscreen which works well

This is a super easy to apply sunscreen with works well. I have not noticed my pigmentation getting darker since wearing this.

However I feel that it is too costly for the size and the bottle certainly does not last long when wearing it ever day as 3 full pipettes are needed for the whole face and neck.

Smells Divine

This sunscreen is beautiful to use. Feels like a mix between a serum and a light moisturiser and as someone who loves having botannicals / fragrance in their skincare, this is the perfect sunscreen.

My only wish is that it either came in a bigger "value" bottle or was slightly cheaper as I find myself going through it quite quickly. However it certainly doesn't prevent me from repurc...

Read More

Not so great

I was disappointed with this product. The pipette arrived broken. I can see myself finishing this is 2 weeks. If the container was larger and could be used more easily I would probably buy it again. Just not interested in buying a face cream every 3 weeks. I live in the NT though and work in the sun all day so I need a lot of sunscreen.

Great for everyday wear

Queen screen is great to wear everyday, it absorbs in quickly so you don't feel like you are wearing a sunscreen. Also gives a shimmer to your skin. It has a rose smell to it and no nasty SPF smell.

Fantastic option for an SPF

I've been using this for a while, initially I felt it left my skin a little greasy. However, it has been a game changer during the colder months. My skin loves this product when it's a little more dried out and not dealing with heat/humidity. It's now one of my go-to SPF products.

Okay but wouldn't repurchase

I liked the sunscreen, but it wasn't what people hyped it up to be - probably my biggest gripe with it was the pipette, SUCH an annoying way to get the sunscreen out. I would try the Supreme next as its a different dispenser. There are just as good sunscreens for much cheaper.

I'm hooked!

Already a staple in my daily routine. So different to any other facial sunscreen, but I love it. The dropper feels so luxurious and it sits well under my daily makeup.

Sunscreen made easy

Love my Queen screen! After hearing rave reviews about this I just had to try.
It's so easy to apply, and smells delicious. Yes it leaves the skin glows, but I really like how it looks & sits on my skin

Genius

I actually love this. Genius idea making spf serum. The product smells great, no white cast, absorbs quick and leaves you with a dewy glow.
My only gripe is the white pipette applicator bit is a little short and can be difficult to use at the end of skin care with moisturiser hands.

Amazing

This is literally the only sunscreen I can wear. Every other one causes an allergic reaction!

Give a glow

This sunscreen is soo good. As it's has an SPF of 50, I was first skeptic about it giving a white cast once applied to the skin. It didn't, it gave me such a beautiful glow even with my skincare that has already been applied before the sunscreen. Is definitely a must for every Aussie as the Aussie sun is so strong. The pump sometimes doesn't get enough in one go but does it's job. I'm on my secon...

Read More

Wow

Just fab! I adore the glow & protection it gives me !

Slightly underwhelmed

I was excited about trying this product given its cult status, but was slightly underwhelmed. The dropper is difficult to use, and I found the product to be glittery rather than luminising. I much prefer the Ultra Violette Clean Screen, which despite being marketed at oily skin types is perfect for me with my dry skin.

Just.buy.this

I just love this. I have tried a zinc face cream and it was SO sticky and yukky. This is fabulous, sits well on the skin and keeps the face dewy and glowy.

Lightweight

This is a nice and lightweight sunscreen. Great under makeup. Doesn't feel sticky or thick like other sunscreens. A fantastic product you can wear year-round.

Nice effect

This sunscreen gives a very nice complexion. It's glowy but not too much in my opinion... and I think that depends on what you put on top. In any case, I can see the tiny sparkles in my magnifying mirror, even after my BB cream.
The texture is aqueous and slightly pearly. It melts quickly on the skin, doesn't pill and remains comfortable throughout the day. On the other hand, I don't know h...

Read More

lovely scent and viscosity

I love the lightweight milky viscosity of this sunscreen, makes it great for sitting under makeup. It also does have a highlighting element to it and I love the rosey scent. I dont think it would be suitable for oily skin. Only downfall is the price as I do go through it faster than other products due to daily use.

This lives up to the hype!

I heard a lot about this sunscreen but I always had plenty of my other products so hadn't got around to buying it (and I liked those products so just stayed with status quo). Suffice to say when I got around to trying it, I had high expectations. Can I just say, they've been met! The texture of the product is completely unlike any other sunscreen I've ever tried. It's soft, silky and goes on effor...

Read More

Ultra Shiny and Beautiful

This is such a unique sunscreen. It is much funnier than I am used to, but also something I'm loving in winter for dry and dull skin. I don't use it under makeup due to the level of shine it produces, I'm sure it will make me look greasy and break down makeup early, but it has its place and I will be repurchasing! As personal preference, I'm not huge on the rise fragrance, I typically like fragran...

Read More

Amazing

This sunscreen sits amazingly under makeup, especially if you prefer more of a dewey skin look. I use it everyday both with and without makeup on top, and on both my body and face.
I would say that anyone who is adverse to the typically sunscreen scent may prefer the 'Ultra Violette Supreme Screen SPF 50+ Hydrating Facial Sunscreen 50ml' if they want a sunscreen for the face as the scent is...

Read More

Don't love it

I like this sunscreen, but I don't love it. The reasons why are the strong fragrance, the glitter and the sticky feeling I get when I use it. Aside from the negatives, it is lightweight, doesn't leave a white cast and very glowy which I do appreciate.

Beautiful glow

I was a bit sceptical of this, but I really love the consistency and how light this is compared to so many other sunscreens. It really is just like a serum. The scent is light and not unpleasant, and it really does give me such a nice glow. I can wear it over moisturiser but it is also fine on its own. I love that it's Australian-made and that it's reef-friendly. Ironically it has Mica in it, whic...

Read More

Doesnt feel like sunscreen at all

This is great for winter! Feels like skincare rather than sunblock. Goes on nicely and leaves me feeling dewy ans hydrated

I prefer their facial sunscreen

Call me old fashioned, but I don't think this is what sunscreen should be like. When I put it on, I feel like I am not wearing anything, and that makes me paranoid that I have not put on enough to protect me from the sun. The drop bottle makes it feel very luxurious and almost cosmetic, and although that may be a good thing for some, I end up feeling guilty using it every day when it isn't a spec...

Read More

Glowy SPF

I wish my skin loved this more, unfortunately it's a bit too hydrating for my oily skin and I find it leaves me a bit shiny. For those with dry skin I think this would be a lovely sunscreen. It smells so nice and sinks into the skin with ease and doesn't leave a white cast or pill.

Not quite right

Unfortunately my bottle has a fishy odour, it definitely overpowers any rose scent that it is supposed to have. Also the consistency is impossible to use with the dropper provided, I have to tip it out but I have stopped using it due to the bad smell so I'm sad to say that this product was a waste for me.

The perfect skin-screen

I was really worried to start incorporating sunscreen into my daily skincare routine (it hurts to say this now) as I was more concerned about it causing my skin to break out as opposed to all the side effects from not wearing sunscreen. How far I've come... if I don't put this sunscreen on my face at least once a day (even if I'm inside all day/it's a low UV day), I don't feel like myself. This le...

Read More

A sunscreen you actually want to use

I have struggled finding a sunscreen that I don't hate the feel of on my face. I have found that I put on my serum, jojoba oil and moisturiser and my face is feeling fine and dandy, then I have to apply the sunscreen and it makes my skin feel "bogged down". I cringe doing it! This sunscreen in so light, it doesn't feel like you are putting on some gluggy layer. It smells incredible and has a g...

Read More

Best SPF I have ever tried.

Trying different physical/chemical suncreens where a lot of them have broken me out or felt uncomfortable on the skin. This sunscreen is a dream to put on the skin. Doesn't feel heavy or tacky, and sinks in beautifully. It's a lux investment, but for a sunscreen that should be used everyday that works so well on my skin, it's worth it.

Very light

Love this sunscreen. I use it on my face as it's super light and nice packaging but it is on the more expensive side. Would recommend for face.

a nice SPF

In general this product is a nice SPF! it is light weight, smells nice, doesn't break me out and isn't shiny on the skin. I will say however, i dont really like the dropper! its just not my preferred way to to put product on.

Decent

I bought this after hearing all the amazing things about this brand. While it is quite nice to apply -the dropper is a huge plus -I did find it a bit oily even with having super dry skin. I didnt quite like the way it sat on my face and I found that it didnt wear too well under makeup.