The Ordinary Pycnogenol 5% 15ml 15ml
Skin Concern:
Dull, dry or dehydrated skin
First signs of ageing
Pigmentation, uneven skin tone
Sensitivity and redness
Wrinkles and loss of firmness
Skin Type:
Dry
Normal to dry
Normal to oily
Frequently bought with
Please wait while we find a match
Questions & Answers
(4 Questions)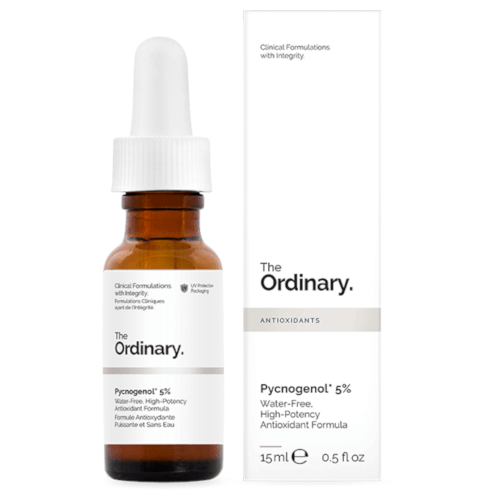 The Ordinary Pycnogenol 5% 15ml
Get an expert to answer your question about this product!
Ask a Product Question
92% recommend this product
Most Helpful Positive
Good
This product is amazing in helping calm my redness and pimples. Definitely recommend it
nice

I love this serum, and love the feeling of the warm sensation when I apply it. its not too greasy and I love the glow it gives me. I put 4 stars because I think its expensive for the amount you get and I am not sure if I have seen any changes in my skin.

Good

Provides some moisture and has a soothing effect.

Good

This product is amazing in helping calm my redness and pimples. Definitely recommend it

Hydrating

This is an amazing serum for my skin and it gives it a boost of glow and hydration.

Good

This product has helped my skin a lot and helped with redness. Will be repurchasing

reduced redness

this serum works well for my dry skin and has reduce my redness and dullness smoothening my dry sensitive skin without flare ups

No more redness!

Wow this removed my redness! I noticed a big improvement after using it every night for a month, seriously worth the price, I love this stuff.

Amazing results for 55+ skin

As a TO devotee trying this was a no brainer and it's right on the money for fantastic results. I've got 56yo combo skin in really good shape, most think I'm in my mid 40's but I was looking for moisture and texture refinement and this hit it on both counts. Smooths and refines, soaks in well and a little goes a long way. For a total kick arse combo I mix two drops with 23% Vitamin C and it's amazing. Definitely a keeper!

Reduced redness and overall pigmentation

This product has become my holy grain skin care item. It has reduced my redness dramatically and evened my skins appearance. This product does not break me out either as I do have very sensitive and acne prone skin.

GREAT SERUM

Haven't been using it for long, but I can tell a bit of differance to my skin , looking good.
It's very light and you only need to use a little as it goes along way.

VERY HYDRATING

This is a super serum, it's a little greasy and you only need to use 1 drop.
It's very soothing and calming

Skin feels fresh the next morning

I use this during my night skincare routine with Vitamin C and B serums 2-3 times a week.

I definitely see a difference the next morning - my skin looks more plump and hydrated. It's been helping with the small crinkles underneath my eyes. It also seems to boost the effects of the other products I use.

It smells slightly sour/vinegary but its nothing too obvious.

My skin has a smoother surface when I apply this daily

I really like using this product as part of my morning routine. After I have cleansed and toned my face, I apply half a pipette/dropper all over my face and neck with my hands. I leave it to sit while I do my hair and then apply a tinted moisturiser on top. I feel my skin has a smoother surface when I apply this daily. I wish The Ordinary did it in a bigger size though as I get through a bottle a month.

Great

Unique smell and colour but boy, it works!
A little oily, with a unique smell and colour one just has to get used to, a little goes a long way. It took me a little while to get used to but I've been using it every morning for a little over a week and I can definitely see a marked improvement in the texture and clarity of my skin. A definite yes in my future cosmetic bag.

Strong antioxidant protection

This is a good serum very hydrating and I like knowing I'm getting strong antioxidant protection against pollutants.I will keep repurchasing this.

Quite Good

Have only been using this product for about 2 weeks.
I have not noticed a dramatic change in fine lines on my face but there does seem to be some improvement.
Bought other The Ordinary products and are using all in conjunctions.
Definitely think my skin tone is more even and feels much softer

overnight results

This product actually delivered overnight results. The texture of my skin was clear and hydrated with a radiant glow.

Lovely!

I purchased this item alongside some other serums from The Ordinary, in the hope it would help with my 2 major concerns, i have a mild rosacea on one part of my face and some hyperpigmentation after the summer just gone, both of these are improving after only 5 days of use! would definitely recommend.

Love it

This actually removed a lot of my redness upon waking, overall I'm impressed.

A much needed addition

Well, i came across this product when i was looking for something for my super hyperpigmentation. There are 2 big spots on my face right now that i dunno how it got there, most likely its because of the dry and cold weather right now. I swear my skin easily gets pigmentation even though i use sunscreen religiously, by that i mean i reapply regularly. So, i've been The Ordinary for a few years now and its a trial and error for some of their product. But this particular one, i have been using for 1 week now and i can say that my skin is loving the much needed help. I use this after my Niacinamide and Dermalogica smoothing cream after it and sunblock. It honestly have lightened the 2 dry spots on my face and im going to continue using this as part of my routine.

No Complaints

Another great product from The Ordinary. I read other reviews and decided to give it a go and it is as good as others have mentioned. I have no complaints.

Beautiful product

This product is amazing! I haven't been using it long enough to see results yet, but it feels amazing going on. The colour disappears, the smell is odd but not unappealing. It gives my skin an instant glow and I will buy this again and again!

Good hydration

I'm really liking The Ordinary range of products. My skin really soaks up the Pycnogenol making it moist and supple. Even though it's an oil it doesn't feel greasy. I apply The Ordinary Buffet first and then pycnogenol and it's like you can feel the two multi active products working together. I have definitely noticed an improvement in skin texture and less fine lines.

INSTANT TRANSFORMATION

This product feels amazing on the skin and actually works! It's not irritating or oily [although it feels oily at the start, it's quickly absorbed]. I wanted an anti-ageing product that didn't irritate and mixed well with others in my routine. My skin is now brighter and smoother. TIP: Use with EUK 134, Vit C and Amino Acids + B5 for a powerhouse combination.

Improved my skin's texture

I initially found this to be a bit weird on its own but then I started mixing this with my day cream and have already seen a big difference. My skin is a lot smoother and the texture has improved.

Amazing product

Like all the other ordinary products this one is just as amazing!! Skin felt hydrated and supple after using this! Wasn't sticky and sunk in nicely!! A must have if you have dry skin!!