The Ordinary Pycnogenol 5% 15ml 15ml
4 instalments of $4.23
Or 4 instalments of $4.23 with
LEARN MORE
4 instalments of $4.23
Or 4 instalments of $4.23 with
LEARN MORE
Official Stockist
Is this for you?
Rebuild your skin's elasticity, naturally. Your skin is smoothed, more even, less red. With the power of Pycnogenol, an antioxidant ingredient derived from French maritime pine bark, The Ordinary have blended a serum that is free from oil, alcohol and water for a concentrated effect.
Cruelty Free
Artificial Fragrance Free
Sulphate Free
Vegan
Skin Concern:
Dull, dry or dehydrated skin

First signs of ageing

Pigmentation, uneven skin tone

Sensitivity and redness

Wrinkles and loss of firmness
Skin Type:
Dry

Normal to dry

Normal to oily
Frequently bought with
Please wait while we find a match
Questions & Answers
(4 Questions)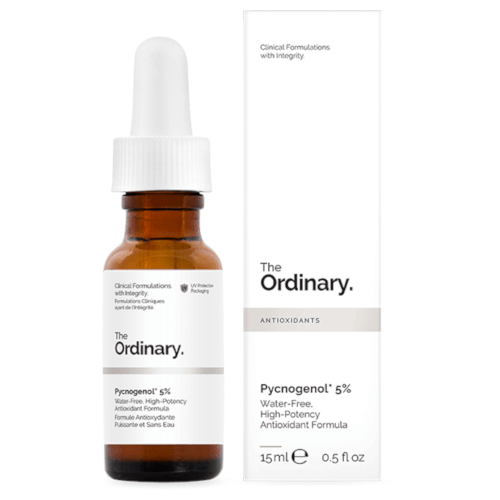 The Ordinary Pycnogenol 5% 15ml
Get an expert to answer your question about this product!
The Ordinary Pycnogenol 5% 15ml Reviews
90% recommend this product
Most Helpful Positive
Love love love
Added to my routine at night and could really tell the difference in the morning
Most Helpful Criticism
Good product wasn't a fan of texture
I use it sometimes as an extra touch to my other treatments however I am not sure whether it's actually works.
Love love love

Added to my routine at night and could really tell the difference in the morning

Good product wasn't a fan of texture

I use it sometimes as an extra touch to my other treatments however I am not sure whether it's actually works.

Brightens complexion

I bought this to help with rosacea, while it hasn't specifically helped with any redness, my overall complexion is definitely brighter and more hydrated the next day after using. I add a couple of drops into my moisturiser at night, it does stain clothes though!

Great choice

After applying this, my skin looks tighter and brighter

Game changer

I have been using this product every third day for a while now and you only need a little bit for it to go a long way. I use it at night and find my skin is very nice and plump in the morning and it is still quite hydrated.

Didn't see any real difference.

May need to use it more often but added it to my nightly routine but haven't seen any real changes to my skin.

Think it is helpful

It does feel oily but i just love it a bit longer to soak in and it ends up feeling fine, goes on well although I haven't really worn it under makeup yet. Overall my skin is looking much better, but i a, not sure if it is to do with this specifically or just since I have started using products and looking after it better in general

Great

I really like this product. I have dry and sensitive skin and hasn't caused irritation. I use with the Ascorbyl Glucoside 12% (vitamin C) daily in the morning. It is a beautiful red colour, like an oil, nice warming sensation when you put it on. My skin has noticeably improved through consistent use of this alongside TO products. I had also bought the EUK 134 but prefer this antioxidant because I ...

Read More

Results!!

I have mixed feelings about this product because I expected it to help with redness as I have rosacea and it helped it a bit. It was very watery and weirdly oily. It didn't settle into my skin well. I even put it in moisturiser but i could still feel an oily weird watery consistency on my face.

Incredible

I had originally bought this product to help with my very red cheeks. Although it has helped with that slightly, I have noticed a big change in my overall completion. This product is super smoothing and hydrating, especially when my skin is looking more dull. I think it would be amazing on more mature skin.
But my absolute favourite part about this product is adding a couple drops to my bod...

Read More

Not sure of this...

Got this to see if it would help with redness. After using for a couple of months, not sure if it helped. Didn't see any reduction. Might not be for me. For others interested in purchasing, the product is very red/orange, be careful it doesn't drop on your clothes etc. It doesn't tint facial skin but I found I had to wash my hands after application...

Nice for dull/dry skin

It's free from oil but it's still a thicker consistency that's almost like an oil? I add 1-2 drops into my Skinstitut moisturiser when I need a little extra moisture and it's makes my skin look super supple and hydrated. Am yet to see more results!

Star

I bought by mistake this product, so just star using,well so surprise I was,that's amaizing,not very oil,definilty moisturizing my skin...i definilty would buy again

a little goes a very long way

I add 1-2 drops to my moisturiser. If my skin is particularly red, I will add one drop directly.
I use this with other ordinary products in my daily skincare routine, and I'm a convert. My complexion has significantly improved, and the redness on and around my nose, and on my chin, is improving.

I am in my mid-40's, of fair complexion with combination skin that is prone to bre...

Read More

Holy Grail product

This little bottle of magic is so underrated. I have trialled a few of the ordinary products but this is hands down the best and the one thing that makes the most difference to my skin. I ran out and tried switching to something different and I noticed the difference BIG TIME. I have finally added it back to my regime and my skin is literally glowing again in under a week. I cleanse then use the n...

Read More

Not sure..... yet.

This product is one that got lost in the shuffle of all The Ordinary products that I purchased at once for my mature skin. I never am sure when to use it as I'm using so many TO serums so I feel I need to ensure this one gets a fair shot in my skincare routine. It feels good when I do remember to use it, though.

Psoriasis Gone!

My Psoriasis flares up in winter and was especially bad this year on my face after living in sin during COVID iso. A week in and my skin is looking better than ever. I recommended to my brother and he has had great results too.

It makes my skin so healthy!

I loved it from first application. It just gives that touch of hydration that my skin needed and couldn't find before in another product.

Amazed

It's been a week since adding this to my skincare routine and WOW!! My skin looks and feels a lot more hydrated. Slightly unpleasant smell but worth it lol. When I use this on it's own in the AM, natural highlighter!!

Fabulous Product

Feels quite greasy going on but my skin needs the drink. I like it and it soaks in quickly. I really like the products from this company.

Excellent product

Makes my skin moisturized, healthy and glowing. Highly recommend!

Love it !!

Makes my skin moisturized, healthy and glowing. Highly recommend!

Excellent product

Makes my skin moisturized, healthy and glowing. Highly recommend!

Great buy

Love this product, I use on my cheeks for pigmentation and on areas that I cant put retinol. Dark in colour and leaves a tint on the face.

Great addition to my routine

This was suggested for me by an Adore Beauty employee and it has made my skin feel beautiful. Not entirely sure whether it is this alone or my entirely The Ordinary routine that is giving these results but either way I love it. It feels nice on my skin I instantly notice my skin looks brighter

Brilliant!!

Honestly is one of my favourite TO products aside from the Lactic Acid + HA, only thing is make sure to wash your hands after it as I have stained my white sheets with this before ( dw it won't transfer once its absorbed)

Absolute standout.

I immediately had great results from this product. I decided to use it as a stand alone product in the evening to really put it to the test. No essences, serums or creams. Just eye product and Pycnogenol. I've actually begun to use the Pycnogenol to some of my eye area, too. This. Product. Is. Fabulous. I'm 35 years old, with a combination skin and my primary skin concerns are cell turnover, pigme...

Read More

Not sure I see results

This product feels really nice on the skin and after application my skin feels really soft and smooth but I can get that from other oils and serums. I haven't noticed any real difference in my skin and I am just not sure how this product will fit into my routine long term

Must buy!

I love the ordinary range and after reading the reviews I thought I'd also give this a go. I'm so glad I did! It's made a huge improvement to the overall look of my skin, there's less redness and my skin is super hydrated. Would def recommend!

Beautiful Hydrated Skin

I've been using The Ordinary products for almost two years now. I recently added the Pycnogenol 5% to my morning routine and it is amazing. It keeps my skin super hydrated and soft.
It is an oily texture and it has a slight smell, but it absorbs quickly and the results are worthy.

LOVE

My skin looks nourished and clear after using Pycnogenol. I get compliments when I use it. Since using The Ordinary products friends tell me I look 10 years younger.

Great product

Decided to buy this on a whim and im glad I did. it hasn't been long but my complexion already looks smoother and more consistent. I was surprised that it had a warming sensation on my skin but its quite soothing.

super hydrating

I use this product and mix it with TO Resveratrol and/or Vit C 30% to help boost its potency. I really like this product and it mixes well. Its thicker than expected which isnt a problem and the red colour even gives a nice glow to my skin and extra hydration boost. My only complaint is i wish the bottle was bigger because i used this daily

good booster

Like many TO products, I find this to be good for an antioxidant boost. Rather than try to get the layering right, I just prefer to mix my treatments—otherwise you can easily waste product because your skin can only absorb so much. I put a drop of this in when I cannot use a vitamin C (if I'm using the niacinimide, which I try to use at least 1x day) or mixes really great with C as well, I origina...

Read More

skin saver

Absolutely amazing serum!! It has made my complexion look so much better

A soothing, warm drink for your skin!

When I first tried this product I was so taken aback! If applied prior to any other products it has the loveliest warming sensation on your skin, and no joke it makes me think of sitting by the fire in a log cabin with a warm alcoholic beverage (lol I don't think a skin product has ever made me feel that type of way). It works wonderfully for reducing redness - I often get a really red nose, but w...

Read More

Love this product!

Just added this to my Ordinary lineup and it may be my favourite yet. Leaves your skin feeling very hydrated and pumped up.

GLOW

I think this might be my favourite product from The Ordinary. I can tell it makes a difference in the brightness and glowy-ness of my skin. I love to use it under my vitamin C. It really feels like i'm nourishing my skin.

Weekly Transformation

It is rare that you buy a product and see immediate improvements but this product does! In just a week my skin is brighter, less red and healthier. I am hooked!

Amazing

This is one of my favourite products from the Ordinary. I have quite dry skin and I feel that my skin i hydrated and bouncy all day when I use this without having a weird texture. Just feels like I have awesome skin.

GOOD Antioxidant

When I want to a rest for my skin without vc serum, this is a better choice. Different from other antioxidant in The ordinary, such as EUK134 or FE, this is can use with buffet. This point is very important for my skin. If you want to combine antioxidant and peptides together in your routine, this is a good set.

Great for Skin Tone

The Ordinary Pycnogenol 5% 15ml has improved my skin tone and overall brightness of my skin. I have rosacea and some redness and blotchiness and this has helped improve it all. Highly recommend this product. Its not oily either and easily absorbs into the skin.

Great for calming skin

I bought this because I've noticed my skin becoming redder with age. I have red hair, so this isn't a great look.
I applied this serum in the night. It sank right in, I didn't have any issues with it. My skin looks less red, so maybe it's working. The price is fantastic for this product!

a must for me

Great product, I have noticed my complexion is a lot brighter, I will be buying again. You only need two drops max so the bottle will last a long time. I keep this in the fridge & its refreshing in the morning.

Nature's best friend

This is a must have. It helps with dullness and gets rid of pigmentation

Great to combo

It's great for redness and to brighten up when mixed with a bit of vitamin C.

A little bit goes a long way. I was afraid because the bottle is so small but it's definitely worth it.

Lovely for the pm

I use this after my serums and before my oil and moisturiser to help combat redness (ironic because she is red)- too soon to tell if it is working, but you certainly get bang for your buck! So far so good!

Holy grail worthy

My mum has been using this in her holy grail skincare category for 2 years now. She's found an improvement in her skin texture, wrinkles and sunspots. She loves the Ordinary and especially this serum!

LOVE!!

I have found this has been great for helping my blemishes heal faster. It has reduced redness and my skin looks so much brighter and more plump.

Loving this product

I have combination skin and quite a bit of redness on my cheeks. I use this with the HA serum from the ordinary and I am loving it. Redness has reduced significantly and my skin is looking more glowy and healthy. I would definitely recommend this and will be purchasing again

I'm starting to see results

I am in my 50's with sensitive, dry skin, I've been using this for a week now and starting to see a difference in my skin. The redness is going and my skin is less dry, Really happy and will continue to use.

Helps reduce redness, stains like crazy

With regular use, I've found this product does help with reducing redness - but it stains like crazy! I've found when I apply both the pycnogenol and the L Absorbic-Acid (vitamin C) powder, it leaves an orange stain on my palms and nail beds - stains which don't come off easily. The pycnogenol also leaves orange marks on your bed sheets/pillows so would recommend using it in the morning rather tha...

Read More

Luxurious feel

This serum gives my skin such a smooth and luxurious feel. I have noticed a reduction in my fine lines and increased glow of my skin. Highly recommend

Love it in association with vit C powder

I add 1 drop to Marine Hyaluronics + a small "rice grain" of vit C powder; so I can't comment on the efficiency of pycnogenol alone but the combo makes my skin smoother, possibly - although my main objective here is prevention so I'd have to comment again in 10 years ;) I just use 1 drop so 15mL of product is plenty.

Great

This has improved my skin tone and dryness. Definitely will keep using at night as it has made a difference to my skin

nice but expensive

feels really nice on the skin but i use it sparingly as the bottle it can in was tiny which i wasnt expecting. wouldn't repurchase as i dont think it works well for me yet.

Does what it claims

Bought this for my mum who wanted something extra to add to her skin care routine. After consistent nightly use her fine lines had improved and her skin looked and felt more plump.

Amazing

I didn't expect much from this but bought it due to the claims around supporting elasticity and skin tone. Well, it's amazing for my skin - it gives a definite glow that I notice if I stop using it. Definitely feels very good for my tone and firmness (I have normal to combination skin, sometimes dehydrated). It has a slight vinegar smell but it is not unpleasant and it goes away quickly. It feels ...

Read More

Can't assess long term results

It's difficult to assess the product's anti-aging claims without using the product for a few months/years first, however I do enjoy this and will continue to use it. It has a red/brown-ish colour which does show up on my skin (as I am very pale); I therefore wear it at night. It absorbs nicely and dries quickly and is a nice antioxidant to add to my skin routine.

It's ok

I have been using this product for a few months, I mix it in with my night time moisturiser as its very potent and it definitely feels nice and hydrating going on.
However, I haven't noticed any changes in my skin that I can attribute to this product, I'm not sure what it's doing!

Great choice

I have dry skin and this has helped a lot. Great that it has antioxidants too

Makes my skin brand need

So it's a bit weird applying cause it makes my skin dark, but the next morning my skin honestly feels like a babies. It's clear, soft and even helps with breakouts. I honestly think this is one of my holy grails when it comes to this brand. I love it so much I want to bath my whole body in it

Beautiful

Great serum!
Mixed with my night time moisturiser, I wake up and my skin is glowing!

Moisturising

A good nourishing serum but probably better for mature skin

Ineresting product

I've been using a rather basic mosturier, and bought this to give my night time moisturiser a boost. I add 3 or 4 drops & mix into my night cream - only been using it for 2 weeks but skins looking extra good the next morning

Fountain of Youth

I don't really want to tell too many people... but this serum is next level. I'm 43 with oily skin & I'm not kidding, this stuff has made my skin look in its 20's. I use it as a primer & my make up is perfect all day. No blotting required anymore. Some of my deeper lines have decreased & my skin is unbelievably soft. It's amazing & I'll be stocking up on it. Do yourself a favour of you have oily s...

Read More

The Ordinary Pycnogenol 5% 15ml

This product leaves my skin smooth and so even. Removes redness and uneven tones and makes my skin glow.

At this to your range.

Only need three drops of this product but it feels lovely on the skin. This is a great product

A nice serum but not a must-have

I decided to try this as an alternative to Buffet to switch up my routine a bit. Its a nice serum but I don't think its done anything drastic for my skin and I wouldn't consider it a must-have. Its early days though, so I'll keep using it to see if it reduces redness and pigmentation. I'll probably purchase Buffet again and alter between it and Pycnogenol as part of my daily routine.

Lovely Antioxidant

I wasn't sure about this at first, as it's just one ingredient on its own and I was sure what it would do.
Well it's very nice and it has contributed to a more even complexion.
It feels slightly oily when it's applied but it does soak in nicely.
I have oily acne prone skin, it hasn't irritated me at all.
I'd recommend giving this a try.

Wonderful product

Love this! Since I fly as a job, my skin is often exposed to stress. This helps protect my skin, rehydrates and makes my skin glow. A little goes a long way.

NICE

LOVELY MOISTURISER,USE IT BEFORE B OIL FOR OVERNIGHT MOISTURISING, HOPING IT WILL HELP WITH MY CAPILLARIES ON MY CHEEKS BUT IT'S EARLY DAYS YET

Great first impression

Just started using this as my final step last week, adding 2-3 drops of this & Marula oil to super charge my Ordinary moisturiser at night. Blends perfectly and skins looking good the next morning and will be interested to see its effects in a months time!

Soothing and moisturising

I have used this for 3 months and found it to be soothing and moisturising without irritating my skin. Small bottle but lasts a while as not much is required each time.

rejuvenates and nourishes

Beautiful natural product that hydrates and gives an overall even, healthy glow. I loved using this during the winter months.

Tip: Take it all the way down to the decolletage to build collagen and even out skin tone there as well.

So good

I thought I would give this a go as I have tried many of the ordinary products, I have very dry flakey, combo and sensitive skin. I wasn't expecting anything spectacular to be honest... but im very pleasantly surprised! This stuff really works Ive seen a difference in my skin, it feels much softer and smoother. I highly recommend it.

Not bad just ok

Only a few drop of this serum spreads for whole face so even though it comes in a smaller bottle, after nearly two months' use every evening I still have half the bottle left. I found this serum is not particularly necessary for my skincare routine, it has not worked for redness or pigmentation on my skin so far. May need to keep using for longer to see the results, but I'd like to try something e...

Read More

Great for winter dryness

This serum has helped hydrate my dry winter skin. No more flakiness and an overall fresher look!

very powerful serum

I use this after derma roller. It is a slighly dark colour serum as it containers anti-oxidents. I apply on my skin and it sinks in. After a few uses, I noticed the surface is so glowing and improving the texture. My pimple scars faced quicker too. It is a smaller bottle (15ml) compared to other Ordinary serums but I found it very powerful.

Giving my skin a glow

This I feel is already helping after only a week of using. This product is helping with hydration and evening out my skin tones

Game changer for my redness

I've always had a red nose and cheeks and it would worsen throughout the day. I started using this 2 weeks ago and my skin has gone from red and ruddy to even toned and dewy. A great product. Have recommended it to my mother who has the same issues and she has also had fabulous results.

not for me

I didn't find this necessary in my skin care routine so I gifted it to a friend. There are some stronger and nicer more efficient products form the Ordinary out there. But this would be a good start to skin care

Pycnogenol

All round pure lovely product

Improved Scars

I've been using this product for a few weeks now after reading all the rave reviews about it. My skin feels softer after using it which is always a desired result! However, the surprise for me was how it has helped with significant scarring I have on my face after surgery to remove skin cancer - it's really helped reduce the redness around these scars. I gave it 4 stars instead of 5 because of ...

Read More

I like it

Helping with moisturising my skin and feels nice!

Need to use it more

I haven't seen a difference. It does not feel particularly great on the skin and my redness has not subside. But I do need to use it more frequently perhaps to see a difference.

nice

I love this serum, and love the feeling of the warm sensation when I apply it. its not too greasy and I love the glow it gives me. I put 4 stars because I think its expensive for the amount you get and I am not sure if I have seen any changes in my skin.

Good

Provides some moisture and has a soothing effect.

Good

This product is amazing in helping calm my redness and pimples. Definitely recommend it

Hydrating

This is an amazing serum for my skin and it gives it a boost of glow and hydration.

Good

This product has helped my skin a lot and helped with redness. Will be repurchasing

reduced redness

this serum works well for my dry skin and has reduce my redness and dullness smoothening my dry sensitive skin without flare ups

No more redness!

Wow this removed my redness! I noticed a big improvement after using it every night for a month, seriously worth the price, I love this stuff.

Amazing results for 55+ skin

As a TO devotee trying this was a no brainer and it's right on the money for fantastic results. I've got 56yo combo skin in really good shape, most think I'm in my mid 40's but I was looking for moisture and texture refinement and this hit it on both counts. Smooths and refines, soaks in well and a little goes a long way. For a total kick arse combo I mix two drops with 23% Vitamin C and it's amaz...

Read More

Reduced redness and overall pigmentation

This product has become my holy grain skin care item. It has reduced my redness dramatically and evened my skins appearance. This product does not break me out either as I do have very sensitive and acne prone skin.

GREAT SERUM

Haven't been using it for long, but I can tell a bit of differance to my skin , looking good.
It's very light and you only need to use a little as it goes along way.

VERY HYDRATING

This is a super serum, it's a little greasy and you only need to use 1 drop.
It's very soothing and calming

Skin feels fresh the next morning

I use this during my night skincare routine with Vitamin C and B serums 2-3 times a week.

I definitely see a difference the next morning - my skin looks more plump and hydrated. It's been helping with the small crinkles underneath my eyes. It also seems to boost the effects of the other products I use.

It smells slightly sour/vinegary but its nothing too obvious.

My skin has a smoother surface when I apply this daily

I really like using this product as part of my morning routine. After I have cleansed and toned my face, I apply half a pipette/dropper all over my face and neck with my hands. I leave it to sit while I do my hair and then apply a tinted moisturiser on top. I feel my skin has a smoother surface when I apply this daily. I wish The Ordinary did it in a bigger size though as I get through a bottle a ...

Read More

Great

Unique smell and colour but boy, it works!
A little oily, with a unique smell and colour one just has to get used to, a little goes a long way. It took me a little while to get used to but I've been using it every morning for a little over a week and I can definitely see a marked improvement in the texture and clarity of my skin. A definite yes in my future cosmetic bag.