The Ordinary Pycnogenol 5% 15ml 15ml
Skin Concern:
Dull, dry or dehydrated skin
First signs of ageing
Pigmentation, uneven skin tone
Sensitivity and redness
Wrinkles and loss of firmness
Skin Type:
Dry
Normal to dry
Normal to oily
Questions & Answers
(2 Questions)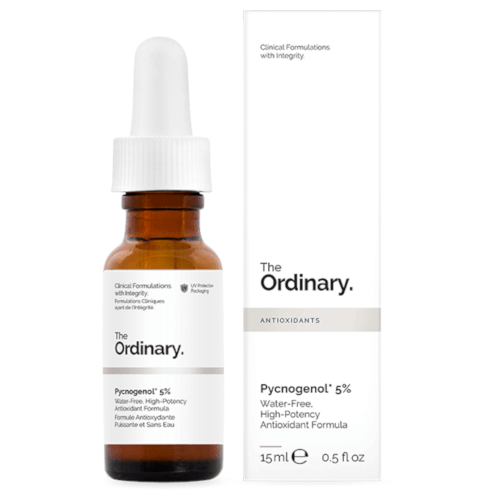 The Ordinary Pycnogenol 5% 15ml
Get an expert to answer your question about this product!
Ask a Question
100% recommend this product
Most Helpful Positive
Love it
This actually removed a lot of my redness upon waking, overall I'm impressed.
Love it

This actually removed a lot of my redness upon waking, overall I'm impressed.

A much needed addition

Well, i came across this product when i was looking for something for my super hyperpigmentation. There are 2 big spots on my face right now that i dunno how it got there, most likely its because of the dry and cold weather right now. I swear my skin easily gets pigmentation even though i use sunscreen religiously, by that i mean i reapply regularly. So, i've been The Ordinary for a few years now and its a trial and error for some of their product. But this particular one, i have been using for 1 week now and i can say that my skin is loving the much needed help. I use this after my Niacinamide and Dermalogica smoothing cream after it and sunblock. It honestly have lightened the 2 dry spots on my face and im going to continue using this as part of my routine.

No Complaints

Another great product from The Ordinary. I read other reviews and decided to give it a go and it is as good as others have mentioned. I have no complaints.

Beautiful product

This product is amazing! I haven't been using it long enough to see results yet, but it feels amazing going on. The colour disappears, the smell is odd but not unappealing. It gives my skin an instant glow and I will buy this again and again!

Good hydration

I'm really liking The Ordinary range of products. My skin really soaks up the Pycnogenol making it moist and supple. Even though it's an oil it doesn't feel greasy. I apply The Ordinary Buffet first and then pycnogenol and it's like you can feel the two multi active products working together. I have definitely noticed an improvement in skin texture and less fine lines.

INSTANT TRANSFORMATION

This product feels amazing on the skin and actually works! It's not irritating or oily [although it feels oily at the start, it's quickly absorbed]. I wanted an anti-ageing product that didn't irritate and mixed well with others in my routine. My skin is now brighter and smoother. TIP: Use with EUK 134, Vit C and Amino Acids + B5 for a powerhouse combination.

Improved my skin's texture

I initially found this to be a bit weird on its own but then I started mixing this with my day cream and have already seen a big difference. My skin is a lot smoother and the texture has improved.

Amazing product

Like all the other ordinary products this one is just as amazing!! Skin felt hydrated and supple after using this! Wasn't sticky and sunk in nicely!! A must have if you have dry skin!!