The Ordinary Natural Moisturizing Factors + HA 30ml
4 instalments of $2.46
Or 4 instalments of $2.46 with
LEARN MORE
4 instalments of $2.46
Or 4 instalments of $2.46 with
LEARN MORE
Official Stockist
Is this for you?
Natural Moisturizing Factors (NMF) are elements that keep the outer layer of the skin protected and well-hydrated.
Cruelty Free
Vegan
Artificial Fragrance Free
Sulphate Free
Skin Concern:
Dull, dry or dehydrated skin

First signs of ageing

Sensitivity and redness

Wrinkles and loss of firmness
Skin Type:
Dry

Normal to dry

Normal to oily

Oily
Frequently bought with
Please wait while we find a match
Questions & Answers
(10 Questions)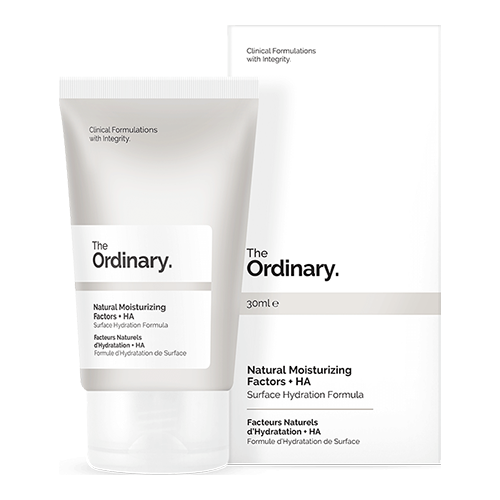 The Ordinary Natural Moisturizing Factors + HA
Get an expert to answer your question about this product!
The Ordinary Natural Moisturizing Factors + HA Reviews
88% recommend this product
Most Helpful Positive
Love this moisturiser
Lovely lightweight hydrating moisturiser. It also seems to last ages so unbelievable value for money tbh!
Most Helpful Criticism
Wanted to love it
Since I've loved many of The Ordinary's products I decided to give this moisturiser a go however it wasn't nearly as hydrating as I needed it to be. The product was thick but non greasy absorbing really well into the skin but I felt like it just disappeared after 5 mins of applying and I end up having to apply a different moisturiser on top of it anyway. This product might not suit my skin but perhaps those with oily skin may enjoy it.
Love this moisturiser

Lovely lightweight hydrating moisturiser. It also seems to last ages so unbelievable value for money tbh!

absolute go to

This is my favourite monster, especially when paired with other oils and serums. I find that this moisturiser isn't too weighty and thick and allows my skin to breathe whilst also hydrating. I always come back to this product and have ordered 4-5 times.

So worth the price

I use this as my nighttime moisturiser mainly during the colder months as I find it too heavy for summer. It works really well and is very moisturizing. I only need to use a tiny bit so this tube is still going strong after a year. Couldn't be happier especially considering the price.

Hydrating

This is a gentle moisturiser and it leaves my skin smooth

Lovely!!

This moisturiser I found to be perfect.My skin gets oily at times & this didnt clog it up - which was a bonus. Its also a very affordable skin care range & I look forward to exploring it.:)

Perfect Moisturizer for Oily Skin

This moisturizer was an incredible surprise given the price point! I use it in the mornings as it doesn't feel enough for a night cream, but perfect for the day when I am trying to combat oiliness and sweat. It is definitely a lighter moisturizer, so I wouldn't recommend it for people with dry skin.

so good!

for the price you really can't go wrong! such a good lightweight moisturiser for both morning and night.

fave!!

absolute favourite moisturiser! i have normal to oily skin and it works a treat for me

Affordable

As someone who has normal/oily skin it's been hard to find moisturiser that aren't to heavy and actually work for me. This is wonderful, feels so nice on and my skin actually absorbs it. I love how affordable it is too. Definitely will be looking at making other purchases from this brand.

A good moisturiser

I'm not a fan of heavy face moisturiser because as soon as I apply a heavy moisturiser, I instantly sweat and feel like my face is smothered. This moisturiser works well for me! It's light and absorbs quick. It doesn't make me sweat and a little goes a long way! I was previously using skinstitut moisturiser, but I decided to hunt for a cheaper product that gives similar results. Everyone will ...

Read More

Beautiful Product

Leaves skin feeling moisturised yet no greasy feeling, perfect on it's own or under makeup

Nice gentle moisturiser

I'm currently on my 3rd tube of this product. I love it! Such a nice gentle moisturizer that leaves me skin so soft. Great value for money.

Quality affordable product

Very moisturizing and lightweight - you can barely feel it's there. Could be a bit smoother to apply but overall a very quality product. Very affordable too.

Does the job

Bought this for my bf and so far he's really happy with it. I tried a bit and it's nothing amazing but it definitely makes my skin feel nice and soft. Would recommend if you want something affordable that keeps skin supple and moisturised.

Great moisturiser

This product is exactly what you want at an affordable price. It does the trick without feeling greasy and is very lightweight

Affordable and effective

Great consistency and I found it works well for me under makeup.

My go to moisturiser

I keep coming back to this moisturiser, it's cheap and effective. I have acne prone skin and this causes no breakouts, no residual or oil feeling on skin after applying.

Great moisturiser

On my second bottle of this product and it has worked wonders for me so far. I have dry and sensitive skin and the thick texture of the product effectively seal in all of the moisture and other skincare products I use.

Really good basic moisturizer

This product is exactly what you want an affordable staple moisturizer to be...
It's lightweight, hydrating, non-greasy, non-fragranced... the kind of moisturizer you absolutely fall in love with because after trying countless others that shatter you hopes and dreams, your standards are kinda low so the very basic-purpose product is now your knight in shining armor.

Highly rec...

Read More

Good product

I purchased this product for my teenage daughter who has slight acne skin. This product has been good on her skin. Has not caused breakouts, hydrates and sits well under makeup. I like that so cheap and good size for a teen when they are starting to use products but not religious with it.

Great staple moisturiser!

Such a good basic moisturiser! Love that there is no fragrance or silicone and it doesn't make me break out. Its very lightweight but i feel as though it leave my skin with the most perfect amount of non greasy or oily hydration. This paired with the HA serum is just too good.

Great product.

I bought this a few weeks ago, I am very happy with the product and at this price, excellent moisturiser, good for dry skin.

Wonderful daily face cream

A great daily face cream for the price point, pairs wonderfully with the marine HA, and sits well under my sunscreen and makeup.

Too heavy for me

Got a few whiteheads from this product as it was too heavy and clogging for me

Nice moisturiser

I think this is nice. The price is super low and it definately helps my skin. I'm happy with it!

Can't go past the price!

For the price, this moisturiser is an absolute cracker! I use it after serums etc. to lock it in and will sometimes add a couple of drops of an oil if I feel like I need a little something extra....

Easy moisturiser

Spreads easily and leaves skin feeling supple and comfortable

Good for dry skin

This is a really nice and light moisturiser that is great for dry skin. Doesn't irritate the skin at all and is very light on the face. Not oily which is great as well

Will be buying some more!

Love how this feels

Sinks in quickly so its easy to layer with makeup but there's a definite moisturised feeling in my skin

Great cheap moisturiser

I love this moisturizer it is great for my dry/combo skin and a great price. I would opt for the bigger version next time however. May be a bit oily for oily skin

No frills moisturiser

This moisturiser helps settle my skin when I'm using lots of actives to prevent irritation

Great value

Hubby enjoyed using this; it's also a very good price point and actually does what it's supposed to.

No fuss moisturiser

Everyone needs to try this. Its simple and my skin it happy when I use it.

non-oily moisturiser ???!!!

BEST MOISTURIZER EVER!! It is the only one that doesn't give the appearance of oiliness on my skin, and is thin enough to not make my skin feel heavy, but light enough to do the job. perfect on its own or even mixed in with a foundation for a BB cream vibe

Great moisturiser

Using this on wet skin helps to keep that moisture in the skin and hydrate it

A great basic moisurizer

The texture is great and for the price you get a lot of product. Very happy! :)

Best moisturiser

I lovvveee this moisturiser! I have struggled for ages to find a moisturiser that works for me as I hate the feeling of having it on my face. This one is amazing, super hydrating but absorbs into the skin instead of just sitting on top of the surface. Definitely recommend this to anyone, oil or dry skin.

Great value

A solid product - hydrating, great consistency, great value.

Cant go wrong

Can never go wrong with a good, hydrating moisturiser, good price and feels nice on the skin, wish it came in an even bigger size as I go through it so quickly! Great to apply morning and night and really does make a difference of my skin plumpness.

Great daily moisturiser

I really enjoy using this moisturiser! Such a gorgeous consistency & texture and also not too heavy to prep the skin pre-make up.
I also use it at night but it is a little less thick than my previous night cream so that is something I am getting used to but my skin still feels baby's-bottom-esque.

Very simple yet effective

This moisturiser is one of the first products from The Ordinary I have ever bought, and I am not disappointed at all. Not going to deny, I was skeptical at first because I was used to using facial products that cost much more than this. And having very dry skin, I thought this wouldn't be enough - I was wrong, this turned out to be very simple yet very effective, now I use this everyday for my AM ...

Read More

amazing moisturizer

At first when I bought it, I was very concerned with the consistency being quite thick but after a few tries I saw the amazing results. Firstly, it is such a great price and secondly with my skin type being combination, I think it does the job for my skin. For me, a little goes a long way and it absorbs really nicely and easily

Adore!

The most incredible moisturiser you will find at this price point. I use this with the silicon based primer and my foundation is always flawless. Great for day and night use. Soaks into your skin and doesn't leave me feeling oily

Solid Moisturiser

After using this product (at the end of my skin care routine and before spf) my skin feels super moisturised and smooth, definitely recommend as an everyday moisturiser

Great

Amazing price! I really love this stuff, really nice and hydrating! Although you don't get a lot it's still a great deal for money!

Amazing

First product I've tried from the ordinary and was so impressed, simple but effective I love this product!

Lightweight

Really lightweight moisturiser, doesn't leave my skin oily or greasy. My skin feels hydrated and soft after use, will continue to use this.

Gentle

This is a lovely light moisturizer. It does not leave your skin feeling oily or greasy. I will definately be purchasing again but in the larger size. Great Product

Long Lasting Moisture

Often, we are told we need a day and night
Moisturiser, not The Ordinary and I love that. I apply it to my face at the end of my cleansing day and night and how do I think it's doing?
Well, my face, hands and knees look and feel brilliant, I have a healthy shine, my skin doesn't feel clogged or covered in something that is not being absorbed and most of all, this moisturiser does not ...

Read More

Wanted to love it

Since I've loved many of The Ordinary's products I decided to give this moisturiser a go however it wasn't nearly as hydrating as I needed it to be. The product was thick but non greasy absorbing really well into the skin but I felt like it just disappeared after 5 mins of applying and I end up having to apply a different moisturiser on top of it anyway. This product might not suit my skin but per...

Read More

Won't buy again

Wasn't hydrating at all, felt my skin was dehydrated not long after applying. I have normal to dry skin. It was also really thick and white and took ages to rub in, and as I felt I needed to apply more to get moisture, that was even more noticeable. I definitely would not purchase again. It was worth a try for the cost I guess, but it's not for me.

Sensitive Skin - Rosacea

I find this moisturizer quite heavy and I use very sparingly. If I am applying makeup on my face I use Hyaluronic acid 2% + B5 instead because I find it is too heavy for my makeup, however, If my skin really needs some moisture I will use this product. I also have a small issue with the use of silicone in my products and this product does have silicone.

Really great, especially for price

Love the long lasting hydration this gives me, its like a lighter version of the drunk elephant lala retro whip moisturiser- making it great to use in the morning. If my eczema plays up or I'm drier than usual, I'll mix it with the ordinary 100% squarlane oil. Only negative is that it takes a while to work into the skin, which reminds me of sunscreen, but isn't a big deal. It absorbs quickly and i...

Read More

You really need to try this

This is a lovely light moisturizer. It does not leave your skin feeling oily or greasy. I will definately be purchasing again but in the larger size. Great Product

Nice and lightweight

Love to use this moisturiser in the morning and mix it with my Vit C and Antioxidant products too as its not too heavy feeling under makeup. It also helps to tone down the tingly sensation from the Vit C. I like using oil moisturisers at night instead

best moisturiser!

this is such a great product, I love using it in my skincare routine and I can really feel the difference of my skin throughout the day!

Great for the price

This is great for my dry skin and very gentle. I will purchase again.

Perfect lightweight moisturizer.

This is a great lightweight moisturiser. I use it at night when I don't need SPF protection. I have oily skin and this seems to be perfect. Doesn't tend to clog my pores, and spreads so easily so you really don't need much at all. You can't go past this product considering the price either!

Moisturiser on a budget!

This moisturiser is great value for the price. It is relatively scent-free and doesn't leave your skin feeling sticky or oily. It isn't a deep hydration type, but great for a cheap alternative.

Very Hydrating

I have normal to dry skin and found this as my nighttime moisturiser has worked out very well for me. My skin feels more hydrated and plump. It is worth noting it does feel very heavy going on so would not recommend for AM use.

great gentle moisturiser

I usually look for a moisturiser with an added benefit like retinol of hyaluronic acid so this ticks that box. Gentle and unscented, melts into skin. I didn't find it worked well with my makeup but great for a night cream.

Great budget moisturiser

Big fan of this moisturiser. It feels very nourishing and does the job! I do prefer other more high end moisturisers on a daily basis but I always have a tube of this handy in my cupboard when I just want to use something simple and fragrance free. My boyfriend loves it too

My new fave

Absolutely love this moisturiser!!
I have sensitive, oily, acne prone skin and finally I've found something that doesn't set it off. I also don't wake up the next day super oily which I usually do no matter what I put on my skin. It dries almost matte on the skin which I quite like.

The only thing I would change next time is to buy the bigger sized product as the 30ml goes quite...

Read More

It's ok

This moisturiser did not work for me and it actually made my skin dry. I am finishing the bottle as a hand cream and it also works well as a makeup primer over my usual moisturiser

Pretty typical moisturiser, not bad though

I put this moisturiser on after I've used The Ordinary's Hyaluronic Acid 2% + B5. They seem to work well together but as a moisturiser when I use it at any point in the day without the Hyaluronic Acid its just a pretty typical moisturiser. I've had it for around 3 weeks and use it maybe twice a week, rotating other moisturisers, and it seems to have quite a lot left. Pretty good price for the size...

Read More

Great basic moisturiser

This is pretty basic and does what it says. Will be repurchasing this for sure as it works well to lock in your other skincare products.

do not use if you have combination or oily skin!

i have combination skin and before i used this product my skin was normal. No blemishes, active pimples or comedones, but i had ran out of moisturiser. The first week i used it gave me the biggest 3 pimples I've ever had in my life and small breakouts on my cheeks. Be careful with the moisturiser you use and make sure it works for your skin type.

Not bad on acne prone skin!

I recently moved from a fairly cold dry climate, to a warmer and more humid one and found the oil I was using too heavy as my skin didn't need all that moisture any more... After playing around with my routine I now use this alongside my argan oil, I use it mostly as an under eye cream and on my cheekbones where I want a bit more glow. I love it and have been trying to get my Mum onto it as well! ...

Read More

You get what you pay for

Left my skin feeling worse off than when I started it. Not moisturising enough for me sorry.

Good staple product

This is a good basic moisturiser when you need something simple and non-irritating. It is exactly what I need in moisturisers as I prefer having separate products with active ingredients. I find it is light enough to regularly wear while still being occlusive enough to keep my skin feeling moisturised hours after. I do find that I need to top this up with a second layer during the nighttime when t...

Read More

A great affordable product

I've been using this moisturiser for maybe 2 years now. I love that it's affordable, and it provides my skin with the perfect amount of hydration. It's great under makeup without a primer, or before bed. The only thing that could make it better is some SPF.

Another Winner Product

This is a great basic moisturiser that you can use night and day. It layers nicely under makeup and a little goes a long way. The tube is small but it does last a long time.

mmm idk how to feel at it

I don't if its just my skin but my nose gets really oily after i use it. I think it might be because of how think it is and it feels a little bit like siliconey

Very moisturising

I've used this product for two weeks and I'm very impressed. This product keeps my skin very moisturised and it contains Hyaluronic acid which is great for the winter and also doesn't contain any ingredients that will dry your skin. You only need to put a little bit of this product which is even better for your money's worth.

A little goes a long way

I love this brand overall and I've been looking for a moisturiser to suit my skin. Although I liked the texture and the little amounts I need to moisturise my face. But throughout the day I notice it sits in my skin instead of absorbing and makes my face appear extremely oily

Perfect moisturizer

Love all Ordinary products so new I had to give the moisturizer a go. Only thing that disappointing me was that i accidentally ordered the smaller size! Light weight non oily great value. Bring on the SPF products!

Good everyday moisturiser

Very reasonably priced good value everyday moisturiser. This product makes my skin feel very hydrated however I found it does take a while to rub in fully/ a little slow to absorb.

My skin has never been so hydrated

I have used all moisturizers, from organic to plain old store-bought and after using this product twice my skin is so plump and soft which ultimately minimizes those fine lines. Recommend!

Love this!

I use this everyday and every night, such a great moisturiser.

So great!

I love this moisturiser! it is a no nonsense, all that you need, non-irritating, simple hydrating moisturiser. Its got no fancy fragrance and doesn't feel really luxurious but its all you need to lock in hydration in a skincare routine. I'm only giving it 4.5 stars because it can be difficult to absorb when applying and kinda spreads out and then you have to let it sink in, but that is a small iss...

Read More

not bad

I have fairly dry skin so this doesn't provide quite enough hydration for me. It's quite thick so I only really like to use it at night as I don't think it sits well under make up. Also I think this size of the product is a bit redundant since it also comes in 100ml for only $3 more? If you want a smaller bottle to travel with better off buying the bigger one and squeezing some into a travel bottl...

Read More

Go to moisturiser

I use this everyday. It's got everything you could ever need in a moisturiser but a 10th of the price. Can be a little thick so I usually add a few drops of Borage seed oil and HA or amino acids (all from the ordinary) to make it more spreadable.

Basic Moisturiser which does the job

I am a big fan of the ordinary products and I think they have delivered again with this product. It is absorbed nicely and is not thick for my oily skin.
I have reordered a couple of times and prefer to use it when I am going out in the evening as it doesnt make me too shiny. I prefer to use an SPF during the day and dont think it is moisturising enough for a night cream so it is just somet...

Read More

An average moisturiser

I wanted to love this for the price and the fact I love the brand. It's an ok moisturiser but I don't think I'll repurchase. My husband has been using it and he doesn't mind it.

Lovely texture

I have been using a really expensive moisturiser for the last year or so. Lately, my skin seemed to be left feeling tight, so I purchased this on a bit of a whim while I was getting "the buffet" and "rosehip oil". I am so impressed by this moisturiser. It is amazing value for money and is great under makeup. It seems to lock in the serums really nicely and the tightness has resolved.

average

i use this with an oil because its not hydrating enough

Good basic moisturiser, but hard to layer on

I find this is a great product if I'm only looking to use a moisturiser and no other serums/thick sunscreen. I do feel hydrated but I think the ingredients make it more difficult to absorb quickly and pills with a lot of my other skin care products.

Affordable, great for sensitive skin, but not a game changer

I have combination, sensitive skin. I've used so many moisturisers that make my skin, tingly or red - this is not one of those.
It's super gentle and an effective moisturisers but there's no wow-factor. It's such a great starting point for sensitive skin but I've now moved onto Neutrogena Water Boost and have realised I could get a little more from a moisturiser.
So recommend if you'r...

Read More

Good quality does money

Good in terms of quality for money but would prefer to use skinstitut on my skin as it's sensitive

Nice moisturiser

This is a nice moisturiser. I have oily skin and am prone to blemishes and congestion, this moisturiser has not aggravated any issues.
This moisturiser absorbs into my skin really well.

not a fan

i dont hate this but i definitely dont love it. i wanted to like it as i generally really like the ordinary products, but i just feel like the consistency of this moisturiser is like silicone? and doesnt sink into my skin. theres definitely other better products from the brand and this is a miss for me.

Works Well

This is good moisturizer I mix it with Rosehip oil at night and it's really good, have used in day time and it works well.

So cute

purchased this for travelling after falling in love with the fall size. best moisturiser and super affordable!

cute travel size

it is such a cute travel size can fit in my little purse. also it is super hydrating and i having an oily skin is okay with this as it does not makes my skin more oily.

Great for the price

I usually love a moisturiser that is thick and absorbs well. This moisturiser is thick enough but doesn't always settle into the skin beautifully. Having said that make up still blends beautifully over the top. Its a great product at this price

Nice but small

Really like how this moisturiser feels, but the bottle is tiny and doesn't last long. It is inexpensive but I don't think it even lasted me a month.

Does what it says

It is a simple moisturiser without any other fancy additives. My eczema would usually react to other face products, but it doesn't for this one! It's really gentle and hydrating. A little goes a long way honestly.

This works fine as a day moisturiser

I have fair, combination skin. I use this after cleansing and a serum during the day. I have been using it for a year and it is fine. It isn't the most impressive Ordinary product, but I put more attention into my serums and I find this sits nicely on top of serums and under makeup. It has a nice consistency and pleasant smell. I would recommend for a basic moisturiser.

Love it

Absolutely love this moisturiser. Does everything it needs to, soft hydrated skin and it soaks in quickly. Love this size for travelling.

Light & easy!

Amazing price for a great product. Its super light weight and perfect under makeup. A little goes a long way too.