The Ordinary Natural Moisturizing Factors + HA 30ml
Skin Concern:
Dull, dry or dehydrated skin
First signs of ageing
Sensitivity and redness
Wrinkles and loss of firmness
Skin Type:
Dry
Normal to dry
Normal to oily
Oily
Questions & Answers
(12 Questions)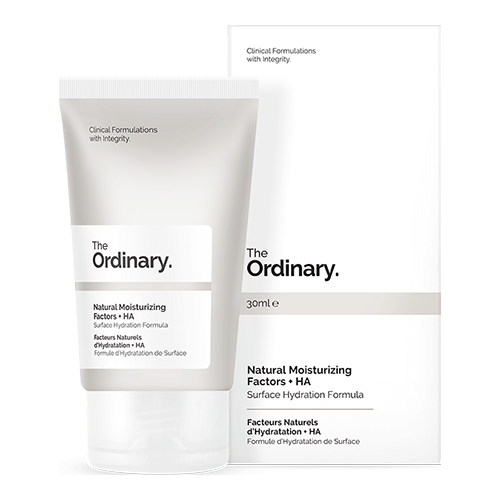 The Ordinary Natural Moisturizing Factors + HA
Get an expert to answer your question about this product!
Ask a Question
85% recommend this product
Most Helpful Positive
Love it!
Works nicely with my oily skin, rich consistency which I look for in a moisturiser
Most Helpful Criticism
Great priced basic lotion
This is a lightweight moisturiser that is good under makeup or to help the absorption of other oils/products. I also use it to thin and blend out foundation for a lighter coverage. If you tend to be dry, it's not great as a hydrating cream, it's more like a lotion. I have dry sensitive skin and have no reaction to it, but I need to mix with squalane if I want a nourishing hydrating moisturiser. It's good for the price, but has limitations. Might be a good match for oily skin though.
Affordable and realy works on my oily skin

Its wonderful, affordable and is great on my oily skin and is smoothing out my fine lines.. super impressed for the price..

Switching up my moisturiser

I am trialling this one out, goes on really nice and absorbs quickly, i think next time i will buy the 100ml cause i think value for money is amazing!

Love it!

Works nicely with my oily skin, rich consistency which I look for in a moisturiser

Affordable and light weight

I purchased this to use as an affordable alternative every day moisturizer, i have very oily skin and i use this in the morning before make up. So far its done the job, hasn't broke me out and is great price point if your looking for something that does its job.

Love it!

After trying numerous moisturises I was so happy with this one! I have very sensitive skin prone to dermatitis and breakouts in my t-zone. Since using it I haven't had many breakouts at all and my skin feels lovely. My skin is left feeling really moisturised and I wake up in the morning feeling and looking great.

Great product for dehydrated skin

This product is great. The product is not greasy and very light on my dehydrated skin.
Love the fact that it is not scented and my face feels really soft and not tight after using it.

good cheap moisturiser

for the price this moisturiser is really nice.

Simple and effective

I love this moisturiser, I first got it as part of the No-Brainer Set but have since repurchased in this small travel-friendly size. Due to it's thick and rich texture I find you only need the smallest amount to cover your whole face so it lasts for ages. I have oily skin and this works great for locking in moisture without making me too oily.

Amazing for winter!

Love this moisturizer pre-sunscreen during the day! A little goes a long way and it is nice and creamy.
Probably better for winter for some skin types though as it can cause a bit of congestion after long use, in my opinion.

Plain, simply, does the job

As much as I love smell nice products this moisturiser just does what it is supposed to, lock in the moisture with no scent. My skin used to be quite sensitive and flaky but since I started using The Ordinary products I don't experience any of those symptoms anymore.

Good price, average product

Find this does nothing for my skin. Not a fan of the texture

New hero moisturiser

I am in love with this moisturiser, and not only because it's $9.80 (but seriously, how amazing is that?!).

It's simple, no fuss, and does exactly what it's supposed to do. It applies like a balm and a little goes a really long way. A pea-sized amount melts in my hands to spread over my whole face. It only feels thick or heavy if you apply too much. Otherwise, it's beautiful and lightweight, which is exactly what I want for daytime wear.

It sits wonderfully under my makeup and doesn't pill, even with my BB cream which apparently seems to pill with EVERY product, so that's saying something.

I love that it has actives in it so is doing more than just keeping my skin soft and supple.

This moisturiser is leagues better than many I've used that have been five or more times the price. I'll never stop buying this!

Can't complain for the price

Good simple moisturiser for someone on a budget, does exactly what it says although it felt a bit sticky. I would probably splurge a bit more for something a bit nicer and a bit more hydrating.

like a supermarket moisteriser

I used Skinstitut products and thought I would try The Ordinary so have purchased a few products. Their moisturiser is just not 'moisturising' at all! I have random dry patches on my face and with this moisturiser they are still there, whereas with the Skinstitut moisturiser they went away. My skin feels dry after using it and I have gone back to my old product. It is cheap and it feels like a cheap supermarket moisturiser

Good but can't use alone

I like this moisturiser and use it after oils and the Ordinary Buffet serum. I've used it a couple of times alone (lazy) and my skin felt dry by a couple of hours after. Good basic moisturiser.

Nice basic moisturiser

This is a great product for a standard moisturiser. I didn't find it blew me away but it does exactly what is suppose to. I do find it pills when applying foundation directly over it so I try not to use too much or I use when I am not wearing any makeup.

Nice simple daily moisturiser

This moisturiser is exactly what I was after. Light weight, refreshing and keeps my skin happy all day. It has no fancy stuff in it, but I prefer it simple and effective.

Does what is says!

An inexpensive, effective moisturiser. I have dry sensitive skin, this is gentle but nourishing. It's quite thick, but spreads easily and absorbs quickly. A great product at an affordable price point.

Just tried and am loving it!

I just started using quite a few different products from The Ordinary range, and I'm really liking the moisturiser. I have normal skin, and I find it's not too heavy and you don't need to use a lot. I've tried creams 5x the price and can honestly say this is just as good. Great value for price.


Must have

After reading the reviews I thought I'd try my luck with this and considering it's also quite cheap I thought I wouldn't have much to lose. I use it every morning and every night and my skin has never been better. When I combine it with the rest of my regime from the ordinary at night, I wake up the next day and it looks like the sun is shining out of my face.

Simple & no fuss

I have dry/dehydrated skin. I just started using this moisturiser with TO's HA serum, morning and night and my skin is left soft and feeling hydrated and not greasy at all. It is good value for money too.

Does the job

I've been looking for a cost-effective moisturiser and have been enjoying this. I'm usually quite picky with my moisturisers but this does the job - doesn't feel greasy and soaks into the skin straight away. Have been layering this with The Ordinary's hyaluronic acid underneath.

Best low end moisturiser I've ever used

I'm an avid believer of using a combination of high end and low end products. I have dry, dehydrated skin and jumped on the hyalyronic acid craze but didnt want to fork out a lot of money for a serum and a moisturiser. I get dry patches towards the end of the day and I struggle to find a cream outside of Creme de la mer that keeps my skin hydrated all day. I layered this with the hyaluronic acid b5 from the same brand and have noticed a significant difference in my skin over the last 4 months. I am now on my third tube of this cream and I don't think I'll stop using it. Fingers crossed this will withstand the dry skin over the winter months too.

My go to moisturiser

I have been a repeat purchaser of this wonder moisturiser! It is soft and not oily, perfect for underneath make up. My complexion has drastically improved since I began using this daily. It comes in 2 sizes which is great as the smaller one is perfect for travel or to keep in your handbag. The only downside to this product is that it doesn't have that "luxurious" feel and smell of higher end face creams. As someone who was a cult buyer of a particular high end moisturiser I am officially a convert to this product. You cannot go wrong with the great results and the fantastic pricing.

Great and affordable moisturiser!

This is a great light-weight, non-greasy moisturiser that doesn't irritate my sensitive skin and leaves it nice and hydrated. It's also very affordable which I love.

HG Moisturiser

I always had trouble with my skin until I tried this: I'm dry and sensitive, but also prone to acne and congestion. Most moisturisers leave my skin dry and tight, but the ones that deliver enough moisture and hydration tend to cause breakouts. Plus the vast majority, even those for sensitive skin, sting and burn! I tried this on a whim and it changed my life forever.

It's rich but not heavy, because the hyaluronic acid boosts hydration without being greasy, and gives an almost silicone texture that smooths my skin. It doesn't have a scent or any active ingredients like antioxidants, which is perfect for sensitive people. I add The Ordinary Hyaluronic Acid or Plant Derived Squalane underneath most days, but for more normal/combo skin types it would be fine on its own. I recommend this to everyone and can't see myself using anything else: the only thing that comes close is Chanel Solution 10, but I honestly prefer this!

Good vaule

I just started using quite a few different products from The Ordinary range, and I'm really liking the moisturiser. I have normal skin, and I find it's not too heavy and you don't need to use a lot. I've tried creams 5x the price and can honestly say this is just as good. Great value for price.

Great priced basic lotion

This is a lightweight moisturiser that is good under makeup or to help the absorption of other oils/products. I also use it to thin and blend out foundation for a lighter coverage. If you tend to be dry, it's not great as a hydrating cream, it's more like a lotion. I have dry sensitive skin and have no reaction to it, but I need to mix with squalane if I want a nourishing hydrating moisturiser. It's good for the price, but has limitations. Might be a good match for oily skin though.

An excellent product, I recommend buying the 100ml version

An excellent product, I recommend buying the 100ml version. I go through the smaller one so quickly and it's annoying to have to repurchase it regularly.

Good Moisturiser

For the price, this moisturiser is amazing. Hydrates your skin but not too heavy and goes seamlessly under makeup, fell into my beauty routine no problems at all. I have oily acne prone skin and it did not break me out.

Okay moisturiser

It is not as moisturising as i expected so i mixed it with other moisturisers and it felt good

Good support moisturiser for eczema.

I have combination skin and bought this mainly because I have patches of facial eczema. I had heard that many of the ingredients in this formula are often recommended for eczema suffers to improve skin barrier function and repair skin damage.
This is a very thick, creamy, almost scent-less moisturizer. I only needed a tiny amount to cover my eczema. It goes on smooth and leaves skin feeling softer, but doesn't soak in as much as more watery moisturisers.
Overall, I didn't notice any amazing improvement in my eczema while I was using this, but it did help keep my skin smooth and hydrated, and also it didn't cause me any extra irritation or itching. I don't think I would want to use it as a general facial moisturiser as a I prefer a formula that is less creamy and soaks in more.

Good moisturiser

I really like this moisturiser and it's such a good price. Doesn't feel heavy (though the consistency is quite thick), and it keeps my skin looking hydrated.

I have normal/combo skin and it works well. Tried it on my boyfriend's dry skin and it worked a treat!

Good for it's price!

I like this because it's so simple and not going to irritate my face in anyway
I do find it doesn't sit well under make up as well as other moisturisers do and isn't the most hydrating on the market but still all around a good moisturiser for people with problem skin especially!


Affordable great moisturiser

This moisturiser is very affordable and worth a try for all skin types. The addition of Hyaluronic acid adds extra moisture to the layers of the skin. I have oily combination acne prone skin and this did not break me out, quite happy with it. It stay well under makeup although i felt it made me a little oily than usual in the T-zone.

Moisturising Heaven

I have dry skin thats also prone to breakouts, and struggle to find anything that works for both concerns. I tried the ordinary moisturiser with low expectations. I was really impressed with the consistency of the product, its quite thick, but not too rich or oily, a little goes a long way, and it doesn't seem to clog my pores. If I want a little extra night time moisture I mix it with some rose hip oil.

New favourite moisturizer

The Ordinairy have done it again! There is nothing ordinairy about this moisturizer, it is very hydrating and i have also found that applying several layers helps it act as an amazing primer for foundation. It's great for super dehydrated skin like mine. Needs more hype as it is fantastic! Repurchasing again and again

Great product for a great price!

I use this moisturiser in the morning after The Ordinary serums. I also like to use it prior to applying makeup. I will also put some on under a tinted moisturiser if it's sunny weather. It is a nice and light moisture that seems to sit nicely beneath makeup.
This is the BEST skincare brand ever! Great price too!!!

Nice light moisturiser

I have normal to dry skin.
Love that you only need a tiny bit, especially as the bottle is so small.
It soaks in beautifully and feels light and not greasy or oily, no fragrance at all which is nice.
This moisturiser isn't wowing me in any big way but it's decent.

Go to no fuss moisturiser

This is my go to moisturiser I use daily, it's simple, fragrance free and does a great job of delivering substantial moisture with absolutely no residue. It does exactly as it promisses and for what you pay, it is an excellent value for money product. I would recommend to anyone.

Brilliant

After fighting for years with my oily acne prone skin, I have finally found a moisturiser that actually works wonders. I only use the tiniest bit as it goes a long way, twice a day and it's keeping my oils away. I'm so happy, it was so cheap too!

Its okay

I would not recommend this if you're after something very hydrating, but its okay.
Nice for the price, thats about it.

Great pricepoint

I purchased this after running out of my high end moisturizer and needed to get to payday. This product surprised me with its super hydrating properties and creamy texture and being under $20! I combined it with the rosehip oil at nightime and really loved the glow!

Hydration doesn't last

I've been using The Ordinary products since their initial launch and I generally love their products for the fact that they are straightforward, insanely well-priced and effective. Unfortunately, though, the NMF + HA falls short for me.
It does feel nice going on the skin - it actually feels relatively light for the level of hydration you feel initially. I have combination skin with some dryness - when I first put it on, I feel well moisturised.
However, the problem for me is that the hydration doesn't last. Within a couple of hours, my skin feels dry again. I need to add more moisturiser, and that's particularly problematic if I've put on makeup. If I use it at night, when I wake up in the morning, my skin feels tight.
My skin isn't excessively dry so I didn't expect this - and it hasn't happened with other moisturisers I've used in the past. It's an odd thing...but it happens no matter how liberally I apply it. I don't know what it is - maybe the lack of oils?
For me, a moisturiser needs to provide hydration for a full day. Perhaps this product is better suited to people who need only very light hydration...

Great moisturiser at a great price

I have sensitive skin so have been very limited in terms of the types of moisturiser I can use. I was pleasantly surprised after testing this product - skin definitely feels protected & more moisturised. The texture can feel a bit funny at the beginning - I just warm it up in my hands before I pop it on my face. Would be re-purchasing.

excellent moisturizer

I have oily/combination skin and wanted a moisturizer that would absorb well into my skin without leaving a heavy residue on top of my skin - this product did exactly that. I use it once I have used my serums - I make sure I leave a good couple of minutes in between applying each product to make sure they are well absorbed. I didn't need much of this product, it glided on nicely and didn't leave my skin feeling heavily.

Hydrating and Lightweight

I'll start by saying that this is the BEST moisturiser I have come across, and I have tried them all. I have an oily T so I do struggle with finding the right products to manage the oils produced on my face, but this moisturiser (along with my other Ordinary products) helps control the shine and oil build up. I use this product both morning and night after I wash my face and apply my other toners, serums etc. and I can honestly say that I wake up in the morning feeling fresh and light. All other moisurisers that I have used that are said to be light weight and for oily skin simply make me wake up feeling clogged and oily, where I want to just rush to the bathroom to wash my face instantly. This moisturiser however has balanced out this issue, allowing me to feel as though I have fresh skin. Many friends have commented on the glow that I have my face is hydrated and soft. Could not speak more highly of this lightweight product. And the price... amazing! Love The Ordinary!

cheap and cheerful

I have used this product for some time now, the product is excellent value. The pot size is small but it does last quite a while. I have maturing skin and I am now finding the product isnt moisturising enough.
For younger skin with a small purseI would definately recommend this product. But for the older drier skin this product hasnt got the umph needed for ageing skin needs.

Good basic moisturiser

I have sensitive fair combination skin. This is a good, no frills moisturiser that does what it's supposed to and is fine for the price. I've read it's smart to just use a basic moisturiser that does the job and spend your money on serums so thought I'd give this a go and am happy so far.

Great product but too heavy!

I have combination skin. This product is too heavy on my skin! I hate sticky and heavy feel on my skin. But if you have a dry skin this will be good for you. Great price for a moisturiser if you don't mind the heavy feel on your skin.

Moisturiser

It's a fairly thick moisturiser so very hydrating, however a bit thick for my oily/combination skin. I now use it after I do an exfoliant and face mask to give it extra hydration when needed :)

Long lasting, Lovely feel.

I was hesitant to buy this one, mainly because I have a tone of half full moisturizers from other skincare ranges, however, I had purchased a few other ordinary products and wanted to make sure the moisturizer I used worked with their serums. You only need a small amount, it feels lovely and smooth. Only thing I'd say is because it is quick thick it seems to take a while to absorb into the skin when layered on top of serums so I try to do it a while before bed.

Ultimate Hydration!!

LOVED this product. Glides on easily and combined with The Ordinary Hyaluronic Acid my skin felt more hydrated then it has in a long time. I have already recommended this product to others. For the price you can't really go wrong.

Not a stand out

Nothing that exciting about this product.. just a typical moisturiser. I have combination skin but this had no outstanding effect!

Good for hydration in combination with thicker moisturiser

I've been using the Natural Moisturising Factors + HA in combination with either a thicker moisturiser or face oil and found it works really well. Just using this product on its own does definitely hydrate and promote cell renewal, but I found it absorbed into my skin very quickly and needed something extra to provide lasting hydration.
I have quite dry skin so I generally prefer a thicker formula or oil, but if you're looking for a quick-absorbing moisturiser that's a bit lighter for daytime use, this would be fantastic. Also great for sensitive or eczema-prone skin!

Not bad

I personally didn't like the texture of this moisturiser on my skin, it sat on top of my skin and felt thick. I ended up passing it onto a friend.

Ideal Travel Size

The 30ml size is perfect for travel. Mine has lasted a month with daily morning and evening use. Tip: I cut open the container after 4 weeks and there was still some sizeable amounts of product stuck to the insides.
I am 62 years old with very dehydrated skin due to medication I have to take and I have been using an expensive brand of skincare for the past two years. I am making the change to budget- priced The Ordinary products and am happy with the results so far. I add a couple of drops of The Ordinary cold-pressed Moroccan Argan oil to this moisturizer (as recommended by another reviewer) and I find this makes it more creamy and easier to apply. Without the addition of the oil, the moisturizer has more of a primer texture. I like the texture either way.
For home use I buy the 100ml size for a few extra dollars.


Good tingly

This product is great for overnight cell renewal. I have combination skin, with all the trimmings (wrinkles, pimples, blackheads, etc), so it's hard to find a good moisturiser. I use this one only at night and over the top of any serums I use. It's tingly at first, so I know it's working. Then it calms down and my skin has already improved after a week.

Beautiful moisturiser!

I was very hesitant to purchase this moisturiser due to the price, I was suggested to start a skin care routine using all the skinstitut products, I brought some of the products I needed but couldn't afford to purchase the moisturiser in the skinstitut as well. I got on the online chat to Adore Beauty and said there recommendations for a cheaper option. The suggested The ordinary moisturiser, well up until I recieved it I was so worried I made the wrong choice due to the low price...... well I was wrong it's a beautiful moisturiser, so light, refreshing and very hydrating. I am so happy and the price you can't go wrong. Give it a try

great basic moisture

I was looking for an evening/non sunscreen moisturiser that didn't have too much going on in terms of active ingredients, as I already use a few serums/treatments. This fit the bill perfectly, and for the price there's no comparison

Amazing!!

Super hydrating without left over residue. My skin loves this product & so does my bank account. Never have I used such a good moisturiser esp for this price. The ordinary is just amazing

Budget friendly for an amazing moisturiser

Oily Skin type; Concerns: Large Pores, Blackheads and Excess Sebum. I know everyone reacts to products differently but this definitely worked for me. I love that it is so cheap but works so well. It's oil free and quite heavy during application but I feel my skin absorbing it in seconds. I have very stubborn oily skin that needs blotting everyday during stressful hours but after using this moituriser I've been blotting less and my glasses don't feel like an oil slick at all. Would definitely recommend this moisturiser for oily skin types as the ingredients are very friendly for that skin type. I would also recommend to combination skin! Will buy this again in the future as I am on a very tight budget, not a whole lot in the tube but a little goes a long way. This is sure to last me 3-4 months. Can't wait to combine this with The Ordinary serums!

Average moisturiser

I have combination skin in general but in the winter months it tends to be more on the dry side. I decided to try this because I've loved every other product I've used from The Ordinary. There was not much to love about this. It's an OK moisturiser, its very light, absorbs well but if you have dry skin then you may need something more than this. I would say if you have normal skin than it will be more suited for your skin type.

Average cream

I have very dry eczema prone skin and this wasn't thick or hydrating enough for me

Absorbs well but not moisturising enough for me

This review covers the following The Ordinary products:

Buffet
Niacinamide 10% + Zinc 1%
Hyaluronic Acid 2% + B5
The Ordinary Magnesium Ascorbyl Phosphate 10%
The Ordinary Vitamin C Suspension 23% + HA Spheres 2%
The Ordinary Natural Moisturizing Factors + HA 100ml
The Ordinary Caffeine Solution 5% + EGCG

I was recommended The Ordinary products by a friend who also has dry, sensitive skin prone to redness. I'm male, 50.

When trying new products I try to get all the recommended products within a brand's range to give it a solid go. The first thing about The Ordinary products is trying to workout exactly what was suitable for my skin. Adore Beauty has a guide on its site but I also did a lot of Googling and came up with the list above.

Price is obviously an attraction to this product line. I've been using the products for about a month now & am really struggling to see any benefit particularly as I've experienced things like 'pilling' which I'd never heard of or experienced before using The Ordinary. It's really annoying & the only way around it is to use only one oil based product at a time.

My morning routine is buffet, niacinamide, hyaluronic acid followed by the moisturise & eye gel. Most of these serums are gel based and while they soak in quite well between applications they leave my skin feeling tight so I have to put on my regular other brand moisturiser.

In the evening I omit the niacinamide and put on either the Magnesium or the Vitamin C oil based creams. I then finish with another brand's moisturiser.

Perhaps it's too soon to see any results but I definitely need more moisturising creams than these water based serums. I like The Ordinary moisturiser which absorbs well while still being lightweight. The serums leave my skin shiny which I don't like & they don't calm any razor burn even if applied over my post-shave balm.

I'm still undecided as to whether I'll buy these products again. If I do it will be because of the price & I might regard them as 'fertiliser' nourishment for my skin rather than an everyday routine.

Didn't love it

Sadly I didn't love this product. I felt like it made my skin feel quite greasy rather than moisturised and I am still trying to finish the tube.

For reference my skin is oily/combination with occasional breakouts and I am 29.
I have fine lines, blackheads and textured skin.

I definitely think there are better moisturisers out there for my skin type.

Great moisturiser for oily, acne-prone combination skin

This is a great moisturiser, especially given the price- amazing! A little goes a long way, and even though the size of the product is small, it lasts a long time. I use this at night after my skin care routine (cleanse, tone, acne treatments) and it is the perfect product to 'seal in' my treatments, hydrate my dry areas and does not cause my to break out around my problem areas. I'll definitely re-purchase when this runs out.

Smooth and Moistuising

I love this as a primer moisturiser but I agree with some of the other comments that say it doesn't seem to be as satisfying as a moisturiser. I'm not exactly sure how to explain, but it feels like my skin needs a little more moisture.

It is a okay moisturizing

meh.......
i mean i cant say this is not good, it did the job, but i would not re purchase again
even its cheap......
The texture is a bit not my type of cream that i would use, the feel of this moisture is not creamy but firm cream, need to rub on my palm and blend on my face.

Hydrating

A nice light moisturiser that instantly hydrates

Affordable skin care superstar

This product is perfect if you're looking for affordable skin care with active ingredients. Definitely did what it says and hydrated my dry skin however my skin still looked quite dull, I'd like to try the Vitamin c moisturiser in the future to see if that adds a glow.

Not Enough Moisture for my dry skin

Of course we are all different....but if your skin is thirsty like mine, perhaps this won't give you the moisturising effect you are looking for. I used this after applying the Ordinary Buffet and whilst it soaked in really well, my skin felt tight and this made me feel like I needed to add some other moisturiser to complete my routine. It didn't make a big enough impact for my dry skin to warrant me purchasing this one again.

great

great product and cheap too for oily skin but everyone is different just remember that

Great Moisturiser!

I use this Moisturiser after applying serum and it's a great hydrating product that doesn't make my skin oily or break out. Very affordable too!

Reasonable night cream

I purchased this for the HA. I use over other serums at night.
Have always had dry/combination skin prone to breakouts. My skin is better, but I think that is because of the serums, not this cream. It doesn't have sunscreen either, so not great for day use. Medium consistency which glides well into the skin and I haven't broken out which happens with most creams I use of this consistency. OK for the price or to use after a good serum, but having dry skin, I don't think it would do the job on it's own

It's okay, not hype-worthy.

I decided to try this moisturiser after hearing lots of hype about The Ordinary and their products. So I was super excited when it arrived but the excitement stopped there.

This moisturiser wasn't worth the hype to me. It is really, really thick and hard to spread on the face. I use it at nighttime after serums, I guess it does the job, but I won't be making this a permanent part of my skincare routine.

need a bigger tube!

I really feel like this product does a good job trapping the beneficial Buffet active ingredients under a layer of protection and makes my skin feel more hydrated. I am noticing though that I will likely run out of this product before I am finished with Buffet and Retinol as it doesn't seem to go as far as the liquid products do. So I guess I will have to buy two tubes in the future.

My go to moisturiser

I've never had an issue having used this product for a long time. It's a perfect finishing product to lock other products in, or great on its own if you're in a rush. One of my staple products.

Beautiful, non greasy product

Loved this product as use it after serums have been applied and use this moisturiser prior to Primer. Quickly absorbed, non greasy or shine and the added bonus of sunscreen - this makes the product so much more user friendly as I live in a humid part of Australia and can use this product and at a wonderful price

Great product and great value

Great moisturizer, quite thick but spreads into skin and is absorbed easily. Skin feels soft after application. I have quite dry and acne prone skin and this hast made me break out at all. After reading the reviews I thought this product might be really heavy and difficult to absorb but I haven't found that to be the case at all. Really happy with this and will be buying the bigger tube next time!

Great Value

Wonderful product with a nice skinfeel. I find its great for preventing transepidermal waterloss, not so much just for dry skin.

Definitely use a HA serum underneath and then put this over the top to seal in the goodness!

HG Moisturiser!

I love this! I couldn't find a cream/moisturiser that didn't break me out or give me small bumps and I nearly gave up. Nearly. I am so happy I found this cream! It is hydrating, brightening and it smoothes and softens my skin. I love love this moisturiser and I will definitely be purchasing the bigger bottle as long as it stays on the market.

Great!

I have just tried this instead of my usual $85 moisturiser and I actually prefer this one!
I have sensitive combination skin with bouts of acne and eczema. This hasn't inflamed any of my issues. Goes on really nicely - feels a little thick on the skin to begin with but my dry patched soon soaked in the excess.

if you're after something cheap...

Nothing too special about this, and it doesn't last very long with the end product being pretty annoying to access. Didn't make me break-out and worked well in use with a serum.

Okay

it's okay but would not prefer this as a 'main' moisturiser. I apply this after my vitamin c or oil treatments at night for hydration purposes. The texture is a bit pearly so you need to emulsify it on your hand first.

Doesn't absorb well

I have dry skin and I thought this moisturiser would make a difference to my dry skin. However, it does the opposite. This product stays on top of my skin and I had to spread it out a few times before the white cream would disappear into my skin. I hope to find another moisturiser that is suitable for my dry skin.

Effective

I have been using for a month now and pleased to have found this brilliant brand. It's a brilliant moisturiser for my ageing , sensitive skin.

Good for dry skin

I have very dry skin with hormonal acne so I need a good moisturiser that won't clog pores
Usually I am still dry after moisturiser, this left my skin plump and hydrated.

Great every day moisturiser

This is exactly what I wanted. It's creamy without feeling heavy or clogging, and stops my skin from feeling tight and dehydrated. The formula is quite thick, so I warm it up between my fingertips before applying to my face so it spreads easier.

Perfect

I have recommended this moisturiser to lots of different people with lots of different skin types - can do no wrong. Beautifully moisturising and surprisingly light - leaves skin hydrated through the day. I have dry/sensitive skin and love love love this product.

Great simple moisturiser

Really good moisturiser to go over other Ordinary products. I wear it every night over the Granactive Retinoid Emulsion 2% and they work together really nicely. The granactive takes a while to sink in and this moisturiser has to be rubbed into the skin.

Weightless and moisturising

I have combination skin (oily t-zone and dry everywhere else) and found that the moisturiser did not feel heavy around my oily zones but it was moisturising enough for areas that would otherwise dry out.

Nice texture

I like this as a day time moisturiser as it has a lovely texture and doesn't give me an oily t zone that I am prone too. I do use additional products at night as I feel very dry otherwise

Perfect amount of moisturising

When I over moisturise, I usually end up with an oily face by mid-day. When I under-moisturise, my face starts peeling off by mid-day. But with this product, I find that it moisturises my face and makes sure that it doesn't get really oily at all! My face does not seem dry or peel off either!

Super moisturising but super light!

I have always had to use thick moisturisers for my dry skin, but this one has fixed my dry skin without being heavy at all!

Not as impressive as other Ordinary products

I found this a little dense for my tastes- I prefer lightweight gel moisturisers and don't love this texture. Moisturises well, but I ran through the tube very quickly and won't repurchase

Great value for a daily moisturiser

I am using this with the ordinary buffet and have been for 6 months at night. I am pleased with the results. My skin is smoother - more hydrated and my makeup sits better on my skin. I have combination skin and this does not result in more oily skin. It is great value and gives me everything I need. I am very pleased.

Great for value

I have oily skin, and whilst I have found that this moisturiser doesn't really help with the oil production during the day (not much seems to), I do feel that it really hydrates the skin. I tend to use at night. Not super in love but will definitely repurchase considering the price tag!

Great everyday moisturizer

This is the perfect moisturizer for in the morning. It moisturizes the skin well and is great under makeup. I go through it quickly but for the price it's perfect!

Great, affordable moisturiser

This is a great general moisturizer for all skin types. I have combination skin and find that it hydrates the dry spots without making my T-zone feel oily. Amazing price and I'll happily keep repurchasing!