The Ordinary Natural Moisturizing Factors + HA 100ml 100ml
Is this for you?
The Ordinary Natural Moisturizing Factors + HA formula offers non-greasy hydration that acts as a direct topical supplement of impaired NMF components.
Skin Concern:
Dull, dry or dehydrated skin

First signs of ageing
Skin Type:
Dry

Normal to dry

Normal to oily

Oily
Frequently bought with
Please wait while we find a match
Questions & Answers
(12 Questions)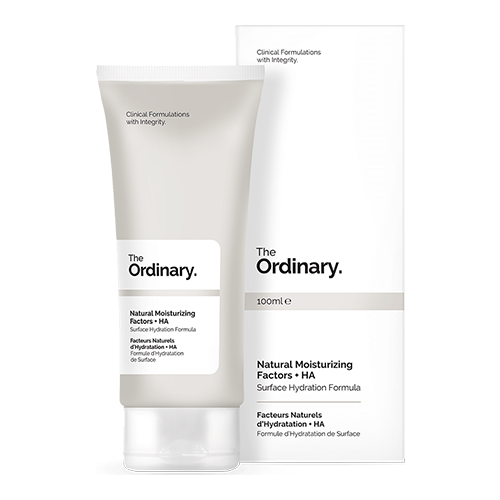 The Ordinary Natural Moisturizing Factors + HA 100ml
Get an expert to answer your question about this product!
90% recommend this product
Most Helpful Positive
Amazing!
I have gone through several tubes of this moisturiser and I am obsessed!
Most Helpful Criticism
Not a bad moisturiser
Not too bad especially for the price. Lightweight, non greasy however seem to be using more and more these days
Good mix of hydrating and skin replenishing ingredients

Natural Moisturizing Factors (NMF) are substances that occur naturally in skin that contribute to what's known as the intercellular matrix (the way the layers of skin are structured). NMFs include such ingredients as amino acids, PCA, urea, fatty acids, ceramides, hyaluronic acid, and minerals. Many of these ingredients are present in this product, so its name is certainly appropriate!

Read More

Amazing!

I have gone through several tubes of this moisturiser and I am obsessed!

Good value for money

I really like this moisturiser, can't fault it. Not currently using it anymore, but I've repeatedly purchased and could go back to it.

Big Fan

Switched from Clinique skincare regime to the Ordinary about 4 months ago. Experienced no purging what so ever and my skin looks more moisturised and I am experiencing less breakouts too. A little goes a long way with this product too - just a small 5 cent piece for the whole face. Non-greasy. This size is excellent value for money too.

Ok

Ok but not great. Does the job for little cost.

One of the best moisturisers I've tried!

I purchased this as part of my first order of The Ordinary products some time ago. I've had combination skin and intermittent spots (as well as light rosacea) for most of my adult life. I was worried it would be too thick or intense, but it absorbs really well and and my skin feels great afterwards - I also like that it's fragrance free, and the low price tag makes it great value.

Such a great product

I love this product and use it daily. I find it soaks in well despite being very creamy it also glides well with out dragging. Will be purchasing again.

Good Value for Money

My Skin as always been dry/combination on my face and I would always get dry patches around my chin, and eyes which would really affect the application of my makeup. Since trying this that dryness has disappeared. It is lightweight and doesnt feel heavy or oily on your skin after application. I do however feel you need to use more each time to get the same effect. Lovely product and would recommen...

Read More

Great

This moisturises my oily skin effectively and is an amazing product

Perfect for everyday use

This is my all time favourite everyday moisturiser. I have dry, eczema prone, and sensitive skin and it does not irritate me at all, and provides good moisture. It also sits well under makeup. Considering how cheap it is for the size, it's a no-brainer for everyday use.

Great

This is a very simple and moisturising cream for my dry, sensitive skin. Very affordable too

Light cream

Good product for the price. Very light cream and it is not feel heavy on the skin.

well priced for such great ingredients

This moisturiser is my go-to and I use it all over - face AND body - as it's so well priced. At night, I add a few drops of TO rosehip oil for extra hydration. I also add a few drops of bio oil after my shower and apply to my legs and arms.

No frills moisturiser

Great basic moisturiser that is perfect for "cocktailing" your other skincare products.

Reliable moisturiser

This is a no-frills-attached moisturiser that does a great job of giving hydration. If you find yourself allergic to a lot of things, this is a solid bet. It's also a convenient travel size, and you don't need much on your face.

love it

love this moisturizer... not too thick ... applies well

Made me Breakout

I have normal/ dry skin. I bought this as well the cleanser and the serum after my hair dresser bragged on about it . I was always so iffy about it because of the price even though it had such great reviews. The first week It was great and my face looked great and glowed . But on the second week I started to break out which isn't normal. I still stuck to it for a further month but once I stopped i...

Read More

LOVE

I apply this moisturiser after my serums etc, even around the eye area, it moisturises perfectly without pilling, blocking pores and doesnt run when you bust into a little sweat. It isn't laden with fragrances (no fragrance at all) just the real McCoy, like the rest of The Ordinary products. Definitely recommend.

Good for oily skin

I have oily skin but my skin , I was looking for a product which can leave my skin hydrated and non greasy , I love this product and will use for long time.

Great moisturiser

I've used lots of different moisturisers over the years and for the price this one does the job well. Light but hydrating.

This is not for dry skin

I don't know how this could be considered for dry or dehydrated skin, it felt super drying for me (even with marula oil after) and both I bought I gave it to an oily friend!

Good light moisturiser

This product is relatively thick coming out of the tube, but rubs in easily and feels nice on the skin. There is no fragrance to the product, which I think is plus. I like to use this in the morning over the top of my serums as it does sit nicely over the top of them. That said, having dry skin, I would not call this a rich moisturiser, and still cover it in another, more soothing product when my ...

Read More

Lightweight moisturiser

This is a simple, light moisturiser that is mildly hydrating. I don't find it emollient enough to use as a night cream, but it works well as a moisturiser under makeup. A great buy for the price.

Good

This is a really good moisturiser with great ingredients. Will buy again

Good for nights and cooler days

I love this moisturiser but it doesn't breathe very well. I always find myself getting quite hot when wearing this. However, it is awesome for nighttime and is really hydrating.

Light moisture

This is a beautiful light moisturiser that absorbs quickly and leaves skin feeling soft and plump

Perfect moisturiser

Honestly has been so hard to find a good moisturiser that leaves my skin not too greasy as it tends to get pily that is also withina reaosnable price, then i stumbled onto The Ordinary products after looking on the internet. Feels great and love the added HA into the moisturiser.

Not a bad moisturiser

Not too bad especially for the price. Lightweight, non greasy however seem to be using more and more these days

#1 daily moisturizer

I use this morning and evening as a lightweight moisturizer, and love it. It's lightly hydrating but non-greasy and has no fragrance, so you can pop it on as often as you like without irritation. You don't need a lot of product, but the price is so good that you could even use it as a body moisturizer and still be getting good value from it. I use this before suncreen in the morning and after s...

Read More

Everyday Moisture

Great and basic moisturiser. For this price it works so well with all of the other Ordinary products. It's a great size and lasts a long time.

Good for dry skin

This moisturiser is great on days when my skin is feeling a little drier. It has been known to break out my combination skin a little, though. It can also make my forehead a little greasy.

Good day moisturiser

Light, absorbed quickly into skin, and so affordable! I've not had any issues with this irritating my sensitive skin in fact, it feels super hydrated! Have adopted this as my daily moisturiser, big fan!

Love it!

A beautiful moisturiser. Feels lovely and soaks well into skin

Great!

Lovely moisturiser. Really hydrates my skin without making my skin too oily or breaking me out.

Lovely

Light, creamy,leaves skin feeling lovely and soft, doesn't take too long to absorb, everything I could ask for in a moisturiser.

use it everyday

it is a good lightweight moisturizer that is super hydrating. i use it morning and night everyday

Soak it up

This is very gentle and soft on the skin not heavy and oily little bit goes a looooong way

Easy everyday moisturiser

This is a great moisturiser to use when you're layering with serums. I use this with a mix of other cosmeceutical products and it just glides on easily over the top. Great that it's so cheap too! It's also unscented and my sensitive skin has never reacted to it.

Never buying anything else!

Keeps my combination skin hydrated without the shine! Makeup sits perfectly on top.

My go-to moisturiser

I love this moisturiser. It is nothing fancy but does the job. My combination skin feels completely hydrated and it sits well under makeup.

Basic moisturiser

First off I usually love the ordinary products but this one was just so so for me. It does moisturise but I find myself needing to reapply later through the day which doesn't happen with most moisturisers - something about the texture also just doesn't sit right or feel comfortable on my skin. It's a miss for me

Thick basic moisturiser

Basic moisturiser that's good for sensitive skin due to having minimal irritating ingredients. It's quite thick and takes a while to absorb in most likely because of the sticky HA in the moisturiser. You don't need to use a lot, if you do it tends not to sink it for a while but if you use just a small amount it works great so it'll last forever as well. It feels heavy when you put it on but it sin...

Read More

Hydrating

Feels light and moisturising.

Great

This is an amazing moisturiser with great ingredients and it is so affordable

Not bad

Having dry skin means never getting enough hydration and while this feels hydrating the first few hours, it doesn't last all day. Has to be reapplied during the day. I have not used this at night time.

Great daily moisturiser

This is a great and affordable daily moisturiser

Good but not for dry skin

I didn't mind this, but it wasn't moisturizing enough for my skin which is quite dry skin.

So hydrating!

I cannot get enough of this product. As I am getting older my skin is changing and is now a lot dryer. This product is so hydrating, my skin is left feeling fresh and glowing. My make up goes on perfectly and leaves me looking dewy.

A gulp of water for the skin

I decided to try out The Ordinary to simplify my skincare routine, I have dehydrated blemish prone combination skin (what a mouthful); so I'm still learning what works for my skin. This moisturizer is awesome as a daily lightweight moisturizer. Using only a small amount, it keeps my skin hydrated and hasn't gotten greasy throughout the day. It's only the start of summer so I'm waiting to see if it...

Read More

Brilliant Product

This is a good quality, relatively thick moisturiser that absorbs into the skin quite quickly. It is great value for the price and is definitely worth trying. I wear it underneath my BB cream/sunscreen during the day.

Good

A good everyday moisturiser. Doesn't make my face shiny and hasn't broken me out.

Does the job

This moisturiser is thick cream with a slightly heavy feel, it has no scent and does a good enough job as a moisturiser but it isn't particularly nourishing or rich feeling so if you have dehydrated skin like I do it might not be enough.

Barely hydrates dry skin

It just doesn't really work. Nothing special about it, doesn't absorb nicely, doesn't feel nice to use, doesn't smell good.

I think there are better cheapies about - Neutrogena, Glow Lab.

Basic moisturiser

Not terrible but also not amazing. A pretty basic moisturiser but good value for money

Good product!

Really good light weight moisturizer with great moisture and reduced some dry patches on m y forehead!

Hydrating, Light and Effective

I'll admit I was skeptical on how effective this moisturiser would be, however I am really impressed with how hydrating, and long lasting, it is! I use this as my morning moisturiser and it leaves my skin hydrated and dewy.

So good

A little goes a long way, My skin feels soft and moisturised after applying. Light enough to use everyday. I use this after applying serums.

great

a great product, i can see results already, feels so nice on my skin

Good, Cheap Everyday Moisturiser

This is a very nice yet cheap option for a everyday moisturiser.

Does a good job at hydrating without leaving the skin greasy. Works well under makeup.

Would recommend to all skin types, however dryer skin types might prefer something more hydrating.

Best easy moisturiser

Great basic moisturiser. If you have combination/oily skin this works really well to moisturise and lasts for ages.

Hyaluronic Acid

I love this product! It does everything I expect in a moisturiser, I suffer from oily skin and breakouts and this moisturiser has been amazing for me.


Moisturiser

Really good basic moisturiser. Doesn't pill, works well with a variety of serums and products without irritating my skin

On the heavier side

This cream is definitely a cream - true to its name. I prefer a lighter moisturiser, more like a lotion as I like it to absorb quickly in the morning/evening. This cream does the job, has no fragrance and is affordable. Its easy to use but personally I probably would look for something lighter next time.

Ethnicity: Vietnamese/Chinese
Skin Type: Oily/Combo,
Other: Medium t...

Read More

Day+Night

I use this moisteriser every day and night and wow you can really see the improvement! My skin is clearer and imperfections clearing! My favourite!

Good moisturiser!

Good everyday moisturiser. its lightweight and i use it before my sunscreen. If my skin is extra dry i do have to use an oil as well, but for the price point its a good moisturiser

Works well!

I have skin leaning on the dry side and find I can really pack this onto my problem areas (around the nose especially) and it feels like my skin is really drinking it in and not getting oily.

Perfect moisturisor

I love this product! It does everything I expect in a moisturiser and you can't go by it for the price. I suffer from oily skin and breakouts/congestion and this moisturiser has been amazing for me. I have used it for almost 2 years now and I don't intend to change it

Good basic moisturiser

I love this moisturiser purely for the fact that it is very basic, allowing you to mix other products into it without worrying about them reacting badly with each other. It is quite an odd texture but nothing off putting.

Great moisturiser

I use this every day before applying sunscreen. It's lightweight and wears well under makeup. Great price too.

Surprising

This product was not what I expected at all, I have oily/acne skin and did not expect to be compatible. I was quite compatible and it does feel quite lightweight on my skin without causing any breakouts. This will be my staple from now on.

Great moisturiser

I use this every day before sunscreen. Lightweight and wears well under makeup. Great price.

My man's fav

I've tried this and I like it, although texture wise I prefer something a little heavier most of the time. This works well under a sunscreen but doesn't cut it for night time as I love rich creams while I sleep!

For my partner though, this is his favourite moisturiser though. He likes not needing to use a serum, and it's not too heavy for him at night.

Perfect for all skin types

Bought this as my night time moisturiser as I was reacting to all natural skin products I was putting on my face. This is lightweight and does the job of moisturising my sensitive dry skin along with their serums. Great price for larger tube too!

non greasy moisture


I have tired many moisturisers over the years and have never been truly happy with them – I have combo skin and find I'm either too moisturized resulting in breakouts or too dry from not enough hydration. This moisturiser is literally perfect – as it is so moisturising I only need to use a thin layer at the end of my skincare routine to hydrate my skin and lock in moisture. After 1 week of ...

Read More

Not for very dry skin

I thought this would work well for my very dry skin, but I need something stronger. I kept applying layers of it, it would soak in but my skin kept feeling dry. I gave it to my mum who has normal skin, I think it will work much better for her.

Good but not great

I have normal to dry skin. This moisturiser certainly does the job and hydrates my skin but is very basic and has no wow factor. A very good no fuss moisturiser and ridiculously great value but if you want something a little extra, this is not for you

Beautiful night time moisturiser

I use this as my night moisturiser as it is so lightweight. It feels so hydrating instantly and you don't need to slather half the bottle on your face. My extremely dehydrated skin loves this and I am seeing a big difference since getting it!

Ok

I bought this after hearing great feedback. It was ok but nothing great. Didn't overly love the feel of it. Ok as a basic cheap moisturiser

Effective and affordable

This moisturiser is great! I love that it has HA and it is not too thick but still really keeps my sometimes sensitive skin hydrated. I adore this brand. So effective yet affordable. Give it a go!

Great

This is a really good moisturiser and it helps with my dry patches and dryness

Good non greasy moisturizer

This is a good overall moisturizer. I have acne prone oily skin and this moisturizer does not leave a greasy film and doesn't break me out. However i find that during the summer it can be a bit heavy.

Love this moisturiser

I have eczema, dry and sensitive skin and this moisturiser (in combination with a number of other Ordinary products) has helped to clear my skin concerns. I use this in the morning after applying the Hyaluronic Acid and it layers perfectly. My skin feels hydrated and smooth.

Not bad....

When I first started using this I found it nice and...well...moisturizing. Problem is my skin doesn't like moisturizers. For whatever reason they dry my skin out even when there are no drying ingredients in the product. And that's what happened with this after a few days. I wanted to like this, but I find my skin responds much better to their squalane.

Simple moisturiser

This moisturiser will do if you're looking for a basic skincare routine and simple products. There's nothing fancy or exciting about using this product but it does leave the face feeling soft, hydrated and supple.

Pleasantly surprised!

I wasn't sure if this moisturiser would be for me as it's very thick and creamy and I have oily acne prone skin. This is incredible makes my skin feel soft but doesn't make me oily. Feels so light on.

So cheap, but soooooo good!

Wow, I have spent hundreds of dollars trying to find a moisturizer that didn't upset my hypersensitive rosacea skin, well this is it! What I love when more is it makes your foundation go on nice and smooth, and even controls my oily skin slightly. Love it!

Great all round moisturiser

I purchased The Ordinary NMF as I was having a shake up of my beauty routine. The price point is excellent so I had nothing to lose. I wasn't sure what to expect but it certainly hasn't disappointed. This is a great all round moisturiser that can be used day and night. I have slightly oily skin and it doesn't make me greasy or oily through the day. It is also great as the final step in my night ti...

Read More

Hydrating

I have really enjoyed using this moisturizer in the mornings. It keeps my skin dewy and plump. It's simple yet effective and blends really well into the skin. It leaves my skin feeling soft and hydrated.

Holy grail moisturiser

I've been looking for a moisturiser that is hydrating and sinks into the skin quickly without leaving any sort of residue behind and this moisturiser does exactly that!

Basic moisturiser

I've been using this moisturiser for a few weeks now and I'm not completely sold on its benefits. It may not be the best moisturiser for my skin. I've had to use my sheet masks more often over the last few weeks to compensate. It's very affordable though

Ultra hydrating

Super hydrating and aborbs really fast. Doesnt leave my skin greasy.

Great

As usual with The Ordinary, a great value product.

Easily absorbed

Great product, especially for the price. Absorbs really quickly and easily, with no yucky residue

Great affordable moisturiser

I love this moisturiser! It is very affordable and the quality is fantastic. I use it in the morning after applying my serums and add a little bit of the facial oil I use in the morning to it. It absorbs into the skin quickly and doesn't leave a sticky feeling behind. I also find that a little bit goes a long way when I apply so definitely great value for money!

Good moisturiser

This is a good everyday moisturiser. I don't find it particularly amazing therefore have ventured out to try other products. It's definitely one that I may repurchase from time to time as the price is hard to look past! I would recommend as a plain and simple moisturiser.

Really lightweight yet effective

I love this moisturiser. It sinks into your skin straight away and doesn't leave any stickiness or oiliness. When I apply lots of serums and start to feel like my skin has a heavy layer on it, this moisturiser helps everything sink in and immediately I feel as though nothing is on my face. Highly recommend and great for the price.

The Perfect Moisturiser for Dry Skin

I have really dry skin. I use this with The Ordinary's Hylauronic Acid + B5 serum twice a day and the 2 work wonders! I have been receiving so many compliments on my skin. This is a must for me especially in winter!

Not for me

It feel quite thick when I apply on my skin, also take long time to sink in.

It's pretty good

I have very dry skin plus eczema on my face and have tried so many different brands from supermarket and pharmacy ones to super expensive ones. This is a good moisturiser but I found that it worked best for me when used in a skincare routine that consisted of a serum (before the moisturiser) and an oil (after the moisturiser). Doesn't work very well for my very dry skin on its own. Still happy wi...

Read More

Best light moisturiser

Love this moisturiser and purchased my second bottle. It works great under makeup and absorbs quickly. Even my boyfriend uses it! When my skin is extra dry I need to add additional moisture with a face oil but this moisturiser is perfect in summer.