The Ordinary Marine Hyaluronics 30ml
Is this for you?
The Ordinary Marine Hyaluronics is a lightweight marine-derived water that helps to lock moisture in your skin, much like a Hyaluronic Acid does. The difference? The consistency of the Marine Hyaluronics is thinner and lighter, more like water than a typical serum texture. This facial serum helps to attract and hold water in the skin, ensuring your complexion remains plump and hydrated throughout the day. This product is fast absorbing, suitable for all skin types and should be used before facial creams.
Skin Concern:
Dull, dry or dehydrated skin
Skin Type:
Dry

Normal to dry

Normal to oily
Frequently bought with
Please wait while we find a match
Questions & Answers
(1 Question)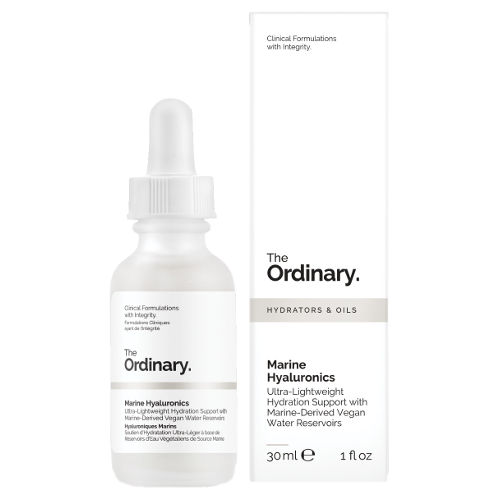 The Ordinary Marine Hyaluronics
Get an expert to answer your question about this product!
89% recommend this product
Most Helpful Positive
Hydration
This is so affordable and works well for my dehydrated skin.
Most Helpful Criticism
Lightweight hydration
This is quite watery, so I found I used more of it per application than I probably needed. It worked well with a mist before and after, and was a nice lightweight way to add some hydration. Much easier to use than TO's normal HA, as it's less thick/sticky and layers well with other serums, but didn't give as much hydration as my skin needs - probably best if you just need a little hydration boost.
Hydration

This is so affordable and works well for my dehydrated skin.

My favourite HA

I love this formula because it is so lightweight and absorbs so nicely into the skin, making it look fresh and hydrated without being to heavy

Love it

Love this stuff. Very good on my sensitive skin, lightweight and absorbant.

Holy Grail Product!

Been using TO Hyaluronic Acid for a year, and decided to give this product a try. It is a watery formula which I prefer over the HA formula, does have a slightly stronger smell though. Since using Marine Hyaluronics my skin has been so much more hydrated! I use it morning and night, my skin stays moisturized all day which helps my makeup look good and last well, and I wake up with soft skin.

Very disappointing

It was a surprise to be so disappointed because I've been impressed with the other Ordinary products I've tried.

This serum is so watery that it feels like water. I felt no benefit using it and it's so thin that when I bumped the bottle half of it spilt out.

I've gone back to the Hyaluronic serum which is one of the first products I tried and I still love it. This one d...

Read More

Amazing

I love how this feels on my skin and it is very hydrating

nice

I love both ordinary hyaluronics, but this is definitely a great one if you want a thinner, easier to layer product

Hydrating

The ordinarys hyaluronic acidwith b5 is quite gloopy but this one is much more water like, both great hydrators

great product!

This product was recommended by one of the aestheticians that I follow on youtube for skin hydration. At the time, when I wanted to purchase it, it was out of stock but I finally managed to purchase it. It's a bit watery so, I put a little bit of product in a beauty spritz bottle and spritz it on my face to avoid wastage. My skin used to be dry and dehydrated but since I started using it, my sk...

Read More

Amazing!

I love this product and use it everyday!
Its so thin and quickly absorbs into my skin, its such a quick product to add into my routine.
I love HA but it tends to be too tachy on my skin,
Other hydrating serums I've tried have all been oil based which just can be too much sometime when I am also using an oil and sunscreen in my regime.

Good treatment

I was so worried as I've seen other reviews saying that this smells really bad, but I had no issues like that, it didnt even really smell. Its super runny so I put it in my hands and then put on. It feels very hydrating, unsure whether it's better than the other hyaluronic acid, but I personally enjoy just how light this vs hyaluronic acid.

Loving this

Very hydrating! I like this a lot and do use it quite a lot!

New favourite

My skin is definitely more hydrated when I use this product. I use it along with the moisturiser.
I do however prefer the texture of The Ordinary Hyaluronic Acid 2% + B5 30ml.

Wow - happy i purchased

I have been inning and ahhing about whether to purchase this or a more expensive product that I know works. At a fraction of the cost this one is a winner and works just as well. A little runny so need to be careful and make sure you give it some time to soak in.

My wrinkles love it!!!

Wow - happy i purchased

I have been inning and ahhing about whether to purchase this or a more expensive product that I know works. At a fraction of the cost this one is a winner and works just as well. A little runny so need to be careful and make sure you give it some time to soak in.

My wrinkles love it!!!

Yep, great.

Another win from The Ordinary. Bless their inexpensive hearts. This is completely different to the hyaluronic + b5, and in my experience works so much better. Never mind the slight algae-like smell - you'll learn to love it when you're even more of a beautiful hydrated goddess. Run, don't walk.

Lightweight hydration

This is quite watery, so I found I used more of it per application than I probably needed. It worked well with a mist before and after, and was a nice lightweight way to add some hydration. Much easier to use than TO's normal HA, as it's less thick/sticky and layers well with other serums, but didn't give as much hydration as my skin needs - probably best if you just need a little hydration boost.

Worth a go

I ordered this with a couple of other TO products and overall would say it's a nice product. I give 4 stars instead of 5 just because I'd rate it as the least essential part of my routine, it's a great product but not holy grail. I love how light weight it is (no smell or stickiness) and it does a nice job making skin plump and hydrated -if that's what you're looking for I'd definitely reccomend. ...

Read More

Looks good

I bought this to replace my usual hyaluronic from the ordinary for a lighter feel. So far so good, the marine one seems less sticky than the other and sinks in a little faster.

Lovely clean feeling hydration

A lovely light clean-feeling hydrating serum. Love using this during the day either under makeup, or a drop mixed with foundation for sheerer coverage.
And so affordable. Love The Ordinary.

Great Alternative

I used to by the Dr Dennis Gross Alpha Beta wipes however buying a house and getting a mortgatge kind of ruined that for me. I bought this as an alternative as i really liked the way that the wipes made my skin feel and this is a great cheaper option. I was thinking i would go through it really quickly as it is a small container, but you only need 2 - 3 drops per application!

Wonderful hydrator

This serum provides wonderful hydration to my oily skin without making it oilier. I find it works better than the regular hyaluronic acid serum. My super sensitive nose hasn't picked up any unpleasant smell.

Surprisingly good

With the consistency of this product being quite watery, I was a little concerned. BUT... it is so hydrating, it's like my skin drinks it. There is a slight odour to this product, but it doesn't linger and doesn't bother me at all.
I am prone to breakouts and haven't had a flare up since I've been using these products. I swear by them.

Good product

This is a good product for summer or hot weather, easy to apply and very light.

Very easy to use

I use this as my morning serum and find its very easy to use (yes a bit more watery compared to the other Hyaluronic serum) but it absorbs really well and layers fantastically - it doesn't pill with my moisturiser and sunscreen which I found the other product did.

I haven't noticed the odour that's been mentioned in other reviews so can't comment on that.

It's a nice ligh...

Read More

Beautiful

I love the feeling of this.
If you're sensitive to scents maybe be a little aware. However both myself and my partner don't feel that it smells bad and is very faint so for the price I'd give it a go especially if you find the ordinaries hyaluronic acid and b5 mix to tacky. This is Much thinner and spreads easily.

Absorbs so quickly

I definitely think I prefer this to hyaluronic acid, which I did not expect! The Adore Beauty staff recommended it to me and it's been really nice. My skin is naturally dry and this sinks in like water. It's got a very watery consistency so it spreads really easily and you really don't need much. It's a great choice for sensitive/dry skin. It also doesn't pill like hyaluronic acid does. The price ...

Read More

Self care staple!

I really enjoy the Marine Hyaluronics. I read a LOT of reviews mentioning it working well, but commenting on it's odour. I was worried about not wanting to use it because of the smell. But I don't have a negative comment on the odour, because it doesn't really have one. It works really well for me and my dry, sensitive skin. I enjoy it more than the other Ordinary Hyaluronic Acid.

Love it

I use this in the morning in place of the other Ordinary hyaluronic serum. It's so lightweight and absorbs perfectly. I find this helps with my facial redness too.

Hydrating

This serum is so hydrating. It sinks into my oily skin so well and is so lightweight but does an amazing job. Plumps my skin

Moisturising and Easy to Layer

I've got both this and the Hyaluronic Acid + B5. This is my preferred one of the two. It's really moisturising but has none of the stickiness of the Hyaluronic Acid. Very light and absorbs easily it works really well with layering other serums. No smell.
This is definitely my go to and at a great price too!

Quick and easy hydration!

I originally bought this for my partner's (combo/dry) skin, but have used it on my (oily) complexion quite a few times now. It's a lovely, watery consistency that soaks right in. I'm not sure how much of a difference it's made on my skin, but his skin is so much less dry!

Great first time round

The first bottle of this made a noticeable difference to my skin, smoother and plumper. The second time I ordered it not so much... perhaps good to use as a skin boost on a semi regular basis! Give it a try as the price is super reasonable :)

THE best hydrating serum

Don't be fooled by its watery consistency, this is literally the most hydrating serum I've ever used! I still get dry patches with other hyaluronic acid serums however this one hydrates so well and is so cheap I've started using it on my hands too. Very good for oily skin as well due to the light consistency; I find other thicker serums tend to just sit on top of my skin and make it more oily. SUM...

Read More

Literally like water

I bought this to compare to the hyaluronic acid one, and I think I prefer that one. This one is VERY watery, and if you use the dropper it will literally run off your face so you need to apply it and rub/tap it on instantly. Because it's thinner it leaves no residue unlike the hyaluronic one which dries like a film, so is better for layering under skincare or makeup. I didn't notice much increased...

Read More

Hydrating and absorbs well

I much prefer the texture of this product than the "Hyaluronic Acid 2% + B5". This product is much more watery so it absorbs easier, whereas the other one is thicker and you can feel a slight film on your face after applying it. However, since it's thinner, you need a bit more of this product to feel like you've covered your whole face well. Which one you choose just comes down to personal prefere...

Read More

Sticky

I was excited to use this product especially due to the price but I found no matter how much or how little I used it was still sticky and pilled. Will stick to my Dennis gross hyaluronic from now on

Hydrating and absorbs quickly

Very hydrating but smells a little funny! Quick to absorb and works well under makeup.

Mmmm yes thank you again The Ordinary

I use this morning and night and my skin positively glows after using it. It becomes noticeably more plump.

Does what it claims!

I wanted a bit more moisture before using the Vitamin C 23% and it did the job beautifully. It gives me that light, quick absorbing boost I was looking for. Fabulous!

Works really well

I love the ordinary. This makes my skin more even, smooth, toned, and soft! An amazing product for the price and lasted a fair while considering the size of the bottle! Fave product of theirs

Results at last!

I have 78 year old skin with its inevitable wrinkles, and since using this serum (3 weeks approx) already notice what i can only describe as a general softening appearance. I'm not looking for a miracle, just a bit of help, and believe i have it. Thank you☺

does work

my skin has become significantly more hydrated but i don't know whether to hand it to this or other products i started using as it doesnt feel like its doing much but yeh it does work. its also super lightweight

very light weight

it is very light and great for oily skin too. however little is enough for the entire face. i apply this serum after vitamin C serum

Great

Good product for good prise
The serum feels like water, I actually expected a gel. Easy to use, just a few drops needed. Does not irritate, gentle, it has no smell ( contains no perfumes and which is even more important, no alcohol). The skin feels smoother.

Absorbs so quickly!!

I've used the Ordinary's hyaluronic acid products before, and they've always felt a bit sticky on my skin. This absorbs straight away, but still gives my skin the added hydration it needs. I have oily, dehydrated skin and this doesn't exacerbate any oiliness, which is great!!


AMAZING!

This is so lightweight and it absorbs so well but actually provides hydration to the skin similar to that of my moisturizers.

Hydrating Serum

Felt Hydrating, but didn't feel like it made a huge difference to my skin after about 2 weeks.

Not great for my sensitive skin but my BFF with dry skin LOVED it

I love the ordinary HA so wanted to try this marine version.

I have very sensitive skin and I found it made my skin red and itchy temporarily after application.

No long term negative effects but switched back to the normal HA from the ordinary.

However, I gave to my BFF with dry skin and she LOVED it.

If you don't have sensitive skin, a great ...

Read More

Didn't work for me

This is recommended for 'all skin types' but really exacerbated oiliness in my skin instead of hydrating. The texture was also really runny and hard to apply to the face. Wouldn't recommend to combo or oily types, the Hyaluronic Acid + B5 is a better option and is also nicer in texture

My new "can't live without item"

This product has changed my skin. The lightest and most effective hydrator. You can wear it under anything (make up, heavier night creams), but it just makes your skin feel so rejuvenated. The price makes it any easy regular purchase. I have also been mixing in some High potency vit c powder and I swear I look younger and fresher since using it

Great alternative to TO'S HA

I've tried the ordinary's HA. I found it hit and miss. Sometimes it was drying on my skin even though I'd always make sure to add it to damp skin.
Thought I'd try this instead and I'm in love. It's very light and absorbs almost immediately. Works great in between some skins of a hydrating toner. Great for my dry skin!

Alternative to the Hyaluronic Marine Hydration Booster

My skin develops dry patches of eczema every winter, and I've had to reach for the Hyaluronic Marine Hydration Booster from Dr. Dennis Gross. As the price went up again this year, I've turned to The Ordinary's Marine Hyaluronics. Obviously the true test is the Melbourne winter, but I've been using it a couple of times a week as a serum during the rest of the year. So far, I've found that the Marin...

Read More

Nice and light

I really like how lightweight this is. The other one from The Ordinary is, to me, more like a gel consistency which I don't mind. I much prefer this one though as it absorbs quickly and works really well with my other products in my skincare routine. Great for oily/combo skin.

Not as good as the other hyaluronic serum but great for summer

This is great for summer as it's super light weight and watery, however I much prefer the other hyaluronic serum- even during summer. The smell is... unpleasant but nothing I can't work with. This definitely works with other serums for moisture, just not my favourite!

A great addition to my regime

Being from The Ordinary you know your getting great value and a quality product and this is no different. I have really noticed a difference when using this serum.

So good!

Great serum! Great price! Super hydrating for anyone with dry irritated skin

Undecided

I have dry skin thats also prone to breakouts, and struggle to find anything that works for both concerns. I have used this product daily now for 2 months and I am unsure if this product is helping my dry skin or not, it doesn't seem to make a difference to the moisture level. In saying this, I like the consistency and it feels nice on my skin.

OK moisturiser

I have used this for a few months and it does an OK job of moisturising the skin but it has a very watery consistency which can make application of the product difficult at times.

Hydrating and simple

Love it! Hydrates very effectively and you don't need to use much. Does smell a bit funky when you first put it on but that doesn't bother me.

A surprise winner

I love this product. I have very dry skin so added this into my regime to add some extra moisturiser and thought maybe it was over kill. But I have grown to really, really love it. I bought this one as the other HA was out of stock but i'm so happy I did! It absorbs instantly and really does hydrate! The smell is minimal for me. I don't even notice it now. Have used for three months now and will ...

Read More

Super Hydrating, Zero Stickiness

I tried this as I wanted to try an alternative to The Ordinary Hyaluronic Acid I typically use and love. This is awesome for the price point and really works. So so so hydrating. Plus, what I loved is that this product didn't have the stickiness of the other Ordinary Hyaluronic Acid Serum. This is seriously so lightweight on the skin and is absorbed straight away. Really like and will purchase thi...

Read More

Gentle on skin but does the job!

I have oily acne prone skin, but got very dehydrated this winter. This helped hydrate my skin lightly and made it so much better! I like to use gentle products and this is a great, lighter alternative to hyaluronic acid.

Hydrating

It absorbs instantly. I notice the moisturizing effects when I forget it and my skin feels dry. I don't notice any weird smell unless I bring it right up to my nose, even then it isn't overwhelming.

Stank But Dank

It smells. Yeah, kind of gross. It also has a really watery consistency, so it's like rubbing water on your face. Weird, I know. Do I even like it? Yeah actually, better than the Hyaluronic 2% because it doesn't leave me feeling sticky af. I usually always wear a hyaluronic acid and this particular one lives at my bf's house. I put it on morning and night and never really see a difference compared...

Read More

Hit and miss

Ok is hydrating but has very strong smell i prefer the HYALURONIC ACID 2% + B5.

Marine vs Hyaluronic Serum

Selecting between The Ordinary Hyaluronic serum and the marine serum I would go hyaluronic- nicer consistency, smell and I feel it applies better. This product is great but I prefer the hyaluronic.

Still my favourite hydrator (Review after 1.5 months)

I have been using this for more than 1.5 months and it is a staple in my routine now. I really like how light and watery it is. It dries down to nothing and causes no pilling. It also hydrates my skin and can act as a buffer if I'm using strong actives. Overall a fantastic product.

Best hyaluronic prodcut i've used

It's a lot thinner than the other Ordinary hyaluronic acid with no tacky residue. It also absorbs quicker and feels much lighter on the skin - great for summer!
There is a weird smell but it goes away once absorbed.

Very good if you don't mind the smell

This has a really thin, watery consistency so it works really well as a hydrating lotion before other treatments. It absorbs quickly and sits well under other products. The only downside is that it smells a little funky. To me, it smells a bit like cheese or something that has fermented!

Love it

I've used half a bottle of Marine Hy and use it as the first step after cleansing, both AM + PM. It is very lightweight and I experienced no irritation. No problem with the smell, it hasn't bothered me at all.

Not a keeper

As with all The Ordinairy products the price is good but I'm not a fan. It feels weird, greasy or something. And the smell...! Really unpleasant. Plus I didn't notice any effect. Won't repurchase.

Refreshing but not as satisfying as HA 2%

I'm a big fan of The Ordinary Hyaluronic Acid 2% + B5 so I thought I'd try another HA. The consistency is completely different, as thin as water rather than a thicker serum, so it doesn't quite feel as satisfying when you put it on. But it does sink into my normal skin very quickly, so that's a positive. I haven't noticed any particularly positive or negative results, so I'll finish off the bottle...

Read More

Does the job and great price

I used the original TO Hyaluronic and I definitely prefer the texture of this one, it seems to absorb quicker and feels less sticky which is nice. It has a bit of an off scent but nothing too worrying. Great for the price, lovely under the rest of my skincare.

Hydrating

Good lightweight hydration but it's smells!

Lightweight moisturiser

This is a great moisturiser especially if you have oily and acne prone skin like myself. I use this under makeup to add a touch of moisture. It does have a weird smell but it goes away almost instantly.

Smelly

It's very lightweight and I prefer it to the original hyaluronic acid, but its really super smelly. Have to hold my breath when applying it, but at least the smell goes away quickly. That said, I don't find it exceptionally hydrating for my dry skin.

Good additional moisture barrier

Found this product really good and hydrating for my skin

Hydrating but not too heavy

I have combination skin and sometimes my cheek could be quite dry. However, I hate the stickiness after putting on heavy cream. This product suits my need very well. It provides proper hydration for my skin while not making it too oily or sticky. Some people complain about the smell. I do notice some smell (like cheese) but I can totally accept that. I would highly recommend this product to anyone...

Read More

Better than the hyaluronic

This is a good product. It goes on easily (the smell disappears pretty quickly) and it absorbs into the skin quite well. It is moisturising but possibly could be more moisturising.

smelly but good for moisture

I bought this because the weather is getting warm. This product is smelly, but is quite effective for moisture.

Ok so far

I decided to give this one a go instead of the The Ordinary Hyaluronic Acid 2% + B5 this time around as I have been using the latter for a while. This one is very runny but I do like that it is not sticky. I spray some toner onto my face and apply and it sinks in well. I have oily/combo skin and I am not entirely sure this makes a huge difference to my skin's hydration, but I still enjoy the proce...

Read More

Summer hydro

I love anything that helps with my dry skin so I'm a big hyaluronics lover, but in summer I can see it could feel a bit thick and stuffy so I'm really happy I found this as it does the same to my skin as the thicker serum but feels more summer friendly. Often thin creams aren't as good as thick ones on dry skin but so far I feel this one does the same so hopefully it does over long term use throug...

Read More

Good Light Moisturisation

This delivers light moisture to the skin and is well suited for hot humid and tropical climates.

Good but smells

I love that it's quite watery and hydrating. My skin soaks it up immediately! I just don't like the way it smells.

Nice!

This is very hydrating! The only issue is that it's extremely watery!

Nice consistency and hydration

I have the oily t-zone, dry everywhere else type skin with fine lines. This is nice and thin, I apply a few drops to damp skin and the spray with a mist (avene spray) to get those water absorbing molecules to do their thing! No irritation so far and absorbs quickly with no sticky ness after.

Loving This Range

I did a bit of research, directly on TO website to determine which skincare products are suitable for me, to create a unique solution to look after my face. I chose this product due to its hydration properties, something that skin starts to lack when you age. I love how the product smooths out across the face. Don't let the minute smell turn you away, it's a very light smell and disappears in seco...

Read More

Quick-fix hydration that disappears without a trace

I have dry skin (more so in winter) and this serum has found a regular place in my routine. It's super light and watery and disappears almost instantly. Unlike other hyaluronic serums, it's not sticky and almost disappears without a trace. I only gave it 4 stars as I'm not sure if it is helping my skin in the long term but for a quick-fix hydration boost that layers will with other serums, this is...

Read More

Clear skin

Iv been using this for maybe couple months now and I have noticed that I am no longer getting breakouts. I may get the odd lil bump but it's nothing to worry about, also my skin seems to be a lot more even tone that could be cause it's hydrating my skin & it's more healthy another the smell I reckon it's really that bad i didn't know what people are going on about, it's there for a second so don't...

Read More

Deeply hydrating and quick absorbing - love!

A wonderful light-weight yet highly effective hydrating serum. It has a water-like texture, soaks in quickly and my skin just drinks it up. I use it both morning and night and even on the backs of my very dry hands. There is a mild smell upon application- similar to turned milk which may be off putting for some but doesn't bother me at all. It fades extremely quickly and the outstanding results of...

Read More

Loved it, but...

I have combination dry to oily skin so finding a moisturiser that isn't too dry but isn't too oily can be a nightmare! This proved to be a perfect addition to my daily skin routine, giving my skin that little bit of extra moisture it needs without leaving me oily. On a normal day I will only use this product once a day, but if I'm feeling a little on the dry side I'll add it to morning routine as...

Read More

Light weight nourishment for all skin types

Love love this one. Was very excited to see that TO was venturing into marine botanicals and it doesn't disapoint. Very light, watery consistency. Absorbs super fast. Has the advantage of not pilling the way TO Hyaluronic acid does. Layers in beautifully and nourishes my rosacea prone sensitive skin.

I've read a few negative reviews de to the smell.. firstly; it's more of a vinegary-...

Read More

I just purchased this and I am already in love with it.

This product glides on to my face and dries almost instantly leaving a non sticky plumpness which seems to last. If you find it sticky you are probably using too much product at once. The handy dropper gives an indication of how much to use.

Unpleasant smell

I have dry skin and bought this upon recommendation of a friend to purchase hyaluronic acid. While this seemed to have boosted moisture levels, it smelled very strongly and unpleasant. My husband thought I smelled like a tuna sandwich, so I can't use it around him anymore!

Loved it

Lightweight and quicker to absorb than the other HA serum, but the smell takes a little getting used to... luckily, it fares from the skin pretty quickly. Unsure if I'm fully coverted from the other TO HA serum, but we'll see...

Brilliant

This serum is incredibly light weight but does an amazing job. I know add this serum to my morning routine

Awesome but smelly

I use this together with their other hyaluronic b5 serum and it's great although it really smells like dried up milk vomit on a bib

Runny consistency but works well.

Does a good job of hydrating the skin but it is very runny so it is not as easy to apply as the thicker serums.

Nice and lightweight

I have dehydrated, combination skin and I like this a lot! If the Hyaluronic Acid 2% + B5 did not work for you because of it's sticky texture and pilling etc, this will be a great substitute. It's not hydrating enough on it's own, so I use it before a moisturiser.