The Ordinary Hyaluronic Acid 2% + B5 30ml
Skin Concern:
Acne, breakouts and blackheads
Dull, dry or dehydrated skin
First signs of ageing
Sensitivity and redness
Skin Type:
Dry
Normal to dry
Normal to oily
Oily
Questions & Answers
(41 Questions)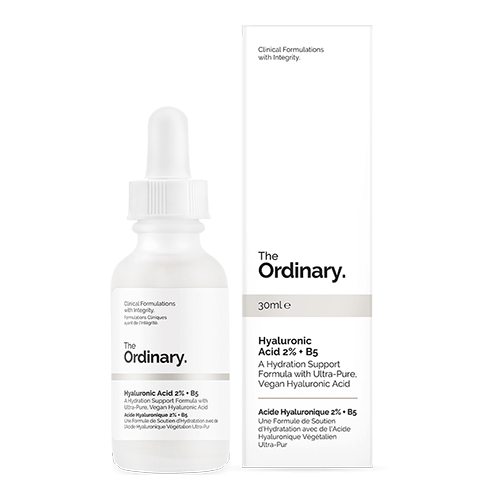 The Ordinary Hyaluronic Acid 2% + B5
Get an expert to answer your question about this product!
Ask a Question
90% recommend this product
Most Helpful Positive
Great
I use this daily and my skin has improved so much
Most Helpful Criticism
Good/basic
This is a good cheap serum. The only downfall with this is I'm not a huge fan of the sticky texture. If you don't mind texture you will love the price
Great

I use this daily and my skin has improved so much

LOVE IT

Really happy with this product. I have fair, sensitive skin and this does not cause any irritation whatsoever, but I do keep it away from my eyes, just incase. It definitely hydrates the skin.

Great product

I use this daily and am very pleased with the feel and hydration it provides. I have oily skin and am weary of oily moisturisers that leave my skin shiny and uncomfortable. This feels tacky for a moment and then soaks in so quick leaving a lovely soft smooth and fresh skin. Just need a drop for a whole face. Great price as well!

Amazing product

I had tried so many products that would really hydrate my skin, I was recommend this product off a Facebook page and I'm so glad I went out and brought this product.
It's really brought a lot of hydration to my skin and it's never felt as good.

Good/basic

This is a good cheap serum. The only downfall with this is I'm not a huge fan of the sticky texture. If you don't mind texture you will love the price

Pretty damn good for its price

I've used so many hyaluronic acid serum e.g. drunk elephant bhydra, medik8 hydr8, Korean skincare etc.and this does exactly the same job if not better. For it's price, why not just use this....

Hydrating!

I love the ordinary products, and after using their matrixly + HA, I had to try the b5 + HA, I layer this one first then apply the matrixyl on top after the first layer has dried. It has somewhat of a sticky consistency at first but then it is absorbed right in to the skin. It makes me skin very hydrated when applying 6 drops all around the face. It offers a somewhat tightening effect on the skin surface which is lovely and leaves the skin feeling supple and nourished. Definitely going to get more when it's empty!

Packs a punch at a great price.

I am 48 years old, have very sensitive skin and ageing skin. This product is amazing. I have tried other hyaluronic Acids and this is the best I have used. You don't have to spend huge amounts of money to get a great product. I use this in conjunction with other products from this range and love the results. Highly highly recommend this product. It's not too early or too late to start using this product.

Great

I'm using this in combination with the ordinary vitamin b serum. My skin is looking much improved. Clearer and better hydrated. Great products, incredible price point

Love this product

This is one of the best Hyaluronic acid serum I have used for the price. I would recommend this to everyone. It does leave a slight sticky residue but that goes away when you put moisturiser on.

Hydrating serum

I use this twice a day and it works well. Once I started using a face mist before application to dampen my skin I noticed a big difference.

Hydrating but not super rich

This stuff is good, It's made my skin more hydrated (make sure you rub it in with damp hands) and hasn't clogged my pores at all. It's not super rich though so might have to add something extra in winter! I'm onto my second bottle.

Satisfactory

This serum is ok for the price you pay but I still find my skin a bit dry after using it day and night. I have had other hyaluronics which gave better results.

Cost effective hydrator

For the price, i was really impressed. It's a little sticky when you apply it but it instantly absorbs into the skin. It hasn't made me break out and provides a nice added layer of hydration in the winter weather!

Serum that boosts hydration

I use this serum daily night and day and it definitely keeps my skin feeling hydrated and plump.

I have extremely dry sensitive skin and since using, I have not woken up with tight and dry feeling skin.

It has no scent which is great for people who don't want scented products.

It was ok

I used this product and found it left my skin feeling a bit tacky/sticky to the touch. Did give a burst of hydration though and is very lightweight to apply. Would probably use a while longer to see if it's worth purchasing again.

Amazing product!

I'm someone with very oily skin and this hyaluronic acid works a treat, especially at that price point! The oils in my skin seem more balanced and the overall look of my skin is more bright and plump!

The hydration I was looking for

I use this serum after microneedling and it is great. It keeps my skin hydrated and happy. The only downside is that it feels a little sticky while its drying.

Love

I love the ordinary. This makes my skin more even, smooth, toned, and soft! An amazing product for the price and lasted a fair while considering the size of the bottle!

Best for dry skin

I have dry sensitive skin and since using this you wouldn't know it. I use it morning and night, it sits under makeup and other moisturisers really well. I always repurchase this one.

Soft and hydrated

This has saved my skin!
My skin was very dry and dehydrated, and I would layer thick moisturizers to try to reduce my dry flakey skin to no avail.
When a friend recommended the serum I was worried it would be another expensive product that would not help, but I was very wrong!
I have been using the serum morning and night everyday before moisturizing. I noticed the differecne in just a few days, the improvement in my skin hydration was amazing. The ordinary hyluronic acid is so affordable and has helped my skin keep hydrated and soft!
I've recommended it to my friend who suffers from ezchema on her face and she has also seen a massive improvement in her own skin.
I would definitely recommend giving this product a go!

Great moisturiser

My daily moisture boost

I've been using this for a few years now and if I forget to put in on in the morning, I really feel the difference! The price is ridiculous for such a great product. There may be better hyaluronic products out there, but you can't go past this one for the price.

It's ok

Not too bad used 1 bottle probably wouldn't purchase a second time it's a bit sticky I didn't find it very hydrating but it does look nice under make up

Love

Amazing for my dry skin !
Love this serum !

Obsessed

Since discovering Hyaluronic Acid I NEED it in my skincare routine. I'm into the ordinary's HA, it's cheap, looks cute and is effective. I have oily skin with dryness around my nose and chin, this HA absorbs fast and smooths and hydrates my skin, doesn't leave me looking shiny either. I still apply a facial moisturiser afterwards but the Hyaluronic Acid certainly makes a difference to moisture retention throughout the day. Also I wear powdered foundation and have noticed a difference, my dry problem areas no longer become flaky when I wear makeup. Highly recommended!

Good?

It's hydrating when used with other hyrdating products, nothing miraculous or anything, but it definitely does it's job. I just wish that I could use it under makeup, as it slightly smoothed fine lines particularly under the eyes, but it piles like crazy! It's so irritating that I don't know if I would buy it again or recommend it to others.

Love this but put on wet skin or mix with moisturizer

Love love love this!
But to stop the balling and peeling when doing make up I do a facemist and apply when it's still wet or I mix with moisturizer at end of my skincare routine. Works beautifully never had a problem since.

Burst of hydration

I have sensitive, combination, acne prone skin with some pigmentation and not many things work on my skin. But this acid does wonders to my combination skin. I normally break out when trying a new product but with this, I didn't break out. I use this morning and night, in the morning followed by Niacinamide and sun screen and at night with Vitamin C. I have been using this for just over a week and I can already see, feel and tell the difference. I recommend it to everyone as it is suitable for all skin types.

Supple hydrated skin !

A first time user of The Ordinary. Decided to order this serum and was pleased. Has a thick texture and is advised to mix with moisturiser. Have my skin a plump look hard to describe. Try it out yourself it's on $12

Great price point but difficult to work with

I am a big fan of hyaluronic acid. I have sensitive combination skin so a hyaluronic serum is a must in my routine. When The Ordinary released this product I was blown away by the price and positive reviews, I had to buy a bottle. I started using this after my toner in my PM routine. I gave up after 3 weeks because the texture is just so sticky and hard to spread easily over my skin. A case of you get what you pay for with this one for me.

Couldn't live without!

I use this morning & night after cleansing and before moisturiser or other serums. My skin feels plump and smooth and my skin has gone from being oily and patchy to a lot more balanced. I've recommended this to friends and now they're hooked too!

Love it

I use this daily! My skin has definitely improved from using the ordinary products. The hyaluronic acid helps with skin hydration and has a non greasy formula

The only best hyaluronic acid serum on the market.

I have used many serums containing hylaruonic acid and for the price, I cannot believe how it works so very well. It is comparable to Hylamide but at a cheaper price and feels and works very much in a similar manner. It does wonders for my combination/acne prone skin where I have dry areas around the mouth area. It soothes my acne and also plumps up my skin. My skin feels very refreshed, moisturised and firm after application. It is so well absorbed into the skin. This is one product that I cannot do without.

Love it

This is great for dry skin and changes to the face were noticeable within a few days. Works for both am/pm routines.

My new best friend in the morning!

Finally, a product that works and is very reasonably priced. I use this at night after cleansing and toning. Dries quickly, hydrates my skin and leaves my skin looking "dewy" and plump! LOVE!!!

Great

I like this product but wish it came in a larger bottle bc you tend to use alot in one application. I mix with a vitamin c paste (Indeed labs) and its a great combo. I use am and pm. Soaks in so i can then use eye cream and finish with a good moisturizer. Skin feels very smooth and hydrated all day.

Nothing to Rave About

I was obsessed with the hyaluronic acid serum from DECIEM's other brand Hylamide - it was so hydrating, made my skin plump and layered nicely with other products.
Devastatingly, Adore no longer stocks that serum.
So I was hoping this would be very similar. And the serum looks similar, smells similar but does not feel similar :(
After applying this serum, my skin feels really tight and this doesn't feel particularly hydrating. I had no noticeable results...
I think hyaluronic acid is such an important ingredient in a skincare routine. And what is great about The Ordinary is at least they are transparent so you know that you are getting that ingredient - and at a good price. So using this would be better than using no HA at all.
But for me, I think I'm going to shop around for another HA a bit and spend a bit more in the hope I will get better results.

excellent value for the price

hylaronic is a must have for my aging skin - I have used it for years and this is the best serum for keelping my skin hydrated

excellent value for the price

this is an excellent serum great value and definite helps my skin

Great for oily skin

I use this morning and night and it definitely helps keep my breakouts to a minimum. Feels good on the skin and isnt too sticky.

Added hydration + so affordable

i love this HA so much. I have dry sensitive skin and find it adds that extra level of hydration. I use it before my moisturizer directly after washing my face. It dries quickly and is so affordable. 100 % recommend.

Great for acne prone skin

I have acne and find any kind of moisture usually causes a breakout, except this. As the weather cools down and my skin drys out a little this is all my skin needs. It's a great option for those with oily acne prone skin. I'm on my second bottle, my husband likes using it now too!

Hydrates

Very hydrating and just as effective as $30 hyaluronic acids. Gives a boost of hydration that doesn't feel greasy, even on oily skin

Wonderful product

Love the ordinary skin products.
I use this acid every morning and every night with dermalogica hydramist toner. Love it and recommend to any skin type

Perfect for Hylauranic Acid

This is the perfect Hylauranic Acid. It does exactly what it is supposed to with regards to the formulation. It get a tacky on the skin and sits really well as a first step for the skin care routine.

Hydration Hydration Hydration

My favourite of all The Ordinary products. I have very oily but also dehydrated skin. This soaks nicely into skin esp if used straight out of the shower. Skin feels plumper after use and i have noticed a decrease in pimples with regular use.

An essential.

This product provides instant hydration to plump and nourish the skin. For me it is an essential part of my skincare.

Good for value.

This works well however I have another product that works a bit better but it's double the cost. So this is definitely good on a budget or just looking to save money. I really enjoy the ordinary line. The no fuss ingredients, no fragrance and great value for money.

A must own

This Hyaluronic Acid is less sticky than TO Ascorbyl Glucoside solution but just as easy to use. The marine hyaluronics is faster when it comes to sinking into the surface of the skin, only this hyaluronic acid seems to yield faster physical results. It's the product that one applies first in preparation for a night out. My skin feels visibly transformed after application and I can't name many other facial products like that. For this and this alone, TO's Hyaluronic Acid is worth trying.

Great product for a great price

I really enjoy this product I use it daily and it makes me face very hydrated. Can't live without it.
Bonus is that it is completely affordable.

Hydration

Great product to start getting more acids and serums into your routine. Helps keep your skin hydrated. Really easy to apply and no scent!

Hydrating

Makes my skin feel so soft and smooth. i cant go without it

Amazing product!!!

I have super dry, flakey skin. The cold weather and heater are not helping it in any way! I was recommended the ordinary hyaluronic acid 2% + b5 and it is now a staple! I noticed the instant hydration as soon as I started to use it! I've been using it daily for a few weeks and my skin looks and feels so much nicer!

Great value product

Does what it says and for a small price! Second time purchasing

Helps with dehydration

After going through chemotherapy, my skin was dry and dehydrated. It is now oily again but still dehydrated. This stuff has definitely helped with hydration and I love that it is not oily so soaks into the skin immediately. Can't beat the price either.

Great priced HA

Hyaluronic Acid is generally found in a lot of products these days and this is a great staple to have
I don't always use as a lot of my other serums contain HA but do find myself adding a drop here and there to them every now and again for that added lock in moisture protection

Great under serums and moisturiser

I've been using this for about a year love it. I have combination skin (particularly oily in summer/particularly dry in winter) but find this hydrates without being too heavy. I feel like it helps with absorption of the serums/moisturisers I use on top too.

Good way to start using hyaluronic acid

If you haven't used hyaluronic acid before, this is a great stepping stone. I find it works best mixed into my moisturiser at night, as the consistency is quite gluey compared to other hyaluronic acids I've used.

In saying that, you can't really go wrong with The Ordinary - especially for such a good price!

Feels so lovely

Love the way my skin feels and looks after using it, so plump and hydrated. The only thing is that I feel you have to work it in quickly. For the price it's definitely a winner

Helping with Rosacea

I bought this product last week, it came up when i searched for Rosacea products, I was sceptical, but, I've been using this for 5 days and can notice an improvement in my skin, not only does it fell less "bumpy" its much less red and angry than it was.

nice, good but not amazing

Nice serum, absorbs well and helps my skin feel super soft. Only given it 4* as it is not as plumping as some other hyaluronic acid formulations that I've tried, however for the price it still offers good moisture.
I've found that it works best when applied to a lightly damp face and then I use a gel moisturiser straight after.

Instant hydration

I noticed an almost instant hydration and glow to the skin

Great value HA

I use this product twice daily. I have sensitive combination skin and this works a treat. I've been using for one week now and I can't wait to see the results after a month.

Plump skin!!

I recently had a baby (6 weeks ago today) and was concerned about the hormonal difference my skin would go through. I decided to try this to combat dryness and my skin has never felt more plump.

Love it !

I have particularly dry and sensitive skin and wanted something to boost my hydration during the day, especially during the winter months when my skin is at its most irritated. I've used this every morning for the last couple months before my regular moisturiser and I love it ! It's so lightweight and sinks straight into the skin, I can see it being something people of all skin types would love - it doesn't leave any dewy or oily residue yet somehow has provided the moisture boost I needed ! No more dry, patchy and flaking skin. LOVE !

This is a must

This product has changed my skin! For the good.
I have never had such calm skin with minimal breakouts now. It has reduced my scarring and pigmentation too.

Great value

I add a few drops to my moisturiser at night when my skin is feeling dry (and mix in my hand before applying). Definitely makes my skin feel softer and more moisturised.

Good enough for the price

Found this product hydrating enough. The only thing I didn't like was probably the texture, It was too sticky for my liking and it didn't absorb quickly.

Super hydrating

Worth the price to try it out! Really hydrating and gentle

Works great

Helps with slowing down the anti ageing process. I use it twice a day!!

Good for combo skin

I have been using this product for well over a month and use it day and night. I have a very oily t-zone and find that this product isn't too heavy to use on my forehead. Helps hydrate my dry cheeks too. It leaves my skin hydrated, but not greasy! Great to use under make up. Just make sure to let it set well before applying moisturiser and primer.

Perfect price hydrating serum

Amazingly priced serum, when you want to splurge on some other skincare but can't afford the expensive serum too! I purchased one for me and one for my boyfriend as he has dehydrated but very oily skin. After two days we can already both see the difference in skin plumpness and general hydration!

Best serum for me especially this winter

if you dont like thick moisturiser, then this is perfect for you to use in winter as it is not too think and perfectly moisturise your skin

Amazing

Before using The Ordinary's Hyaluronic Acid 2% +B5 my skin was extremely dry and flaky in some areas, but also congested and pimply in others. After 5-6 weeks of using it, my skin is no longer so dry and is clear of pimples. After trying so many other more expensive products, I'm amazed to find a product that not only works but doesn't break the bank.
I use it morning and night along with The Ordinary's 10% + Zinc 5% , Natural Moisturing Factors + AH and 100% plant-derived Squalane .


Amazing product with great price

I have used this for over a year now and dont think I will ever go to another brand. Its just a great non fuss, really well priced product which does an amazing job. I slap this on my face morning and night during winter otherwise every evening in summer. I have dry/dehydrated skin and this has really improved my skin since using it. It sets in quickly and is super easy to build with other products. Highly recommend

Leaves your skin feeling hydrated & soft

Love this serum! I bought it originally for my dry winter skin to protect it from the harsh weather & so far I have not seen any dry patches appear on my face (as they usually come up in winter). I apply this serum prior to applying any of my other moisturizers so it mixes in together well & hydrates my skin well - definitely worth a try!


Daily Staple

I adore this product, it is now a part of my daily routine and I think that it has made a difference to the pigmentation issues I'd been having with my face. Can leave it feeling a little dry after its dead, and definitely notice pilling around the baby hairs, but can't complain about the price point and a bit of moisturiser is recommended after this product if you've got excessively dry skin like me.

Feels great

I've been using this for around a week and so far am loving it. Just be carful to not use too much as it can gather on your skin in places and clump together and come off on your fingers.

its OK

it hydrates but is not so good at long term hydration. and sometimes it does compete/fight against other skincare products when used together, but its definitely worth the price

Very good first impressions

Love the concept of The Ordinary and was so happy to receive it within two days in the mail! The product is quickly absorbed by the skin without any residual stickiness. Only thing is that application via the pipette is a little messy as some of the product tends to dribble out but not a big deal. Just started using this though, so will need some time to see long-term effects on my skin. But so far so good!

Hydrated my skin

I have dry skin and this definitely hydrated my skin. Its great value for money too.

Moisturiser which flakes

I used it every morning... it started falling a bit ... and my skin feels very tight later changed to night still the same doesn't hydrated your skin ... used it for a month with patience still no luck ... so a big no no

FANTASTIC

I love this hyaluronic acid. Its amazing for its very cheap price point. I use it morning and night and it last quite awhile still. I notice that my skin is more hydrated and plump.

great for before moisturiser

i always have problems with not getting enough moisture in my skin and this definitely helps. since it attracts water, i'm a bit scared that it'll dry out my skin if i don't use it correctly, so i always sort of sandwich it between a water based moisturiser first and then this serum, and then a cream based moisturiser. its really helped out my skin, and now i find that everyone is saying that i have really clear skin - kind of like that glass skin trend thing. my skin is combination/oily, but sometimes dry, which is weird.

So hydrating

I use this with a 0.3 derma roller and i woke with super hydrated skin after one use! Excited to see future results with continued use

Good value product

I have tried a number of hyaluronic acid products and this is as good as any for a fraction of the price. My skin definitely feels hydrated and moist. My skin feel more plump and my wrinkles are becoming less defined. I use the hyaluronic acid after using the dermal roller skin needling and can definitely feel it sinking into my skin. I really like "The Ordinary" range of products and they are great value for money.

one of my favorite product

have bought twice here. The texture is like glue, but it is good for dry skin especially in the winter. I would recommend you as it can add to the routine and improve the hydration.

Plump & Hydrated Skin!

I bought two of these serums, one for my Aunt and one for my Mum. Both have more mature skin and both have noticed that fine lines have been plumped up and their skin is more hydrated. The serum is very lightweight as well. Super cheap and very effective.

Game changer

I began using this at the end of last year every night. Overall it has improved my skin texture tone and just gives my skin a little bit of extra glow when I wake up!

Affordable and effective

This product is great for the price point, its a very affordable Hyaluronic Acid serum. It doesn't absorb as easily as some other brands and can be a bit sticky, however it is effective and leaves your skin feeling very hydrated. Packaging is convenient and easy to use. Would repurchase.

Hydrating even good for combination skin

This product has ensured that my skin which is a combination type with cystic acne remains hydrated year round. It's doesn't feel greasy at all and just sinks straight into my skin!

Great product that helps with my cystic acne.

I've been using this for maybe 2 years now, and it's a great morning product. Gives enough hydration for my very dry skin around my chin, and helps ease my cystic acne around that time of the month.

LOVE IT

I love this hyaluronic acid. Its amazing for its very cheap price point. I use it morning and night and it last quite awhile still. I notice that my skin is more hydrated and plumper when I use it

Excellent product!

I've been using this product for a few weeks now and am loving it! My skin is so soft and smooth. I was testing another Hyaluronic Acid serum that is valued at $110 and this product is exactly the same and saw the same results. Loving it!

I am on my second bottle and absolutely loving it!

This is my second bottle and I absolutely love the product. I apply twice a day, morning and night after cleansing. It leaves my skin dewy and hydrated enabling the moisturiser that is applied afterwards to absorb so much better. On days when I've skipped using this I can definitely notice the difference.

Noticeable difference

I have finished my first bottle and definitely repurchasing as it's made a noticeable difference to my skin. It looks more hydrated without dry patchy areas I used to have, and seems to have cleared up some blemish prone areas too. I used morning and night, with Niacinamide 10% + Zinc 1% at night time.

Great hydrating serum!

This products provide my skin with instant hydration without causing oilyness or breakouts! I have oily temperamental skin and was reluctant to try this but I have incorporated this into my skincare. After toning, I apply this serum followed by The Ordinary's Niacinamide and then moisturiser and it has been a great hydrating serum without the nasties!

Loving this so far

This product has been extremely nourishing for my skin. I am still getting used to the feel of it on my skin after I apply as it leaves a somewhat sticky feel for a few minutes. But for the price, it has been a great addition to my regime

One of the best!

Super hydrating. Really good for combination skin. Great to put on under moisturizers.