The Ordinary Hyaluronic Acid 2% + B5 30ml
4 instalments of $3.23
Or 4 instalments of $3.23 with
LEARN MORE
4 instalments of $3.23
Or 4 instalments of $3.23 with
LEARN MORE
Official Stockist
Is this for you?
Hyaluronic Acid (HA) can attract up to 1,000 times its weight in water.
Cruelty Free
Vegan
Artificial Fragrance Free
Sulphate Free
Skin Concern:
Acne, breakouts and blackheads

Dull, dry or dehydrated skin

First signs of ageing

Sensitivity and redness
Skin Type:
Dry

Normal to dry

Normal to oily

Oily
Frequently bought with
Please wait while we find a match
Questions & Answers
(35 Questions)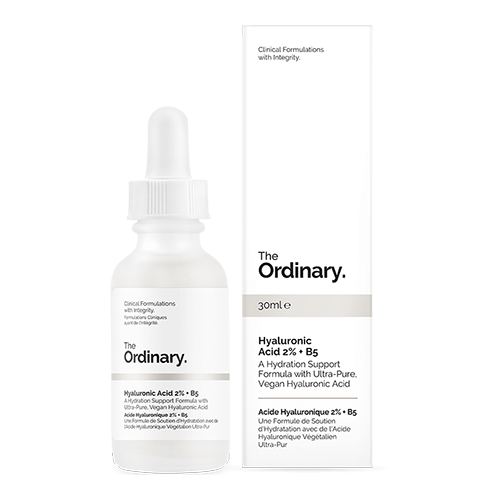 The Ordinary Hyaluronic Acid 2% + B5
Get an expert to answer your question about this product!
The Ordinary Hyaluronic Acid 2% + B5 Reviews
90% recommend this product
Most Helpful Positive
Will never stop using
I love this stuff!! So affordable! It works really well! My skin looks so hydrated.
Most Helpful Criticism
Bit of a letdown
Whilst I don't think this did anything bad to my skin, I don't think it actually did anything of benefit. it feels quite tacky on and then once dried makes my skin feel a little bit dry and tight, rather than the juicy and plump feeling I prefer from hydrating products
good for beginners

this is a good Hyaluronic Acid for those who are introducing it in to their skincare regimes, but after using it for the majority of 2020 I'm ready to try something a bit more luxe and a bit more hydrating.

hydrating

I put this on under my moisteriser and it does a great job at hydrating my skin

Will never stop using

I love this stuff!! So affordable! It works really well! My skin looks so hydrated.

Hydrating!

The Ordinary Hyaluronic Acid is a very hydrating serum that I use in my PM skincare routine. I am happy with the product as it makes my skin feel hydrated and gives a glow to my face. However after three months of use, I have come to notice that this does cause some piling as I like to layer other products on top of the hyaluronic acid, thus I only use it in PM. It comes at an amazing and affordab...

Read More

Works well

This is good and does the job - hyaluronic is always so good for the skin. I prefer the Buffet but this one is cheaper and still does work really well so depends on your price point!

Too thick

It wasn't until I tried other hyaluronic serums that I realised how little this did! It's thick, tacky and doesn't absorb into the skin. Terrible under makeup. Don't waste your time- there are much better formulas out there.

Good all round product

Purchased this product a little while ago. When first using it, the product felt quite sticky going on, however I have gotten used to it and grown to like the product a lot. Use it every morning and sometimes at night. Super affordable and a great HA for people just getting in to the skin care game!

Good money good product

Very hydrating on my skin. I'll purchase again

Everything and more

Excellent quality and affordable. Works for all skin types and shows immediate results.

fav product

love this product keeps my face so hydrated

Okay but not as amazing as hoped

For the price its a fine product but didn't make my skin feel more hydrated than any other product I already use.

very surprised

This is a brand I really believe in. - it does what it says itll do.Its hard navigating around these products but theres plenty of info on site to help;

Another Great Product

I like this product you can also get it in Supersize. I find if I am a bit too generous it can be a bit sticky on application but soon soaks in. Don't forget your neck. For the price it is worth a try. You can use with other products you have but look at the ordinary guides as mixing some products can dilute or even counter out products potency and using some together may irritate sensitive skin.

Stunning Hyaluronic Acid Product

The first Hyaluronic Acid product I've used and will be sticking with it. It's super affordable and the results are supple, plump, hydrated skin and a clear reduction of fine lines (especially forehead). I'm always using Hyaluronic Acid in conjunction with a moisturiser.

Soaking up the goodness

I bought this product to get a hit of moisture. Along with other products it is doing wonders for my dry flaky skin. I put it on at night and in the morning my skin is looking fresh and dewy. Love it.

Basic cheap HA

This was the first hyaluronic acid product I tried many years ago, and at the time I liked it, but over the years I've used many more that sit better on the skin. The Ordinary HA is pretty thick and gloopy, and doesn't plump my skin as well as others (notable Japanese lotion, or even other Deciem brands). Still a good cheap starting point.

I like to believe that it works

I've been using this product for quite a while now and I like to believe that it works (but not sure if it really does anything).
I think I've been influenced by all the buzz and marketing around The Ordinary and HA. My biggest struggle with this product is how it pills so easily. I've researched multiple times "how to reduce pilling when using TO HA" and after following the advice (to apply...

Read More

Great afforable HA

Use this as part of both AM and PM routine. Has helped to even out my combination skin, leaves it soft, smooth and glowing. I am prone to redness and sensitivity, and had no issues with this product.

Not sure if it works

After using this product for more than a week I'm not really sure if this is working. Maybe it just because I need to use it more but I don't really feel or see and difference in my skin.

Quality Hyaluronic Acid

High quality Hyaluronic Acid which should be and in this instance is affordable! Hydrating and plumping! Love this!

Decent HA for a good price

I heard a lot about this product and chose it over other HAs on the market because of the lower price. I do find it to be quite hydrating and it doesn't irritate my sensitive/eczema prone skin.

hyaluronic acid by the ordinary

plumps and hydrates my skin - really perks it up!

Nopenopenope

I did my research and bought this as a replacement for my usual HA product as this is obviously cheaper than just about anything else. I like The Ordinary and their simple approach, but this is the first time I've used their product and actually believed it was cheap.
This made my skin SUPER irritated. My mum has rosacea and I was probably more red than her on a bad day. My cheeks went hot a...

Read More

Sticky but nice

I had quiet dry skin, that was occasionally flakey, prior to using this so it definitely hydrated my skin for sure as my skin is now no longer flakey or dry. I do notice that if I don't apply, my skin does become dry after a few days so it definitely works! It is however very sticky after you apply it, so you can kinda use it as a primer too lmao

Very hydrating

Product is just as describes. Very hydrating on my sensitive acne prone skin.

Good for dermarolling

The texture it's a bit like jelly finish and makes my skin feel a bit dry after I used it, so I always make sure I moisturise after using this. I like what it does to my skin but not how it feels like.

hyaluronic acid the ordinary

highly recommend for oily/ acne prone skin like mine. It didn't irritate my skin but just helped my skin feel comfortable and balanced

Only okay, not great

Using this hyaluronic acid serum did almost nothing to improve the hydration in my skin. I used this product when my skin was feeling a little dehydrated, however, it was of no use, and dry patches on my skin were either still prevalent or became worse and more prominent. Maybe my skin needed more hydration, but this serum simply did not work out for me.

Love this!

This is one of my go-to products. I use it often in my routine, my skin feels moisturized and hydrated after use. I love The Ordinary's products and will continue to buy this serum religiously. I would however recommend buying the bigger bottle size, just because this one can run out pretty quick (or maybe that's just because I use it so much!)

Daily use

Currently using this every morning and night after using the cleanser and before the moisturiser. I find that it makes my skin glow after I have used it for a few days and applying make up over the top looks really smooth. Important to use when your skin is wet. Recommend using regularly.

Hyaluronic Acid

This is my holy grail serum - I think this suits all skin types and just gives an extra boost of hydration without feeling heavy at all

Plump beauty

My friend recommended this to me for dull skin showing the first signs of ageing. I do feel more glow-y, bright and plump when I apply this product in the morning and it hasn't irritated my skin. I have started using this on my hands and they look much nicer!

Good for dry skin

I have found this product to be good for hydrating and plumping my dry skin. The only issue I have found with the product is sometimes it tends to ball up on my skin in spots. It isn't a huge issue though as it still does a great job and is super affordable.

Treats my breakouts

Been using this for few days straight day and night and you know whatttt… my acne has not been popping and it kinda treat my face. so yeayyyyy!!!!

Can't Recommend This Enough

This has been a staple in my skincare routine for almost half a year now. This is an essential in everyone's skincare routine. My skin has stayed hydrated and plumped throughout the drier months because of this HA serum!

very hydrating

Love this product and have recommended it to friends. Great value for money. Easy to apply to face and neck, no sticky residue. I love to use this after a long day at the beach with a rose quartz face roller, super hydrating.

Well priced product

Was a bit sticky but does the job for a good price

Brilliant Product

I have repurchased this product three times now. It is great for my skin and for an affordable price! My skin overtime has plumped up and become more hydrated with this product. Definitely reccomend.

Sooo good for the price!

Perfect for both young and mature skin for clearing up scars and fine lines!

Amazing

Brightens my skin and hydrates it well. I love the affordability too.

Lovely hydration

This product feels amazing and sinks into the skin so nicely. It is a lovely hit of hydration and for the price, who can go wrong. For anyone wanting to try HA, give this one a go.

Smooth skin

Amazing product that is the perfect addition to your skincare routine. Great pre-make-up too

hydrating

I use this in the morning and it sits nice under makeup. Leaves my skin feeling hydrated and glowy. It is a bit thick and sticky but still absorbs nicely. The Marine Hyaluronics serum has a thinner more watery consistency. I like them both and I alternate between the two.

Favourite hyaluronic acid

This product is so gentle, and provides amazing hydration. I use it every morning and night, and it wears well under makeup.

I like it

As other reviews say it does make your skin feel really supple and plump. I use at night after cleansing and before moisturiser. I sweep across face and lightly press it in. It does have a tacky feeling but that disappears quickly. I'm not sure if it does anything but I have been using it every day for many months now just because I enjoy using it, and I'm pretty lazy with routines, so I think thi...

Read More

Good affordable option

This is a good affordable option for a HA serum, but I did find it a bit gluggy.
I invested in a new vitamin B serum which includes a high concentration of HA so I now just use this product on my neck and chest to save my more expensive product for my face

Goof product

I used this for a few weeks and found it super hydrating for my skin. It helped with the texture of my eczema and visibly plumped my skin in the first couple of days. I did find after a week or so of continuous use it stung and dried my skin out a little, I think this is because of my sensitivities. I have found that alternating the use has been great. Definitely would recommend for an affordable ...

Read More

Bit of a letdown

Whilst I don't think this did anything bad to my skin, I don't think it actually did anything of benefit. it feels quite tacky on and then once dried makes my skin feel a little bit dry and tight, rather than the juicy and plump feeling I prefer from hydrating products

Excellent Value

I have sensitive skin and I have found that this does not cause my skin to react. It's great knowing that for the price range I am still getting a 2% Hyaluronic acid. I would recommend this as a serum in the morning.

a little sticky

great serum, leaving my skin quite hydrated, onkly problem i have with it is its a little bit sticky at first but it does go away after rubbing it in a bit

Staple product

I love this serum SO much. This coupled with a niacinamide saved my dry flaky skin. I love using it morning and night, it just really keeps my skin calm and balanced. Also, it may look small but a little goes a long way! It really spreads easily. Plus it is such a good price!! Will definitely repurchase!!

Must have product

This product is great. It makes your skin so plump and hydrated. I use on my lips and it has definitely made them more plump and extended the life of my lip fillers.

Key to plump skin

This made my skin so plump and hydrated! It was so satisfying to see visible improvements in my skin.

Great

was great but still not a fav of mine

Hydrating!

This serum is nice and hydrating, with a lovely plump appearance on the skin. I always use this when my skin needs a little extra hydration, and have found it works better on damp skin.

restore/retain skin moisture

It does their work very well. No more dry skin for me! My skin are well hydrated and looks radiant after a week of applying it. I applied it twice a day, morning and night.
Very satisfied with the results!

Amazing!

This is a little powerhouse product for the price. I love the dropper for easy dispensing and the product works well under creams or serums and it truly does help plump and replenish skin. My skin texture has been phenomenal since using it and I feel I get more out of my other products too. It also lasts a super long time and again - for the price point - how could you not?

amazing

helped smooth out my skin, skin felt so much softer and moisturised

Soft skin

New to skincare and was curious of the hype around The Ordinary so I decided to give it a shot. It has definitely helped make my skin softer and more hydrated and glowy. I did find that it pills under makeup and sunscreen though so I use it at night before my moisturiser which has worked well.

Great product

I've been using every morning and night for a couple of months and have noticed a solid improvement in skin moisture and softness. I like how it doesn't cause irritation and can be paired with other serums.

Hyaluronic acid

this is great for a light serum that hydrates my skin. Doesn't replace a moisturiser though

Best moisture

I have purchased this product about 3 weeks ago and already seeing results. I have mature skin with
Signs of aging. I only used spf creams for most of my life and now just trying to give my skin a bit of love.
My skin feels and looks moisturized with glow. I also use 1.buffet 2.hydraulic 3.spf in am routine and
1.buffet 2.hydraulic 3.moisturizer for pm routine.
Highly rec...

Read More

My go to

This is the best Hyaluronic Acid that you can find for this price. I use it everyday before my moisturiser and I love it. The only issue I have with it is that it can pile up under makeup and ruin your foundation, so I dont use it if I have to do my makeup in a rush.

great HA

I don't think you have to spend much on moisturising products to get a good return. This is lovely, absorbs easily and is a great step after cleansing before everything else. At this price point it is worth trying it out. I would always recommend ordinary products for people with a low budget or new to skin care.

Not for me

I have combo skin (oily and dehydrated) and this oddly caused dryness which I have never had previously. I'm not sure if it was the combination of the additional products I was using but I did use as instructed. Overall, not for me.

Smooth and hydrating

Really feel like this makes my skin plump and hydrated from the inside out. Can't really fault it. Use it every day in my night routine.

For the price you can't beat it

You can't fault how cheap this is, and if you're just getting into skin care this is a great starter. However, if you're willing to invest some more, a more high quality HA feels like HEAVEN compared to this. I started out with this one, then invested in a better one and gave this to my husband :D

Good!

Great! It did not irritate my skin at all i would recommend, there is an initial purge period though

So-so

This worked for me for a little bit, and was great when it was working, very hydrating and my skin felt lovely. But then it started to make me break out and didn't react well with my other skincare.

Plump skin

My skin gets easily dehydrated and I'm so glad I tried this. This is thicker than most hydrating serums so it was difficult to use at first. However applying after a hydrating toner helped immensely. It soaks into the skin to plump it up. My skin has never been more hydrated! Love love love.

A great budget Hyaluronic Acid

I love this serum as a budget friendly hyaluronic acid! I feel like my skin is more hydrated when using this

leaves my skin feeling healthy

I really like this product it leaves my skin feeling very healthy after use, hydrated and pump

Great for dry skin

This is a must-have for dry skin.

Apply to a damp face for best effectiveness.

I also use this to create a perfect acne scarring coverage.

- The Ordinary Hyaluronic acid

-Thin layer of The Ordinary High Adherence primer all over the face.

-Nars Soft Matte Concealer dabbed on with a concealer brush over acne or scaring.

Wait 2 minutes.

Read More

Good for hydration

A thin serum which layers nicely under moisturisers and cream for extra hydration.

No help to redness

I have to say - I don't see any real impact on hydration or redness - which is what these ingredients are supposed to do. I doubt I'll repurchase.

Yes to hydration

Love covering my entire face in this every morning and night after washing my face. Makes my skin feel supple and plump and well hydrated. So cheap and so easy to keep repurchasing.
Sometimes feels slightly tacky but quickly washes off hands and sinks in quickly and I always follow with an additional moisturiser

Good quality and affordable!

This is a good product to encourage moisture retention and avoid moisture loss! Suitable for all skin types and is affordable

My favourite!

The most affordable and effective hyaluronic acid on the market. This is the 5th time i've repurchased. It leaves my dry skin smooth and supple. Always follow up with a moisturiser !

Simple but brilliant

Very simple but good serum. Been through many bottles and I still love it.

Okay?

Didn't see huge benefits in using this serum combined with a moisturiser unfortunately. I finished the bottle but I could have just used the moisturiser and my skin would have felt the same.

Highly recommend

I use this product every morning and have been for about a year. I have noticed such a difference in my skin since incorporating it into my skincare routine. Instantly my skin feel refreshed and more hydrated. It feels very light on the skin, I have noticed my skin looks a lot healthier and glowing since using this product. Its a must in everyone's skincare routine

works ok

has some plumping effect upon application; tried daily for 3 months. probably won't buy again, i think regular moisturiser will suffice

Total convert

After suffering from a dry (and cracking feeling) face for years, and now, the first signs of ageing, friends recommended I try The Ordinary. I use this, followed by The Ordinary Buffet and The Ordinary Moisteriser every single morning. My 30mL bottle has lasted nearly 6 months and I'm just about to buy more.

Love it

This is a great product for me, make my skin looks great and the price is great. I have been using it for a while combined with other products from the ordinary.

Not seen a huge difference

I'm a 30 year old with combination skin and I've been using this as a part of my morning routine, after my Vitamin C serum and I always find that it pills around my brow and chin during that day. Immediate pilling occurs when I accidentally applied it before my Vit C serum one day, so avoid that order if you do buy this product. Not sure if all Hyaluronic acid products are the same, but I haven't ...

Read More

Staple TO Product!

Very hydrating serum which can be used daily prior to moisturiser (or an oil). The serum goes a bit tacky as it dries, so if you are laying an oil over the top, it is important to wait 10-15 minutes until the HA is fully absorbed or you may experience pilling. Great product to use after a clay mask to rehydrate the skin.

Great product

I like this a lot. It helps hydrate my skin without oiliness. The only downside is that it runs out quickly!

I love it!

I was amazed at how easily this absorbed into my skin, and it left absolutely no residue, sticky feeling, or oiliness. I've noticed my skin definitely looks more hydrated and it's a great addition to my skin care routine, or makeup when I'm going for a full face. It gets used up kind of quickly but it's affordable and worth it! My skin is oily and it hasn't been bad for it at all.

Value for money

I have just finished a bottle of this serum and I plan to repurchase. It helps my skin feel and look extra hydrated. I apply it morning and night after applying salicylic acid spot treatments on current pimples. After I apply the Hyaluronic acid, I put on The Ordinary's niacinamide serum and then moisturiser.

Glowing skin

Very affordable product and helped me get my foot into developing my skin care routine on a budget.

My skin was glowing and was well hydrated just after 2 weeks of use. However, I found that it kind of rubs off my skin after it's dried, I'm pretty sure it's the product and not dry skin because it can happens everyday when I put it on. Overwise, it does a really good job at keeping my...

Read More

So far so good

I've only used this product for nearly a week now, along with 4 other products from The Ordinary. I find it does take a bit to dry as it's quite tacky, so have to wait a few minutes to apply the next product. But once it is dry it does leaves the skin feeling and looking so nice and refreshed! I've already noticed a different with my skin and it's only been 4 days! But then again I am using a few ...

Read More

Ok...

The price is amazing but I honestly don't really think this made a difference to hystration. Probably my least favorite The Ordinary Product.

Nice product for dry/sensitive skin

I have dry and sensitive skin and this product works well for me, particularly during the past colder months. The texture is slightly off putting since it's quite tacky, however I don't mind it since it is usually the last step I do before moisturiser. Overall a good product, especially for the affordable price point.

Pills underneath makeup

Not my favourite product, it would pill underneath makeup - probably better to use at night time.

Great for some extra hydration!

I have normal skin so I don't use this all the time - usually only when I've used some strong exfoliation or heavy acids and my skin needs a little boost in moisture. I also use The Ordinary moisturizer that has HA in it too which is enough on its own.

Very hydrating

Very hydrating serum that I never go without. It hydrates the skin without making it look shiny. It doesn't feel heavy at all and can be layered with other skincare products or makeup without problem.

Everyday, all rounder

I use this product twice daily after my morning cleanse and evening cleanse. It makes me feel instantly hydrated and makes my skin super supple.
I love using this product and its great value for money!

really plumpling

it was really plumping and made my skin have a really nice glow. definitely recommend!

Best skin care I've used!

Ive had such red and dry skin lately which I've never experienced before. I tried multiple products and nothing cleared it up. A friend of mine recommended this product, alone with the vitamin C squaline serum and the moisturiser. Within days my skin was plump, clear and shiny. I couldn't be happier with this product!

hydrating, but thick

This serum is good for moisturising, but it is thick, maybe not suitable for oily skin