The Ordinary Ascorbyl Glucoside Solution 12% 30ml
Is this for you?
Vitamin C is an effective antioxidant, brightens the skin tone and reduces signs of ageing. In its pure form, Vitamin C is unstable in water.
Cruelty Free
Vegan
Artificial Fragrance Free
Sulphate Free
Skin Concern:
First signs of ageing

Pigmentation, uneven skin tone

Wrinkles and loss of firmness
Skin Type:
Dry

Normal to dry

Normal to oily

Oily
Frequently bought with
Please wait while we find a match
Questions & Answers
(15 Questions)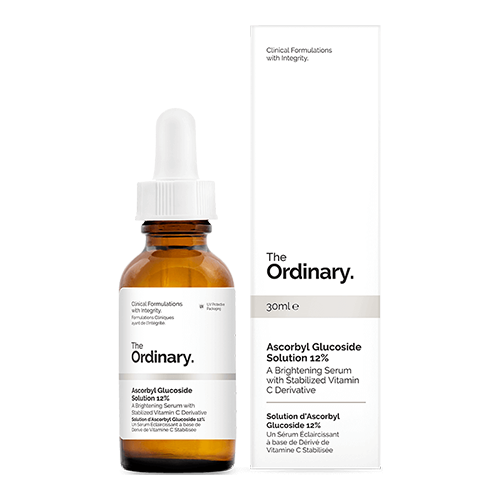 The Ordinary Ascorbyl Glucoside Solution 12%
Get an expert to answer your question about this product!
92% recommend this product
Most Helpful Positive
Brightening
Beautifully brightening, and gentle on my sensitive, dry skin. Easy to apply
Most Helpful Criticism
A good starting point
If you're new to skincare and you want to see what works for you without shelling for the higher end products that people rave about the results for (drunk elephant C serum for example) then this vitamin C derivative is a great place to start before upgrading once your skin starts changing.
If your skin is already accustomed to vitamin C you're likely not going to see spectacular results from this.
Good for people on budget

This is great for people on a budget or new to skincare, as it gives you an insight into what Vit C can do for your skin. When used regularly this makes your skin appear brighter and even.

The Ordinary Ascorbyl Glucoside Solution 12%

This product is great for brightening and giving the skin a smooth even texture.

Brightening

Beautifully brightening, and gentle on my sensitive, dry skin. Easy to apply

Best budget Vit C

This is the best vitamin c product I've found if you're on a budget. I used this when I was a student and found it increased glow and reduced redness/uneven skin tone. Since I've started earning I've switched to a more expensive vitamin C (skinceuticals which is 10 times the price of this product!) but would highly recommend if you're on a budget.

Calm and effective

What I love about using vitamin C for skincare is that it's an antioxidant that helps brighten skin plus prevent aging. This vitamin C is very calm to my sensitive skin, so I guess it would be great for anyone. The packaging is very important for vitamin C and this bottle is perfect to protect products from UV. I use this in the morning to help enhance the protection ability of my sunscreen. I'm seeing the gradual improvement after 1 month using it

Winner!

This is the 4th Vit C I've tried from the ordinary & it's my fave so far. It goes on beautifully over the niacinamide/zinc serum & I think together these products are awesome! My skin is definitely brighter & clearer, there are no sensitivity issues & no conflicts with other serums. Thumbs up from me!

Great Product - good dupe

I was using a vitamin C serum by Trilogy, which I really liked but it was very expensive, small bottle and you only got 2-3 weeks use out of it. So I decided to try this product and I am so impressed. For a start its much cheaper than the Trilogy product, but I think it works as well. It's gentle on my skin, texture feels nice and doesn't leave my skin feeling sticky. I use it every other night alternating with a retinol product. My acne scaring from awkward teenage skin has improved a lot. My skin looks noticeably brighter, and people have been noticing.

Brightening and Whitening

Vitamin C where have you been all my life.. My skin improved very quickly after using this every morning. Skin is looking nice and bright, I love it!

Brightening and Hydrating

I found this product has really brightened and hydrated my skin within a couple weeks of using it. Compared to a lot of other more expensive serums that contain similar ingredients, this has definitely come out on top.

Even skin tone

I'm using a few new products at the moment, but I feel that the serum has had a positive effect on my skin tone. I'm often a bit red and blotchy, but have been waking up with much more even skin tone. I have sensitive skin and haven't had any reactions so far.

A good starting point

If you're new to skincare and you want to see what works for you without shelling for the higher end products that people rave about the results for (drunk elephant C serum for example) then this vitamin C derivative is a great place to start before upgrading once your skin starts changing.
If your skin is already accustomed to vitamin C you're likely not going to see spectacular results from this.

Lovely

Feels nice. Keen to see some results over time

Amazing!!!!

I use this product in the Am every day and it makes my skin glow & look so much brighter. I highly recommend in the first signs of aging, to even out your skin tone & give your skin that glow. The price is just an added bonus.

Solid Vitamin C Serum

This isn't, by any means, the best Vitamin C I've used, but it is a solid serum that is perhaps best suited to those that are new to using Vitamin C. I didn't notice a huge amount of improvement in my skin from using this, but it was mildly hydrating and wore well under makeup.

Instant results

This was my first time using a Vitamin C serum and I have to say, I'm thrilled with the results. Its not sticky, absorbs easily and feels lovely on the skin. Within a few days of using the product, I was receiving complements on my skins brightness. Will definitely repurchase.

OBSESSED

I get so excited when it's the night for this solution, I'm obsessed with how glowy it makes my skin! It's great for someone who hasn't used vitamin c before. A massive concern for me when beginning my skincare journey was how dull my skin looked. This product has definitely made my skin so much more brighter and more lively!

Great for acne prone skin

I have used most of the Vitamin C products by the Ordinary and this is the one I keep coming back to. Something about it seems to stop my acne prone skin from breaking out. I notice my skin texture improves when I use it and it gives me a nice glow. Works well under makeup in the morning (no pilling - woohoo) or at night. It would be great for those new to skincare or those with sensitive skin - I've found I can experience some tingling or redness with other Vit C products (and I have quite tolerant skin) but I don't notice any reactions with this product. I try and switch things up sometimes with other Vitamin C products but I always end up resorting to this to calm my breakouts and keep my skin consistently blemish free. It's a staple in my skincare routine now.

Can't believe I wasn't using this earlier!

I love this product. It's light, doesn't hurt the skin, and since using it my skin has been so bright, has a nice natural sheen, and much less oily. It's helping my control hormonal or oil produced break outs, and acne scarring. This is essential for ones skin care routine, and for the price you need it! I use this in the AM, and The Ordinary Niacinamide 10% + Zinc 1% in the PM. Together these are unbeatable!

Light and not oily

Light and not oily. Leaves your skin feeling a bit sticky but this is quickly absorbed in a few minutes.

LOVE! I was getting compliments on my skin one week after using!

This product is amazing. Made my skin so much brighter after one week and 100% evened up my skin tone. I tend to get some pigmentation patches on my cheek bones and usually have an uneven tone across my cheeks, but this has definitely improved since using this product. LOVE

LOVE!!

This is a great introduction to vitamin c serums, perfect for sensitive skin as its not too harsh, I use this morning and night and my dull complexion brightened within a few days of use, will continue to repurchase!

Good for clearing scars

I've been using this product for about 6 months - I originally purchased it to help clear up acne/hormonal scarring that I get around my jawline and it really did help with that. It brightened up my skin and slowly, slowly my scars are fading. The only thing I don't like about the serum is the texture and initial feel on the skin. It's a bit sticky/tacky for a little while before it settles. Not a huge deal and for the price, I can overlook it as it definitely works!

Holy Grail Vit C

I've tried a few different Vit C serums, and keep coming back to this. It works beautifully, layers well, and my skin loves it!

Bought this to use after laser

I have been doing the laser to remove my pigmentation. As I red vitamin c breaks up the pigments cells I have bought this. I apply the post laser skin where the spots are darker and sensitive. So far ok but not sure if working on the spots specifically.

Good basic product

This product has been enjoyable to use, and I feel as though my skin is improving over time with use. It doesn't irritate at all, and the price is amazing for the product. I found a tiny bit of pilling/stickiness, but nothing that is bothersome. Layers well with other products eg. Moisturiser

I look awake!

I feel as fresh as a daisy and a few years younger after applying this serum in the am. I'll continue using this product as it seems to even out and brighten my skin. The results for me have been great!

Brightening

Think this product is best using as a build up. Very happy however now as it has brighten my skin.

Good replacement for more expensive products

I've been using other Vitamin C serums in the morning that are a fair bit pricier. trying to cut my beauty expenses and gave this product a try. It goes on well. No smell. Not drying. Layers well with other products. It's not a 5 star product, but does the job if you're on a budget.

Great first vitamin c

I found this to be quite gentle. If you haven't used vitamin c before then this could be a great starter product. I moved on as I prefer a way more potent vitamin c serum but this was great when I started

Gentle

Great vitamin C that is gentle for beginners. Results take a longer time to appear though. I like that this is non irritating on my sensitive skin

Good quality vit c with no yellow mess!

I've used Body Shop vit c before and had staining issues. I have used this product morning and night for 3 months and no issues, just beautiful, bright skin. I find I can get a little oily during the day, but this product dries out well, using one drop on my face and neck along with the ordinary the buffet.

Perfect choice for a Vit C

I have been using this for a while now and it gives my skin the most beautiful glow in the mornings when i put it on, I was actually recently told that this could be used with The Ordinary Resveratrol 3% + Ferulic Acid 3% and WOW have they made a difference together. I use the Glucoside first. This by itself makes my skin glow but in combination with the Resveratrol and Ferulic Acid its made my skin look even better.

Satisfied

I have dry skin. This serum a little thick but absorbs quickly. Been using it every morning in summer and autumn. Now in winter Im using another Ordinary serum .Vitamin c is essential and this is so affordable and great for my skin will definitely return for more.

Love

Been three weeks now and I have noticed my skin seems as if it is glowing!

Reduced the life of breakouts

I've been using this for just over a month (now it's empty) in combination with the Hyaluronic Acid 2% +B5. I have oily / combination skin, some pigmentation and am prone to breakouts. While I don't think my skin is noticeably different, I do feel like my blemishes disappear more quickly since using this. I still get breakouts but the pimples disappear within a day or two without getting 'angry' - that's definitely only since I've been using this.

Very good for starters

This product is really nice if your new to Vitamin C so you can work your way up to the stronger products. This brightens my skin and helps it clear any old scars. Though this product shouldn't be used with Niacidimide and this two products don't work well with each other

Light and easily absorbed.

Probably my fave ordinary vit c product, does even out skin tone and brighten complexion but don't expect amazing results for pigmentation. Low irritation and no scent.

Just ok

I used ultraceuticals vitamin C serum in the past that did wonders for my skin. As I no longer was able to afford it, I turned to the Ordinary for a more cost-effective alternative. I think it works but the effects are very minimal. The texture is nice and doesn't irritate my skin.

Seems effective

I've only just started using this primarily to target pigmentation so it's a bit early to know if it will be effective but here's hoping! I love the brand and it feels great under my usual moisturiser.

Like it

I love the ordinary. This makes my skin more even, smooth, toned, and soft! An amazing product for the price and lasted a fair while considering the size of the bottle!

Didn't notice much of a difference

I didn't really notice much of a difference while using this for around a month, however its a nice serum and left my skin feeling clean and smooth

Great

Very very good
Skin is left glowey and is an amazing base for makeup. Works best on oily skin - could be a bit too mattifying on dry skin

Would recommend

For a first time carer of my skin (properly that is) this was a great product to ease in with. My skin feels so much better after having used, the results seemed instant after I purchased this a few months ago. You only need a few drops to really see a big difference! I use in conjunction with The Ordinary Hyaluronic Acid 2% and The Ordinary Glycolic Acid 7% Toning Solution and think they're all a great match. Great price for amazing results!

A great intro to vitamin C!

This was one of the first vitamin C products I ever used and it's a really nice intro product. Since using this, my skin looks clearer, brighter, and more radiant. If I get a blemish, it marks my skin and this product helps them to fade away more quickly! I use it in the AM before my moisturiser and SPF

The Ordinary Ascorbyl Glucoside Solution 12%

I have mature skin, with a bit of red on one cheek and a few sun marks here and there. I have pretty good skin but you can get past the fact I am 57. What I have really noticeable after using this product for a week, is that the sun marks and red spot have definitely decreased. Wow, and I also think I look brighter, perkier. Bring it on I say. Definitely will be purchasing this product again.

Best serum EVER

This is great for sensitive skin while also being effective to brighten and fade any scarring!

Good

I've been using this for a few weeks now alternating days, I haven't seen much of a change. My skin does look good for someone in their early 40's, I would likely purchase it again, I think it may be needed to be used daily to see a more significant result.

Very effective

Definitely helping with pigmentation, especially marks from healed breakouts. Felt very smooth and light on the skin, no heaviness or stickiness

Good gentle Vitamin C product

I really like this product, and prefer it (the texture/feel) over the Ordinary Magnesium Ascorbyl Phosphate 10% 30ml. It's gentle and layers well under a face oil/moisturiser at night. I was using the Ordinary Niacinamide during the day, and this at night, however I've now changed to using the Niacinamide morning and night, as I think it is the holy grail product - doing wonders for my skin's texture and evenness. I still use this every couple of nights, but I didn't see any particular brightening from it, and think I get more comments on my skin when I use the Niacinamide. The price point is great though and definitely not a regretful purchase!

Really effective

Definitely helps with brightening and especially reducing pigmentation and redness from a breakout. It feels really comfortable and smooth - I have oily skin and had no problem with it feeling heavy or sticky

Great First Vitamin C

This was the first vitamin c product I started using from the Ordinary and I found it great. I have now moved to a higher percentage however this would be great longterm for someone with sensitive skin.

Nice, but not right for my skin

This Vitamin C is silky and has a slightly thicker consistency than the other in the range I tried (the ascorbyl tetraisopalmitate), and while it feels nice to use, does have a brightening effect, and goes on ok under my moisturiser/SPF I've found I break out slightly when using this. It's definitely this product, so unfortunately I won't be using it up and will be going back to the ascorbyl tetraisopalmitate which I absolutely love. My skin is somewhat mature and combination.

Pair with ferulic acid and you're set!

Between this and the ordinary's ferulic acid and you've suddenly got a very expensive anti aging and brightening dupe. And this is actually stronger for only 15% of the cost. Winning!

No sticky

I am glad that I found a brand like this, Affordable and good quality products. For the first time I enjoy using Vitamin C, it isn't sticky at all.

Soft even skin

I have combination skin and use this product with Lactic Acid 5% + HA 2% at night time. I use this product at night time only, because I use the Niacinamide product during the day. I love how soft my skin feels in the morning - it really feels like it is making my skin more even! My skin seems brighter too with the products I am using. I've been using my new regime for about a week now and I really like it!

Sticky

Stickier than I had anticipated, but it was in the name. This vitamin C product was so easy to use, and it had no trouble being layer below and above other products. I've never used a product with vitamin C and now, I can't believe I was afraid of this.
Using this in conjunction with marine hyaluronic and marula oil, they seem to work very well with my skin.

Say goodbye to sticky and oily vitamin C serum

I have tried a few vitamin C serum and this one is by far the easiest and more pleasant texture. Used alone or with Hyaluronic Acid 2%. Have received lots of compliment how healthy my skin looks.

Good product

Good Product for a first time user of vitamin C. I have pigmented olive skin and I use this at night, I think I have noticed some very subtle yet positive changes in the texture of my skin over a few months. I will probably move on to a more concentrated vitamin c product next.

Brightens skin tone

I've been using this product in the mornings, in conjunction with the "buffet" solution and salicylic acid solution at night. Feels like my skin is brighter and plumper. Feels a bit sticky going on but this sensation fades if you pat it in and wait a minute before applying moisturiser / makeup.

Brightens and Evens Skin

This is one of my new favourites. I use it at night time and wake up with bright even skin that feels insanely smooth. I'm prone to redness and freckles and when I wake up my skin is all one tone. I notice the difference from day to day, my skin is increasingly resilient and I'm wearing less and less foundation.

First impressions...

Tried this after having a bad time with the Ordinary vit c 23% suspension in the tube. It's an improvement on the silicate feel of the 23%, but not great - has a sticky formulation does not soak in well. Stays sticky on drying.

I've not used long enough to see whether it improves my skin. I really don't like having to screw too bottle and dropper packaging. Do not enjoy using it. Doubt I'll repurchase.

It would be really good if the Ordinary had a guide to combining serums. Mixing this and HA and retinol under a few different moisturisers (separately) has not worked well - pilling mostly. I shall investigate further.

Good vit c prod

It's a great prod for the price. Sure, you can find more expensive ones that might give you more immediate results. But if you're low on $$ and are willing to put in the time - this one is just as fine. I use it for pigmentation, at night time. And use the Niacinamide during the day.

Best Recommendation

A dermal therapist recommended I use a vitamin C solution to brighten and even out my skin tone (I have olive toned, combination skin). I chose this product based on Adore Beauty's article on The Ordinary's vitamin C range and I just love the effect it's having on my skin.


Love this

This product really works! I love the way my skin looks.. fresh and more even skin tone.. and it works quickly..im onto my 3rd bottle.. so affordable too

Gotta Glow

Glow Glow Glow! This has become a part of my daily routine and I love it, my skin feels hydrated and glowy after use.


Love this! Glowy skin and more even complexion

I really can not speak any more highly of this product! I love it! Has made my skin so much more glowy and even and I look way less dull. I use this once a day usually in the pm. A few drops is all you need, this serum spreads really easily and absorbs in about 10 seconds. Your skin feels so soft and cared for right away, and after about two weeks I could tell it was really working. My skin was brighter and overall way healthier looking.

Wears well under make up

I use this in the AM and I found it wears really well with make up. It is one of the nicer Ordinary products, mainly due to consistency. I can't say it has made a huge difference to my skin, and I don't that's a fair expectation of such a product. It is an affordable vit C solution

Brighter and more even skin

I have fairly normal skin that can get a little oily across my T zone by afternoon. I also get the occasional break out around my jawline/chin area.

My main concern is that my skin looks dull and uneven, I want to be able to go makeup free and not have people comment that I look tired or sick.. grrr!

This product is amazing! I apply it every second night, alternating with the Granactive Retinoid 5% in Squalane. My skin has a much more even tone and looks brighter and fresher.

Lovely serum

I tried this after TO vitC20% with HA spheres made my sensitive skin flare up and sting.
This product has shown no reaction, is very gentle. I use in in the AM with Niacimide at night, my skin is definitely brighter and more even just after a couple of weeks. Started these products together so not sure which one is making the difference, or maybe it's both! Because it's so gentle I may try a slightly stronger VitC next time.

Helps brighten the skin

I have dry skin with acne scars around my chin from hormonal cystic acne. I find that it has had an impact on the darkness of my scars, and my complexion in general just seems brighter.

Overall happy

Have'nt seen much change in my skin. Been using for 2 months now. But the overall texture have improved. I use it in the AM before my moisturiser. Gives a glow to the face. Will continue to use to see if it really works.

Brightens my skin tone

This is a great serum for people who are just beginning to use vitamin C derivative products. I use this nearly every night and haven't experienced any stinging or irritation at all. It has done wonders in brightening my skin tone within the last few months.

But too weak

The positives: easy to apply, lasts a long time, and so gentle I could even use it with a derma roller, which isn't usually recommended. However, on the negative side, I didn't notice any brightening effects. I think maybe I just need to try the powder instead.

Absolutely love!

A dermal therapist recommended I use a vitamin C solution to brighten and even out my skin tone (I have olive toned, combination skin). I chose this product based on Adore Beauty's article on The Ordinary's vitamin C range and I absolutely love it! Its also so affordable, just ordered my second bottle! :)

Glowy skin

I have oily dehydrated skin, that is starting to show some fine lines around my eyes and mouth. I've been using this product for a week and have noticed improvement in the "glow" of my skin.. not sure whether this by itself has done the trick or whether it's the combination of this with other "The Ordinary" serums. Would likely repurchase, however might try a stronger version next time.

I LOVE this product. It's a lifesaver for my oily skin

I don't know if this serum is actually designed to help with oily skin regulation or if it's just a happy side effect, but it's awesome! The days I don't use it under my makeup I require blotting more regularly and my makeup gets melty around my t-zone much quicker.
I love this serum for day and night use. It layers beautifully under my morning/makeup products (TO Ascorbyl Glucoside Solution 12%, TO Hyaluronic Acid 2% + B5, moisturiser, sunscreen, foundation), and my nighttime products (TO Ascorbyl Glucoside Solution 12%, TO Hyaluronic Acid 2% + B5, TO Granactive Retinoid 2% in Squalane [alternate nights with the Vit C] and TO 100% Organic Cold-Pressed Rose Hip Seed Oil).
I started using The Ordinary products mid-last year, I'm perilously close to 30 with the skin concerns that entails and I've noticed a difference after using them all.

Can't live without this!!

Such a fan of this Vitamin C from the Ordinary. I have tried many brands but for me this works the best and it such an affordable price. For superior results I also mix with the Vitamin C powder!! Love, Love, Love.

Perfect for all skin routines

I have been using this product along with The Ordinary Hyaluronic Acid 2% + B5 and The Ordinary Lactic Acid 5% + HA 2% Plus The Ordinary Caffeine Solution 5% + EGCG and have achieve fantastic results. My skin feels more hydrated and my complex is much more even. Perfect for new mums with dry and uneven skin tones

Glowing skin

I use this AM and PM and have really noticed a difference, it has significantly brightened my skin! It is not true vitamin C, rather a derivative, therefore I can use it with Niacinamide which I need for my oily combo skin. Because it is a derivative, it comes in a desirable consistency, it is a true serum that isn't sticky or greasy. I have received so many compliments on how radiant my skin looks! Will be purchasing a 2nd bottle.

Effective and good value

I've been using this product along with several other Ordinary products for a while now and I like this Vitamin C solution a lot. I have severe cystic acne which doesn't seem to be made better or worse for having used it, but I've definitely noticed brightening effects in the rest of my face since I commenced about 3 months ago. I'll continue to purchase it as I'm seeing results.

Love love love

This is my favourite The Ordinary product - it delivers! My skin has improved & my redness has settled as well. Really easy application; first application I noticed a little bit (very minor) of rough skin but after exfoliating it has been fantastic.

Love this!

I'm on my second bottle of this and it has certainly helped improved my skin. I usually wear it AM and PM. Great to brighten skin and protect from environmental damage. And for the price, it's such a steal!

Favourite TO product!

This product literally makes my skin glow, it feels so amazing and it really does brighten. I highly recommend it!

Alternative to Even Blend Serum by Skinstitut

I bought this product based on the feedback i got from my friends and i did want to try out something other than the even blend serum by Skinstitut ( love love love) . This product does the job but i still seem to prefer the Even blend serum as i feel like the results are much quicker on my skin.

Bad reaction

Sadly my dry sensitive skin did not react well to this AT ALL. I broke out in a rash :( tried to dilute it down to see if that helped, but it still made my skin red & rashy sadly.

8/10

I have very sensitive skin and I tolerate this product really well. Whether I put a buffer serum on first or apply it to naked skin, it doesn't irritate me. I haven't seen a huge increase in the brightness of my skin, but incorporated into my whole skin routine I think it is contributing to the health of my skin. I find it a little sticky at some points, so I would recommend only using a few drops. (Having dry skin makes you use handfuls of product!)

Great value and product!

Such a great product! I have oily skin that constantly has pimples this serum brightened my complexion and made my skin look less dull. Unlike other serums it's lightweight and absorbs quickly.

New to this product, feels great, just waiting on results

I've only been using this for a week, haven't noticed a massive change in the brightness of my skin yet, but I love the ordinary products and even if it hasn't yet made my skin brighter it feels absolutely amazing on my face.

Bright, radiant skin

I have sensitive, pale freckled skin and was concerned about my dull, uneven complexion. I added this product after a few recommendations made online and I have not been disappointed. Unlike some other products, it doesn't pill at all (I apply other products immediately after), and absorbs very quickly. I chose this Vit C serum over others because it doesn't conflict with other serums I use daily, like TO Niacinamide which other Vit C products can. A little goes a long way and my first bottle lasted almost 3 months. I'm onto my second bottle now. I have found my skin to be much brighter, firmer and clear looking every day I use this. Since starting use of this I've been able to stop wearing makeup because my skin looks so clear!

Pretty good

Not noticing a massive difference but I like using this product. My skin seems to be nice at the moment but not too sure if it's from this product. I'm going to continue using because I don't hate it and I probably would buy it again.

A gentle vitamin C derivative

Ascorbyl Glucoside is very gentle to my skin. It is very pleasant to apply as it is a water-based serum. However, this does not have an immediate brightening effect on me. Not sure about the long-term effects of it. Also, if you apply it with a lot of other serums esp. niacinamide from the ordinary, there is some slight pilling. I use this when I want some vitamin C in my routine but my skin is not ready for L-ascorbic acid. Or when I can't fit vitamin C in the oil-phase of my routine.

Good day serum

I use this every day before I moisturise. I have skin-damaged and scar-riddled skin and I use this to help heal the damage. I find it lightweight and I only need to use a few drops every morning.

Holy Grail

I love this! I've repurchased it several times, and can't imagine a skincare routine without it. It sinks in quickly and spreads easily. I find my skin is so much brighter and clearer after using this. Absolute holy grail product!

Not for me.

I have very problematic/sensitive skin and for me this product really broke me out other than that my skin did look brighter and it did feel really nice going on but for me this product really brought out a lot of congestion in my pores.

Gentle and brigthening

I was a bit worried about starting to use this, as my combination skin is quite sensitive/reactive and I've heard vitamin C can be somewhat active, but I've had no reaction to it whatsoever. I apply this in the mornings usually (but alternate with The Ordinary Niacinamide) as the first step after cleansing and then apply my other more heavier products like moisturiser, sunscreen etc. It's great for in the morning as it helps protect your skin from free radicals too.

High strength

Evens out skin and brightens. I like the high strength of vitamin c.

No adverse effects

My skin (oily, no pigmentation issues) has reacted just fine to this Vitamin C serum, however I've found it can ball a little under oily products like my bb cream.

Great Texture

I switched over to this from the vit c suspension cream from the ordinary – love the texture and how quickly it absorbs, leaving my skin feeling super fresh after. I have oily sensitive skin and it has not caused any irritation whatsoever!

not for complicated skin

I have being using a different brand for over 12 months and thought i would try this one for a change. I found it really harsh and sticky on my skin and woke up with welts and sore pimples all over my face. I persevered and kept using for a week to see if my skin was just adjusting, but make it worse everyday. Be careful if you have sensitive/complicated skin. Love this brand but not this product

It's ok

I wanted to try the serum for a vitamin c fix rather than the powder so I gave this one a go. It's non irritating however haven't really noticed any changes to my skin. I also have troubles when applying in the morning as it doesn't sit under my makeup well so now only use at night. Very cost effective , no major complaints but will probably go back to powder