The Ordinary Granactive Retinoid Emulsion 2% 30ml
Is this for you?
The Ordinary Granactive Retinoid Emulsion 2% combines two forms of next-generation retinoid actives in a combined concentration of 2% by weight.
Cruelty Free
Vegan
Artificial Fragrance Free
Sulphate Free
Eye Concern:
Age Prevention

Deep Lines
Skin Concern:
Acne, breakouts and blackheads

Dull, dry or dehydrated skin

First signs of ageing

Pigmentation, uneven skin tone

Wrinkles and loss of firmness
Skin Type:
Dry

Normal to dry

Normal to oily

Oily
Frequently bought with
Please wait while we find a match
Questions & Answers
(43 Questions)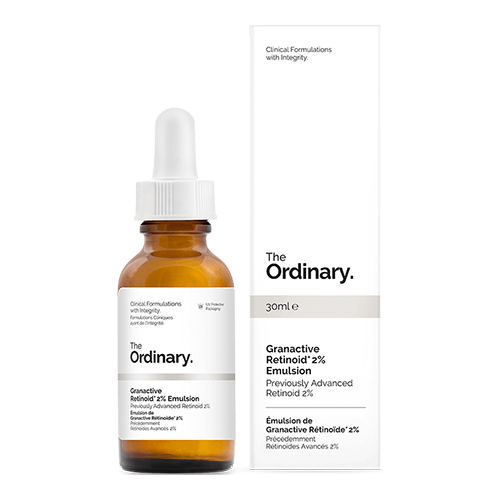 The Ordinary Granactive Retinoid Emulsion 2%
Get an expert to answer your question about this product!
93% recommend this product
Most Helpful Positive
Amazing
I have used this for months and I can't imagine my night routine without it
Most Helpful Criticism
Still on the Fence
I'm in my mid-late twenties and bought this product to reduce and prevent the fine lines that have begun appearing on my forehead. It's non-greasy, easy to apply and sinks in quickly! I have sensitive, dry skin and haven't had any irritation. However I am at the end of my bottle and haven't seen any noticeable change. Will be trying the 5% in Squalane next to see if there's a difference!
Amazing

I have used this for months and I can't imagine my night routine without it

Great starter Retinol

About 6 weeks into using this product and although I am not seeing a huge change in my forehead lines, my skin's clarity has improved dramatically and so has the texture. Perfect starter retinoid for sensitive skin.

Great Value

Great product at an affordable price, good option if you don't want to spend hundreds on high end product

Great

I love this product and have never stopped using it since i have started using it for the last few years. My skin has become so much better. The only downfall is that sometimes it is out of stock

Skin is definitely smoother and no irritation!

I have been using this for maybe 2 weeks now, the first week I used twice and now I am using every second day in conjunction with the 23% vitamin c. When i apply it my face feels a little hot and is slightly reddish but there is no irritation what so ever and I have semi-sensitive skin with rosacea. I find it absorbs quite quickly, and in the morning my skin feels so nice and smooth. I apply it by itself at night after removing my make up and cleansing and I dont feel the need for a moisturiser on top. Im not sure if it has softened my fine lines around my eyes or on my forehead or is fading the sun spots but will continue to see if it does. Overall, very happy with this, just waiting for it to come back in stock so i can re order.

Wonderful product

I love this stuff. I had been suffering from adult acne for about 5 years until I finally bought this and The Ordinary Niacinamide and both products are fantastic. My acne has reduced so much I barely break out anymore. I've been using this every night for around 4 months and don't even need a moisturiser, which is great because my skin is very temperamental and doesn't like moisturisers anyway. It feels soothing when I apply it and its super thin so great for oily combo or normal skin. The Ordinary has saved my face.

Cheap and easy to use

First time using a retinoid and I've had no irritation at all. I can't see a huge difference since using it so I might try the 5% next time.

Loving this product!

I have never used retinoids before so this was a good starting point for me. I have seen amazing changes in my skin in the 6 weeks since I started using it. My skins is soft, smooth and looks clearer. I have had no irritation. I like that it has no smell and it spreads easily. Also the price is amazingly affordable!!! I will definitely be re purchasing this again.

Applies well..

Although I cannot prove it has started to help combat lines, or wrinkles yet, as i haven't been using it very long. I can say it soaks into the skin nicely without it feeling heavy/greasy.

I'll never be without this

I'm 37 and slightly devastated that it has taken until now for me to discover the BEST treatment for my acne. My breakouts are 80% improved and the spots I do get now heal up overnight instead of taking days and days to clear.
Honestly, this is the best skin product I've ever purchased.

zero skin irritation

I've been wanting to incorporate a retinoid to my regime for a while now but having sensitive acne prone skin along with a lot of hyperpigmentation, I was afraid to use anything that could make it flare up or make my skin worse so I did some reading and came across this little gem! I was half expecting it to be a sticky serum that would feel uncomfortable on my face and maybe burn but it was actually the complete opposite. The emulsion is a light cream serum that is easy to smooth over the whole face and neck with only a small amount and it left my skin feeling really soft as if I'd applied a moisturiser and there was no burn or stinging at all! I use this every other night up to three times a week underneath a hyaluronic acid nighttime mask to aid any dryness that could come with using a retinoid. This is a perfect first step if you want to start adding retinoids to your skincare!

Visible results after one month

Noticed some pigmentation on my cheek this past year. This product has helped my skin renewal process and my pigmentation marks are starting to lighten. Amazing. I use this every night as indicated, and although slightly oily when you first apply it, it is rapidly absorbed into the skin.

Lovely

I'm fairly new to this serum but I really really like it. I feel like it has improved the clarity of my skin.

Still on the Fence

I'm in my mid-late twenties and bought this product to reduce and prevent the fine lines that have begun appearing on my forehead. It's non-greasy, easy to apply and sinks in quickly! I have sensitive, dry skin and haven't had any irritation. However I am at the end of my bottle and haven't seen any noticeable change. Will be trying the 5% in Squalane next to see if there's a difference!

Clears and brightens skin

I have used various different prescription topical retinoids for acne before and all others have irritated my skin and made the acne worse, more inflamed with longer healing time and scaring. Finally to find a retinol that actually soothes my skin and assists to clear it is a huge relief. My skin looks brighter, it is clear and if I do get a spot it is small and superficial and clears up without even breaking the skin within a day or two. Recommend and will continue to buy.

Great first retinoid

I used this as my introduction to Retinoid and have been really happy. I love the creamy consistency and is leaves my face feeling quite hydrated so I wait a while before I apply moisturiser after. Next time I might try the stronger one but am happy I started with this (currently using every other night). I have very sensitive skin and have had no problems.

Bought for my mum

I purchased this for my mum, and she has found that it has not only improved the texture of her skin, but also decreased the redness she has from rosacea.

Cheap and Effective

This is my favourite product from the Ordinary.
It has cleared up my acne so well and it's so cheap! I've found this works better than most more expensive products I have used.
It does really dry out my skin, though so I find I have to use an oil and a good moisturiser with it all the time. I have combination skin.

This is now a staple in my skincare routine.

My new best friend!

I was scared to try retanol for the longest time because of my sensitive skin. But my skin didn't react to this at all in fact it's the best thing I've ever done for it. For the price DO IT! Your won't regret it!

Let's see

The consistency of this is a little sticky... I have quite sensitive skin so when first applied it did make my face abit red. Although I have seen people say that this is a dupe to the Sunday riey Luna oil which is very expensive. For the price point worth a try to test it yourself.

Easy application

Perfect texture and soaks into my skin well. Such an easy application on the nights I use my niacinamide.

AMAZING!

I have been using this product for just over a year, and I swear by it. I get so many positive comments on my skin and I give it to this product! I use it once daily at nighttime after cleansing and before moisturizing. Leaves my skin feeling great!

Great product

I thought my skin would be too sensitive for this product, but it was completely fine.
It felt nice on my skin, it didn't tingle or burn, like most similar products.
I will need to use it more regularly to see results, but I like it so far.

First-time retinoid user

This was my first time trying retinoid for my combination skin. I purchased the product predominantly for aging and hyperpigmentation concerns. Still undecided as to its effectiveness after a few months - haven't noticed any dramatic changes in terms of skin texture, moisture, pigmentation... might need more time and diligence in usage. But at this price range, I am happy to purchase another bottle to try for a bit longer.

Great beginner retinoid

This product was my introduction to retinoids and I really liked it. I repurchased several times before moving onto a stronger product. It improves fine lines after consistent use and I found that it helped with acne. I really like the consistency. In summer I can literally use just this after cleansing and my combination skin loves it!

Amazing

My skin doesn't peel, get red or irritated with this product. This is really perfect and it has helped my skin so much over time

Excellent for skin tone

I had a lot of pigmentation post pregnancy and have really noticed a difference in my skin since using this product. My skin tone is much more even with the pigmentation lightened and my skin generally looking more refreshed and plumper. I'll definitely keep using this product as part of my daily routine

My favorite retinoid

This retinoid has the perfect texture for me. Personally, I don't like the texture of the ordinary's squalane but all the other retinoids are in squalane. This one does not leave my skin too oily and my skin is very silky after it dries. I do not see amazing effects with this product but it is definitely something that I am happy to put on everyday just for maintenance.

Feels Gentle

From everything I've read about retinoids, I was a bit worried about using one, as they can make your skin red and peel. This hasn't had that effect though. It makes my skin feel smooth and healthy. Even though it's active, I find it feels moisturising. I tend to alternate it with my acids at night. It feels gentler if your skin is a bit sensitive.

Great retinoid for sensitive skin

This is a really great, gentle retinoid for dry/sensitive skin. My skin actually feels a little hydrated afterwards, so waiting the 10 minutes after applying before using my moisturiser isn't a worry at all. Normally retinoids make my skin break out like crazy, so this has been a nice product to use. Change is noticeable but it's quite gradual, so it's worth sticking with it for a few months in order to see a difference.

Smoothing

I have been using this product for 4 weeks now, only at night. I have notoced my complexion is much more even and my skin feels smoother. I have not noticed a difference to any fine lines. Its incredibly gentle and causes no irritation. It dries tacky on my skin but that disappears after i moisturise. I feel after this bottle i will move to a higher strength in the hopes it helps with fine lines.

Wake up with gorgeous skin

I love this product. It's the first and only retinol product I've used and I don't think I'll buy any others. I love to put this on at night when I wake up my skin looks fresh, and I find it helps with my acne.

Hydrating

Improves skin texture and super hydrating for a cheap price point - would recommend to all skin types

Great for oily skin

This is the first Retinoid I've used and chose this one from the ordinary range as I have oily skin and this was a great alternative to the Squalane based products they have. It goes on very light, it's non-greasy and absorbs well into the skin. I've only been using this for a couple of weeks but I've noticed the texture of my skin has improved, pore size is reducing, skin looks brighter and feels super soft. I have noticed a bit of purging but no painful large acne. On the whole very happy with this product and will continue to use.

Smooth and good price point

definitely a good option for a first time retinoid

Magic serum while you sleep

Absolutely love this. I put it on at night every second night, and my skin has not felt better. Pimple spots are slightly fading.
Cannot live without this any more!

Love - can't wait for the bigger size!

I originally have used this on my face (and loved it) - very gentle and easy to use. I have now started to use it on my legs - I have always had large pores on my skin, and my legs have been plagued with mini blackheads/bumps, and since using this in combination with The Ordinary Niacinamide, I have noticed my legs looking smooth for the first time since I was a teen! Will be ensuring I keep up the SPF, but loving this as a gentle, yet effective retinoid product!

Loving it

It's my first time actually having a skincare routine and it's been amazing to start with this product. My skin is oily and I have a lot of acne scars and blackheads and after a month using this daily at night time, I barely have acne and the scars are getting better.

Amazing for the price

I really noticed the difference when my bottle ran out. I'd underestimated the impact this had been having on my skin. I've learned my lesson and won't run out again! Such a great price for an effective product.

great value

It is a bit oily after use and it should be apply at night for the great benefit.

I like the product, it's a great price

Great price, but I'm not 100% convinced that it is really effective. I use it a couple of times a week in pm.
It feels nice on the skin but it is quite oily.

Fades spots

Very nice for smoothing out my skin and fading spots! So impressed after hearing all the hype about retinols.

Nice product

I really like this product. It feels great on my skin and I've noticed an improvement in my complexion

Like don't love

I have recently been told I have dry skin, but am very prone to acne. I use this once per week. as a part of my beauty regime. It helps but dries me out

Body Aging

My skin is easily acne prone, I am a person of color and we're more susceptible to scaring. I have had back acne for a long time now and I have a ton of scars on my back. I have my partner put some of this on my back nightly, it has been a week and a half now and I could see them being lightened and eliminating. Since vitamin A encourages skill cells to renew, I would definitely recommend this to anyone who suffers from body acne. I would definitely need to stock up once I run out because it's just a favorite now and it took me a long time to find something as good as this. A little bit goes a long way so make sure you don't pour the whole bottle, it spreads easily on the skin too.

Really Nice Serum to Use at Night

I used this serum at night, as I found it made my skin fairly greasy during the day. Skin always looked nice and bright in the morning. Would recommend!

Good for Acne Prone Skin

I recently started using this product in conjunction to a few other The Ordinary serums and have found it has really helped control and clear my skin.

Great product

Great product for a great price! Can highly recommend this product!

Great benefits

This product has not irritated my skin at all and I wake up with smooth, plump skin. I have never used a retinoid product before and feel like this is a great starter. I have much nicer skin since applying this every second evening.

Great Retinol for Beginners

I've been using this product for about 3 weeks now and am starting to notice a difference in my skin now, my scarring is clearing and my ski is overall brighter with a smoother texture. This did cause my skin to "purge" during the first 7-10 days of using, I was getting a few deep, cystic and painful pimples which is normal when you first start using a retinol product but is something to be aware of if you are new to these types of products, you have to give it a good few weeks to reap the benefits!

Love this!

I absolutely love this product I definitely feel as if it does everything, it clears blemishes as well as firms my skin, I use it nightly on its own and feel that I don't need anything else. My skin always looks clear as well as plump which is amazing!

Fantastic product

Excellent - it gives minimal irritation despite it being a retinoid. I love how it smooths my skin overnight

Excellent product

I've been using this for a couple of months in conjunction with a few other serums from the ordinary. This is my favourite one by far. It smoothes the skin gently exfoliates. It doesn't sting - for reference, i have combination skin but more on the dry side. This, combined with the lactic acid twice a week has made a huge difference to the smoothness, clarity and look of my skin.

Good intro to retinol

This was the first retinol I started using consistently. I like it's not so strong that it dries out the skin or it peels. I use it every second night. I haven't used it long enough to see dramatic results but it does help with keeping my skin clear.

Can't go wrong with Vitamin A

I was told by a beautician that Vitamin A helped with acne-prone skin and I haven't looked back since using this. I use it only at night and interchangeably with Alpha Lipoic Acid and it has definitely helped control my breakouts and with my overall complexion. Be careful with this one though if you have sensitive skin, might be good to spot test first.

hyperpigmentation hero

This has worked really well on my acne scarred skin! It's reduced hyperpigmentation by a lot!

Great for hormonal breakouts!

I'm 42 years old and have been experiencing hormonal breakouts about 3 or 4 days before my period. Nasty pimples around my nose and cheeks that disappear after my period starts, but it's 4 or so days of yucky and painful acne. This product has been a godsend for this time of month. If I apply at night, the next morning the acne is really minimised.
I did have a period of "purge" which for me was peeling skin under my nose. This occasionally happens, but it's not a massive issue. This has most definitely helped me a lot and I really missed it when I recently ran out. Recommended!

Great serum

I accidentally ordered this instead of one of the other retinoid serums from The Ordinary and I love it! Its a lovely light texture and absorbs quickly. My 50 year old face is not looking too bad using Buffet in the morning and this at night followed by a face oil. Love it!

Part of my nightly routine

I began using this along with a few other products from The Ordinary and after a consultant suggested this as a first time retinoid user. I use this as part of my night routine and I wake up with my skin looking brighter and a lot less red then it used to. Would definitely recommend.

Effective

Non irritating and effective. My wrinkles around the eyes and frown lines have definitely softened. I'll continue using this strength for the next 6 to 12 months, then switch to the 5% strength to see how that goes.

Such an Improvement in texture and feel of skin.

This product has been great so far. I have noticed such an improvement in the texture of my skin, its so soft. I have been using every second day. It did dry my skin a bit if used on a daily basis, every second day works better for me. Will keep using, I think it's great.

Cheap

I'm just not sure about this product. I love the brand for the cheap price point but I didn't notice much of a difference using it on my skin.

Great product repeat order

Love this this brand sits in my bedside ready to use every night

You need this in your skin care routine!!!

Having had used other retinoid products before I was pretty reluctant to give this a go, I can't turn back now. This is a must have and will change the way your skin looks and feels - obviously go gently when first using but once your skin Is use to it you will be hooked! The ordinary products are amazing and super great value for money!

Nightime essential

I use this product every night and it has done wonders for my skin. Would recommend to everyone. Great product, great brand.

Nice retinol serum

I bought this a while back and I am still using this now. It doesn't cause any irritation at all and I find that it does help with my acne. It leaves my skin feeling moisturised as well, not drying at all. It's great for beginners new to retinol.

not too drying for a retinol

I have fairly sensitive skin, so am slowly easing myself into this, paired with a few serums and lots of SPF. So far ok, feels good and not causing any bad flakiness yet - using twice per week. Will increase, have heard its got great benefits so looking forward to it. So far so good for a retinol as others make me flake.

Being a freelancer

Seriously great results! After day 3 of applying at night after my cleanser and wiping my face clean in the morning, I am loving this product. My skin has that after-a-run-glow or fasting glow. I did buy 3 vials when I ordered, to gift and share. A friend who has great skin once recommended this brand to me - I wish I had of got onto it earlier.

The best product I've ever used

I have had acne/blemishes for years. I've had stubborn congestion on both sides of my cheeks from where i used to have acne. No matter what I used, I could never get rid of it. Until I discovered this product! Ive been using it for just over a week, and my skin is almost completely clear of blemishes and my stubborn congestion is almost completely!! My skin hasn't looked this clear, since before puberty lol
This is by far the best product I've ever used for my blemishes and I will continue to use religiously!!!

Incredible

Have been using this nightly for about 12 months, and my skin is so smooth! I'm in my 30s, and this was my first foray into retinoids. Great place to start. Low irritation, but great results if you give it time! I use this with TO niacinamide 10%, and a bland moisturiser (from cerave) over the top, every night.

Affordable product of excellent quality for adult acne!

I suddenly started having acne this year at the age of 29 despite never having it as a teenager. I was previously on a routine with a combination of AHA / BHA and decided to swap over to something more targeted for acne.

I bought this and the Niacinamide 10% + Zinc 1% and after a month it has definitely helped to clear up my acne. I'm down to about 1-2 spots at any given time which is much better than it had been.

I've reordered both and I'm glad to have found a solution at a decent cost with fast order dispatch and shipping. I found the reviews and responses to how to layer the products really helpful too - thank you!

Not drying like other retinols

This is a great beginner form of retinol has it causes little to no irritation. With that though, means that it isn't very potent and effects are minimal. I would possibly go a higher strength and dilute it with moisturiser to begin with then slowly take out the moisturiser.

Love this retinol!

I think this used to be called "Advanced Retinoid" and I'm so glad I found that out as I was worried they discontinued this. I prefer this emulsion consistency to the oil based ones as I don't like to feel oily. I use this twice a week at night, and the morning after I apply this my skin feels smooth and looks much less dull. When I first got this I went overboard and used it every night - don't do this! It'll make your skin "purge" and have crazy dry patches and pimples and bumps.

Thumbs up

Skin looks nice & healthy after this, have had it for a while.
Also have the 5% in squalene and can say that I like the 2% better. As someone who has severe scarring from acne, this definitely has helped over time to heal the skin.

Ineffective

I wanted to love this serum as I love most products from The Ordinary, however I saw no change in my skin after finishing a whole bottle of this. Prior to this I hadn't used retinol/retinoid products so I was expecting to see at least some change in my skin from this but unfortunately this did nothing.

3rd week using and seeing a big difference

This product making my skin sing. Loving how much this has already helped with fine lines

Look no further than THIS for your night serum!

HOLY HECK! This works wonders! I notice a difference in my fine lines and skin tone within two weeks! I use this religiously and have even conned my husband into using this! I an 29, he is 31 and we LOVE what we see in the way of our fine line correction! I also use the BUFFET serum AM + PM along with the moisturiser! This is a winning combination!

Skin refresh

I added this to my night care to reduce redness and it really does the job. With acne prone skin and dry areas, I constantly have new scarring from small breakouts, but this calms it all down and by morning it looks healed and smooth. I ran out of retinoid for a week and my skin just couldn't settle down, so this is a cornerstone!

I use Niacinamide, then HA, then Retinoid, followed by Moisturising factors. If I've toned with Glycolic acid, I skip the retinoid.

Quality and cost effective

I am in my early 30s and have combination skin. This is my second time buying this product. I have bought other, more expensive retinols in the past, and haven't found any of them have had noticeable results, however I find that this definitely helps to reduce breakouts, so for the price I'm very happy. I haven't noticed any sensitivity or irritation, and use it every second night.

Pretty good

I think it's good. I've been using it for a month and haven't seen any drastic results but it hasn't caused any issues.

Great!

To find a retinol at this price is remarkable! They usually cost over $100. So I am very happy with this. I will be buying again!

Great product

I have to say it is really great in anti ageing. Very gentle. I had used it for five months and really noticed lines reduced. My skin becomes smooth and tight. I have breakouts on my face but this product doesn't cause any irritation. I also apply it on my spots.

Good

This product feels really nice when applying. I have found that it has smoothed my skin out a fair bit

Takes some getting use to but so worth it

I had some purging initially causing slight breakout on the skin where i notally get congestion.. but I also found my blackheads were really loose.. like just wanting to fall out with a little exfoliation. It is hard to tell what product is working cause I started The Ordinary at the one time... but I feel like this is doing stuff.
Don't over do it and burn your skin.
I use it only once or twice a week and that works for me. I started using everyday and that was too much for me.
Stay with this product cause it is fantastic. 3 weeks in and im loving it

Gentle Retinoid

I'm in my 30s and just had a baby so my skin wasn't exactly in the best condition. I find this retinol has smoothed out my skin and given it some life again (even with minimal sleep!). I find it quite gentle on the skin and use it every night (along with the ordinary moisturiser and buffet serum).

Great serum

I like this a lot! I've added it into my evening routine and I think it's really helping reduce sunspots and scarring on my face.

A great intro product

This is my first experience using Retinol and I have to say I think this product is a good introduction to it. I am 40+ but am lucky enough not to have wrinkles or fine lines (yet!) and I'm hoping this subtle retinol will help stave them off for a while yet. I also don't have sensitive skin and don't experience the tingling sensation that others have mentioned. It actually feels like it's soaking in as soon as I apply it rather than sitting on top of the skin. My skin is clear and dare I say glowing! Will be continuing to use this product in my regime.

Does exactly what I'd hoped

I'm new to Retinol & occasionally have sensitive skin so was a little nervous about this. No need to be! This did exactly what I'd hoped it would, no reactions & after using for a month I'm really happy with the results.. My skin is smoother & my lines are reduced..

Not sure

It feels nice to apply and I have no irritation, not sure if it is doing anything yet

Incredible

This feels beautifully tingly when applied and the results speak for themselves. The low price aside, this product is a must for women of all ages!

Amazing product amazing price!

This stuff is great really noticed a difference with my skin texture and works well for my olive oily/combo skin.
Much rather it in the emulsion solution over the squaline too less greasy!

Great

I use this with vitimin C and it's been great. My skin is smooth and clear.

Good for hydration/skin texture, unsure about oily skin

I have quite oily skin. I have found this okay. I have repurchased as it is a great price for the ingredients but do avoid putting it on if I have a day the next day for makeup.

High quality, good value retinoid

I use this second nightly, along with the ordinary the buffet. The other night I use NeoStrata GelPlus and in the mornings I use the buffet and vit c. I have kept this regime up for 3 months and am so impressed. I have combination skin, in my mid 30s. I have found I have much plumper, clearer and smoother skin. This was my first retinoid, I didn't start with anything lighter and have been just fine. No dryness or redness, and I would estimate I use a quarter of a teaspoon and I do get a slight sting but only for a few minutes. Will definitely be keeping this up and repurchasing.

I love this product!

This product is so affordable compared to other Retinoid products. It feels amazing on my skin and I can already see improvements on my blemishes. No skin irritation at all.This product really exceeded my expectations. I will definitely continue to purchase it.

Not good for my dry skin

After reading so many good reviews i bought it but no luck .It made my skin extremely dry and patchy because my skin is already gets too dry in winters..In my opinion only good for normal and oil skin.

Amazing

I love using this retinoid at night. My fine lines have diminished and my acne scarred have lightened and my skin is left plump

good for sensitive skin

I have been using this one for the last couple of years and have noticed a decrease in my forehead lines, smoother skin texture and less blemishes. I don't have a reaction to this !!

GLOWING!

This product has left my skin glowing! I use it every night as one of the last steps in my routine and it sinks into your skin almost instantly but still leaving you feeling hydrated. I wake up in the morning with crazy bright skin and my makeup goes on so well because of it. I have been using for 3 weeks - so will see how it goes on other aspects like pigmentation etc.

Effective anti ageing product

I use this a few times a week at night, skin is more even toned and appearance of fine lines and wrinkles is reduced. Like all TO products this is great value for money and a long lasting product.