The Ordinary 100% Organic Cold-Pressed Rose Hip Seed Oil 30ml
Is this for you?
The Ordinary 100% Organic Cold-Pressed Rose Hip Seed Oil is rich in linoleic acid, linolenic acid and pro-vitamin A, all of which degrade when the oil extraction process involves heat.
Cruelty Free
Vegan
Artificial Fragrance Free
Certified Organic
Sulphate Free
Skin Concern:
Dull, dry or dehydrated skin

First signs of ageing

Pigmentation, uneven skin tone

Sensitivity and redness

Wrinkles and loss of firmness
Frequently bought with
Please wait while we find a match
Questions & Answers
(14 Questions)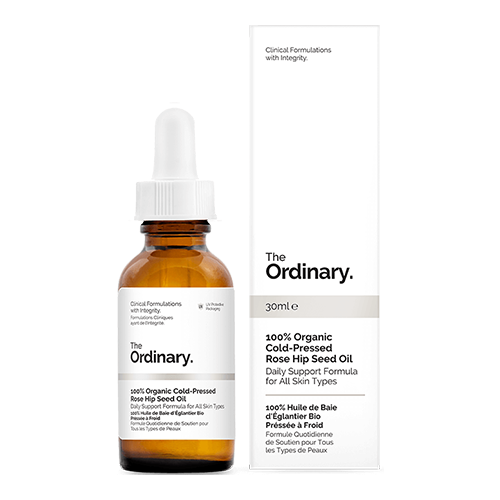 The Ordinary 100% Organic Cold-Pressed Rose Hip Seed Oil
Get an expert to answer your question about this product!
95% recommend this product
Most Helpful Positive
Great
This has smoothed and plumped my skin and it makes my complexion look amazing
Most Helpful Criticism
You can't go wrong
You can't go wrong have rose hip oil in your skincare routine. Whether you suffer from oil or dry skin, rose hip is comforting and adds comfort and moisture to the skins top layer. I used this to calm my skin down after a breakout.
good for dry skin

i have really dry skin and recently have been mixing a few drops of this into my day cream. my skin definately feels and looks better



good for dry skin

i have really dry skin and recently have been mixing a few drops of this into my day cream. my skin definately feels and looks better



Cannot beat the price

This rosehip is lovely. It's a very gentle oil. It has smoothed my texture and faded my scars enough to warrant this 4 star review. :)

Highly recommend!

Great product at an affordable price, good option if you don't want to spend hundreds on high end product

Great

This has smoothed and plumped my skin and it makes my complexion look amazing

Good addition to my skincare routine

Got this oil for extra hydration and to help with acne scars, so far so good. Hydrates my skin and it soaks up the oil fairly quickly

Smoothed my skin

I use this at night after all my other products, and I've since noticed that my skin texture has really smoothed out and plumped. I have super dry skin, so it's so nice to wake up and look not just refreshed, but also glowy. I've been getting compliments on my skin since starting to use it. One thing I will say though, is that it was recommended to me to use day or night. Do NOT use this during the. It takes too long to settle into the skin, so you'll just look oily.

Too oily

I have oily skin and this was recommended for me to rehydrate my face at night, but i find it too oily. It doesn't absorb very well so it just sits on the surface of the skin. I find it causes breakouts too.

Bargain

For the price I've been loving this product. I love how it makes my skin feel and the fact that it's more natural is a bonus.

Nice

Nice oil, perfectly priced.

Great product fantastic value

This product is great works beautifully and is great value highly recommend

Great hydrator

This oil is great for dry skin, it really hydrates without irritation. However, I can't really tell the difference between this and any other rose hip oil.

Fantastic oil

I was scared to use this at first because I have oily skin but having just started using retinols, my skin can get on the dry side every now and again especially during the colder months. A few drops of this after moisturiser works wonders and hasn't broken me out! Definitely a staple skincare item for most people.

Really great oil

Such a wonderful face oil and my skin looks great, I really like it!

Love

I love how this oil doesn't feel too thick or heavy (as I have combo skin that gets oily in the T zone anyway!). I don't love the smell, but I think it works well to hydrate. Haven't noticed effects on hyperpigmentation

Super hydrating!

Love this product. Once I put a couple of drops of the Rose hip oil on my face feels super hydrated for the rest of day. Skin feels so soft.

Great product

I was hesitant to use because I have oily, acne prone skin but using just a few drops of this product is great! Nothing dramatic, but skin feels great during and after use

A favorite!

Rosehip oil is a must-have in my beauty routine, it has been the product that has made the biggest difference. It is super hydrating and makes my skin feel amazing and brighter, it has helped lessen redness and scarring. This is a really affordable option for rosehip oil.

LUSSSH

Skin feels and looks radiant when i used this product the night before

Absolutely wonderful

This really did it all for my skin and two drops over my whole face is all I need.. Moisturisation, improving texture, fading PIH.

Amazing!!

Great value for the price.

My skin is loving it!!!!

I have recently begun using the ordinary products. I use this product In the evening and my dry skin is loving it!!! I did also have some very dry patches on my elbows after a holiday in the sun and used in on my elbows for a few days to soften the skin again. Sometimes I use moisturiser in addition to this product, but usually I don't feel like my skin needs it
PM routine
Cleanse
Ordinary caffeine solution
Ordinary Hyaluronic acid
Ordinary Granactive Retinoid 5% in squalane
Ordinary rose hip oil

Didn't do much

As someone who suffers from very dry skin, I thought this oil would be really transformative however, I've found the product to do very little for my skin. The product ended up breaking me out as it was too rich in my T-zone. I've now started to use it on my body so I don't waste it, which does leave my skin feeling nice and soft.

Hydrating

The smell is a bit funky but I love this for hydrating my skin and sealing in all the serums underneath. Works well to hydrate, but haven't noticed spots fading or anything else yet

Love it

I use affordable rose hip oil with my moisturiser at night as I have dry skin and find that my skin is left feeling super soft. Also really great at softening my acne scars.

Hydrates your skin beautifully

I have been using the Rose Hip Seed Oil after the water based serums from The Ordinary. It leaves my skin hydrated, looking clean and very fresh. Definitely recommend using it on a daily basis.

yes!

I love this oil! it makes my skin look refreshed and clean! You dont need to use very much either! You wont see dramatic results but your skin will look good! i promise

Nice oil

I like to use this at night as I have oily skin. I only need to use a couple of drops and the bottle has lasted me a long time. This product has faded my acne marks and really moosturises my skin. This oil is quite lightweight so I would recommend for oily skin types aswell

You can't go wrong

You can't go wrong have rose hip oil in your skincare routine. Whether you suffer from oil or dry skin, rose hip is comforting and adds comfort and moisture to the skins top layer. I used this to calm my skin down after a breakout.

Very nice

Very nice oil. Great price and works just as well as more expensive rose hip oils

Love this product

Makes my skin feel soft and smooth

Amazing!!!

I mix it with my moisturiser and its great for daily use!! a bit too oily to use alone since I have oily skin so I mix a drop or two to my night/day moisturiser. Amazing!

Hydrating and doesn't make me breakout

My skin is becoming more dry as I get older, but I am still prone to breakouts, especially when I introduce oils. Had disastrous results using Vinter's Daughter before I finally, reluctantly (so expensive!) stopped using it. I still wanted to add an oil into my routine for that extra layer of moisture and this is fantastic. Glides on beautifully, doesn't feel too heavy and no breakouts. Wonderful stuff.

A great all-rounder

I have been using this oil for over a year in conjunction with other the ordinary products, I continue to use this one because it's a great all over treatment and really lifts and smooths my skin. This is a great product and of excellent benefit to your skin, thanks to the high concentration of vitamin C - which benefits all skin types. Plus it's a little less harsh on your skin than the vitamin c powder. For the price, it's certainly worth a go and I would recommend to anyone looking to try out options for brightening, smoothing and addressing fine lines.

My little darling

I have mixed skin and use it on interleaved nights. I wake up with very cedar skin and not a little oily. It is all absorbed. The skin is very soft and I noticed an improvement in the spots

Great Product & Great Price!

I've been regularly using Rosehip Oil for the best part of a decade. I've used a few different brands but the one that I really liked was often out of stock. On a whim I decided to try this one offered by The Ordinary.

It's got a fresh, clean nutty aroma with a beautiful amber colour. Unlike other brands it actually comes in a brown glass bottle with a dropper instead of a pump pack or plastic bottle.

Not all Rosehip Oils are created equal. It really depends on their processing, sourcing and storage. I'm very impressed by the quality of The Ordinary's product for the price; my skin just loves it and it's now my new favourite brand of Rosehip Oil. I'm converted!

Perfect boost of moisture

I use this every night after my moisturizer. I can be prone to having dry skin and I love this face oil. My skin feels so soft and is firmer since I started using it a few months ago. I only use a few drops so it has lasted me a long time. Perfect for those with sensitive or dry skin.

Moisture on point

I love this oil. I use this instead of a moisturiser formula.
Cold pressed rose hip seed oil, no complicated ingredients. It's the perfect Moisturiser for my face and neck. And it's been a good base under my make up also.

My new favorite product

Keeps my skin hydrated while also evening out my skin tone!

So calming

I recently ran out of this product and I really missed it. I use it when I have red spots or my skin is flaring before bed and my skin is always noticeably calmer and clearer in the morning.

Unsure

Every time I try to incorporate oils into my routine my skin breaks out so I'm not sure if the oil is too heavy or my skin just doesn't like it but not a fan

So plump

I use this with the hyaluronic acid to treat my dry skin and my skin looks so plump afterwards. It has definitely made a difference in my skin after continuous uses

Amazing for acne

I apply this to acne prone areas like my chin or areas where pimples have formed and it has really improved my acne since using it. It's only early days but so far I'm impressed!!

GOOD

This is a good rose hip oil, I wouldn't use it to moisturise my face but I did apply it on a scar (mole removal) on my face after the doctor suggested and it helped reduce its appearance.

Rosehip oil

I'm really happy with this product in the short time I've been using it. It is quite heavy so I need to use sparingly due to acne prone skin. Great is you're looking for a cheap but high quality rosehip oil!

A must have in my routine

In summer I thought this stuff was incredible. My skin honestly looked the best it ever has! But as winter came in, I started breaking out and I think it just wasn't enough for my skin. I find that it only works when I mix it into my moisturiser. But I absolutely love it and can see such a huge difference in the plumpness and bounce in my skin. Fantastic quality and works wonders!

Great and affordable

Love this rose hip oil mostly for the quality and price. There are a lot of rose hip oils on the market but I keep buying this one as it seems to do a great job and is inexpensive

Can't go wrong!

Absolutely love adding rosehip oil to my facial moisturizer at night. At this price point and quality you really can't go wrong.

Nice

It's very moisturising and my skin feels softer

Lovely

this oil is such an amazing product! ever since using it I have felt my skin is much softer and has a much more glowey, dewy look. This product is easy to apply to your face as well and dosn't stay sticky on the face.

Personally prefer argan oil

Personally prefer argan oil for my oily tzone and dry cheek skin. But nevertheless, this product is GREAT for locking in the skincare products used before applying this oil

Drops of gold

You honestly need no more than 2 drops to do your entire face and it leaves you with a nice glow. It doesn't completely sink into your face but what oil does? I'm super hydrated in the morning and I'm excited to see the benefits in the future as I've only been using it for the last 3 weeks.

Moisturising without feeling like an oil slick

I love this oil. I've used products before that I've either poured too much on or it's been mixed with other ingredients and it's left me feeling too oily and greasy, but the dropper and pure oil is perfect before bed and there's no residue left in the morning.

Great for the winter

This is a really beautiful formula, feels rich yet it is light. Make sure to pop on a few drops as the final step in your routine

Love it

I have acne prone/combination skin. I use this product every morning, adding it into my moisturizer. This is definitely one of my favourite oil, it helps with my pigmentation. Definitely recommend.

Great for a hydration boost

I alternate between this and Marula oil. I love layering this on top of my night moisturiser and my face looks so hydrated and plump the next morning.

Trusty rose hip oil

I love this brand and this product. It is great after my night creams for a glowing and plump complexion in the morning. I alternate this and their other organic oils.

Must have!

This product is one of my must-haves and is one of my favourites. I have normal skin that is easily hydrated and I use this most evenings to encourage plump skin and minimise my fine lines. It's a great price and is something I've already encouraged friends to use

Awesome

i enjoyed the scent and found it calmed down my oil products and pimples, after around 2 weeks of applying it every night, highly recommend

Great oil

This oil is great, nice rich orange colour and the classic rose hip oil scent (which is nothing like roses by the way.

I use the oil at night either instead of or as well as moisturiser.

Makes skin soft and it's working towards reducing acne scars and tone irregularities

A nightly ritual

I use this rose hip oil as part of my PM skin regimen after serums but before moisturiser. A drop on my forehead, each cheek and neck is plenty to coat all in between. I allow it to absorb for a few minutes before applying my night cream, moisture is locked in without making my pores feel clogged. I always get compliments on my "glowing" skin. Sometimes if I'm feeling extra after I wash my face I run a face washer under really hot water, ring it out then apply a few drops of the rose hip oil over the washer and lay it over my face and inhale deeply before gently wiping my face with the washer. It feels like a lil mini aromatherapy facial/very luxurious. Great price for the oil too!

Great!

I use this every night as a moisturiser and it's such a nice oil. You only need 2-3 drops for your face and it soaks in quite nicely and softens my skin for the morning. It's also helped even out my skin tone as I get a lot of sun exposure.

So good!

Love this product! I have really sensitive skin and as soon as I apply this my skin instantly feels less irritated. You really only need a small amount, it goes a long way

awesome

use this at night! Great for deep moisture surge on my face, hands and hair!

great!

My skin is so sensitive and has crazy reactions immediately. So I've only used this oil one night and already I can feel a difference in the best way possible. It is a thicker oil, but not as thick as I was anticipating. The oil absorbs into your skin and has a natural earthy scent. I pressed in three drops all over my face and neck as the last step. I also rubbed some onto my hands. I've tried so many oils: Kiehl's midnight recovery and daytime concentrate, Josie maran argan oil, biossance rose vitamin c squalene, boscia tsubaki (I really adore and wish they carried at Sephora again), maracuja tarte and countless more.. this oil is definitely my top 3 favorites of all time. Funny how it's one of the cheaper oils and I love it so much. Those other oils I named are near and dear to my heart but this rosehip seed oil is exceptionally nourishing. I want to put it all over my body. Side note: this is the first oil I wouldn't recommend for all over use, I would only use for face, neck and hands or anywhere you want lots of moisture... but might be too thick for hair. Greasy is NOT how I would describe this oil in the least. It's definitely not a dry or light oil either, not heavy.. truly a unique consistency that delivers a lot of moisturizing benefits. I would also only use at night or during the daytime on a really cold dry day. Less


Love

I love the ordinary. This makes my skin more even, smooth, toned, and soft! An amazing product for the price and lasted a fair while considering the size of the bottle!

I reccomend

A good rosehip oil

Good value for money! rosehip oils are all pretty similar but this one is a good price for what you get. Would recommend to only use 1-2 drops or its too oily and can give you breakouts overnight

good but started causing breakouts

At first I loved this oil. After using tretinoin at night to treat my acne on my cheeks and having peeling skin, this oil helped peel off the flaky skin and made my make up go on flawless and look flawless, but after using it for a month I have noticed breakouts on my forehead which I normally didn't have. So I may start using this oil for my neck.

High quality!!

The quality of this rosehip oil is probably one of the best that I've tried, if not the best. But that being said, I've also found organic, cold pressed rosehip oil at my chemist for slightly cheaper and of a very similar quality, but slightly less that the ordinary one. I think I would just continue to buy it from my chemist instead as I go through bottles of these like water.

Great final step

I use this as my final step in my pm routine. It absorbs quickly which leaves my face feeling hydrated and comfortable.

very good moisturising

great for dry skin. it gives instant hydration and soothes redness on the skin

HOLY GRAIL

I cannot live without this oil and have continued to purchase this for over a year now. I had excessively oily skin and I read that using a face oil instead of a normal cream moisturiser, could improve my oily face... and it did just that! My skin is now hydrated and glowing. It soaks in so well when applied and you only need a tiny bit, and it lasts ages! HIGHLY RECOMMEND!!

Great

This is the best thing for skin that gets hella dry. Just 3-4 drops at night and my skin feels plump bouncy. Works for my sister too, who has dry skin. A little of this each night does the trick. It should melt into the skin fairly quickly for figuring out the right amount is key. Definitely repurchasing.

Versatile little bottle

This is the final step in my nightly routine. Cleanse, Buffet, Retinol, Rose Hip Oil.

But - Rose Hip oil everywhere. Face, neck, hands, cuticles and soul.

4 little drops on my finger tips, rubbed together and pressed into my face, a tiny bit more around the eyes. I wake up plumped and hydrated, not shiny.

There is a tonne of product for the price.My hands and cuticles have never looked better.

NB* This product arrived leaking with a hole in the plastic dropper component. A replacement was sent by Adore the very same day and I just wanted to say again how much I appreciate Adore as a company and their customer service.

Rose Hip for Cleansing

I've started using this product as my first cleanse at night and it is so amazing at getting all my makeup off! It is really gentle and smells lovely too.

Lovely oil for face and hands!

I love this oil! I do use it on my face occasionally but really love it on my hands and especially my nails. I found that it has drastically improved my cuticle and nail health!

Feels amazing on the skin

I have been a long time user of Rosehip Oils as part of my skincare routine and can definitely recommend this one, feels lovely on the skin and absorbs quickly without leaving a heavy lingering smell like some oils can.

I love this product

This is great for the end of my regime.

I've been using this for a week and it soothes my skin at the end of my routine.

Highly recommend

Simply beautiful

Gorgeous little product and beautiful price point! I use this every night- 4 little drops pressed into the skin after my serum and before moisturiser. Finer lines are getting finer! My skin looks anazing

BEST OIL FOR SCARRING

I use this for my body and face! it helps me with my scarring and dry skin.

Great

Gentle and soothing for face or body but a few drops is enough.

A fantastic natural moisturiser

Skin type - oily/combination
Age - mid 30s
I love this. Despite having oily skin that is prone to congestion, my skin loves this rose hip oil. I only use it at night, as it does leave my skin shiny, as well as a slight residue, but not enough to leave marks on my pillowcase. It is a heavier product than other rose hip oils I've used in the past, but I feel this reflects the high quality.
A little goes a long way - I only use about 3-4 drops for my whole face and neck - which is plenty - and left on my fingertips, I rub into my hands.
It's the final step in my night time regime, and as I alternate between products that can be drying (retinol, lipioc acid, glycolic acid), I find it balances these out and keeps my skin hydrated. I don't feel that it congests my skin at all, but that could be because I'm using it in conjunction with other products that combat that.

The absolute best facial oil

I am prone to having dry skin and coming into Melbourne's winter I feel well prepared! I use about three drops, rub my hands together and press all over my face, neck, and decolletage. I do this after applying my night cream. It can feel a little greasy but it's only for a short while. It works wonders while I sleep and I use a designer quilt cover set and I have had no worries about stains or marks. Some people have stated that they do not like the scent of this oil as it does smell a little earthy but that disappears quite quickly too. I will repurchase when I run out! I highly recommend!

One of my faves

I've been using this oil for about six weeks. Not going to lie, I was hesitant. I rub a few drops between my fingers and then press the oil into my face. I always do this last in my routine, over my night cream. I did not break out at all and my face did not feel like an oil slick the following morning. It is so nourishing. I was hesitant o buy this because of the reviews stating that this oil had an unpleasant aroma. It is a very earthy kind of scent but dissipates quickly. I'm glad to be heading into Winter with this!

Too heavy for my face but not my hands

I found this oil to be a bit too heavy for my skin and it cause a little bit of congestion and small breakouts. Although it wasn't suitable for my face, I now add it to my hand cream and it's makes it silky and extra smooth.

Excellent product!

Loving my soft skin and does not feel heavy or oily! I use this product at night only.

Not sure if I am loving it yet

As it is a very rich oil, I haven't loved the feel of it on my skin thus far. This could potentially be due to the changes in my skin care routine and it may be a bit too much. I am trying to reduce the number of drops used but it leaves my skin a little too sticky after application. I may try mixing it with some other products as I do think it is great for my skin, but just a bit much for me on its own.

Literally love

I use this as part of my night skin care routine. This has helped reduce redness and a major plus is the price point. You can't beat it.

Cheap and effective

I found this to be a great night time oil and very affordable, like the majority of The Ordinary products. Over time, I found my skin became less oily and the texture improved with the extra hydration. Highly recommend!

Can't live without

I have combination to oily skin (T section) and I'm in my late 20's.

I use this every night, alternating with the Squalane oil as well. Has worked wonders for my skin! I wake up with smooth, supple and brighter skin. Some people may notice the smell to the oil, but I quite like it and it goes away anyway once it absorbs.

Oils also help with wrinkles! Add it to your routine!

Lovely moisturizing oil

This is a lovely moisturizing rose hip oil that leaves my normal-combination skin moisturized but not oily. I just need one drop of this for all over the face, and it is perfect for winter.

Love this stuff!

I was a bit apprehensive to try this oil because of the reviews regarding its scent! It does have an earthy kind of scent which doesn't bother me however, I understand that it may bother others. I have very sensitive and sometimes dry skin (especially coming into Melbourne Winter) This oil is amazing for my kind of skin! Plus I just hit the age of 40 so hydration is very important to me! My skin drinks in this oil. I add a few drops (that's all you will need) after applying my night cream. It does feel very greasy (hey, it is an oil after all!) but it didn't make me break out. My skin is already feeling amazingly moisturized and I will forever use this oil now! I must say I am so impressed with The Ordinary too! I've used so many brands from Jurlique to Dermalogica (and I will continue to use my faves) and I have been blown away by some of The Ordinary's products.

Moisturizing and doesn't block pores

This is a great product - it moisturises amazingly and doesn't block my pores (as some oil-based products do). However, as I have oily skin, after I apply this my skin looks very shiny (almost greasy). I therefore recommend using this at night if you also have oily skin.

Wow! So hydrating and amazing

I mix this with the L-Ascorbic powder and WOW. Using this as well as alternating between retinol. My pigmentation is clearing up massively and my pores have reduced. So soothing for my dry/dehydrated skin. Wow.

Makes my skin super soft!

Out of all the rosehip oil products I've used over the years, this one is by far my favourite! It doesn't make my skin oily and gives it so much hydration. Since I use anti-acne products, my skin tends to be dry in certain areas but as soon as I apply this, I'm good to go! I love to mix this with my daily moisturiser before I apply makeup as it gives me a super smooth base to work with.

Replacement for Kosmea certified organic rose hip oil

I am a faithful consumer of the Kosmea certified organic rose hip oil, and recently, I haven't been able to locate it since I finished up my final bottle. Immediately, I purchased this Rose hip seed oil from The Ordinary when it caught my eye.
I like this rosehip oil, but I also included the Marula oil in my order, and honestly, I think the Marula works better for my skin that the Rosehip oil.
This rosehip seed oil does not have a noticeable difference from rosehip oil from Kosmea, so I would recommend this as a substitute.

Best oil

Best oil i've used, doesn't feel gross on skin and works well with my oily skin.

Perfect for winter

Lovely rich oil which is perfect for dry/dehydrated skin. Nice either on its own or mixed in with moisturiser to make it extra lux and nourishing.

Especially good in winter when i find that my skin can really dry out.

Quite nice

This is a nice rosehip oil! Great for dry skin and can also use small amounts on the ends of dry hair.