The Ordinary 100% Organic Cold-Pressed Moroccan Argan Oil 30ml
4 instalments of $3.23
Or 4 instalments of $3.23 with
LEARN MORE
4 instalments of $3.23
Or 4 instalments of $3.23 with
LEARN MORE
Official Stockist
Is this for you?
Support healthier skin and hair with the 100% Organic Cold-Pressed Moroccan Argan Oil from The Ordinary. Using 100% pure Moroccan Argan Seed Oil, the treatment helps to soften and smooth dry and flaking skin and add sheen to dry, damaged hair.
Cruelty Free
Vegan
Artificial Fragrance Free
Certified Organic
Sulphate Free
Skin Concern:
Dull, dry or dehydrated skin

First signs of ageing

Sensitivity and redness

Wrinkles and loss of firmness
Skin Type:
Dry

Normal to dry

Normal to oily
Frequently bought with
Please wait while we find a match
Questions & Answers
(1 Question)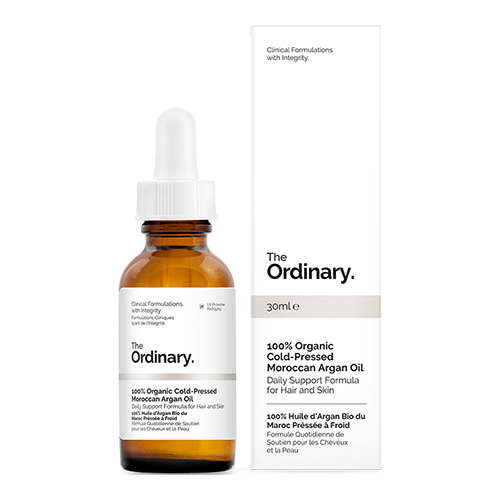 The Ordinary 100% Organic Cold-Pressed Moroccan Argan Oil
Get an expert to answer your question about this product!
The Ordinary 100% Organic Cold-Pressed Moroccan Argan Oil Reviews
90% recommend this product
Most Helpful Positive
Great
Moisturising and natural. Great for softening my skin and hair
Most Helpful Criticism
Its ok for nighttime
I bought this product as an alternative to the way more expensive Moroccanoil, and Im a little disappointed. Its definitely hydrating and its fine to wear to bed at night - but for morning use its a little strong and makes my hair way too oily. I'll just go back to Moroccan Oil from here for what I need.
Great

Moisturising and natural. Great for softening my skin and hair

Love It

I use a few drops of this rubbed into my hands then onto my hair ends and it makes my hair feel soft and look so shiny. My hair is quite fine so I don't use a whole lot. Even though it's non-comedogenic I'm too scared to try it on my face. Lovely treat for my hair though, and the price is great.

Multiuse!

I like using this on my hair. It works well on my natural 3B curls! Also like this as part of my skincare routine.

Great for skin!

I tried this in my hair but its hard to use the smallest amount in order to not make your hair look dirty. Is great on the skin though! It is a pretty intense oil so I haven't tried it on my face but its a great price for a body oil.

argan oil

multipurpose and so versatile - I use this on my face, body, hands and cuticles when it's feeling a bit dry and tight. One of my favourite oils.

Dry skin saver!

This has got to be one of my favourite the ordinary oils. It's lightweight enough that it absorbs quickly for the morning yet thick enough that it provides sufficient hydration to last the day! I love that it has no added scent and it can be a multi use hair oil. Non irritating for eczema.

Alright

I don't have much experience using oil products on my skin, so this was purchased on a bit of a whim for me.

I tried using it on my face at night, and this is good as long as you apply very little (I do about three drops and press that in) otherwise you get so oily. I find it provides a bit of hydration so pretty good.

I once tried putting a little in the ends of my hair...

Read More

Too oily for fine hair

I put this in the ends of my hair when damp before drying with a hair drier in the hope to make it shiny, but instead my hair looked wet until I washed it the next day. No good for fine straight hair.

Decent but not amazing

Good for hot oil treatments for hair but too heavy for 'scrunch out the crunch' of my curls.

Amazing product

I have long dry and curly hair and this product is perfect for me. I had been using Morrocan oil for years (has Argan base but also lots of additives) but stopped using it because of the price tag. This is incredible for the price and I love that it is just pure Argan oil without perfumes. It absorbs extremely well into the hair. If you ever accidentally over do it and put too much in (you only ne...

Read More

Refreshing

This oil leaves your skin feeling so refreshed and after use I notice my skin looks more healthy, glowing and pump. Slowly after time of using this product I have noticed my redness slightly reducing. Fantastic oil for its price and I highly recommend

so hydrating

This oil is so hydrating on the skin and leaves my skin feeling fresh and healthy. Its great you only need to use about 2 drops for your whole face and neck so it lasts a fair bit of time too!

Good for skin, ok for hair

The oil is really hydrating when applied to the skin. However I didn't really notice that much of a difference when I used it on my hair.

Great

My skin is plump and well moisturised when I use this

Hair looks great

Makes my hair look shiny and healthy

Cannot handle the smell

I bought this for my partner because he needs a strong moisturising oil for his extremely dry skin. the smell is horrendous so he told me not to buy it again, I tried using it in my hair to use it up but it just made my hair smell bad! I suppose that is what Argon smells like without additives!

Hair looks great

My hair is so shiny and healthy and this is much more affordable than other brands

Multi-use

I have both dry hair and skin so I love that I can use this on both! Just a few drops leave me feeling so soft. Happy to add this to my daily skincare routine and very reasonably priced

Oily

I know it's an oily so it's obviously oily but I need to use it on a day when I'm not leaving the house because it leave a oily layer. I have combination skin so it's not bad for the dry part of my face but leaves my Tzone really oily. When you use it in your hair, it's like you haven't washed it for a week. It's hydrating but if you are prone to oily skin/hair, I'd stay away. If you're really dry...

Read More

So calming

I use this with my gua sha tool if my skin is red and I find that it really helps calm down the redness. Great oil!

Super hydrating

Super hydrating, leaves skin feeling soft with a fresh faced appearance. Great versatile product, as I use it on face, body and hair!

Super natural product!

I love this oil! I use it every night before bed as part of my night skin care routine. You just need a couple drops, and i rub it in pretty firm in upward circular motions. Yes, it has a strong smell but what do you expect from a 100% natural product! Way better than harmful perfumes in other brands. So worth the price, my skin is so smooth and glowing. Doesn't break me out AT ALL. You can defini...

Read More

Natural great product

I love this product, a little amount for great results, I've used the oil on my hair after shower, they are glossy and soft

Good for skin and hair

I have dry skin and I love using this before bed on my face, neck and chest. If my hair is particularly dry I put the tiniest amount on the ends too. It's a good regular in my beauty routine.

Great all-rounder to have in the cupboard

I bought this oil for my hair and I use it on my ends after I wash it. I haven't to using it enough to know if it helps with hair growth but it seems to make it soft and hydrated. Avoid using on dry hair because it will leave your hair super oily.

I love how I can use it on my skin too.

Decent for the price

I use this oil for my hair. It does the job of making my hair feel soft and smooth. However, it doesn't smell the best. Compared to other Moroccan oils, it doesn't smell as good and it is a thinner consistency. However, it's a lot more affordable than other options. Still worth trying if you're on a budget!

Good value, but a bit greasy

This product is good value for money, and it's great that it is pure and no nasties, but don't expect it to have the lightweight feel of more expensive argan oil products. The smell, whilst not overwhelming, isn't great. I use it on my hair and it makes it silky but it is so easy to overdo and end up with greasy hair.

Leaves my face so soft!

This was one of my friend's absolutely-must-try The Ordinary products. Even though I already had the 100% plant-derived squalane oil and was super happy with it, I decided to give this a go. The Moroccan Argan oil definitely has more oomph! While I love that the squalane oil is a bit drier and really lightweight, this argan oil makes my skin feel more saturated and soft after a single use. I typi...

Read More

Wonderful! Scalp dermatitis bestie

I suffer with eczema and dermatitis on my scalp and I would generously rub this through my scalp, leave it overnight and gently brush my scalp with a soft boar brush the next day.... wow, after a few uses, my scalp is hydrated, flake and irritation FREE

smells horrible

Fantastic oil, but smells terrible, but it is natural afterall. Great price, not too oily, doesn't leave an oily residue for too long. Gentle. Gave it to my 7 and 10 year old daughters. Is very gentle on their skin. Doesn't break me out. The only downside is the smell. Its hideous and you have to smell it on your face. Thats just the oil I guess not The Ordinary's fault.

Good product

Really like but it has a very interesting smell which makes using it on my face less desirable

oil

This is very moisturising for my skin. I sometimes also add it to my hair and it leaves my hair feeling so soft

AMAZING

There's nothing I love more than products that have multiple uses. this stuff is amazing for your hair and so moisturizing for your skin as well. Such a well-rounded product.

Great but found better

I loved using this to add a couple of drops into my moisturiser or conditioner. I have really dry skin and curly hair and noticed they were more moisturised. However I prefer the marula oil from The Ordinary sinks in to my skin a little better.

Serves its purpose

I got this product because I felt my hair was drying out too much during Autumn. It didn't have as hydrating an effect as I expected, but it's a great product for smoothing flyaways and keeping the ends of my hair calm. I'd purchase it again because it's nice to have on hand when my skin is dry and I need something that works instantly, but I do find that I have to reapply it quite frequently to m...

Read More

love this for my hair

love this for my hair, the smell is really bad but it does go away after a few minutes

Great product

This product really nourished my skin. I find that it was absorbed better on damp skin, especially if you're using water based products first.

Used it for my hair

I originally bought it for my face but didn't like the dense oil feel. So I use a bit through the ends of my hair to keep it healthy. Works well.

the best for dry hair

this is amazing on my dry hair ends, hair feels so soft after I put it on. It does have a strong yuck smell but it goes away after a few minutes so I don't mind

Great

This makes my skin very soft and my hair is also left nourished

Good for the price.

I use argan oil on my skin at nighttime and this product does the job in feeling hydrated. However, having previously used a more expensive and compressed argan oil I can see the difference in the products and the way my skin feels and behaves. Good buy for the price.

Everything I was hoping for :)

I have very thick hair which requires a lot of attention; and I hoped this product would reduce frizz and help with dryness... it was perfect! Applied after every shower, it helps to soften frizz. I also use it on my eyelashes and eyebrows at night; it is amazing for growing eyelashes and eyebrows and moisturising the hairs... strongly recommend!! Only thing I would say is that it doesn't smell gr...

Read More

Great for dry skin.

It's great for my dry skin and gives a healthy glow.

Just what I needed

Affordable price and it has made a difference to my hair it feels healthier and stronger

Good price and results

I use this product on the ends of my hair 2-3x a week and it has definitely helped to make my ends softer and healthier, while also adding back some life and bounce. Some people in their reviews have mentioned the smell isn't great but I personally don't notice it if you only use a small amount in your hair. I think it's worth giving this product a shot considering the price is so good!

very hydrating

this is very hydrating I use it all over my body and my hair. It does have a strong scent but it does go away after a bit

Good moisturising oil

Has a slight scent but nothing too intense. Makes skin feel hydrated and stuff but leaves hair feeling greasy

Its ok for nighttime

I bought this product as an alternative to the way more expensive Moroccanoil, and Im a little disappointed. Its definitely hydrating and its fine to wear to bed at night - but for morning use its a little strong and makes my hair way too oily. I'll just go back to Moroccan Oil from here for what I need.

good for dry skin in winter

works really well as a protective layer over my skin in winter and stops it from loosing too much water overnight. The smell is fine, just like any other argan oil you would use. Also have used it occasionally in my hair, and it feels really soft after.

Decent Argan Oil

I use this Argan Oil on the ends of my hair when they're feeling dry and it works nicely. It does have a fairly strong scent compared to more expensive brands of Argan Oil that I have used.

Magic moroccan oil - what a wonderful design!

This is a great, travel sized Moroccan Argan oil that helps keep my curly hair strong and healthy instead of weak and frizzy. The bottle comes with a great lid that has a dropper, so it is so easy to apply the correct amount to your hair, unlike other brands where you lose so much pouring the bottle out. It may be a smaller size but it lasts me 3 months. It also helps my hair grow, whereas before ...

Read More

Best "Everything" Oil!

I mix half a dropper with my conditioner, apply to lips under balm at night, few drops rubbed on the back of my hands at bedtime, rub a few drops into my partners beard to avoid "pash rash" - seriously the best all round oil ever! At this price too I'm not afraid to be generous in my use..

Good but has a scent

This oil like other oils from the ordinary does quite a good job at moisturising. I also really like that this can be used both on the face as well as for hair which i've noticed that my hair does seem softer after regular use. One problem I find is that the oil has a smell which I don't particularly like especially since I prefer to use it on the hair.

There are better oils

This did the job bit I prefer the rose hip oil from this range. I find that a bit more moisturizing. Also this does have an odd smell.

Amazing !

I've purchased pure argan oil while in Morocco and I've tried to find some in Australia; impossible! this is the first and only brand that sells the real Argan oil ! I'll be getting more; pure gem.
I'm so excited :)

AMAZING

Absoloutely love this!!!! My hair gets so dry from all the time in the sun and paddle boarding, this has restored its softness, especially on the ends :)

Great quality and price

Love the ordinary, quality pure Arian oil for a great price

Cheaper but not as effective as other similar products

I bought this product as an alternative to more expensive products of the same type which were far pricier. I'd read really good reviews but I was a bit disappointed. The product did not soak into my skin as well and it didn't nourish my psoriasis as well. It also had a funny smell after being open a day or two. I still use this product on my body if i'm feeling particularly dry but won't buy agai...

Read More

Love it!

I use a little bit of this daily under my moisturizer, and my skin feels so. damn. soft! I haven't tried it on my hair yet, but I'm looking forward to seeing what it can do. It does have an earthy smell but this disappears after a few minutes and the smell honestly doesn't bother me, but it depends what you're sensitive to. I will either repurchase this or try the B Oil from The Ordinary.

Economical, effective and good for sensitive skin

I have wavy, long hair. The lengths tend to dry out quite easily and I swim in a chlorinated pool regularly, which doesn't help things. I have been looking for a leave-in product that I could put in my hair before I go swimming that would both nourish my hair (work like a treatment/mask while I'm swimming) and help to protect it from the chlorine. Unfortunately, I'm also allergic to synthetic fr...

Read More

Smells like olive oil but is an amazing moisturiser

Smells funny, like virgin olive oil but with only a few drops my hair and dry skin has been transformed into soft and supple. Amazing price point and will definitely use again when runs out.

Love texture but hate the smell

I got this to try and replace my Moroccan argan oil For my hair due to being
A much better price point however I can't stand the smell. Soooo disappointed :(

Amazing

Has worked wonders for my dry skin and hair. I use it on my skin when I have dry patches that need extra hydration. And my hair has never felt so healthy and strong since using it after every wash.

AMAZING

This argan oil has worked wonders for my hair and skin. Yes, it has a funky smell but besides that it is incredible. I have been putting it on my eyebrows and lashes every evening and have noticed over the past few months that my eyebrows are more full and smooth and my lashes are longer and my eyes dont feel dry especially over winter. I put it in the ends of my hair when its still a bit damp an...

Read More

Affordable argan oil option.

I took this product travelling with me to help with dehydrated hair/ skin when needed. It is super easy to apply. It was an okay leave in hair treatment, it just sometimes didn't blend in that well so left my hair looking a little bit oily at times but that is the same with most 100% argan oil products. I found it to be a great overnight face mask when my face needed some intense hydrating. I love...

Read More

Natures best friend

Great price and quality with and easy to apply dropper. I will definitely repurchase when I run out.

has a scent

this smells not so nice, and i've tried other argan oils but this is the first where the scent has made me dislike an argan oil product



Lovely shine

I add a couple drops of this warmed in my hands to the lengths of my hair after I have dried my hair. It leaves a gorgeous shine and keeps the ends smooth and frizz-free. It doesn't smell great but I use such a small amount it doesn't worry me. I rather frangrance-free products over heavily fragranced.

amazing

I love that you can use this on your skin and hair!
Makes both my hair and skin feel AMAZING

Great value!

This is the best argan oil I've used. It is really natural and effective. I use it on my skin and hair and my boyfriend on his beard. Great value ! pd: its smell is strong! I don't like it very much. but the rest all perfect!

Great

My skin feels so good and hydrated after putting this on. It feels tighter, glowy and my complexion has improved over time

Great

This moisturises my skin and keeps it supple. Even though it is an oil, it does not break out my skin. It also makes my eyebrow and lash hairs longer

Curly Hair's New Friend!

A fantastic two-in-one for hair and face—I'll be buying this one again! I have dry skin and have been using this overnight on my face, but the biggest difference has been on my hair. I have a huge amount of curly, very thick and rather wild hair. Scrunching a few drops through the ends when wet after washing, or into dry hair, has softened my hair and helped to define my curls. Some reviews I read...

Read More

Value for money

This oil is great for my dry skin in the winter time. I layer this underneath my moisturizer for extra hydration. This product is good value for money and you only need a few drops each time.

sensitive skin friendly

This product is one of the few oils which does not break out my extremely sensitive and dry skin. It is super hydrating and can be used on the face and even for hair. I find my skin absorbs this oil easily and my skin is left feeling smooth and supple. Highly recommend

Good for my skin- But stinks!

This leaves my skin feeling great but I can't get over the smell! I know it's because it's pure cold-pressed Argan oil and completely normal, but I hardly use it because it smells like manure and I can't handle it!

Just as good as high end

I really think this is as good as more expensive argan oils, i've Tried and own quite a few. My skin is dryish but prone to blackheads, and I find that if I use this alone or too much my skin gets a little bumpier. Personally I prefer the marula oil for my skin type but I think this is great value and quality for argan oil.

Nourishing

This is great for my dry skin, a little goes a long way too.

Great value

This product is great value for money. It does what it says. You don't need much oil so the bottle lasts for a while. Doesn't leave akin feeling oily. I use it morning and night after my serums and before moisturiser, mostly under my eyes where I'm prone to dryness. Great for normal to dry skin.

Gorgeous

After being recommend argan oil by a beautician I purchased this one, my skin is looking so lovely and even, I also apply it to my lashes for enhanced growth.... AND IT WORKS! My lashes have never been longer. LOVE

Oil that works!

Love this oil. Great for moisturising dry scalp and patches of dry skin on face. Will buy again for sure.

Perfect oil, so many uses!

This oil is lovely. I use it in my hair to control frizz, I also use it on my skin when I need some extra moisturizing in Winter. Will definitely purchase again!

Great value!

This is much cheaper than the Moroccan Oil range, and I think it's a no fuss 100% oil that does pretty much the same. Only difference is the smell, I love the smell of moroccan oil although all the oils in the Ordinary smell the same and its not so pleasant. Doesn't bother me really and does the same job!

Very wonderful

Very very moisturising and feels fantastic on the skin. Very impressive product!

A Must Have

I am obsessed with Argan Oil and am so stoked to find such an affordable one! I literally use it for everything, its great for those who suffer from breakouts as this can be healing and reduce the appearance of scarring etc. I also add this to my hand and body moisturisers for extra hydration and put it in the ends of my hair also! I cannot live without this product, absolutely LOVE!

So light!

I love this oil, it's light enough to use during the day and hydrating enough to use at night. Amazing

Great, Genuine Product

I have complicated skin that is both dry and oily depending on the day and product, so I've had trouble finding an oil or night time moisturiser that hydrates and doesn't just sit on the skin and make my skin feel greasy and gross. This product is my go to for overnight hydration - it doesn't irritate my sensitive skin, it soaks in and by morning my skin is glowing. It may be too heavy in summer b...

Read More

My hair loves this.

My hair loves this, I put it in after I've washed my hair and let it air dry with it in and it makes it feel so nice.

Good quality for the price

Good and nourishing, works just as well as pricier brands.
It is very rich & oily though. So use sparingly or it will leave hair greasy & weighed down. I use it on my hair & my daughter's hair - really leaves it feeling moisturized and soft.
I didn't have an issue with the smell.

Weird smell but works amazing

The smell is a bit weird I can't lie but my hair loves this!!! My hair is very dry and damaged so I massage this through my hair and wrap it up and has repaired my hair drastically

very nourishing

Good cheap alternative to expensive argan oils and it does the same thing. Very nourishing but it is very oily feeling and takes a while to dry!

Not too oily

I've been using this in my hair to help fight frizz. I have fine, thin hair and an oily scalp which gets overwhelmed by heavy oils. I've been popping a few drops through the lengths after washing and have noticed a huge improvement in the amount of flyaways. Hair does not look oily, just a nice amount of shine. Total recommend.

Perfect for dry and dehydrated skin

I had been using an extremely expensive pure argan oil for years and loved how it made my skin and I wasn't sure if The Ordinary version would live up to my expectations. I'm surprised to say that it was just as good and is saving me money!

Great oil

My skin is generally dry and I bought this product for winter dryness and to complement with my AHA + BHA mask (the ordinary as well).
The touch of the oil seems to be dry but once you leave it on the skin it is very oily, that is why I only apply when I go to bed. When you cleanse your face in the morning the skin is very soft.
I would recommend it, but not for every day routine

If you can get past the smell it's not too bad

There's nothing really wrong with how this works but I find the squalene (which has no scent) gives me better results without the strong smell (it's kinda like olives). It's just a bit much.

Just as good as the high end products

I used to use a more expensive Moroccan argan oil prior to discovering the ordinary. I was paying 5 times the price for identical ingredients to this product. This argan oil delivers hydration and makes the skin feel soft and smooth. I recommend apply to freshly cleansed skin and using left over reside from your hands on cuticles or end ot the hair

Fantastic!

This is awesome for pretty much everything. Face, lips, hair, hands! You name it, it's so nourishing and my skin has never felt better. Definitely one of my favourites!

Great for dry skin

This oil has helped so much with my dry skin over winter, Its best used at night to let it absorb in as it does leave my skin oily immediately after use.

So so so so good

Oh. My. God. WHERE has this been all my life. This product is just insanely good. I use it morning and night and my skin feels like butter! It's also great in my hair! Seriously love this to death and think the price is incredible for how amazing it works!

Good for dry skin

This oil had a pretty bad scent, but I am not too sensitive to it so I felt okay about it. It may be annoying to those that are sensitive to scents. I have combination skin and felt that it was too heavy for me. It would probably be really great for dry skin. I had a couple of breakouts from it (very small), almost as if it clogged my pores.