The Ordinary 100% Organic Cold-Pressed Moroccan Argan Oil 30ml
Is this for you?
Support healthier skin and hair with the 100% Organic Cold-Pressed Moroccan Argan Oil from The Ordinary. Using 100% pure Moroccan Argan Seed Oil, the treatment helps to soften and smooth dry and flaking skin and add sheen to dry, damaged hair.
Cruelty Free
Vegan
Artificial Fragrance Free
Certified Organic
Sulphate Free
Skin Concern:
Dull, dry or dehydrated skin

First signs of ageing

Sensitivity and redness

Wrinkles and loss of firmness
Skin Type:
Dry

Normal to dry

Normal to oily
Frequently bought with
Please wait while we find a match
Questions & Answers
(1 Question)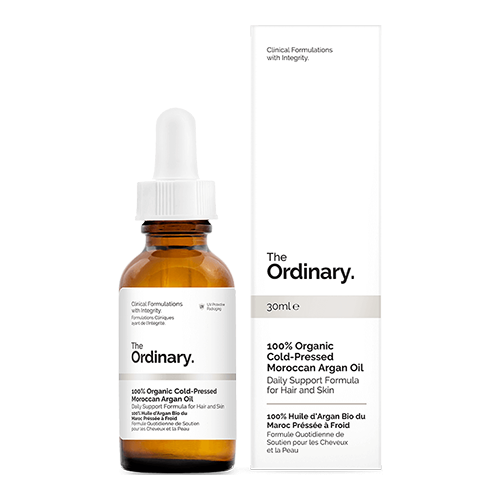 The Ordinary 100% Organic Cold-Pressed Moroccan Argan Oil
Get an expert to answer your question about this product!
89% recommend this product
Most Helpful Positive
Great quality and price
Love the ordinary, quality pure Arian oil for a great price
Most Helpful Criticism
has a scent
this smells not so nice, and i've tried other argan oils but this is the first where the scent has made me dislike an argan oil product


Great quality and price

Love the ordinary, quality pure Arian oil for a great price

Cheaper but not as effective as other similar products

I bought this product as an alternative to more expensive products of the same type which were far pricier. I'd read really good reviews but I was a bit disappointed. The product did not soak into my skin as well and it didn't nourish my psoriasis as well. It also had a funny smell after being open a day or two. I still use this product on my body if i'm feeling particularly dry but won't buy agai...

Read More

Love it!

I use a little bit of this daily under my moisturizer, and my skin feels so. damn. soft! I haven't tried it on my hair yet, but I'm looking forward to seeing what it can do. It does have an earthy smell but this disappears after a few minutes and the smell honestly doesn't bother me, but it depends what you're sensitive to. I will either repurchase this or try the B Oil from The Ordinary.

Economical, effective and good for sensitive skin

I have wavy, long hair. The lengths tend to dry out quite easily and I swim in a chlorinated pool regularly, which doesn't help things. I have been looking for a leave-in product that I could put in my hair before I go swimming that would both nourish my hair (work like a treatment/mask while I'm swimming) and help to protect it from the chlorine. Unfortunately, I'm also allergic to synthetic fr...

Read More

Smells like olive oil but is an amazing moisturiser

Smells funny, like virgin olive oil but with only a few drops my hair and dry skin has been transformed into soft and supple. Amazing price point and will definitely use again when runs out.

Love texture but hate the smell

I got this to try and replace my Moroccan argan oil For my hair due to being
A much better price point however I can't stand the smell. Soooo disappointed :(

Amazing

Has worked wonders for my dry skin and hair. I use it on my skin when I have dry patches that need extra hydration. And my hair has never felt so healthy and strong since using it after every wash.

AMAZING

This argan oil has worked wonders for my hair and skin. Yes, it has a funky smell but besides that it is incredible. I have been putting it on my eyebrows and lashes every evening and have noticed over the past few months that my eyebrows are more full and smooth and my lashes are longer and my eyes dont feel dry especially over winter. I put it in the ends of my hair when its still a bit damp an...

Read More

Affordable argan oil option.

I took this product travelling with me to help with dehydrated hair/ skin when needed. It is super easy to apply. It was an okay leave in hair treatment, it just sometimes didn't blend in that well so left my hair looking a little bit oily at times but that is the same with most 100% argan oil products. I found it to be a great overnight face mask when my face needed some intense hydrating. I love...

Read More

Natures best friend

Great price and quality with and easy to apply dropper. I will definitely repurchase when I run out.

has a scent

this smells not so nice, and i've tried other argan oils but this is the first where the scent has made me dislike an argan oil product



Lovely shine

I add a couple drops of this warmed in my hands to the lengths of my hair after I have dried my hair. It leaves a gorgeous shine and keeps the ends smooth and frizz-free. It doesn't smell great but I use such a small amount it doesn't worry me. I rather frangrance-free products over heavily fragranced.

amazing

I love that you can use this on your skin and hair!
Makes both my hair and skin feel AMAZING

Great value!

This is the best argan oil I've used. It is really natural and effective. I use it on my skin and hair and my boyfriend on his beard. Great value ! pd: its smell is strong! I don't like it very much. but the rest all perfect!

Great

My skin feels so good and hydrated after putting this on. It feels tighter, glowy and my complexion has improved over time

Great

This moisturises my skin and keeps it supple. Even though it is an oil, it does not break out my skin. It also makes my eyebrow and lash hairs longer

Curly Hair's New Friend!

A fantastic two-in-one for hair and face—I'll be buying this one again! I have dry skin and have been using this overnight on my face, but the biggest difference has been on my hair. I have a huge amount of curly, very thick and rather wild hair. Scrunching a few drops through the ends when wet after washing, or into dry hair, has softened my hair and helped to define my curls. Some reviews I read...

Read More

Value for money

This oil is great for my dry skin in the winter time. I layer this underneath my moisturizer for extra hydration. This product is good value for money and you only need a few drops each time.

sensitive skin friendly

This product is one of the few oils which does not break out my extremely sensitive and dry skin. It is super hydrating and can be used on the face and even for hair. I find my skin absorbs this oil easily and my skin is left feeling smooth and supple. Highly recommend

Good for my skin- But stinks!

This leaves my skin feeling great but I can't get over the smell! I know it's because it's pure cold-pressed Argan oil and completely normal, but I hardly use it because it smells like manure and I can't handle it!

Just as good as high end

I really think this is as good as more expensive argan oils, i've Tried and own quite a few. My skin is dryish but prone to blackheads, and I find that if I use this alone or too much my skin gets a little bumpier. Personally I prefer the marula oil for my skin type but I think this is great value and quality for argan oil.

Nourishing

This is great for my dry skin, a little goes a long way too.

Great value

This product is great value for money. It does what it says. You don't need much oil so the bottle lasts for a while. Doesn't leave akin feeling oily. I use it morning and night after my serums and before moisturiser, mostly under my eyes where I'm prone to dryness. Great for normal to dry skin.

Gorgeous

After being recommend argan oil by a beautician I purchased this one, my skin is looking so lovely and even, I also apply it to my lashes for enhanced growth.... AND IT WORKS! My lashes have never been longer. LOVE

Oil that works!

Love this oil. Great for moisturising dry scalp and patches of dry skin on face. Will buy again for sure.

Perfect oil, so many uses!

This oil is lovely. I use it in my hair to control frizz, I also use it on my skin when I need some extra moisturizing in Winter. Will definitely purchase again!

Great value!

This is much cheaper than the Moroccan Oil range, and I think it's a no fuss 100% oil that does pretty much the same. Only difference is the smell, I love the smell of moroccan oil although all the oils in the Ordinary smell the same and its not so pleasant. Doesn't bother me really and does the same job!

Very wonderful

Very very moisturising and feels fantastic on the skin. Very impressive product!

A Must Have

I am obsessed with Argan Oil and am so stoked to find such an affordable one! I literally use it for everything, its great for those who suffer from breakouts as this can be healing and reduce the appearance of scarring etc. I also add this to my hand and body moisturisers for extra hydration and put it in the ends of my hair also! I cannot live without this product, absolutely LOVE!

So light!

I love this oil, it's light enough to use during the day and hydrating enough to use at night. Amazing

Great, Genuine Product

I have complicated skin that is both dry and oily depending on the day and product, so I've had trouble finding an oil or night time moisturiser that hydrates and doesn't just sit on the skin and make my skin feel greasy and gross. This product is my go to for overnight hydration - it doesn't irritate my sensitive skin, it soaks in and by morning my skin is glowing. It may be too heavy in summer b...

Read More

My hair loves this.

My hair loves this, I put it in after I've washed my hair and let it air dry with it in and it makes it feel so nice.

Good quality for the price

Good and nourishing, works just as well as pricier brands.
It is very rich & oily though. So use sparingly or it will leave hair greasy & weighed down. I use it on my hair & my daughter's hair - really leaves it feeling moisturized and soft.
I didn't have an issue with the smell.

Weird smell but works amazing

The smell is a bit weird I can't lie but my hair loves this!!! My hair is very dry and damaged so I massage this through my hair and wrap it up and has repaired my hair drastically

very nourishing

Good cheap alternative to expensive argan oils and it does the same thing. Very nourishing but it is very oily feeling and takes a while to dry!

Not too oily

I've been using this in my hair to help fight frizz. I have fine, thin hair and an oily scalp which gets overwhelmed by heavy oils. I've been popping a few drops through the lengths after washing and have noticed a huge improvement in the amount of flyaways. Hair does not look oily, just a nice amount of shine. Total recommend.

Perfect for dry and dehydrated skin

I had been using an extremely expensive pure argan oil for years and loved how it made my skin and I wasn't sure if The Ordinary version would live up to my expectations. I'm surprised to say that it was just as good and is saving me money!

Great oil

My skin is generally dry and I bought this product for winter dryness and to complement with my AHA + BHA mask (the ordinary as well).
The touch of the oil seems to be dry but once you leave it on the skin it is very oily, that is why I only apply when I go to bed. When you cleanse your face in the morning the skin is very soft.
I would recommend it, but not for every day routine

If you can get past the smell it's not too bad

There's nothing really wrong with how this works but I find the squalene (which has no scent) gives me better results without the strong smell (it's kinda like olives). It's just a bit much.

Just as good as the high end products

I used to use a more expensive Moroccan argan oil prior to discovering the ordinary. I was paying 5 times the price for identical ingredients to this product. This argan oil delivers hydration and makes the skin feel soft and smooth. I recommend apply to freshly cleansed skin and using left over reside from your hands on cuticles or end ot the hair

Fantastic!

This is awesome for pretty much everything. Face, lips, hair, hands! You name it, it's so nourishing and my skin has never felt better. Definitely one of my favourites!

Great for dry skin

This oil has helped so much with my dry skin over winter, Its best used at night to let it absorb in as it does leave my skin oily immediately after use.

So so so so good

Oh. My. God. WHERE has this been all my life. This product is just insanely good. I use it morning and night and my skin feels like butter! It's also great in my hair! Seriously love this to death and think the price is incredible for how amazing it works!

Good for dry skin

This oil had a pretty bad scent, but I am not too sensitive to it so I felt okay about it. It may be annoying to those that are sensitive to scents. I have combination skin and felt that it was too heavy for me. It would probably be really great for dry skin. I had a couple of breakouts from it (very small), almost as if it clogged my pores.

Great

I use this oil on my hair and face. It gives my hair a very healthy and shinny look. It also hydrates my face, I always add a few drops to my moisturiser. Definitely recommend.

OK

This product doesn't have a great smell - I'm not really sure how to get the most out of it so I haven't used it much.

Great multipurpose!

Such a great product for such a low price point. I use it sporadically and sometimes even mix it into my hair masks. I haven't been able to fault this brand!

Amazing value for hydrating oil

I have used facial oils for a while, but I wanted to try this as a more affordable option. I don't feel as though I've lost any value though. I only use a small amount but my skin feels very hydrated and glowing the next day. Especially if used in combination with other ordinary products such as niacinamide/vitamin C it will really enhance your complexion without needing to spend too much.

What's not to love

Fabulous product, very affordable - does not have strong "Argan oil" smell. I use it as part of my morning routine mixed with L-Ascorbic Acid powder from the same brand and it is working wonders with my dry/mature skin. I apply with the ascorbic acid to clean skin, let it work for an hour (boy does it tingle!) then top with Essano Rosehip spf 15 moisturiser. I'm really happy with the changes I'm s...

Read More

Beautiful hair

I use this oil on the ends of my hair and my hair despite being long is super healthy looking, hydrated and shiny as a result. Totally recommend it

Love this!

I have used a few different Argan oils on my face. Definitely only need a tiny few drops to do whole face & neck & ends of hair.. quality oil at a great price!

not a good hair product at all

I normally use Moroccan Oil but I was short of money so thought I would try this considering it is so cheap. I have long red hair and like to put a taming serum on my ends after washing it and to tame frizz when dry. This product is terrible. It has made my ends thick and matted. I wish I could submit a photo to show. My ends are so matted it looks like little, skinny dreadlocks, if I could p...

Read More

Didn't like it

It's way too sticky for me, doesn't absorb and is hard to apply..... I wouldn't buy it again

Bang for Buck

I've bought this twice and have been happy with the product for the price point. I've only ever used it on my hair. I have naturally curly hair and this is nice to nourish or to cast set my curls. I also like to use it like a scalp treatment in the winter. A little seems to go a long way and I find this quite a heavy oil to use so it can be easy to go overboard. It's nice for the price and I like ...

Read More

Great for fine hair

I have straight, fine hair (but a lot of it) that's prone to breaking fairly easily, particularly when it's dry, and I found that this oil helped a lot with hair breakage. It's light enough that I don't find that it weighs it down, but hydrating enough that I don't alway have to use conditioner (as I find that it really contributes to weighing down my hair). I prefer this argan oil over the Morocc...

Read More

effective but strong smell

Not a lover of the smell. I apply a pea size amount at night on to a damp face sprayed with an organic rose face mist, I wait at least 15 minutes to absorb then repeat the above and finally apply a face cream. My skin is always on the dehydrated side so needs replenishing with oils and serums a lot. This above routine leaves my skin glowing and balanced the next day. Ive been told I have combinati...

Read More

Wonderfully moisturising but odd smelling!

This product is really well priced for the quality- the oil itself and the packaging feel more high end than the cost indicates. A little goes a really long way with this product, a few drops will smooth the ends of your hair, your whole face, dry patches etc. The only thing that is a bit off-putting is the smell which is really strong and "earthy" however it doesn't seem to last long once applied...

Read More

A little goes a long way

I only use this product on my hair after I've straightened it, and it works really well. It keeps flyaways and broken strands locked down and keeps my hair looking straight and shiny all night. I only use a tiny amount as it is quite strong and there's a fine line between shiny and greasy, especially when your hair is thin like mine.


Great

Soft, dewy and glides on the skin.
I use 2 drops on my face as the product doesnt need to be user generously. The oil moisturises and softs the skin really well.

Moisturizes well

I use it as a facial serum as I love facial oils, especially in Winter. The smell IS awful when first applied, but I find it dissipates quite quickly after applying. I love that it leaves my skin so soft. In colder months when not wearing make up, I reapply throughout the day as my skin just soaks it all up. Doesnt leave an oily sheen. Will purchase again.

Used to be my moisturiser of choice

I used to use this religiously but now I've discovered squalane and I much prefer it as it doesn't have any smell and moisturises just as effectively. I still have a bottle of this which I sometimes mix with the squalane. My partner isn't a fan of the scent when I put it on my face at night but I don't mind it, it's not pleasant but it's not offensive. Love the low price point and that it doesn't ...

Read More

Worth it

I have paid a small fortune for hair treatments that cost 5x the amount of this product. I will be repurchasing

Great product

I have for years used Moroccan oil for my hair and have just tired the ordinary's version. I agree the smell is not bad just not nice either. The consistency is a little less easy to spread through the hair but otherwise it worked well to smooth my frizz and create a nice curl. Plus the low price is a huge bonus!

SIMPLY THE BEST

This is one of the best oils , its hydrating and great for very dry lips.
It leaves your lips very soft, its realky amazing

Best lip treatment

I have dry lips all the time. For years I have tried multiple treatments - coconut oil, paw paw treatment etc. after using this Argan oil for a week at night my dry lips have visibly got better- less peeling and cracks. Would highly recommend.

Great for my low porosity hair

Just started the curly girl method and this oil is my new holy grail.
This light oil is great to run through my hair, adding a light shine without just sitting on top and making my hair look greasy. So much cheaper than other brands too.
I cannot recommend enough

Don't be put off by the scent

I bleached and dyed my hair in the spur of the moment, and didn't adequately protect my hair. The argan from The Ordinary seems to be doing a great job, I am using this together with multi-peptide serum though. I massage the multi-peptide serum into my scalp, and the argan oil through the length of my hair. My hair has become much stronger . I have no idea if which or both products are responsible...

Read More

Smells not so good

Can't really tell the difference in how it works to other Argan oils but it didn't smell great!

Smells bad

I love Argan oil and bought this due to it's price point. It does not smell like traditional Argan oil, despite the labeling it has a strong (almost additive) smell.
It also does leave my skin or hair feeling the same way that other 100% Argan oil brands have in the past. I won't be purchasing again.

Smelt weird but was moisturising

This oil was very moisturising and I love how versatile morrocan oil is as it can be used on both skin and hair. I just couldn't get past the weird smell. I have used other brands of morrocan oil before but they didn't seem to smell the way the ordinary one did. It's not overpowering and I would definitely use it again. Great for dry ends of hair or skin that needs that extra moisture.

Hair Saviour

I actually liked the smell, im currently using on my hair and it works wonders, you only need about 4 drops but it's made my hair so smooth and wavy


the scent is weird

I know it's relatively inexpensive compared to other argan oils on offer on the market, but the smell of this one is quite terrible

not a fan

this smells not so nice, and i've tried other argan oils but this is the first where the scent has made me dislike an argan oil product

Thicker than the other face oils by The Ordinary but worth it

I find this quite heavy on the skin, but it's nourishing and leaves your face feeling nice a smooth.

Good for skin and hair

I love using face oils once every few days and this leaves my skin plump and prevents fine lines. I sometimes apply it to the ends of my hair and leave it on for an hour before showering and my hair after washing is completely shiny and nourished. Totally recommend!

Good facial moisturiser

I use this as a moisturiser for my face and sometimes my hair. It's a light oil so it doesn't exacerbate my oiliness and doesn't clog up my pores. It's fine to use under makeup (i imagine it would work particularly well for those with dry skin) but these days, as it's been summer and I have oily skin normally, I've mostly stuck to using it at night. Also, really good value for the price!

Nice product

I was expecting a really nice smelling oil (based on other Moroccan argan oils I've had in the past) but this doesn't have a great smell but it's not unpleasant. Ive been putting it on at night and waking up feeling great. Definitely too heavy for the morning skin routine. You only need a small amount so it's amazing for the price. I've also been using it on my hair. I have got curly hair and this...

Read More

Great addition to your skin kit

I purchase a lot of high-end skin products & I bought this as an addition to my kit. It's completely natural, with no added fragrance and is in a pure undiluted form. I found it to be so hydrating for my dry skin. I mix a few drops in with my nightly moisturizer to boost the hydration and once a week I sleep with a 'mask' of the Argan Oil on my face for extra hydration. I would recommend this prod...

Read More

Perfect for wound healing!

I purchased this oil in anticipation of having a super in my neck.
I use this oil 2-3 times a day along the incision line and I get almost instant relief from itching and tightness that are commonly felt along wounds.
I plan to transition to a silicone based product for scar healing but this oil has been perfect for keeping the skin around the incision hydrated, soft and relaxed. Woul...

Read More

Fantastic for Dry Hair

I have the driest, frizziest hair on the planet (fine texture, curly and LOTS of it), and my hair adores this oil. I use it nearly every day as a treatment/smoother and find it virtually interchangeable with Moroccan Oil brand. Only setback is it smells too earthy as it has no added fragrance. I just put a couple of drops of essential oil in and it's perfect.

Smells like real argan oil!

I actually liked the smell, im currently using on my hair and it works wonders, you only need about 4 drops but it's made my hair so smooth and wavy

great for the price

I've been using this for facial massage. It works great and is very moisturising for my dry skin. It does smell a bit, but I've been mixing it with bio oil, which helps a lot.

Can be clogging

This is a divine oil. but I wouldn't use it on my hair, and it did make my dry and sensitive skin clog up a little on my forehead. I have passed it onto a friend to use who is loving it, but as I am not usually prone to congestion, I was surprised that this caused me to clog up. Good for certain skin types I think

Quality product and great price

Love this product. It smells just like Argan oil bought in Morocco (which isn't exactly pleasant, but at least you know it's the real deal). I have dry skin and hormonal acne and Argan oil works wonders on it. Definitely recommend.

For dry skin :)

I have very dry skin and boy this is a very thick moisturising oil. It kinda doesnt even run very much! But its absolutely perfect for my very dry skin. It does have a slightly weird smell but I don't even notice it really. It does take longer to sink in than other oils I have used, so will see how it goes over time. Have only used on skin, not hair.

Get what you pay for

I purchased this is hope of finding something a bit cheaper than the Moroccan Argan Oil branded oil I have used for years. I found this oil really heavy and made my hair very oily instead of soaking in as such. Have used this on my face which is very hydrating. Probley wouldn't buy again

A fabulous skin and hair oil - if a little funky!

Ok so I agree, this product smells nothing like the other Morrocan Argan oil products you might be used to. It smells a bit funky, It reminds me of the aroma of olive tapenade! But it's not that noticeable, as you only need a few drops and the smell dissipates quickly. It's so great for my hair, really improves the texture and shine. And with no sillicone it's better than those other hair treatmen...

Read More

affordable quality argan oil

I use this product on my hair (dry and curly) and this product nourishes the hair very well, without being too oily.

Good (on a budget), not great (in comparison)

Definitely not the best version of Argan OIl I've used, but irresistible due to the price. I add a couple of drops to my wavy hair after a few days to refresh the natural curl and remove some frizz (be careful as it gets greasy quickly so use on the ends and sparingly). I also use one or two drops with other oil based serums in the evening instead of a moisturiser. So I'll probably buy again, but ...

Read More

Very nourishing

Gorgeous oil! Very moisturised my dry skin

Glowing and supple skin

I mix a couple drops of this into my moisturiser every morning and night and it has given my skin such a boost in hydration and glow . Definitely a staple in my routine

Great for skin and for hair!

I have dry skin that I have to keep on top of, I put this on my skin every second night before bed and wake up with plump skin. I tried it on the ends of my hair overnight too and was very happy with the results, my hair soaked it up. Great price, will rebuy.

Beautiful!

I have slightly dehydrated skin and this oil work so well with keeping my skin hydrated and plump.

I'm looking into trying it as a natural organic alternative to regular hair oils.



It works!

While the smell is a little overwhelming at first, it doesn't linger once used. The hydration it gives is worth getting past the smell for sure. I have dry/frizzy hair and I prefer this more concentrated oil to the much more expensive morracanoil products.

Best thing since sliced bread

Let me start by saying that I have immensely sensitive skin, that is also dry and acne prone ...you name it - I've got it. But this little gem has saved my skin, and my pockets. I used to use the Josie Maran Argan Oil religiously but not only is this more than half the price, I can vouch that it works BETTER than JM. I don't know how or why but it just does. I use it as a moisturiser under my make...

Read More

Good

Like this product, Use this on my skin & hair and can see a difference after I got past the smell

You can use this on everything

This is such a versatile product. I use it morning and night on my face, and the hydration is fantastic. Also amazing for hair and nails. Yes, the smell isn't fantastic, but neither is putting highly fragranced things onto your skin.

Its Argan Oil

for those that don't like the smell. well this is what Argan Oil really smells like. that moroccan hair oil is full of other products its not pure Argan Oil. I use it on my skin and hair at night and its great. Once absorbed the smell is gone.

Push past the smell & the hydration is worth it!

This product isnt the greatest smelling, kind of smells like horse manure mixed with a chemical but once you get used to the smell, the product works wonders. I've seen much more expensive products out there, but this guy just proves to be the best value for money.

Alternative to Moisturisers

I have fair combination complexion that is prone to hormonal acne. I also have fair oily hair. I have previously used Moroccan Argan Oil on my hair but find The Ordinary's Moroccan Argan Oil too heavy for my hair type. I regularly use The Ordinary's Moroccan Argan Oil on my skin at night and find it extremely moisturising leaving my skin with a dewy glow by morning.