The Ordinary 100% Cold-Pressed Virgin Marula Oil 30ml
Is this for you?
A hydrating, naturally enriched oil, The Ordinary 100% Cold-Pressed Virgin Marula Oil is an antioxidant-rich oil is obtained from the kernels of the fruits of Marula tree.
Cruelty Free
Vegan
Artificial Fragrance Free
Certified Organic
Sulphate Free
Skin Concern:
Dull, dry or dehydrated skin

First signs of ageing
Skin Type:
Dry

Normal to dry

Normal to oily
Frequently bought with
Please wait while we find a match
Questions & Answers
(1 Question)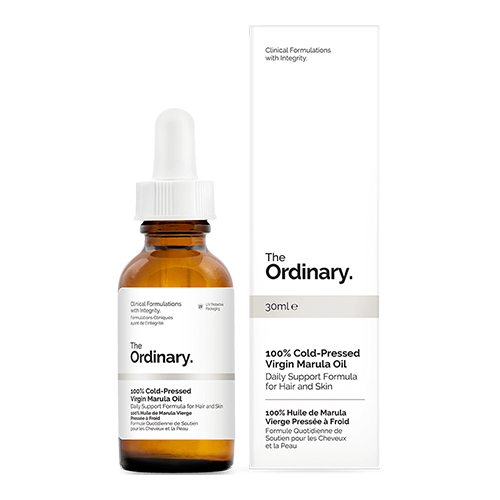 The Ordinary 100% Cold-Pressed Virgin Marula Oil
Get an expert to answer your question about this product!
91% recommend this product
Most Helpful Positive
Amazing oil
This helps my skin get moisturised and soft. Super effective
Most Helpful Criticism
It's ok?
I was excited to try this because of all the reviews on here and on youtube. It's a little bit greasy, super easy to apply. I didn't see any benefits. I also started getting little red dots between my eye brows. maybe it's too greasy for my skin? i have dry skin in winter, so seems crazy it would be too greasy for me. will not repurchase.
Amazing oil

This helps my skin get moisturised and soft. Super effective

Does what it says it does

I don't normally buy The Ordinary as I usually am happy to spend on cosmecuticals. I was recommended at Mecca to purchase Marula Oil as it's a great oil for mature/dry skin. This one is great, it's not too greasy but really gives a nice glow. I am 35 with normal to dry skin and I find this really nice, I mix it with my moisturizer and apply together. I find my skin is super soft in the morning!!

Great moisturizer

This is a great moisturizer.Unlike most of the facila oils this is absorbed by the skin real fast and really well.I also use rosehip oil on my face but I find it making my face too oily and not absorbing well.But this ordinary marula oil is perfect!Also it's a very affordable price.ImThis is my favourite facial oil out of them all.

Mandatory

After the age of 40 - everyone must buy a Marula oil and as I like to prioritise spending on more higher end prevention oils (Skinceuticals) I have to look at buying more economical brands to fill in the gaps. But Marula oil is a powerhouse and pretty much any Marula will be more or likely resulting in a similar result so I choose to buy The Ordinary's which has been touted by experts - as just as...

Read More

Absorbs well, great for night time

An affordable marula oil that boosts your moisturisers. I mainly use in two ways: mix few drops into moisturiser or apply over the top of moisturiser. I find it locks in the moisture. It looks greasy at first but DOES absorb overnight. Due it being so affordable I also apply a few drops to my hands before bed. Skin looks so much healthier with this product.

Hydrating but not too oily

I love how hydrating this product is! Obviously it's an oil but it absorbs remarkably well (there is sometimes some residual oil left over but that usually absorbs not too long after). It gives more of a glow rather than a shiny oil look which is great too! I find my skin more plump and soft after using this product.

Do yourself a favour! Top quality gorgeous face oil.

I've got both Drunk Elephant Marula oil and this one by The Ordinary and on comparison I cannot find any difference in quality and texture but only the price point (where DE is about 7 times the price).

So hydrating and smooth

I love this Marula oil. Such good value for money. Hydrated my skin and leaves it glowing. It works so well with peels I have used for extra hydration. I've used drunk elephant Marula oil and love this just as much if not more and at such a great price. Love it!

Hydrating Oil

Really nice hydrating oil. Was super devastated as I only had it for a week and dropped the entire bottle on the floor. But it's so cheap I could just get another.

Good

It is surprisingly good. It hydrates my dry skin and doesn't feel greasy like some of the other oils that I have tried.

It's ok?

I was excited to try this because of all the reviews on here and on youtube. It's a little bit greasy, super easy to apply. I didn't see any benefits. I also started getting little red dots between my eye brows. maybe it's too greasy for my skin? i have dry skin in winter, so seems crazy it would be too greasy for me. will not repurchase.

Great dupe for some of the higher end brands

I love using Facial oils and I found this was a great alternative to some of the higher end branded more expensive options out there such as the Drunk Elephant Marula Oil. I had comparable results but the bottle lasted longer

For reference my skin is oily/combination skin and I am 30 years old

Lovely oil

I purchased this product to mix in with some of my other thick face cream. It works so well, doesn't leave my face too oily. I sometimes put some at the end of my hair, so it's not too dry. Value for money :)

Lovely, not greasy!

Marula oil is great oil, that isn't greasy and great for those who suffer from dermatitis, eczema or like things to help nourish and relieve. I use on my face and hands and it makes your skin feel lovely. I tried this after using the drunk elephant one, which is alot more expensive! I do like the drunk elephant one better on my face,but this is great for everywhere else!

Great

This marula oil has been great for my skin. I use it as the last product in my night time routine. My skin looks great by the next morning

Really Lovely Product

I have normal to dry skin, I'm 35+ and I found this oil to be a really lovely product. Nice and light and sat beautifully on my skin. I much prefer it to the rosehip oil I was using. No fragrance and the price point is excellent.

Hydrating

This is the 2nd time I've purchased this product and I love the effects on my dry skin! It is very hydrating and a little goes a long way. It is not thick and rubs in very easily. There is a bit of a shine after using it so best to use it at night before bed.

Perfectly adequate

I'm guilty of jumping onto the marula oil bandwagon after hearing its benefits for dry and dehydrated skin. This was also my first foray into facial oils. It does take a while to absorb, but leaves the skin feeling pretty soft. I wouldn't say the effect is long lasting though. I'm a little apathetic about this product to be honest.

Exactly the same as DE... just $100 cheaper.

I was using the DE Marula Oil for ages, then I saw this and I couldn't work out why it was so cheap in comparison. So when I ran out of DE I bought this to see if it was any good, and I seriously couldn't tell the difference between the two products.

Both are made of 100% Marula Oil, so they're virtually the same thing - just different packaging and very different prices.

Read More

versatile oil

i've actually been using this on my hair and it's noticeable stronger and shinier. also use it on my skin when it's feeling dry



Hydrating face oil

Pretty nice face oil. Feels quite hydrating for my dry skin. Happy with it for the price.

Hydrating face oil

Pretty nice face oil. Feels quite hydrating for my dry skin. Happy with it for the price.

Absolute Fave

One of my favourite facial oils, I use this every single day. It is highly moisturising and absorbs into the skin with no greasiness.

Great

This oil makes my complexion look great and moisturises my skin. My face also looks plump after using this

Glowing!!

I love this oil, it gives you a really good glow and it feels nice. Not too oily or heavy goes really nice under makeup and gives me a glowing complexion. I use this day and night and I don't have to apply a lot of moisturiser after applying this.

Great

This has evened out my skin tone over time. Amazing oil. It does not break me out.

So good

Love it.

I use it in the morning after spritzing my face with a toner or water, it absorbs really well on a wet face and locks in the moisture. The consistency is quite thick, kind of like olive oil, it spreads really well so you don't need to use heaps.

It goes on oily but doesn't stay oily like a lot of other oils and serums, so it goes really well under a moisturiser...

Read More

Great oil!

I am a huge fan of facial oils and have tried SO many. This one is lovely, basic and definitely softens my skin. Compared to the Drunk Elephant Marula Oil, The Ordinary's take feels slightly thicker on the skin, but performs similarly, and for the price, you can't go wrong!

Why did I waste my money on DRUNK ELEPHANT

I'm sorry, to all those consumers that bought into drunk elephants cold pressed Marula oil... I was one. And I'm gravely sorry I spent that amount of money on the EXACT SAME PRODUCT AS THE ORDINARY!
It's exactly the same if not better, it's plumping, hydrating, smooth and luxurious feeling and I'm so so so sad I didn't know about this one sooner! SAVE YOURSELF THE CASH!!!! Buy this one

I really like this one!

I love this Marula oil. It's cheap, doesn't break me out and is really hydrating. I haven't noticed a big difference in terms of brightening effect but I love that I can add a few drops to my moisturiser or just use it by itself based on what my combination skin needs at any given time.

Great with foundation

I mix a drop or two of this into my foundation every day to make it look more skin like. It works, without being "oily"! I use it sometimes mixed in with my moisturiser, or in the last step of my skincare night routine. A great all rounder, sinks in nicely and doesn't sit on top and become filmy like some oils do.

Make's everything better

This was the first The Ordinary product I was introduced to after my friend discovered it. It has has a light texture and doesn't make your skin feel oily. It works really well to hydrate my skin and even out my skin tone. I also mix a drop or two in with my foundation to make it looks natural and dewy.

Amazing

This marula oil is amazing! I use it almost every day after my serums and when I wake up in the morning, my face is plump and hydrated. It has a clear consistency and there is no smell.

Amazing!

Loved drunk elephants marula oil and this one is even better at a fraction of the price. Score!

Great price for cold-pressed virgin marula oil

When you think about how much other companies charge for the same oil (yes, also cold-pressed and virgin), you can't justify spending so much when this bottle is less than $20!

I love this product - it helps to deeply hydrate my skin and I use it every night as the last thing I put on to lock in all my toners and serums.

Prepare to wake up with refreshed, supple looking...

Read More

Dupe for drunk elephant

Amazing product. So nourishing and feels exactly the same as the much more expensive drunk elephant oil! Very oily so I like to use at night and use a jojoba in the morning. Skin has never looked better.

Glow

I have pretty normal skin but more recently before buying this it's been looking very dull. Definitely leaving my skin looking more glowy again.

High Quality oil

I use a few drops on my face in the mornings. It seems to just sit on my face, but after applying my moisturiser (TOs Natural Moisturising Factors) it all absorbs right in and doesn't pose a problem for my oily skin, even with sunscreen and makeup on top. I also use a few drops in the ends of my hair. It helps moisturise the dry ends with minimum fuss.

Deeply Hydrating

I find it is really great at replenishing my skin. Recently I've had dry hands and used this to help bring them back to normal! It completely changed the look and feel of my hands. I feel like this is a great multi purpose product for anyone who deals with dry skin!

Super hydrating

I am in my early 30's with combination dry skin. I have minimal lines although sometimes feel dry and lacking plumpness. If I want a surge of moisture I put this on my skin and wake up with glowing skin that looks plump and feels very soft. I use more than recommended, probably half the dropper (approx 15 drops) with no moisturiser. Be careful about getting it in your hair. It's quite oily so will...

Read More

Awesome product

This is a really moisturising oil that I apply on top of all my products on my skin at night. This has also helped my complexion

Great price

Great price point for this oil but my skin doesn't seem to be a fan. It doesn't absorb well into my skin. Seems to sit on top

Budget version of the Drunk Elephant Marula Oil

Love this right now with this dry winter weather. Mixing it into moisturizer for the face, or slathering on a layer before sleep. it is really giving my skin what it needs. Also using it on my body on occasion. Tried it once in the hair - unfortunately I did this post washing assuming it would be similar to Moroccan oil. It was not and made my hair super oily. I think its a pre wash situation!

Amazing

Fast absorbing and super easy to use. I love oils for my skin and this one is no different!

Great light oil

Really nice, no smell, easily absorbs into my skin at night. I generally put this on after serums and before my moisturiser. Wake up in the morning to nice plump hydrated feeling skin. Will be buying again.

Not great

I purchased this as a moisturiser in my T.O skin care routine. The oil just tends to sit on top of the skin, no matter how much it is gently coaxed with massaging. I also tried it for my hair, a drop or two left my hair incredibly heavy and flat. In fact my hair felt as though I hadn't washed it in weeks. (I don't have particularity coarse hair, so that may answer that) So not good there either......

Read More

Second time purchase

I like this oil
Great feel
Absorbs quickly
Doesn't smell.

Thank you. I like it a lot.

Regard,
Hannah

100% satisfied

Just love this oil. I have dry skin and use at night before bed. I use this alone and or with moisturiser. Extremely happy next day my skin so soft and moist

too thick for oily skin

it does make my skin very plump and hydrated but its a bit thick for my oily skin as I find if I use too much I get red. It did feel nice and wasn't sticky though under makeup

Yes

I have combination/acne prone skin. This oil can feel a bit oily on my skin so I just add one drop with my moisturiser. It hydrates and clear up my skin. Love it.

Amazing value, great product

I have oily skin, so I'm always a bit scared to use an oil on my skin fearing it'll make it worse. I've used other brands Marula oils before that are literally triple the price and I can confidently say that there is no quality difference between the ordinary's Marula oil and other more expensive brands such as drunk elephant. I apply a couple drops at night mixed into my moisturiser and wake up w...

Read More

Not my HG

I spent time looking for a good oil to incorporate in my routine. I have used Rosehip and Argan in the past with generally good results. The Marula was recommended as a nice all rounder. I think it is a bit thick for my skin (oily/combo) as I find if I use too much I breakout. I do like it mixed in to moisturiser or foundation for added hydration. I didn't find any issue with makeup application. I...

Read More

Moisture

This is a super expensive oil from other brands and the ordinary sells it at such an affordable price. I love the results of this oil and it gives my skin a lot of hydration. Definitely a buy

Awesome product

I have pretty dry skin and this has really helped amp up its hydration. Can feel oily for a while after but I personally don't mind. I use it at night and I think it's actually helped clear up my skin, too.

So hydrating !!

I use this of a night after everything else, it does leave my skin oily and doesnt completly soak in but when i wake up in the morning my skin is super soft and refreshed and doesnt feel oily. I have ance prone skin but this doesnt break me out at all!!

A lovely product

I had never tried marula oil before purchasing this product. I've been using it for almost two weeks now and I am seeing wonderful results. I have combination skin which is prone to breakouts but this product has not upset my skin at all! I put it on before bed and wake up to hydrated, glowing skin. I love that it doesn't really have a smell and a little bit goes a long way. I haven't tried it in ...

Read More

Cost effective, hydrating oil

I have repurchased this oil several times. My fave in the ordinary line; hydrating yet light and easily absorbed. I alternate between this and trilogy rosehip oil.

Great booster for my moisturisier

This product works great when I wear it over my existing moisturisier. I feel like I don't need to wear it all over in summer but it works really well when applied in areas which are drier such as my cheeks. In winter I love applying this all over and my skin feels amazing the next morning. Only downside is to make sure you wait for it to absorb into your skin before you go to bed otherwise it wi...

Read More

natural

A super natural hydrating oil that makes my skin so healthy and moisturised

best oil!

This oil is a delight. I use it mostly at night but sometimes in the morning if I'm not wearing makeup. At first it sat on my face and didn't absorb...I found that mixing it into my moisturiser (cream based) and then applying it absorbs quickly and doesn't sit on my skin and is now the way I use all The Ordinary oils. Face feels super soft!!

GIVE ME MORE

This product is amazing at night. I use it on myself and my husband and we love going to bed with an oily face and wake up feeling super smooth especially after a good exfoliating scrub! It's also great as a hair serum!

Awesome for night routine

This is a must in my evening skincare routine. I have oily combination skin and was at first reluctant to use such a rich oil on my face. I saw results almost straight away & now months later I couldn't live without it! It hydrates, soothes and balances. I love it! I wouldn't recommend this for the mornings however as it does not fully absorb. Keep this one for the evening.

Great

Amazing
This is the first ordinary product that I've ever tried and I will definitely be exploring more from this brand in future. This oil is great not only for hydrating skin but it also makes my skin tone incredibly even and glowy. I would recommend this to anyone looking for a hydrating products especially with combination/dry skin

Great for dry skin

This product wasn't for me, caused me to breakout . This product is an oily consistency so maybe great for dry skin. However I loved using this product in my hair. Helps to nourish dry ends and keeps hair hydrated and glossy

Beautiful

I had considered forking our for the Drunk Elephant Marula oil... until I saw this. I use this in the morning after a vit C serum and before moisturising (press 3 little drops into the skin), at night I use The Ordinary rose hip oil. My skin has never looked better

great dupe

I feel like this is similar to the expensive one. it works great and I love using it with a retinol product

HYDRATION

This product is truly amazing my skin really loves it, my skin feels amazing and makes my skin glow.

Instant hydration

I started using this when i ran out of my rosehip seed oil but this works just as fine. Gives a boost of hudration and leaves you skin so soft. Especially before makeup This is a must product for me now. I have dry skin

Moisturizing oil

I love this marula oil for winter when my skin needs a pick-me-up. My skin is nice and moisturised in the morning when I wake up. I like to rotate this with the Ordinary Rose Hip Oil, both work really well. Recommend to try especially for the price, compared to other brands.

PREFER MY ROSEHIP

This oil does work well and I have heard so many people say that it works just as good if not better than the extremely pricey Drunk Elephant version.

Although I felt this to be hydrating I think I will stay with my trilogy rose hip oil instead.

My new favourite oil

I've never used the Drunk Elephant Virgin Marula Luxury Facial Oil but I have been using this product in conjunction with a number of Drunk Elephant products too, namely their serum and moisturiser. I find using a facial roller speeds the process of getting the oil into the skin, before applying moisturiser. I may love the bottle of the Drunk Elephant version, and it is more oily, but I can use th...

Read More

Gives skin an extra boost

I'm a big fan of this oil - definitely saw similar effects to Drunk Elephant, with a much nicer price tag! I am a compulsive skin picker and popper when stressed, often leaving horrible scans and marks on my face. When I applied this oil at night, I noticed most of them had reduced, peeled off or gone completely! Great for an extra hydration boost in dryness-prone areas.

All time favourite

This is one of my favourite "the ordinary" products! I use this twice daily as it is so moisturising and absorbs perfectly and leaves my combination skin soft and glowing. It doesn't have a scent and a little goes a long way. Great for aging skin. Will purchase this forever and definitely recommend

Beautiful Oil

This Marula Oil is a beautiful treatment oil that leaves the skin luminous and plump. I use this as my moisturiser and have noticed a great improvement in my skin texture.

Love it

This product is AMAZING! I've used it on my hair and it protected it from heat styling and gave it strength and shine from just one use. I was nervous to use it on my hair because I have thin oily hair but it's helped my wash last a lot longer than normal and my hair is not dry and frizzy at the ends as it usually would be. For skin it's amazing too especially if you have very dry skin

Made my skin feel rough.

I tried this marula oil for two weeks, to be more hydrated and dewy. And by the second week my skin felt rough to touch, almost scaley and the skin around my mouth and nose was peeling of dry flakes. So I had to give it up. Everyone's skin is different, hope it works for you. But instead of throwing it away I'm using it as a cuticle oil, it works!

Made my skin feel rough.

I tried this marula oil for two weeks, to be more hydrated and dewy. And by the second week my skin felt rough to touch, almost scaley and the skin around my mouth and nose was peeling of dry flakes. So I had to stop using it on my face. But instead of throwing it away I'm using it as a cuticle oil, it works! Everyone's skin is different, hope it works for you.

Great for winter

Oh I loveee this product! My skin gets really dry in winter and I use this on its own or under a night cream for extra moisture. You don't need to fork out the big dollarydoos (on you know who) for a much more exy product. This is an excellent product and definitely worth the purchase.

glowing by morning

26 year old with normal/combo skin
i apply this after any night time steps and follow with a very light moisturizer to dull any skicky/shinyness (cant imagine using this in the morning before makeup). When you wake up in the morning you have the best glow that looks like its coming from the inside and its definitely helped moisturize everything even my lips.

favourite oil

this is my favourite oil from all the all range on offer at the ordinary. it smells decent andI can use it for a variety of things, hair, face, body!

good for hair

i've actually been using this on my hair and it's noticeable stronger and shinier

Amazing value for money

I absolutely recommend this to every one of my friends.
It fixes dry, dehydrated skin with a noticeable difference straight away.
Long term, my skin has never looked this good.
The bottle is 100% marula oil with no added fillers or scents, unlike a lot of other brands.

I was using Drunk Elephants $120 bottle…. But this product is exactly the same at a fraction of the...

Read More

Favourite

This is my favourite facial oil. It's highly moisturising without taking too long to sink into the skin, and gives the skin a "glow" and seems to keep my skin clearer when I'm using it. It can't be beat for price either, as far as 100% marula oil goes.

Great texture. Absorbs well

Excellent for dry skin that just needs that little bit extra moisture. Beautiful texture with next to no smell. Just as good as the drunk elephant.

Not as good as Drunk Elephant :(

I was hoping this oil would be a cost-effective dupe for Drunk Elephant's Virgin Marula Oil. It's not bad, I like using it at night mixed in with my moisturiser, but I don't get the same glow as I do from the Drunk Elephant product - annoying, as the price difference is massive! A good product, and value for money, but it's not a replacement for DE unfortunately.

A nice oil

I wouldn't say this is extraordinary but I think it is good for it's price to maintain healthy skin

For some extra TLC

I decided to try this with TO Natural Moisturising Factors at night to add some extra nourishment to my skin (usually oily). I started using it every second day for a week and I noticed a few little bumps on my t-zone after, so I pulled back and now maybe use it once a week if I'm feeling a bit dehydrated. I always notice my skin looking a bit more bouncy and bright, and any fine lines are reduced...

Read More

Hydrating

I've never used an oil on my face as I have combination skin but at night my face has been feeling like it needs a little extra so after reading the reviews I purchased this, I love it! Actually pretty light weight and soaks in easily. Honestly I find it works better alone with no serum underneath or moisturiser on top - so I do this a couple times a week

Love

Love using this product before bed when I'm feeling like I need hydration. I also like using this product mixed in with my foundation to give a glowy finish

Favourite Oil

I've used 5 bottles of this stuff. It's a great price point compared to the Drunk Elephant Marula oil, which is something crazy like 5 times the price or something. Beyond the benefits (look it up) it's super hydrating, calming, and light. I use 3-4 drops all over my face after my serums every night without fail. A bottle lasts me 3 to 4 months depending. I've used rosehip oil before but it didn't...

Read More

Very nourishing

A little goes a long way. This has made my skin feel smoother than it's felt in a while. I use this at the end of my routine to lock everything in and add moisture to my skin. I was originally worried it would be too much for my skin as it can get oily, but it left it nourished without an excessive amount of shine

Can't lose

I was recommended the Marula oil from DE to treat my dry skin. I tried it for a few days until I can across this baby. So much cheaper for the same product. At this price point why wouldn't you try it?

It definitely helped my dry skin, but as I suffer from irritation too I'm currently looking at purchasing another facial oil by TO.

Great for sensitive and dry skin

Love this product! I've used Drunk Elephant previously (which is a beautiful oil) but I can't justify the price tag anymore, so I tried this as an alternative. I found its comparable to DE (maybe a tiny bit thicker?), so I'll be buying it again for sure. I've noticed my skin stays hydrated longer if I put this on after my night cream. Also, if my skin has reacted to something, this is one of the o...

Read More

Absorbable and hydrating

I have combination skin and get quite a lot of cystic acne around my chin with some scaring/pigmentation. This product has been amazing for me, I highly recommend it to everyone. It doesn't clog my pores or feel heavy (like I find Rosehip oil does), absorbs really well so I can wear it day or night and not look shiny, is super hydrating and has helped to significantly reduce my cystic acne and sca...

Read More

My favourite facial oil

This stuff is like liquid gold. Marula oil is my favourite facial oil and you can't beat the price and quality of this one. I used to use rosehip oil but found it can turn rancid and smelly fairly quickly and I'd have to throw it out. I've had this bottle for 9 months now and it's still perfect and it has no scent to it at all. As always , the packaging design is perfect. I love the minimal design...

Read More

Love it and can't beat the price

I've been using this for several months now. It was especially great in the winter, but I still use it occasionally in summer. It was my first foray into using oils and am very happy with the results. I have normal skin and use about 5-6 drops at night on my face and neck, or apply a few drops mixed in with my moisturiser. My skin always glows a bit more in the morning after applying the night bef...

Read More

Love it - Perfect for dry skin

I have always suffered dry skin on my face and eczema, this is perfect for keeping it hydrating each night,

good oil

i like this as a basic oil to lather on.

SAY YES TO OIL

I was so hesitate to put an oil on my skin, especially since I am prone to breakouts. Oh.my.gosh I love this oil! A few drops in the morning after hyaluronic acid and my skin looks fresh, dewy and glowing! So good I'm the ends of your hair too! Can't live without.

Amazing!

Beautiful product. If I'm too tired to do a full skincare routine I just use this and it is so soothing and nourishing. Rub any excess into ends of hair and my cracked af hands. My skin is super dry and foundation is very prone to cracking but using a bit of this underneath my hydrating primer has done wonders. Going to try mixing it in next to see how that goes. Love this stuff!