The Beauty Chef Glow Inner Beauty Powder 150g 150g
Skin Concern:
Acne, breakouts and blackheads
Dull, dry or dehydrated skin
First signs of ageing
Oiliness and shine
Sensitivity and redness
Wrinkles and loss of firmness
Skin Type:
Dry
Normal to dry
Normal to oily
Oily
Questions & Answers
(3 Questions)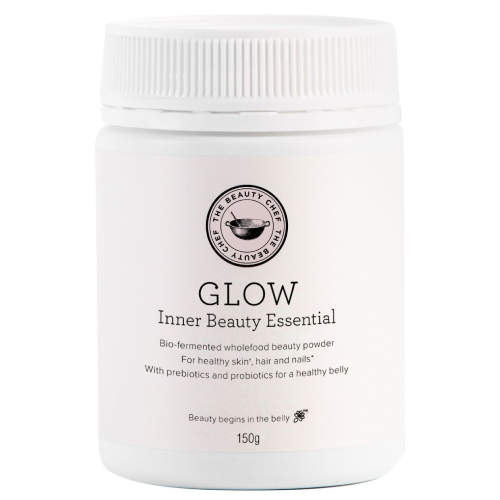 The Beauty Chef Glow Inner Beauty Powder 150g
Get an expert to answer your question about this product!
Ask a Question
91% recommend this product
Most Helpful Positive
Worth it
Expensive but worth for actually doing what it claims
Most Helpful Criticism
Great flavour
after a few days of drinking this i felt my digestive system was less problematic. The flavour is sooo yum. Only negative for me was the gritty consistency. So be sure to swirl the water as you drink so you don't get a clump at the end.
Worth it

Expensive but worth for actually doing what it claims

Cannot live without this product

I have cystic acne and find that this product, combined with the topical skin care products that I use, works really well. My skin is much clearer when I use this daily.

Saviour

This is honestly the key to keeping hormonal acne at bay. I use it religiously every morning in my smoothie and find my skin feels clear, supple and hydrated. Bonus tip - mix with collagen.

Yum

I tried a sample of this and I actually really like it!

Lovely Taste

received this as a sample, it was surprising. i really like the taste and will re order.

Great flavour

after a few days of drinking this i felt my digestive system was less problematic. The flavour is sooo yum. Only negative for me was the gritty consistency. So be sure to swirl the water as you drink so you don't get a clump at the end.

works a charm

loving this, you can mix it into so many different drinks, does all it says and doesn't taste too bad.

Pretty good with green juice

This product without mixing with green juice is not great tasting. But it seems to enhance the sour taste of the green juice and is quite refreshing. Not sure if it has all the benefits it states, as only part way through my first tub but I'll continue to drink it anyway.

I really liked this

I trialed this product for a few weeks, worked wonders on my skin and was a nice way to start my day. Loved the taste, I recommend stirring before each sip to ensure you're making the most out of the drink.

On the fence about this product.

Glow is great if you drink smoothies every morning.. To drink in water it is quite grainy and I'm not sure if your supposed to drink the powder at the bottom or not...
It is basically a probiotic in powder form, i can't decide whether it would be easier just to take probiotic tablets. Unsure about this product, haven't seen amazing results for the price.

It works!

I have always been a skeptic when it comes to powder supplements, but I really wanted something to boost my skin as I still suffer from spots despite eating well and being diligent with my skincare. Since taking this in conjunction with the collagen booster, my skin has definitely improved. Its clear and has a real glow.

Fantastic product that does what it claims

I really like this beauty powder. I went through two tubs and definitely noticed a difference in the overall appearance of my skin. My nails and hair were the first to show a significant change with both become strong and grew rapidly. I also used it in conjunction with the liquid. The texture is a little gritty but I found the taste quite okay. Would definitely recommend this product and will be purchasing again

Not sure it worked for me..

Ordered this twice now for consecutive 2 months, I found the taste was good however I am not sure it was working for me, I broke out quite bad and never saw them clearing up until I stopped taking it. I may try this again and try go for longer as i may have just been breaking out due to a new product and it was helping my gut, next time i will do for longer. Will order when on sale as a little pricey.

This product is a life saver

Love this product! I had so much trouble with my hormonal acne till I found this powder, it cleared up within two months of using it.
The taste is amazing also!

No idea if this works, but my skin looks amazing!

So I got this as I was on a spending spree. Its very expensive for how much you get, and I thought "what a waste" when I received it. However, lately I have noticed my skin has cleared up and the only thing I have changed is adding this to my mornings. The texture is grainy so I have to do a double add water at the end, apart from that though - it tastes nice and I think is worth it. I have always looked after my gut health with probiotics, so not sure I would ever replace them with this - however in addition to my probiotics I will keep taking this daily.

Pretty good

I have been using this for the past month and I have just started to see a difference. I started on it for bloating which I have noticed a difference with but also for that 'glow' it promises which it does deliver on.

Nice and gentle

This beauty powder has helped with gut inflammation but not sure it's doing anything for my acne.

Works

I used this for quite some time and it definitely works.. nails grew then skin and hair improved dramatically and I actually liked the taste

Helps me to glow inside and out

I love this product. I never regret buying it as i started to add it to my smoothies as serve as my breakfast and lunch for a busy day driving around because of my work. Getting all the health benefits through my skin and mood and I am glowing. I am a really happy gal. Thank you.

Great for reducing bloating

This powder is a little pricey but honestly such an investment for your health. I first used this a few months ago and personally hated the taste and texture (its a berry flavor and a little gritty on the throat) but I have drank it every day and feel so great. Less bloating and overall I think my body appreciates the nutrients.

A great start to your day!

The taste is great, I've even added it to my smoothies in the morning and it's very sweet and berry tasting. For me I don't personally know if I have seen a huge change yet for anything but I have only just started out so I am excited to see where it goes. However I can feel it help with my digestion a little for sure :)

Easy way to take vitamins

This mixes really well with water and leaves no lumps. There's some settlement at the bottom of the cup so you need to drink this immediately after mixing.
It has a berry smell and taste which is pleasant enough. I just mix this with a half cup of water and gulp it down rather than mix it with juice, which would be an overpowering flavour because this already has it's own flavour.
This is a great way to get probiotics and vitamins in your diet.
I much prefer a pill form so I can swallow and not taste anything but if you want to mix this into your morning smoothie or something this would be great.

Yum

I've been using this religiously for a couple of months now. It tastes delicious. While I can't say for sure whether it gives me a "glow", it does get me into the good habit of drinking a glass of water first thing every day. My skin breaks out into the occasional acne, and I haven't had any for these past couple of months.

This powder is a life saver!

I have been using this powder for 2 months now, I started noticing changes after the first month of using it! I have been suffering from hormonoal acne since going off the pill and a friend said I should try using this powder, I am so glad I did! I had tried everything you can think of to help/fix my skin and nothing seemed to work, I didn't believe that a probiotic powder would either! My skin is so much clearer and I haven't had a breakout since.

Acne sufferer

I started this after developing acne in early adulthood. It included hormonal and cystic acne. I started taking this to help regulate my skin from the inside. It took a while but after a month my skin was much calmer and clearer with fewer and less severe flare ups. As well as better skin tone and better complexion. When I stopped taking it for a while I noticed my skin suffering. It looked much more dull and pimples became more frequent.

Cannot live without!

I have been using Glow for around 4 months now and I cannot live without it! Especially around Christmas, it helped me beat the horrible bloating the I usually get. My skin has never felt more alive, Glow helps control my breakouts and my eczema, which tends to worsen over summer.
It's also a great immune booster! In my opinion it has lessen the severity of the cold I got but also helps my weakened immune system bounce back quicker!

Not convinced

i think this powder is easy to take and tastes good however I am not sure it has having much of an effect yet. Ive been taking it for 3 weeks and haven't noticed anything thus far. I'm sure it offers some nutritional help, but other than that, Id say nothing.

Had high hopes

I really wanted this product to work because I had heard great things however, I didn't feel any different. It was tasty in a smoothie, but I didn't Like to drink it by itself with water.

More energy

I was a bit sceptical to purchase this as I had read it had gritty texture and not nice to take. I put it in my morning smoothie and can't even notice it's in there. Since starting i feel I have more energy and my gut feels a lot better. Glad I tried this product.

Great Treat to your skin

This is a great treat to my skin and gut:) I use it daily and so far Im loving it.

Helps from within

This powder really helps from within. Im very time poor and find it hard sometimes to have balance with getting all my vitamins and nutrients. I add this powder to empty vegan/vegetable capsules (can buy these online) and take one each morning before work. Has really improved daily energy and along with exercise and healthy eating has helped me to feel really toned and great. I personally dont have time to drink this in a drink each day so that is why I use the capsules for convenience but it has a very Berry like taste and can be gritty to drink.

Didn't do anything for me!

I purchased this along with the inner beauty collagen boost, and used them every day each morning, and I didn't notice any difference in my skin whatsoever! I personally wouldn't recommend this product to friends, but there seems to be so many good reviews on their product range?!?!

Amazing health benefits

I personally dont like taking supplement powders in water especially ones that are a little bit gritty like this one - feels uncomfortable. It does have a nice berry taste but a little too gritty when drinking. If you read the ingredients list though and research the health benefits of each this is really worth it. I just deal with having to drink this once a day for my health and ive had less bloating and overall feel more energetic - I have since started putting this powder into clear vegan edible capsules so I can have them in a tablet form! (Can get them online in Australia or on eBay - but make sure they're vegan/vegetable and not synthetic)

Good - but not as effective as the Cleanse product

I purchased this after going through a tub of the The Beauty Chef Cleanse powder. The glow tastes much much better and I mix it with water, the Collagen liquid and apple cider vinegar every morning. However, I'm not sure if it has made any difference to my skin (unlike the Cleanse - I noticed the difference within a day).

Worth it!

was given a sample of this and have read rave reviews, I have to say that it is good, does what it says however I think the serving could be better in terms of the price

Perfect way to start or end the day!

Great taste and has so many benefits without having to take probiotic and prebiotics from the pharmacy. I do believe it has helped my congestion too. I drink this along with the collagen concentrate and it's a beautiful drink could almost disguise it as a cocktail if you use ice and a little bit of mint!

Good for your guts!

This stuff is awesome. My skin is a lot brighter. I have this mixed with the Collagen from Beauty Chef every morning.

A great start to the day

What better way to Start your day than a drink that is going to make your skin glow and treat your gut health at the same time. Everyone wants beautiful skin but serums and creams won't do it alone. This product is fantastic and tastes great as well. It does take some stirring to dissolve the product and there is always grit left behid that can taste a little bitter. But the improvement in your skin and digestion will make you forget any negatives. I combine this with the Collagen Inner Beauty Boost and together the taste is really delicious. I also suffer from digestive issues and these two products have helped a lot. I wish I had this product around in my 20's

Beating the belly bloat!

I have been taking this for a couple of weeks now, and I have already started to notice that I am feeling more energetic in the morning, and best of all, the dreaded bloat I was constantly feeling, seems to have diminished. I am also more 'regular', is and I feel as thought this powder is quite literally cleaning me from the inside. I will definitely keep using this!

Fantastic

Who would have thought that a tasty drink could be so good for you?!
I read up about this product about 6 months ago. After reading reviews I wanted to see what the hype was all about so I ordered a tub.
When I made my first drink I was a bit nervous as to what the taste would be like. Well.....I was surprised. Berry flavour, but not too sweet. When you mix the powder into water I found it didn't dissolve well and went a bit clumpy, however I soon fixed that by whisking it with a fork.

I started noticing a different after about 3 weeks. Over Christmas I as away for 2 & 1/2 weeks and left it home. That is what made me notice the difference. My skin lost its glow and brightness.
Definitely recommend this product!!


Can't live without

My nails, hair and skin are kept strong and healthy and it tastes delicious. Can not live without this product!

Tastes great helped with bloating

I really liked this first thing in the morning I feel it helped prevent bloating through out the day. I definitely noticed on days I didn't have it I'd feel a lot more bloated and sluggish. The taste is great but it is a bit gritty. I use to mix it with my morning marine collagen to mask the fish taste lol I used it over winter and ran out before summer and it's a bit too on the expensive side for me to repurchase again but I feel like I would have saw the skin benefits of this more in summer than I did in winter when I was pale. I actually halved the recommended serving size to make it last a bit longer and still saw the same benefits.

Can not live without!

I have been using the Glow powder for years now and absolutely love it. I feel as though it helps to improve the overall look of my skin and gives it a healthy glow. The taste is great and not sickly sweet like others I have tried. I love to add this to my smoothies or drink alone with water.

Great product!

I love The Beauty Chef Glow. I have been drinking this powder for almost a year now. The taste is great, easy to drink. I mix it with other not so pleasant tasting powders and it makes it so much easier to drink. I have a teaspoon every morning. It can be a little gritty but I just mix it in a shaker bottle & give it a little shake each sip. I love all the Beauty Chef products.

Gives me more energy

I've been using this for a week now (so not enough time to notice if it has an effect on my skin/hair etc), but it has definitely given me more energy. It mixes easily into water, and although it's not the most pleasant to drink in just water (not an unpleasant taste, just lots of bits which settle at the bottom), it would be perfect for mixing into a smoothie.

Love the taste

I have been using the Glow Inner Beauty Powder now for over a year. I have found it to be wonderful in combating my bloating and my hair and skin have really improved and it has a lovely berry taste , which make it easy to drink.

Good

Wouldnt say I like the taste, but can see an improvement in my skin

Fantastic product!

I came across this product on my insta feed. Since I was battling with acne, I was desperate to try anything that would help aid my skin condition. I also had bad diet so I thought this might help.
I tried it for 2 months which was about 2 bottles of glow and I saw improvements on my skin. My acne were not appearing as often and I had fewer breakouts. I was super happy with the results. I'm also a picky eater ... I often do not eat my veggies and select yummy sweet fruits. This was actually tasty enough that I want to drink it every morning even if it was simply mixed in with water. Very delicious berry taste!
I only took down the star because if I have maintain drinking this on a yearly basis, it can be quiet costly.
I have made repurchase though... I just returned from travels and I purchased a full bottle to kick start a new skincare regime.

Easy to drink

This has a great berry taste that is easy to drink. I mix this with the beauty chef collagen and water. Yes it can be a bit gritty at the end, I just keep stirring between each sip.

"You have been glowing all week"

I have just finished my tub of Glow Powder; after taking one teaspoon everyday for almost a month annnnd I am absolutely going to buy some more. My roommate (who is a very unobservant male) actually said to me, "you have been glowing all week". Super nice of him and also a little creepy... but I'll take it.

I don't think this product is cure all, but it certainly is a nice supplement to healthy living.

Oh and this product tastes very nice. Don't worry about taste. It's good.

Great product

Would definitely use this again. Very pleasant taste and texture so easy to drink. I have a great skin to begin with but i think this gave a little bit if a glow and brought more life in your skin. Only downside was that the drink made me really bloated at the beginning but went down with time. Would definitely recommend adding this to your routine.

Love it. Converted.

When I started getting compliments on my glowing skin, I knew I would never go back. I drink this product every morning, and twice daily in the lead up before events. I thoroughly hate the taste and consistency however the results are worth it. I have found my dark patches on my skin have cleared up, and all over ,y skin retains moisture better than ever. My hair has also become more shiny, and healthy. I use this in conjunction with the liquid collagen

Terrible taste

My rating is simply because of the taste, as I couldn't use it enough to comment on the actual benefits.
For me, the taste killed it. I tried, but couldn't do it. I'm sure the benefits are great if you can get over the taste.


Happy with

Really happy with the benefits of this drink - getting them all in one. Very convenient. Has a decent 'berry' taste to it. The reason im not giving it 5/5 is that the drink itself has a very gritty consistency to it and I drink it in water and I just find it a little 'unpleasant' to drink with little particles in it. Others might not have this problems its just a personal preference. I will continue to get it though and just drink really fast to get it over and done with because I still want to get the good nutrients in my daily.

Healthy

Perfectly weekly nutrient boost. All the ingredients are great for the immune system. Taste is okay. I will definitely keep purchasing this and drinking on the weekly.

Disappointed.. grainy, coarse powder.

Was so excited to try this product after reading so much about it but unfortunately I am not a fan of this product. The powder does not 'dissolve' into water/liquid like I thought it would. The powder is very coarse and stayed gritty/grainy throughout the drink which I personally found very unpleasant to drink, always sinking to the bottom of the glass into a thick sludge (even after initially stirring for ages to try and incorporate). It may be ok blended into something like a smoothie but I was after something that can be mixed into water so will not be re-purchasing. I have since tried the liquid antioxidant booster and much prefer the bottle/liquid versions from The Beauty Chef so try that if you don't like the idea of grainy drinks.

Best skin ever

Must buy for anyone who may want to improve their skin but are sensitive to serums and creams. This powder tastes amazing and and has improved the condition of my skin.

Great digestive system helper

I've been using this for about 3 weeks (still have plenty to go, I may be 'under-dosing' but I think they want you to get through the product quicker), and my digestion and regularity have improved, even to the point where I can skip breakfast to have a longer fasting period. I believe it's helped with bloating which I would get somewhat frequently, tastes fine though it's a bit gritty in water but I just down it quickly in the morning with a small glass of water. Not sure about skin benefits as I have a pretty decent skin routine that keeps things clear anyway, but it may be helping. Will definitely keep purchasing.

Happy Customer!

Purchased this on a whim, not sure if I would be as into the taste of "bio-fermented" ingredients.... really impressed with the taste. It's an awesome berry flavour which can be mixed into a beverage. It definitely doesn't totally dissolve but in a half cup of liquid (juice, water) its easy to drink + has a really pleasant taste. Since using it, I've found an improvement in digestion and increased energy levels. Excited to see any future changes!

Refreshing Drop

This GLOW powder really refreshing, not sure I have seen any skin benefits as yet! I will give it more time.

Great Product

Love this product. The ingredients are so beneficial and the taste is amazing. Its surprising how long the products lasts too.

I will keep using this :)

It is also a nice combo with the liquid options too like the hydration and collagen.

Its worth a try :)

I've been trying a lot of different natural supplements lately (along with healthy food and exercise) and this is one of my most recent. Really happy with the product and how many ingredients it has. Theres heaps of health benefits from this. Be aware it doesn't look the nicest but actually tastes pretty good. I try and have this once a day. I also suggest trying the green elixir by Welle Co I think its very similar.

Worth it for your health!

Even though I physically cant see what its doing I know with all the great things in this product that my body will be thanking me. At first I seen a brown powder and thought I would hate it but it actually doesn't taste too bad its a blackcurrant or berry flavor. Already have notice small changes in my energy. I think this is 100% worth it.

Great results

This product is the reason I got hooked on Beauty Chef products. I got amazing results 1-2 weeks into using this. I mixed it with the antioxidant to make it taste nicer. The only thing I didn't like was the consistency as the powder doesn't really melt in cold water, but its worth the results!

CONVERTED

Initially a sceptic, but one no longer. This product does amazing things for irritated, inflamed skin. Packed with natural ingredients - this product really did teach me the benefits of inside out beauty.

Great for anyone with acne or inflamed 'angry' skin as I like to call it.
Works well in smoothies or on its own in a glass of water!

Not sure if it did anything

When I first started using the glow powder, my skin started to clear up and I loved it. I even re-ordered after I finished the first tub.

Now looking back, I don't think it was worth it. I thought my skin improved while I used it, but when I stopped taking it during an overseas trip, I saw no difference.

It's now been more than two months since I stopped using it and nothing has changed. I'm not sure whether my skin has improved due to other factors (e.g. skincare, exercise), but so far it's great without the Glow Powder.

Considering how pricey it is, I was hoping for a more substantial effect.

Tastes great!

I love taking this every morning in my smoothie. It has a great taste and not a chore to take it. It does take a while to see improvements on the outside - but I'm sure there are improvements in my gut that i cant see! The price point is a little hard to take but i know my health is an investment so I'm willing to do it.

Awesome!

This stuff is great! I honestly saw a really lovely glow and my skin is looking really clear! I take this and the collagen from the beauty chef as well, and together they are a winning combo!

love this

This is a great product for maintaining health both inside and out. I feel lighter, less bloated and my skin feels amazing! The taste is great too and easy to incorporate into smoothies

daily routine

this is now part of my daily routine and it tastes yum not like some other powders

GLOWING

I am using this product along with Collagen and Body. I love using this product mixed into my morning smoothies or oats. I noticed a difference in my skin from the first week of using this daily. I feel it works best with other products from the range so a good combo is defiantly Glow and Collagen.

Amazing

Amazing supplement! My nails grew so quickly and were so strong while using this! My skin also was glowing and It tastes delish!

Delicious

I mix this into a smoothie and also add the collagen beauty boost. It tastes delicious and I have found it soothing for my stomach. I think my complexion is brighter.

Great product

This powder has helped with my bloating instantly and slowly I'm seeing an improvement in my complexion.

Daily Essential

After around a month of using Glow I can honestly say WOW!
Such a wonderful and noticeable difference to my face!!
What I just love about this is the natural ingredients that are all designed to work in synergy with one another to bring out my best complexion from within!
My skin is significantly clearer and each day I look forward to taking it!
I personally mix Glow with filtered water to ensure there are no nasties!
Giving my body the Vitamins and Minerals plus the Probiotics it needs to form a healthy complexion from within has been better for me than any expensive salon treatment!


Effective

I have purchased this twice, and have noticed an improvement overall in my skin. I have also noticed my hair looking and feeling a lot more healthier as well. Overall, I'm satisfied with this product. Thanks

Can't live without

I keep telling myself that I'm going to stop buying this because it's quite expensive.... but I just can't! I honestly feel like my skin is brighter since using this. I drink it every morning. I agree that it is a little gritty, but that doesn't bother me in the slightest. I put it in a water bottle and shake it up, and find that that works just fine. I have come to love the subtle berry flavour, and I find that it mixes really well with The Beauty Chef Body powder in either flavour.

Long term effort

I've been using this product for 7+/- months now and feel like it's made a difference. my boyfriend started to comment on my overall "glow" after about 3-4 months and I think he was right. Skin, nails and digestion all feeling and looking better.
I suspect you have to stick to using this long term and every day to see ongoing proper results. Ie you're not going to see magic happen overnight. Also helps that I'm getting an extra glass of water in everyday!

This is the best beauty powder

I have been using Glow in addition to collagen for about 7 months now. I love it. It's helped with my skins overall clarity and I have less breakouts as well, bonus!!
I would also like to add that this powder is really good for your health and immunity, I used to get a flu in winter and be sick for weeks now within a few days my body just fights it off. Thanks to glow!!

Must Have Product

I have been using this product for over two years. It is certainly a must have if you care about your hair, skin, nails and gut. The taste is great!

Winner!!

Aside from the amazing benefits for my hair and skin, and my overall life gets from this fantastic product, it also saves my digestion. It aids in reducing bloating, and because I have so many food intolerances/problems, this product is a god-send! I recommend any woman trying it if they have skin problems, but also bloating or digestive issues. It is advertised as a powder, but it becomes a little gritty once added to water, amd you must ensure you mix thoroughly and drink immediately. I have been using this product for almost two years, and I will never stop taking it as long as I can. It tastes fruity but not strong, is easy to drink and the benefits are phenomenal. I also occasionally add some Hydration and Antioxidant liquid from Beauty Chef at the same time. Perfect combo!! Happy happy customer!!!

Daily Essential

I have been using this product for several months & it has helped my tummy issues enormously over time. I had been staying interstate for a few weeks & had inadvertently left my Glow at home & it was only then did I come to the full realisation that I cannot live without this powder. A REAL MUST FOR ME! & purchasing from Adore Beauty is a no brainer with free, fast & efficient delivery. Thanks guys

Daily Essential

I have been using this product for several months & it has helped my tummy issues enormously over time. I had been staying interstate for a few weeks & had inadvertently left my Glow at home & it was only then did I come to the full realization that I cannot live without this powder. A REAL MUST FOR ME! & purchasing from Adore Beauty is a no brainer with free, fast & efficient delivery. Thanks guys

Great surprise find

I was really sceptical about this product at first and did not expect much. My skin is already quite good so I did not think this would do much for me. To my surprise, this really helped with my digestion and bloating. I am lactose intolerant with minor gluten intolerance. This has been so easy to take, I just add it to my morning breakfast smoothie, blends well with frozen fruits, fresh veggies and coconut water.

Cannot live without my Glow powder

I have been using the Glow powder for all of this year. It has improved my skin and nail health, but the most noticeable differences are less bloating and increased hair growth.

Since taking the glow powder regularly, I have not had any digestive bloating and my hair is growing so quickly and the quality of the hair has improved drastically.

You definitely need to keep taking the powder for at least a month to see results in your skin!

Great product

I came across The Beauty Chef brand in a natural store and tried the sachets before I purchased the bigger size. I have never drank a powder blend with excellent healthy beneficial ingredients. My first taste was with water and it tasted like warm berry drink. My next taste was in a smoothie and it is fantastic. After my first drink I had felt a lot calmer in my tummy and not bloated. I have seen an improvement in my complexion (I have dull combination skin prone to a few pimples for 16years arghh) This powder has worked wonders for me - I purchased the bigger size from Adore Beauty and its been less than 1 week, thankyou :-)

BEST PRODUCT

My skin would always be congested and have textual issues. I tried numerous skincare products but still was not happy. I used the GLOW powder and after 3 days noticed a massive difference. My skin was a lot smoother and had a great glow to it. I keep re purchasing this product and I swear by it!!

Improvement in skin texture

I have combination skin, with the occasional spot. However my main concern is small bumps on my forehead that never become pimples, but make my skin overall look not the best!

However, I have found that using glow every day has made a huge improvement in clearing up the bumps, and leaving my skin radiant.

The taste is sweet enough to enjoy in water, or in a berry smoothie to amp up the flavour.

Since using GLOW I have cut down my coffee down to only one per day, and have one teaspoon of glow in water if I'm feeling like something other than water.



Great ingredients - mixes well

Love this stuff. I take this every day in my morning smoothie with the collagen liquid for my skin but also for digestion. It helps my usually very difficult digestion and tastes great - together they add a subtle berry flavour to smoothies. I don't know if it's helped my skin - but for the first reason I will continue to take it every day.

Can't recommend highly enough

This stuff is amazing. Not only did it improve the appearance of my skin but it cured some digestive issues I've been having for years which I always though were stress related, but I think it was just that my gut flora was out of wack! If you're thinking about trying this, definitely do! Its now a regular part of my healthcare and I feel so much healthier for having it everyday.

Tastes great, has made a noticable improvement to my complexion

This product tastes great, even just mixed with water, and I actually look forward to drinking it in the morning. It has made a difference to my complexion after drinking each morning. I only use a teaspoon each day and so far my tub has lasted 2.5 months, so really great value for money too. Contains such great ingredients. 10/10 would purhcase again in fact - I don't think I can live without it now!

Great for general health

I've been using this for a few months and I love it. I'm often too busy to take proper care of my nutrition and I find this to be great supplement for my general wellbeing. I definitely notice a dip in energy (due to poor digestion) and a loss in skin 'glow' when I stop using it. I find the flavour quite pleasant and will keep trying to make sure I take it daily.

love this stuff

At first I thought this was a bit gimmicky but I had been sick for a long period of time with sinus problems and spent months on antibiotics. I felt like I needed something to heal from the inside and I came across glow.From the very 1st time trying this I felt better and more energised. I also fell like it curbs my sugar craving which is an absolute positive. I highly recommend this product and I will continue using it as i feel great.

So good but bit expensive

I must say, I've been taking this for 3 months now and definitely see a difference in my skin. As a student, it is a bit on the expensive side of things and hard to keep up (as it's basically $59.95 a month) and for that reason it loses a star, but 10% off with unidays, has helped a bit! Product wise, it's fantastic!

Great with collagen boost.

I take this along with the collagen boost from inner beauty chef in my smoothie and I have had improved skin since then. I have only taken it for a month now. Really happy with the results. I also don't feel bloated as before. It is a must try.

Noticeable difference

This tastes really good, I usually just have it mixed with water in the morning and its tasty enough to have on its own. It can settle a little bit so you have to mix it up really well. It helped my stomach and was effective in helping clear my skin, after starting to use it I got a lot of people complimenting my skin!

It does works

Really does works I can see my skin looks clear and healthy my hair is bouncy ,my tummy feel good too.

Onto my second tub + loving it so far!

I generally have reddish skin and have noticed my skin seems a lot calmer since introducing Glow to my daily routine. The flavour is delicious, I find myself craving it as soon as I wake up in the morning. My boyfriend has also started using it on his cereal in the mornings + I can see a huge difference in the redness in his skin also! I would say however be sure to monitor how much you consume as a full teaspoon was too much for me and was making me slightly bloated. I read a recommendation to reduce my daily intake and so far so good. Have just ordered my second tub!

Lovely taste with the bonus of probiotics!

This powder tastes delicious and is a great way for me to boost my intake of probiotics and super foods. It is quite expensive but so are chemically manufactured supplements. At least this way I feel like I am getting an easily-absorbed natural multi-vitamin boost.

Great for the gut

I have been taking Glow for a few months my digestive probs cleared up. I have not taken Glow for a month and my digestion is not happy. I highly recommend Glow.