Adore Beauty is an official stockist of The Beauty Chef. Buy now, pay later with Afterpay.
Carla Oates - a best-selling naturalist author and ambassador to Australian Organic - has created a unique beauty range that utilises natural ingredients for a more beautiful you, inside and out. Based in Sydney's Bondi Beach, Carla has been writing, researching and teaching organic health and beauty for fifteen years.


Her journey began as a result of her own skin challenges, realising at a young age that lacto-fermented foods could have a remarkable impact on improving eczema, allergies and rosacea. When her daughter began experiencing similar skin issues, Carla's interest in the area of gut and skin health intensified and she was motivated to create natural products that would help to relieve these conditions and create a healthier skin from the inside, out.


Carla identified that one of the critical keys to good health is filling the gut with lots of good bacteria. This important bacterium can be readily found in fermented foods. The process of fermentation biologically enhances ingredients and increases their nutritional value. It also increases nutrient absorption to ensure that you are ingesting all the vitamins your body needs. Carla knows that the nutrients in our bodies go to the main organs first, sometimes leaving the skin, hair and nails to go without. This is why many people see benefits in their skin, as well as experiencing faster nail and hair growth when using The Beauty Chef products.


The Beauty Chef range is based on fifteen years of research and experimentation as well as collaboration with Australia's best natural health practitioners and formulators. Carla understands the value of natural ingredients so her products use certified Organic, Biodynamic, local and fair trade ingredients wherever possible.


Making The Beauty Chef part of your daily routine will help to create healthy, radiant skin that glows from the inside, out.
Showing 20 products of 27.
---
Recent reviews on The Beauty Chef products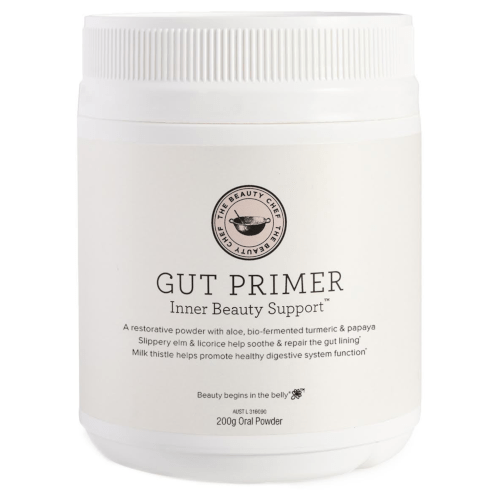 The Beauty Chef
The Beauty Chef Gut Primer Inner Beauty Support 200g
$69.00
Definitely Helps
I suffer from Ulcerative Colitis and it definitely helps control my symptoms in conjunction with a collagen supplement, I have been taking this particular product for 6mths now and I have found my favourite. I will definitely keep repurchasing.
It doesn't dissolve 100% but you can crush the remaining lumps against the side of the glass, it does taste the best than any other comparable produc...
What people are looking for the most