Skinstitut Multi-Active Oil 50ml
Questions & Answers
(1 Question)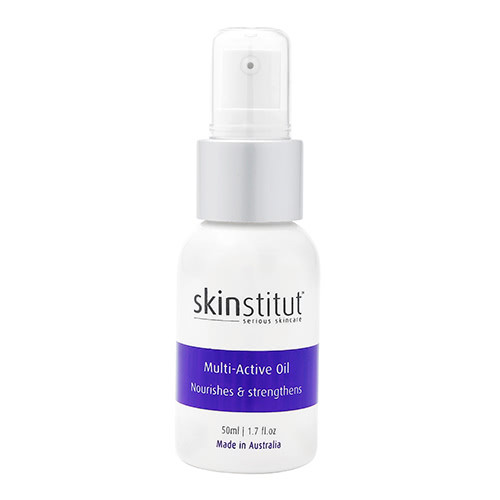 Skinstitut Multi-Active Oil
Get an expert to answer your question about this product!
Ask a Question
89% recommend this product
Most Helpful Positive
smells pretty
this sinks in really well and doesn't leave you feeling greasy
Most Helpful Criticism
Nice product
Have only just received this oil after having it recommended by therapist, but first impression is that it will be a good inclusion in my beauty products.
smells pretty

this sinks in really well and doesn't leave you feeling greasy

Love!

I live in this oil in winter when I'm feeling dry or after a day at the beach. It isn't heavy but I wouldn't use it everyday. It smells really nice too. I've tried to wear it under my make up for a dewy finish and didn't like how my foundation sat (Nars Sheer Glow)

Lovely facial oil

I am happy I tried this oil. It has a nice texture and sinks into the skin quite quickly. Smells lovely also!

So good

Great for under make-up as a dewy finish. Love it and will continue to purchase

Multi Purpose

I sometimes use this oil under my make up for a dewy look. I use it mostly in the evenings, smells so good. Can be used on cuticles and lips also!

Love this oil!

My favourite oil! Leaves skin beautifully hydrated and absorbs lovely into the skin

Absolutely love this product - perfect for thirsty skin!

I could not live without this product - I find my skin can be ultra dry sometimes and also sometimes oily and this product just seems to work with me.

It's perfect for my skin when it's dehydrated, providing much needed moisture. I pop this on my face and then use my Ultra Dry moisturiser every morning and evening. I have sensitive skin, and it doesn't irritate it at all. I also have acne-prone skin and it doesn't encourage breakouts, which is perfect.

Since using this product, I have noticed my skin is so much brighter and more radiant.

My New Face Oil

Ive been using oils on my skin for about 10years - and this is one of the best ive come across. Firstly, its light weight and doesn't give you that weighed down greasy feeling - beautiful fragrance and feels nourishing.
I use it twice a day, and have started to see the difference with my skin - definitely clearer and brighter.
I have very sensitive skin so was a little worried about the fragrance - but there are no issues, no flare-ups and no reaction. will keep this product as a staple and order more of it. I love it

Nice product

Have only just received this oil after having it recommended by therapist, but first impression is that it will be a good inclusion in my beauty products.

Nice bit didn't agree with my skin

This oil is a lovely texture, super moisturising and has a lovely smell. Unfortunately something didn't agree with my skin and caused redness so I passed it along to a friend. I really wish it had worked for me though

Nothing outstanding

Bought this to try can't say it's given me any outstanding results

Good all-rounder

I have dry and eczema prone skin, and purchased a line of skinstitut products. This was one of the better ones and I enjoyed using it. It feels very hydrating, and I always like putting oil on my dry skin. I can't say that I noticed any amazing effects from it, but I am sure long-term, it has benefits for skin. I prefer to mix and match my oils and vitamins in skincare from other brands now, but this is a good basic to start with!

Super Nourishing

I put this oil on my face each night before bed. It is a little heavy for my liking but I find it gets absorbed quickly and my face is not oily in the morning (and no break outs which is great!)

Ultra Nourishing!

I absolutely adore this oil! It is packed full of goodness and my skin quickly soaks it up. It instantly makes my skin look and feel silky smooth and ultra hydrated! It has a pleasant smell and is great to apply just before bed to wake up to a glowing face!

Good I prefer the mist

This product is good but I prefer the mist. By the time I add another oil on top of serums etc if feels a bit heavy on my face

Not for blemish prone skin

This is great for moisturising but it is very oily which makes me more prone to break outs. I love the smell of this one

good but not for everyone

if you don't like heavy oils on your skin, I might suggest you try the active mist instead but still a great product

So good!

This product makes me feel like I've just walked out of a professional facial. I have never used an oil before & was sceptical especially about using it during the day under my make up but it's fine! And my skin constantly feels soft & supple.

Love it

My skin feels and looks hydrated and silky after only 1 week of using this serum

A little heavy

This oil felt a little heavy on my skin especially as part of my routine. I prefer the mist

Decent Oil

Use this twice a day with my skinstitut moisturiser, i find it gives me that extra hydration but i find it can be very thick and oily if too much is used, takes a little to soak in as well, but my skin looks and feels so much softer throughout the day

Loooooooove loooooove

Wooooow!! Just amazing oil, super hydrated and leaves the face like baby skin. First timer user on this products

Good hydrator

I do like this oil but I much prefer the mist, this one can be quite heavy to use in conjunction with the other serums and such. Its a great hydrator though if you're feeling extra dry, and doesn't leave me oily.

Great for hydration

This was great for hydration under my serum and moisturizer but I personally prefer the multi-active mist.

Good product

I have used this product a few times since I bought it but I find it takes forever for it to absorb into my skin and it leave my face very oily for hours. But it does hydrate my skin really well. So I find I only put it on at night before I go to bed so I can wash my face the next day so my skin isn't oily all day

Best Oil I've Used

Love this oil, I have tried many and this one is light and absorbs into the skin. I put on day and night and only use one pump. Love!

Prefer the mist

Tried this for extra hydration before moisturizing but I prefer the mist.

Light weight

I use this under my moisturiser, it absorbs well and leaving no oil residue

Super moisturising

Love this product! The pump is great and gives you the right amount of product. Smells great. Super hydrating

Love love love this

Fantastic under my moisturiser at night. Giving my skin a lovely treatment without the hassle overnight.

Just use a litte

I'd recommend using just a little to start as I ended up wasting a lot because you only need a tiny bit. Have enjoyed using this so far.

Great for hydration!

Great product that I use at night for that extra hydration boost. Smells lovely and only a small amount covers my whole face.

Okay product

This oil delivers on hydration and the look and feel of smooth even skin. I used this after using other products in the Skinstitut brand which were too harsh for my skin type which is sensitive combination and this oil helped my skin hydration levels.

Love it!

Love this, not only does it make your skin feel great, it smells amazing too, a little goes a long way.

So good

I have combination skin that gets very dry and sensitive in the winter. This oil has completely saved my skin. It nourishes my skin and gets rid of all my dry patches leaving me with beautifully plump and glowing skin. I would definitely recommend this oil!

life saver

this has made my skin feel and look incredible. i have pretty dry skin so this has really helped balance it out! i mainly just use at night and when i wakeup in the morning my skin looks incredible and glowy even if i have a breakout!

Really good for dry skin

I suffer from patchy dry skin on my face and have found this product to really help balance it out

Great for night time hydration

I think this is one of Skinstitut's most underrated products!
I bought this on the hunt to complete my dry skin daily routine, and I'll never look back.
Although I have super dry skin, I tend to get an oil t-zone if I'm having a busy day so for me this product is best used at night, before my moisturiser.
It's extremely light and honestly doesn't feel as though you're wearing an oil.
Smells amazing, too!

Fabulous hydrating boost

Absolutely love this product. Fantastic hydration boost after the 14% scrub. Soothing and adds an inner glow once absorbed. I use in the mornings before moisturiser and am constantly being told my skin is amazing. First bought in May and have just reordered. A little goes a long way.

Favourite product from this brand

Love love love this oil,smells amazing and has a great feel on the skin,I have combination skin and it hydrates really well,I normally put it on before bed until my normal moisturiser,will recommend to everyone I know

Awesome serum

I have pigment, mature skin with perioral dermatitis so there aren't many products I can use to combat ageing that don't aggravate my chin but after a week so far I am loving the feeling of my skin and no dermatitis and the price is amazing

moisture

This product is really good. You only need a tiny amount. I put this on my neck aswell as my face and then I put moisturiser on top. I bought it based on good reviews and it's definitely worth it. Smells so nice too.

really nice oil

My skin is dehydrated and combo

This oil is really nice, you only need one pump for face and neck and it doesn't clog my pores.

Doesn't do enough for dehydrated skin

I'm 31 and have chronically dehydrated skin. I've used Skinstitut products for quite a while and gave this a go but it just isn't powerful enough for my needs. I use it twice daily with the Multi Active Mist and the ultra dry moisturiser and I still get dry, flaky skin around my mouth and nose. If you have normal or slightly dry skin this might work better for you, but I won't be purchasing it again.

Best Facial Oil Ever!

I recently purchased this oil and I'm so glad I did! Ever since beginning use of it, my skin is visibly more hydrated and glowing from within. I apply one pump each night after the Skinstitut moisturiser and when waking my skin is so smooth and soft! It is deeply nourshing and I know I am treating my skin to goodness with this oil! I will definitely re-purchase!

Love it

Makes my skin shine when wanting to just go out without make up . Hydrates well without looking oily . Will definitely repurchase . Tho it does come in a pump bottle so can not control amount dispensed which is a shame .

Miracle oil

I tried this multi-active oil after feeling like I needed a little more hydration than the multi-active mist provided as I have really dry and dehydrated skin and I couldn't believe how much my skin has changed! I have seen so many improvements that I didn't even realise this oil would provide. It's helped to control my breakouts and has improved the texture of my skin drastically. I've also noticed that it has made my skin tone more even. I use it with the moisture defence ultra dry and am so happy with how hydrated and soft my skin feels using this combination of moisturisers.

Great product!

My skin in sensitive, dry AND dehydrated also spot prone, I was using this to target my dryness and it's helped emnesnly without making me break out due to it being a heavy oil, pair it with moisture defense normal skin and you've got a winner for me!
My skin hasn't looked this gorgeous and glowy in a long time, only one pump at night and it seems to last around 3 months.
Have repurchased twice, might try just the active oil mist next as it comes into summer because I tend to become a little oily on my nose as the weather heats up and I believe a mist may be a little lighter.

Absolutely amazing!

I have been using this oil twice a day for about 2 weeks and I am seeing a dramatic improvement in the condition of my skin. I normally have very dehydrated skin and get flakey around my nose/forehead but this is completely gone since using this oil. My skin is hydrated and happy. Great to use both morning and night and doesnt leave your skin greasy if using before makeup.

Great balance

While this is an oil, it doesn't leave my skin oily at all. Better than any moisturiser I've tried.