Skinstitut Moisture Defence - Oily Skin 50ml
4 instalments of $12.25
Or 4 instalments of $12.25 with
LEARN MORE
4 instalments of $12.25
Or 4 instalments of $12.25 with
LEARN MORE
Official Stockist
Is this for you?
Skinstitut Moisture Defence Oily Skin is a low intensity clarifying moisturiser with vitamin B3. For combination and oily skin.
Frequently bought with
Please wait while we find a match
Questions & Answers
(2 Questions)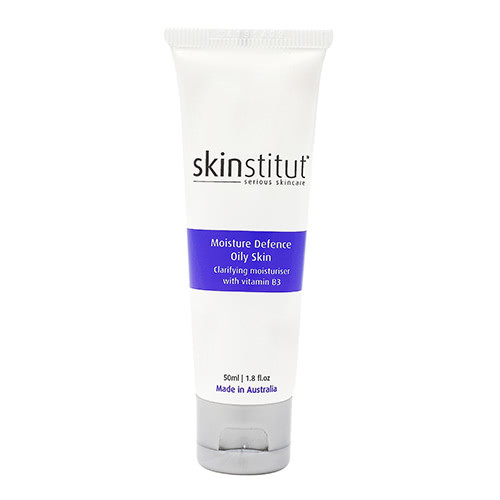 Skinstitut Moisture Defence - Oily Skin
Get an expert to answer your question about this product!
Skinstitut Moisture Defence - Oily Skin Reviews
80% recommend this product
Most Helpful Positive
Leaves skin feeling soft
Great for oily skin and has a matte finish.
Most Helpful Criticism
Not the best
I have oily skin and found this moisturiser definitely didn't help to control it, it actually made my skin more shiny and sticky. It also didn't seem to moisturise my skin all that well - it wasn't bad but didn't deliver any results, it seems like an average product that isn't worth the price unfortunately
Just not great

I'm really not a fan of the way this sits on my skin, it leaves me feeling sticky and extra oily so I definitely can't use it during the day. Wanted to love it but it's just, meh.

Oil & Shine

While I love most of Skinstut's other products, I do not love this moisturiser. I have combination skin and get an oily forehead. This moisturiser made my forehead feel much more oilier after applying it, leaving it very shiny.

Leaves skin feeling soft

Great for oily skin and has a matte finish.

I'm allergic to this!

I get both acne and eczema, so I like well made products. I really love their sunscreen, glycolic products, and retinol, but I react badly to this - my skin starts swelling within about an hour, I wish I could add a photo. I've tried it a few times to determine that it's definitely this moisturiser - it is! I can't work out what ingredient I'm reacting to.

Good summer moisturiser!

This was a lovely gel like moisturiser especially for hot summer days! Worked really well under makeup too.

Go-to mouisturiser

I have combination/oily skin and I am prone to breakouts as I work out a lot. I've found this moisturizer keeps my oil production in check without stripping my face of moisture and softness like other products do. It's light weight which I love and I really like the smell, so this is my go-to for sure! The only issue I have is how small the bottle is, it's a pain to keep re-ordering regularly

Cured my oily skin!

I used to wake up with oil on my pillow, i was so oily. I've been using this for months, and my oil production is totally in check! Very light weight, and soaks in lovely. No heavy feel, doesn't leave the skin sticky. Only need a pea size amount for the whole face.

Okay moisturiser

This is an average moisturiser which simply does the job of nourishing skin. It definitely doesn't feel like it should be for oily skin. It's heavier than an gel or water based feeling cream. The smell is also a bit fishy.

Lovely moisturiser

I really enjoy this moisturiser, it's light weight yet hydrating. I love that is has Niacinimide in it as it is one of my favourite skin care ingredients. I have combination skin and i find this has been lovely for it. The only reason i took off half a star is because it has a slightly tacky feel to it even once dry. I don't mind it at night but during the day i put a tiny bit of translucent powde...

Read More

Nice consistency

this moisturiser is a nice consistency, very lightweight, not a heavy cream at all and does absorb into the skin very fast

Not for me

I have oily/acne prone skin and I feel like this made my skin more sensitive.. it stung a bit around my dry areas on my nose/around my mouth. And the scent was quite icky/strong. Not for me

Good moisturiser for oily skin; nothing amazing though

I have quite oily skin, and try to manage it as best as I can through the cleansing and serum stages of my skin care. This moisturiser does the job of protecting my skin from TEWL, which is the point of a moisturiser, but it is quite sticky on the skin. It isn't anything amazing and phenomenal, but it does the typical job of a moisturiser so as long as you know its quite basic, it will work for yo...

Read More

Great for my oily skin

I like this moisturiser for my acne prone oily skin, easy to apply, doesnt leave skin feeling tight or greasy. When I put it on before bed I wake up with fresh skin.

Staple facial moisturiser

I ordered this during a huge hormonal breakout as I had read and been advised it would be great for my oily, cystic acne prone skin. It is good. It hydrates well but does not clog my pores. Wears very well under SPF and/or makeup and is great to use at night also as a final product. The one issue I have with this product is the smell. It is slightly fishy almost and therefore off-putting. I probab...

Read More

Amazing for oily skin

This moisturiser is amazing for oily skin and does not leave you feeling dry or stripped.

10/10 moisturiser

I have combination skin. This moisturiser has helped to control the oil and has hydrated my skin well. It feels so light and non greasy. I will be using this for years to come!

Best one I've used

I've been using this for maybe two years now after struggling to find a good moisturiser, perfect for combination skin, doesn't break me out or anything, very moisturising but doesn't feel too thick

lightweight, but doesn't control the shine

This moisturiser is lovely and lightweight, however on application it feels very tacky. It feels good under makeup and maybe as a general moisturiser. I will probably stick with a niacinamide based moisturiser/serum as that controls and mattifies oil well.

Undecided

I have very oily skin so have always been reluctant to use a moisturiser as they often leave my skin feeling worse. I started using this one a few weeks ago can't say I've noticed a huge difference, skin still feels kind of sticky after applying it. Going to persevere though and finish the bottle. Great thing is you don't need much to apply and it seems like it will last for a while.

Balancing

I have normal to oily skin (more oily in summer). My main skin concerns are breakouts (hormonal) and fading the red marks left from old spots. I use this at night only (in the day my sunscreen gives me enough moisture). It makes my skin feel like there is a protective barrier over it (which I like a nighttime). I find it has been very balancing to my skin (this is my second tube). Now only very oc...

Read More

Great buy!

I love that this hasn't clogged my pores, and it works well under makeup

Great product

I really like this moisturiser for my oily skin and have used it for years. The price I feel is a little exxy though, and I don't like the packaging much as it's so easy to push out too much product which makes it last even less.

For reference I am 31 years old and my skin is oily / combination

Best moisturiser I have used

I have combination/oily skin. This moisturiser is one of the best I've used!
It's light on my skin, soaks in well at the end of my skincare routine and sits well underneath makeup.
Will be buying again!!

THE BEST FOR US OILY GALS

This + their Glycolic cleanser has been the best combo for my skin. I have tried my whole teenage life for something that won't break out my very oily and sensitive skin. My skin is left supple, glowy (NOT oily) and fresh. Looks amazing under foundation too.

I was worried about investing in what I think is a pricey product but SO WORTH IT!! Will be buying more! Highly recommend - it ...

Read More

A little goes a long way

I received this as an Adore sample 2 - 3 weeks ago and it still hasn't run out!

I think it's quite moisturizing, easy to apply/spread, the smell is not amazing but I don't mind it as long as it works! I have quite oily skin and I think it's still kind of left my skin a bit shiny but I wasn't expecting it to perform miracles.



Pleasantly surprised

I received a sample of this in a recent order. I tried it, not expecting that I would love it as much as I did. I mix it with my SPF in the morning and again with my serums at night and it feels lovely on. Never sticky or heavy. The sample tube has lasted a long time, as only a little is required. I have ordered a full sized bottle and cant wait for it to arrive! AND it has my favourite ingredient...

Read More

Love this cream

I will never go without this cream in my Skinstitut skin care routine. I have very sensitive combination skin, it doesn't cause me any irritation, lovely scent and the cream is a good consistency and applies nicely, I will continue to use daily..

YES

A recent purchase for me, but my first impressions have been positive. Doesn't make me feel oily or break me out. I like that it has niacinimide included in the ingredient list.

Helpful

Product helped my shine and in conjunction with other skinstitut products, my skin glows!

Soothing on the skin

I received this product as a sample in my last order. At first I didn't really like the product due to the smell as it smelt a little off putting and quite strong compared to most moisturisers I have used but it is such a light and soothing cream to apply every morning and night in your routine

Perfect for oily skin

A moisturiser that doesn't make me shinny but still moisturises well! Smells great also!

lovely product

received this as a sample and i really enjoyed this moisturiser !! found purchase again but seems a little pricey for a 50ml

Good

Honestly for the price I wasn't that impressed there are far better products that work better and are cheaper that I've found. However I still think it did a good job of moisturising my skin and even though the bottle was small a little went a long way. I found it lasted over 6 months of me using it daily and it wasn't heavy at all but I did find my T zone still seemed to get a bit oily.


Great everyday moisturiser

This moisturiser is fantastic for everyday use. It leaves my skin feeling soft and hydrated without feeling heavy. I was a bit concerned by how small the tube is as I thought I'd go through it quickly, but a small amount goes a long way.
The only minor downfall is I do find I feel a bit oily in my t zone at times, but this may be me using too much?

yesssss

Only need a pea size drop to cover your entire face which is great. These moisturiser is LOVELY. It's light and hydrating, which is so nice. it just melts into the skin and my skin looks SO good. Has really helped smooth my skin and reduce redness and pores.

Not the best

I have oily skin and found this moisturiser definitely didn't help to control it, it actually made my skin more shiny and sticky. It also didn't seem to moisturise my skin all that well - it wasn't bad but didn't deliver any results, it seems like an average product that isn't worth the price unfortunately

good moisturiser for oily skin

This is a good moisturizer for oily skin. Throughout the day, I am less worried about oiliness or shine. Although the product is quite small in comparison to the cleanser and scrub, I do notice it lasts a long time as you only need a small amount. However, for the price, I may lean towards chemist oil-free moisturisers for better value.

Gamer Changer For Me

I can't even begin to tell you how much this product has saved my face! Having oily skin I have always tried to avoid moisturisers thinking they were making it worse (false). I wouldn't even consider trying another moisturiser because this one has it all. It goes on great, dries quickly and can be worn under make up. When I forget to put it on or run out I notice that my skin breaks out and my por...

Read More

For oily skin? Really?

I know this has been a life saver for a lot of fellow oily skinned people but this wasn't very good on me. It actually left me with an unpleasant, greasy shine after applying, worse than any other moisturiser I've tried. Also doesn't spread over the skin very nicely.

Amazing BUT give me more...

I don't have overly oil skin but blemish prone so felt this was the best fit.
Really in love with this moisturiser, i started using it with the gentle cleanser in the range, its really helped calm down my blemish prone skin. I feel the moisturiser calms redness and smooths out texture while providing the perfect hydration levels though-out the day.
Doesn't have an overpowering smell, ...

Read More

Amazing product

I have oily skin and only gets worse through the day. I bought this product and I fell in love with it. On days I work I wear makeup, using this underneath, my face oil stayed quite limited. The only thing that disappointed me was the size of the product, I ended up using this up just over a month but when I repurchase I could probably try and reach two months as I only needed the smallest amount ...

Read More

Nice soothing mattifying moisturiser

I really enjoyed this moisturiser, it feels great on the skin and I would wake up in the morning after using with fresh hydrated skin. The only gripe I have is that the bottle seems really tiny, wish it came in a bigger size so I didn't have to buy as often.

Not the best moisturizer

I've been using this moisturizer for 5 weeks, day and night. However, it's not very hydrating, yes it did somehow control the oilyness of my skin. But throughout the day my skin feels dry and not hydrated at all. I feel like it's a little too strong too because as far as I know moisturizers should be hydrating and light on your skin but not this one.

Not the best

I bought this in how that it would help my oily T-zone, sadly it didn't help much. I found that it let my son oily & would even cause me to break out on my forehead. The angel isn't that pleasant either.

Not the best

I love Skinstitut products and use most of the range. I purchased this recently and don't love it. After using it for a couple of days, my skin has broken out pretty badly - this is the only new product I have implemented into my routine. I will keep trying to use this product, however at this stage I will not be repurchasing this product.

Only moisturiser I'll use.

I have very oily skin and would hate the feeling of moisturiser sitting on my skin till I found this product it sinks in and helps me not product so much oil!

Broke me out

I use a lot of Skinstitut products and usually use the Moisture Defence for Normal Skin, I found that as the weather was warming up it was getting a bit too heavy for my skin. I decided to try the Oily skin formula and it broke me out big time. After about a week of using it I developed painful spots and whiteheads on my chin and whiteheads on my cheeks. Not sure why! Something in this formula mus...

Read More

Great but not worth the price point

I used this product for a while but once it ran out I did not repurchase - it just wasn't worth the price point. I know it says to only use a pea size amount but that's just not enough, I need to cover my whole face lol.
It worked okay, but I've since tried better, less expensive products

For reference my skincare is oily combination skin and I am 30 years old

AMAZING

I've been using skinstitut products for about 6 months now and this moisturiser is the best I've ever used. It doesn't make my skin oily but it also feels super hydrating

My life saver

I love this moisturiser, I have combination oily skin and have found that this keeps me hydrated all day without making me oily in my t-zone etc. I use to have acne prone skin but very rarely have issues with that anymore. Best moisturiser I have ever used!!

Multiple repurchases!

I am in love with this moisturiser. Over the years I have struggled to find one I love for my combo/oily, acne prone skin. This has been perfect for me, I use it both morning and night religiously and have repurchased it many times now! It is very lightweight but also thoroughly hydrates and moisturises, doesn't clog my skin, and is soothing and pleasant to put on even when I have inflamed, sore p...

Read More

Not the best for very oily skin

I found this to be a good moisturiser except on hot days when my skin is extra oily, I found it made my skin worse. I will use this product at night now it is getting warmer and my skin is getting more oily.
Wouldn't buy again for my skin type.

Staple Product

I have normal to oily skin and so my moisturisers fluctuate but this moisturiser is my absolute go to! It is not greasy and does not leave any residue, it goes on effortlessly and melts into your skin and does not go tacky once applied! I use this after I put on my SPF and then once I've used the moisturiser I do my makeup. Ever since using this, I found my makeup sits better and last longer and i...

Read More

Great for summer skin

Nice in summer when you don't need too much and it's warm outside!

Very light on the skin

Amazing product, moisturises without it being left oily

Good value

Lightweight + Hydrating

Really light but hydrating. Works for my oily skin but feels like I'm still getting plenty of moisture. I like that this also includes niacinamide and squalane.

Finally found my HG moisturiser

I have oily, acne prone/breakout skin, I've been on the hunt for a moisturiser that doesn't clog my pores and cause breakouts for a long time. Love the consistency, only require a small amount of product, it feels light but moisturising. Only wish it came in a larger tube.

4/5

I've bought this 3 times. I really like it. It's lightweight, not super greasy, doesn't add more oil to my oily skin but doesn't reduce my oil either, doesn't break me out. Goes great under make up, I use it morning and night. I do feel like I go through this fairly quickly maybe because I use it morning and night. Would be great if they made the product larger!

Great for my oily skin

Second time i have bought this product, love it. Not too heavy, doesnt leave my skin feeling greasy. Perfect for morning or night.

Skin still oily

Left my skin still oily. Light weight but didn't work for me

Doesn't minimise oil

I've used this product for a few weeks now maybe when a month? I have an oily T- zone and I don't find that this product helps with that. I still found that my T-zone was still oily during the day. Although I still find it does moisturise my skin overall just doesn't help with 'oily skin' as advertised.

Leaves skin soft

I have very oily skin and although I do like this moisturiser, I don't think it really helps with oil control. You only need a small bit to cover the entire face so the tube will last a long time.

Perfect for oily skin

My skin has always been oily and applying a layer of heavy moisturiser always made me feel yuk but this moisturiser is perfect does the job without feeling heavy.

Awesome

did exactly what it claim helped reduce the amount of oil i had on my skin and reduced the amount of acne i have

Good

This has helped my dehydrated acne prone skin without irritating it. My sunscreen and foundation also applies nicely over it

Light wearing

I have been using this product for over 5 years. It feels so light and non-greasy. You only need a small amount to make this product cover your entire face. Love all my Skinstitut products!

Works wonders!

I have oily skin and the idea of moisturizing my face terrified me. This moisturizer feels light on my face and has helped clear up my adult acne. It smells wonderful and my face feels super soft

Great moisturiser

Great moisturiser that absorbs quickly and leaves no residue. I have oily skin and this is perfect

Im 50/50

I do like this moisturiser, especially the cooling feeling after applying. It also feels hydrating and has not caused me to break out. The only downside would be that I only use it as a nighttime moisturiser, not in the morning under sunscreen/makeup - I prefer something more lightweight.

Love it

I have very oily skin and started using this around two weeks ago and straight away have noticed a difference in my skin! I have less breakouts and my skin isn't producing so much oil as it did before. Love this product!

Average moisturiser

I love skinstitut products but this one just doesnt do it for me. My skin is quite oily and this moisturiser doesn't seem to do anything special for it. In saying that I am yet to find any moisturiser to control my oil so it may just be my skin type, and so i continue to buy this product due to lack of another alternative

Ideal for Oily/Combo Skin!

I have textbook combination skin, oily T-zone prone to dryness around the eyes and mouth so I really struggle to find a moisturiser that combats my dry patches, but doesn't react with my oily areas. Enter this moisturiser! It has such a lovely texture and lightweight feel, absorbing really quickly into my skin and I've noticed my skin feels hydrated throughout the day, as well as when I wake up in...

Read More

So hydrating

Very Hydrating and great for my oily acne prone skin.

Good moisturiser but a little heavy feeling for oily skin

Wasnt expecting a creamy texture that feels almost oily for use on oily skin, usually it's more of a gel or a lotion but it's still a nice moisturiser. I like the scent as well.

Hydrates & moisturises perfectly

I've been using this product for a year now & I love it. I tend to get a bit dry during winter, but it protects and hydrates my face perfectly. Feels great when you put it on.

Not the best at oil control...

I love all skinstitut products and have been using them for a number of years now. I have combi/oily skin. I find this product helped slightly but doesn't give full oil control, I recently tried another product as a sample I received with my Order, and found it more suited.

Love skinstitut

Have used this brand for years it's amazing. Happy that I got it at a great price

Smooth skin

This moisturiser leaves my skin very hydrated and smooth, offers a nice barrier before applying sunscreen and primer.

Perfect for dehydrated skin

I have oily skin and couldn't work out why my skin was always flaky. I've tried a lot of different moisturisers that would either make me breakout or not fix my flaky skin. Then I found this one and I haven't looked back. It's lightweight but nourishing and at an unbeatable price point. Love it!

love for my nightly mositure

i use this after i cleanse each night.. leaves my face feeling fresh and clean

So awesome

I've been using this for well over a year now. It really does leave my skin nice and soft and smooth.
You only need a small pea sized amount to pat it onto your face and neck, so though the tube is smallish, it does last.
It's wonderful for oily skin. I don't think I'd use anything else.

Unsure

Unsure on whether I like this product or not. Personally, it hasn't made a significant difference with my skin. Makes my face looks greasier but definitely does moisturise. Not really worth the price though.

One of my staple products

I've been using this moisturizer for years. Safe to say it is a fav of mine. It's lightweight, perfect under makeup, great for oily skin. I just love it would 100% recommend.

Great, effective product for clogged/dry skin

Switched to the Skinstitut line after searching for an ethical/cruelty free skincare brand. A gel like moisturiser that really targets my dry skin while dealing with the rest of my oil/acne prone skin was different but within a night I could see the difference - supple skin and reduced redness.

While the tube is scarishly small, the effectiveness is fantastic. The only other slight d...

Read More

Great for oily skin

I usually use the Skinstitut Moisturizer for normal skin however I was having an oily moment for a few weeks so switched over to this product. It has worked wonders for my skin, it moisturizes without being heavy & doesn't leave a residue on my skin. It has a nice matte finish to it & sits great under my makeup.

Love it!

I love this as it doesn't make my skin feel heavy and I don't get shiny as quickly. However the tube is very small so am having to re-purchase quickly.

Most favourite Moisturiser

I wear this day and night. Love this nice light feeling on my oily skin. Been using this for over 4 years now.

Great product

I have combination skin and this moisturiser is the perfect balance.

Great moisturiser

Bought this for my daughter who has combination skin and she is very happy with the product.

Love this product!

Lately I've had combination skin, really dry around the hairline but oily everywhere else. This product has been fantastic as its hydrating my skin, especially around the hairline, but keeping my skin oil free. My skin feels fantastic. I love this product! My only issue is the size of the tube. I feel like I'm going through it quite fast, so it would be great if it came in a larger size.

Good but the smell is pretty off putting

I have been enjoying this moisturiser, I am very oily and havnt noticed a dramatic change in that area. But I have been liking this moisturiser in general. The one thing that I can't stand is the smell, it's almost like a fishy smell when you apply it? If you are really sensitive smells I wouldn't recommend.

Pretty good

Perfect for when my skin was very oily and acne prone. Never left my skin feeling greasy and definitely controlled the oil production on my t zone.

Perfect under sunscreen

I usually have an oily T zone however i can happily use this product under my sun screen and BB cream with no issues!

Nothing amazing - just another moisturiser

I have oily/combination skin which can be dehydrated at times, This moisturiser applies smooth on the skin and is quickly absorbed. As my skin is dehydrated from water, but is oily, I felt there wasn't enough moisture for me. Would prefer if it had spf in it. Only a very small tube so was used quickly.

Best Moisteriser for Oily Skin

I love this moisteriser and I have such oily skin. I have been using this product for 5 years now and would highly recommend it to anyone with the same skin type.

Does the job!

This is one of the better moisturisers for oily skin I have tried. It goes on easy and smooth and doesn't feel greasy. My skin is super oily especially in the T-Zone and this does help a little with the shine. Overall it's a great product.

Good product

I haven't had any issues with this moisturiser. My only issue would probably be that its quite a small tube!
You only need a small amount and I mix it day and night with the vitamin c powder. Makes my skin feel and look great after applying it. Also use the SPF underneath but I wait around ten minutes or so before applying to allow the SPF to soak in.
Has definitely helped with my ac...

Read More

Made my skin breakout

This product didn't work for my skin. It made me breakout but I can be prone to breakouts

Good stuff

Good everyday moisturizer, leaves my skin a little dry though, but I have combination skin. I've since switched to the original - normal skin and I find it much better.