Skinstitut Eye Believe 30ml
Is this for you?
Minimise the appearance of fine lines, puffiness and dark circles around the fragile eye area with Eye Believe from Skinstitut.
Frequently bought with
Please wait while we find a match
Questions & Answers
(3 Questions)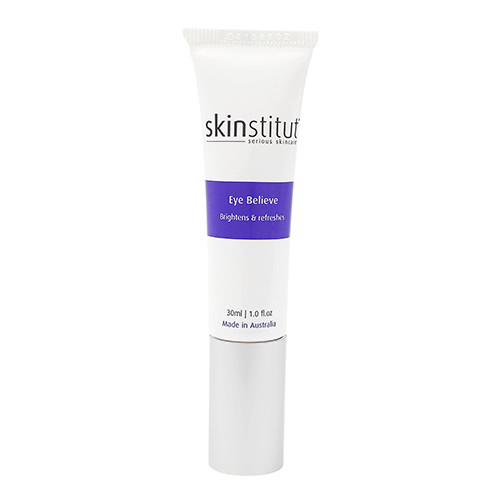 Skinstitut Eye Believe
Get an expert to answer your question about this product!
70% recommend this product
Most Helpful Positive
An Essential
A great value eye cream that really works
Most Helpful Criticism
Doesn't do much
I haven't really noticed any effects with this and it sort of burns my under eye a little bit. I'll keep using it because I don't want to waste the product, but won't be re-purchasing.
Good inexpensive eye cream

This is a good inexpensive eye cream, its a great place to start if you are wanting a cheaper option.

An Essential

A great value eye cream that really works

Goodbye mum eyes

I really needed this on my face! I look 100x more alive when I use this. I also use on my top lip area, tastes pretty bad so be careful

Not For Me

I bought this because I adore all my other Skinstitut products and I thought I would be on to another winner. Unfortunately, I don't love this. I like my previous eye cream better and will go back to that once I use this tube. This stings my eyes and skin and don't see any more improvements from my pervious serum that doesn't sting. This does leave my skin feeling firm but don't think it's worth i...

Read More

My eyes adore you

I have found my new favourite!
This is a product no one should be without. It smooths and nourishes the delicate area around your eye and keeps the signs of ageing at bay. It's smooth and delicate and easy to apply. It leaves your skin feeling light and doesn't clog, or feel heavy like so many other eye creams I have tried.

Great Product

I'm a big fan of all the Skinstitute range however this would have to be my favourite of all their products. This eye cream is great for smoothing fine lines in and around the eye and works particularly well as a base under foundation.

Just not for me

I really wanted to love this like I love my other Skinstitut products but it just didn't happen. I found this too runny and hard to control how much product I was getting. It also was a little bit stingy. In terms of results, I really don't know as I stopped using it because of the texture.

good eye cream

gives an amazing cooling and firming effect to the eye area. avoid using too much as it does pill up, a rice sized amount should be perfect

Great eye cream and value for money

I really liked this eye cream. I enjoy the gel like texture, and it has lasted me a long time. It really helps to smooth out the fine lines around my eyes, and hydrates, plumps and tightens (in a good way not a detrimental way). When using, only a tiny amount is needed, as it can ball up around the eye area. Great for the price.

Firming

I use this product at night feels cooling and firming around the eye area a little goes a long way.

Value for $

You really dont need to use a lot of product for this, so i think its good value for money. I use it every night before bed and I have noticed a change after about 2 months, my undereyes seem slightly brighter and the texture has definitely improved. Nothing dramatic though.

Hydration

This product help to hydrate my under eyes. Love it.

No noticeable long term results

I have used this product for a year now and have noticed no noticeable results. When the product is on it certainly tightens under the eye however as soon as it washes off the tightening feeling is gone. I have not noticed any difference in the dark circles under my eyes. Wouldn't recommend.

Secret weapon

Keeps the under eyes hydrated an d nourished. Makes them feel firm but not too tight. With everyday use a difference can be seen

Doesn't do much

I haven't really noticed any effects with this and it sort of burns my under eye a little bit. I'll keep using it because I don't want to waste the product, but won't be re-purchasing.

Enjoyed this product

I enjoyed this product. I've been using this cream under my eyes at night time and I do feel a tightening sensation after about 5 minutes. I also feel a slight warming sensation, but no irritation to my eyes.

Happy

This product is so gentle on the eye area. I am loving it already and have only been using is for about a week. I love the entire Skinstitut skincare range

Great results

I love this product, but as with the other reviews you have to be careful not to use too much or it goes flaky under make up. Says to use a pin size amount but with the tube it's hard to only get a small amount out. Other than that, it's been great for hiding puffy eyes!

Annoying Applicator and Weird Texture When Dry

I do feel like this eye cream is nourishing to my eye area but I haven't noticed any WOW results
It's very tacky on application, but dries down pretty quickly and I feel definite tightening of the skin where I've applied it. I've also found that once dry, the product balls up on the skin (a disaster under makeup, which means I can only use this at night).
The packaging instructs to use...

Read More

A no from me

I unfortunately hated this product which suprised me because I love everything I've tried from skinstitue but I hated this.
Firstly it's sticky and secondly you can't use this during the day under makeup I tried and it dried and ruined my makeup I was scratching it off all day it was like glue it looked horrible.
I then tried this as a night cream but i didnt notice any results and it ...

Read More

ok for night use

first week of using it there was a slight tingle to area and has now subsided but also leaves a flaky residue after drying, I use the recommended dose on packaging, its ok but I wouldn't recommend for the flaky residue

Didn't work out for me

Didn't do a lot. Nice and light but I don't think it helped with wrinkles or dark circles.

Tightening

I find it quite difficult to get the right amount of product out of the tube. It's important to only use a small amount as I've noticed it can ball up or sit strangely under makeup if too much is applied. It does however do a very nice job of tightening under the eyes and there is a lot of product in the tube.

Light

This product is very runny so be careful when applying. I prefer the eye and neck firming cream. However, this product makes your skin feel tight after application.

Not bad

I prefer the other skinstitut eye cream! This isn't too bad but isn't great.

Works well to reduce puffiness

I've got quite dry skin and fine lines under my eyes and have definitely noticed a huge improvement in puffiness under my eyes with this product and some reduction in fine lines but it's perhaps not as hydrating as I need for my skin.

Good but not for me

I had high expectations for the price point but sadly this eye cream isn't for me, it made my already oily skin feel even greasier. This may work better for someone with drier skin than my own, possibly even combination skin, but it unfortunately isn't suited to me.

OK Eye cream but not suitable for my skin

This product unfortunately was not suitable for my skin, it left a burning sensation that went on for almost an hour and I had to remove with cold water. I was really hopeful that it was going to be a winner to combat dark circles and dry skin under my eyes.

LOVE

So gentle on the eye area

Great eye cream

I really like this eye cream, i have tried so much and this is one of my favs!
Very moisturizing and helps with bags and lines. Make up goes on smooth as well.
It also last for ages and its such a great price.
Love Skinstitut products!

Easy to apply

This is a nice serum like eye cream. It has assisted with my puffiness and redness and is a very nice serum to apply. You don't need much and the product will last for a long time. I would re buy

Great for dark circles under eyes.

I have been using the Eye believe product for a little over a week now & I can most definitely notice the difference around my eye. I wish that I took a before & after picture of how bad my dark circles looked compared to now after use. My eyes don't look so tired & the little lines under my eyes have become smaller. Waking up each morning now without the puffiness is great. So far I haven't had a...

Read More

I like the other skinstitut eye cream more

The ultra firming eye and neck cream is my favourite but this is okay. If you prefer lighter eye creams this is definitely alot lighter than the other one! Good eye cream overall.

Good not great

Can be quite sticky and definitely not good under makeup. I am just using as a night time eye cream and will see how it goes. Only been a week or so. Will see if it helps. Really want to find a good eye cream for late 30's that isn't too expensive.. ☺

You've done it again!

Another amazing product from this range, this eye cream is my holy grail. Used at night as it's to thick for day time. I wake up without any eye bags thanks to this wonderful product very hydrating and a great purchase

A MUST-HAVE FOR TIRED EYES

I've been using this for 6 weeks now and my under-eye area is noticeably tighter [hence less puffiness]. My only gripe would be the giant opening in the lid as I'm wasting product. Aside from that, would highly recommend for the reduction of eye bags.

Over 40's will love this

I am a Skinstitut fan! This is a product that is new to my daily routine. Love this one! Not oily on your skin and makes your eyes feel firm. Can't wait for the upcoming results it entails.

Reasonably priced eye cream that works well

Pleasantly surprised with this product, it actually worked to reduce my dark under eye circles over time. Light texture that is easy to apply and doesn't feel tacky after. There is a slight tingly sensation when applying but that just means its working :)

Good for night time, not for the day

Really thick and perfect for the night but doesnt sit well under makeup during the day

Good for sensitive skin but still on the hunt for an eye cream

I have eczema, very dry, sensitive skin so my skin usually reacts to to eye creams with a stinging sensation. I was happy that it was lightweight, hydrating and only a touch of tingling sensation although I've been using it for awhile and haven't seen any visible results so I think I'll keep on trying more products.

Nice product but not noticing an improvement

I've been using this product every night for at least 10 months but not sure i'm seeing a difference to under-eye bags or general 'brightness'. A little bit goes a long way with this and the product feels nice on the skin. I'm coming to the end of the tube but don't think I'll re-order.

Hydrating

This has definitely improved the hydration and smoothed fine lines under my eyes but has not improved my dark circles at all which was my main hope.
Only need a very small amount so the tube lasts and lasts.

Great product

I use this product morning and night on a cleansed face and it leaves my eye area feeling hydrated with a healthy dewy glow. One thing to be mindful of is to not put too much on and to apply quickly as the product can pill/ball up and leave a gummy residue. I apply while the face is still damp from cleansing to lock the moisture in, I warm the product up in my fingers and then swipe on a thin late...

Read More

Great product

This serum is quite sticky so best to work with it right away and do one eye at a time. A little goes a LONG way. My only frustrating is the packaging, it's advised to use a pin heads worth for each eye, it would have been better to have the product in a pump bottle instead.

Good product

This is yet another good product from skinstitut range

Pretty good

Effective, sticky consistency if too much applied, lasts forever. I do find that, with regular use, I, at times, get a rash from it. I'll use it up, but doubt I'll buy it again. i prefer Sukin's eye serum.

Really works!

I've been using Eye Believe for a couple of months now and I am loving it! I use it at night before bed and I've noticed that I am much brighter and less puffy under my eyes. I will definitely repurchase when it eventually runs out.

Good but not totally sold

Good eye cream, hasnt broke my skin out or given milia however has a sticky consistency and wouldnt recommend wearing under makeup. Havent noticed much change with my under eye yet.
Unsure if i will re-purchase

The best eye cream out there!

I've been using this around a year now and have a noticeable different in the appearance of the skin around my eyes. I began using this product under recommendation, and it has done wonders in keeping the skin around my eyes smooth and supple. Highly recommend!

very nourishing, a tiny amount goes a long way

The instructions for this eye cream say ONLY use a pin head amount, and they are not joking!!! This cream spreads further than anything I have ever used. One pin head amount is enough for your fingers to pat it in all around the eye area. If you use more than a pin amount, you will have enough to do your whole neck as well.
So value for money in terms of product size, is really good.
T...

Read More

I've found the one!

Okie, I've only been using Eye Believe for 2 days now but I've used so many different under eye creams & serums, ranging from Elizebeth Arden to Sukin! I know when it's going to be good from first use. Eye Believe is honestly going to become a permanent addition to my skincare regime. I have light olive skin and suffer from deep set under eye bags. And they're always darker than I'd like them to b...

Read More

Nice product

I don't have many wrinkles, using this as a preventative. Glides on nicely and feels nice on the skin, I love all the skinstitut products and this one is the same. Works a treat and leaves your eyes feeling well moisteried, less puffy.

Improves under eyes

This eye cream is great. It improves the appearance of my under eye area. It brightens the underneath of my eyes. Works really well overnight.

Nice and Light

This is a lovely eye cream. I use it every night. It's not heavy and it makes my eyes look fresher.

Great texture and consistency

A smooth gel substance that you apply around the eye area. I use it every night before bed and it feels great! I love the consistency as it makes it easier to apply and spread!

Hydrating

This is great for hydration under your eyes. My under eye area gets dry very quickly after using make up but this product before bed helps with that

Nice eye cream

I use this every day. It's nice and light and has improved my tired eyes a lot to make them more brighter.

The only eye cream that works for me!

This is the first eye cream that has actually worked for me. I have dark circles and puffy eyes, I can instantly notice the reduced lines from puffiness within a few seconds of applying. I use this day and night after cleansing and before moisturising, my dark circles have also lightened

Wakes up my under eyes

This product helps my eyes less look tired. It plumps the skin, minimized lines and make my dark circles less visible

great hydrator

I've just recently added this product to my daily routine and it's amazing! I use a setting powder during the day that is quite drying and find that my skin plumps up as soon as I apply this at night. Next morning my under-eye area is plump with less visible lines. Try it!

Great eye cream

Great eye cream, improves dark circles, hydrates and makes my eyes look more awake.

Works well

Its a good eye creme, price is reasonable as a little product goes a long way. Sits well under makeup, I haven't noticed any dramatic improvements however.

Improves undereye appearance

Improved my under eye appearance, the discoloration, hydrates the area and makes fine lines less obvious.

Great Eye cream

I would recommend this product to anyone wishing to reduce the darkness of their under eye circles and to decrease puffiness. I notice a big difference when I do and don't use this eye cream.

Decent

Lightweight eye cream with a tightening effect. Slight improved appearance but nothing major.

Early days

So I've only tried a sample twice, very early days but feels nice on.

Weird texture

I picked this one up as I LOVE skinstitut products and thought it was probably time I began to introduce some eye creams. This formula was thick and it wasnt able to soak into my eye area. In the morning when I would was my face I could still feel it their and could rub it off. There was no noticeable difference of the appearance around my eye area.

Nice lightweight day eye cream

Very lightweight eye cream that I prefer to use in the daytime. Didn't notice a huge difference. Better use in for Summer months.

Nice

Nice to use, lightweight, haven't noticed much difference though will continue to use,

Amazing!

I have combination skin with fairly bad dark circles. I started using this after my facial clinic recommended it to me. This has worked so well so far. I have noticed a huge difference in the darkness of my under eyes, with the darkness getting lighter the more i use it. I would definitely recommend this eye cream!

Good but only use a small amount

Noticed tighter skin when using this product but don't use too much otherwise it will cause visibly uneven skin under make up

Perfect for dark circles!

This product is great for dark circles under eyes. I have always struggled with this problem and there's definitely a noticeable difference when I use this product. I started to wear this product without makeup over the top and it helped brighten my under eyes to a point wear I feel comfortable wearing no concealer or foundation over the top.

Instantly feel tighter undereyes

You can instantly feel like your undereyes are tightening with this
Definitely notice a difference since I started using it but the tube does make it hard to get only what you need out

Perfect to help with fine lines

This product makes a noticeable difference when using for a period of time. Only a small amount is needed, if excess is used you can see it under make up

Highly Recommend

This product worked very well for me. I have been using it for about two weeks now and can notice a big difference, my eyes are less sunken underneath and more plump.

Bit too strong

I love all Skinstitut products however this eye cream really dried out the skin under my eyes and it peeled. Not sure if it's meant to do that but I stopped using it because of this. I have combination skin

So so

Average eye cream and didn't make any impact in my under eye hydration, fine lines or dark circles

Good eye cream

I have tried several eye creams and serums as i have extreme puffiness and "panda eyes" Since using this i have noticed a considerable difference. Will continue using it and would recommend.

Not too sure

I think the texture is too sticky, it leaves a kind of "residue" on the skin. And I can't really see any difference... Maybe I should include it in a night routine.

Eye Believe Now!

This is the holy grail of eye creams! Thick but not too thick, it skins nicely into the eye area without leaving a film like some other products do. It doubles as a great eye under eye primer, concealer and foundation look flawless with the use use of this product. I can't say that it's reduced any eye wrinkles (I don't have any) but I do like how it feels on my skin.

Eye Believe

This is an effective eye gel at night. I pat a little in around my eyes. I do have sensitive eyes and inherited dark circles and 'I believe' that the eye gel soothes my eyes.

It's not too bad

I'm in my 60's and had dehydrated skin. I bought this by mistake as I usually use their eye & neck cream. It's not bad- I only need a tiny bit & just use it at night as it's a bit heavies. Doesn't irritate the eyes at all & seems to rub in OK. My eyes are improving a lot with skinstitute products.

Thick texture but soft on eye

This cream is light, but sticky. I only apply at night as it is impossible to apply make up over it, it has a texture like sunscreen. I find that it helps brighten eyes however it doesn't help with fine lines. I don't think I would buy it again, I might try something else next time.

Disappointed

I tried this product as have puffy eyes for bad sleeping patterns with three small children I didn't see much of a difference to be honest

very strong

I used this a couple of times but is a little too strong for my skin, ended up chucking it out. i have sensitive skin so it may work well for other skin types.


Doesn't work

I suffer from puffy, dark eyes mainly from poor sleep patterns. Since I love most of the other Skinstitut products I tried their eye cream as well.
It didn't work for me. Did nothing for my eyes and it leaves a weird residue upon use where it becomes like a rubbery stick ball if you accidentally rub your eyes.
I've switched over to dermalogica now and prefer their eye products. I would...

Read More

Fine if you don't wear makeup

This product feels nice when applied but after awhile starts to peel and leaves a residue. I much prefer the Skinstitut ultra firming eye and neck cream.

Works but rubs off in balls/piles

It's a gel texture, I feel that the ultra firming eye and neck cream is a better option that basically does the same thing but without the weird rubbing off in piles/balls thing.

Love it

I switch between the two different eye creams in the range and my eyes are so much brighter, less puffy and have little to no dark circles. Absolutely love this

It is worth a go...

It seems to be working but you only should use a tiny bit as it leaves a residue on the skin if you use too much. Also the packaging isn't ideal, as every time I try to squeeze a tiny bit out, more seems to shoot out when I close the lid.

Excellent

I need look no further!! I have finally found an eye cream that really works. I have been looking for a long time for a cream that shows results and upon first application of this eye cream, I felt my lines under my eyes tightening up. I can reapply in the evening if I'm going out (over the top of my makeup) I will put a light dusting of translucent loose powder over the top if I apply it at ni...

Read More

Disappointed :(

I have dry ageing skin. I use a lot of Skinstitut products (as do my adult son and daughter) and really love them so I bought this cream to smooth, hydrate and firm my eye area. The first few times I used it, I did not apply makeup following application. I had simply cleansed and moisturised as I was staying home. After applying it, it had a tacky or kind of grippy finish that my clean and dry fin...

Read More

Fantastic product

I have been using the Skinstitut Eye Believe for a month now and wasn't expecting much from it straight away. But I was pleasantly surprised when my fine lines started disappearing and the dark circles under my eyes started to brighten up. I also use it on my husband's eyes and he can notice a difference too. I will definitely be buying this all the time!

Fantastic Product

I love this eye cream! I have been using it mornings and evenings and have started to see results in a few weeks. Very happy.

love it

What's not to love about a product that is easy to use and gives noticeable results? The packaging is simple and the "pump" can be easily manipulated for "lots or little". I'm 51 and have spent most of my life working on farm. Those fine, creepy lines are worn away by this product.

Not keen on product

Smells so strong like chemicals. leaves a noticable shine and peels off when you apply any other face moisturiser near it...would only use at night before bed

great products

Skinstitut Eye Believe Eye Serum

I have a shopful of eyecreams that I can't use at night. This is one of those rare products that leaves upper and under eyes feeling deeply moisturised (but fully absorbed so no greasy after-feel), doesn't irritate after continual daily use, doesn't sting and Best Of All - doesn't leave under eye puffiness or bags the next morning. Most eye creams and serums - those that are highly effective - oft...

Read More