SkinCeuticals Phyto Corrective Gel - 30ml 30ml
4 instalments of $25.00
Or 4 instalments of $25.00 with
LEARN MORE
4 instalments of $25.00
Or 4 instalments of $25.00 with
LEARN MORE
Official Stockist
Is this for you?
A lightweight gel that will minimise congestion, hydrate, brighten and soothe all skin types.
Frequently bought with
Please wait while we find a match
Questions & Answers
(1 Question)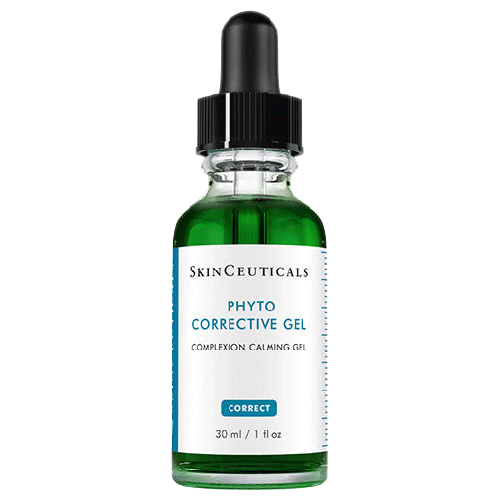 SkinCeuticals Phyto Corrective Gel - 30ml
Get an expert to answer your question about this product!
SkinCeuticals Phyto Corrective Gel - 30ml Reviews
88% recommend this product
Most Helpful Positive
Calming
I received a sample as GWP. This corrective gel is hydrating and works very well at calming facial redness.
Most Helpful Criticism
Not sure
I was recommended by a friend to try this serum for my hormonal acne and after using for 1 month - have not noticed any changes to my skin condition. Is still red from the acne flareups and has not improved.
Not a fan

I received this product as a sample size where I got about 2 weeks use out of it, which I believes gives me enough time to decide whether or not I like it. Sadly I have decided I personally do not like this particular product. It is a very light consistency but also I found it rather sticky and it has an almost medical smell to it. I can say that my skin does feel smoother but I know there are oth...

Read More

nice but result not immediate

I've tried this quite a few times and I do like that it absorbs nicely and its full of good ingredients. You definitely dont get a immediate result. I prefer the mask

Calming

I received a sample as GWP. This corrective gel is hydrating and works very well at calming facial redness.

amazing

love this stuff, so so many different benefits and it has the cutest packaging!!

too sticky

This gel is too sticky, I can feel it's a little bit hard to absorbed by my skin

Really good product

This is a very effective product especially for the relief of facial redness. recommend!

Calming

Received this as a sample and my sensitive skin loves it! Hydrating and calming

Improved skin's overall appearance.

Received this as a Skinceuticals sample and I now need this in full size, stat. My skin drank it in. From the colour to the texture to the hydrating and calming properties, Phyto Corrective Gel is an essential part of my improved regime. And yes I believe products can often be lauded just for their name and the fame... but my complexion is my only guide. And I'm in love!

Soothing

I have been getting really irritated itchy skin around my mouth and I have been using this to calm and soothe my skin.
I drop a few drops into my hand and pat it into my skin. It's more a watery serum than a gel, it absorbs really quickly and works well with other skincare products and under makeup.
It won't instantly calm down my skin or anything, but it just doesn't aggravate it furt...

Read More

VERY GOOD

VERY GOOD. VISIBLE IMPROVEMENT FOR MY SKIN AFTER 2 DAYS USE.

Great for acne scarring

I have very sensitive skin and post acne marks and since using this serum it has helped blurred out the marks. I also find it is great for my sensitive skin as it does not irritate and is non greasy.

Refreshing

It is not greasy and absorbs well when applied on the face

A very nice product

This product is very nice for acne.

works great

When my skin stings or gets red from other products, I apply this to calm my skin

Targets redness on your face

I have always wanted to find a product that helps to reduce the redness around my nose area, and the redness and inflammation when occasionally I get breakouts. People have been recommending me to try this product and I have seen most reviews online and most of them are positive, specifically address the concern that I have. So I decided to get this a go. The texture of the product is more gel-lik...

Read More

Loving it!

Wow, this is so amazing! I received sample of this from AB, and happened to have some skin rashes due to over exfoliate and after applying this serum, my skin feel so calm, it greatly reduced the redness & sensitivity on my skin within just 2days! I was so happy with that result and will definitely place order for a full size soon!

A must have in my routine

I didn't feel like this was doing a lot for my skin until I stopped using it! Once I repurchased and started using it again, my skin settled down again straight away. It's now a must have in my skin care routine.

Perfume?!

I was soooo excited to try this product, but unfortunately as soon as I opened the bottle it smelt SO strongly like perfume!
I tried to put some on my face, but I just couldn't stand the smell :(

Plump skin and no more redness

This winter is so harsh that my skin gets red and dry. This serum is a life-saver, it's so gentle and effective. It absorbs very quickly and calms my skin, gives it a healthier look.

Worth it !!!

Excellent product!Repurchase many times, the effect on newly grown acne marks is remarkable.

suit for sensitive skin

helpful to reduce my redness and easy to absorb

Great product!

This was my first time using a skinceuticals product but I've been very impressed. I no longer get red cheeks or heat under my skin. Definitely recommend! Will be repurchasing!

very well

It works really quickly. I just used it before sleeping.  I think it does help to soothe the skin, but not so much with the redness.

it works, texture could be better

I have oily skin with acne (here and there), but mainly a bit red on my cheek. It helps to clam down the skin and nice hydrating serum too, will repurchase. Texture is on a slightly sticker side, just need to leave it to dry properly everytime after use. been using this with blemish & age defense serum, nice combo togther.

Great for sensitive skin

great for reducing redness &sensitivity, also working well for acne scars, very happy

works well

It works for me! My skin is oil skin with acne. I suggest to use with Blemish + Age Defense Serum from the same brand and you will definitely see a great improvement for your skin !!! Love this one~

very good

It works really quickly. I just used it before sleeping. And when I got up, the acne on my face faded.

excellent

It works really quickly. I just used it before sleeping. And when I got up, the acne on my face faded. And I have already used three and would reorder forever.

It's nice!

I do like this, it's really nice but I don't think it's worth the price. I'm glad I tried it because I was super curious but I'm sure I could've found something a little bit cheaper.

calms redness and so hydrating

love this Hylaronic serum. it is so hydrating and also calms redness from inflamed acne.. i use this stuff daily!

Great hydration

I have dry acne prone skin. I bought this and use it every evening and I feel like it does a really great job in hydration and calming acne.

The best product that removes the recent acne print

If it is just mature acne, this is the best anti-acne product I have ever met. After using it for a period of time, there is no acne mark at all. It is highly recommended to prepare a bottle from time to time to prevent acne.
But for the pimples left many years ago, don't expect it to work.

A good serum for redness

I have redness on my cheeks and this serum does a good job on decreasing the redness. It also calms and hydrates the skin after squeezing blackheads and pores or applying acid product. I love it!!

Not too impressive

My friend highly recommended this product. I hope this can help reduce my post acne red marks. I have already finished 2 bottles, but I didn't notice much difference. I think it does help to soothe the skin, but not so much with the redness.

Best acne marks remover

I have been struggling with ace marks for years until I meet this amazing little bottle. I can literally see the results in days. Best corrective gel ever, definitely a keeper!

best product

The best acne-removing product, whether it is the previous or new acne-marks, can play a role in lightening and removing the acne marks. It is a product that will always be repurchased! ! There is a little stickiness on the upper face, and it feels good after a long time.

Highly recommend

I only use this serum after I squeeze my pimples, it helps heal up the wounds real quick, highly recommend.

Great

I've been seeing some wonderful results. I think this product is great and really has helped. Love it.

So soothing and evens the skin!

I've been using this with the C E Ferulic serum in the mornings, and I have absolutely loved how it's been supporting those results, soothing any irritation and reducing redness. It's plumped my skin, and helps keeps me hydrated throughout the day. It also spreads very easily and absorbed quickly.

Amazing calming serum

I've been using this one for around 2 months now, and absolutely loving the results. It's especially good for calming my skin down when I'm experiencing redness and inflammation, as well as monthly normal breakouts. My skin feels so calm and comfortable immediately after use, and that feeling really lasts- unlike a lot of calming products where it only soothes for a short amount of time. Really im...

Read More

It does what it says

I recieved a promotion of this product. It does exactly what it says - my skin felt rejuvenated, fresh and calmer. I applied it in the evening before bed after a mud mask. My only hesitation about recommending this product is that it is quite expensive. However from the sample sachet I got multiple uses from it which makes me think it goes a long way.

Really works

I have super inflamed acne and this product is very soothing and does help to reduce redness. I have been using for about a month and am happy with the results but Im still not sure if its worth the price

One of the best serum from skinceuticals

My title has said it all !! I love this product so much. It seems like Skinceuticals always works according to its philosophy. To be honest, the price doesn't bother me at all. I'm willing to pay more as long as the product works as it says

Must have for acne combat

I was recommended this product as a base to sooth and moisturize my skin before applying anti acne serum. It does help a lot to calm my redness and inflammatory pimples. At first I didn't think much and not sure if this one is needed in my routine but after 1.5 months using it I am certainly confident that it does help those who are suffering really bad acnes, which in my case is hormonal acne.

Read More

A STAPLE

Skin Ceuticals is my favourite brand!!! I have been using this particular product just over a month and I am very happy with the results.
I love using this gel daily, and twice daily when my redness is out of control as it is very calming! I am so pleased with the purchase and believe it will forever be a staple in my bathroom cupboard. I am also very exciting to try the 'Photo Corrective M...

Read More

My holy grail

After doing some research, this is the first product I purchased to treat the redness on my cheek. The redness would flare up and burn hot due to stress or changes in temperature. The gel soothes and calms and sinks straight into my skin. I use it every night without fail and can't do without it now. Love It!

Average

I have used it for two months, but only found the effect of maintaining skin stability, which has no obvious effect on my redness and acne marks, and the feeling of use is not bad. May keep to use another one to try.

Good

I think this was good, however I wasn't in love. I bought it along with the vitamin C E ferulic serum. I won't be repurchasing this for sure just because I don't repurchase a product unless I love everything about it. But the CE ferulic serum is so good!

Not impressed

I have red marks from acne and my skin is still exactly the same after one month of using this. Probably the texture the skin is a bit better, but there are more affordable options definitely.

A Definite

Last year my face develop a red spot . It cause bumps maybe due to the heat from the sun although i have been applying sun screen . Its not itchy at all but have that spot worried me much. Was recommended by one of the Adore specialist. IT WORKS it's gone! It took a year plus but at same time it's lighter up most of my pigmentation and reduce my breakout . If I do have breakouts applying it ma...

Read More

Great investment product

This gel has really made a difference in the texture and appearance of my skin- it's more even, smooth and glowy, although I will admit it is a bit pricey.

did the job

i have been using this products for years, since it start of only $88 now the price its a bit pricey but really did the job, i have acne prone skin so i use this with skii treatment lotion really helps to reduce the pigmentation.


Love it

I'm using my first bottle and see the amazing results in 2 weeks. It's hydrating and reduce the redness of the acne scar on the second morning .

you can see the outcome

you will be able to tell the difference when using this serum, of your uneven skin tone getting so much better!!!!

I can see the results

Friend recommends this product for me and I use it for my acne area. I've used it for over a week now and and see it worked, will keep using it on my problematic skin area.

Outstanding

The very best quality. You get what you pay for. I have dry and sensitive skin and this helps hydrate and calm. I noticed a reduction in redness almost immediately. Consistent use improved the look of my skin so it became clear and healthy. I would recommend.

Great

When my skin stings from some product, this gel helps my skin calm down but it is expensive

Soothing

I was recommended this product to help with my rosecea. Although soothing to put on, and helping with redness a LITTLE bit, i have found after two weeks it hasn't had a huge effect on my skin. I would not purchase again, particularly for the pricetag.

Best serum to reverse redness skin

Absolutely love it. Especially after you cleaned your skin, and it's a bit red. This serum works very well on calming your skin.

Photo Corrective Gel

I love skin ceuticals products and find this helps acne scars heal quicker. It also feels lovely on the skin. It's a constant in my routine.

Perfect for oily acne skin

I have used four bottles of this product. It works well with PCF, especially for oily acne skin. I'll keep buying.

Good

I have bought this Phyto Corrective Gel 3 times, it's really good for Hydrating and calming, I always used it after using SkinCeuticals Blemish + Age Defense Serum.

Colour is so cool!

The colour of this serum is so cool!!! I naughtily popped a pimple and put this on and did notice the redness went down a lot sooner!! Not sure if I'd repurchase just because of my skin condition but would be better for people struggling with the conditions listed in the description!

Amazing

This is amazing - this product is a hero product reduces redness and sooths

Not sure

I was recommended by a friend to try this serum for my hormonal acne and after using for 1 month - have not noticed any changes to my skin condition. Is still red from the acne flareups and has not improved.

Nice & Gentle

Nice product to use after a day of actives to calm the skin. Found it a good way to balance out my skin. Did not see dramatic results, however was calming and hydrating enough to keep me using it.

Didn't really do anything, but soothing

Soothing serum - felt nice and cooling
Other than this have not noticed any actual effect from it!

So Calming!

Really enjoy this serum, its the only serum I can use after invasive treatments like needling etc and its really good at calming my skin during an inflamed, hormonal breakout, not too sure if its helping with my acne scarring yet, but I hope with more continued use I will start to see an improvement in this area.

Green with envy!

Following a laser treatment or needling session with my dermatologist, I use this serum to help calm and soothe my inflamed, distressed skin. In fact, I even use it after shaving sometimes to reduce redness and razor burn. The serum itself is green and of a mid-weight consistency with a herbal smell. It layers really well with other products and doesn't leave my skin looking greasy or oily. In fac...

Read More

Amazing

I love this product! It has helped with my pigmentation and scaring and just makes my complexion so much better. Little pricey but worth every cent.

Nice serum

This is a nice serum but I don't feel it did much to help my red, dry rosacea prone skin.

Great product

I really enjoy this product, great for my old acne spot, I can see it's slowly fading, it's expensive product but worth it

Good

Good

Not worth the money

I didn't find any benefit from this product for me personally. It irritated my skin and gave me a reaction. I also found it didn't run into the skin very well, it sat on the surface.

Price

Hi there.
I really like this serum and i have been using this one for over 1 year, it used to be $88.88 so i was wandering how come it is $100 bucks?


Perfect for congested skin!

I received a deluxe sample of this and adore it when my skin has broken out. It soothes, repairs and hydrates with a lovely consistency. Wonderful!

Amazing

My skin is really prone to redness and this really helps calms my skin like nothing else

Perfect

Recently, I used a very high conc of vitamin c on my face and my face started stinging really badly. I then added this product on top and the pain went away.

Very good

If you have sensitive skin that is prone to redness and/or your face reacts poorly to waxing, this is the product for you. There is a noticeable difference on the days I use this vs. when I forget to. I've tried many serums and they don't always make a difference. This one does. Lately I find that waxing is causing noticeable irritation like bumps and redness that lasts for days. I tried a drop of...

Read More

Great for new acne spots

It works well on new acne spots in my face, lightens the red colour, also lightens my skin

Good for redness

This one is a bit thick and I find it's not easy to use with other products . I end up adding it into the moisturiser. But it's good to calm the skin.

Didn't really do much for me

I bought this with such high hopes. For such an expensive product, this really failed to Help my daughter with any of her skin concerns. She has sensitivity, redness and some hyperpigmentation. Used the whole thing with no noticeable results!

One of my favourites serum

This is the 2nd bottle that I have purchased, it is a little thicker than water consistency. It's really hydrating and soothing on my red cheeks. It is a stable in my skincare routines. Love Skinceuticals products.

Works better than expected

I purchased this as I wanted to deal with redness in my skin- I have added it into my morning routine before moisturiser, and occasionally use it in the evening and I am really happy with the results. It doesn't solve all skin concerns, but it has calmed and cleared my skin a bit and my redness has definitely gone down. Would buy again and recommend trying it!

Great for sensitive skin

This is definitely pricy but a little bit goes a long way and it works so well at calming sensitive dehydrated skin! It doesn't work overnight but if I'm having any irritation or redness I apply it for about 2-3 nights and definitely notice my skin improving and being healthier. I usually just use 1-3 drops every night and it really keeps my skin in order. it's also quite hydrating so won't irrita...

Read More

Great

This helps my skin so much when my skin becomes sensitive or red

It's not easy being green

I have red cheeks/chin and capillaries, and was hoping for this to ease but I have not seen any real change. If anything it changes the tone of your complexion by dying your skin bright green, but if I have any dry patches it collects in the flakey skin and I get green spots lol. not worth the price I think.

calming serum

I was looking for product with flavonoids to feed my skin with nutrients and calm it. This product is just an amazing, it does everything what supposed to do. I apply it after my blemish + age defense serum and after a week a saw a huge difference on my acne prone skin. Definitely I will purchase it again.

Great for acne scars

It really helped with my acne scars. I can see my skin tone was evened out after a few weeks. I have tried so many products for acne scars before, this is the best so far.

Good product

I got this product because I bought C E FERULIC and I saw the recommendation to use both together. I am not too sure about this product. I Don't think it is a bad product but I couldn't see much difference in my skin. My skin is normal/dry (sometimes) and I don't have a problem with redness. Maybe the product is not for me but I haven't regretted purchasing it because my skin is still hydrated, de...

Read More

Great

This really soothes my skin after derma rolling and helps with my redness. only downfall is that it is expensive

Actually reduces redness!

I received a sample of this and after a few days I stopped wearing foundation! I only have mild redness but I couldn't believe how well it worked! Bought a full size.

Nice to use on sore skin

I went away to a dry climate and my eczema broke out all around my mouth.

Fortunately I'd brought the sample of this I received, and this healed it almost overnight!

When my skin doesn't have a flare up, I'd say this does nothing extra.

It's cooling, but I don't think there is a benefit unless you're suffering from dry, cracked skin.

Amazing!

I used this product with Skinceutical's Blemish and Age serum, worked absolutely well! Not only did it reduce my breakouts and helped with acne scars, also reduced some redness from my sensitive skin. I would recommend this product to anyone suffering from redness and acne scars.

Great for sensitive skin

I was recommended this gem by aesthetician and love it, it's great for sensitive skin especially for redness and breakouts. Very happy with results and will continue using this.

Great for inflammation and uneven tone

My aesthetician recently gave me a sample of this to use AM (after C, before sunscreen) and PM (after retinol, before moisturiser) and I'm so impressed with how it has calmed my redness and evened out my skin. I tend toward oil/congested by dehydrated and found this strikes a great balance between the two needs. The only thing to note is that I have more serious redness on my chin from scarring/a...

Read More

Calming

I received this gel as a sample with a recent order. It feels calming and soothing on. I struggle to know exactly where to put this serum on in my multi-step routine.

affordable price and good for sensitive skin

the second time i buy it. I heard that it's good at removing red acne marks. However, i am keeping getting new acne and have no definite idea about its actual performance. but i have to say it can really make my face calm down and feel comfortable

For sensitive skin or post peel

I use this serum if I've had a bad breakout and don't want to apply anything too harsh on my skin. I also use it as my serum for a couple of days after I have a peel done. I can't say I think it's effective enough to use all the time, however it's safe enough to use when my skin is in distress and I don't want to skip my skincare regime.