SkinCeuticals Phloretin CF 30ml
4 instalments of $57.00
Or 4 instalments of $57.00 with
LEARN MORE
4 instalments of $57.00
Or 4 instalments of $57.00 with
LEARN MORE
Official Stockist
Is this for you?
Derived from the bark of fruit trees such as apple, grapefruit, and pear, phloretin is a broad-spectrum molecule newly identified for its potent antioxidant properties and recently studied for use as a pigment-regulating and penetration-enhancing agent in the medical community.
Artificial Fragrance Free
Sulphate Free
Cosmeceuticals
Eye Concern:
Age Prevention

Deep Lines
Skin Concern:
First signs of ageing

Pigmentation, uneven skin tone

Wrinkles and loss of firmness
Skin Type:
Dry

Normal to dry

Normal to oily

Oily
Frequently bought with
Please wait while we find a match
Questions & Answers
(5 Questions)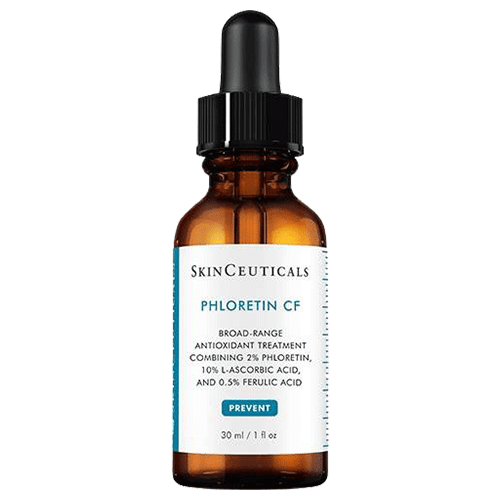 SkinCeuticals Phloretin CF
Get an expert to answer your question about this product!
SkinCeuticals Phloretin CF Reviews
89% recommend this product
Most Helpful Positive
Perfect
You just need a few drops and it is very friendly with my oily skin and my acnes.
Most Helpful Criticism
good serum
the consistency of this serum is very waterlike, so you need quite a few drops. There's a pleasant smell and absorbs very quickly. I found no major improvements to any existing hyperpigmentation, however whenever i had a new blemish, the redness would quickly fade (whereas usually with my skin, it turns into dark pigmentation and takes very long to fade.).
Perfect

You just need a few drops and it is very friendly with my oily skin and my acnes.

I wanted to love it

I received a sample and was excited to try it as the reviews seemed to in indicate my skin would love it..but alas no improvement for me..still have acne and pigmentation..but now with a bit of irritation around mouth and nose.. not sure why or if this is responsible but I'm having a break and will see if it settles..admittedly I have only used it for 3 weeks so longer is probably needed

Pigmentation eraser

I purchased this product to try get rid of stubborn pigmentation I have on my face and seriously after only a couple of uses I could see it making my skin more even and bright. This is the only product I have found that actually does what it is meant for. Unfortunately my boyfriend knocked it off the counter and smashed it and due to the price tag (which its worth) I will have to wait to reap the ...

Read More

Quick absorbing

This is a nice and light serum best suited to oily skin complexions I have normal skin and used it as I struggle with acne but it absorbs a bit too quickly for my liking I might try the C E Ferulic instead to see the brightening benefit they both deliver

Such a treat to use this sublime serum!

What a wonderful product to use on acne prone and oily screen. The serum soothed my skin as well as softening it. More importantly, one notices a marked reduction in post acne hyperinflammatory pigmentation. The price for this bottle of gold is well worth it and lasts 3 months.

Ok but

I previously used a sample 4ml of this product in winter which I found very hydrating and helpful on lightening general skin, however when I bought the full size and used in summer didn't find it very helpful on my two big pigments on my cheeks.

Good serum

This essence has a coffee flavor and is very friendly to mixed oil skins

Very good

This is one of the few vitamins C that my skin does not react against. Quality justifies the price.

Love this vitamin C serum

I have been using this vitamin C serum for the past 2 months. This serum didn't break me out ad gave me the glowly skin I was after.

One of my favourite

This is the second bottle I'm using, I loved the product, it keeps my skin plump and fresh. The only drawback I found is I got pimples on my neck and my lips got darker but still couldn't stop using it, now I avoid my neck and nearby lips area. I'm so obsessed with it.

good serum

the consistency of this serum is very waterlike, so you need quite a few drops. There's a pleasant smell and absorbs very quickly. I found no major improvements to any existing hyperpigmentation, however whenever i had a new blemish, the redness would quickly fade (whereas usually with my skin, it turns into dark pigmentation and takes very long to fade.).

Light serum

I've tried the CE Ferulic and now this and I just don't know, about both of them. I just can't see a huge improvement or change, I suppose if anything it has prevented more pigmentation from appearing but I can't say I've noticed my existing sunspots fading. I finished a whole 30ml bottle and I don't want to have to purchase another one if I'm not guaranteed results. This is very much like the CE ...

Read More

I can see a difference

I received this as a sample with purchase months ago and have just for around to trying it. The texture is lovely on your skin and it works with the rest of my skin care routine and complements my moisturiser. The very next day I could notice a difference. My skin was smoother and evenly toned. It appears to have kept improving over the time I've used it.The only hesitation I have is the price tag...

Read More

great serum

it is a light absorbing serum, it fades blemish scars quite quickly if they are new. the older ones take some time. i have used this for a little over a month and i found that there was little difference with sun spots but maybe because they are really old.

I'll stick with the C E Ferulic

I decided to try this after using C E Ferulic for a few years. The consistency is definitely thinner and lighter, which is nice if you have oilier skin. I didn't feel it had the same brightening or plumping effect as the Ferulic, so on that basis wouldn't repurchase. I also developed a serious allergy after a few weeks of use, but my loss was my sisters gain - she loves it and has had great result...

Read More

believe the hype!

I didn't want to like this product because of the price, but WOW. Obsessed. My skin loves this much more than the CE Ferulic; most notable difference was I'm much less oily at the end of the day than I was with CEF. I find 3 drops is enough for the face and I'm left so glowy! I've almost finished my sample and I will definitely be purchasing a full size.

good product

it is good for me to remain good skin condition

Would swim in this if I could

I really love this product, I much prefer it over the CE Ferulic. I received it as a sample first and after only the first application you notice a difference in your skin. I had to purchase this in the full size. If it wasn't so expensive I would cover myself in it. 4 drops is enough for the face each day so I am hoping it lasts a while. It feels like it brings skin back to life.

THE BEST

I wanted to hate this because of the price....i absolutely love it. It is the best Vit C serum i have ever used and this will forever be part of my skincare routine. It sinks in beautifully and unlike most serums i don't get sensitivity or breakouts from it. layers well too.

Shocked. I thought I prefered C E Ferulic!

I received a sample of this and I am shocked at how much I liked it. It's so much less oily and tacky than the C E Ferulic! And your skin glows just the same! Will be getting this after I'm through my next bottle of the C E Ferulic to give this a proper go!

Love this product!

I first came across SkinCeuticals product when I went to Paris and the pharmacist there recommended it to me. Her skin looks flawless and even though she's 40, she looks like in her late 20s and she told me she has been using SkinCeuticals for a long time. I bought the Phloretin CF and it makes my skin look amazing. My friends told me they can't even see my pores and I don't need to use any founda...

Read More

My skin has never looked better

OMG, I received a sample in a goodie bag and now i'm cursing you Adore Beauty!!! This serum is awesome. My skin has never felt or looked better in ages. Even though it is quite pricey, it works, so it's now on my list to repurchase.

Love Love Love

I received this as a sample and I have to buy it!! The texture is so lovely on your skin and it goes well with your full skin care routine. The very next day you can notice a difference. My skin was smoother and more evenly toned. After a few days I didn't even need to wear BB cream. The sample lasted a solid week and my skin has never looked better. It's the best!!

Best Morning Serum

I shoped at AB two months ago, and sent me a sample of CF. After I used it, I think it was very suitable for me. I bought it again last week . This is really my favorite morning serum.

feel oil

Received as a free gift, this is the first time I use CF serum. I don't think its sense of use matches its price. It's too oily for me.

Brightens the skins

Tried a 4ml sample of it. Used it every morning after the toner, my cheek gets a bit red every time after applying, but got used to it after a week. Skin really brightened after a few days if use. Doesn't give much hydration. Need additional hydration serum after use.
Next time would definitely try CE instead. Heard it's much better for sensitive and dry skin.

really good

After using it, the oil from the T-zone decreased a lot, and the next day you can see more delicate pores and less acne

Great

I like this brand. I like this product. I have dry skin so I use more willingly the CE Ferulic. But sometimes I change in the year and integrate it in my routine for a season. I find it effective. Only disadvantage, its price

Nice

I received sample of this from the AB goodiebag, tried it and feel it has a lighter consistency than CE and it said to help with pigmentation. I have been using C-E Ferulic for years now and I think this CF actually feel nicer....thinking whether I should switch from CE to CF as I do have some discoloration going on on my cheek. Both I would highly recommend!

nice

This is really the only c serum that helps my annoying hyperpigmentation.

it works for oily skin

I do prefer this over CE serum, much better on oily skin. And it dosen't tingle as well, when I use other Vc serums, sometime a bit sensitive to them but not this one. it is quite pricy, but it is a good investment, specially for oily acne skin, we need Vc serum in the morning. :)

Holy Grail

This is less oily than the CE Ferulic, and has a watery texture. The scent does not bother me. My favourite Vitamin C!

Nice

I'm half way through the full sized product and have to say I'm not blown away. This product gets such a good rap I was expected to love it. I don't dislike it but can't really see or feel it making a difference for my skin. The good things are that it absorbs nice and quick and it's a good brand so I know my skin is getting lots of good stuff.

Not Sure

I had this as a bonus sample that probably lasted a week. Don't think it will be enough to see any difference. But for the price tag, I would expect more to be delivered. It smells nice and gets soaked into skin easily - doesn't pill on my skin. However, I found that I need a bit more to put on as the texture was quite runny and few drops are not enough for whole face. I couldn't see any differenc...

Read More

Skin is brighter and has great glow

Tried this as a sample from Adore but have just purchased the full size as it's the best Vit C product I've tried esp for those who lean to more oily skin! It has brightened my complexion and can't wait for the results to continue

Does work

Received a sample of this. My skin had previously had a bad reaction (breakout) from a skinceuticals CE sample. This product worked much better with my normal/oily combination skin type. I did notice my skin seemed brighter overall but I think alpha h offers a vitamin c serum which is just as effective on my skin (if not more) and at just a fraction of the price tag. I probably won't buy the full ...

Read More

Lovely serum

I received this as a sample which lasted a long time. After daily use I noticed my skin was softer and brighter. It is a nice consistency and my skin absorbed it fairly quickly which is great if you want to apply moisturiser on top.

Lovely

This product is amazing and I've only been using it for a couple of week. It has definitely tightened and brightened already and although this product is expensive it's an investment. I can't wait to see long term results.

Not sure yet

I received this as a sample which was great rather than purchasing the whole bottle (very $$$), I probably need to continue trying it or a bit longer to see the full effects.
I have noticed general skin improvement. Given the rave reviews it gets, I am considering buying to continue testing this.


soothing

i got is as a sample and i used it for a few times and i feel that it is soothing on the skin. i am hopeful that i will see the results soon. it is good for drying skin too.

Real results

I got a sample of this. I have been using it for a week and just wow, the results are visible. I understand why everyone raves about these products. My skin looks so clear, light marks from recent breakouts has cleared in just a few days. I feel so good when I look in the mirror. Very sensitive, reactive, breakout prone skin, always cautious trying new things. This one I will purchase the full siz...

Read More

Super serum

I saw the instant results on my skin after 1 use. My skin is so radiant and glowing from inside. Think it will be a great investment in a long run.

Best Vitamin Serum for acne skin (normal to oily skin)

I have always been a fan of Skinceuticals Vitamin C.
So, I have tried both CE and CF.

CE for winter and CF for summer time as I thought my skin will get more sebum and a bit more oily in summer time.

But after trying both, personally I still prefer CE, suites my skin type (dry with uneven skin tone), as it hydrates more than CF and contains 15% of C while CF contain...

Read More

Star

This product is amazing,my skin just drink the product,and is so smooth after u use

Amazing!

I got this as a sample from my estethician and I was curious about it and it smells like a bit of coffee when I put it on my face. I finally got the actual product and I have been using this everyday for 3 weeks and all I can say is this is a game changer serum vitamin c!! I absolutely love it! It is quite pricey but it is worth every penny. I would rather buy an expensive product rather on a chea...

Read More

Brightening

The perfect vitamin C serum for oily skin. Despite having an oily texture, it soaks into the skin beautifully and doesn't have an oily finish. It ha an almost instant brightening effect. I like to have this and the CE Ferulic on hand. The CE Ferulic is my favorite, but I only use it on days that I'm not wearing makeup as that, combined with my already oily skin is a makeup disaster come 3pm. Smell...

Read More

Allergic reaction

Brought this product recently in a pack - along with retinol 1.0 and advance pigment corrector. Tried only once, very pungent burnt orange smell, Light brown clear liquid, went on ok, next morning woke up feeling tight and slight sting when washing face. Face and neck started to peel from day 3 for about 1 wk. Was not painful, but did make my skin extra tight due to dryness, and couldn't wear foun...

Read More

good for oily skin

The texture is a bit oily at first but can be taken in the skin after 1-2 minuates. Not very heavy and greasy overall. The smell is better than other vitamin c products I used before.

Beautiful

I wanted to try this after all the hype - I tried the CE Ferulic first, and found it was too oily for my skin, so switched to this one (better for oily skin) and I love it.
My skin feels supple and plump and seems brighter.
Great Vitamin C for oily skin - its pricey but i would recommend if you have the budget for it.

Still not sure

I got this as a sample and its still early days so hard to say much on the efficacy, but it has quite a shiny/oily finish which isn't ideal for a product aimed at oily skin. It hasn't broken me out though or caused any sensitivity, so will continue use and see if the effects are worth the shine! Probably wont purchase the full size as for that price I wouldn't expect to have to compromise...

Incredible serum

I received this serum as a sample and after one week of daily use my skin is singing. It smells like a heady rum cocktail (fine by me) and has some magic properties - clarity and smoothness like I've never experienced with another Vitamin C serum. It is eye-wateringly expensive but it does deliver.

perfect day serum for oily skin

I am oily skin, many serums are too heavy for me, this serum is very light and easy to absorb, can make the skin brighten. I love this product.

Best Vitamin C for Oily Skin

This has been the first vitamin C product that my skin has loved. It absorbs quickly, doesn't cause breakouts and doesn't exacerbate my sebaceous filaments like other Vit C has. I first got a sample and loved it so much I bought the bottle. Very expensive but for me, very much worth it! My skin is brighter, clearer and I am excited to see further improvements.

FAVOURITE SKIN CARE PRODUCT

This product was recommended to me by my Dermatologist as I have sensitivity to the sun and can develop rashes and discolouration. My Dermatologist told me that sunscreen is not enough. Since using it my discolouration has been minimized.

Make friends with this product

I love this product. I have fair skin, rosacea, oil slick face, and am prone to break outs (still in my late 40s!). Since using this product at the recommendation of my dermatologist my skin has not broken out once and is more controlled. Since using this product my face is no longer shiny with oil and my tone is more even and heaps less red. The smell is a little chemical when first using it but ...

Read More

Good

I loved it. I have combination skin, decent texture, but could use some improvement, and minor dark spots, but after using this product I look as if I got back from vacation and had a facial. It does wonders for my skin! Every time I take a break from it and try something else I remember why this is my go to product!

Reduced Pigmentation

I purchased this in one of the Christmas packs and have been using it since the end of December. I have noticed reduced pigmentation and have been using this over my CE Ferulic Serum. My skin looks noticeably better.

I would recommend this product.

Does what it says!

Really like this serum. Has helped with my pigmentation and skin tone. I love the thin texture as it soaks right in. Will definitely rebuy!

Insane

Great value for money! This is the only thing I have tried that actually reduces pigmentation

AMAZING!

I love this product! I've been using it for a few months now and have definitely noticed a decrease in my pigmentation and overall appearance of my skin.

Good product

I have been using this product for 2 years. It helps balancing my skin reduce pimple

Good antioxidant serum

This serum is very light and absorbed so quickly when I put it on. I use this in the morning to fight against free radical damage. In the evening, I use retinol serum. Since I've been using these two together, I've got a lot of compliments on my skin. It's a bit pricey but worth it.

My brightening buddy

Absolutely love this product and have been using it on a daily basis for years now.
Whenever I'm without, I immediately notice that my skin is quite dull.
I also love that it's great value for money.
The bottle lasts around 12 months which is amazing.
Highly recommended!

Good serum

An amazing serum for me. I really like it.

Light but effective

I bought this product after I have used the CEF serum last winter. Unlike CEF, the texture of this product is a lot more watery - lower VC concentration and replaced VE with phloretin. So, texture-wise, it is better suited to my combination/oily skin during this time of the year. (I still love CEF, but I won't use it during Spring or Summer.)
Like CEF, it also does a great job energising ...

Read More

this is the best for antiaging in day.

unlike CE this one is good for oil skin i think, i have used CE and CF for more than 1year, they are both perfect for day protection

Helped Immensely With Pregnancy Melasma

Nothing helped my pregnancy melasma - not Murad - Not Peter Thomas Roth - nor Dermalogica - but this SkinCeuticals product. I use a range of items from Skinceuticals and one bottle of Phloretin CF totally erased it! I now use CE Ferulic serum but purchased the Advanced Skin Brightening Kit so if my melasma should return after harsh summers, I am ready to treat and prevent it again with confidence.

Smells like flesh burn!

Bought this serum and used everyday after cleansing. Haven't noticed any difference yet but the serum itself smell like something burnt..

Fantastic serum

Fantastic serum! I have combination early signs of gaining skin that still breaks out and this serum works beautifully for me! Really brightens my skin and feels so amazing to apply it

Complete Skin Transformation

This product has been instrumental in transforming my skin from rough, dull and ageing to smooth, clear and bright. My pores appear smaller, my wrinkles softer and my skin is smoother than it's been since before I hit puberty.
I haven't tried C E Ferulic, my skin is quite oily and sensitive so it was recommended I try Phloretin CF - the results have been so good I'm not tempted to try anoth...

Read More

Very good product

It's lighter and felt more gentle than CEF. It gave me a healthy and shiny glow following by a moisturiser. It's a bit hard to tell the specific result after finishing one bottle but overall I got a more even skin tone. I will repurchase it later.

Only serum I have continually repurchased!

I've been using this serum for the past 3 years and I can say it is the only serum that I have religiously repurchased ever. It spreads easily and my skin doesn't feel oily or sticky after I apply it. I have sensitive, dehydrated, acne prone skin and have not experienced any reaction. I tried the gel version and I felt it made my skin more oily throughout the day so have gone back to this version....

Read More

Makes me feel good

I've added this into my routine alongside the Blemish + Age Defense, which I use at night time and my skin tone and clarity is better than it has been in years. I also like that it makes your SPF 4x stronger. I've started taking this SPF EVERY DAY thing very seriously;)

LOVE this brand, cant wait to try more products from them! Its expensive but your face is worth it DUH.

More watery than the cef serum

I tried this one after the CEF serum in hopes of treating my dark spot, but still, to no success. It is more watery than the cef serum which is a little more oily. It has 5% less vit C according to the bottle. Again, the serum doesn't seem to be improving my skin drastically but my skin is fine to begin with, apart from a dark spot I am trying to treat. I will most likely return to the CEF just be...

Read More

Exactly what I was after!

This product is amazing and did exactly what it said it would do. I have combination to oily skin and this was perfect for it, it didn't make it any oiler. My skin feels great and looks brighter, just what I was after :)

Great for oily skin

This vitamin C serum is great for oily or acne prone skin. It does not make my skin break out and does not feel sticky. I only use 3 drops for my entire face and it lasts about 8-10 months. I used the ordinary vitamiin C serum before this one, but much prefer the Skinceuticals one! It brightens up and improves the overall texture of my skin, without making my skin breakout or causing any congestio...

Read More

A good product, nice to skin

I purchased this one about 4 wks ago, and it is a nice gift for myself. I am mid of 40s, combination to oily skin especially T zone. It does not change my skin condition dramatically, but my skin feels smoother and brightening. I still have a lot freckle which I do not mind, the Phloretin CF does even my whole skin tone. I use it every second day in the morning. Normally after clearing face, seru...

Read More

My skin glows-it is worth every cent

I am ultra aware of the hype around expensive serums, but Skinceuticals Phloretin CF really works! After around a week of daily morning use, I could see a difference in the look of my face, but now, after several months, I get virtually daily compliments from friends and strangers that I look "so healthy", that I'm "glowing" and, at the very least, that "you look so well"! A bottle lasts 4 months,...

Read More

is a good C serum for brighten scar and skin tone

is quite pricey but it does the job. But still not recommended for dry skin. It make skin drier . I apply skinceutical hydrating B5 gel after the phloretin CF and make my skin a lot better.

HG

Love this can't say a bad thing besides the price and the fact that I can never get through a whole bottle of it.

Good compared to other brands, but not as good as CE Ferulic

I have normal/dry skin and had previously relied on Skinceuticals' holy grail, CE Ferulic. I decided to try the Phloretin CF as it was geared more towards pigmentation and skin brightening, but I don't think I really saw much benefit from it in that area.
I can say that it did keep the fine lines at bay in the same way the CE Ferulic does; however, my overall skin texture and plumpness seem...

Read More

Will use for the rest of my life!

I am now onto my third bottle of this. It does absolutely everything it is supposed to - its skincare at its best. The changes it has made to my skin are overwhelming - it has smoothed my texture, removed redness, and also battles any breakouts I may have due to having oily skin. It's a 'you need to try it too believe it' situation. Worth the price tag as the bottle lasts well over six months, the...

Read More

Best Vitamin C serum in the market

I've known Skinceuticals brand for a while now but due to the price, I never attempted to try any of their products. I've been using retinol products for years but lately I noticed my old retinol brand doesn't realy do much for my skin anymore. Upon reading reviews in Adorebeauty I decided to purchase Skinceutical's retinol 0.5%. While I liked how it eliminated zits and other discolorations on my ...

Read More

the one and only for vitamin C for OILY skin !

Hi everyone... After wasting my time and money on other hyped up brands especially one that i wont mention that has taken the skin world by storm, well what a big mistake that was...anyway i knew re SkinCeuticals for maaaany years but never tried anything plus was expensive too...however i decied that it was time to really get my skin healthier, etc and use ONLY the very best products around so i ...

Read More

the one and only for vitamin C for OILY skin !

Hi everyone... After wasting my time and money on other hyped up brands especially one that i wont mention that has taken the skin world by storm, well what a big mistake that was...anyway i knew re SkinCeuticals for maaaany years but never tried anything plus was expensive too...however i decied that it was time to really get my skin healthier, etc and use ONLY the very best products around so i ...

Read More

The best serum I have used to date and will use for the rest of my life!

This serum is simply amazing. It lives up to everything it promises it will do. I am only 25 so do not have too much sun damage or wrinkles to repair however, after a few weeks of using this serum I noticed a difference in the texture of my skin.

I used to use the C+E ferulic serum from skinceuticals and saw results with that but found that it was too rich for my oily skin. I was...

Read More

The best serum I have used to date and will use for the rest of my life!

This serum is simply amazing. It lives up to everything it promises it will do. I am only 25 so do not have too much sun damage or wrinkles to repair however, after a few weeks of using this serum I noticed a difference in the texture of my skin.

I used to use the C+E ferulic serum from skinceuticals and saw results with that but found that it was too rich for my oily skin. I was...

Read More

I have been trialling this product for several weeks, now courtesy of a small sample I received with my Adore order, it has lasted over a month and is my skin saviour! I apply about four or five drops from the mini eye drop tube of the serum, followed by the Phyto-Corrective Gel and then moisturiser. My skin has been more calm, clear, bright, soft, smooth and even than it has in years, I really no...

Read More